A military lawyer is one of the jobs that you can pursue in the military. It is a rewarding position that requires time and effort to acquire. If you are interested in becoming a military lawyer, it is important that you spend time reading our complete guide on how to become a military lawyer here.
We will take you through 10 steps and cover other essential information on what it means to be a military lawyer. So, make sure that you read thoroughly to make the most out of this article.
What Does it Mean to be a Military Lawyer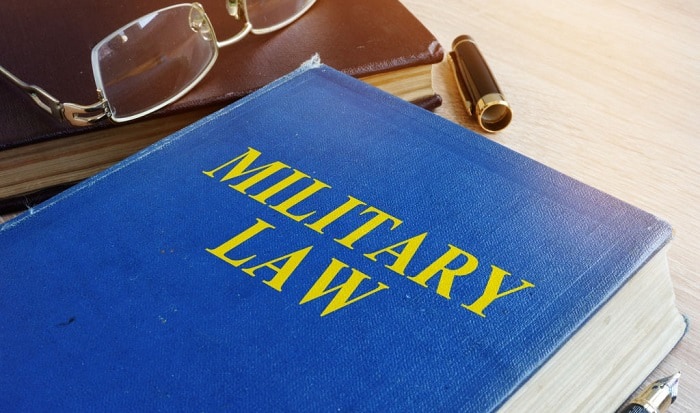 Before we jump into the detailed steps of becoming a military lawyer, let's take a closer look at what becoming a military lawyer entails. Military lawyers are sometimes also referred to as military attorneys.
A military lawyer, in nature, is not much different from a civilian lawyer. You will represent your client at military courts and "fight" on his/her behalf. It is possible to work in any military branches (The Army, Navy, Air Force, Marine Corps, and Coast Guard).
As a military lawyer, you also have the option to become a JAG (Judge Advocate General) and practice law in the military court. Once you become a military lawyer, you may be contacted by a military personnel for legal assistance and representation.
The military lawyer job description includes the legal counsel and advice for everything from the trial preparation to the post-trial activities. Legal issues on operations, environmental, international law, or military and civilian personnel issues are the different areas that a military lawyer must be well-versed in.
Some specific tasks that lawyers in the military carry out are arguing cases before the Court of Military Review or the Court of Military Appeals, assisting witnesses at hearings, providing professional legal advice, drafting legal documents for litigation, interpreting court laws, decisions, opinions, etc.
A few more military-specific tasks include:
Preparing military handbooks
Advising commanders
Partaking in court-martial appeals
Representing military personnel in discharge hearings.
The three most common cases that military lawyers take are those concerning military offenses, landlord-tenant disputes, and court-martial.
The average annual salary for a military lawyer is $72,225, and the top lawyers can earn up to $122,000. Aside from the base pay, you will be able to receive other financial benefits, such as housing allowances. There are free healthcare and housing services if you decide to live on base. You may even be eligible for student loan forgiveness programs and the public service loan forgiveness program. So, it is, without a doubt, a rewarding job.
As with any other job in the military or the civilian world, to become an Army lawyer, you will need to meet certain education requirements and acquire the right qualifications, almost like a military law degree. That being said, let's now move on to the actual steps necessary to be a lawyer in the Army or a JAG.
What are the Steps to Become a Military Lawyer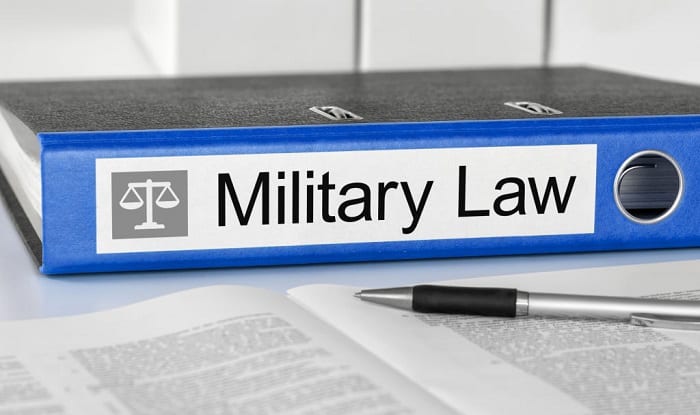 Step 1: Be a valid applicant
To be a valid applicant, you must be a U.S citizen. Then, you need to pass a security clearance, which investigates your history, particularly regarding finances, health, and substance abuse. Plus, you need to pass the physical fitness requirements for your military branch of choice. Finally, make sure that you meet the age requirement: 42.
Step 2: Earn an undergraduate degree
Before going to law school, you need to get a Bachelor's degree. Although there are no specific requirements on majors or classes, most to-be military lawyers opt for a liberal arts degree that covers a solid education foundation. A focus on foreign languages is also attractive since the military environment uses many languages.
Note: You can consider college ROTC programs that can assist you in both terms of motivation and finances. Otherwise, any colleges recognized by the Department of Education in the U.S should be fine.
Step 3: Go to Officer Candidate School
After graduating, you should go to OCS, which is an academy to train prospective military officers. You can also attend OCS after law school, but it is more common to finish OCS first to gain the skills needed to excel in law school. Once you finish OCS, you can enter the military as a commissioned officer.
Step 4: Pass the LSAT Exam
This is the pre-entrance exam called the LSAT (Law School Aptitude Test). It is a 175-minute exam that includes five sections of multiple choice. There will also be reading comprehension questions, analytic reasoning questions, logical reasoning questions, and a writing section.
Note: The writing section is not graded but will be given to the schools that you apply to.
Like the SAT, the LSAT is held at different locations throughout the nation several times a year.
It is an incredibly important exam but it is not easy at all. You need to invest time and effort into studying for the test. You can get test preparation materials like sample tests online, which can be free of charge or sold commercially.
Step 5: Finish your legal education
Complete your education by taking other special programs that can give you a competitive edge. For example, summer internships and graduate law programs.
The Army has an internship opportunity in the summer, the Air Force has a graduate law program, and the Navy has a JAG Corps program for students.
Then, attend and earn a degree from a law school that is ABA-approved. This will "secure" your seat at the bar exam in any of the U.S's 50 states.
Lastly, finish a professional responsibility course to become well-versed in the legal profession's ethics. Generally, you will be studying legal ethics' history and development as well as how to apply it when practicing law.
Step 6: Pass the bar exam
You will need to prepare for the exam and register to take it. It is best to take it in the state where you attended law school. This exam will likely last for 2 to 3 days. In general, it will include
Multistate Professional Responsibility: A 2-hour exam with 60 questions on the legal profession's ethics rules
Multistate Bar Examination: A 6-hour exam with 600 questions on criminal, contracts, civil, and constitutional procedure, property law, and test torts.
Multistate Performance Test: Assessment of analytical skills using a legal fact pattern.
Multistate Essay Exam: A set of 30-minute essays from different areas of the law.
Depending on where you take the exam, there may be state-specific essay tests.
Note: Results are usually available 10 weeks following the date of the test.
Step 7: Apply for the state bar
Make sure that you are at least 18 years old when applying. Like the step at the beginning, you will need to pass a security clearance, which checks your background and references. You will need to disclose information about your criminal records, credit scores, tax records, etc.
In case you have "red flags" on your profile, you can turn in an explanatory statement. Plus, you need to submit your fingerprints and pay all the registration fees ($300 to $500).
Step 8: Attend a state swearing ceremony
This is so that you can take the oath for new attorneys. You will need to be administered by an official. There will also be forms that you have to fill out.
Step 9: Join the JAG Corps
To join the JAG Corps, you will need to be accepted through a rigorous application process. An application package typically includes educational transcripts, letters of recommendation, a personal statement/cover letter, LSAT scores, etc. You will also need to pass an interview.
Once you are accepted, you can start by selecting a military branch. Next, finish the enlistment procedure. This depends on the branch that you selected. Hence, you will need to meet with recruiters or contact them via online means, such as the branch's website.
An important note to keep in mind is that each branch has different application deadlines.
The Army & Navy accepts applications once a year
The Coast Guard accepts applications twice a year
The Air Force accepts applications thrice a year
Step 10: Start training and enter active duty
The final step is to advance into training and begin active-duty service. Usually, a military commitment spans four years. Then, you can decide to leave or re-enlist.
For more, watch this well-made video on Youtube by GoArmy.
Conclusion
With that, you have gone through the 10 steps on how to become a military lawyer. Was this article informative and helpful? Hopefully, you now have an idea of what you need to do to be a military lawyer. If there's anything else you'd like to share or add, leave a comment below!
Also, feel free to share the content of this article with other readers, especially military lawyer wannabes.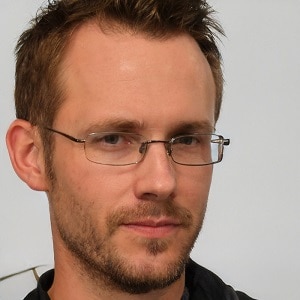 I am Everett Bledsoe, taking on the responsibility of content producer for The Soldiers Project. My purpose in this project is to give honest reviews on the gear utilized and tested over time. Of course, you cannot go wrong when checking out our package of information and guide, too, as they come from reliable sources and years of experience.