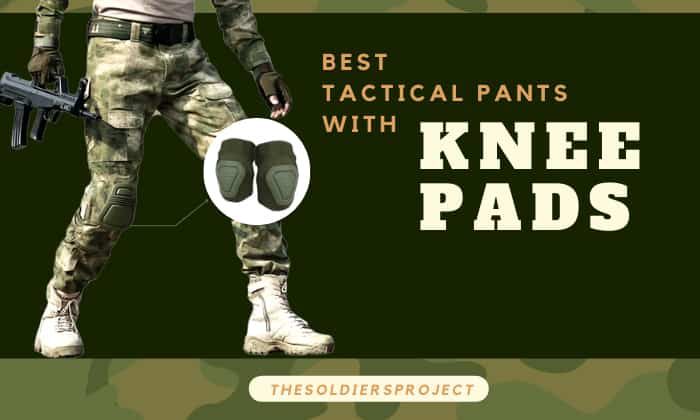 Your old pair of denim blue jeans aren't enough to crush those airsoft and other shooting games. Although your average khaki cargo pants provide tons of pockets, they're not made for action like tactical pants do. If you want storage and extra protection, wear the best tactical pants with knee pads.
Pads help protect your kneecaps when you fall or kneel on the ground. They're perfect when you crawl to make a shot or do a lot of groundwork. To ensure that you pick the best trousers, here are a few things to look for.
Pockets: You want as many pockets as possible to store your tactical gear and personal items. More importantly, look for a pocket that accommodates knee pad inserts. Most of the pants we reviewed have pockets above the knees to hide the bungee cord that's used to adjust the pads' height.
Durability: You'll be kneeling or lying on the ground, so you'll want the fabric to be durable. Many tactical pants are made of ripstop fabric to prevent tears. Some are made of a polyester and cotton blend to offer both comfort and durability with Teflon coating for water resistance.
Comfort: Like any tactical apparel, you want the pants to be comfortable to wear for an extended period. The design should give a little stretch on the back and the crotch areas so that you can squat without any worries. Oftentimes, pants blend polyester with cotton to make them breathable during the summer.
That's not all. There are many things to learn from the buying guide below. Before we go into that, let's review five of the best brands on the market today.
Top 5 Tactical Pants With Knee Pads Reviews
1. IDOGEAR G3 Combat Pants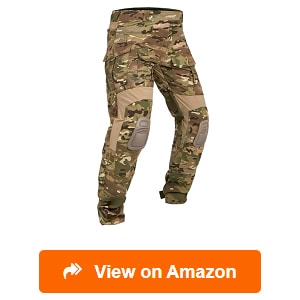 This IDOGEAR is a pair of multicam pants with knee pads that I love to wear when I go hunting and training. They're affordable yet on par with the quality of my previous Crye tactical pants.
The 4-way stretch fabric feels tough yet breathable to wear in the summer. The pants move with me smoothly, as it stretches on the most critical areas like the knees, crotch, and hips. Using the hook and loop straps, it's easy to get the right fit for maximum comfort.
The Teflon coating is also superb as all stain washes off the fabric easily. Lately, this pair has become one of my favorite waterproof tactical pants with knee pads because the water quickly rolls off when I spilled my juice. I also stay dry from light rain splashes.
I love the insert knee pads that came with the pants. No matter how hard I move, the thin plastic knee pads stay in their place securely. Best of all, I can adjust their height with a simple pull of the bungee cords in the front thigh pockets.
These cargo pants with knee pads aren't only perfect for protection but also great for storage. They come with ten accordion pockets that expand to fit a lot of my gear. I think these pants will last me for many years because the seams are all double-stitched for extra durability.
Heads-up:
However, the size runs a little small. For these pants to fit, buyers should get a size larger than what they normally have.
Pros:
Comes at an economical price
Made of a breathable fabric with adequate stretch and 10 pockets for tools
Has a durable construction with double stitch seams
Adjustable to provide a comfortable fit, thanks to hook and loop straps
Tactical pants with knee pad inserts that stay in place and adjust in height
Water and stain-resistant with Teflon coating
Cons:
Bottom Line:
Overall, Idogear G3 combat pants are a fantastic pair because they're comfortable, adjustable, and durable. Best of all, this option comes at a good price, so it offers more value.
2. Emerson Airsoft Hunting Tactical Pants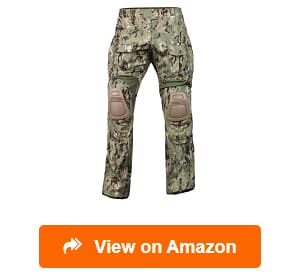 This Emerson is a durable pair of combat pants with knee pads that can take a beating. Everything feels solid, most especially the double-layer seat, which makes me feel confident that these pants won't rip when I squat.
I like to use this pair as my airsoft pants because I can move without any restrictions. The gusseted crotch offers the flexibility to let me run with ease. I can even fit plenty of airsoft pellets and a water bottle in the large cargo pockets.
These tactical pants with built in knee pads feel extremely comfortable. They fit well and offer enough room to stretch my legs. I love the adjustable velcro strap on the waist because it helps the pants fit just right.
Speaking of knee pads, they're rubber soft, and I like that I can adjust them to suit my preference through a pocket string. More importantly, the pads didn't come off from their place when running or getting on my knees. Because of their removable design, I can replace the pads whenever they wear out.
The 50/50 blend of polyester and cotton offers both the durability and comfort I need in the field. Additionally, the Teflon coating makes the pants even tougher against stains and liquid spills. The stitching is neat, making the pants look good overall.
Heads-up:
However, the sizing is a little smaller than expected.
Pros:
Sturdy with double seating to prevent rips
Offers a full range of movement, thanks to the gusseted crotch
Built with large cargo pockets
Comes with soft detachable knee caps that stay in place
Made of durable fabric with Teflon coating and neat stitches
Offers a lot of leg room and is adjustable on the waist
Cons:
Comes with inaccurate sizing
Bottom Line:
All in all, these pants make an excellent garment for airsoft games and other outdoor activities. They come with soft knee pads for protection. Running or squatting will be easy because these pants are reinforced in the right areas.
3. KRYDEX Tactical Men's G3 Combat Pants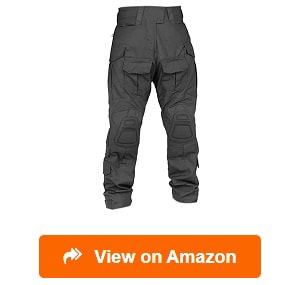 KYRDEX offers this pair of G3 combat pants with knee pads that are comfortable to wear all day long. The gusseted crotch and lower back panels stretch, allowing me to run and squat easily in the field.
I love these black combat pants because they're built with tons of pockets. The cargo pockets look large enough to conceal my gun for BDU missions. More importantly, there's a designated pocket for my ammo to sit securely.
The polyester/cotton blend ripstop fabric feels surprisingly lightweight, making it easy to move around. The fabric seems breathable because my legs stay sweat-free during the summer. The stitching also looks solid, so I think that these pants may withstand heavy use.
The best part about these pants is the pair of knee pads that come in the package. The pads are flexible and offer adequate cushioning for protection. Best of all, they're easy to put on and take off the pants.
There's plenty of adjustability in this design. I find the thigh pocket's elastic cord easy to pull when adjusting the height of the knee pads. Also, the hook and loop adjuster on the waist helps me get the right fit quickly.
Heads-up:
My only dislike is the inseam length because it seems to be too long for me.
Pros:
Allows full mobility with a gusseted crotch and back panels
Built with many useful pockets for ammo, concealed carry, etc.
Made of lightweight and breathable ripstop fabric
Has solid stitching for durability
Easy-to-wear flexible knee pads with adjustable height and adequate cushioning
Offers a customized fit on the waist
Cons:
Bottom Line:
Altogether, this model is an excellent pair of men's BDU pants with built in knee pads. The construction feels heavy-duty, plus the pants come with tons of useful pockets for concealed carry.
4. HARGLESMAN Tactical Military Pants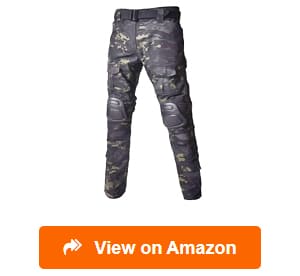 HARLESMAN also offers an excellent pair of camo pants with knee pads. This option looks rugged with camo prints yet soft to wear for extreme comfort.
I love the pocket design of these pants. There are plenty of pouches to store my gear for work and play. I like to keep my wallet in the largest pocket on the back because it doesn't create an ugly bulge. Thanks to the Velcro closure, it's easy to access my items anytime.
The pants come with a pair of strong knee pads. These components help protect my knees during groundwork or sliding. I appreciate that the slots help keep the pads in place while I'm busy running or kneeling on the ground.
What I like most is how these tactical knee pad pants fit nicely on my waist. The buckle adjusts easily, while the Velcro stretches to keep my pants from moving down.
The material appears to be well-made. It's breathable in the summer and looks sturdy for heavy work. I appreciate that the crotch area is sewn at an angle where I can spread my legs without worrying about embarrassing rips and tears.
Heads-up:
My only dislike is that there's not enough room for my legs to move. It's a bit tight on the leg area.
Pros:
Comfortable to wear yet looks rugged
Has lots of pockets for gear with Velcro closure for easy access
Includes two sturdy knee pads that stay secure in their slots
Adjusts around the waist for a perfect fit with buckle and Velcro
Constructed with a breathable and sturdy material
Won't easily rip on the crotch area
Cons:
Feels a bit tight on the leg
Bottom Line:
Overall,
these military pants
make nice apparel for any outdoor activity. The knee pads that came with the pair are strong enough to offer protection.
5. VOTAGOO G3 Combat Pants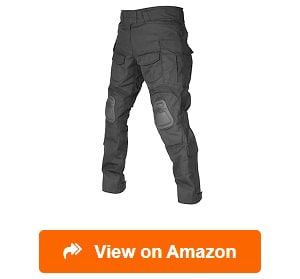 VOTAGOO makes tactical pants with integrated knee pads that are on par with my old 5.11 pants with knee pads in terms of quality. In particular, the G3 is sturdy enough to withstand any pressure outdoors.
I love the two-layer construction of these trousers. The outer layer is made of a heavy-duty material that helps protect my legs from harsh elements outside. My favorite is the inner layer as it's made of a soft fabric that feels gentle against my sensitive skin.
Like any military pants with knee pads, this VOTAGOO is built with many pockets to store EDC gear. I appreciate the zipper closures of the two back pockets because they give me peace of mind that my wallet won't fall out when I sit. On the front thigh pockets, there are strings that I can pull to adjust the height of the knee pads.
I love the adjustability of these pants. Besides the hidden strings on the thigh pockets, I can adjust the tightness of the legs using the straps on the calf. There's also an adjustable Velcro on the waist to make the pants fit perfectly.
The knee pads that came with the pants feel sturdy. They go over the designated slots easily and stay there the entire time when I go shooting with friends.
Heads-up:
However, this pair is a bit too hot for the summer.
Pros:
Has a practical two-layer construction – hard outside and soft inside
Designed with many pockets, including two zippered back pockets
Comes with two tough knee pads that stay in place
Has strings to adjust the height of the knee pads
Adjustable on the waist and legs for a perfect fit
Cons:
Bottom Line:
Altogether, these pants make nice apparel for sensitive skin because of their gentle inner layer. This pair also provides plenty of pockets for storage and adjustable straps for a customized fit.
What to Look for When Buying Tactical Pants With Knee Pads
Knee pads offer great protection when kneeling or doing any groundwork on the field. Hence, many tactical pants allow the insertion of knee pads. If you're on the lookout for new tactical pants with these components, here are the things to consider.
Internal Vs External Knee Pads
The first thing to decide is to choose what type of knee pads you like to use. You can go for internal knee pads or external ones.
Tactical pants with internal knee pads have a designated pocket to accommodate the knee protectors. It's possible to insert or remove these knee pads for under pants as you see fit.
Compared to their external counterparts, internal knee pads are more comfortable to use because no straps are pinching against your skin.
When buying under the pants knee pads, make sure that they're flexible to mold to the shape of your knees and not fall out. A foam design will keep the wearer cool while not adding too much weight.
As their name implies, external knee pads are worn outside the pants.
To ensure that the external knee pads fit on your knees, look for adjustable straps and a molded cap design. The pad should be made of EVA foam, which is known for its great durability and water resistance.
Keep in mind that pants become tactical when they have lots of pockets to stow your gear. Most tactical pants with knee pads have tons of pockets placed anywhere, from the back to the front thighs and lower legs.
If you always carry a knife, look for a knife pocket with a reinforced bottom. Cargo pockets are essential for holding larger stuff like a water bottle or guns. In some models, there will be a magazine pocket to hold ammo.
Most importantly, look for knee pad pockets to accommodate knee pad inserts. Some of the best models even have pockets to hide the elastic cord that helps adjust the height of the knee pads.
How the pockets are closed also matters. Hook and loop velcro closures are reliable to keep things secure but tend to make noise when opening. Zippers solve the noise problem while keeping items secure, making them a better choice.
The material can determine the durability of the pants. Ripstop fabrics prove to be the most durable with their tear-resistant abilities. A polyester/cotton blend offers the best of both worlds – the durability of polyester and the breathability of the cotton.
You know how vulnerable pants will become when used outdoors, so look for certain fabric treatments that make them resilient. For example, Teflon coating helps the trousers resist water and stains.
The right fitting largely determines the comfort level of tactical pants. Get the right size and make sure that the pants hug your body comfortably. Look for an adjustable waist, so the pants fit according to your waistline.
A little stretch will help improve your mobility. Also, a gusseted crotch will ensure that the pants won't rip every time you squat or bend down.
Why Do You Need a Pair of Tactical Pants With Knee Pads?
You need tactical pants with knee pads for protection and support. When your knees are protected, you can carry out your mission without worrying about injuries. Hence, your mobility and ease in the field are improved.
How to Clean and Care for Tactical Pants With Knee Pads?
The first thing to do is to wash the pants separately from the knee pads. Here are the steps:
Remove all items in your pockets and the knee pads because they'll get damaged in the washer.
Close all the Velcro straps, zippers, and knee pad pockets to prevent the closures from rubbing against the fabric.
Turn the pants so the inside is facing out. Doing so will ensure that all sweat stains are removed.
Clean the pants with mild detergent to prevent the color from fading.
Air dry the pair.
For the knee pads, wash them by hand.
Scrub the pads with a brush and soapy water to remove any debris.
Soak them in a bucket of soapy water and stir the pads around.
Wash the pads to remove any soap residue, then hang them to dry.
To care for your knee pads, air out the knee pads after every use to remove any moisture and bacteria buildup. Consider getting a second pair so that you'll have a spare when the other one is drying.
What Are the Best Pants for Fighting?
The best pants for fighting are those reliable brands that use ripstop fabric, like 5.11 tactical pants with knee pads.
No matter how often you crawl on the ground, kick, climb, or run, the ripstop fabric won't get ripped easily. On top of that, the pants should have a gusseted crotch to allow maximum mobility.
How Do You Taper Tactical Pants?
Tapering the pants is easy. First, mark the part where you want to taper. You can do it in two ways:
Method 1:
Wear the pants with the inside facing out.
Pinch the extra fabric and mark it. You can ask someone to mark it for you or insert pins to mark a line.
Method 2:
Lay your tactical pants on a table and place your favorite well-fitted pants over them.
Mark the outline of the well-fitted pants onto the pants you want to taper.
Once you've marked the area to taper, remove the old seam and cut the excess fabric. Finally, stitch up the new seam.
Conclusion
If you want extra knee protection, you'd better have the best tactical pants with knee pads. These pads should always be worn if you're doing an activity that involves a lot of kneeling or crawling on the ground. Out of the pants above, my favorite is from IDOGEAR because everything feels solid, including the fabric, seams, and knee pad inserts.
I hope our guide above will help you choose the best trousers for your daily activities. Just remember to get the right fit with sturdy fabrics that allow you to move freely.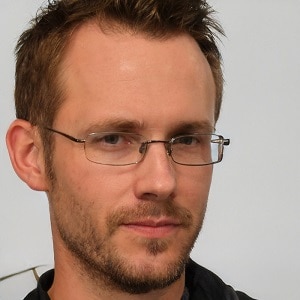 I am Everett Bledsoe, taking on the responsibility of content producer for The Soldiers Project. My purpose in this project is to give honest reviews on the gear utilized and tested over time. Of course, you cannot go wrong when checking out our package of information and guide, too, as they come from reliable sources and years of experience.