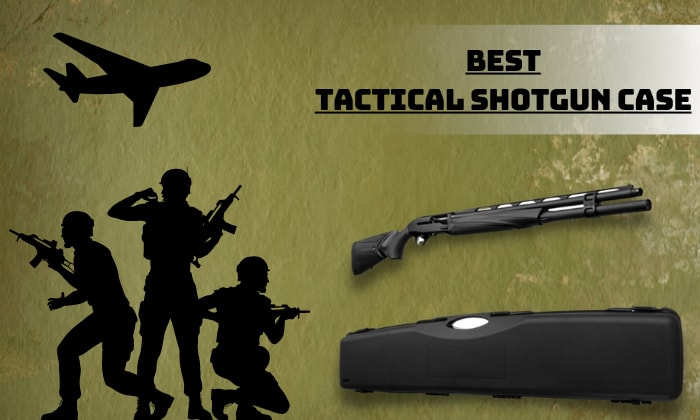 If you see someone carrying or swinging a case that looks like a guitar bag at the range or woods, that's probably not a musical instrument inside. It's a shotgun or rifle for safekeeping. The best tactical shotgun case is more than just aesthetics; it's protection against outside forces and elements.
Whether you're a hunter or a shooter at a gun range, you can use a tactical shotgun case for the discreet storage of your firearm. You also need this case if you plan to travel with guns or simply keep them as home defense weapons.
So, how do you choose a good tactical shotgun case? Here are some features to consider:
Locks: For security, you want the shotgun cases to have locks. Hard cases often have more complex types of locks, while soft cases need to have two zipper pulls to put a padlock through. Make sure that the locks have passed TSA standards if you plan to bring the case to the airports.
Materials: The type of fabric can determine if the case can withstand the outside elements. Hard cases are more durable than their soft case counterparts because they use hard plastics and watertight seals. If you opt for soft cases, look for a ripstop or nylon fabric with a high denier count and heavy stitching.
Straps: This includes shoulder straps, Molle straps, and interior straps. You want the shoulder straps to be adjustable and well-padded. Molle straps are important if you want to hang extra pouches for travel.
Along with a thick foam insert, interior straps help keep the gun from moving inside the bag during transport.
Aside from the above, you also have to consider the pockets, size, and other extra features. We'll discuss them in the buying guide below. But before we start, let us recommend our top tactical shotgun cases.
---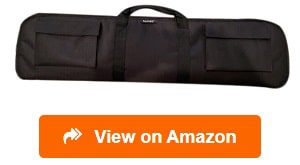 Bulldog Tactical Shotgun Case
Built with strong handles
Made of heavy-duty zippers
Comes at an economical price
---
Plano Tactical Gun Case
Has a solid construction
Protects guns from pressure
Spacious enough for two rifles
---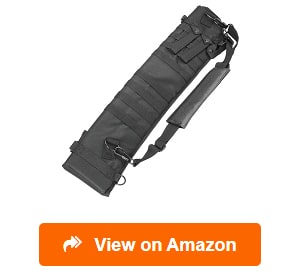 NcStar Tactical Shotgun Scabbard
Keeps the gun secure
Comfortable to wear
Firm on the outside
---
Top 6 Tactical Shotgun Case Reviews
1. Bulldog Cases Tactical Shotgun Case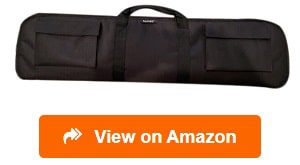 This shotgun case from Bulldog is one of the best pistol grip shotgun cases I've used because it secures the pistol grip's shape pretty well. It's available in three sizes – 35, 42, and 48 inches.
Everything about this home defense shotgun case feels durable enough to hold anything I put inside. The ballistic nylon fabric is sewn with heavy thread, so I'm confident that my gun won't fall out of the case during transport. Also, the carrying handles are strong enough to withstand the weight of my shotgun.
What I love most is the scratch-resistant inner lining because it cushions the impact to keep my weapon safe in transit. The amount of padding inside seems adequate to conform to the shotgun's shape, so every part is protected.
It's a bonus to have the hidden elastic shell loops on the external pockets because they serve as a safe place to store the shells.
Opening or closing the bag is easy because the full-length heavy-duty zipper comes with a large pull. I found a tiny D-ring on one end of the case, which seems to be strong enough for hanging the shotgun soft case on the wall for storage. For the price, this Bulldog tactical shotgun case is a steal.
Heads-up:
However, I find it hard to fit a rifle with scopes.
Pros:
Made of heavy-duty zippers with a large pull for great ease of use
Constructed of durable ballistic fabric with solid stitches
Built with strong handles and a D-ring for hanging
Well-padded with protective inner lining
Have three sizes and slots for shells inside the outer pockets
Comes at an economical price and secures the pistol well
Cons:
May not hold rifles with scopes
Bottom Line:
Overall, this Bulldog shotgun case offers durable storage for weapons at a good price. Everything is nicely put together, including the zipper, pockets, and interior lining.
2. Plano Tactical Gun Case
When it comes to a more heavy-duty mission, I like to use the Plano gun case. This high end shotgun case is extremely durable and offers plenty of room for two scoped rifles.
The hard case construction is somewhat similar to my more expensive Case Club Breakdown shotgun case. Everything feels solid, especially the carry handle, which can support the heavy weight of two rifles.
This combat shotgun case also has a Dri-Loc seal that effectively works in keeping my rifles unaffected by the heavy rain and dust.
I especially love the precut foam insert of this rifle hard case because it's molded into small cubes to fit the shape of my rifles. My guns stay secure while in transit and won't even dry-fire, thanks to the soft arrow retainer. Whenever I ride an airplane, this hard shotgun case will protect my firearm through its pressure release valve.
The best part about this hard case is the locks that came with it. The locks fit the latches securely, making me feel confident that no one will break into the case. I'm pleasantly surprised to find two places for padlocks; this means I can virtually bring this bag anywhere as it passes TSA requirements.
Heads-up:
However, this locking shotgun case is a bit heavy to carry.
Pros:
Has a solid construction with a strong carry handle
Designed with a Dri-Loc seal to protect guns from water and other elements
Comes with foam inserts and locks for security; spacious enough for two rifles
Has a retainer to prevent dry firing
Protects guns from pressure through the valve
Has passed the TSA requirements for travel
Cons:
Bottom Line:
Altogether, this Plano case makes a nice option for security. The case comes with locks and a watertight seal to keep the elements at bay. Most importantly, it passes the TSA standards for safe travel.
3. NcStar VISM Tactical Shotgun Scabbard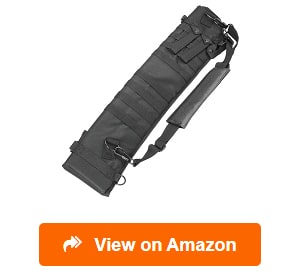 One of the most comfortable shotgun carrying cases I used is the NcStar VISM. This padded shotgun case slung over my back comfortably, thanks to the sliding pad of the shoulder strap. I find this case suitable for guns with prominent shotgun stocks.
What I like most is the versatility of the scabbard because I can customize it to get the best fit. For example, the carry strap adjusts to my desired length. My favorite feature is the adjustable clip found on the barrel end because I can use it to make the scabbard as long or as short as I want.
The design seems to look solid. The stitching is all tight on the seams, while the Molle straps hold up well when I attach a shell carrier. I think the hardware is made of steel because they don't easily get rusty even when soaked with water.
As for the size, I can easily fit a 28-inch barrel without a pistol grip. My gun sits securely inside using the PALS quick-release strap. This soft case also has padding on the inside but is firm enough on the outside to protect my firearm from scratches.
The shoulder strap isn't just a thin piece of fabric. It's well-padded, so it feels comfortable to wear for long hours. I observe that the strap distributes the weight of the rifle on my back nicely.
Heads-up:
However, this scabbard is only good for a single rifle without a scope.
Pros:
Has an adjustable well-padded shoulder strap
Comfortable to wear with sliding pad
Built with an adjustable clip to extend or shorten the case
Firm on the outside, with solid stitches and rust-resistant metal hardware
Integrated with sturdy Molle straps and internal padding
Keeps the gun secure with the PALS quick-release strap
Cons:
Not for rifles with scopes
Bottom Line:
All in all, this scabbard excels with its versatility. The strap is adjustable to hang on the shoulders or use by hand as a standard soft gun bag. There's even a clip to fold or extend the scabbard to store different sizes of firearms.
4. Allen Company Daytona Soft Carrying Shotgun Case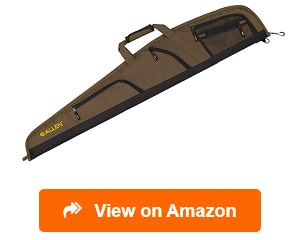 This Daytona is a soft shotgun case that can fit most shotguns like a 46-inch rifle or a 52 inch firearm. I love the accessory pocket of this extra long shotgun case because it can store small gear for duck hunting, like choke tubes, ear plugs, or an additional barrel.
This soft sided shotgun case seems to be well-made. The endura fabric feels sturdy, and the zippers look heavy-duty to withstand rugged use. I like that the pockets are zippered because they give me peace of mind that my items won't fall during transport.
The thick foam padding makes this one a good over under shotgun case. The foam seems to take the shape of the gun and keep it from moving. Thankfully, the D-ring is located near the zipper when closed, so I can easily put a lock on the case when necessary.
I like the appearance of this product. It doesn't look bulky even when I load my gun, and the brown color adds a cool aesthetic to my whole wardrobe. Best of all, the case is comfortable to carry because the strap comes with padding.
What I like most are the handy pockets. There are four zippered pockets outside to store a few eight-round mags. My favorite is the mesh pocket where I like to keep my smartphone because it makes items easy to view.
Heads-up:
However, this case looks too small to fit a gun with a pistol grip or scope.
Pros:
Thick padding offers enough protection to keep gun safe
Fits most shotguns, features multiple pockets for storing phone, mags, etc.
Items stay secure, thanks to the sturdy zippers
Made of durable endura fabric
Comes with D-ring to lock the zipper for security
Not bulky, looks good and is easy to carry around with padded strap
Cons:
May not fit rifles with scopes and pistol grips
Bottom Line:
Overall, this Daytona shotgun case has won me over with its appearance and multiple outside pockets. It looks sturdy, so I think this will work at the gun range just fine.
5. HUNTSEN Soft Double Shotgun Rifle Case
This HUNTSEN is a double rifle case that can fit one or two guns. It is perfectly sized for my Remington 870 and Mossberg.
In fact, I like to use this bag as a Mossberg tactical shotgun case because there is ample space for the scopes. It's also a good 12 gauge shotgun case because there's plenty of pockets outside to store my spare ammo. I can even put in some hunting accessories, like earplugs and goggles, in the outside pouches.
I believe that my firearms will stay safe inside this soft gun case. There's a well-padded divider to separate two guns and keep them from scraping each other. I particularly love the hook and loop fastener straps inside because they keep my Remington in place during travel.
The construction of the case looks durable for hunting. The polyester fabric is thick enough to support the weight of the rifles, while the zippers look rugged to withstand heavy use. It's a bonus that I can lock the zippers to keep my multiple guns secured.
Heads-up:
Most of the time, I like to use the carry handle because it feels more secure. The shoulder strap is a great addition but the metal D-rings are a bit frail to hold two guns.
Pros:
Has a large capacity to hold one or two rifles with scopes
Built with large pockets outside for accessories
Has a divider and fastener straps to keep the firearms safe
Made of rugged polyester fabric and zippers
Can be locked for security
Cons:
Has weak D-rings for the shoulder straps
Bottom Line:
Altogether, this gun case offers remarkable storage for two shotguns and a few gear pieces. The design also looks durable, so I believe it will last in tough hunting environments.
6. Silfrae Tactical Shotgun Bag
The Silfrae is one flexible shotgun bag that can be customized to fit any length of tactical weapons. When folded, it becomes a small shotgun case for short-scoped rifles.
I like to bring this custom shotgun case on trips to the gun range because it's easy to carry. The shoulder strap is extremely comfortable because it's wide enough to distribute the weight of the gun. I like that the strap is adjustable and removable to not get in the way when I use the carry handle.
The size of this scabbard is quite large to accommodate any size of the gun. I can break the gun down and place the barrel next to it for compact storage. I appreciate the buckle because it helps secure my gun when I fold the scabbard up.
The best part about this bag is the Molle straps. The straps are placed all around to accommodate different gear and pouches. Also, the 600D nylon fabric seems durable enough to last in the tough environment outside.
Heads-up:
My only dislike is that this bag has limited pockets for accessories.
Pros:
Have adjustable, removable shoulder straps that feel comfortable to wear
Offers customization in sizes – fold or unfold
Wide enough to store different parts of the gun
Comes with a buckle to secure the gun into place and a carry handle
Built with many Molle straps to fit more gear and other accessories
Made of a tough 600D nylon fabric
Cons:
Bottom Line:
All in all, this tactical shotgun bag suits short shotguns best as users can fold it up. It also has lots of straps and adjustments to keep the gun secure. Although it lacks pockets, we can carry extra gear using the Molle straps.
What to Look for When Buying Tactical Shotgun Case
If you carry a long gun, you'll need a tactical shotgun case. Not all cases look the same, so be mindful when shopping around. Here are the things to consider when choosing a good tactical shotgun case.
Shotgun cases either come soft or hard. Your choice depends on your preference.
A soft case is mostly made of durable yet lightweight fabrics, making it easier to carry around the woods or mountains. It's ideal for hunting because it doesn't make noise like a hard case does. Some of these cases can float and resist water to provide more protection.
Although soft cases have soft interior padding, they're less protective than hard cases. The firearms can move inside, so make sure to look for fastener straps.
A hard case provides better protection with its tougher outer shell, making it an ideal choice for rigorous missions and long-distance travel. The construction is virtually unbreakable and watertight, so it offers more protection.
Many of these cases have a locking mechanism to meet travel standards.
Because of its hard outer shell, this type of shotgun case can be expensive and heavy.
Guns are dangerous to carry because they may cause a firing accident if you're not careful. To keep the gun in its place, look for shotgun cases with lock. Getting a lockable case is especially important if you want to travel with your firearm because the TSA requires it.
In this regard, hard cases are more suitable than their soft case counterparts because they typically have secure locks. A soft case is only acceptable if it has multiple zipper pulls to thread a padlock through.
Material And Construction
The most durable shotgun cases are made of injection-molded plastics. If you opt for a soft gun case, look for ripstop or nylon fabric with reinforced stitching and a higher denier count. Leather shotgun cases are more durable than fabric but more expensive.
The foam interior should be thick to cushion the guns from impact. Some of the best rifle cases use polyethylene foam to absorb impact and vibrations effectively. Also, try to look for a scratch-resistant lining material to protect the appearance of the guns.
To ensure the safety of the gun while transporting it, look for sturdy fastener straps to hold the gun down. You may also consider getting a scabbard-style case if you want easy access to the gun.
Your gun should fit inside the bag snugly. The interior dimensions are more significant than the external dimensions in this aspect.
For example, if you own a 40 inch rifle, look for a case with an interior length of 40 inches at least. Make sure to consider the scopes if your rifle has one.
If the case only provides the overall or external dimensions, your gun should be two inches smaller than these numbers to get the best weapon fit.
The weather shouldn't stop you from going hunting or shooting at the range. To keep your gun safe from drizzles or heavy rain, look for a waterproof case.
A shoulder strap offers a more comfortable option if you want to carry a single rifle hands-free. Make sure that it's well-padded and adjustable to find the best length.
If you plan to carry spare ammo or gear, look for pockets. Some cases provide nylon webbing to accommodate Molle pouches.
Is It Safe to Store Extra Ammo in the Main Compartment With the Shotgun?
You should separate the ammo from the shotgun. That way, if someone breaks into your home and finds the firearm, they would not have access to ammunition at the same time.
Moreover, if you have children, you would not want them to mess with a loaded gun and hurt themselves.
Are There Any Laws Concerning the Use of a Shotgun Case?
TSA requires the transport of shotgun cases as checked luggage only. Make sure that the case is locked to prevent accidental access. You can use any type of lock, but TSA-approved ones are better.
When storing the firearm inside the case, ensure that it's unloaded. Remove the ammo and transport it in checked luggage. Only rifle scopes are allowed to be kept in a carry-on bag.
Who Makes the Best Hard Gun Cases?
Pelican makes the best hard gun cases because they're extremely durable. Pelican cases are TSA-approved, meaning that they allow you to travel on planes with ease. If you like a cheaper option, try the Plano hard case, which also offers a sturdy hard shell.
Are soft gun cases worth it?
Soft gun cases are worth it because many popular brands, like Bulldog, make good soft cases that allow for separate storage of ammo and guns.
Others also allow the transport of two rifles, like HUNTSEN. The best part about these bags is that they're lightweight and more convenient to carry around in the woods or at the gun range.
Conclusion
Now that you know what to look for in a good tactical shotgun case, you can never go wrong. For me, the best tactical shotgun case is the Bulldog Case because it's quite durable for its price. I like that it offers designated storage for shells.
If I want to travel, I prefer the Plano Tactical Gun Case because it offers locks and is heavy-duty. I think nothing can penetrate its hard case construction.
Regardless of your choice, make sure that your gun fits the case snugly. There shouldn't be any extra room for movement.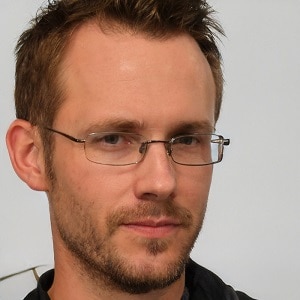 I am Everett Bledsoe, taking on the responsibility of content producer for The Soldiers Project. My purpose in this project is to give honest reviews on the gear utilized and tested over time. Of course, you cannot go wrong when checking out our package of information and guide, too, as they come from reliable sources and years of experience.