Have you ever heard of the Blue Angels? What branch of the U.S. military features the blue angels?
"Blue Angels" is actually the name for a naval flight demonstration squad in the military.
Learn more about it in our article here. We will provide other relevant information like its history and brief through:
What Are the Blue Angels?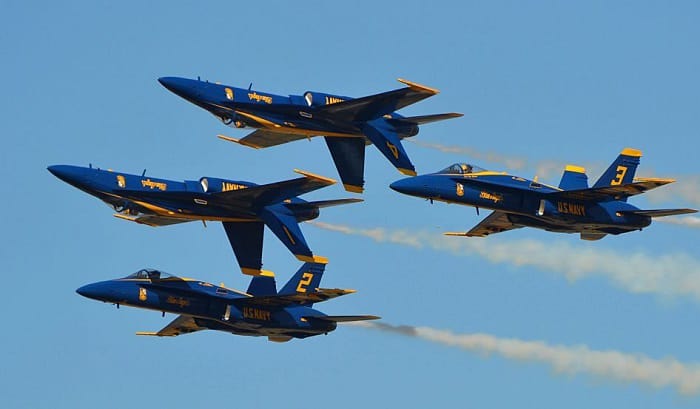 As mentioned above, "Blue Angels" is the name for the squadron that performs flight demonstrations. It is sometimes also referred to as t
What Do the Blue Angels Do?
The Blue Angels are in charge of showcasing the U.S Navy and Marine Corps' pride and professionalism through flight demonstrations, which are also referred to as aerial displays and airshows. They perform at both non-military airfields and military airfields.
In addition, they engage in outreach missions, visiting hospitals, schools, and community functions.
This year (2022), the Blue Angels scheduled over 30 shows. Next year (2023), the plan includes 33 shows.
What Branch of the U.s Military Is the Blue Angels in?
Although typically mistaken as Air Force Blue Angels, the Blue Angels' military branch is the Navy.
Note: The Army version of the Blue Angels is the Golden Knights, and the Air Force's is the Thunderbirds.
Currently, the Blue Angels include 17 volunteer officers. The specific member positions are as follows:
The "Boss": This is also called the flight Leader or Commanding Officer position.
This year, the Commanding Officer is Brian C. Kesselring, a Fargo (North Dakota) native. Kesselring joined the Blue Angels in 2019.
Right-Wing: Lieutenant Chris Kapuschansky of the Navy.
Left-Wing: Lieutenant Scott Goossens of the Navy.
Slot: Major Frank Zastoupil of the Marine Corps.
Lead Solo: Lieutenant Commander Cary Rickoff of the Navy.
Opposing Solo: Lieutenant Commander Julius Bratoon of the Navy.
Narrator: Lieutenant Griffin Stangel of the Navy.
Events Coordinator: Lieutenant Katlin Forster of the Navy.
Executive Officer: Commander Jon Day of the Navy.
C-130 Fat Albert Aircraft Pilots:
Captain Wiliam Huckeba of the Marine Corps
Captain Jackson Streiff of the Marine Corps
Major Joshua Soltan of the Marine Corps
Maintenance Officer: Lieutenant Brian Abe of the Navy.
Assistant Maintenance Officer: Lieutenant Henry Cedeno of the Navy.
Flight Surgeon: Lieutenant Commander Monica Borza of the Navy.
Supply Officer: Lieutenant Paul Kruger of the Navy.
Public Affairs Officer: Lieutenant Chelsea Dietlin of the Navy.
There is also a team of 100 enlisted members (sailors + marines), playing maintenance and support roles:
Fat Albert Airlines (3 USMC members): Transport equipment, supplies, and road crew personnel to and from each show site for the Lockheed-Martin C-130 Hercules squadron.
Fat Albert Maintenance (5 USMC members): Maintains the C-130 Hercules Fat Albert aircraft.
Chief Petty Officers + Gunnery Sergeants: Monitor day-to-day operations and provide guidance, training, and leadership to enlisted personnel.
Crew Coordinators (E-6 personnel at any rate): Coordinate ground operations for performances and train maintenance and support teams on squadron procedures.
Administration (4 members): Handles instructions, notices, promotions, awards, as well as legal and security concerns.
Airframes (11 members): Maintain controls, systems, and geats.
Aviation Medicine (2 members): Examines the team annually, performs emergency procedures, and ensures medical readiness.
Avionics (Technicians and electricians): Maintain and troubleshoot aircraft systems.
Crew Chiefs (Maintenance technicians in various specialties): Perform checks and inspections.
Events Coordinators (2 members): Get sponsors, accommodations, and ground support, design air show schedules, and coordinate commitments.
Life Support (8 members): Maintain life support systems and personal flight gear for pilots.
Logistics (9 members): Researches, procures, stores, and allocates uniforms, tools, and parts to support squadron operations.
Maintenance Control (4 members): Manage, direct, and coordinate maintenance on aircraft and aircraft records.
Paint Shop (Maintenance technicians from different ratings): Paint and control and remove any corrosion on aircraft.
Power Plants ( Aviation Machinist Mates and mechanics): adjust, replace, and service engines of aircraft, as well as any secondary power systems.
Public Affairs (3 members): Promotes the Blue Angels by designing, writing, editing, publishing, and distributing content of the squadron.
Quality Assurance (Maintenance technicians in different aviation ratings): Prepare, administer, and review maintenance instruction and technical directives, complete audits for maintenance, inspect and supervise maintenance regimes, etc.
Finally, there is a team of technical representatives:
Administrative Officer: Aries Wilkins
Boeing Technical Representatives: Landy Harnishfeger and Jack Ralph
Boeing Logistics Advisor: Todd Lawson
Financial Analyst: Deborah Johnson
Applicants who meet the requirements are recommended for Blue Angel duty. After extensive screening, interviewing with all 15 squadron work centers, and a complete selection process, the enlisted personnel commit to a 3-year Blue Angel tour.
During the air show season, the Blue Angels are stationed at Forrest Sherman Field, which is in Florida's Naval Air Station. During the training season (January to March), the team is in California, at the Naval Air Facility El Centro.
What is the Brief History of the Blue Angels?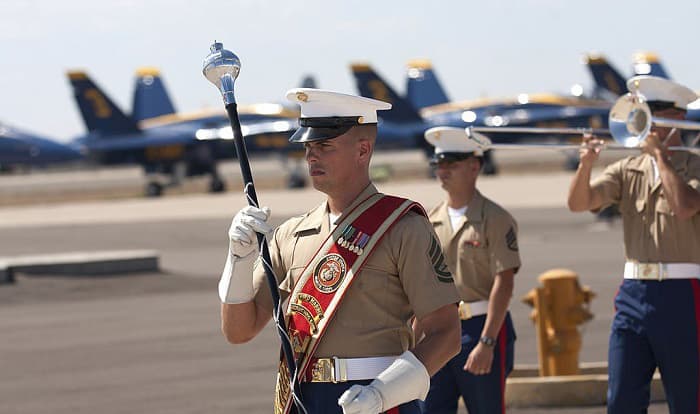 The Blue Angels were founded in April 1948. Their original name was the Navy Flight Exhibition Team but they changed it to the Blue Angels two months later. In December 1973, they were reorganized, and then, commissioned as the U.S Navy Flight Demonstration Squadron.
1. 1949 to 1949
The Blue Angels were assembled under the orders of Chief of Naval Operations Admiral Chester Nimitz. The purpose was to forge greater public support for naval aviation and boost Navy morale.
Their first demonstration was in front of Navy officials in May 1946
Their first performance in front of the public was in June 1946
It was at the Naval Air Station in Jacksonville, Florida
Their first appearance as the Blue Angels was in July 1946
It was at an airshow in Omaha, Nebraska
2. 1950 to 1959
The team was disbanded as Blue Angel pilots volunteered for combat duty in the Korean War. They were reactivated in October 1951 and their first re-activated performance was in May 1952. It was in Memphis, Tennessee.
3. 1960 to 1969
In July 1964, the Blue Angels performed over Mexico City and before around 1.5 million people, in the Aeronaves de Mexico Anniversary.
In 1965, they went on a Caribbean island tour and flew over five sites. In the same year, they went on a tour in Europe, which included performances at over a dozen sites. The most well-known of the sites was the Paris Air Show.
In 1967, they embarked on another European tour, at over 6 sites.
4. 1970 to 1079
In 1970, the Blue Angels toured South America for the first time.
In 1971, they toured the Far East at locations across the Philippines, Guam, Taiwan, Korea, Japan, etc.
In 1972, they received the Navy Meritorious Unit Commendation.
In 1973, they did air shows in Italy, Greece, Turkey, Spain, England, France, Tehran, and Iran.
5. 1980 to 1989
In 1986, the Blue Angels commemorated their 40th Anniversary. They revealed their McDonnell Douglas F/A 18 Hornet, which remained their aircraft until 2020.
6. 1990 to 1999
The Blue Angels went for a European tour that lasted for one whole month. Shows were hosted in Bulgaria, Finland, Italy, Spain, Sweden, Romania, the U.K, and Russia.
7. 2000 to 2009
In 2006, the Blue Angels marked their 60th Anniversary.
In 2009, they were inducted into the International Air and Space Hall of Fame, which is set at the San Diego Air and Space Museum.
8. 2010 to 2019
From 2010 t0 2013, for various reasons, shows were continuously canceled.
In March 2014, they had their first air show in a while. In the same year, the team welcomed the first female pilot (Katie Higgins).
9. 2020 to Today
The Blue Angels flew over a few cities to pay tribute to front-line- and health care workers during the COVID-19 outbreak.
Conclusion
Now, you have all the essential information on, "Who are the Blue Angels?" and "What branch of the U.S. military features the Blue Angels?" Hopefully, you have found this easy to read. If you have any further questions to ask or thoughts to share, leave us a comment. We always welcome readers, so do not feel like you cannot reach out to us!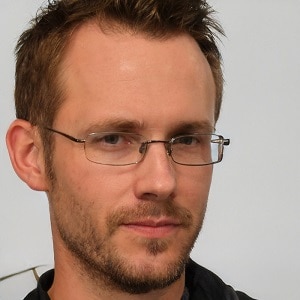 I am Everett Bledsoe, taking on the responsibility of content producer for The Soldiers Project. My purpose in this project is to give honest reviews on the gear utilized and tested over time. Of course, you cannot go wrong when checking out our package of information and guide, too, as they come from reliable sources and years of experience.