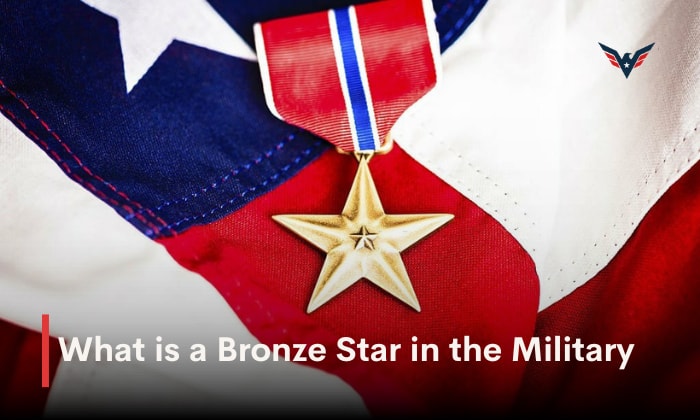 What is a bronze star in the military? If you're curious about this decoration and its significance, read on.
We will tell you all about its history, meaning, and recipient criteria, as well as the devices and ribbons the military uses to signify and celebrate this achievement.
What is the Bronze Star Medal?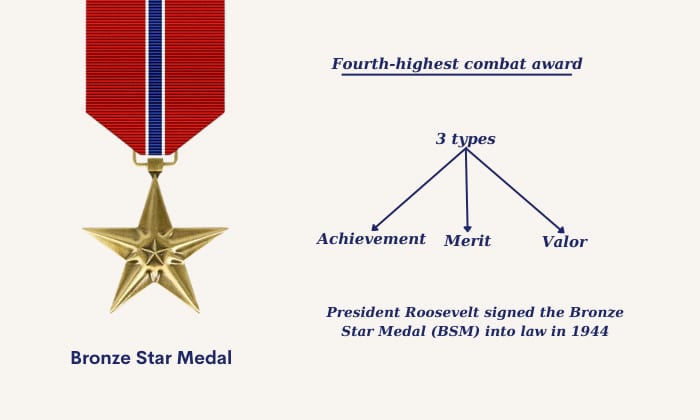 1. Definition
Bronze Star Medal, also referred to as Bronze Star, is the fourth-highest combat award for service members involved in armed, non-aerial conflicts.
It may be awarded to not only US forces but also foreign and allied soldiers serving with the United States.
2. Background & history
Historically, President Roosevelt signed the Bronze Star Medal (BSM) into law in 1944.
However, the idea for this award came from Colonel Russel Reeder in 1943, who proposed the concept to General McNair, the commander of the Ground Forces.
General McNair then presented the idea to General Marshall, who, in a memorandum to the president, argued that the BSM would sustain the morale of US ground troops, who did not have a decoration similar to the Air Medal that honored the air forces.
That's essentially how the Bronze Star Medal came about.
3. Types of BSM
There are three types of Bronze Star Medals—achievement, merit, or valor, which correspond to the three categories of exemplary acts a soldier may receive recognition for.
We'll go into detail about these types in the criteria section, so you'll know how they differ.
4. Notable recipients of the Bronze Star Medal
Audie L. Murphy
Senator John McCain
Senator Daniel Inouye
First Lieutenant Cordelia E. Cook
Author James Brady
Bill Bowerman
Joseph S. Clark Jr.
Walter Fetterly
Criteria For Award
Now that you know the bronze star meaning, you may wonder what qualifies service members to receive it.
To earn a Bronze Star, service members must perform acts of valor or display meritorious achievement and heroic service when operating in combat zones.
The commendable act may take place in the following situations:
When engaging in battle against an enemy force of the US
Or, when conducting military operations or engaging in armed conflicts against an opposing force — in the latter case, if the soldier is working alongside friendly foreign forces, the US must not be a belligerent party.
As mentioned above, there are three types of Bronze Star Medals. Of these, the valor type is the rarest one if we consider bronze star requirements, since it awards actions that take place during combat.
In other words, meritorious achievements or service mean you do your job well, but valor means the stakes are higher—you do something that could get you killed.
For this reason, Bronze Star Medals with Valor come with a V device for Air Force, Space Force, and Army bronze stars, while a Combat V device will apply to the Navy, Marine Corps, and Coast Guard.
Description and Significance
Here's a short description of the Bronze Star Medal, plus its ribbons and devices.
1. Bronze Star Medal
A bronze star that's 1.5 inches in diameter with a small star in the center; its reverse side has an inscription that says: "Heroic or Meritorious Achievement," plus the name of the recipient.
2. Bronze Star Ribbon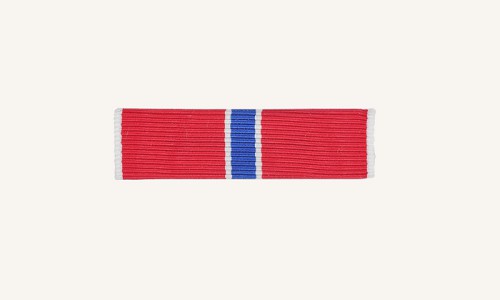 The suspension ribbon is 1 ⅜ inches wide, mainly red in color, with a white-edged blue band in the center and white outer edges.
3. Devices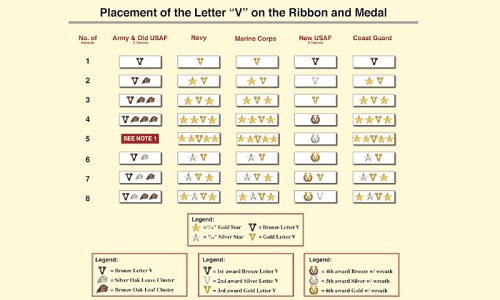 The V-device is a ¼ inch metal letter worn to denote valor or heroism in combat. Only one V-device may be attached to a ribbon.
For this reason, other devices may be used to symbolize additional awards:
For example, the Army, Air Forces, and Space Forces use oak leaf clusters in bronze or silver, while the Navy, Marine Corps, and Coast Guard use five-pointed stars in gold or silver.
One bronze oak leaf cluster or gold star indicates an additional award, while a silver oak leaf cluster or silver star means five additional awards.
Conclusion
Bronze star benefits may not extend to an increased salary or promotions within the military.
However, the medal is an acknowledgment of how service members have faithfully served the country and its citizens, and receiving it is undoubtedly an achievement of a lifetime.
Now, you know what is a bronze star in the military when asked, and if someone in your family achieved this honor, you know how significant it is.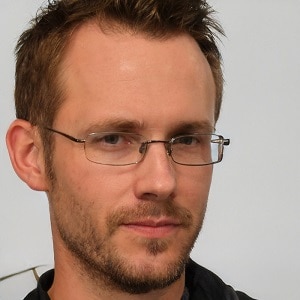 I am Everett Bledsoe, taking on the responsibility of content producer for The Soldiers Project. My purpose in this project is to give honest reviews on the gear utilized and tested over time. Of course, you cannot go wrong when checking out our package of information and guide, too, as they come from reliable sources and years of experience.