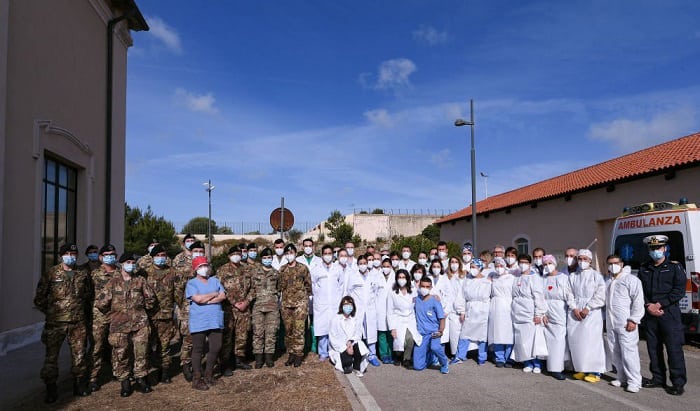 Although we usually only think of soldiers carrying firearms when it comes to military members, there is in fact a range of professions in the service. Therefore, you can also find doctors in the military.
On this note though, you might wonder, "What is a military doctor called?"
In general, they can be called military doctors or medical doctors. However, within each service branch, there are specific jobs and specific titles.
So, if you are interested, continue reading to find out all the possible names.
U.S Military Doctors / Medical Doctors
Military doctors or medical doctors can be group-called by service branches. Hence, they would be dubbed:
Army Medical Corps (Sometimes also Med Corps Army)
Marines Medical Corps
Air Force Medical Corps
Since the Medical Corps is the most well-known Corps of the six healthcare Corps.
1. The U.S Army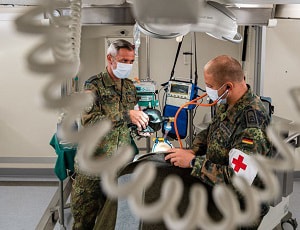 The Army Medical Command includes 6 Corps. Each has a specific function, but they all work together to maintain the health of Army members.
Corps 1: Army Medical Corps
The three primary practice areas for physicians here are
Operational Medicine
Clinic Medicine
Research Medicine
So U.S Army doctors in this corps can be referred to as Operational Medicine Physicians, Clinic Medicine Physicians, or Research Medicine Physicians. Within these areas, though, there are about 40 specialties. And physicians are sometimes called by their specialty.
Here is the full list of names for military doctors in the Army Medical Corps:
Allergist
Anesthesiologist
Clinical Immunologist
Cardiologist
Child Neurologist
Child Psychiatrist
Clinical Pharmacologist
Dermatologist
Diagnostic Radiologist
Emergency Physician
Endocrinologist
Family Medicine Physician
Field Surgeon
Flight Surgeon
Gastroenterologist
General Surgeon
Infectious Disease Officer
Internal Medicine Physician
Medical Oncologist
Nephrologist
Neurologist
Neurosurgeon
Nuclear Medicine Officer
Obstetrician
Occupational Medicine Officer
Ophthalmologist
Orthopedic Surgeon
Otolaryngologist
Pathologist
Pediatric Physician
Peripheral Vascular Surgeon
Physiatrist
Plastic Surgeon
Preventive Medicine Officer
Psychiatrist
Pulmonary Diseases Officer
Rheumatologist
Urologist
Corps 2: Medical Service Corps
In this Corps are medical administrative, scientific, and provider specialties. The general disciplines are:
Behavioral Sciences
Health Services
Laboratory Sciences
Optometry
Pharmacy
Podiatry
Preventative Medicine
That being said, the Army Medical Corps can be referred to as a doctor in any of the disciplines. For example, a Behavioral Sciences doctor.
Corps 3: Medical Specialist Corps
Those in the Corps are called ​​Physical Therapists, Occupational Therapists, and Clinical Dietitians.
Corps 4: Veterinary Corps
Army medical officers in this Corps work with animals. The disciplines include:
Field Veterinary Service
Veterinary Clinical Medicine
Veterinary Laboratory Animal Medicine
Veterinary Pathology
Their names or titles would be: Discipline Name + Officer. For instance, a Field Veterinary Service officer.
Corps 5: Army Nurse Corps
This Corps is home to all nurses in the Army. However, technically they are not doctors. So, we will not go into details here.
Corps 6: Amy Dental Corps
The names or titles of doctors in this Corps would also be based on their specialty. In detail, you can hear of:
Comprehensive Dentist
Endodontist
Executive Dentist
General Dentist
Oral & Maxillofacial Surgeon
Oral Pathologist
Orthodontist
Pediatric Dentist
Periodontist
Prothodontist
Public Health Dentist
Furthermore, if you are planning to become a military doctor, you should check this guide now!
2. The U.S Marine Corps
Doctors in the Marines are generally referred to as Medical Officers or Medical Corps Officers.
The U.S Navy
Similar to the Army, the Navy health care providers are within 6 Corps: the Medical Corps, Dental Corps, Nurse Corps, Medical Service Corps, Hospital Corps, and Civilian Corps.
Corps 1: Medical Corps
The doctors are called by their specialty, which can be in:
Aerospace
Anesthesiology
Dermatology
Global Health Engagement
Internal Medicine
Neurology
OB-GYN
Orthopedics
Pediatrics
Physical Medicine
Psychiatry
Pulmonary
Trauma Surgery
Operational Medicine
Without distinguishing these specialties, they may be called "physicians," "psychiatrists," or "specialists."
Corps 2: Dental Corps
As with the Medical Corps, those in the Dental Corps are called according to their specialization:
Comprehensive Dentistry
Dental and Biomedical Research
Dental Public Health
Operative Dentistry
Oral and Maxillofacial Surgery
Oral and Maxillofacial Pathology
Oral Medicine and Radiology
Orofacial Pain
Orthodontics
Pediatric Dentistry
Periodontics
Prosthodontics
Corps 3: Nurse Corps
This Corps is home to all nurses in the Navy. However, technically they are not doctors. So, we will not go into specifics here.
Corps 4: Medical Service Corps
Like both Corps 1 and 2, the Medical Service Corps personnel have titles corresponding to their areas of specialization, and those specializations are:
Aerospace Experimental Psychology
Aerospace Physiology
Biochem or Toxicology
Clinical Psychology
Clinicians Audiology
Dietetics
Education and Training Management
Entomology
Environmental Health
Financial Management
Health Care Administration
Health Care Facility Planning
Health Care Info Systems
Industrial Hygiene
Manpower Personnel
Material Logistics Operations Analysis
Medical Technology
Microbiology
Occupational Therapy
Optometry
Patient Administration
Pharmacy
Physical Therapy
Physician Assistant
Physiology
Podiatry
Radiation Health
Research Psychology
Social Work
Corps 5: Hospital Corps
The specialities are extensive, and Navy doctors in this Corps are referred by their specialization titles, as follows:
​Advanced Dental Laboratory Technician
Aerospace Medicine Technician
Aviation Physiology Technician
Basic Dental Laboratory Technician
Behavioral Health Technician
Biomedical Equipment Technician
Cardiovascular Technician
Dental Assistant
Dental Hygienist
Dive Independent DutyCorpsman
Dive medicine Technician
Drug and alcohol Counselor
Electronneurodiagnostic Technologist
Hemodialysis Technician
Histology Technician
Mammography Technician
Maxillofacial Technician
Medical Laboratory Technician
Mortician
Nuclear Medicine Technician
Occupational Therapy Technician
Optician
Ophthalmology Surgical Technician
Orthopedic Cast Room Technician
Pharmacy Technician
Physical Therapy Technician
Preventative Medicine Technician
Radiation Health Technician
Radiologic Technician
Reconnaissance Corpsman
Reconnaissance Independent Duty Corpsman
Respiratory Therapy Technician
Search and Rescue Medical Technician
Submarine Independent Duty Corpsman
Surface Force Independent Duty Corpsman
Surgical Technologist
Ultrasound Technician
Urology Technician
Corps 6: Civilian Corps
These are the Navy's civilian healthcare employees. They are usually just called Civilian Doctors. Though those who know their speciality titles may refer to them as such.
3. The U.S Air Force
Doctors in the Air Force can be called any of the below, depending on their healthcare specialty:
Aerospace and Operational Physiologist
Aerospace Medicine Specialist or Flight Surgeon
Aerospace Medical Service Technician
Allergist
Anesthesiologist
Audiologist
Biomedical Laboratory Officer
Clinical Geneticist
Clinical Psychologist
Dermatologist
Dental Laboratory Technician
Dentist
Diagnostic Imaging Technician
Diagnostic Radiologist
Diet Therapy Specialist
Dietitian
Endodontist
Emergency Services Physician
Family Nurse Practitioner
Family Physician
Histopathologist
Medical Entomologist
Medical Health Service Specialist
Medical Laboratory Technician
Medical Materiel Technician
Neurologist
Nuclear Medicine Physician
Oral and Maxillofacial Pathologist
Oral and Maxillofacial Surgeon
Obstetrician or Gynecologist
Occupational Medicine Specialist
Occupational Therapist
Ophthalmologist
Optometrist
Orthopedic Surgeon
Orthodontist
Otorhinolaryngologist
Pathologist
Pediatrician
Pediatric Dentist
Periodontist
Pharmacist
Pharmacy Technician
Physical Therapist
Pharmacist
Pharmacy Technician
Physical Medicine Technician
Physical Therapist
Podiatric Surgeon
Preventative Medicine Specialist
Prosthodontist
Psychiatrist
Public Health Officer
Radiotherapist
Respiratory Care Practitioner
Surgeon
Surgical Service Specialist
Urologist
4. The U.S Coast Guard
Those who care for the Coast Guard members' daily heath are called Health Services Technicians. But they can also be called by more specific titles, such as:
Medical Assistant
Medical Laboratory Technician
Physician Assistant
X-Ray Technician
Conclusion
As you have read above, there are a few different answers to, "What is a military doctor called?" There can be general names like "military doctor," or "medical doctor," and there can be specific names based on the doctor's area of specialization. Other titles are "technician," "specialist," and "physician."
The Army has over 40 specializations, so there are at least 40 names. There are more than 90 in the Navy, and at least 50 in the Air Force. Hopefully, you have learned a lot from this article. Leave any thoughts and questions you have in the comments below. Also, please help us share this article with other readers, like your family and friends!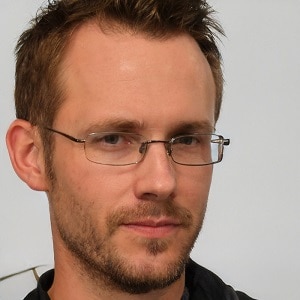 I am Everett Bledsoe, taking on the responsibility of content producer for The Soldiers Project. My purpose in this project is to give honest reviews on the gear utilized and tested over time. Of course, you cannot go wrong when checking out our package of information and guide, too, as they come from reliable sources and years of experience.