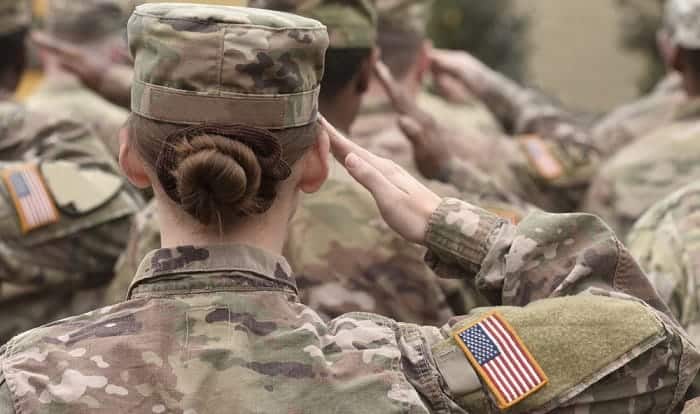 As a soon-to-be service member preparing for applications, you may want to get an idea of the nature and scope of what you are heading towards. In particular, you will want to weigh between the different military branches. Thus, to help you in this regard, we have put together an article answering the question, "What is the easiest military branch to get into?"
Given that there are many phases that an aspiring recruit must pass in the entire process, from applications to acceptance, there is no single short answer. Instead, we will answer in three ways:
At the background clearance check stage, the easiest military branch to join is the Army or Navy.
At the ASVAB stage, the easiest military branch to join is the Army or Air Force.
At the basic training stage, the easiest military branch to join is the Air Force.
For details on each answer, continue reading!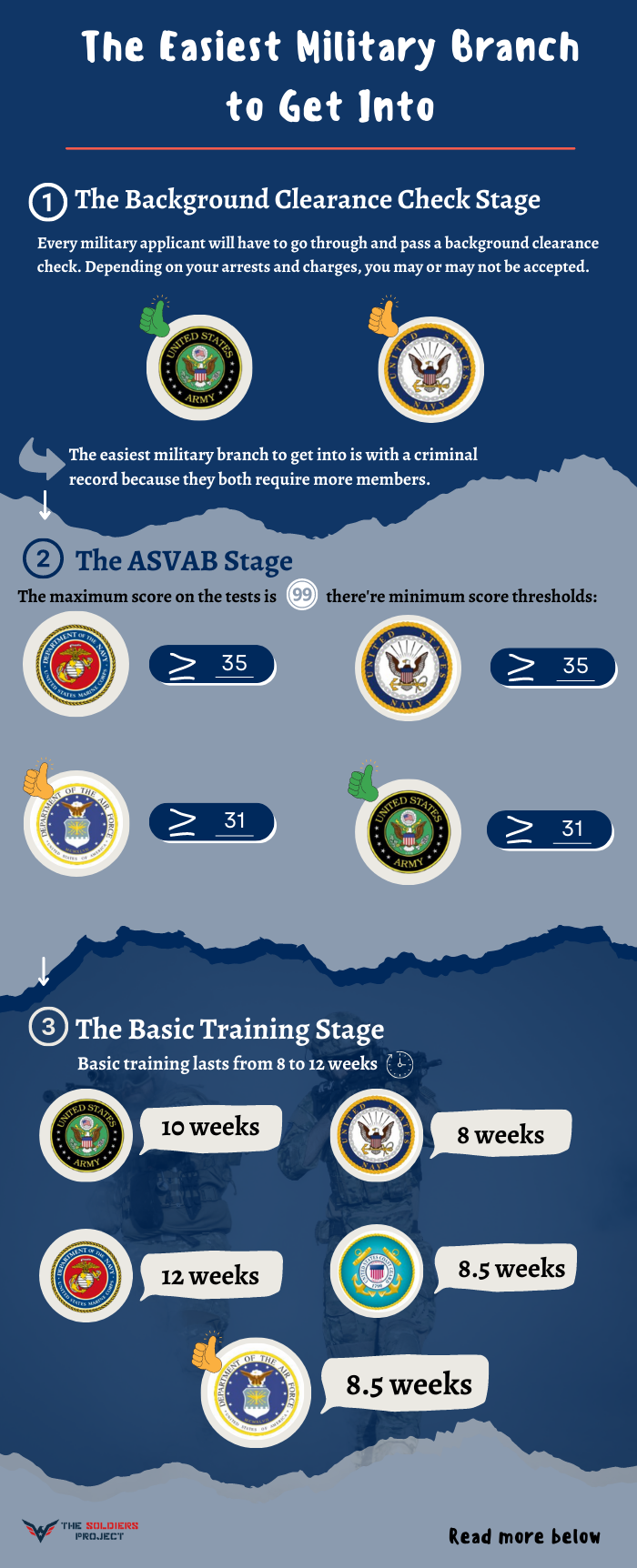 What is the Easiest Military Branch to Get Into—The Background Clearance Check Stage
Every military applicant will have to go through and pass a background clearance check. This ensures that anyone who joins the military meets strict moral standards and conduct. Sometimes, you will also hear this referred to as a character screening or MEPS background check, where MEPS is an abbreviation for the Military Entrance Processing Station.
It will be a detailed procedure with many different sub-steps, including a security clearance that is a lengthy series of investigations managed by the DoD or Department of Defense.
For this, various factors, such as reliability, trustworthiness, financial responsibility, criminal activity, and emotional stability, will be considered. You will have to get a qualified security clearance if you want a position in any of the military branches.
To start, you will complete and submit a questionnaire, disclosing information about yourself and your desired position in the military. The recruiters will then use this to determine the type of clearance that you need—confidential, secret, or top secret—and from there, initiate investigations.
Everything about you since 10 years ago will be checked, particularly the following information:
Social Security Number (SSN)
Personal Life Records (Marriage, Social Media Use, etc.)
Education and/or Employment Records
Prior Service Records
Financial Records
Criminal Records
Driving Records
This is where it may be problematic if you have been convicted of a felony. Even though you will not necessarily be disqualified from the get-go, it will be an uphill battle. But there are some military branches that will accept felons, you can check them here!
Depending on your arrests and charges, you may or may not be accepted. Certain offenses are eligible for waivers, which are special permissions that can clean out your profile and help you qualify as an applicant.
For example, minor traffic and non-traffic offenses with low fines. However, aside from the severity of your convictions, the likelihood of waivers being granted also depends on the demand for personnel. If the demand is high, like during wartime, your chance of being accepted is higher.
That being said, it is generally agreed that the easiest military branch to get into with a criminal record is the Navy and Army because they both require more members.
Easiest Military Branch to Get Into—The ASVAB Stage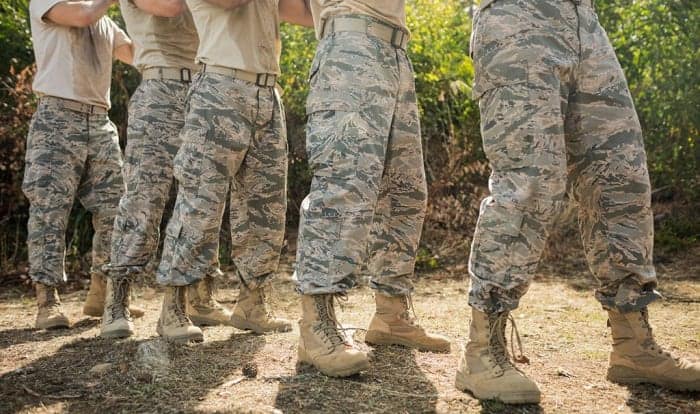 ASVAB is short for Armed Services Vocational Aptitude Battery. It is a timed test developed by the DoD that you will have to pass in order to get into the military. Through the ASVAB, you prove military competency. There are three types of ASVAB:
Student ASVAB — This is taken at school during career exploration weeks.
MET-Site ASVAB — This is taken on paper at satellite locations. It is primarily for those who cannot make it in-person to the MEPS. There are 2255 questions in total, and the time limit is 149 minutes.
CAT—ASVAB — This is taken on the computer at the MEPS. There are 145 questions that you must answer in 154 minutes.
To prepare, you can take practice ASVAB tests on your own. There are many resources available online. For example
It is important that you invest a lot of time and effort into studying for this test as it is your ticket to the military!
The maximum you can score on these tests is 99, but there are distinct minimum score thresholds for each military branch. The Army requires at least 31, the Navy 35, the Marine Corps 35, and the Air Force 31. Hence, by this token, the easiest branch of the military to get into is the Army or Air Force.
Easiest Military Branch to Get Into—The Basic Training Stage
Contrary to what most people believe, you CAN fail basic training. It is not an endure and get-it-done-with task but a work-your-ass-off chance to demonstrate your capabilities. In other words, you need to perform well during basic training if you want to officially make it into the military.
Basic training is mandatory for all branches and typically lasts from 8 to 12 weeks. There are distinct schedules, programs, and requirements for each branch. Thus, the degree of difficulty and intensity also varies. To give you an idea, we have summarized the following:
The Army has Basic Combat Training, which runs for 10 weeks. Recruits learn about military rules and processes, then undergo a rigorous physical and mental health strengthening program led by a drill sergeant.
There will be two assessment courses: the Basic Rifle Marksmanship Qualification and the Fit to Win Obstacle, followed by an ultimate 3-day challenge, Victory Forge, where recruits have to apply everything they have learned.
The Navy has Boot Camp, which lasts for 8 weeks. Recruits go through basic conditioning, confidence course, team-building week, and hands-on training in the same order. There will be a physical fitness test, live-fire training, and an academic test that recruits have to ace. To graduate, recruits will also have to complete a BattleStations test where 12 scenarios are conquered.
The Marine Corps has Recruit Training, which spans 12 weeks. Under the guidance of a drill instructor, recruits train for: swimming, martial arts, gas chamber responses, rifle marksmanship, etc. To complete, recruits engage in a 54-hour field survival challenge, proving their acquired knowledge and strength.
The Air Force has Basic Military Training, which takes 8.5 weeks. Recruits build up their physical and mental health with the help of a training instructor while learning about the history and roles of the Air Force. The bulk of the training duration is field training with combat scenarios, and everything wraps up with a fitness and airmanship evaluation.
The Coast Guard has Recruit Training, which lasts for 8.5 weeks. Like the other branches, recruits have to undergo intense physical training, then proceed to hands-on training for marksmanship, seamanship, fire-fighting, line handling, first-aid, CPR, etc.
Among active-duty service members and veterans, it is agreed that the easiest military branch to get into, in terms of basic training, is the Air Force because programs are more spread out. Plus, the duration is, overall, shorter.
In contrast to the easy branch, you can refer to the hardest military branches here!
Conclusion
With that, you have reached the end of this article on what is the easiest military branch to get into. To recap, the easiest military branch to join at:
Army or Navy
Army or Air Force
Air Force
Hopefully, this will help you choose a suitable branch. If you have any other follow-up questions or thoughts on this topic, you are welcome to share them with us in the comments. We are always super excited to hear from our readers. Also, share this with your fellow soon-to-be service friends!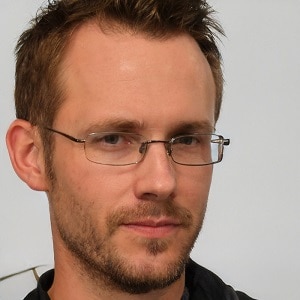 I am Everett Bledsoe, taking on the responsibility of content producer for The Soldiers Project. My purpose in this project is to give honest reviews on the gear utilized and tested over time. Of course, you cannot go wrong when checking out our package of information and guide, too, as they come from reliable sources and years of experience.