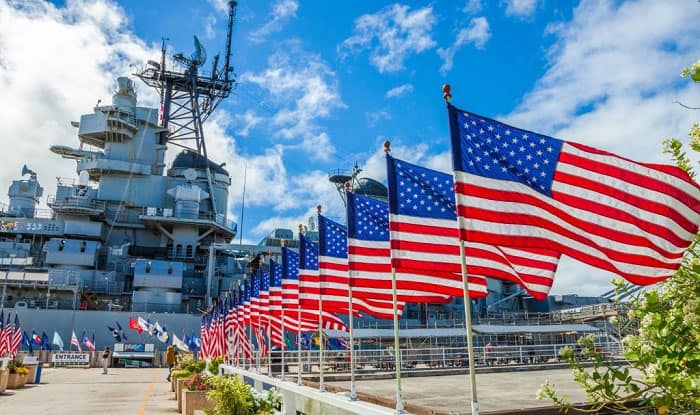 Hawaii, home to beautiful beaches and mighty mountains, also houses 13 military bases. Do you know what military bases are in Hawaii? We will be exploring each military base in today's article. There will be information about where the bases are specifically located, who is at the base, and what the residing units do. Are you ready? Let's get right into it!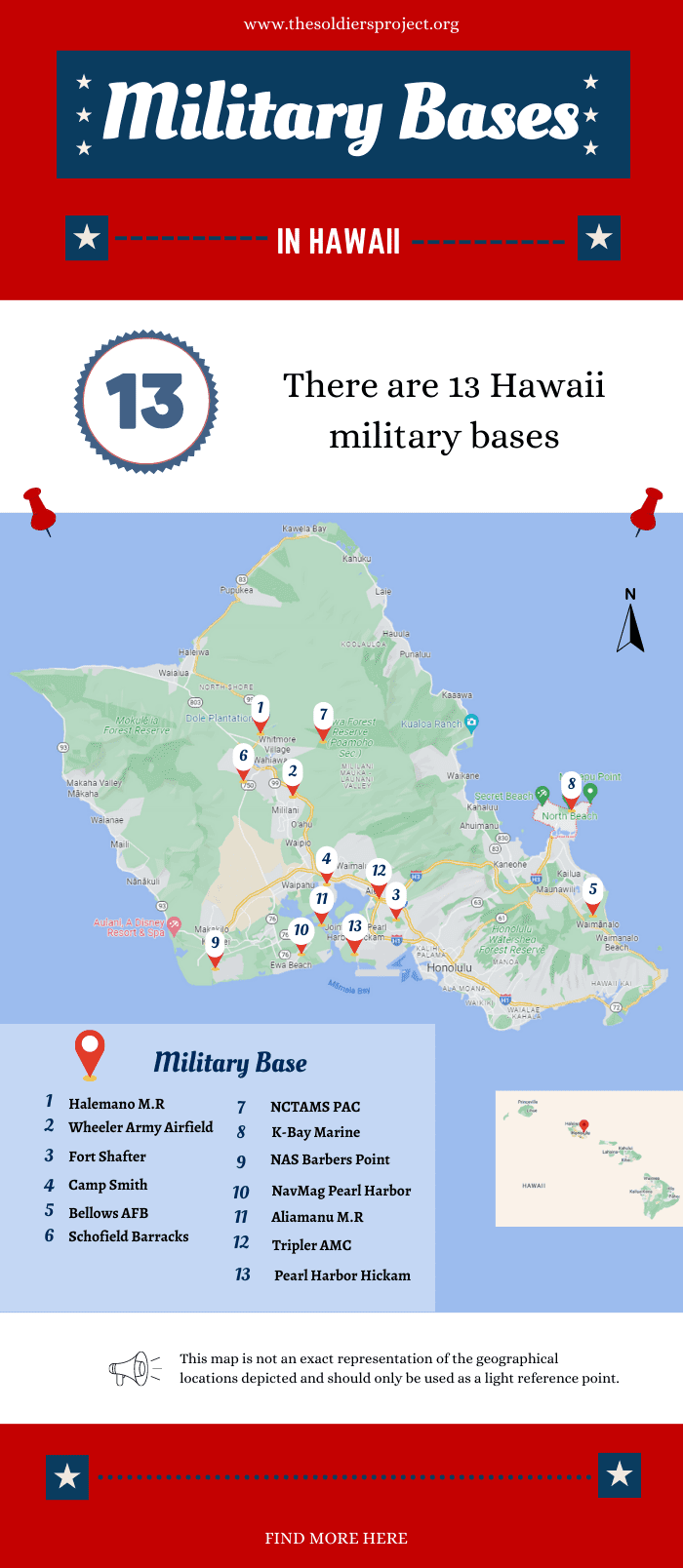 Military Bases in Hawaii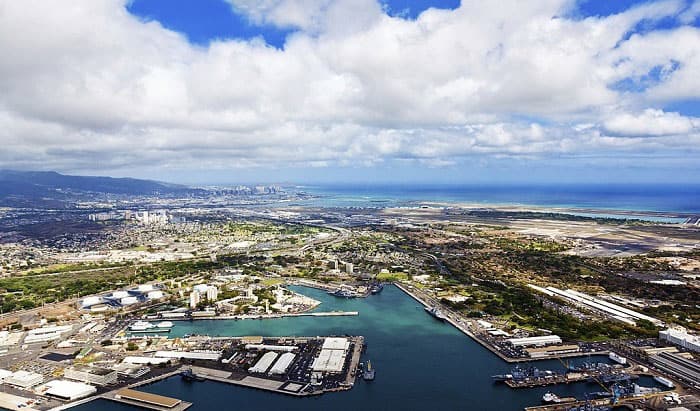 There are 13 Hawaii military bases. Here are the essential information for all of them:
| | | | |
| --- | --- | --- | --- |
| | Location | Area (km2) | Branch |
| Wheeler Army Airfield | County of Honolulu | 5,510 | Army |
| Schofield Barracks | County of Honolulu | 71.7 | Army |
| Fort Derussy Army Base | County of Honolulu | N/A | Army |
| Tripler Medical Center | County of Honolulu | N/A | Army |
| Bellows Air Force Station | County of Honolulu | 1,570 | Air Force |
| Barking Sands Navy Base | Kauai County | 110,000 | Navy |
| NCTAMS PAC Navy Base | County of Honolulu | 1.7 | Navy |
| Marine Corps Base Hawaii | County of Honolulu | 0.17 | Marine Corps |
| Station Maui Coast Guard | Maui County | N/A | Coast Guard |
| US Coast Guard Honolulu | County of Honolulu | N/A | Coast Guard |
| Kunia Field Station | County of Honolulu | 250,000 | Joint |
| Pohakuloa Training Area | Island of Hawaiʻi | 440.55 | Joint |
| Joint Base Pearl Harbor Hickam | County of Honolulu | N/A | Joint |
Now that you have a brief introduction to all the military bases in Hawaii, let's go through each of them in detail!
Army Bases in Hawaii
1. Wheeler Army Airfield
First on our list is the Wheeler Army Airfield. It is on the Island of O'ahu and more specifically, in the County of Honolulu. This base spans roughly 1,389 acres and is positioned right next to the Schofield Barracks, which we will explore in the next paragraph.
At present, the Wheeler Army Airfield is occupied by:
The Hawaiian National Guard's 169th Aircraft Control & Warning Squadron
The Hawaiian National Guard's 193rd Aviation Regiment
The Hawaiian National Guard's Detachment 55 Operational Support Airlift
The Defense Information Systems Agency
The Regular Army's 25th Aviation Regiment and 2nd Squadron-6th Cavalry Regiment
There are 2 runways and 22 helipads for operational and aerial units and a total population of 2,331 people as of 2019.
2. Schofield Barracks
This second Hawaii army base is also commonly referred to as the Fort Shafter Army Base. It is the oldest military base on O'ahu Island and the largest one in Hawaii:
Schofield Barracks was first established in 1908
Schofield Barracks covers 71.74 kilometers squared
In 2019, Schofield Barracks' population was 19,499
Currently, it houses the US Army Pacific Command, the Army MACOM for the Pacific Region, and the Army Corps of Engineers (Pacific Ocean Division).
There is the Air Assault School, Land Navigation Course, and Area X for units to train in. The areas include large open areas for air assault operations along with several firing ranges.
Get a glimpse into the base here.
3. Fort DeRussy Army Base
This third army base in our list was built in 1915 as an Army reserve area for the protection of Pearl Harbor during the First World War. It was propped up on Waikiki Beach and became a key player in the area's coastal defense system. Today, the base is inactive but open to the public as a recreation location. You can visit the Army Museum and enjoy the picnic grounds, parks, etc.
4. Tripler Medical Center Army Base
Originally, this base was Fort Shafter, hosting a small hospital. Now, it is the most important hospital in the Pacific Rim. It has a distinct coral pink coral, which was inspired by the nearby Royal Hawaii Hotel. Aside from supporting the military, the Tripler Medical Center works with other medical centers to provide training sessions for incoming soldiers from all UN countries.
Air Force Base in Hawaii
Bellows Air Force Station
Bellows Air Force Station This is one of the oldest bases in the United States, tracing back to 1917. Its first name was Waimanalo. Today, it is a low-level training ground for active and retired military troops to stay in shape. Civilians can also apply for training courses here.
Sixth on our list is the Barking Sands Navy Base. It is home to Pacific Missile Range Facility Barking Sands, which is the world's biggest instrumented multi-environmental range with 42,000 square miles of controlled airspace and over 1,100 square miles of underwater range.
Here, air, space, surface, and subsurface operations can occur all at the same time. This implies that planes, spaceships, ships, and submarines can operate simultaneously.
This base is where all the communicational services and systems in the Pacific are located. It is run by the Navy but it supports operations led by the DoD (Department of Defense) as well. The base is known for having very high-quality facilities, including:
dining halls
skating parks
basketball courts
swimming pools
bowling centers
picnic spots
fitness clubs
mini marts
Marine Corps Base in Hawaii
Marine Corps Base Hawaii
This 2,950 acres base is located between two windward communities Kane'ohe and Kallua on O'ahu Island by the Kaneohe Bay, which locals fondly call it the K-Bay. More technically, the base is positioned in Mokapu Peninsula, the County of Honolulu.
This base is home to the Marine Aircraft Group 24, 3rd Marine Regiment, and the Combat Logistics Battalion 3. Interestingly, this base commits to following renewable energy and "green" initiatives, like using solar power and hybrid vehicles.
Coast Guard Bases in Hawaii
1. Station Maui Coast Guard Base
This is a US Coast Guard base and one of the most active in the country. It is tasked with overlooking the entire state of Hawaii and other minor nearby islands, which is a total of 22 million square miles.
There are several residing units, including the 14th District, which is the Coast Guard's largest division. The troops work with local law enforcement personnel like lifeguards and firefighters for the safety and security of Hawaii. They respond to emergencies, particularly medical ones at sea.
2. United States Coast Guard Honolulu
This final base on our list is just outside of the Honolulu International Airport. It is another facility under the command of the US Coast Guard. The "workforce" here includes 200 civilians, military personnel and rotating tenants.
They are on standby for operation support and for providing health care to local communities. They can avail themselves of the gyms, fitness clubs, post exchange, recreational areas, swimming pools, and snack bars in the area.
Fun Fact: This base was originally a lighthouse (1939). It did not support military troops until 1945.
Joint Bases in Hawaii
1. Kunia Field Station
This is a unique three-storey underground facility that was built in 1941 after the Pearl Harbor attack. Its abbreviated name is KR-SOCK but sometimes, the base is referred to as the Kunia Regional SIGINT Operations Center. Hence, it is a part of the US Cryptologic System, where personnel from all military branches work alongside DoD civilians.
The base occupies 250,000 square feet, including an open bay area and an aircraft-housing area. It is where the Military Intelligence Corps 500th Military Intelligence Brigade and the Naval Security Group Activity reside.
Fun Fact: Another name that this base had was "The Hole" since it was assembled underground to be bomb-proof.
Kunia Field Station is also notoriously known as where whistleblower Edward Snowden worked and revealed top secret files of a surveillance plan for everyone in the United States.
2. Pohakuloa Training Area
This base was founded during the Second World War as a live-fire training area for the Marine Corps. Today, it welcomes all branches of the Armed Forces and shares training opportunities with allied nations.
The Pohakuloa Training Area is on a plateau situated between Mauna Loa, Mauna Kea, and the Hualalai volcanic mountains. It also provides facilities for public work, logistics, environmental stewardship, and airfield support.
3. Joint Base Pearl Harbor Hickam
This base is on the south shore of O'ahu, near the historic port of Wai'momi. It houses the US Air Force's 15th Wing, which supports its mission with its airlift capabilities. More than that, the base shelters the F-22 Raptor C-17 Globemaster III. The base also serves as a submarine maintenance depot when needed. Joint Base Pearl Harbor Hickam was one of the twelve joint bases that were built as a result of the Base Realignment and Closure Law in 2005.
Conclusion
Congrats! You now know the answer to "What military bases are in Hawaii?" and can recount all the military bases on O'ahu. Did you find this article informative? Let us know in the comments. Also, feel free to share this with other readers.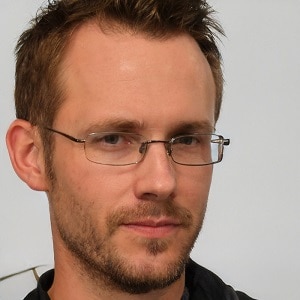 I am Everett Bledsoe, taking on the responsibility of content producer for The Soldiers Project. My purpose in this project is to give honest reviews on the gear utilized and tested over time. Of course, you cannot go wrong when checking out our package of information and guide, too, as they come from reliable sources and years of experience.