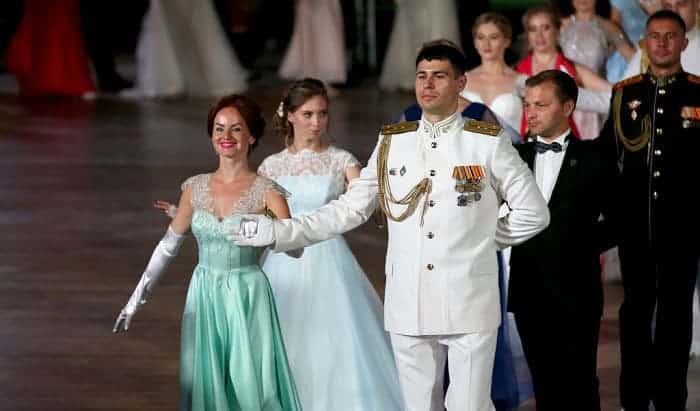 If you are frantically clicking through articles and articles to prepare for the military ball as a date or spouse, you can stop here. Below, I have put together a short guide to help you pick out the right attire. Rather than telling you what to get from your closet or the store, I will give advice on what NOT to get.
I always found that dressing tips are easier to follow when I am aware of the "DON'Ts", which applies to all occasions, including military balls. If you are like me, continue reading this "what not to wear to a military ball" article for reference.
In general, you should dress formally and comfortably—and this goes for your dress, shoes, and accessories. There are other tips that you might find helpful, so read on for details.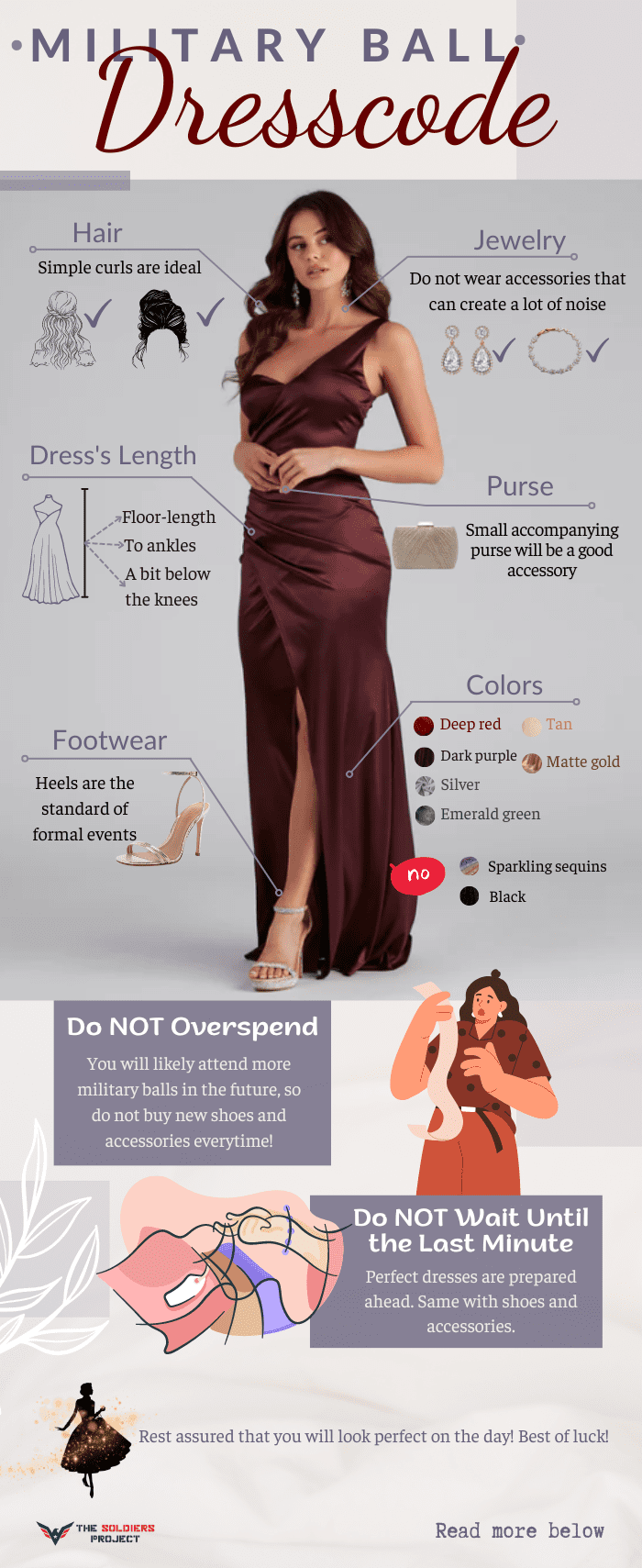 What Not to Wear to a Military Ball
Do NOT Dress Casually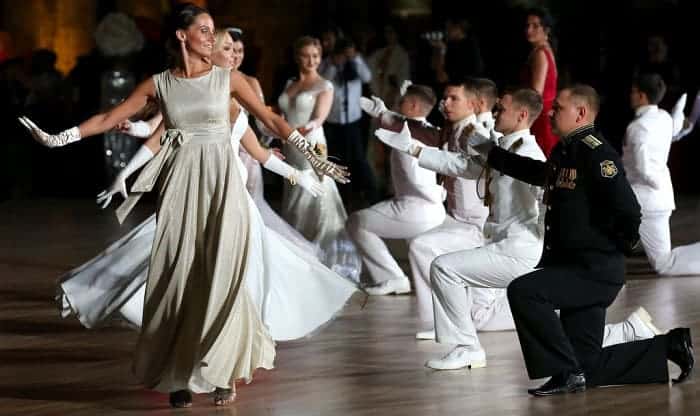 A military ball is a formal event, so you will need to look sophisticated and elegant. The air force ball dress code, marine corps ball dress code, navy ball dress code, and army military ball dress code all share the same sense of formality!
Length of Dress for a Military Ball
If you are wearing a dress/gown, it should be floor-length. However, based on experience, it is best to avoid dresses with tails. You do not want to be the reason why someone else trips! The standard dress length is to your ankles. But, nowadays, dresses that are a bit below the knees are still acceptable.
Avoid short cocktail-length dresses—this is a military ball, not prom. If you are wearing something with slits, make sure that they do not go higher than mid-thigh.
Necklines & Other Features
Try out different necklines and choose one that is flattering for your body shape/type.
Additionally, do not try to show too much skin, whether with thin fabrics, styled laces, or body slits. All in all, think "classy" when you are picking out a dress.
Colors
For colors, I recommend going for something that complements the service members' dress uniform. Deep reds, emerald greens, and dark purples are good options. You can also go for neutral tones like tan, matte gold, or silver (Avoid sparkling sequins!), and black.
In general, you do not have to be too picky with colors. Just avoid looking flamboyant—save neons for the club. Also, do not go for dresses with busy patterns and animal prints.
In the receiving line, there is a rule that shoulders must be covered. This is particularly strict in the marines' ball dress code. As such, if you are attending with a strapless dress, have a formal jacket or cover ready.
Do NOT dress uncomfortably
Throughout the military ball, you will be moving around, sitting, standing, and even dancing. So, do not wear anything uncomfortable. This not only applies to your dress but also to your shoes and accessories.
Footwear
With shoes, make sure that you break them in a week before. I cannot stress this enough! Spending a bit of time and effort to break in your shoes will do you wonders on the day of the military ball.
With that said, heels are the standard of formal events. Remember to pre-scuff your heels' soles to make sure that you do not slip. Do not expect to be sitting throughout the event! Prioritizing comfort will give you a fun and non-embarrassing experience.
If you are wearing open-toe heels, be sure that your toenails are trimmed neatly. You do not have to polish them but if you do, opt for colors that match your dress and avoid ones with detailed patterns.
Jewelry & Other Tips To Keep In Mind
You will, undoubtedly, be shaking hands in the receiving line. So, do not wear accessories that can create a lot of noise, such as loose bangle bracelets. Choose accessories that pair well with the rest of your outfit, in terms of style and color. Just like your toenails, it is important to have neat and clean fingernails.
Purse
A small accompanying purse will also be a good accessory. You can keep items that you need during the ball, especially for brushing up your make-up.
While we are on that topic, do not brush up on your make-up at the table. It is a good idea to know where the bathroom is earlier on; you do not want to spend hours looking for it and risk missing out on special "times" like the receiving line. I will not be commenting on make-up because that is up to each person.
Your make-up should complement your style, together with the gown, heels, and accessories. Make a statement without going overboard (I am talking feathers and big gems).
Back to the topic of purses, skip the big bags that can fit a water bottle. Choose mini ones that go well with your overall look.
Hair
We cannot forget about our hair. In my experience, simple curls are ideal. You do not need a huge hairdo for the military ball. Up to your preference, you can straighten or put it up into a ponytail. Braids, buns, and half up-down hairstyles will also work. Just avoid the messy, "out-of-bed" hair and you will be fine.
Other Considerations
Do NOT Overspend
While you want to look good and make an impression at the military ball, do not splurge on the occasion. As if with most events, we always spend too much to "get it together". But you will be surprised how good a gown at the back of your closet can be for this event.
You will likely attend more military balls in the future, so do not buy new shoes and accessories everytime! Spare time to experiment with them. It is best if you can pair them with different dresses. Buying something and only wearing them once is so 2017.
Do NOT Wait Until the Last Minute
If you leave it to the last minute to throw on something, it will likely not be good. Decisions made in a rush are rarely ever good, anyways. Perfect dresses are prepared ahead. Same with shoes and accessories. So, do not create stress for yourself by not planning right away.
If you realize there is nothing in your closet for the occasion, you will have time to go shopping. Obviously, you cannot rush out to any outlet an hour before the ball and expect to score the right outfit. If you have gone shopping for formal events before, you will know that the "right" dress is at least 5 dresses away. Plus, you have to complete it with the "right" heels and "right" accessories.
To wrap up this article, here is a Vlog to inspire you:
Conclusion
You should be good to go now that you have finished this article on what not to wear to the military ball. I have taken you through everything that you need to avoid when attending the ball as a date or spouse.
Rest assured that you will look perfect on the day! Best of luck! Share this with others to help them prepare for the military ball as well.
And, after you have had a flawless experience at the ball, let me know in the comments. I cannot wait to hear from you.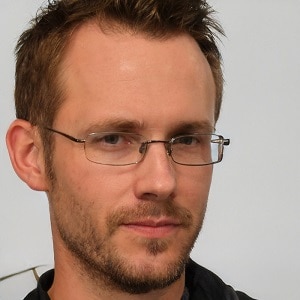 I am Everett Bledsoe, taking on the responsibility of content producer for The Soldiers Project. My purpose in this project is to give honest reviews on the gear utilized and tested over time. Of course, you cannot go wrong when checking out our package of information and guide, too, as they come from reliable sources and years of experience.