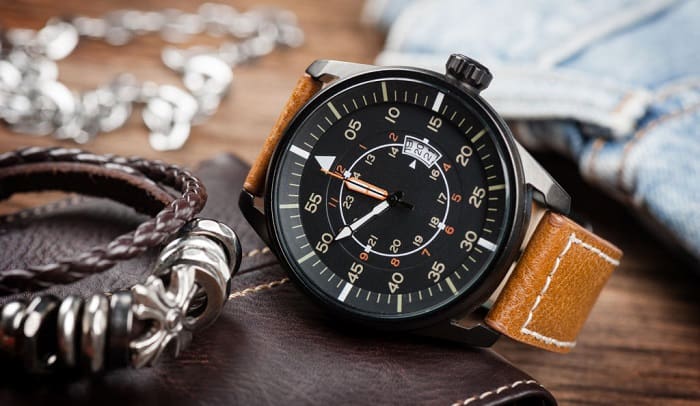 In films and books, we often do not catch military members wearing watches. However, the accessory is actually just as important as any other military gear. It is necessary for proper synchronization of timekeeping.
With that, we are led to ponder "What watches do the military use?"
The military does issue watches but members can also use their own watch of choice as long as it has essential standards. So, what are standard issue military watches? In short, they must be durable and reliable.
Find out by continuing to read our article here. We will take you through everything there is to know about this topic. Go on!
Military Watches: Key Criteria
Watches worn in the military are typically referred to as tactical military watches. They are designed and manufactured to meet military standards. In general, current military issue watches must be durable and reliable.
1. Durability
Durability is indicated by a strong build as well as shock resistance, water resistance, thermal resistance, and scratch resistance. The material that is used plays a crucial role.
Most commonly, stainless steel and metal are chosen, while more robust ones are made of titanium. These can withstand even the toughest conditions of the military. Smartwatches like Apple watches not be recommended, if you still want to use them, you should change the time to military time.
2. Reliability
Reliability mostly refers to precision timekeeping and good readability. The person wearing the watch should be able to see the time even in the dark and less-than-favorable settings. It also helps to have both a 12 and 24-hour display, long battery life, and added features, such as a compass, thermometer, barometer, and altimeter.
The specific features a watch should have, however, also depends on the needs of the wearer. For example, a member in the Navy will rely on different capabilities than an infantry soldier.
Moreover, reliability involves ease of use and practicality. A military watch should be easy to wear and easy to use. For example, a service member should be able to quickly "throw it on" when they are in a rush.
To ensure that military watches meet the two overarching criteria, they undergo many tests and strict quality control.
Military Watches: Big Brands
Today, there are many options in the market, differing in design and price. The bigger, named brands that are chosen by many service members are G-Shock, Seiko, Luminox, Suunto, Marathon, and Garmin. Now, let's explore each of these brands a bit more!
1. G-Shock
G-Shock is a 38-year-old Japanese watch brand under the electronic company Casio. As suggested by its name, G-Shock's watches are designed and manufactured to resist shock, stress, and other forms of vibrations.
Thus, G-Shock watches serve military personnel well. Most models are water-resistant and equipped with a backlight. High-end ones also have a compass, GPS, or multi-band.
2. Seiko
Seiko is another famous Japanese watch brand. It was founded in 1881 and is still a highly valued brand today. Seiko has many product lines that include watches with quartz, solar, kinetic, and mechanical movements.
Seiko's watches look nice and work well. They can satisfy the needs of military personnel with their quality build and features. However, they are a lot pricier than G-Shock watches. Not all members are willing to "invest" in a luxury watch, given the rough conditions of the military.
3. Luminox
Luminox is another leading watch brand headquartered in San Rafael, California. The watch hands and markers are uniquely "visible" thanks to tritium inserts. These favorably align with the needs of military personnel, especially when using the watch at night.
Luminox watches are all water-resistant as well. Its Original Navy SEAL 3001 watch, made in 1994, is officially licensed by the United States Navy. Like G-Shock, they are fairly affordable.
4. Suunto
Suunto was originally a Finnish company but as of 2019, became a subsidiary of the Chinese group Anta Sports. Suunto watches are multi-function electronic devices with premium construction.
They are equipped with a compass, thermometer, barometer, and altimeter. Many reviews will recommend Suunto's watches for military personnel. However, their official website does not "target" military wearers.
5. Marathon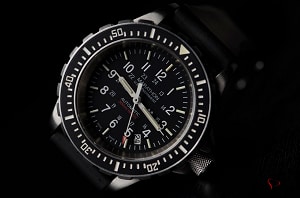 Marathon is a watch company founded in 1939. It produces military-grade dive watches, which are ideal for military personnel. On top of that, the watches are waterproof and easy to use.
Back in World War II, Marathon supplied watches to the Allies forces. Today, Marathon continues to manufacture watches that meet the military MIL-W-3818 standard. By the same token, they are the watches officially issued to the United States armed forces.
6. Garmin
Last but not least, we have Garmin, an American company founded in 1989. Wristwear is one of the company's key products. Today, the focus has shifted mostly to training and fitness watches, however, these watches are still suitable for military personnel because of the impressive build and reliability for outdoor environments, especially tough ones.
Now that you have looked at the five named brands offering watches used by the military, you may want to "reverse" a bit and read about the history of these watches.
Military Watches: Brief History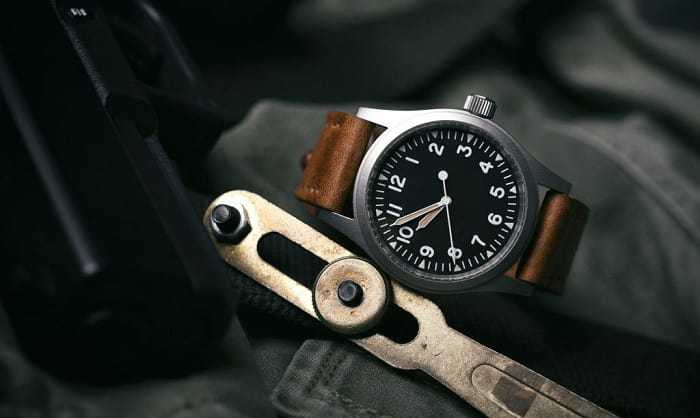 The name "military watch" was said to have come from a German naval officer at a guard tower who wanted to know the time but was not able to pull out his pocket watch since both of his hands were occupied.
But the more widely accepted origin story was that wristwatches came about because of the First World War. Before that, they were only a fashion accessory for women because men carried pocket watches.
During the battles, soldiers wore the watches around their wrists by soldering them onto cotton bands for easier access and convenience. Following this, in the Second World War, the military issued field watches. The key manufacturing priorities for these watches were functionality through ease of use and quick synchronization.
The next section talks a bit about US military issue watches, let's dive in!
General Watches
The first issued watch was the 55-1B, which had a stainless steel case, cotton strap, and 7-jewel movement. Its accuracy was said to have been 30 seconds a day.
The second issued one was the MIL-W-3818. It was revised twice to become a metal-cased, 17-jewel watch.
Today, the third issued watch MIL-W-46374 is still the official military watch specification, though it has been revised over five times. There are many specific specifications but the number one capability required of watches was survival in difficult conditions ranging from harsh deserts to barren tundras.
Navigational Watches
The U.S military also issued navigational watches throughout the years. The first one was the A-11, which had a stainless steel case, black cotton band, white or black dial, and 15-jewel movement. Then, there was the MIL-W-6433, A-17, etc. The GG-W-113 is the most recent with a black nylon band, tritium lume paint, and 17-jewel movement.
Dive Watches
Dive watches are issued to the Navy for water submersion. It has moisture and dust specifications that must be tested under water and under pressure. The first was the FSX-797.
The second was the 18W8, which was also referred to as the "canteen watch". It features a heated disk on the case's back to make sure heat from the wrist of the wearer does not cause the watch's oil to drain out the jewel holes. The watch had a metal matte black dial, two vertical luminous dots, and chromed base metal case. Finally, the crystal had a soldered metal rim that prevented water from seeping in.
Later, when scuba diving was introduced, the third watch 22717A was released. It was not limited to 49 feet diving like the 18W8. The new spec allowed for submersion of up to 400 feet.
Conclusion
So, you have read about everything there is to know about the topic of army issue watches. Was it interesting or helpful? You no longer have to ponder about "What watches do the military use?"
You know the two essential criteria and a few of the big brands that are selected by military personnel. Plus, you know the brief history of military watches, regarding all three types: general, navigational, and dive watches.
If you have any other thoughts or questions that you want to share, leave a comment. Feel free to reach out to us! We are always happy to hear from and talk to our readers.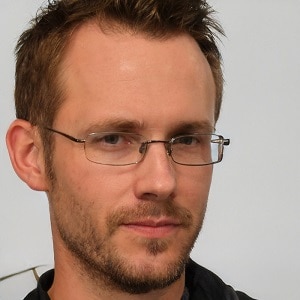 I am Everett Bledsoe, taking on the responsibility of content producer for The Soldiers Project. My purpose in this project is to give honest reviews on the gear utilized and tested over time. Of course, you cannot go wrong when checking out our package of information and guide, too, as they come from reliable sources and years of experience.