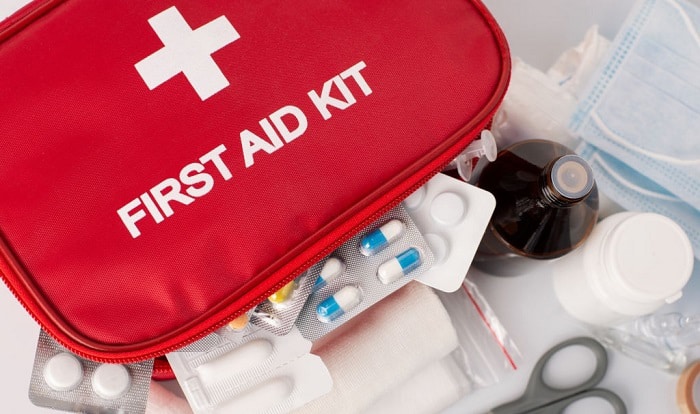 As an outdoor enthusiast, one of the dangers of going out in the wilderness is to get accidental cuts, wounds, and injuries along the way. This is where the best tactical first aid kit comes to the rescue. Such a kit should contain essential medical supplies and survival gear to endure the most dangerous situations.
Today, tactical first aid kits are better thought out. They include tons of medical supplies with elastic loops to hold them more securely in a sturdy pouch. Since finding the right first aid kit can be a little overwhelming, here are some important things to consider.
Contents: Fundamentally, a first aid kit contains bandages, gauze dressings, and antiseptic wipes. Others even offer more with some emergency blanket, a tactical flashlight, and a multi-functional knife for survival. If you can find a kit that includes a splint, Israeli bandage, and tourniquet, the better.
Pouch Construction: The bag itself should be durable to withstand the harsh elements outside. The fabric should be water-resistant so the bag can protect the contents inside from moisture. Look at the stitching and make sure that it's solid.
Molle System: You would want to carry the kit around easily. A strong Molle system allows you to attach the kit to backpacks and other compatible platforms. Make sure the straps are properly placed.
There's still more things to consider when choosing the right tactical first kits in the buying guide below. But before we go to that, here are my top 7 reviews for the best brands on the market today.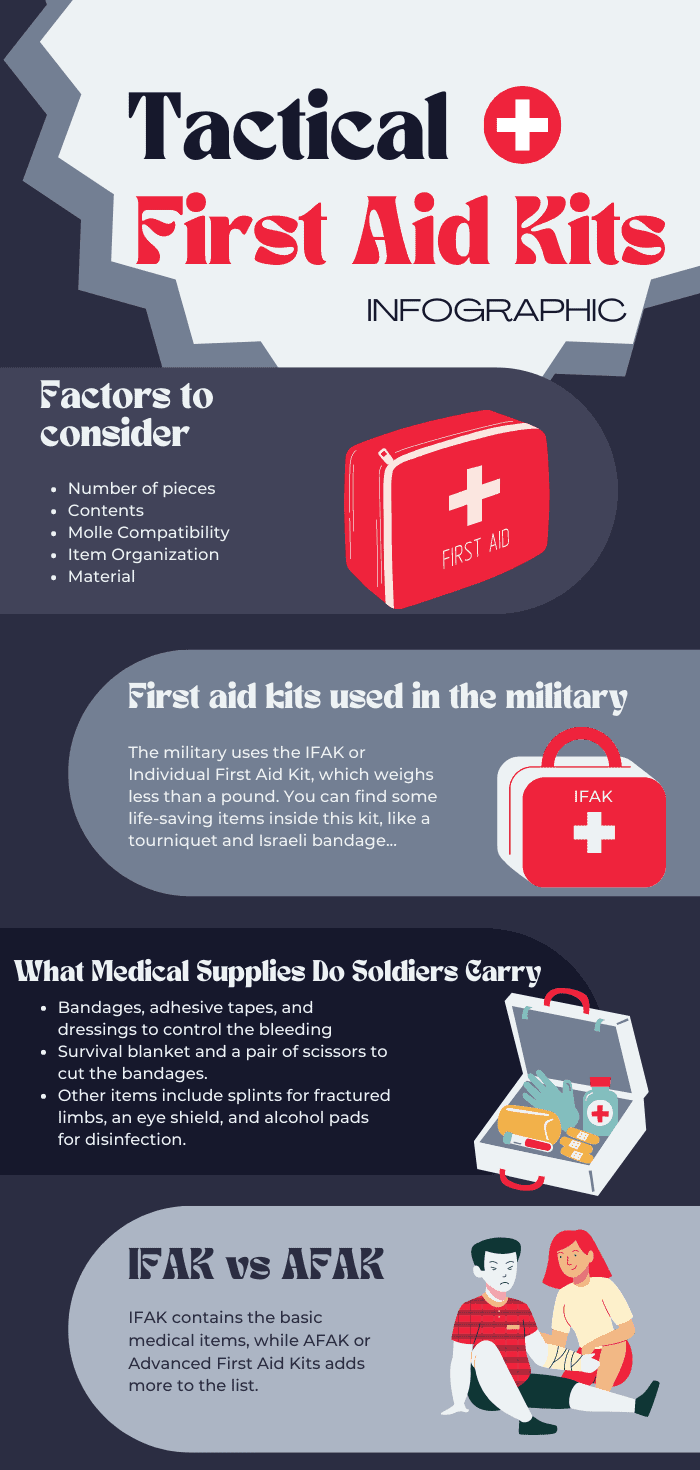 ---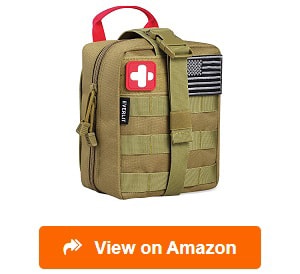 EVERLIT 250 First Aid Kit
Made of 1000D nylon
Built with quick pull-away Velcro
Compact yet provides an extra room
---
SURVIVEWARE First Aid Kit
Water-resistant 600D polyester
Consists of 200 pieces of first aid
Compact and lightweight to bring
---
Carlebben First Aid Kit
Offers extra space
Water-resistant 1000D nylon fabric
Easy-to-pull paracord zippers
---
Top 7 Tactical First Aid Kit Reviews
1. EVERLIT 250 Pieces Survival First Aid Kit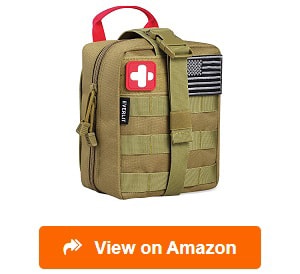 Everything I need to survive in an emergency is right here in this EVERLIT survival first aid kit. It includes 241 pieces of first aid supplies and nine survival gear to cover nearly all medical and survival situations I might face.
I found a lot of different bandages, gauze tapes, and alcohol prep pads that may be useful for cuts and wounds. There's a slim knife that's sharp enough for first aid purposes and an emergency blanket to keep me warm.
Interestingly, this pouch packs a lot of essentials yet provides me an extra room to store other stuff, like a tourniquet. I appreciate the addition of tweezers, as they come in handy when I get those annoying splinters in the woods.
When the blanket isn't warm enough, there's a fire starter to light up to 12,000 times. My favorites are the glow sticks, whistle, and the strobe function of the flashlight because they help me send a signal when I'm caught in dangerous situations.
The bag itself is well-made of military-style 1000D nylon with plenty of pockets to keep things organized. Thanks to the Molle straps, I can attach the combat first aid kit to my backpack or web belt. Fortunately, the kit is compact with a tri-fold design and easy to access with the quick pull-away Velcro.
Heads-up:
However, the flashlight doesn't come with batteries. I need to buy an AA battery to power the flashlight.
Pros:
Includes 241 first aid pieces and nine survival gear
Comes with tweezers to help with splinters and a fire starter to light
Compact yet provides an extra room for other tactical medical gear
Built with quick pull-away Velcro for easy access
Glow sticks, a whistle, and a flashlight can send a signal for emergency
Made of 1000D nylon with plenty of pockets and Molle straps
Cons:
Doesn't include a battery for the flashlight
Bottom Line:
Overall, the EVERLIT First Aid Kit doesn't only provide essentials for medical emergencies but also for survival. The tactical first aid kit contents include tons of bandages, an emergency blanket, and a fire starter.
2. SURVIVEWARE Comprehensive Premium First Aid Kit
Many users are satisfied with the collection of first aid supplies in the SURVIVEWARE kit. There's a total of 200 pieces consisting of bandages, an eye pad, non-adhesive dressings, and many more.
Among all its many supplies, the 18-inch SAM Splint makes a temporary cast for broken bones. The Emergency Blanket seems to be of good quality in providing warmth when the night gets chilly. What's even better is that the large kit includes a smaller first aid pouch, perfect as a portable medical kit for bikes and hiking.
Thankfully, there's a comprehensive first aid guide to help me learn to use all the supplies. It's easy to figure it out because the compartments are labeled inside. Best of all, I can mount and attach this bag to almost anywhere using the Molle straps, snaps, and D-rings.
The bag itself seems to be adequately water-resistant to protect everything inside when it rains. Also, the 600D polyester fabric feels rugged to endure the tough conditions outdoors.
Heads-up:
I like that the bag isn't overly large to take less space in my vehicle and seems pretty lightweight to carry around. However, this kit costs a bit more than standard products.
Pros:
Consists of 200 pieces of first aid supplies and a mini first-aid kit
Includes a SAM Splint for bone injuries and Emergency Blanket for warmth
Easy to use with the comprehensive first aid guide and labeled compartments
Designed with Molle straps, snaps, and D-rings to attach or mount anywhere
Made of water-resistant 600D polyester that looks pretty durable
Compact and lightweight to bring around
Cons:
Costs more than standard kits
Bottom Line:
Altogether, the SURVIVEWARE Large First Aid Kit would be suitable for a wide range of situations with its numerous supplies. It's compact and looks durable for long-term use.
3. Carlebben EMT Pouch MOLLE Medical First Aid Kit
This Molle first aid kit from Carlebben comes with 180 pieces of basic medical supplies to apply first aid treatment to burns, fractures, and bleeding. It includes a lot of cotton buds, band-aids, and alcohol prep pads.
My favorite is the poncho, as I don't have to worry about sudden downpours in the range or woods.
I have an easy time searching for the items because the elastic straps and inner pockets organize and hold them pretty securely. I like that the bag offers a little room for an extra tourniquet or a couple of gauze pads.
It's quite convenient to bring this kit around because the Molle system attaches to any compatible gear, including a belt, motorbike, and backpack. The zippers have a paracord, so the bag is very easy to open. Best of all, the kit opens up far, so the supplies are very quick to access as well.
I believe that the 1000D nylon fabric is water-resistant because the contents remained dry when I accidentally splashed water on the bag's exterior. Everything feels tight, thanks to the double stitching construction. Additionally, the manufacturer offers a 100% money-back guarantee, so I'm assured of the bag's quality.
Heads-up:
However, some of the supplies' packaging comes with Chinese directions, so it's a bit difficult to understand.
Pros:
Includes 180 pieces of medical supplies, including bandaids and poncho
Easy to spot the items with the elastic straps and inner pockets
Offers extra space for other supplies and a 100% refund policy
Molle straps attach easily to almost any surface
Built with easy-to-pull paracord zippers that open really far
Designed with water-resistant 1000D nylon fabric with double stitching
Cons:
Some items are packed with Chinese directions
Bottom Line:
Altogether, the Carlebben EMT Pouch makes it to the top tactical first aid kit list with all the basic medical supplies. This kit offers about 180 supplies and a 100% money-back guarantee to ensure their quality.
4. LIVANS Tactical First Aid Pouch
This tactical first aid bag from LIVANS offers a good opportunity to customize with first aid supplies. This is a tactical first aid bag empty model for users to fill necessary first aid supplies for surviving in my outdoor adventures.
Thanks to its tri-fold design, this kit nicely folds into a compact bag and offers spacious compartments to fit a lot of stuff, like bottles of medicine and all sorts of bandages.
Furthermore, the elastic loops help keep my instruments and supplies secure inside the bag. The mesh compartment is an excellent addition for storing large bandages and pads in a clear view.
The Molle webbing is properly spaced to attach to my backpack more securely. Removing the bag from the modular platform is even easier with the rip-away Velcro panel. I appreciate that the kit includes two clips to add more mounting options and a crosspatch to indicate that the bag is for first aid.
I think this bag will last for a long time because the 1000D nylon material feels pretty tough. It won't rip easily because the double stitching holds the bag tight. I'm quite convinced with the quality because the manufacturer offers a generous 30-day money-back guarantee.
Heads-up:
However, it's empty, so I need to spend more on first aid supplies that might be useful for medical situations.
Pros:
Has spacious compartments but stays compact with its tri-fold design
Comes with elastic loops to keep supplies secure inside
Includes a mesh pocket to make items more visible
Built with properly spaced Molle webbing and rip-away Velcro panel
Includes mounting clips and a crosspatch; offers a 30-day money-back guarantee
Feels durable with the 1000D nylon and double stitching
Cons:
Comes empty without first aid supplies
Bottom Line:
Overall, LIVANS First Aid Pouch makes a nice option for customization. Since this comes empty, it's up to the users what first aid supplies and gear to store in the bag.
5. GHFY First Aid Kit EMT Medical IFAK Pouch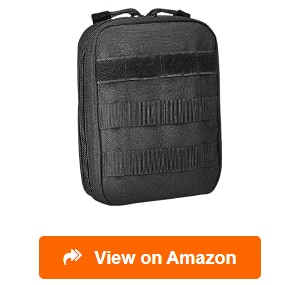 GHFY is also one of the tactical medical bags packing 180 contents of basic first aid supplies. It got all sorts of bandages and band-aids to treat minor injuries, as well as plenty of sterilizing or cleansing wipes to prevent infection.
Between the two scissors, I find the elbow type more convenient in cutting the bandages with the slightly bent blade. It's larger than normal scissors and has nice safety edges for safety measures. My other favorites are the tourniquet and poncho, as they come in good quality.
All the items can be organized and secured well with the internal elastic straps, which I find very sturdy. Likewise, the Molle straps are strong enough to attach the bag to any Molle compatible platform. I attach the bag to my gun bag, and it looks great.
The bag seems to be crafted well with water-resistant 1000D nylon material and looks more rugged than I expected. It even leaves some room for more things, so I added a few essentials, like pain relievers and anti-allergies.
Thankfully, the package comes with instructions on managing the first aid properly, which is good considering that not all are doctors.
Heads-up:
However, the guide fails to show how to set the items inside the bag properly. On the first try, I spent quite some time keeping all the things secure.
Pros:
Contains 180 supplies, including bandaids, bandages, and sterilizing wipes
Elbow scissors are easier to use with bent blades and safety edges
Comes with good quality poncho, tourniquet, and a guide
Internal elastic straps help organize and hold items
Molle straps attach to compatible gear, like gun bags
Made of rugged, water-resistant 1000D nylon with extra room for other items
Cons:
No guide on how to arrange items more securely
Bottom Line:
Altogether, GHFY makes a good first aid starter kit with many useful items, like bandaids, a poncho, and a tourniquet. It also comes with a guide, so anyone can learn how to use the instruments properly.
6. THRIAID Emergency Survival First Aid Kit
This survival first aid kit from THRIAID offers 82 pieces of items to address any emergency settings. It includes the basic stuff, from bandages to cotton tips and other medical supplies.
What stands out for me is the knife which seems to be sharp enough to split hairs and escape from entrapment. Thankfully, the knife has a sheath, so I don't get cuts when I grab it. I see a closed ring at the bottom of the handle, which may help open bottles or attach to a belt using a rope.
I tried messing around with the tourniquet to test its reliability, and it's incredibly strong. The splint is also well-made, perfect for supporting fractured limbs. I'm pleased to find a CPR mask because it comes in handy when delivering rescue breaths for cardiac or respiratory arrests.
All the items hold securely, thanks to the elastic straps inside. I think the medical supplies, like bandaids and alcohol pads, hold pretty well on the mesh pocket. The pouch itself feels durable with the 1000D nylon fabric and seems water-resistant.
Heads-up:
However, the molle isn't spaced correctly, so I can't mount it on my plate carrier.
Pros:
Provides 82 pieces of medical supplies and survival gear
Includes the basic first aid items, like bandages and bandaids
Has a sharp knife with a sheath and a closed ring for opening bottles
Comes with a reliable tourniquet, splint, and CPR mask for rescue breaths
Built with elastic straps and a mesh pocket to hold items securely
Constructed from water-resistant 1000D nylon
Cons:
Has poorly spaced Molle system
Bottom Line:
All in all, THRIAD provides all the basic medical supplies plus valuable tools to survive. I love the karambit-style knife, usable for many applications, like combat and free from entrapment.
7. Homestockplus Trauma Survival First Aid Kit
This tactical trauma kit from Hmostockplus comes with 147 pieces of gear and supplies needed for survival. I think it's the perfect size to store on my side for hiking and other adventures outdoors as it doesn't take much space.
I love the added hemostatic drugs on the new upgraded kit since they're helpful in stopping the bleeding. There are also plenty of wound treatments inside the mini-medical kit: antiseptic cleansing wipes and wound dressings. I found about five types of bandages to apply to different parts of the body, saving me time cutting them myself.
There are tons of camping gear that I find so very useful. For example, the fire starter can be used to build a fire, while the tactical flashlight can assist me in going to dark places. My favorite of all is the tactical knife, as it has decent quality and a sharp edge to cut just about anything.
The 1000D nylon also feels quite tough, perfect for an outdoor beating. With the detachable Velcro straps, I can attach this pouch almost anywhere- tactical backpack, car seat, etc. The kit fully lays flat when opened, so it's easy to access the items.
Heads-up:
However, the tweezers feel slightly flimsy, so I replaced them with a more durable pair.
Pros:
Consists of 147 pieces of survival and first aid supplies; lays flat for easy access
Has good size for packing outdoors with Velcro straps for easy attachment
Includes hemostatic drugs to stop the bleeding and wound treatments
Comes with five forms of bandages to apply to different body parts
Contains useful camping gear, like a fire starter and a tactical flashlight
Knife has a sharp edge for cutting
Cons:
Has a flimsy pair of tweezers
Bottom Line:
Altogether, the upgraded Homestockplus kit has enough supplies to attend to any injuries and wounds in any outdoor setting. It has essential items, like bandages, a multi-functional knife, and hemostatic drugs.
SUPOLOGY Emergency Survival First Aid Kit (Outdated)
SUPOLOGY is my favorite tactical first aid kit with a tourniquet because it's made of good quality. There are about 125 pieces of medical supplies to bind up wounds and survive when encountering unexpected dangers.
I'm so pleased to find an Israeli bandage to stop bleeding for any hemorrhagic wounds and a splint to support broken bones. There's also an emergency blanket and a small raincoat to protect me from the elements. Also, it's easy to call for help with the whistle and glow sticks.
The best content for me is the rechargeable flashlight because it's very bright during the night. Also, the knife surprises me with its sturdiness and versatility- it's designed with a bottle opener to drink my beverages with ease. Moreover, the fire starter is a good one as it strikes fire up to 15,000 times to provide light in the camp.
The pouch itself looks sturdy with the Oxford fabric used. It fits onto Molle plate carriers, so I like to wear this bag as a plate carrier med kit for my ballistic missions. I love that this bag feels lightweight and doesn't look bulky at all.
Heads-up:
If there's something to be improved, it would be the setup. I end up putting the items in disarray inside the bag.
Pros:
Consists of 125 medical supplies and gear, including a good quality tourniquet
Includes an Israeli bandage to stop bleeding and a splint for injuries
Has an emergency blanket and raincoat for protection
Easy to ask help with the whistle and glow sticks; fire starter strikes 15,000 times
Comes with a rechargeable flashlight and versatile knife with a bottle opener
Lightweight and durable with the Oxford fabric; can be attached to plate carrier
Cons:
Lacks organization inside the bag
Bottom Line:
The SUPOLOGY First Aid Kit offers the most useful items for survival, like a fire starter, splint, and tourniquet. It's also lightweight enough to carry on the plate carrier.
FalconTac Everyday Carry Trauma Kit (Outdated)
I was looking for a small IFAK pouch for my range bag, and this FalconTac trauma kit seems decent enough to fit this purpose. This kit is compact and lightweight, even with all the essentials inside.
I found some nice tactical pressure dressing, compressed gauze, and a tourniquet to help control a hemorrhage. There are so many alcohol pads that I'm not afraid to get cuts and scrapes from trees and bushes in the woods.
I'm more pleased with the inside pockets as they provide room for additional supplies, like a small pair of scissors and chest seals, to make the kit even more complete.
The Molle system feels strong enough to hold the everyday carry (EDC) kit on my combat belt, vest, and backpack vertically. The kit also attaches to my plate carrier without any bulk. With the quick-pull tab, it's very easy to open the zippers and access the first aid supplies inside more quickly.
The construction feels sturdy, especially with the thick fabric and two buttons connecting the two straps. Also, the camouflage color matches my other military-issued gear just perfectly, which is good. For the price, this kit is undoubtedly a great value.
Heads-up:
However, the tourniquet isn't cut for the battlefield. I recommend users get a more solid CAT tourniquet from the North American Rescue medical kit.
Pros:
Compact and lightweight; feels sturdy with the thick fabric and secured buttons
Includes essentials to stop bleeding- tourniquet, compressed gauze, etc.
Has plenty of alcohol pads for cuts and scrapes
Built with inside pockets to give room for extra supplies
Designed with Molle system to attach nicely to belt and plate carrier low-key
Comes at a nice camo color; available at a great price
Cons:
Tourniquet is less durable than expected
Bottom Line:
All in all, FalconTac makes a good range trauma kit because it offers the right supplies to stop bleeding and save a life. It's also compact enough to be a good tactical first aid kit for belt, vest, and rucksack.
TOUROAM IFAK Molle Trauma Kit (Outdated)
TOUROAM is one of the complete IFAK kits out there to hold me or someone over till medical care arrives. It includes some bandages, alcohol and sterile pads, a trauma scissor, and a lot more to attend for any wounds or injuries.
The supplies are organized well inside the pouch, making them easy to access for emergencies. I found some strong elastic loops and fastener straps to hold items down. I love the mesh pocket as it holds small items more securely.
One of the best aspects of this tactical medical kit is the contents of good-quality supplies. The scissors and Israeli bandage feel sturdy, while the tourniquet is decent enough to do its purpose in a pinch. I like that the items come with proper instructions on how to use them.
The 1000D nylon fabric feels rugged, especially with the solid stitching. Also, the Molle straps seem strong enough to hold the pouch steadily on any platform. Best of all, the pouch is easy to detach from my car headrest, thanks to the rip-away panel.
Heads-up:
However, the kit excludes a few essentials to treat common injuries, like gauze and band-aids.
Pros:
Built with strong fastener straps and elastic loops to hold items down
Has a mesh pocket to secure small items; offers proper instructions
Comes with sturdy scissors and an Israeli bandage
Tourniquet is good enough to work in sudden emergencies
Feels rugged with the 1000D nylon and solid stitching
Molle straps attach steadily with rip-away panel for easy removal
Cons:
Doesn't include a few basic items, like gauze and band-aids
Bottom Line:
The TOUROAM Trauma Kit is great for stopping hemorrhages and supporting fractures. It contains the basics, like a tourniquet and Israel bandage, in great quality.
Taiker Emergency Survival Kit (Outdated)
Taiker offers a more spacious tactical first aid backpack with 151 pieces of supplies to survive in the wilderness. I also like to bring this on my fishing trip because it's one of the few kits packing ten pieces of fishing tools.
The collection of tools is one of the best I've seen, like every tool works with multiple functions. For instance, the tactical knife is built with a seatbelt cutter and a glass breaker for car trap situations. The pen isn't only used for writing but also for self-defense and breaking glass.
Another practical item is the 4-in-1 camping utensil, which works as a spoon, fork, knife, and bottle opener- I don't need to bring multiple utensils anymore. The saber card and pliers allow me to cut various items, from food to wood. And when the night gets dark, there's a flashlight and camping lamp to give me light.
The tent is a practical addition as it offers temporary shelter when I get stuck in a remote location. Also, the small medical kit is very handy and contains around 66 pieces of medical supplies, including bandages and bandaids, to treat any wounds.
I like the fact that the entire emergency kit is compact enough to fit in my trunk yet offers extra room for other supplies.
Heads-up:
Though it comes with an ax, I'm afraid to cut a large branch because the plastic handle feels a little flimsy.
Pros:
Provides 151 pieces of survival gear, including ten pieces of fishing tools
Has lots of multi-function tools, like tactical knife, pen, and camping utensil
Cuts various items, thanks to the saber card and pliers
Contains a flashlight and camping lamp to light the dark
Comes with a handy first aid kit and emergency shelter
Spacious yet compact to fit in tight spaces with extra room
Cons:
Includes an ax with a flimsy plastic handle
Bottom Line:
Overall, the Taiker Emergency Kit offers everything needed to survive in any circumstance (e.g.
tactical pen
, knife, etc.). It also features a handy first aid kit for wounds.
What to Look for When Buying Tactical First Aid Kits
You need to be mindful in picking a tactical first aid kit because it can be crucial in saving your life for any circumstance. Here are the things to consider when finding the right kit for your needs.
Number of pieces
The number of pieces in a kit can tell how much value you can get from it. In this list, the highest number of pieces goes to EVERLIT, which offers around 250. You'll never know when emergencies happen, so it's smart to prepare with plenty of first aid supplies and survival gear.
The price sometimes can help indicate that you'll be getting high-quality products. Most of the time, expensive first aid kits won't disappoint. But if you're a smart shopper, you can get a kit that offers more value than what it's worth.
Contents
As much as you want plenty of items in the kit, make sure that everything is useful and suits the best of your needs. To prepare for minor cuts and wounds, look for all sorts of bandages, bandaids, and antiseptic wipes. Also, a splint comes in handy to relieve fractured limbs.
A good tactical first aid kit should contain a reliable tourniquet and at least two pressure dressings to stop hemorrhagic injuries. Look for lots of gauzes to dress the wounds and protect them from infection.
For survival, you need an emergency blanket to keep warm in a cold place and a poncho to protect yourself from sudden rains. Get a compass to get coordinates and glow sticks to call for help. Other useful items include a fire starter, knife, and paracord bracelet.
Molle Compatibility
These first aid kits are more convenient to carry around on trips and treks when they can be attached to backpacks, belts, and headrests. For this reason, look for strong Molle straps that are spaced properly.
Some kits have a rip-away Velcro panel, which I like as it allows me to remove the kit easily from the platform for quick access.
Item Organization
Since you'll be stuffing the kit with lots of stuff, make sure that it's organized carefully. Look for compartments or pockets to keep items securely and some elastic loops and fastener straps to hold the items down. A mesh pocket is a nice addition to storing smaller items that can't be held down with a loop or fastener.
Likewise, you want some extra room to store additional items inside the pouch. Some kits can miss some important items, like a tourniquet and medicines, so you want that extra room for customization.
Material
The best military first aid kit should be durable, specifically made of a high denier count of nylon fabric. Check the stitching and make sure that it's reinforced to prevent the kit from ripping prematurely. Also, check the zippers, and find those that run smoothly with paracords for easy pulling.
If you want the contents to be protected from rain or moisture, make sure that the pouch is water-resistant. So that anyone can determine the bag's purpose, look for a Velcro slot to attach a first aid patch.
What First Aid Kit Does the Military Use
The military uses the IFAK or Individual First Aid Kit, which weighs less than a pound. You can find some life-saving items inside this kit, like a tourniquet and Israeli bandage. It also consists of some hemostatic gauze, adhesive tapes, and a pair of surgical gloves.
What Medical Supplies Do Soldiers Carry
Besides the IFAK contents, soldiers often carry bandages, adhesive tapes, and dressings to control the bleeding. They also bring a survival blanket and a pair of scissors to cut the bandages. Other items include splints for fractured limbs, an eye shield, and alcohol pads for disinfection.
What Is the Difference Between IFAK and AFAK
IFAK contains the basic medical items, while AFAK or Advanced First Aid Kits adds more to the list. AFAK may contain specific types of machinery, like IVs and defibrillators. They can even be customized to meet particular medical conditions, like inhalers for asthma.
What Should Be in a Personal Trauma Kit
The pouch should have a variety of dressings to attend to different sizes of wounds. It should be able to stop the bleeding with different types of bandages, tourniquets, chest seals, and hemostatic dressings.
Conclusion
It can save lives when you have a first aid kit handy on outdoor trips and adventures. For me, the best tactical first aid kit should contain all the basic stuff and be stored in a compact pouch attachable to any platform. My top recommendation is the EVERLIT First Aid Kit because it includes the most valuable items to survive in the most dangerous situations in a durable pouch.
SURVIVEWARE is a close second with its inclusion of a SAM splint and emergency blanket. The FalconTack trauma kit is the perfect option at the shooting range with its anti-bleeding supplies.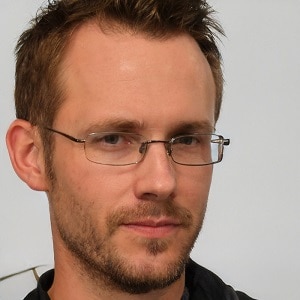 I am Everett Bledsoe, taking on the responsibility of content producer for The Soldiers Project. My purpose in this project is to give honest reviews on the gear utilized and tested over time. Of course, you cannot go wrong when checking out our package of information and guide, too, as they come from reliable sources and years of experience.