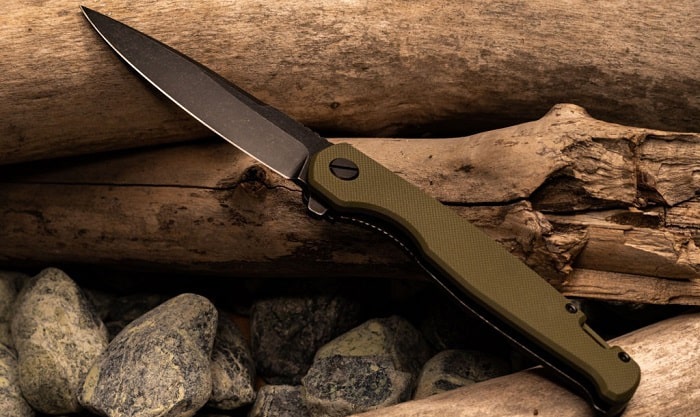 Along with many tactical tools, the best tactical folding knife does more than just cutting mundane materials. This instrument can also be a weapon for self-defense and an emergency tool for breaking auto glass windows and seat belts. Anyone can take advantage of this tool, from law enforcement personnel to campers, hunters, and many others.
Today, many tactical folding knives have ruled the tactical market with the goal to provide more than one function. A lot of things have to be taken into consideration when choosing the right tactical folding knife for your needs. Here are a few of the things to look for.
Materials: You want the toughest material to make up your tactical folding knife. Look for G10 or aluminum handles and the blade steels that can hold sharpness longer. Among the top-rated steels for blades are 7Cr17MoV and 8Cr13Mov.
Mechanism: Everything should work smoothly on the knife. Opening and closing the knife should be easy without any interruptions. More importantly, search for a reliable locking mechanism to keep the blade from injuring your fingers.
Extra Features: What makes the knife tactical is that it offers more than one military feature. Look for a glass breaker and a seatbelt cutter to use for auto emergencies. Other top brands even provide a special slot for opening bottles or stripping wires.
In this article, we'll be talking more about the factors to consider in the buying guide below. Meanwhile, since many brands have emerged on the market, let me show you the top recommendations.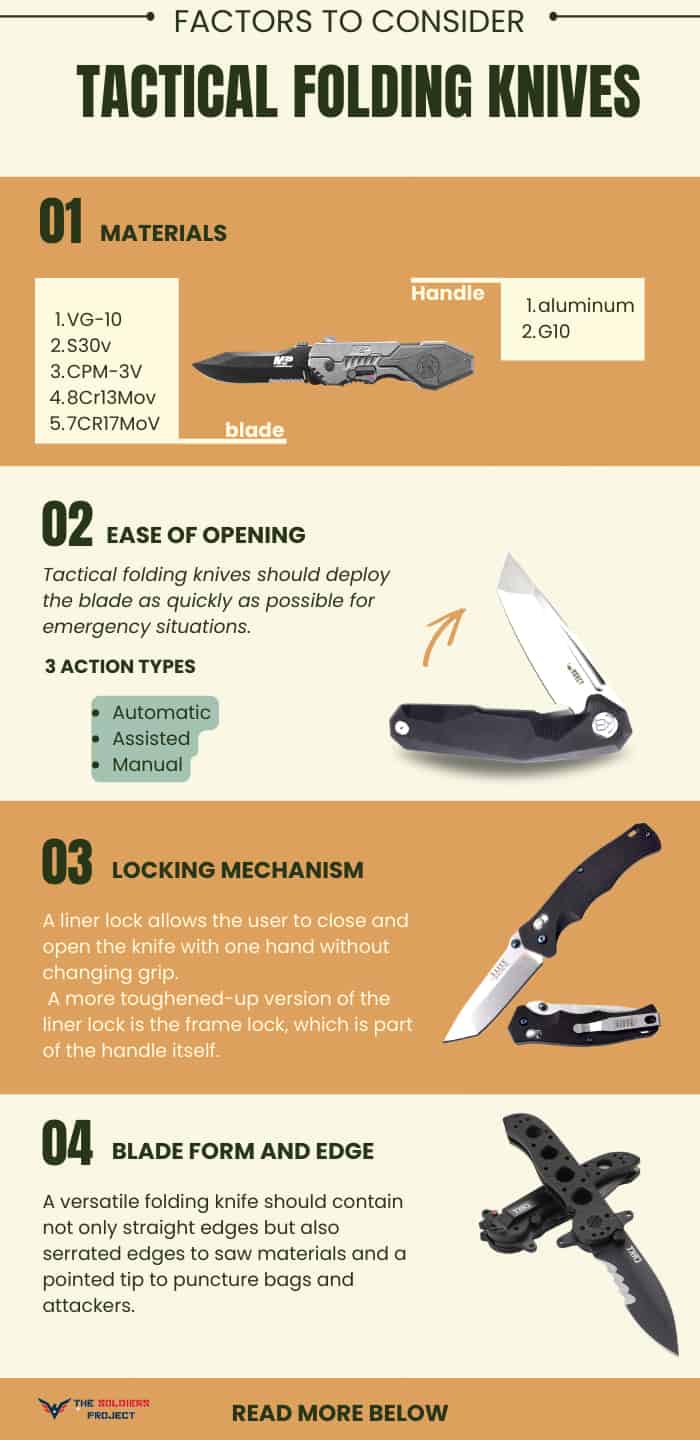 ---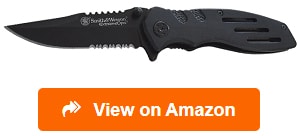 Smith & Wesson SWA24S
Built with a pocket clip
Compact to fit on the hand
Textured aluminum handle
---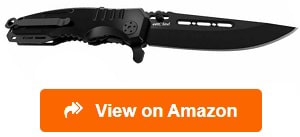 Grand Way Knife
440C stainless steel blade
Lightweight and legal to carry
Easy to open with spring assist
---
Swiss Safe 3-in-1 Tactical Knife
Easy to open and close
Can be attached in many ways
Offers 100% money-back guarantee
---
Top Tactical Folding Knife Reviews
1. Smith & Wesson Extreme Ops SWA24S Folding Knife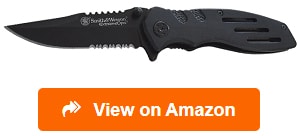 The SWA24S is one of the high end tactical knives that I love from Smith & Wesson. The size is so small that it fits on my hand and in my pocket with ease.
The 7Cr17MoV high-carbon stainless steel blade has razor-sharp edges to cut small things. It can even cut through the seatbelt in case I have to make myself free from the car. More importantly, the liner lock positions just right below the blade, like it should, to keep it steady.
For someone with sweaty hands, I'm pleased that the aluminum handle is textured to avoid slipping from my grasp. There are finger indentations, providing a more secure grip during a challenging cutting job. A pocket clip is screwed firmly onto the frame, making the knife even more convenient to carry anywhere on travel.
There's a good weight on the knife, making me feel that it's made of good metal. I like the ambidextrous thumb knobs, as I can open the knife with one hand only. Once the tool's opened, I'm surprised by the great balance towards the center – an indicator of an exceptional knife.
Heads-up:
However, the finger flipper needs a break-in period to loosen.
Pros:
Compact to fit on the hand and in a pocket
7Cr17MoV blade has sharp edges to cut small items and a seatbelt
Liner lock is just under the blade to keep it stable
Textured aluminum handle offers a secure grip with finger indentations
Built with a pocket clip for portability and thumb knobs for easy opening
Has a good weight and balance to indicate excellence
Cons:
The finger flipper needs a break-in period
Bottom Line:
Altogether, the Smith & Wesson Extreme Ops SWA24S makes a handy pocket knife to cut almost anything with its serrated edges. This knife is compact, so it can be concealed properly for self-defense.
2. Grand Way Spring Assisted Knife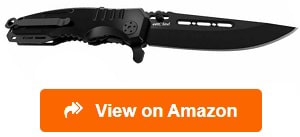 I was searching for a lightweight knife to carry around, and this spring-assisted knife from Grand Way fits my needs. This knife is under four inches, so it's legal to carry for self-defense in New York.
This military folding knife is built with a nice clip that slips easily into my pants pocket and even on my sleek suit. Near the pocket clip, I found a thin end that has helped me with opening bottles a couple of times at parties. This model clips the knife upside down, so I know that the spring won't open the blade in my pocket accidentally.
The 440C stainless steel blade is very sharp and can be honed back to life easily. In camp, the blade shape is just enough to cover all light to medium cutting jobs. I have no worries about cutting my fingers because the liner lock keeps the knife from closing down on me.
I'm very pleased with the Spring Assist in the folding knife because it works smoothly to open the knife with one hand. The pressure needed is just a little, so I can keep my steady grip on the aluminum handle at all times. I also found some thumb studs to help me open the blade with just my thumb for a quick draw in a fight.
Heads-up:
However, the bolt that holds the knife together can get loose. I recommend users pay attention to this part and tighten it.
Pros:
Lightweight and legal to carry for self-defense in New York
Pocket clip slides easily into pants with a thin end near it for opening bottles
Clips upside down to prevent the blade from opening accidentally
Sharp 440C stainless steel blade hones easily and can take light to medium tasks
Lock liner prevents blade from moving abruptly
Easy to open with the spring assist and thumb studs
Cons:
Bottom Line:
Overall, the Grand Way Spring-Assisted Knife is an excellent training knife for those that like a quick-draw model. Since this one comes small and opens swiftly, it can be a good combat folding knife for self-defense.
The Navy Seal Skull is another multifunctional tool that comes in handy in any situation. I like to keep it in my car's side net compartment because its slim design stays snug there.
I'm quite impressed with the magnificent cutting edge of the knife as it features both straight and serrated edge patterns. It cuts almost anything except my fingers because a liner lock is built to prevent the blade from closing accidentally.
There's also a pocket clip on the aluminum handle that seems pretty smooth and attachable to many things, including my sleek pants.
The versatility of the Navy Seal Skull makes it very appealing. The knife also works as a glass breaker and a seatbelt cutter, making it a very important tool in the car.
Furthermore, this tactical knife is easy to open and close back. I like how the stainless steel blade feels durable when opening. I'm even more convinced with its quality because the manufacturer offers a 100% money-back guarantee.
Heads-up:
However, the skull image can come off eventually because it's only glued on the knife.
Pros:
Slim design fits snugly on a side net compartment; easy to open and close
Steel blade features both serrated and straight edges to cut almost anything
Built with a lock liner to keep the blade from collapsing on the fingers
Smooth pocket clip can be attached in many ways
Includes a seatbelt cutter and glass breaker for versatility
Offers a 100% money-back guarantee
Cons:
Skull logo can come off anytime
Bottom Line:
All in all, the Swiss Safe Navy Seal Skull tops many military grade folding knives when it comes to versatility. Everything works great, including the glass breaker and seatbelt cutter.
4. Smith & Wesson Border Guard Folding Knife
The Smith & Wesson Border Guard is one reliable folding tactical knife to carry for work and play. This specific model is very large, and it comes with a solid clip that makes the knife accessible.
This tactical pocket knife is really strong and can endure plenty of abuse. The 7Cr17MoV stainless steel blade feels a little heavy and solid in my hands, which is good for a rescue knife. It's even sharp enough to cut a twine or whittle wood during hunting, thanks to its serration and blood grooves.
I'm very pleased that the knife opens nicely with just a little pressure and a flick of the wrist. The knife has ambidextrous thumb knobs, allowing one-hand operation. I like the liner lock as it gives me security that the blade won't close on my fingers.
The black aluminum handle of this tactical folder knife offers an excellent, gritty grip with the Trac-Tec inserts. On the top rear, there's a glass breaker to break a thin glass in emergencies and a rope cutter. My favorite is the eyelet for a lanyard to help me keep the knife around my wrist so I don't lose it.
Heads-up:
However, the handle has a slight sandpaper finish which might feel a little uncomfortable at first.
Pros:
Large and can take a beating; with a clip for easy access
Built with a solid 7Cr17MoV stainless steel blade with liner lock for security
Very sharp with the serration and blood grooves
Has Trac-Tec inserts to increase the grip of the aluminum handle
Opens easily with a slight flick of the wrist and ambidextrous knobs
Comes with a glass breaker, rope cutter, and eyelet for lanyard
Cons:
Feels a little rough on the handle
Bottom Line:
Overall, the Smith & Wesson Border Guard is one tough, reliable folding knife to use for hunting and other tactical missions. It has a nice weight and sturdy construction to withstand the roughest situations.
5. Voltstorm Steinbrucke Tactical Folding Knife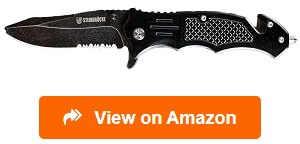 Volstorm's Steinbruke is one of the top tactical folding knives out there with its high-quality materials and versatility. I was looking for a sturdy pocket knife to use for tactical and self-defense purposes, and this model meets my needs without costing a fortune.
The German stainless steel 8Cr13Mov blade is extremely sharp to penetrate many materials. I like the solid locking mechanism because it doesn't make the blade wobble from side to side. Fortunately, there's a flipper to keep my fingers away from the blade when putting the knife in action.
The aluminum handle feels really solid and easy to grip. It's good to have the glass breaker and seatbelt cutter on the handle because they come in handy for emergency situations in a car. I think the glass breaker is effective in breaking a window because the knife has a good amount of weight to it.
The spring action seems to work nicely with a simple flick of the wrist for quicker blade opening. I observed that the knife snapped open more easily as I used the spring assist more often. And with the pocket clip, I can carry this knife conveniently virtually anywhere from camp to woods and at work.
Heads-up:
However, the rope cutter seems to be a little small to cut ropes larger than twines.
Pros:
Versatile and comes at a reasonable price
Built with a sharp German stainless steel 8Cr13Mov blade
Blade doesn't wobble with the solid locking mechanism
Has a flipper to protect hands and a good amount of weight
Solid aluminum handle has a seatbelt cutter and window glass breaker
Easy to open with the spring assist and easy to carry with the clip
Cons:
Rope cutter seems a little small for large ropes
Bottom Line:
All in all, the Volstorm Steinbruke makes a good budget-friendly folding knife for any tactical mission. This knife impresses most with its sharp blade and spring assist opening.
6. CRKT M16-14SFG EDC Folding Pocket Knife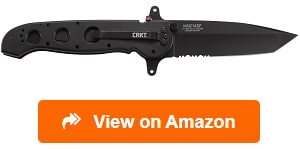 When talking about large tactical folding knives, CRKT's M16-14SFG fits the bill. This EDC tactical knife seems useful in a lot of ways, from cutting ropes to fruits and self-defense.
The best part of this pocket knife is the Carson flipper, which also works as a blade guard to save me a couple of awful cuts. With just a light pressure, the blade opens quickly. It never fails to intimidate my enemies each time I open the blade using the tip-up position of the flipper from my pocket.
The Veff serrations are so sharp that they cut clean into my weed mats and ropes without any hitch. I also have an easy time puncturing anything from 5-gallon tubs to sacks of grains. I can do all these with confidence because the lock liner sees to it that the blade doesn't pop loose when I'm exerting a great force.
Another thing that I admire is the G10 handle, which seems to offer an exceptional grip even in the rain and grime. I appreciate the open chamber design because it doesn't only minimize the weight but also makes it easy to clean out the debris that manages to get inside my cutter. The material seems to be compressed glass fiber, which feels nice in my hand.
Heads-up:
However, it takes two hands to close the knife. It gets a little burdensome when I'm using one of my hands for a job.
Pros:
Carson flipper works doubly as a blade guard
Opens with just a little pressure and can intimidate enemies
Has sharp Veff serrations that cut and puncture any materials
Lock liner prevents the blade from getting loose
Built with a grippy, compressed glass fiber G10 handle
Open chamber on the handle reduces weight and makes the knife easy to clean
Cons:
Bottom Line:
Altogether, the CRKT M16-14SFG boasts an outstanding handle and blade design that cuts through any materials. It's super sharp and safe to use with the lock liner and Carson flipper.
7. Snake Eye Tactical Karambit Style Folding Pocket Knife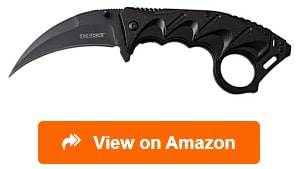 Snake Eye offers one of the coolest-looking pocket knives on the market today. The karambit style reminds me of the folding fighting knife used by ninjas and in action movies, like Man From Nowhere.
This knife is very sharp, and it can be used mainly for combat or cutting the toughest materials. It can wound someone quite terribly with its huge blade claw. Thankfully, there's a raised endpoint to use as a screwdriver or break a glass, so this knife isn't just simply for lethal purposes.
The knife is all stainless steel, like a tank, so I believe that it's built to last. My favorite is the large finger retention ring on the handle, as it lets me wear my tactical gloves while using the knife. The product also has a clip, making it easy to carry in a pocket.
Opening the knife with the spring assist is somewhat easy when one applies a little gravity. I simply pinch the blade and snap the knife downward to open it safely. I like to use this knife in the reverse grip style because it's more convenient that way.
Heads-up:
However, the metal has a slick feel that can make it slippery on sweaty hands.
Pros:
Has a cool looking karambit style and a clip for easy carrying
Sharp, huge claw blade can cause serious injuries and cut the toughest materials
Built with a raised endpoint to break glass or work as a screwdriver
Made of all stainless steel, which seems built to last
Huge finger retention ring allows the use of tactical gloves
Easy to open with the spring assist; easy to use in reverse grip style
Cons:
Can be slippery on sweaty hands
Bottom Line:
Altogether, the Karambit Style is one effective way to intimidate attackers with its lethal design. It's super sharp, so it can cause injuries and cut the toughest materials.
8. Kershaw RJ Tactical 3.0 Pocket Knife
The RJ Tactical 3.0 is one of the military grade pocket knives that I like to bring for fishing and camping. This knife is built with many tactical features to make any outdoor activity convenient.
My favorite feature is the SpeedSafe Assisted Opening that ensures the quick deployment of the blade. I like the flipper as it's comfortable to use, not that aggressive, and prevents the blade from scraping my hand when opening. In addition, the liner lock makes me feel secure that the blade won't close on my fingers while in use.
The 8Cr13MoV stainless steel blade looks fine to me, and I think it can hold a sharp edge when honed regularly. I tried cutting a medium paper stock, and the knife cleanly cuts, which means that the grind lines are smooth. With the black oxide coating, I don't have to worry about the blade getting corrosion easily.
Likewise, the glass-filled nylon handle feels very solid and won't slip even when my hands get wet. I believe that the point at the rear can strike a block of ice or window when necessary. The clip can be positioned in three ways: tip-up on the left, the right, and tip-down, making the knife versatile to carry in my pocket.
Heads-up:
However, the pocket clip tends to be a little too tight to get the knife out easily. On the plus side, this means the knife is unlikely to go missing.
Pros:
SpeedSafe Assisted Opening deploys the blade quickly
Comfortable and safe to open with the flipper and liner lock
8Cr13MoV stainless steel blade cuts cleanly and holds a sharp edge
Black oxide coated to fight corrosion on the blade
Built with a solid glass-filled nylon handle and a rear point that can break objects
Three options to position the pocket clip for versatility
Cons:
Pocket clip may come too tight
Bottom Line:
All in all, the RJ Tactical is a nice option for those who want to operate a less aggressive assisted flipper. This tactical folding knife can be carried anywhere with its pocket clip and cuts nicely with enough safety.
9. Cold Steel Recon 1 Series Tactical Folding Knife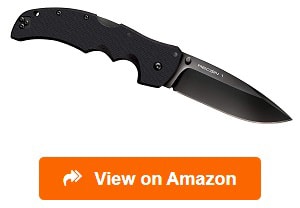 The Recon 1 Series is one of the top overbuilt folding knives for heavy-duty use. It's small enough to carry anywhere and large enough for combat purposes.
I think that the extra clip works best for lefties, like me, who want to put the knife tip-up in the left front pocket. Because of the thumb studs on the blade's sides, there's no need to reverse the knife. There's a flat-head cut on the left-hand side for a screwdriver that I find so handy.
Compared to most steels, the S35VN steel blade can hold a sharp edge better. This specific model has a spear point on the blade, making it very versatile. I can do anything, from gutting a fish to cutting ropes and other materials.
What made me love this knife is its TriAd lock that offers a very clear click sound to tell me that it's locked up tight. The G10 handle is a little grippy but not rough like sandpaper, fortunately. For its size, I'm pleased that the knife isn't super heavy.
Heads-up:
However, it's a little hard to open this knife.
Pros:
Lightweight, can be clipped on the front pocket
Doesn't need to be reversed with the thumb studs
Has a flat-head cut at the left side for a screwdriver
Built with an S35VN steel blade that can hold a sharp edge
Features a spear point to cut and puncture anything
Designed with a grippy G10 handle with a TriAd lock to lock up tightly
Cons:
A bit challenging to open the blade
Bottom Line:
Overall, the Cold Steel Recon 1 Series is one of the toughest folding knives out there. It's made of a premium S35VN steel blade, grippy G10 handle, and a super reliable TriAd lock.
10. SOG Escape Tactical Folding Knife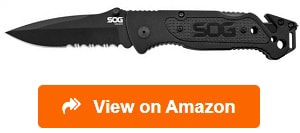 This SOG Escape is a good tactical folding knife with glass breaker and extra line cutter. This one can cut a rope, seatbelt, break a window, and many more to suit any tactical mission.
The glass breaker is surprisingly very effective in shattering car windows. Additionally, the line cutter seems good at cutting ribbons, ropes, and dental floss with high precision. More importantly, this particular model comes with a wire stripper, which is handy when I need to strip an electric wire in my rig.
The black stainless steel blade can get things done even straight from the package. I love the serrated part as it can cut things when the straight edge gets dull momentarily. It firmly locks once deployed, thanks to the Lockback mechanism feature, which provides the safety I need.
Another marvelous feature of this knife is the sturdy 6061-T6 hard-anodized aluminum handle, which contains the extra line cutter blade. It opens with a nice flick, so I have no problems deploying the blade. Everything feels sturdy, and opening it is also easy using the thumb studs.
Heads-up:
However, there's only one screw to hold the belt clip and knife together. I recommend customers tighten the screw from time to time.
Pros:
Built with a glass breaker that can shatter a car window effectively
Line cutter on the handle can cut ropes, ribbons, and others nicely
Has a wire stripper to use for electrical purposes
Crafted with a sharp stainless steel blade with serrated and straight edges
Lock mechanism locks knife firmly
Hard anodized aluminum handle feels sturdy and opens easily with thumb studs
Cons:
Needs to tighten the screw regularly
Bottom Line:
Altogether, this SOG Escape is a good daily tactical knife with the benefits of shattering glass and a small utility edge to cut just about anything. It also comes with a hand wire stripper to use for electrical tasks.
What to Look for When Buying Tactical Folding Knives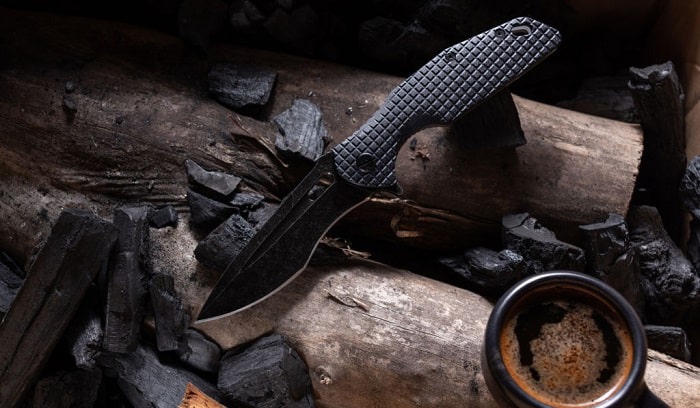 Compared to other pocket knives, tactical knives come big and rugged. They offer plenty of features, so choosing the right one that fits your mission can be a little challenging. Here are some pointers to help you choose the proper tactical folding knife for your needs.
Materials
When selecting a tactical folding knife, find the perfect combination of materials. Look for an aluminum or G10 handle if you're one of those who go hard on using the knives. A more lightweight choice is polymer or carbon fiber materials.
For the blade, look for the top steel materials. Among those that can take a beating and need less maintenance are steels like VG-10, S30v, and CPM-3V, but they can be pretty expensive. Budget steels like 8Cr13Mov and 7CR17MoV are also good, but they need to be honed regularly to maintain their sharpness.
Ease Of Opening
Tactical folding knives should deploy the blade as quickly as possible for emergency situations. They should work smoothly and allow the users to open the blade with ease. Typically, knives work in three action types–automatic, assisted, and manual.
Automatic is the fastest action type a tactical folding knife can have. The knives of this type are spring-loaded and can deploy the blade very rapidly, providing a quick reaction in intense situations. However, these knives need more maintenance to keep them moving fluidly.
Assisted knives are quite comparable to manual ones, but they contain a pre-loaded spring to help deploy the blade more quickly. Since they may contain more working parts, they need more maintenance than their manual counterparts.
Locking Mechanism
One of the dangers of tactical folding knives is that the blade can close down on your fingers while in use. To prevent that from happening, look for a reliable locking mechanism.
A liner lock allows the user to close and open the knife with one hand without changing grip. However, this lock will wear in probably half a mm or so but stays there for a long time after that point with regular use. A more toughened-up version of the liner lock is the frame lock, which is part of the handle itself.
The back lock is fundamentally made of a spine's notch and a pivoting arm and offers reliable strength. Since the unlock button is away from the grip, it's unlikely to unintentionally disengage the lock. One drawback is that you need to use both hands to close this type of lock safely.
Blade Form And Edge
Blades come in various shapes to suit your specific needs. A drop point blade with a convex spine offers a more controlled point and a larger belly for slicing. This particular blade shape is perfect for all-around use and hunters.
Tanto point blades are tactical and strong with great piercing capability. Spear point blades are stronger than their needle-point counterparts and are ideal for general EDC jobs. Meanwhile, a hawkbill blade shape offers an intimidating look with its severe lines.
A versatile folding knife should contain not only straight edges but also serrated edges to saw materials and a pointed tip to puncture bags and attackers.
Who Makes the Sharpest Tactical Folding Knives
Smith & Wesson makes the sharpest tactical folding knives with their stainless steel blades that resist corrosion and can take a beating. The blade also comes with sharp serration and blood grooves to saw any material.
Navy SEALS use folding knives that meet the requirements worthy of the elite unit, like the Ontario MK III Knife. This particular knife has a 440A stainless steel blade and is finished with black oxide to increase durability.
How Thick Should a Tactical Folding Knife Be
A blade that's ¼-inch thick max is ideal for a tactical folding knife. Don't go below 3/16 inch, or you'll end up with a fragile blade that will get damaged with hard use easily.
Can I Carry a Tactical Folding Knife for Self-Defense
Yes, you can bring a folding knife for self-defense, especially in California. There's also no prohibition regarding the blade length. For Karambit knives, the blade length should be three inches or less and must only be intended for agricultural or hunting use.
Conclusion
Tactical folding knives are useful not only for self-defense but also for cutting things and even breaking glass in auto emergencies.
If I have to choose the best tactical folding knife, my top recommendation is the Smith & Wesson Border Guard because it feels very solid in my hand. This knife also can take a beating and serve other functions, like cutting ropes and breaking glass.
When it comes to versatility, CRKT's M16-14SFG is also a good alternative. This specific model offers one of the most secure grips with its G4 handle and sharp edges, plus a blade guard for safety. Besides, you also can refer to other tactical tools such as tactical gloves or tactical vest.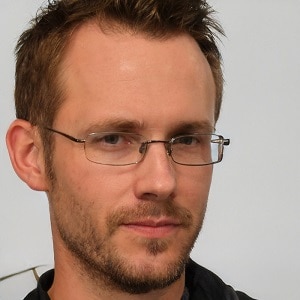 I am Everett Bledsoe, taking on the responsibility of content producer for The Soldiers Project. My purpose in this project is to give honest reviews on the gear utilized and tested over time. Of course, you cannot go wrong when checking out our package of information and guide, too, as they come from reliable sources and years of experience.