Tactical gloves are one of the most important gear that you should wear when doing any outdoor activities, like shooting and hiking. The best tactical gloves for cold weather provide a high level of protection from all elements, including the freezing cold. They should keep your hands warm while maintaining a high dexterity to do all tactical tasks like shooting a gun.
Not all tactical gloves can give protection against the cold, so the search for the right pair can be challenging. It's also worth mentioning that there are numerous brands out there. For your convenience, let me break down the basic features to look for in a good pair of cold weather tactical gloves.
Material: The top-rated pair of tactical gloves for cold weather should have good insulating properties. You can determine that in the type of material the gloves use. Mostly, leather and wool are popular choices for insulation. Make sure to select gloves with extra lining or seam support.
Dexterity: While you want to keep your hands warm, the gloves shouldn't be detrimental to your tasks. Look for tactical gloves with high dexterity, typically those with single-layer material around the trigger finger, for more accurate shooting. The gloves should be flexible and lightweight, so they're comfortable to use.
Fitting: The fit should be snug, especially on the wrist area, so no cold air can go inside the gloves. Measure your hand and refer to the sizing chart provided by the manufacturer. Some brands might run a little small or large, so make sure you know that to get the perfect fit.
There are still plenty of factors to consider when shopping for a new pair of tactical gloves for cold weather. Let me elaborate in the buying guide below. Also, keep reading to learn the top tactical glove brands that promise to keep our hands warm.

---
Mechanix Wear Tactical Gloves
Offers high dexterity
Provides sufficient protection
Lightweight, machine washable
---
FREETOO Tactical Gloves
180-day warranty
Protects against the cold
Velcro wrist straps protect skin
---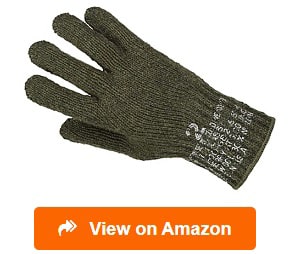 M MCGUIDE GEAR Tactical Gloves
Wool feels thick and warm
Easy to clean by hand or machine
Come true to size for a perfect fit
Top 8 Tactical Gloves for Cold Weather Reviews
1. Mechanix Wear Original Coyote Tactical Gloves
The Original Coyote Tactical Gloves offer lightweight protection and a secure fit to our wrist. This pair offers the perfect combination of durability and dexterity, ideal for using weapons and operating touchscreen devices.
These military tactical gloves are made of a nice grip surface to hold my full-size 9mm. They fit nicely, thanks to the limber thermal plastic rubber (TPR) closure. I especially like the TrekDry material because it makes the gloves breathable, so my hands don't end up hot and sweaty.
Surprisingly, this particular Mechanix Wear model feels warm in 30 degrees or colder weather. These gloves are made of 0.8mm synthetic leather, so they maintain high dexterity even when I work with my hands in the cold. Also, they feel durable and tough to withstand any weather.
The best part is that these gloves are easy to clean in the washer. They're also convenient to store using the nylon web loop. More importantly, the price is great, considering the good quality I get with this pair.
Heads-up:
However, there's a lack of padding on the palm, but users get that as a compromise for high dexterity.
Pros:
Offers high dexterity to use weapons and touchscreen devices
Flexible TPR closure provides a secure fit on the wrists
TREKDry material keeps our hands cool in hot weather
Provides sufficient protection against the cold
Synthetic leather feels durable for any weather
Lightweight, machine washable, convenient to store, and reasonably priced
Cons:
Lacks a little padding on the palm
Bottom Line:
Overall, I'm pleased with the quality of these Original Coyote gloves. They're comfortable to wear and provide high dexterity, so I can still use weapons or fix my car without freezing my hands.
2. FREETOO Knuckle Protection Tactical Gloves
These FREETOO Tactical Gloves provide formidable knuckle protection against scrapes and cuts. They're made with composite PVC padded knuckles, mesh fabric at the back, and microfiber leather palms.
These gloves are probably the most favorite winter tactical gloves I've owned because I have no issue shooting my SR9C. They fit so well on my fingertips that I can actually feel the firearms' trigger. Also, the breathable vents are a big plus in reducing sweaty hands.
I love the Velcro wrist strap as it makes the gloves easy to get on/off while offering excellent wrist protection. The leather palms also provide a fine grip in tactical missions, plus they're durable against wear and tear. More importantly, the entire construction is sewn in double layers, so I think these gloves will last many years.
These gloves do provide sufficient protection in a cold environment while maintaining good dexterity in doing tactical tasks. I've also observed that the fingertips work on my iPod touch screen device easily. My favorite is the 180-day warranty because it's generous of FREETOO to give a year of refund or replacement for any product issues.
Heads-up:
However, these gloves aren't true in size. They run small, so I recommend getting a larger size than one normally would.
Pros:
Protects against the cold, with PVC padded knuckles & rear mesh fabric
Fingertips can feel the trigger for easy shooting
Breathable vents keep the sweat at bay
Velcro wrist straps protect skin and make the gloves easy to get on/off
Feels durable with the double sewing threads and leather palms
Supports a 180-day warranty and touchscreen compatibility
Cons:
Bottom Line:
All in all, these FREETOO Tactical Gloves are the best when it comes to knuckle protection. These gloves come with composite PVC padded knuckles to protect our hands from cuts while offering protection from the cold.
3. M MCGUIDE GEAR Genuine Issue Tactical Gloves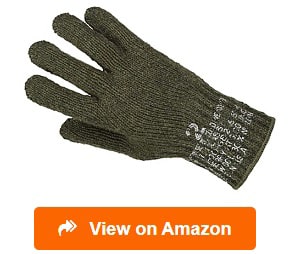 These tactical winter gloves from M MCGUIDE GEAR are perfect for cold weather because they're thick and warm. Besides winter, these gloves also suit electricians, chemical plant workers, and military personnel as they conform to the strict specifications of the American army.
The material is a combination of 70% wool and 30% nylon to provide high tensile strength. I especially like the wool material because it feels warm. Also, it feels light, so dexterity is still excellent when doing tactical tasks.
The Genuine Issue gloves come true to size, so they give a comfortable fit. They have an extended knit wrist to provide more warmth coverage and protection. Since there's no velcro to manage, wearing them is easier than I expected.
What I like best is that they feel warm without getting our hands sweaty as the fabric is breathable. I adore the green OD color as it goes well with uniform and casual clothes. Additionally, these gloves are easy to clean either by hand or machine.
Heads-up:
My only complaint is that the wool can't be washed in hot water. Users should make sure to wash the gloves in cold water only.
Pros:
Adheres to the strict specifications of the US army
Wool feels thick and warm; the gloves have high tensile strength
Lightweight enough to maintain a high level of dexterity
Easy to clean by hand or machine and breathable to prevent sweat
Come true to size for a perfect fit, and OD color looks good with any outfit
Extended knit wrist provides more warmth coverage and ease of use
Cons:
Bottom Line:
Altogether, I love the warmth the M MCGUIRE GEAR Genuine Issue Gloves provide in cold weather. The wool material feels warm without adding bulk, so dexterity isn't compromised.
4. PIG Full Dexterity Tactical Delta Utility Gloves
These PIG Utility Gloves have been tested in combat to provide maximum dexterity for quick and precise shooting with handguns and rifles. This model is the lightest and thinnest in PIG's entire line of gloves, so it provides the most dexterity.
I can barely feel the presence of the Delta gloves because the single-layer construction feels lightweight. The thinnest part goes on the trigger finger for more accurate shooting. Also, reaching into the pockets is easy, thanks to the thin knuckle padding construction.
The forefinger and thumb are touchscreen-compatible, so operating my smartphone is a breeze. I don't feel any discomfort on my fingertips at all, perhaps due to the fold-over finger construction. Best of all, these gloves are easy to wear because the elastic wrist pulls on without a hitch.
I observed that my hands don't get sweaty with these gloves, probably because there are vents to release the heat. I can hold almost anything, even the smallest tool, with the silicon palm.
Heads-up:
However, these gloves might not suit super cold conditions as they're on the thinner side.
Pros:
Provides one of the highest dexterity, thanks to its thin material
Thinnest part goes to the trigger finger for more precise shooting
Thin padded knuckles allow easy reach into pockets
Forefinger and thumb are sensitive to touchscreen devices
Has a nice silicon palm grip and is easy to wear with the elastic pull-on wrists
Comfortable, thanks to breathable vents and fold-over construction
Cons:
Might not provide sufficient warmth in super cold conditions
Bottom Line:
Overall, I'll still wear the Delta gloves because they provide adequate warmth in late fall. These gloves also provide the highest dexterity, thanks to their single-layer thin material.
5. HIKEMAN Tactical Military Gloves
HIKEMAN offers the closest thing to waterproof tactical gloves. I'd say these military gloves are water-resistant because they hold up well and don't retain water like some gloves do after soaking in the rain.
These gloves have hard knuckles, providing extra protection from cuts and abrasions. Together with the reinforced palm and double stitching, I believe that this pair will last. HIKEMAN also provides a 3-month warranty to guarantee the quality of these gloves.
I noticed that the gloves provide enough protection in the mild winter season. My hands also don't get easily sweaty even in hot weather, thanks to the functional vent design. When it comes to touchscreen sensitivity, these gloves are excellent as I can touch my phone without any problems.
Holding items is pretty convenient as the synthetic leather palm provides a secure grip. The wrist strap goes around the wrist securely so that no cold air can get inside. For their price, these HIKEMAN gloves are quite unbeatable.
Heads-up:
However, the hard knuckles can feel a little uncomfortable, so I recommend putting some pads beneath them.
Pros:
Helps prevent waterlogging to keep hands dry; good for mild winter seasons
Hard knuckles give extra protection from abrasions and scrapes
A durable construction with the reinforced palms and double stitching
Vent design keeps the hands from getting sweaty; touchscreen-compatible
Synthetic leather palm furnishes excellent grip; wrist strap keeps the cold air out
Available at an attractive price and with a 3-month warranty
Cons:
Might feel slightly uncomfortable with the hard knuckles
Bottom Line:
All in all, the HIKEMAN gloves suit the mild winter season best. They provide ample knuckle protection and prevent the entry of cold air inside the gloves, thanks to the closed wrist closure.
6. FREETOO Touch Screen Tactical Gloves
This particular FREETOO model offers the best touchscreen compatibility among the brand's product lines. The gloves offer a lot of sensitivity in the thumb and trigger fingers, where people mostly operate the screen.
There's only one layer of material on the palm, so I can feel the gun's trigger very closely. I notice that the trigger and middle fingers bend because of the segmented design, perfect for the maximum operation of a gun. With the silicone palm, nothing has slipped through my fingers.
These gloves do hold up well in cold weather. They're also easy to wear and remove with the pull tabs at the bottom. More importantly, the knuckle area has a sort of neoprene material integrated to provide extra protection from bruises and abrasions in the field.
There are no worries about sizing issues because the product provides a refund or replacement within 30 days after purchase. I bought these gloves for shooting, and I'm pleased that they're snug and comfortable to wear. Also, they're not that bulky, so I can still feel the things in my pockets.
Heads-up:
My only complaint is that the size runs a little large. I recommend buyers getting a size smaller than they normally wear to get that perfect fit.
Pros:
Has high sensitivity to operate phones and other touchscreen devices
Single-layer material gives full dexterity to operate guns
Segmented design on the middle and trigger fingers allow flexibility to bend
Silicone palm provides excellent grip; neoprene knuckles offer extra protection
Supports a 30-day warranty to provide refunds and replacement
Snug & comfortable, easy to get on/off with the pull tabs at the bottom
Cons:
Size goes larger than usual
Bottom Line:
Altogether, this particular FREETOO model makes a superb pair of cold weather tactical gloves for operating phones and tablets freely. These gloves hold up well in cooler temperatures and provide full dexterity in doing tactical missions.
7. TAC9ER Kevlar Lined Tactical Gloves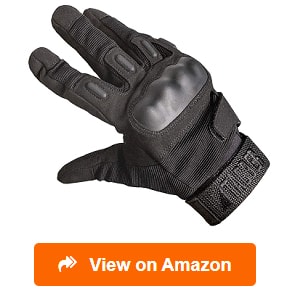 These kevlar-lined tactical gloves keep our hands warm in the cold while providing some form of self-defense. The TAC9ER offers the best level of protection with its tough Kevlar lining and toughened palm grip.
The knuckles are made of hard plastic, but they do give some flex to make the gloves comfortable. I especially love the support and comfort that the neoprene wristbands bring. I like that they block the cold wind when riding the motorcycle.
When I was hiking in rough terrain, I was impressed that the gloves held up well. The palm area is reinforced and double stitched, so the construction is pretty sturdy. Also, the grip is excellent as I was able to hold on to any items, even the small ones.
The capacitive touch is one of my favorites as it works well for my smartphone. I'm sure that the gloves are cut-resistant because I tried cutting them with a culinary knife, and it didn't pierce through. Additionally, the warranty is quite generous as free returns last for 30 days, while the regular warranty goes for about five years.
Heads-up:
However, the sizing chart is a bit inaccurate. I followed the sizing, but the gloves were smaller than I expected. To prevent this dilemma, shoppers should get a size bigger than what they normally wear.
Pros:
Kevlar lining & hard plastic knuckles to offer comfort and self-defense
Neoprene wristbands feel comfortable and block the cold wind
Reinforced palms provide a secure grip on any object
Capacitive touch works well on touchscreen devices
Surprisingly cut-resistant
Supports a long 5-year warranty and 30-day free replacement
Cons:
Sizing runs smaller than I expected
Bottom Line:
Overall, the TAC9ER gloves provide self-defense with the knuckle guards. These kevlar-lined gloves are tough in any environment and adequate enough to provide warmth in cold weather.
8. WTACTFUL Touch Screen Motorcycle Full Finger Gloves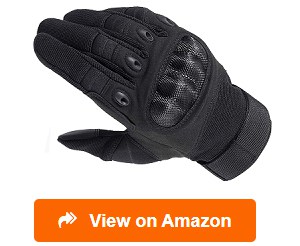 The WTACTFUL Full Finger Gloves are another good pair for self-defense and cold weather. These gloves provide hard knuckle guards with flexible neoprene joints to provide an unrestricted range of motion.
I appreciate how the gloves fit snugly on my hands. The strap is adjustable, so users can customize the fit for maximum comfort. The seams are double-stitched all throughout, so I think these gloves can last long in any condition.
What I like best is the reinforced PU palm because it's grippy on any surface, ideal for mountain climbing and driving. The thumb and middle fingers are touchscreen-compatible, so operating my phone while wearing these gloves isn't a problem. Moreover, I love the microfiber material as it feels warm and dries fast after getting wet in the rain.
I tried using these gloves in cold weather, and this pair didn't falter. My hands stayed warm while I did all the heavy work without seeing any rips and tears. Best of all, I didn't notice any sweat even when the humidity was high.
Heads-up:
My only complaint is the chemical smell of the product. It's not a huge problem, and the scent should go away after some time, but buyers with sensitive noses should keep this in mind.
Pros:
Hard knuckle guards provide self-defense and protection
Neoprene joints for easy movement; adjustable wrist strap for a customized fit
Touch screen compatible in the thumb and middle fingers
Microfiber material dries fast and feels warm
Reinforced PU palms offer a nice grip on any object
Double-stitched; durable and prevent sweaty hands
Cons:
Has a chemical smell at first
Bottom Line:
Altogether, the WTACTFUL Gloves are adequate for cold weather with their enclosed wrist strap and warm microfiber material.
What to Look for When Buying Tactical Gloves for Cold Weather
It's tricky to choose a tactical glove that provides both great insulation and high dexterity. Most of the time, you have to make a compromise. To get the best worth of your money, here are the factors that you need to look for when purchasing tactical gloves for cold weather.
Moderate Insulation
Doing outdoor activities in cold weather is unforgivably harsh with regular tactical gloves. You want a pair with moderate insulation to keep your hands warm. Neoprene is one of the best insulators as it keeps the cold wind from your fingers.
An extra lining is also a good insulator for tactical gloves. The brands with Kevlar lining can deliver excellent thermal insulation for cold environments. Also, this synthetic fiber is pretty tough as it helps protect your hands from abrasions and cuts.
Make sure that the wrist area is fully enclosed to block the cold air. The wristband will act as a windproof barrier between the cold air and you. Look for adjustable wristbands to customize the fit.
Fitting
The fit can determine the dexterity and warmth of tactical gloves. Size down or choose a tighter fit if you want to increase dexterity. A tighter glove feels more like part of your skin, so you'll have a simpler time holding objects.
For extra warmth, size up your gloves. A looser fit will allow the gloves to trap air around the skin, helping to keep you feel warmer. Now, this only applies if the wristband is tight enough to block the cold air from outside.
I prefer a glove that's snug as it's difficult to move around when your hands slide off with all the looseness. Finding the right balance of looseness and tightness is a challenge, but when you do, you can enjoy both warmth and dexterity.
Construction
The construction also plays a part in the warmth of a tactical glove. Look for a liner as extra insulation against the cold. A waterproof lining is much preferred as it can help keep your hands dry in snowy or wet environments.
When you can't find full waterproofing protection, settle for water repellent treatments. This will prevent the water from absorbing into the fabric. As a standard, you'll want to focus on waterproofing and warmth.
The palms and knuckles are normally the areas that are more likely to get damaged. To extend the life of your gloves, make sure that they're reinforced with extra patches. The entire glove should be double stitched to make sure that they hold up well in tough conditions.
Material
The material is also another important feature of gloves. Leather is a popular choice as it tends to be durable and contains natural heat absorption properties. For extra warmth, look for an inner layer for insulation.
Genuine leather is expensive and requires high maintenance. I prefer synthetic leather because it's lighter and quick-drying.
On the other hand, wool is warmer than leather because it has inherent insulation properties. This material is ideal for a cold environment as the fabric traps body heat to provide an insulation layer.
Comfort And Dexterity
You don't want to go overboard with thick insulation because it can affect the dexterity of the gloves. Choose something with moderate insulation, and also, you want to go for breathable comfort. Look for a mesh material or a waterproof liner to keep your hands dry from sweat.
Find gloves that have hook and loop closures because they're easier to get on/off. Also, a non-slip palm can make a difference in handling objects. You'll want the palms to be as grippy as possible.
If you intend to use the gloves for shooting, ensure that the trigger finger is thin enough to pull the trigger. Look for a lightweight pair with less bulk, so it won't weigh you down when doing any tactical mission.
Extra Features
For extra protection, you can go with knuckle guards made of rubber or hard plastic. Make sure that these guards are flexible and won't scrape your knuckles.
If you like to use your phone or tablet while wearing these gloves, look for touch screen compatibility. Typically, the forefinger and middle fingers are designated to operate the phones with ease.
Warranty is also another feature that you might want to pay attention to. Sizing issues are common among tactical gloves, so look for a product that promises to provide refunds or replacements. A long warranty coverage also helps in covering defects to ensure quality and durability.
What Are the Most Trusted Tactical Gloves for Cold Weather Brands
Mechanix Wear is one of the most trusted brands of tactical gloves for cold weather. This brand is known to make gloves with high dexterity and warmth, a combo that you rarely see on the market today. Their gloves provide adequate warmth while keeping your hands agile in doing manual work.
For people who want a good pair of tactical gloves with knuckle protection, FRETOO is a reliable brand. Their gloves are known for their durability and breathability. They also provide an outstanding 180-day warranty to ensure customers get the top quality of their gloves.
M MCGUIRE is the best brand when it comes to wool gloves. Consumers can trust that the gloves are perfect for military use as they have passed the strict guidelines. Their Genuine Issue gloves are versatile to use for any line of work that needs hand protection.
How to Care and Clean
First, identify the material and learn its proper care. Synthetic leather gloves are easy to maintain: simply wash either by hand or machine. Wool gloves need cold water to prevent them from shrinking. Genuine leather needs regular waxing to maintain its top shape.
You can also refer to the manufacturer's washing instructions to prevent damage. Some brands are machine washable, so cleaning is a breeze.
Do Tactical Gloves Really Keep Your Hands Warm
Tactical gloves aren't actually made to keep your hands warm in extremely cold weather conditions. They'll offer a slight amount of warmth but aren't adequate for sub-zero weather. However, this type of gloves is slightly better than winter gloves because they can provide warmth without limiting dexterity.
Why Are My Fingers Still Cold in Gloves
One common reason might be poor fitting. Gloves that are too loose, especially around the wrist area, can let the cold air inside the gloves and create cold fingers as a result. Ideally, you'll want a slight air gap between your finger and the glove interior to allow movement.
Conclusion
We hope that you have gained some ideas on what brands to consider or factors to look for when choosing the best tactical gloves for cold weather. All the products I reviewed above are worth purchasing, but my top favorite is the Mechanix Wear Original Coyote because it offers great insulation and high dexterity. My hands never get sweaty with the TREKDry material that fits snugly.
For some knuckle protection, FREETOO gloves are a good alternative. M MCGUIDE GEAR Genuine Issue offers great warmth with its wool composition. The PIG Delta gloves also offer high dexterity while keeping the cold air out of our hands.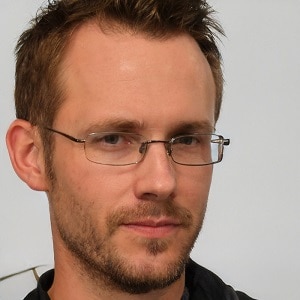 I am Everett Bledsoe, taking on the responsibility of content producer for The Soldiers Project. My purpose in this project is to give honest reviews on the gear utilized and tested over time. Of course, you cannot go wrong when checking out our package of information and guide, too, as they come from reliable sources and years of experience.