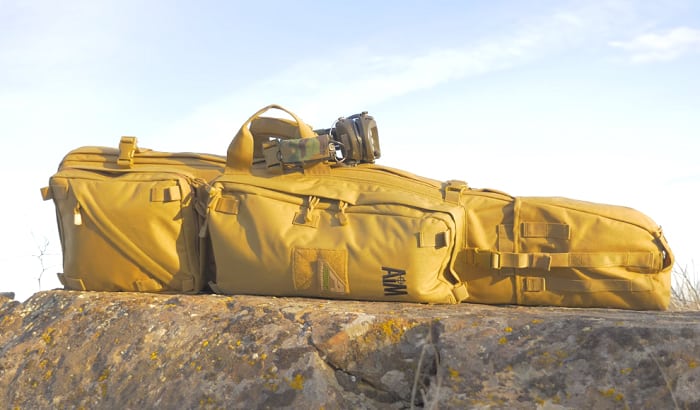 Going into a shooting range or hunting with a gun in your back can be a little intimidating for other people. You'll want the best soft rifle cases to keep everything discreet. Also, these cases can be helpful in protecting the firearm from elements and provide additional storage for gun accessories.
There are nearly hundreds of soft rifle cases available today, so choosing the best one can be overwhelming. You have to make sure that the bag suits all your firearm's needs. As an overview, let me list the basic things to remember when shopping for a new soft rifle case.
Size: Starting with the most important, find a size that fits your rifle. The general rule is to pick a case that's at least two inches longer than your gun. If your rifle has a mounted scope, determine the rifle's height together with the scope.
Durability: Since you'll constantly be using the case outside, find a bag that can endure a hard beating. Look for waterproof or water-resistant protection, at least to keep the moisture out of your gun. The fabric material should be tough, like Condura-type of material that can resist abrasion and extra weight.
Extra Pockets: The soft rifle case is even better if it has pockets to hold additional gear and accessories. You want the pockets to be accessible, so you don't have to take down the bag just to remove something. A Molle webbing platform is an excellent addition if you want to carry more pouches, like medical kits.
There's still more to learn, so make sure to continue reading. I'll be presenting a more elaborate buying guide below. Also, check 12 of my favorite soft rifle cases below.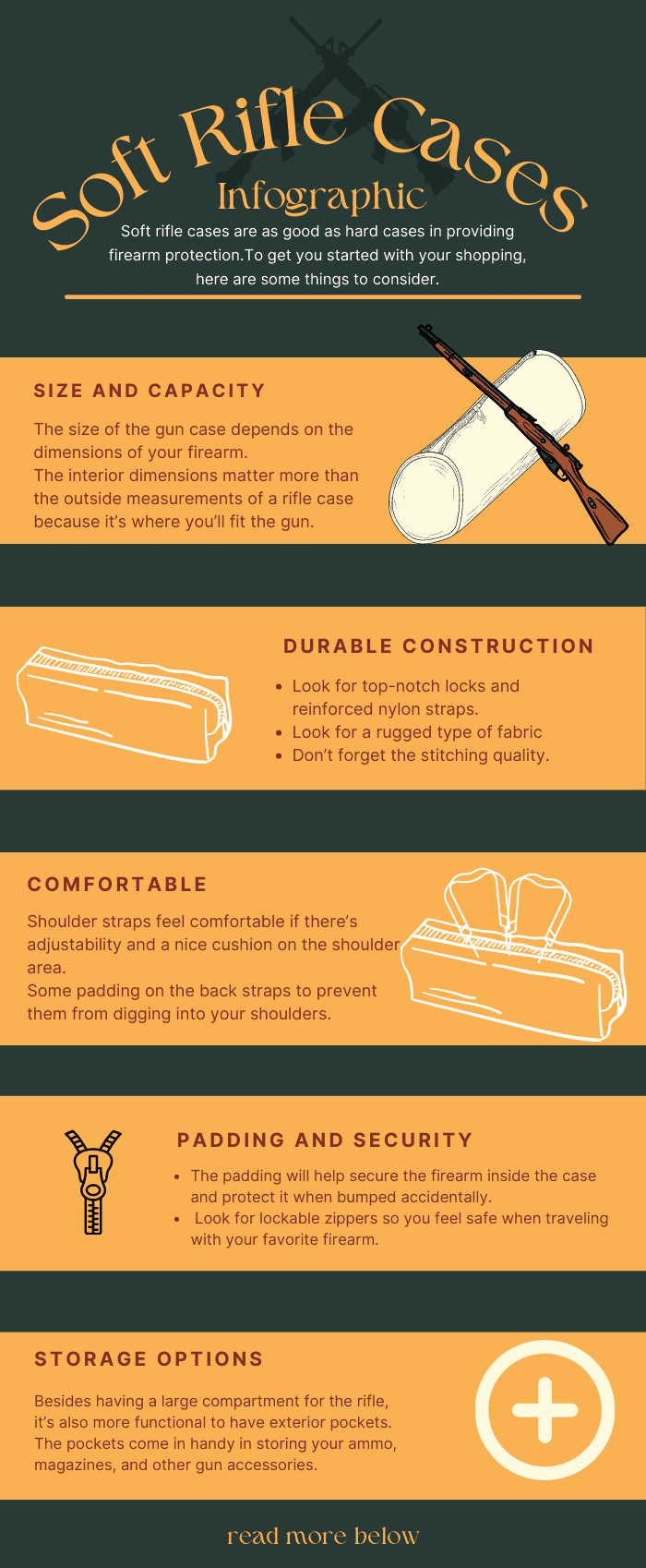 ---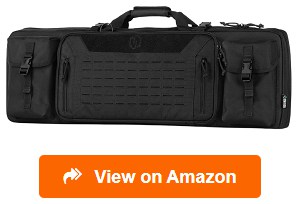 Savior Rifle Bag
Has large storage space
Supports a lifetime warranty
Designed with extra pockets
---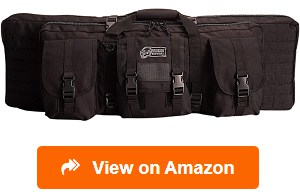 VooDoo Tactical Case
Adjustable shoulder straps
Has lockable compartments
Can be carried in multiple ways
---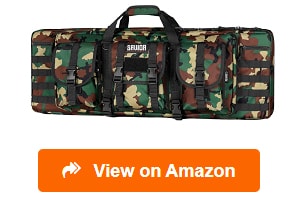 Savior Rifle Pistol Gun Bag
Have thick padding for extra comfort
Velcro feels strong on the flap hooks
Thick foam to protect while traveling
---
Top 12 Soft Rifle Case Reviews
1. Savior Equipment Urban Warfare Double Carbine Long Rifle Bag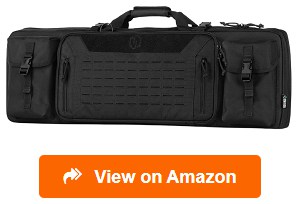 The Savior Equipment Urban Warfare is a double rifle soft case with lockable zippers and removable backpack straps. I like this more than the Savior single rifle case because it has a larger capacity to hold four firearms, plus extra gun accessories in the mesh pockets.
I love the sturdy construction of this soft tactical rifle case. Rather than being made of regular nylon, Urban Warfare is made of a 600D nylon fabric interior for extra strength. I'm most pleased with the interior foam padding and lockdown straps because they provide enough protection when transporting the firearms.
The firearms are nicely protected inside the bag as the removable interior divider enables the personal compartment of my long rifles. Whenever I need an extra mat, I can just remove the divider easily. The soft rifle bag lays flat when open, so it's also quite easy to remove the firearms.
This tactical rifle soft case is very spacious. I can put one or two rifles in the main compartment and store more tactical gear in the exterior pockets. Everything can be secured, thanks to the lockable zipper sliders for two firearm compartments. And best of all, the product comes with a lifetime warranty for endless customer support.
Heads-up:
However, I can't seem to fit my earmuffs in the side pocket without compressing them up.
Pros:
Has large storage space suitable for two rifles and two handguns
Padded divider provides firearm protection and can be used as a mat
Designed with extra pockets for shooting gear accessories
Feels solid with the 600D nylon fabric material
Lockable zippers keep valuables secure
Supports a lifetime warranty
Cons:
Earmuffs won't fit in the side pocket without crumpling them up
Bottom Line:
Overall, the Urban Warfare rifle case provides ample space for two handguns, two rifles, and additional accessories. I like that this rifle soft case has the right amount of pockets- not too many to make the bag more cumbersome to carry.
2. VooDoo Tactical Padded Weapons Case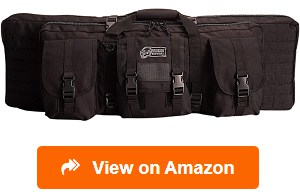 VooDoo is my favorite 36" rifle case with its thick padding and durable ballistic fabric construction. My Pelican IM300 36" fits nicely inside, and I'm surprised that there's still some room for three more without scopes.
This tactical soft gun case seems to have upgraded its construction. I noticed that the padding is a bit thicker and denser to provide sufficient protection when rifles are in transport. I especially like the extra padding on the adjustable shoulder straps and the top portion to provide extra comfort from the buckle area.
The stitching seems more secure with a rigid crosshatch pattern made on critical stress points. Aso, there are multiple pockets outside to carry more stuff like ammo, scopes, and magazines. I love the Molle webbing the most as it allows me to hang my medical kit securely.
There are multiple ways to carry this soft hunting rifle case- backpack, carry bag, or shoulder bag. I prefer to use this as a shoulder bag because it feels the most comfortable. More importantly, the big zippered section and the smaller pistol part can be locked for the safety of my valuables.
Heads-up:
However, I feel like a strong wind could tumble me over when used as a rifle backpack. We recommend users unload the bag if planning to carry this on both shoulders.
Pros:
Ultra-durable with the ballistic fabric and rigid stitching
Adjustable shoulder straps are thickly padded for comfort
Ample space to carry four firearms and multiple pockets for accessories
Molle webbing makes attaching additional tactical bags easy
Can be carried in multiple ways- shoulder, hand, and backpack
Has lockable compartments to store valuables
Cons:
Can be a little burdensome to carry the bag like a backpack when overloaded
Bottom Line:
All in all, VooDoo makes a good soft scoped rifle case for any weapon up to 36 inches long. Feel more secure with the lockable zipper compartments and thick foam padding.
3. Savior Equipment American Classic Double Long Rifle Pistol Gun Bag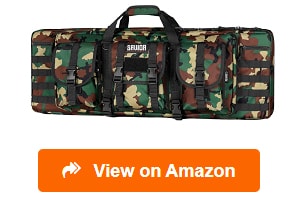 Savior Equipment American Classic is one of those soft gun cases that provides a ton of storage space. This gun bag can accommodate two rifles, two pistols, and some additional accessories.
I'm most impressed with the Molle Grid, as attaching additional tactical bags can become convenient. Also, the zippers feel solid, while 600D PVC nylon holds up well against any weather. The stitching is even better than any AR 15 soft gun cases I owned.
I love the padded divider of this Savior Equipment American Classic double rifle range bag. It's appropriately thick and dense to protect the firearms while in transport. The adjustable shoulder strap is also well-padded for extra comfort, plus won't slip on my hands at all.
There's more room than I'll probably ever need. I like the extra pockets, especially the flap hook that fastens them securely. Surprisingly, there's a spot to attach morale patches at the front, which I like for a bit of personalization.
Heads-up:
I find this soft sided rifle case slightly heavier than other soft tactical gun cases. We recommend customers use this soft gun case as a backpack for more comfort.
Pros:
Thick foam padding divide the firearms for protection while traveling
Adjustable shoulder straps have thick padding for extra comfort
Heavy-duty zipper, stitching, and 600D PVC nylon seems durable
Offers more room for rifles and other gear
Molle grid allows the attachment of more pouches
Velcro feels strong on the flap hooks and morale patches
Cons:
Feels a little heavy as a carry bag or shoulder bag
Bottom Line:
Altogether, Savior Equipment American Classic can be a nice option for a sturdy AR 15 soft case. This gun range bag seems to last with its heavy-duty zipper construction and ultra-durable fabric.
4. NcSTAR VISM Deluxe Rifle Case With External Magazine Pockets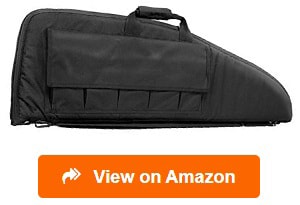 NcSTAR is one of the most budget-friendly soft cases for AR 15 on the market today. I like the fact that this VISM Deluxe rifle case features additional pocket compartments for magazines.
Upon receiving the soft rifle bag, I'm pleased with the quality of the material used. The outer shell is a durable Cordura nylon type of material that I think will last for many years. The interior has adequate foam padding to protect the rifles while traveling.
The handles feel decent, and I like that there's a padded velcro wrap to hold them together for more comfortable use. A removable shoulder strap attaches to a metal D-ring to provide another option for carrying. The zippers seem pretty strong and easy to open/close.
One side of the bag features a small windowed ID pocket, perfect for my ID tag. The other side has five pockets for magazines. I think the magazine pockets are designed for all AR or AK style magazines because they're narrowed to fit only one mag.
Heads-up:
My only complaint is that there's no long cushion on the adjustable shoulder strap to make it more comfortable to wear. For this reason, I prefer to use this tactical rifle bag as a hand carry.
Pros:
Solid dual zipper sliders are easy to close and open
Has solid handles that are pretty comfortable to hold
Offers an adjustable shoulder strap for more carrying options
Features magazine pockets and windowed ID pocket
Sturdy with the Cordura nylon type of material at a budget-friendly price
Interior foam protects the rifles while in transit
Cons:
Lacks padding on the shoulder strap for additional comfort
Bottom Line:
Overall, VISM makes a nice AR 15 soft carry case with its extra mag pockets. This soft padded rifle case seems sturdy despite the low price.
5. Condor Double Rifle Case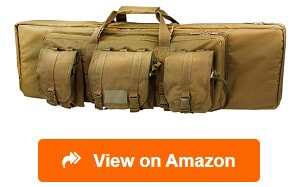 This double gun case from Condor is one of the top-rated padded rifle backpacks out there. I deem it's ideal for long walks, as it includes a sternum strap to help ease the burden from my shoulders.
The best part is that the backpack straps are concealable for a neater look. The inner lining that divides the two guns is also appropriately thick for extra protection. Moreover, there's a wide spot for Molle pouches at the back to carry more stuff.
The design seems to be well-thought. The front pockets can easily store eight 30-round PMAGS, and the secondary compartment can fit my two pistols and a few ammo. Meanwhile, the main compartment is perfect for two long guns up to 36 inches long.
Everything seems to be well-stitched for durability. Another great side note is that the zippers are lockable to protect the guns and accessories inside while driving in a gun-free zone. For the price, this double rifle case is a great value.
Heads-up:
However, the backpack compartment hurts a little at the back. I recommend buyers use a thick shirt when using this double rifle bag as a backpack.
Pros:
Backpack straps are well-padded and concealed
Includes a sternum strap to distribute the weight on the shoulders
Inner lining seems thick to protect guns while on the move
Molle webbing allows the storage of more gear and pouches
Well-stitched and has a lot of pockets and compartments to carry stuff
Lockable zippers provide more security, while the price is reasonable
Cons:
Backpack compartment may irritate when not wearing a shirt
Bottom Line:
All in all, the total construction of the Condor Double Rifle Case is one of the toughest and most well-designed rifle bags. The front pockets are accessible and roomy for extra gear, while backpack straps are comfortable.
6. Bulldog Cases Pit Bull Rifle Case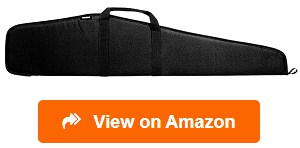 Bulldog Cases offers another economy case for storing rifles up to 38 inches long. This single rifle case seems to be tough and simple to use.
The outer shell is ballistic nylon that resists water to protect the rifle from moisture. My favorite is the hook on the muzzle end, as it can properly hold the bag's entire weight when hanging for storage. It's impressive that the zipper slides easily and seems to hold up well for a long time.
The main compartment is big enough to hold any long gun with a scope attached. The soft scratch-resistant inner lining is about ¾-inch thick on every side, which is adequate. I love the stitching, as it seems like it won't fall apart anytime soon.
It appears that there's a little webbing sewn at the bottom end of the zipper, so it makes a nice spot to put a small lock on. The handle is also pretty sturdy and comfortable to hold. Considering the price I paid, this gun bag is pretty unbeatable.
Heads-up:
However, I just want to point out that this small rifle case has no storage pockets. This one is literally just a single large sleeve, so we recommend bringing an extra bag for ammo.
Pros:
Nylon fabric is water-resistant and sturdy
Hook on the muzzle allows the storage of the gun bag vertically
Has thick inner lining to protect the rifle when moving
Zipper works smoothly, while stitching seems to be well-made
Has sturdy handles and little webbing for a lock on the zippers
Comes at an unbeatable price
Cons:
Lacks storage pockets to store additional items
Bottom Line:
Altogether, the Bulldog Cases single rifle bag is perfect for light or moderate use. Customers can fit a scoped rifle with the large space and adequately padding inside.
7. Allen Company Daytona Soft Carrying Gun Case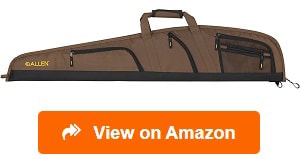 Allen Company offers one of the most reliable gun cases out there with its Daytona model. This soft rifle bag features four exterior pockets and an ample main compartment that can fit scoped rifles with a maximum length of 46 inches.
Daytona is a single rifle bag with a lot of padding to provide sufficient protection to the firearm. The outer endura fabric is high-quality and reminds me of a winter jacket. The four pockets are well-plotted to be useful in carrying extra ammo and gear.
I especially love the mesh pocket as it lets me see what's inside and access the items easily. I'm also a fan of the finger loop fixed to the zipper because it makes it easy to open and close the rifle bag. Even the brown and black combination color is nice.
What I like best is the Velcro that holds the two halves of the handle together. It makes the rifle bag easy to carry, like a duffel bag. Whenever I want to free my hand, I can use the adjustable sling in the package.
Heads-up:
My only dislike is that there's only one zipper. I wished there were two so I don't have to zip all the way from one end to another just to open/close the gun case fully.
Pros:
Main compartment has enough padding to protect scoped rifles
Endura fabric feels rugged and tough, while brown/black color looks nice
Has four pockets to store additional accessories and gear
Mesh pocket makes items visible and easy to access
Zipper has a finger loop to make it easy to operate
Easy to carry with the Velcro handles and additional sling
Cons:
Needs to zip/unzip all the way through since there's only one zipper
Bottom Line:
Overall, I'm pleased with the quality of the Daytona rifle bag. It's well-padded and plotted with four external pockets for extra storage.
8. VISM by NcSTAR Double Carbine Case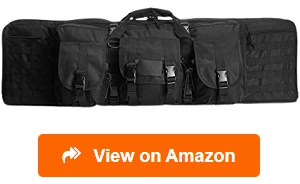 The VISM Double Carbine Case makes a good M4 soft case with its spacious interior and additional external pockets. This rifle bag can carry two carbine-sized rifles and plenty of supplies in front.
This rifle bag excels in a large number of pockets to store everything I need. The back has a large pocket that could easily store six pistols and magazines, while the front pockets can hold spare magazines securely. I like that I can carry extra pouches on the Molle webbing.
The exterior is made tough with the PVC material, while the zippers are heavy-duty enough to endure constant abuse. I enjoy the pull cords attached to the zippers because they make them quick to access. Also, I feel like my items are secured well with the buckles on the front pockets and the thick cushion on the main compartment.
I'm more comfortable using this bag with the carry handle because there's a wrap to hold the two straps together. Even when I'm carrying a lot of stuff, I notice no flinching on the handles. Almost everything is double-stitched, so I'm confident with the durability of this bag.
Heads-up:
The only thing that I dislike is the back straps because they lack padding to make the bag more sturdy and comfortable on a long hike. We recommend users use the back straps for a short walk and carry handles for a long walk.
Pros:
Offers plenty of pockets and space for storage
Made with Molle webbing to customize pouches
PVC material feels durable, while zippers can last for heavy-duty use
Pull cords make zippers easy to open and close
Secures items with buckles and a thick cushion
Carry handles are durable to use, and almost everything is double-stitched
Cons:
Lacks a little padding on the back straps
Bottom Line:
All in all, the VISM Double Carbine Case offers the best solution when it comes to storage. This rifle bag has plenty of pockets to store all essentials for any tactical mission.
9. HUNTSEN Rifle Bag Soft Double Rifle Gun Bag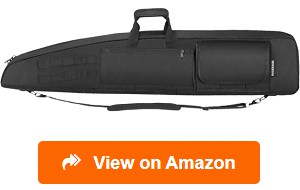 The Huntsen Rifle Bag can carry two long guns using the thick divider. It also features multiple pockets in different sizes for extra storage of gear and supplies, like ammo.
The exterior is from water-resistant polyester, while the interior comes with a thick cushion of 0.70-inch padding. I love the Velcro straps that keep the rifles snug throughout the trip. The removable divider also serves as an additional mat when I need to lay my rifles on the ground, which is pretty convenient.
I found three magazine pouches and a large secondary compartment for other essential accessories. I love the Molle loops for attaching my favorite medical kit and other accessories. The zippers on the largest compartment seem sturdy, and I think they can be secured with a padlock for more security.
This double rifle case also seems to be constructed with a comfortable carry handle. The handle is well-padded, so using it doesn't strain my hands. I prefer to use the shoulder straps for a shorter walk because of the paddings in the right places.
Heads-up:
My only small gripe is that this soft case can't fit a rifle with a mounted scope. We recommend customers store the firearm and scope separately.
Pros:
Can hold rifles securely with the Velcro straps
Water-resistant polyester fabric and thick interior padding
Removable divider, and Molle loops fit more pouches
Offers three magazine pouches and a big zippered compartment
Zippers feel sturdy and lockable for security
Comes with comfortable carry handles and well-padded shoulder straps
Cons:
Bottom Line:
Altogether, I'm pleased with the security design of this HUNTSEN rifle case. There are Velcro straps to hold the rifles down while traveling and a lockable zipper for security.
10. AUMTISC Soft Rifle Case 44" Padded Shotgun Gun Bag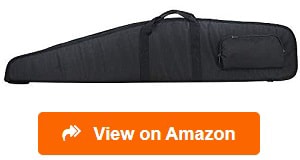 This tactical rifle bag from AUMTISC is constructed out of water-resistant and dust-proof material, ideal for hunting and other outdoor activities. I got the 44-inch model, which fits almost any AR 15 rifle.
The nylon material feels thick and impressively well stitched to increase durability. The zippers seem sturdy and easy to manipulate. Best of all, the zippers can be locked when pulled together for added security during transit in gun-free areas.
I love the padding inside. It feels soft, and I think it protects my rifle very well against scratches and bumps. Surprisingly, the bag feels lightweight even when loaded with my Remington 700 rifle and some extra ammo.
Thankfully, there's a front pocket to store my spare mag and ammo. The removable shoulder strap is a big help when I want to free my hand. Additionally, the handles are solid, making it easy for me to carry around anywhere.
Heads-up:
However, there's only one pocket on one side. I hoped there was more to carry more ammo in my hunting session.
Pros:
Thick nylon exterior protects the contents from water and dust
Soft padding inside offers enough cushion to the rifle for protection
Double zippers seem durable and lockable for added safety
Double-stitched and feels lightweight to carry around in any outdoor activity
Has a front pocket to store ammo and other accessories
Comes with sturdy handles and a removable shoulder strap
Cons:
Only one extra pocket, so I can only carry a limited amount of accessories
Bottom Line:
Overall, AUMTISC Soft Rifle Case has a durable construction with its water-resistant exterior and heavy-duty double zippers. I like that I can pack some spare mag in the front pocket and easily carry it with the handle.
11. Uncle Mike Tactical Rifle Case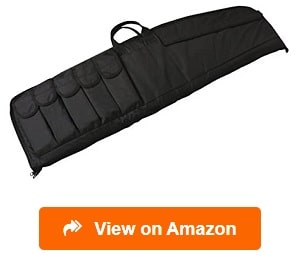 This tactical rifle case from Uncle Mike is my get-to-go bag for hunting as it's made of heavy-duty fabric and sturdy Velcro pockets. There's a lot of space inside to fit a scoped AR 15 and a few mags on the front pockets.
I like this tactical rifle bag, especially its outer layer, because no water penetrated inside when I got soaked in the rain one day. The bag feels lightweight even when I loaded it with my large rifle. More importantly, there's enough cushion inside to keep the optics and rifles from damage.
The padding used isn't usually the regular foam rubber I'll find in most bags. I think it's more of a closed-cell plastic material that provides more protection in a more compact package. In addition, the rifle bag can be locked with a tiny padlock, so I feel a little secure when traveling with my firearm.
The shoulder strap is a nice addition to the portability of the bag. I also think that the stitches can hold fine for a long time. For the price, I'm more than satisfied to have additional pouches for my spare mags.
Heads-up:
However, I noticed that the zippers are a little difficult to get started when I fully unzip them. What I usually do is leave the zippers halfway through.
Pros:
Fabric exterior is tough and water resistance
Feels lightweight and easy to carry with the shoulder strap
Padding looks firm for extra protection of rifles
Zippers are strong and lockable for safe storage
Stitches are well-done and look durable for long-term use
Comes with mag pouches at an economical price
Cons:
A bit challenging to get the zippers open when fully unzipped
Bottom Line:
All in all, the Uncle Mike Rifle Case is one of the best choices when the budget is a concern. This tactical rifle bag is economical and durable enough to protect the rifle from scratches and bumps.
12. LUXHMOX Double Long Soft Rifle Case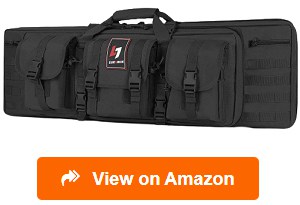 This LUXHMOX rifle case is one of the most durable bags I've used for my long guns and pistols. The appearance alone screams heavy-duty and reliability with the buckles and thick exterior.
The material is 900D PVC nylon, which holds up well to any weather conditions. I noticed no rips, fraying, or tears when I maximized the bag's total capacity. I can put two long rifles in the main compartment and two more pistols in the secondary compartment.
The three front pouches fit my ammo and supplies quite well. They're built with strong Velcro and a locking drawstring to ensure that no items fall out while traveling. I like the extra loops on the shoulder straps and the Molle webbing as they allow me to add more pouches.
I love the carry handles- they're sturdy and comfortable to hold. The back straps are a big bonus if I'm going to an outdoor range. Additionally, the zippers work smoothly, and the product supports a 30-day money-back guarantee plus a 180-day warranty.
Heads-up:
However, stitching is a different problem. I think that the stitching can fall apart easily when the bag is loaded more than its capacity.
Pros:
900D PVC nylon material appears to be super durable
Has plenty of storage space for multiple firearms and accessories
Front pouches can fit ammo with strong Velcro and drawstring
Extra loops and Molle webbing accommodate extra gear
Has sturdy carry handles, back straps, and zippers
Offers a 30-day money-back guarantee and 180-day warranty
Cons:
The stitching looks a little weak to handle a heavy load
Bottom Line:
Overall, the LUXHMOX Rifle Bag appears to be durable, spacious, and versatile. I like to switch between shoulder straps, carry handles, and back straps when going out with my firearm.
What To Look For When Buying Soft Rifle Cases
Soft rifle cases are as good as hard cases in providing firearm protection. They're more comfortable to carry around since they're lightweight and often come with padded straps. To get you started with your shopping, here are some things to consider.
The size of the gun case depends on the dimensions of your firearm. Measure the length of the firearm, and pick a case that's similar to your firearm. The interior dimensions matter more than the outside measurements of a rifle case because it's where you'll fit the gun.
To fit more stuff, you can add two inches more on the actual length of your firearm.
The capacity depends on how many firearms you're planning to carry. If you only like to bring one gun, look for a smaller soft rifle or single-rifle case. A double gun case is perfect if you want to bring two rifles at once.
You want the construction to be as durable as possible. Look for top-notch locks and reinforced nylon straps. It helps to have a little waterproof or water-resistant protection to protect the firearms from moisture because you never know what's going to happen in the field.
Look for a rugged type of fabric that's not easy to tear or rip. Ballistic nylon or rip-stop fabric is the most preferred fabric for soft rifle cases. Choose a higher denier count because it usually entails more durability.
Don't forget the stitching quality. Make sure that all straps are attached well, and everything else is double-stitched.
A great indicator for durability is the warranty. The most reliable rifle cases offer a remarkable lifetime warranty to support customers. Others even go as far as providing a refund or replacement within 30 days of purchase.
Most soft rifle cases are lightweight, so they're pretty comfortable to carry around. They also offer more than one carrying option. Good case models offer sturdy carry handles, a well-padded shoulder strap, and sturdy back straps.
The most comfortable carry handles have a Velcro strap to hold the two pieces together. They also have a nice padding to provide comfort, perfect for long hikes. Shoulder straps feel comfortable if there's adjustability and a nice cushion on the shoulder area.
Back straps are perfect if you want to carry more load. You also want some padding on the back straps to prevent them from digging into your shoulders. The top-tier soft gun cases even provide a sternum strap for more stability.
Soft cases use interior padding to protect the firearm from damage during travel. The padding will help secure the firearm inside the case and protect it when bumped accidentally. Find something thicker to provide better shock absorption.
You also want something to hold the rifles in place, like Velcro straps.
If you don't want others to access your gun unattended, keep it locked. Look for lockable zippers so you feel safe when traveling with your favorite firearm. There are some jurisdictions that require the storage of firearms in a locked gun case.
Besides having a large compartment for the rifle, it's also more functional to have exterior pockets. The pockets come in handy in storing your ammo, magazines, and other gun accessories. Others even have a secondary compartment for pistols.
To attach more pouches, look for a Molle webbing platform. Again, you don't have to look for more pouches if you plan to carry only a few essentials.
How Do You Secure Your Rifle in a Soft Case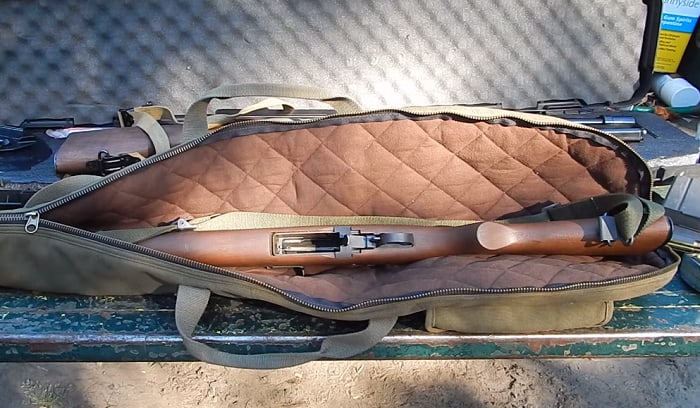 Make sure to use straps to hold down the guns inside the soft case. The most favorite rifle cases have Velcro straps to serve that purpose. Use a padlock to lock the bag through the zippers for more security measures.
Waterproof Soft Rifle Cases- Do They Exist
Yes, there are waterproof soft rifle cases, but they're only a few, which can cost a fortune. Most of the soft gun cases on the market today are water-repellant to provide sufficient protection from light rainfall.
What Size Soft Case Should You Buy for a 36' Ar-15
For this gun specification, you'll need the minimum 36-inch rifle case. However, you won't have any extra space left over. To fit extra stuff, you can consider a 38-inch gun case.
Conclusion
The best soft rifle cases can protect any firearm for longevity, plus add extra storage for ammo and other gear. My top recommendation is the Savior Equipment Urban Warfare because it has enough pockets to bring extra accessories. Also, this model offers plenty of lockable zippers for security and a removable divider to keep the two long guns from bumping each other. You also put other tactical items on this cases such as tactical binoculars or tactical gloves.
VooDoo and LUXHMOX are two of the most durable brands in this review. Bulldog Cases, Condor, and VISM are the most budget-friendly options out there. Almost all rifle cases I reviewed above offer multiple pockets, a removable divider, and more than one carrying option.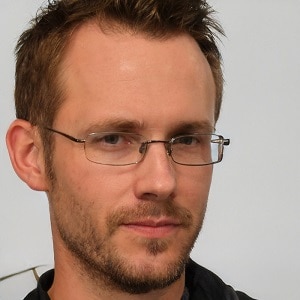 I am Everett Bledsoe, taking on the responsibility of content producer for The Soldiers Project. My purpose in this project is to give honest reviews on the gear utilized and tested over time. Of course, you cannot go wrong when checking out our package of information and guide, too, as they come from reliable sources and years of experience.