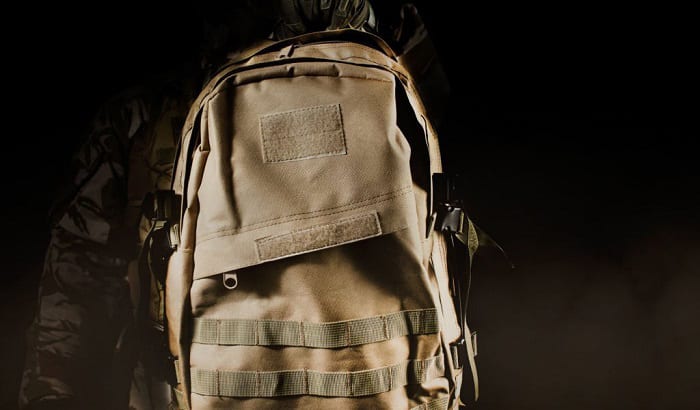 When I planned to go hiking for three days, I realized that a good tactical backpack comes in handy for storing all gear essentials. The best tactical backpack offers plenty of storage and durability without the bulk of a hiking backpack. Initially, tactical backpacks were used only by law enforcement or military personnel. Still, hikers and the concealed carry community have discovered the wonders of these tactical bags.
You should find the right tactical backpack for your needs to maximize its benefit. There aren't a lot of differences in tactical backpacks, as most of them contain the same features, like a huge main compartment and Molle webbing. To give you an overview, here are the key features that you should look for.
Capacity: The capacity of tactical backpacks may vary from 20 liters to 60 liters or even more. How large the bag is depends on how many items you're planning to carry in your mission. Just keep in mind that a bigger bag means a heavier carry, especially if it lacks a waist strap.
Material: Tactical backpacks are normally made of tough materials, like polyester, Oxford, and nylon fabrics. You may want to check the denier count as a higher number means more ruggedness. Also, make sure to check the quality of zippers and choose ones that are heavy-duty.
Straps: The tactical bags have support straps, like a chest strap and waist belt, to distribute the weight. The shoulder straps should be padded to reduce the stress from your shoulders. Also, look for sturdy Molle straps all around to provide more slots for storage.
To learn more about tactical backpacks, check our buying guide below. From afternoon treks to 3-day camping, these 12 tactical bags take backpacking to the next level.
---
REEBOW GEAR Tactical Backpack
Water-resistant
Durable fabric
40 liters of storage capacity
---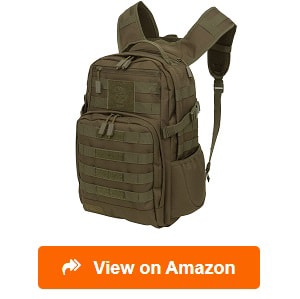 SOG Tactical Backpack
Built with many pockets
Offers 24.32 liters capacity
Has hydration bladder pocket
---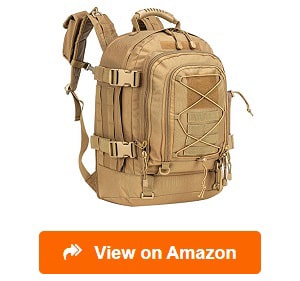 WolfWarriorX Backpack
Can store the largest laptop
Has all the necessary straps
Built with 4 large compartments
---
Top 12 Tactical Backpack Reviews
1. REEBOW GEAR Military Tactical Backpack
REEBOW GEAR is a 3 day assault pack that offers 40 liters of storage space. I like to use this one as a range bag as it can fit my three full-sized handguns, eye/ear protection, and a few rounds of magazines without shouting "military", especially if I take the patch off.
This military tactical backpack is the most robust bag I used with its high-density fabric and heavy-duty zippers. I like that the zippers are sewn seamlessly into the fabric. Also, the material is water-resistant, at least to keep the rainwater out to a certain extent.
It actually feels comfortable wearing this tactical gear backpack for long hours with its well-padded shoulder straps. The front and side compression straps make the heavy load seem lighter. Meanwhile, the back area is well padded and ventilated for extra breathability in the hot weather.
What I like the most about this 3-day assault pack is the right amount of pockets to keep my things ( e.g., 15.6" laptop, cookware, and a change of clothes, etc.) organized. There are not so many of them that I forget where I've placed my stuff.
I appreciate the Molle webbing throughout as I can add more items, like a first aid kit for extra safety. And on the back, I found a handy compartment for a hydration bladder for long hikes.
Heads-up:
The only thing I dislike is the waist straps as they seem not to stay put. I've had to stop and tie them back, which can be a little tasking when hiking.
Pros:
Has 40 liters of storage capacity with the right amount of pockets
Can be a low profile tactical backpack without the patch
Made of durable fabric and zippers; water-resistant
Comfortable to wear with the padded shoulder straps
Has compression straps to lighten the load and a mesh back for breathability
With Molle webbing and hydration bladder compartment
Cons:
Waist straps may come undone frequently
Bottom Line:
Overall, this tactical gear backpack from REEBOW GEAR displays extreme durability and comfortability. The 40 liters capacity is enough to pack for hunting, survival, range, and many more activities.
2. SOG Speciality Knives & Tools Tactical Backpack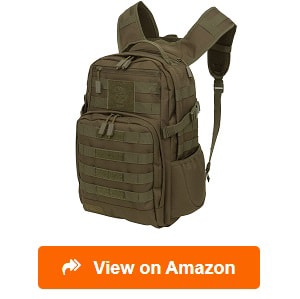 I was looking for a good tactical EDC backpack, and someone on Reddit recommended me the SOG Ninja Tactical Daypack. This tactical bag has a load capacity of 24.2 liters, perfect for packing the stuff I usually need in the car.
Ninja is a backpack with velcro panel and a small accessory pocket at the front. My favorite is the soft-lined pocket at the top, as it secures my sunglasses and iPhone X very well. Despite being under the summer sun, my phone stayed cool inside that pocket.
This small tactical backpack has multiple compartments with zipper pockets to store my essential gear for everyday carry. I love the Molle and buckle straps as they allow me to add other gear, like a sleeping bag or bedroll, when camping. It's also quite easy to access the water because the hydration pocket comes with a tubing port.
Another way to bring water is to use the elastic side pouch, which can fit a 40-oz bottle. I have no worries when walking for long hours because this slim tactical backpack feels comfortable with the yoke shoulder straps and adjustable sternum strap. The zippers are also pretty strong as this pack can hold my two pistols in their cases just fine.
Heads-up:
However, the fabric that covers the zippers feels a little stiff, so opening and closing the zippers of this SOG Backpack can be a little difficult.
Pros:
Offers 24.32 liters capacity and a velcro panel for customization
Built with many pockets, including a top pocket for sunglasses and phones
Can carry more gear with the Molle webbing and strong zippers
Has a hydration bladder pocket with tubing port for easy access to water
Side pouch stretches to store a 40-oz water bottle
Comfortable with the yoke shoulder strap and sternum strap
Cons:
A little challenging to open/close the zippers
Bottom Line:
Overall, the SOG Ninja Tactical Daypack makes a nice place to store items for everyday carry. This bag offers lots of pockets, even a special slot for sunglasses and gadgets.
3. WolfWarriorX Expandable Backpack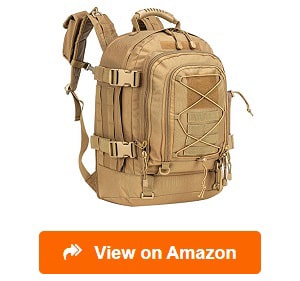 The WolfWarriorX Backpack is a versatile bag. The main compartment expands from 39 liters to 64 liters, the largest in this bunch. This amount of room is enough to pack a three-day trip for camping, hunting, or trekking.
There are four main loading areas with dividers for easy organization and a handy mesh pocket for water bottles. I don't need to take off the bag when taking some items because I can just store them on the two pouches on the shoulder straps. Also, the back compartment seems the perfect slot for my change of clothes and water bag.
Casually, I like to use this bag as a tactical laptop backpack because it can store the largest laptop, even my whole desktop computer. This large tactical backpack is water-resistant as it remains dry after a light rain. Surprisingly, none of my items were damaged from moisture.
The construction seems pretty tough for any rugged situation, thanks to the 600D nylon shell and polyester interior. I like that this bag is complete with all the necessary straps (waist belt, chest strap, etc.) to make the bag easy to carry. More importantly, the Molle straps are useful for attaching extra gear.
Heads-up:
However, the bag may lose its balance when heavily loaded at the two front pouches. I recommend users load them up with only small items, like personal toiletries.
Pros:
Expands up to 64 liters for a three-day adventure
Built with four large compartments and a side mesh pocket
Can store the largest laptop; back compartment can keep the water bag
Two front pouches on the shoulder straps provide easy access
Made of a water-resistant 600D nylon/polyester material
Has all the necessary straps- chest strap, waist strap, and Molle straps
Cons:
May lost balance when loaded with heavy stuff at the front
Bottom Line:
Overall, WolfWarriorX is a perfect military backpack for hiking because it's huge yet comfortable to carry with the chest strap and waist belt. Not to mention that it's made of durable materials.
4. Samurai Tactical Wakizashi Tactical Backpack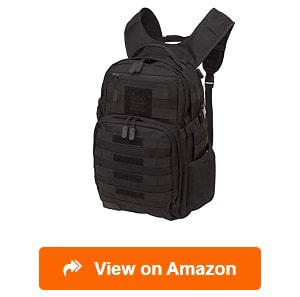 Packed with 24 liters of storage capacity, the Wakizashi Backpack is another great bag for everyday carry. This one looks almost exactly the same as the SOG Ninja but costs a lower price.
The Wakizashi Bag has a large main compartment with a sturdy protective sleeve for a hydration bladder or laptop. The interior mesh pockets are a great addition to storing smaller items. And just like the SOG Ninja, this bag has that special top pocket that I like to store my eyeglasses in.
The polyester fabric feels pretty strong to hold up to any tough situations in the wilderness. The metal zippers also appear to be solid as they remain intact after yanking them for several occasions. What surprises me the most is that the bag weighs so lightly that I don't feel the burden when carrying it for long hours.
The yoke-style shoulder straps and the adjustable sternum slider play critical parts in easing out the burden. Also, Samurai Tactical didn't miss putting Molle straps on this bag for extra gear. I tried putting a standard 16.9-oz water bottle on the side pocket, and I'm pleased that it fits well.
Heads-up:
However, I had a hard time getting at the zipper tabs, making it a little challenging to open.
Pros:
Has a good price and a 24-liter capacity for everyday carry
Large main compartment contains a special slot for a hydration bladder or laptop
Built with a top pocket for eyeglasses and interior mesh pockets for small items
Made of strong materials- polyester and metal zippers
Lightweight and comfortable to carry with the yoke shoulder and sternum straps
Comes with Molle straps and side pockets for water bottles
Cons:
Zipper tabs are a little challenging to get at
Bottom Line:
Altogether, the Wakizashi Backpack makes an economical alternative to SOG Ninja. This tactical bag has almost the same features, like a top pocket for eyeglass, 24-liter capacity, and a hydration bladder slot.
5. Hannibal Tactical MOLLE Assault Pack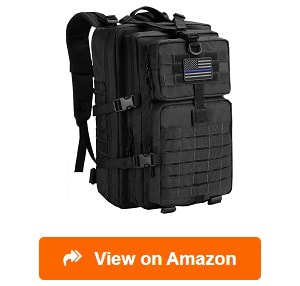 Hannibal is a 3-day assault pack providing a spacious capacity of 36 liters. I bought this for camping and hiking, and its performance has surpassed my expectations.
This backpack is built with many pockets, including two main compartments and two small ones in the front. Thanks to the elastic strap, my laptop stays secure inside the main compartment. I love best how the main compartment opens like a suitcase as it makes things easier to access.
I especially like the hydration bladder compartment at the back. It helps me get easy access to water during long hikes. Items also can be fully organized with the help of the dividers. When it's camping time, the Molle straps on the bottom can hold my sleeping pad quite securely.
It's important to me that the larger openings are built with waterproof rubber lining because I carry my smartphone and laptop every day. Additionally, I feel comfortable wearing this large bag even when loaded because the padded straps take out some of the weight on my shoulders. This particular Hannibal bag comes with a USA Flag patch, but without it, the bag looks ordinary, blending well into the crowd.
Heads-up:
However, the bag smells terrible straight from the package. I had to air it out for a couple of days to dissipate the odor.
Pros:
Spacious with the 36-liter capacity and Molle straps
Built with two main compartments that can open like a suitcase
Elastic strap helps hold down an item inside the main compartment
Offers a hydration bladder compartment for easy access to water
Has dividers to organize items and waterproof lining on the opening
Comes with padded straps for comfort and a USA flag patch
Cons:
May have a horrible smell at the start
Bottom Line:
Overall, the Hannibal Tactical Backpack makes a nice 3-day pack for any activities, whether hunting or camping. The large 36-liter capacity can keep things organized with the straps, compartments, and dividers.
6. Monoki Military Tactical Backpack
Monoki is a mens tactical backpack with a 35-liter capacity, adequate to be used as a hunting backpack or urban tactical backpack for a three-day trip. This bag comes with many accessories, including a keychain, D-ring lock, and a drawstring bag.
My favorite of them all is the 500ml water bottle bag, which can be pretty useful for long walks under the sun. The saber card has a nice weight and a blade to help me defend myself in dire situations. I can put many things on the bag, like my set of clothes in the two main compartments and tools or pens in the smaller compartments.
The main compartment comes with elastic straps, perfect for fixing my laptop and other devices while on the move. There's even plenty of room for other gear, thanks to the tons of Molle velcro portions on the front. I like to put my tent and sleeping bag underneath the backpack.
I think this bag will endure any weather as the 900D Oxford and nylon fabric seems tough and water-resistant. I love the waist belt as it works best in securing the backpack when hiking. Thankfully, the straps can be removed to keep the bag looking more low-key.
Heads-up:
However, the backside has less padding than I desired. I have to place a blanket near the back to provide an extra cushion.
Pros:
Has a 35-liter capacity; comes with plenty of freebies
Includes a handy saber card for survival and a 500-ml water bottle bag
Contains many compartments for storage; has elastic straps to hold items down
Built with lots of Molle straps for extra gear; the bottom part stores sleeping bags
Made of durable 900D Oxford and nylon fabric with waist belt
Straps are removable to keep the bag low-profile
Cons:
Has less padding on the back
Bottom Line:
Altogether, this Monoki Backpack stands out with its extra accessories, like a multi-tool saber card and water bottle bag. This bag also offers a ton of pockets, compartments, and Molle straps to organize items.
7. CVLIFE Tactical Backpack
CVLIFE is a 50L tactical backpack that can even expand to 60 liters, the second-largest capacity on this list. Filling up this bag, I'm impressed to find a large main compartment and three detachable bags on the front and sides.
The detachable front bag can be used as a fanny pack alone, while the two side pouches are usable as a first-aid bag or gadget storage. At the top of the pack, there's a cut-out for a 3-liter water bladder tube for easy access to the water pouch on the main compartment.
The backpack is made of 600D polyester, which I think is water-resistant. Thanks to the rain diverting flaps, my laptop and other gadgets stay secure inside the bag from moisture. I'm pleased to find more stitches at critical points because I don't need to worry about accidental tears when loading up the bag heavily.
Wearing the bag feels really comfortable, thanks to the adaptable chest belt and thick shoulder straps. I also love the Molle system of this military bag as it comes in handy in attaching a sleeping pad or more pouches I need. Considering the price, this is a very nice backpack for the money.
Heads-up:
My only concern is the tons of straps that seem too long and flapping everywhere. These straps can get in the way when I walk.
Pros:
Offers a very large capacity, 50-60 liters, at a good price
Includes three detachable bags for versatility and tons of Molle straps
Built with a cut-out for inserting tubes or straws for the water pouch
Made of water-resistant 600D polyester with multiple stitches at stress points
Rain diverting flaps protect items from moisture
Comfortable to wear with the thick shoulder straps and adaptable chest strap
Cons:
Long straps may flap and get in the way when walking
Bottom Line:
All in all, the CVLIFE Tactical Backpack makes an excellent option for versatility and space. The 50/60 liter capacity is huge, and the detachable packs can be utilized in many ways.
8. 24BattlePack Tactical Backpack
24BattlePack is a tactical backpack made in the USA, offering 40 liters of storage space. When using the compression straps, this covert tactical backpack can be shrunk down to 20 liters for a single-day pack.
I found a lot of compartments on this black tactical backpack, and my favorite is the ultra-padded laptop sleeve on the main compartment. With the dedicated laptop sleeve, I can carry my 17-inch laptop or tablet to work. I like to store my documents in the zippered compartment in the back and smaller items, like batteries and cables, on the external zipper pouches for easy access.
The built-in universal gun holster in the outer pocket seems to fit my full-sized pistol well, even with extra magazines. Also, the extra zippers help a lot to put in a water bladder. This tactical computer backpack has a lot of straps to pretty much attach any Molle compatible gear for a 3-day hike.
I truly appreciate the chest strap and waist strap as they help distribute the weight more evenly and keep the shoulder straps in place. This military backpack is therefore very comfortable and easy to carry, despite the load. Best of all, every compartment is waterproof lined to help protect my electronic gadgets from moisture.
Heads-up:
However, the zippers appear to be very stiff on this USA made tactical backpack on the first few days of use.
Pros:
Has a padded laptop sleeve to carry a tablet or computer
Compression straps can shrink the capacity from 40 liters to 20 liters
Built with zippered compartments for documents and small items
Comes with a universal holster for guns and Molle straps
Hydration bladder compatible; waterproof lining in each compartment
Comfortable to carry with the chest and waist straps
Cons:
Zippers tend to be stiff at first
Bottom Line:
All in all, 24BattlePack offers a good tactical bag for a 1-3 day pack. With the addition of a built-in holster pouch, this one makes a discreet tactical backpack for guns.
9. Himal Military Tactical Backpack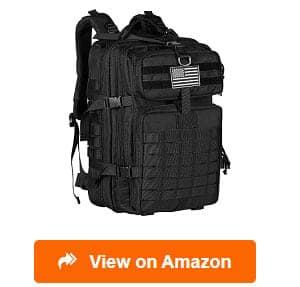 Measuring about 20 x 12 x 12 inches, Himal is another 3-day assault pack that offers 40 liters of capacity to carry all the essential gear I need. Once the side compression straps come undone, the bag extends its volume to hold multiple items.
We can use its two big main compartments, plus two small holders on the front and another at the back. I find the top small pocket the best place for my sunglasses, smartphone, and other personal items. Meanwhile, the main compartment seems roomy enough for my clothes, laptop, and other devices.
Most tactical bags use 600D material, but this waterproof tactical backpack goes above the standard and uses a heavy-duty 900D Oxford fabric. I think this bag will last for years to come as the stitching looks incredibly strong. Also, the shoulder straps feel really comfortable as they stay put while I'm brisk walking outdoors.
I found plenty of loops and straps in the bag's Molle system to hold my first aid pouch and other items for travel. My favorite is the Y strap that locks with another strap to hold down the bag once the zippers get busted. This gives me a sense of security when hiking for long miles.
Heads-up:
However, the side straps feel a little rough on my skin.
Pros:
Provides 40 liters of capacity with side compression straps for full expansion
Built with plenty of compartments to fit a laptop, clothes, and other items
Extremely durable with its 900D fabric construction and strong stitches
Has comfortable shoulder straps that stay put while moving
Comes with Molle loops and straps for attaching extra pouches
Y strap helps secure the bag once the zippers get broken
Cons:
Bottom Line:
Altogether, the Himal Tactical Backpack surely impresses with its durable construction. While others are made of 600D fabric, Himal uses 900D material.
10. EMDMAK Military Tactical Backpack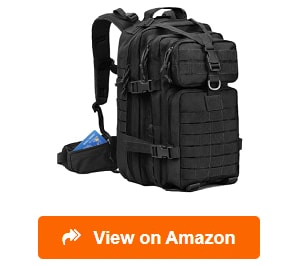 EMDMAK is an EDC tactical backpack that's built for heavy use. This bag offers a lot of space, about 42 liters, to store all my essential gear for up to three days in the range, camp, and outdoors.
I appreciate the elastic strap on the main compartment as it helps hold my laptop when brought to my travel. Every space has a zipper pocket or a mesh pocket to help me organize my items properly. In fact, putting my gadgets in the bottom side pockets is the most convenient for me.
The whole construction of the backpack seems to last for many years. The zippers appear to be very solid, while the 900D Oxford and nylon fabric hold up well to heavy items. This pack seems to be water-resistant in light rain as my belongings stay dry in the middle of it.
What I like best are the freebies- 500ml water bottle pouch, flag patches, lanyard keychain, D-rings, and a multi-tool card. All of them are useful, especially the card with a saw edge for cutting ropes. Additionally, the Molle attachment straps come in handy in carrying more stuff, like my magazine pouch and holster.
Heads-up:
However, there's a chemical odor present on the bag. Make sure to air out the bag for several days to remove the odor.
Pros:
Has a storage capacity of 42 liters
Main compartment contains an elastic strap to hold down items, like laptops
Zipper and mesh pockets help organize items inside the compartments
Bottom compartment seems suitable to keep gadgets for easy access
Made of durable zippers and water-resistant 900D Oxford and nylon fabric
Includes Molle straps and freebies, like a multi-tool card and water bottle pouch
Cons:
Bottom Line:
All in all, the EMDMAK Tactical Backpack is another solid bag for durability. This durable bag also offers a large capacity for a 3-day pack.
11. Jueachy Tactical Backpack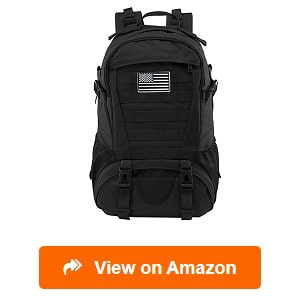 Jueachy provides a smaller capacity, at 30 liters. Still, it can fit most of my essential gear in the range and wilderness for a day. This tactical hiking backpack has many pockets in various sizes, plus Molle straps to hang more gear.
I especially love the laptop interval on the largest compartment as it keeps my laptop pretty secure for the whole trip. The front holder has a hidden pocket inside, perfect for my loose change, pens, and keys. Each side is a mesh pocket to hold a water bottle up to 16 ounces.
The nylon fabric seems durable, with rugged dual zippers on every compartment for smooth opening/closing. It seems that these materials won't fall apart very soon. I like the extra touch of a velcro panel to show off some of my favorite patches to my friends.
I also enjoy the compression straps as they help pull the bag tight and secure my favorite jacket. Even when heavily loaded, the weight is distributed evenly with the help of the chest strap and waist belt. More importantly, the foam mesh on the back works well in easing the pressure and keeping my back sweat-free.
Heads-up:
However, the inside pocket divider seems a little too thin to last. I'm afraid that I might tear it with heavy use.
Pros:
Offers 30 liters of room capacity and lots of pockets with compression straps
Has a laptop interval for security and a Velcro patch panel for customization
Special pocket inside the front compartment can store smaller items
Side mesh pockets are perfect for water bottles
Made of tough nylon fabric and dual zippers
Comfortable to wear with the waist belt, chest strap, and foam mesh back
Cons:
Pocket divider feels a little thin
Bottom Line:
Altogether, the Jueachy Tactical Backpack makes a nice daypack or EDC pack for any situation. This 30-liter backpack is small yet can provide ample room for all necessary stuff.
12. LHI Military Tactical Backpack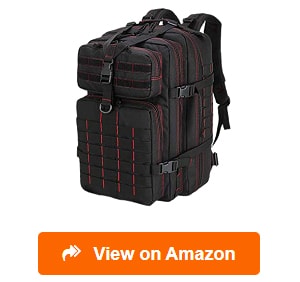 LHI offers another large rucksack with a maximum capacity of 45 liters. This military backpack contains tons of pockets and a Molle system to hold everything I need for a three-day adventure outdoors.
I love to place my laptop in the main compartment and my iPad on the middle pocket's sleeve. The front pocket is where I like to keep the smaller items, like a headphone and pens, for easy access. There are a few spots to place a water bottle holder, but I like to put mine on the side Molle attachment point.
I think this bag won't fall apart easily with the sturdy 900D Oxford nylon fabric, even in light rain, because the material is water-resistant. There are double stitches all throughout the bag, toughening the bag even more. The plastic zippers glide on a sort of metal track, so I don't feel worried about busting them in the middle of my trip.
It feels great wearing this bag because the shoulder straps are well-padded and complete with a chest strap and waist belt to reduce stress on my shoulders. This is a big benefit when I carry heavy items or hiking for long miles.
Heads-up:
However, the straps aren't sewn on securely, so they can come off when pulled constantly.
Pros:
Provides 45 liters of capacity
Built with plenty of pockets and Molle attachment points
Feels sturdy and water-resistant with the 900D Oxford nylon fabric
Plastic zippers tread on metal tracks for extra toughness
Has thickened shoulder straps for comfort
Complete with support straps- waist and chest straps- to distribute weight
Cons:
Straps aren't sewn tightly onto the bag
Bottom Line:
Overall, this LHI Tactical Backpack is roomy enough to hold all items on a three-day trip. It contains all support straps for comfort and is built with a tough double-stitched Oxford nylon fabric for durability.
What to Look for When Buying Tactical Backpacks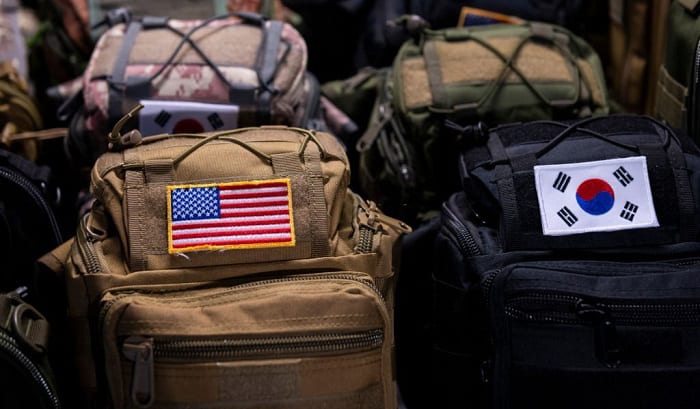 There are a lot of good tactical backpacks on the market today. These packs almost look identical to their similar features. To ensure the best choice, here are some things you need to consider when shopping for a new tactical backpack.
Fabric
Almost all top tactical backpacks are constructed from high denier Oxford, nylon, or polyester. A higher denier count normally means a more robust and heavier material. Good tactical backpacks max out at 1000-denier Cordura, while others have half the weight at 500-denier Cordura.
Top rated tactical backpacks are waterproof, but some are water-resistant at least. They incorporate a polyurethane waterproofing coat to repel water. Companies often use a single layer to their tactical packs, though you can add another layer at your preference.
Some tactical bags are made from China and other foreign countries, while others are made in the USA. To ensure quality, look for tactical bags made in USA because they've passed strict quality control standards.
Zippers
Plastic molded zippers are the type of zippers that are normally built on heavy-duty backpacks. These types of zippers are wear-resistant and don't get dirty easily, making them ideal for camping. However, they can be deemed useless once one of the teeth gets damaged, so handle with care.
Metal zippers are relatively durable, but they get corroded over time. On the other hand, coil zippers are waterproof and smooth, but they catch dirt easily.
Capacity And Molle System
The capacity of a tactical backpack is shown in liters. A higher liter capacity means more items it can hold.
For a single-day trip or everyday carry, a 20L tactical backpack might be the most suitable. A 30-liter tactical backpack might be perfect for a two-day trip. For a 3-day pack, look for a capacity between 40 liters to 60 liters.
A tactical backpack often has a Molle webbing to add first aid kits, knives, and other tiny gear for easy access. These webbings are usually located at the front or sides.
Pockets And Compartments
Most tactical backpacks are built with compartments and pockets to store all your gear properly. The basic compartments are the large main compartment, front pocket, back pocket, and side pocket. Regardless of the number, make sure that you have the right places for your personal belongings and gear.
Hiking or trekking can be a little exhausting. To get easy water access, look for a bladder compartment. Many tactical backpack brands come with hydration bladder compatibility or an elastic side pocket to hold a water bottle.
If you carry a laptop, look for a laptop sleeve to keep it safe while traveling. Others even include pockets for sunglasses, magazines, and firearms. For easy organization, look for divisions and interior mesh pockets.
Support Straps
One thing that sets tactical backpacks aside from other regular backpacks is the great number of straps to make them more comfortable to wear. Sternum straps help eliminate pressure points, while chest straps can help you accomplish a comfortable state. Compression straps are useful to keep the pack secure and shrink into size.
The shoulder straps are another critical factor for comfort. They should be well-padded and sit securely over your torso.
What Is the Most Durable Tactical Backpack
The most durable tactical bag is made of high-density fabric, usually Oxford, nylon, or polyester. The denier count should be at least 500 with heavy-duty zippers. The backpack should be water-resistant, at least to protect items from moisture.
What Backpack Does the Military Use
The military uses the All-Purpose Lightweight Individual Carrying Equipment (ALICE) pack, measuring about 22 x 20 x 19 inches. This bag often comes with a sturdy aluminum frame.
What Should I Pack in My Tactical Backpack
You should pack your tactical backpack with all the items you'll need for adventure. This can include a smartphone, laptop, and a set of clothes. Many tactical backpacks have Molle webbing, so you can attach more EDC gear, like a first aid pouch and knife.
What's the Difference Between a Tactical Backpack and a Hiking Backpack
Tactical backpacks provide plenty of storage and seem more compact than a hiking backpack. They're also more comfortable than hiking ones because they're built with more cushion and fewer rods.
Conclusion
The best tactical backpack is incredibly durable to withstand the elements. It should contain plenty of pockets for storing everything you need. Our top recommendation is the REEBOW GEAR Tactical Backpack because it has the right number of pockets that won't let me get confused about where I put my things.
If you want a more versatile backpack, 24BattlePack might be a good alternative. This backpack maxes out to 40 liters and shrinks to 20 liters using the compression straps. SOG Ninja is the best daypack with compact design and comfortable yoke-style shoulder straps.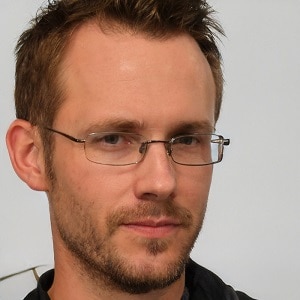 I am Everett Bledsoe, taking on the responsibility of content producer for The Soldiers Project. My purpose in this project is to give honest reviews on the gear utilized and tested over time. Of course, you cannot go wrong when checking out our package of information and guide, too, as they come from reliable sources and years of experience.