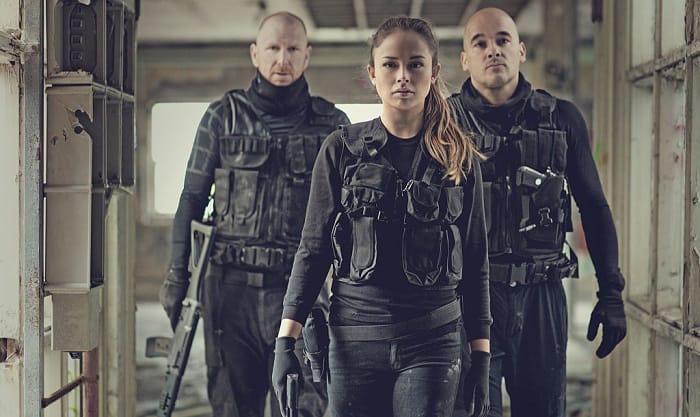 Whether you're playing an airsoft game or using an actual firearm for any tactical mission, there's plenty of gear to carry. From magazines to flashlights and medical kits, a backpack isn't enough. You'll need the best tactical vest to store essential gear and protect your body from any ballistic attacks or stab wounds.
Tactical vests are pretty similar to the Modular Tactical Vest used by American armed forces. They have plenty of pockets and pouches, plus a Molle webbing to extend the storage capacity.
Today, many tactical vests have emerged in the market. To help you find the best one, here are a few things to know.
Material: You want rugged and tough materials to endure any weather and environment. Most tactical vests are made of nylon or polyester. To ensure strength, look for a higher denier count and a little mesh for breathability.
Weight: Ideally, a good tactical vest is light, but not to the extent that it feels flimsy. You want the vest to be lightweight without compromising durability. It shouldn't weigh you down when loading up a lot of stuff.
Storage Capacity: Most tactical vests have plenty of pouches. Make sure that they can fit your mags and other essential gear. If planning to bring a medical kit or mailbag, look for Molle webbing to attach them.
There's so much to learn about tactical vests. To save you the hassle, we've made a comprehensive buying guide below. Also, read on to find out which one suits you best in our tactical vest reviews.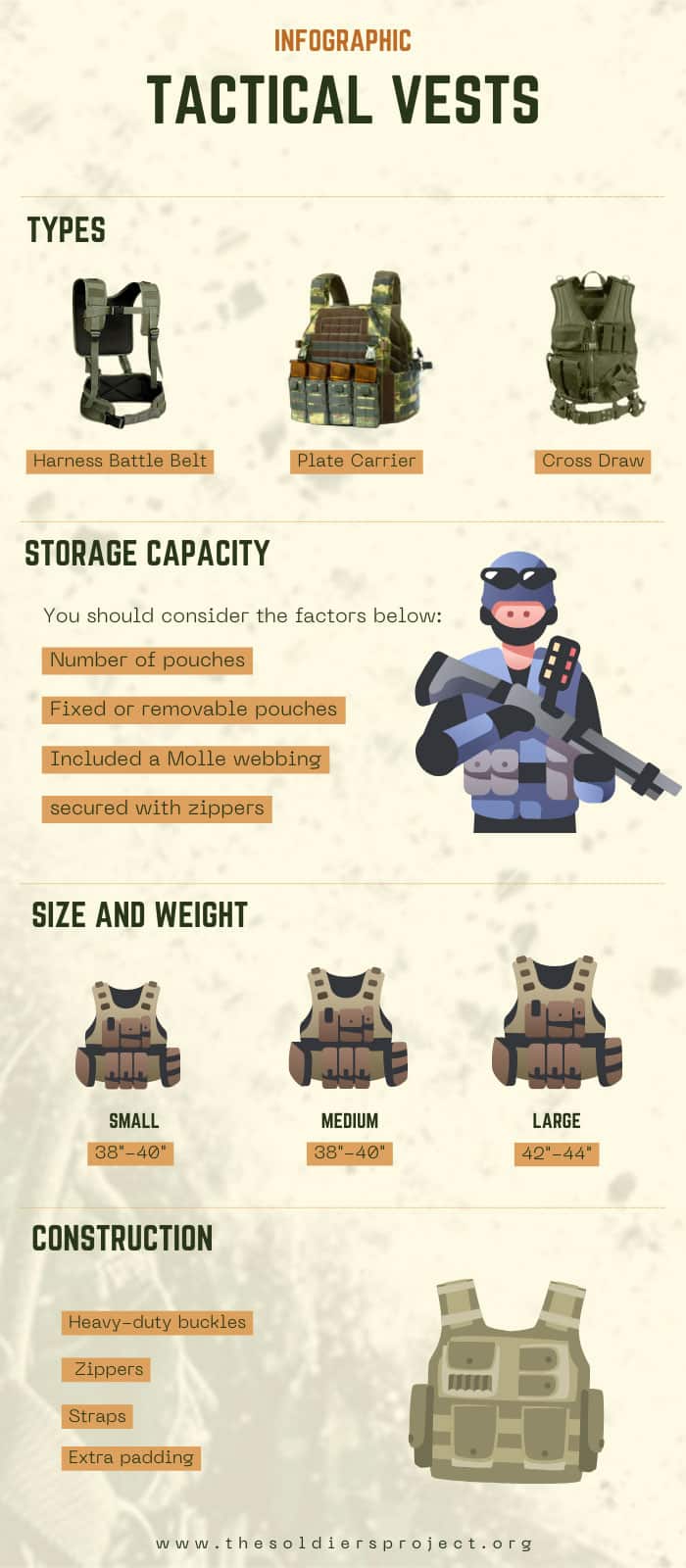 ---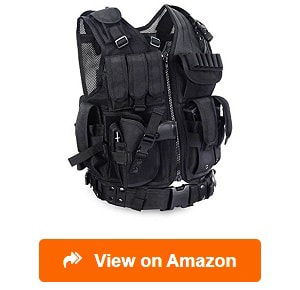 YAKEDA Tactical Vest
Has wide shoulder straps
Material all feel heavy-duty
Open mesh material feels cool
---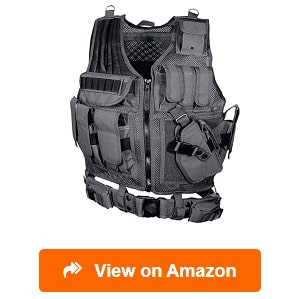 UTG 547 Tactical Vest
Feels light without cargo
Includes a cross-draw holster
Made of breathable materials
---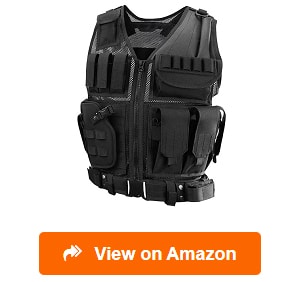 GLORYFIRE Tactical Vest
Highly adjustable to fit any size
Pistol mags can fit other items
Breathable mesh & durable fabric
---
Top 12 Tactical Vest Reviews
1. YAKEDA Tactical Vest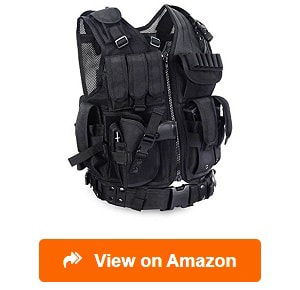 YAKEDA is an adjustable combat vest ideal for adults with a waistline between 35 to 57 inches. We can ensure the best fit, given the adjustable shoulder straps and side straps.
The belt is impressively firm, which brings extra support similar to a tool belt, and I like that it doesn't sag nor bunch up as many do. Thankfully, the hook and loop size adjustment design is built on both sides to keep the belt centered.
Besides, the shoulder straps are adequately wide and strong to provide great support to the vest once loaded up.
I found that the right butt shoulder rest contains a semi-firm tube to absorb the pressure and not just some soft, weak feeling support. What's impressive is that the front and back inner vest sleeves are made of an open-mesh material to keep me a tad bit cooler when I'm on the run.
Another excellent point in its design is the upper mag clip areas with a rubberized texture to feel rugged for heavy-duty use.
There are plenty of mag pouches that I could keep eight fully loaded 556 mags, six 9mm mags, and a handheld transceiver. There's even a spot for a right-handed cross-draw holster and two large utility pouches for my first-aid items. All the zippers, buckles, and the material itself feel heavy-duty.
Heads-up:
However, the size of the pistol holder is a little small for my S&W Shields.
Pros:
Plenty of adjustments to fit any body size
Includes a firm belt with side adjustments to keep it centered
Has wide shoulder straps and a semi-firm tube on the right to reduce pressure
Open mesh material feels cool; upper mag pouches feel rugged
Has abundant pouches, including a holster and utility pouches
Zippers, buckles, and material all feel heavy-duty
Cons:
Pistol holder looks a bit small
Bottom Line:
All in all, YAKEDA is one of the most lightweight tactical vests with its mesh design. It offers many adjustable straps, so this can fit any torso size.
2. UTG 547 Tactical Vest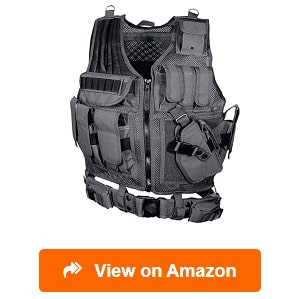 The UTG 547 seems to be perfect to go shooting with different pistols and military rifles. This tac vest offers plenty of compartments for my pistol, several mags, and other EDC gear.
The mag pouches of this police tactical vest can hold two 30-round curved AR Duramags, yet we can still pull them out easily. My favorites are the dedicated communication pouch to hold the walkie-talkie and the military belt that gives plenty of room for one more knife. I have loaded this vest down with full gear, and I'm surprised that it distributes the weight well.
Users should appreciate the detachable right-handed cross-draw holster, as it can fit a Glock 19 easily. Besides, the holster fits a sidearm fine without any issues. Additionally, the vest is very adjustable to fit snugly without irritation or suffocation.
Notably, the best is made of breathable materials and excellent craftsmanship. The stitching seems neat, as I couldn't find any loose threads or bad areas in the tactical vest setup. This load bearing vest without cargo feels light, and depending on how one decides to load it, I think it could quite possibly load up to 100lbs of items.
Heads-up:
However, the velcro noise tends to bug me a bit at first.
Pros:
Multiple mag pouches offer great storage and easy access to ammo
Has a dedicated communication pouch to hold a walkie talkie and belt for a knife
Distributes weight evenly when fully loaded with gear
Includes a cross-draw holster that fits on the sidearm comfortably
Made of breathable materials and even stitches
Feels light without cargo and may carry as much as 100lbs
Cons:
Tends to make a slight velcro noise
Bottom Line:
Overall, the UTG 547 is a well-made military tactical vest for capacity. It can carry plenty of mags, a pistol, and other gear with its multiple pouches.
3. GLORYFIRE Tactical Vest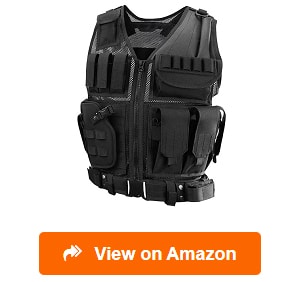 GLORYFIRE is a superb Molle vest with multifunctional parts and size adjustments. We can put almost anything, including shotgun shells, flashlights, and other tactical stuff.
I have an athletic build, and I'm pleased that the vest is highly adjustable to fit my body nicely.
The mesh design is breathable and comfortable without compromising durability because the 600D Oxford layers are double-stitched. Best of all, this vest is comfortable as I was able to wear it for a full 24 hours without any issues.
This design is my favorite tactical vest for AK 47 because it can securely fit my single AK-47 30-round mag on the four rifle mag pouches. These rifle mag pouches can also carry two AR-15 mags, while the pistol mag pouches seem perfect for 9mm mags.
I discovered that the two pistol mag pouches on the belt accommodate small items, like knives and flashlights, for more convenient travel.
The best part of this vest is the holster because it uses a Molle design to attach to the vest securely. Also, the holster is removable, so anyone can use it, whether right- or left-handed. It's also a bonus to have Molle webbing on the back as it mounts my shotgun scabbard pretty well.
Heads-up:
However, this Molle tactical vest seems to run a little small. The length is way short for someone 6 feet and above.
Pros:
Highly adjustable to fit any body size
Breathable mesh and durable 600D fabric double stitches
Ppistol mags can fit other items
Has plenty of pouches to fit AK47/AR rifle mags and 9mm pistol mags
Holster attaches securely with the Molle design and can be placed right or left
Built with a Molle webbing that's perfect for mounting a shotgun scabbard
Cons:
A bit short for tall people
Bottom Line:
Altogether, GLORYFIRE is a top tactical vest when it comes to Molle design. This vest also features an excellent holster design that suits all hand orientations.
4. MGFLASHFORCE Tactical Airsoft Vest
MGFLASHFORCE is my favorite companion for paintball and airsoft games because it protects the sensitive areas on the front and back. I'm not the type to complain about taking a paintball to the vulnerable spots, but this vest can help reduce the pain.
This cool tactical vest seems to be well-made from a durable material. I like that the seams are all nicely sewn together and feel the high quality for long-lasting use. Best of all, the stitching looks even, and the Molle is evenly spaced out to carry extra gear more securely.
I found many attachment points and a wide variety of pouches for my batteries, mags, and coms. Additionally, it fits perfectly on my body using the many points of adjustments. I think it can fit someone with a large chest or people of all sizes, from small to XXL.
I use an HPA set up and store the tank high on my back. Thankfully, this vest offers adequate natural padding to cushion the tank, and after several hours of playing, I wasn't bothered with its existence. I'm pleased to attach my gun belt to the bottom, so all the weight is concentrated on my core and not my waist.
Heads-up:
However, the vest arrived with an unpleasant odor, which is a little disappointing.
Pros:
Protects tender areas during airsoft or paintball games
Made of a durable material with nicely sewn seams
Crafted with even stitching, evenly-spaced out Molle, and natural padding
Abundant with attachment points and pouches to carry different items
Fits the body with many adjustment points
Can attach gun belt underneath to focus the weight on the core
Cons:
Might arrive with an unpleasant odor
Bottom Line:
Altogether, the MGFLASHFORCE makes a nice protective gear for airsoft or paintball games. This vest shields the tender areas and keeps gear fully secured while playing.
5. GZ XINXING S- 4XL Tactical Vest
Anyone can virtually wear this GZ XINXING tactical vest, from law enforcement to paintball and airsoft enthusiasts. I love the amount of ammo and gear that I can carry with this vest, improving my odds of accomplishing my task.
Surprisingly, everything feels solid. The mesh is sturdy and robust, and I believe it won't stretch or rip easily. Also, the camo fabric parts are pretty thick with backing to endure a rugged adventure outdoors.
All stitching looks precise, plus the polymer buckles and webbing feel tough to hold up well against constant use. I appreciate the pistol and 30-rd mag pouches because they're mil-spec with superior detailing and retention. Moreso, the holster is reinforced to keep its shape and lined with padding to protect my firearm from scratches.
The best part of this vest is that the back part can accommodate a 2.5-liter hydration bladder, perfect for a long hike. More importantly, it's easy to adjust everything. It only took me a minute to fit this vest on my torso.
Heads-up:
However, the size seems to run small. I don't think the 4xL size will fit my large friend. Hence, I recommend users up the size of what they normally have.
Pros:
Can be used by virtually anyone and carry plenty of gear
Feels solid with the sturdy mesh and camo fabric portions
Has precise stitching and tough buckles and webbing
Offers mil-spec detailing and retention on mag pouches
Reinforced holster is well-padded and can keep its shape
Can carry a 2.5-liter hydration bladder; adjusts easily to fit
Cons:
Bottom Line:
Overall, the GZ XINXING vest stands out with its fine detailing and sturdy construction. Every part of the design is heavy-duty to withstand any tactical mission.
6. Himal Sports Vest For Games Or Training
Himal Sports offers a nice tactical vest loadout for CS games, mountaineering, and other outdoor activities. This vest provides all the versatility that I need for a day at the range or at work.
I'm not too certain if I could fit a plate under the vest, but it would fit snugly over a thin bulletproof vest. The interior pockets could accommodate two small plates on the front and a large one at the back for extra protection on the field. Fortunately, the vest comes true to size, so I ordered my usual size without any apprehensions.
The vest includes keepers and a belt. I like the keepers fixed to the vest as they take the weight of the pistol, duty belt, and mags off my hips. It makes a large difference as I am on my feet a lot when I'm at work or play.
I like the Velcro on the vest, as I can place some cool patches on it for a bit of personal customization. Best of all, it's very sticky, so the patch stays in place.
Heads-up:
However, the zipper mechanism is reversed. It's a plus for left-handed people, but not for someone like me who's right-handed.
Pros:
May fit snug when worn over a thin bulletproof vest
Inner pockets can fit plates at the front and back for extra shield
True to size and includes keepers that take the weight of gear off the hips
Provides a Velcro slot for customized patches
Super sticky Velcro keeps the patch in place
Cons:
Zipper mechanism works the opposite way
Bottom Line:
All in all, the Himal Sports Vest passed my test for versatility as it can carry just about anything in the field. It also has nice keepers and a Velcro patch slot for customization.
7. Marmot Tactical Vest
Marmot is another tactical vest with holster and multiple pouches. I can load a lot of stuff, like some AR mags, 9mm mags, and even some tactical rolls without any discomfort.
One of the coolest features of this vest is the holster because it's adjustable and can fit my full-size .45 Paramilitary pistol. There's also a back patch to add a personalized label for playing airsoft and other shooting games. The shotgun shell holder is removable, providing another spot for an ID patch.
This vest seems to breathe pretty well with its 600D polyester mesh material. The stitching is quite top-notch, making sure the vest hold up for rugged use outdoors. Unlike other vests, this one got even stitches and no loose threads.
Three adjustable straps on every side make sure that this vest will fit everyone. I like the Molle webbing on the back as it seems perfect to store extra gear, like medical kits. Even better, I can add body armor on the inside pouches to provide more impact protection when dealing with shooting duels.
Heads-up:
However, the vest belt is fixed and lacks adjustments to wrap around large waistlines.
Pros:
Adjustable holster can fit any pistol size; multiple mag holders store tactical stuff
Back and removable shotgun shell holder can fit ID patches
600D polyester with mesh provides breathability
Has nice, even stitching without any loose threads
Three adjustable side straps provide a nice fit
Molle webbing can fit extra gear; interior pockets can add body armor
Cons:
Belt isn't adjustable to fit large waists
Bottom Line:
Overall, I'm pleased with the quality of the Marmot Tactical Vest. This is a nice tactical vest carrier because it allows body armor storage on its interior pockets.
8. YAKEDA Outdoor Tactical Airsoft Vest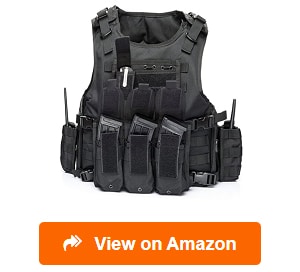 The YAKEDA tactical vest would fit any size as both the height and girth are adjustable. Considering I'm a huge guy, the fit is pretty good.
I owned a big-sized Kevlar soft body armor, and this vest has no issue fitting them and supporting them tight. There are multiple ample compartments for whatever else needed to store for my work or outdoor activity. Also, we can move around and rearrange the holders easily.
Three front pouches can hold my 30-rd AR mags, while the two radio pouches will also keep mags if needed. Since the vest comes with an excellent Molle system, it's adaptable to any environment. More specifically, it attaches a bug-out bag nicely on the Molle webbing, making me more prepared for any situation at camp or outdoor scenes.
For the price, the quality is more than I expected. The vest seems to be well-made with a thick polyester fabric and tight stitches. It should last a very long time.
Heads-up:
However, a small strap is present on the front piece of one of the chest areas. I can hide it inside the vest, but it tends to create a little lump.
Pros:
Has adjustable height and girth to fit any size
Can fit a body armor and keep it tight
Offers plenty of compartments to store gear; holders can be rearranged easily
Three front pouches and two radio pouches can fit AR mags
Built with a nice Molle system to attach gear, like a bug-out bag
Well-built with a sturdy fabric and stitches at a fair price
Cons:
Has a little strap that might create a slight lump when hidden inside
Bottom Line:
Altogether, this YAKEDA tactical vest offers great quality at a fair price. This vest offers a bunch of compartments to keep everything needed for work or adventure.
9. GZ XINXING Tactical Vest
This particular model is another cheap tactical vest that provides exceptional value. This vest is equipped with well-designed pouches to keep my tactical gear, such as armor plates and AK 74 mags, yet priced pretty reasonably.
My medical pack sits on the vest firmly and is easy to reach for quick deployment. I strap my armor plates on it, and I'm pleased that it can endure the weight, probably as much as Level IIIA. Besides a plate, the front plate pouch can also hold a trauma pad measuring around 10×12 inches.
The Velcro feels tough, so it was no surprise that it could handle any terrain and pressure from extreme conditions. Rain and mud won't affect the effectiveness of the vest at all. Also, the Molle rig-up system and buckles seem sturdy to withstand rough usage.
Besides, I can detach or move the pouches wherever I want. As I need to bring only a few gear and mags, I can remove one pouch to lighter the load. The vest is ideal for wearing at work because it's easy to adjust to make the fit more comfortable.
Heads-up:
However, this vest seems not suitable for larger people because the size is a little small.
Pros:
Can hold a medical pack firmly and armor plates as heavy as Level IIIA
Front plate pouch can fit an armor plate and trauma pad
Velcro, Molle rig-up system, and buckles all feel heavy-duty
Pouches can be rearranged and removed to make the load lighter
Simple to adjust to provide a more comfortable fit
Comes at a very fair price
Cons:
Bottom Line:
Overall, GZ XINXING is the ideal tactical vest for the money because it comes cheap but delivers outstanding performance. Everything feels tough, including the Molle system, buckles, and Velcro.
10. HUNTSEN Tactical Vest For Men
HUNTSEN is another brand that provides me a proper fit with all its adjustability. I believe that the vest adjusts at the waist up to 58 inches, which suits bigger men.
Once fully adjusted, the vest feels very comfortable. It's lightweight and shouldn't cause any fatigue. I'm most intrigued with the Velcro tape on the back. I found out that I can remove and embroider or remove and replace it with another velcro patch.
I love the size and variety of pouches and extra holster- it's well thought out. Three pouches can carry large mags, and a removable flashlight pouch can also be used for the extra magazines. There's a lot of places to place everything I need for the range.
I tried using this vest for airsoft games, and the vest was able to provide ample protection from airsoft BBs. The holster was able to fit my SSX23 airsoft pistol with a suppressor. Also, the Molle system helps me attach additional tactical gear for the game.
Heads-up:
However, it took me a long time to set the vest for the first time because of its many parts.
Pros:
Highly adjustable to give a proper fit; offers protection from airsoft BBs
Feels comfortable and lightweight to prevent fatigue
Velcro tape can be embroidered or replaced with another patch
Has various sizes of pouches to fit different mags and gear
Flashlight pouch can also be used to store spare magazines
Has a holster to fit airsoft gun/pistols and a Molle system to add extra gear
Cons:
Too many parts can delay the setup time
Bottom Line:
All in all, the HUNTSEN Tactical Vest offers a high storage capacity and protection needed for airsoft or other shooting games. It can carry plenty of gear and ammo for a successful mission.
11. OneTigris Tactical Vest
This OneTigris Tactical Vest boasts many features, making it one of my favorites on the field. We can adjust the size to fit even tall or heavy people using the waistband and shoulder straps.
The best part of this vest is that it already comes with replica plates. The plates feel light but dense to provide a nice work of distributing and absorbing the impact of the airsoft BBs. So, while I feel a slight thump, it feels virtually painless.
The vest seems to be of good quality with its durable 500D Cordura fabric. The stitching looks solid, and the Multicam color helps me stay undetected from my enemies. The Velcro and retention cords hold up pretty well against any weather conditions.
The magazine holder seems perfect to fit my AR 10 mags. I like the extra Molle on the sides to accommodate my extra gear. Also, I'm pleased that I can add an AR500 lower abdomen panel to extend the protection when I'm dealing with a more dangerous mission.
Heads-up:
However, there's a lack of padding behind the plates. When I'm doing a longer trek, the plates can cause slight irritation. I recommend users wear a thicker shirt underneath.
Pros:
Adjustable on the waist and shoulders for a better fit
Includes lightweight yet dense plates to absorb impact
Fits AR 10 mags, AR500 on lower abdomen panel & extra gear on the Molle system
500D Cordura construction with sturdy stitching
Velcro and retention cords can endure any weather conditions
Comes with a nice Multicam color for camouflage purposes
Cons:
No padding to cushion against the plates
Bottom Line:
Altogether, the OneTigris Multicam Vest can serve many purposes- hide from enemies, protect from BB pellets, and use as mag storage for any tactical mission. With the addition of the Molle system, plenty of gear can still be added.
12. GFIRE Tactical Vest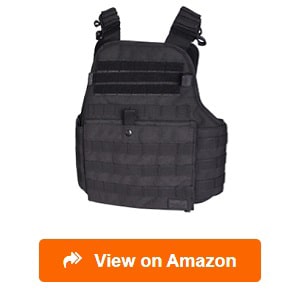 GFIRE is one of the good tactical vests for big guys. It's a tactical vest made in USA where everything is adjustable and goes well with whatever we do.
The material and craftsmanship seem well-built. The stitching, Velcro, and nylon material are all quite strong to hold up any abuse. Also, the material appears breathable in hot weather as I barely break a sweat when walking under the sun for extended hours.
I love the cummerbund as it makes the vest look neat. The part is adjustable and threaded together to fit as a unit through the carrier's back. Fortunately, I found some inside pockets perfect for placing optional side plates in case I'll need protection from a fierce shooting battle.
It is convenient how the vest rides with plates in the back and front. I've loaded one triple mag pouch, two mag pouches, and one storage pouch, but to my surprise, the vest doesn't make me look bloated at all. Fortunately, this vest has no issue supporting a heavyweight and functions exactly how I desired it to.
Heads-up:
The only thing I dislike is the waist buckle orientation. It seems to be designed backward and not forward. As a result, it feels a little awkward pulling the buckle backward when synching down.
Pros:
Fully adjustable to fit even the big guys
Has strong stitches, Velcro, and nylon material to hold against constant abuse
Breathable to wear in hot weather; adjustable cummerbund looks neat
Inside pockets can fit side plates that ride nicely with the vest
Doesn't look bloated even when fully loaded
Supports additional weight nicely without any problems
Cons:
Waist buckle needs to be pulled backward and not forward
Bottom Line:
All in all, the GFIRE Tactical Vest boasts durability, comfort, and adjustability to fit even big guys. It's breathable to use in the summer and pretty much secured if added with side plates.
What to Look for When Buying Tactical Vest
Tactical vests almost look identical, so you can easily get lost from the myriad options if you don't know what to look for when starting. To help you find a good tactical vest on the market that fits your needs, here are some things to consider.
Types
There are many types of tactical vests that you can choose: a mobile harness battle belt, bullet-shielding plate carrier, or simple cross-draw design.
This type of vest often comes with Molle suspender-like straps to transfer the weight of the gear from the abdomen to the shoulders. You can add extra pouches to the strap to extend the capacity. Since the chest area is open, it prevents overheating and increases mobility.
This is a tactical vest with plates, perfect for airsoft/paintball games or real firearm duels. The hardness of the plate may vary, depending on how you intend to use the vest. Paintball games use a light plate, while dealing with real firearms needs a heavy-duty plate.
Mostly, these carriers include heavy-duty Molle webbing to add extra gear.
This type is the most common and most affordable since it features a simple design. Depending on the brand, these vests may come in different designs.
Commonly, they have a zippered front with multiple pouches already fixed into the vest. They may also come with removable belts and holsters.
Storage Capacity
The top-tier tactical vests offer a way of keeping all your accessories and gear for a mission. You should count all the items you plan to carry to purchase a vest with the proper number of pockets. Also, make sure that mags fit the pouches, and they're secured with zippers or Velcro to keep them in place.
Some vests come with fixed or removable pouches. Fixed pouches provide more security, but they lack the customization that the removable ones provide. To get the best of both worlds, look for a vest with the right mix of fixed or removable pouches.
If you plan to bring a pistol, look for a holster. To accommodate body armor, look for interior pockets that can keep it tight. A good tactical vest for bug out should include a Molle webbing to attach extra gear for emergency situations.
Size And Weight
The sizing may differ for each brand, but you can assume the small size to measure 34-35 around the chest. The medium size is around 38-40, while the large one goes about 42-44.
It's smart to size up since you'll be wearing your shirt underneath the vest. Size up more if you plan to use a thick carrier plate under the vest. To customize the fit, look for adjustability on the shoulders, waist, and girth.
As for the weight, you want a vest that's light to prevent hindering your speed and mobility. Also, not so much that the vest feels like it's going to rip when you add the gear and ammo. You want the right balance of comfort and durability.
Construction
The material and craftsmanship ultimately determine the construction of a tactical vest. Look for heavy-duty buckles, zippers, and straps. The nylon fabric should have a high denier count to ensure strength and ruggedness.
Of course, you don't want to compromise comfort, so try to look for a mesh material for proper ventilation. Extra padding underneath can help prevent irritation from the armor plates, while padding on the shoulders can ease the pressure from carrying a rifle.
The stitching should be even and tight. Avoid vests with loose stitches because it's a sign that they won't hold up well.
What Are Tactical Vests for
A tactical vest is suitable for storing essential gear and protecting the upper body. Some of the things you can store in the vest include magazines, guns, and transceivers. With hard plates installed, the vest can work as a shield against airsoft BBs and real bullets.
Is a Tactical Vest Bulletproof
Not entirely. A tactical vest is bullet-resistant, meaning that it will help keep the vest from being punctured by specific types of bullets moving to different speeds. Even if a vest is hard enough to stop the bullet's penetration, the user may still experience injury.
What Is the Difference Between a Tactical Vest and Plate Carrier
A plate carrier is heavier than a tactical vest because it holds hard plates on the front and back. While you get maximum protection from a plate carrier, it won't be as breathable as a lightweight tactical vest.
A tactical vest is ideal to use in the summer because it's lighter, so you won't perspire too much. A plate carrier may make you sweat more than a tactical vest, but it often comes with a hydration bladder to fight exhaustion.
Conclusion
Getting a tactical vest is like hitting two birds in one stone- you get both protection and extra storage for essential gear. Among the top brands, my top choice as the best tactical vest is the UTG 547 because it has a high storage capacity and well-made construction. Everything also feels sturdy with the Yakeda Tactical Vest.
While other vests use Velcro, GLORYFIRE uses Molle attachments to keep the holster secure. Marmot Tactical Vest is one of the best when it comes to fitting armor plates, providing extra protection.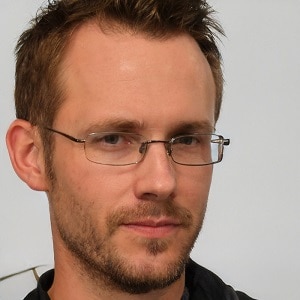 I am Everett Bledsoe, taking on the responsibility of content producer for The Soldiers Project. My purpose in this project is to give honest reviews on the gear utilized and tested over time. Of course, you cannot go wrong when checking out our package of information and guide, too, as they come from reliable sources and years of experience.