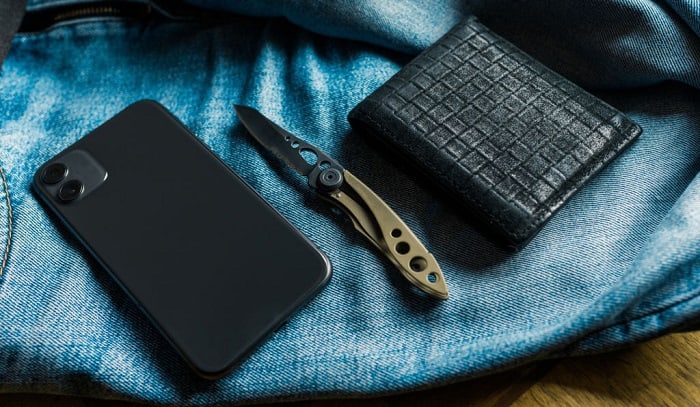 When you think about tactical wallets, you expect them to be rugged to withstand the constant abuse outside. The best tactical wallet can't only store cash and cards but also other stuff, like flashlights and pens. What's even better is that they're slim and lightweight to make them comfortable to carry around.
Due to the rising popularity of tactical wallets, manufacturers have developed more advanced features to beat the competition. Regardless, you have to focus on what you really need. Here are a few things to consider when choosing a good tactical wallet.
Material: Tactical wallets are generally made of tough materials to endure hard abuse and harsh environments outside. Some of the most durable materials are Italian leather, carbon fiber, and aerospace-grade aluminum. Make sure that the materials are constructed well to ensure a longer-lasting wallet.
Style: The style of the wallet depends on how many items you're planning to carry every day. Do you like to bring multiple cards or cash? Do you want an extra room for other supplies, like pens and flashlights?
Special Features: Tactical wallets have improved their functionality over the years. Some of them are built with RFID blockers, a multi-tool, and LED lights. Look for special features that you need the most.
There are still many things to learn about tactical wallets, so make sure to check the complete buying guide below. Among the many brands available today, there are 15 products that I think stand out the most. Let's take a look at each of these products.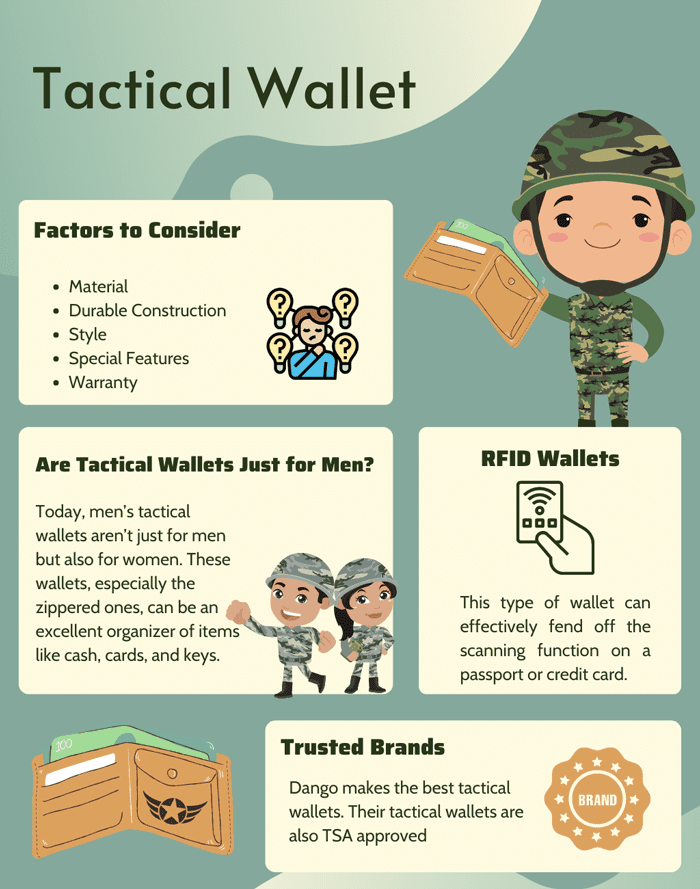 ---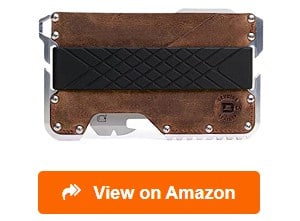 Dango T01 Tactical EDC Wallet
Made of strong materials
Has an adequate capacity
Adopts an RFID technology
---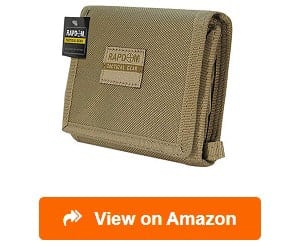 RAPDOM Tactical Wallet
Can hold small items
Nylon fabric material
Offers a lifetime warranty
---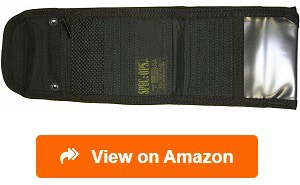 Spec.-Ops. Brand T.H.E. Wallet
A slim wallet when folded
Offers plenty of slots and spaces
Built to last with lifetime warranty
---
Top 15 Tactical Wallet Reviews
1. Dango T01 Tactical EDC Wallet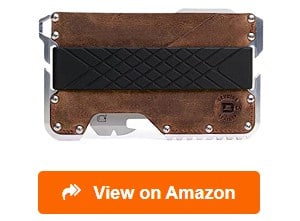 The Dango T01 is an exemplary RFID tactical wallet made of genuine leather and 6061 aircraft-grade aluminum. The leather is fixed with mil-spec bolts, so I'm confident that this tactical leather wallet can last as long as my old Apex Concealment Tactical Wallet 2.
One of the key features of this aluminum tactical wallet is the MT02 multi-tool, which makes it handy in survival situations. I found that the tool can work several functions, like phone stand, bottle opener, and knife. The best part is that I can remove the multi-tool accessory to give more space for credit cards and driver's licenses.
The Dango tactical wallet adopts an RFID blocking technology, which makes me feel secure when bringing my credit cards. Fortunately, the leather side has no RFID blocking, so I can still hold my wallet up when using my contactless ID badge to work. I get the best of both worlds with this Dango wallet.
Heads-up:
However, this Dango tactical wallet has no clip to store cash. I recommend using the leather envelope or the aluminum portion at the back to tuck the cash. The silicone band can also work as a cash clip for paper money.
Pros:
Features a multi-tool accessory for survival
Adopts an RFID technology to protect personal details
Leather side works with contactless ID badge
Made of strong materials, like aircraft-grade aluminum and high-quality leather
Entire wallet has an adequate capacity to hold 10-12 cards
Made in the USA and provides a limited lifetime coverage
Cons:
No money clip to store cash neatly
Bottom Line:
This EDC tactical wallet can hold up to 12 cards with the multi-tool and ten cards without the tool. I think that's a lot considering its slim and compact appearance. More importantly, there's a limited lifetime coverage against production defects plus a top-quality assurance since this Dango wallet is made in the USA.
2. RAPDOM Tactical Wallet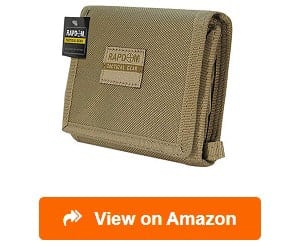 The RAPDOM Tactical Wallet looks like a traditional wallet with its design. I found 18 compartments, including eight card slots, three elastic pockets slots for small memory cards, and two inside mesh pockets.
The material is high-quality nylon, which is exceptionally durable. Even if I put the wallet in terrible situations and under loads of abuse, I think the wallet can hold up well without looking much worse for wear. A lifetime warranty is a real testament to RAPDOM's top quality.
I find the wallet very flexible because it can store a lot of cash and credit cards. Among its many compartments, I'm most impressed with the zippered one that can hold tiny pocket tools, spare coins, and keys. I also love the large compartment for paper bills because I seldom see that on combat wallets.
The compartment with the screen fits my driver's license very nicely and secures well with strong velcro. I'm also fond of the carabiner loop because it makes it easy to link to my tactical belt or bag. Everything is double stitched so that the wallet won't rip easily.
Heads-up:
However, this wallet has no RFID blocking tech to keep our card details secure from possible theft.
Pros:
Contains plenty of storage compartments
Can hold small items, cards, and paper bills securely
Nylon fabric material feels very strong and sturdy
Offers a lifetime warranty to ensure durability
Designed with a carabiner loop for convenient wear
Double-stitched to hold the wallet up against abuse
Cons:
No RFID blocking tech to add security
Bottom Line:
Altogether, the RAPDOM Tactical Wallet can hold a lot of stuff, from keys to SD cards and business cards. This one is really durable as it can withstand any abuse of everyday wear.
3. Spec.-Ops. Brand T.H.E. Wallet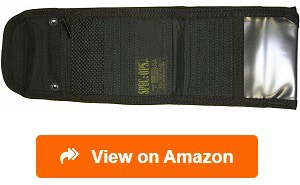 T.H.E. Wallet is probably one of the largest military grade wallets I've seen. This military tactical wallet has a spot for almost everything, like credit card slots, ID badge clear panels, and a zippered pouch.
The material is 1000D Cordura Nylon, which is exceptionally strong and tear-resistant. I like that everything is double-stitched and bar-tacked at essential places to hold items more securely. I bet that this wallet can last for decades because it supports a generous lifetime warranty.
When folded, I'm impressed that the wallet appears thinner than my old Trayvax tactical wallet. All the items are spread out evenly inside the wallet, so they don't add bulk. Surprisingly, it fits everything that I need, so this is one of the wallets that I like to bring in my outdoor adventure.
Among all the compartments, I love the zippered bill compartment because it can hide my cash securely. I also like the little zippered pocket where I carry all the small stuff, like coins and keys. Unlike many tactical wallets with hook and loop closure, this wallet has a unique SHARK-BITE closure that's pretty secure and won't make any noise.
Heads-up:
However, the wallet is half an inch too tall, which I find a bit too much. Whenever I take a card inside, I have to spread the wallet like a scroll.
Pros:
A great tactical wallet to bring cash and keys with the zippered compartments
Offers plenty of slots and spaces for everyday carry items
Built to last with its lifetime warranty and 1000D Cordura Nylon fabric
Double-stitched and reinforced at critical points
A slim wallet when folded
SHARK-BITE closure feels secure and works silently
Cons:
Bottom Line:
Overall, the Spec.-Ops. Brand Wallet is one of the most indestructible wallets with its 1000D Cordura Nylon fabric and double-stitch construction. This tactical wallet also features plenty of slots for cards, keys, spare coins, and other important stuff.
4. GOVO Badge Holder/Wallet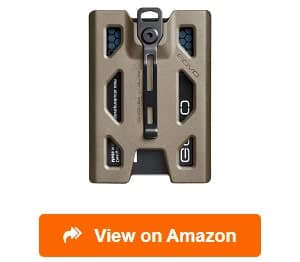 This GOVO product works as a badge holder and a compact tactical wallet, just like a Tactical Kydex Wallet. It's designed with many unique key features, including a metal clip and a spring-loaded card holding system.
I found that the metal clip works nicely as a pocket clip to carry the IDs more conveniently. I believe that GOVO is the first tactical wallet that offers this feature, so I tried it to replace the plastic sleeves that my company offers. There's an opening on top of the clip, so you can connect it to a carabiner or lanyard for work.
The metal clip won't only work as a pocket clip, but it can also serve as a secure holder for cash. I like that there's no RFID protection, so I can scan my company ID without a hitch. Showing my ID becomes more simple since I don't have to fumble through my bag or purse.
Since this wallet is made of polycarbonate, it's extremely lightweight yet durable. This card holder can withstand regular daily abuse, and it won't bend my cards. Unlike other ID card holders that use plastic snaps, GOVO uses an internal spring system to hold the cards securely in place even if it carries only one card.
Heads-up:
However, the lanyard is not included with the wallet. It would be nice if GOVO provided this component.
Pros:
Offers unique wallet features, like a metal clip and spring system
Won't bend cards
No RFID protection to block ID scans for easy entry
Versatile to use– clip to a carabiner or lanyard
Metal clip can also tuck in cash
Polycarbonate material seems light & durable for everyday use
Cons:
Bottom Line:
Altogether, the GOVO Badge Holder/Wallet is a perfect wallet for work and convenience. Since it comes without RFID protection, I can scan my company ID smoothly and show it right away.
5. Spec.-Ops. Brand T.H.E. Wallet J.R.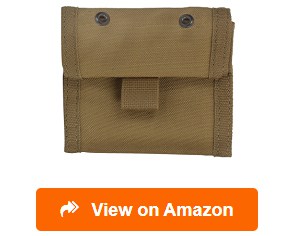 The J.R. model is the smaller version of the Spec.-Ops. Brand T.H.E. Wallet. It features four card slots, a full-length zippered compartment, ID windows, and a small zippered pocket. It reminds me of my 5.11 tactical wallet in terms of convenience.
There are two ways to carry this: worn around the neck or fit in the pockets. I appreciate the full-length compartment because it's so huge that it's useful in hiding cash and receipts. Best of all, I can zip it to create a hidden pocket.
A smaller zippered pocket comes in handy when storing coins and keys. Additionally, there are plenty of slots to store business cards– the four card slots plus the inner ID window. Interestingly, the wallet doesn't feel overly thick to me.
The J.R. wallet is made of the same material as the previous Spec.-Ops. Brand wallet. The 1000D Cordura Nylon material feels sturdy and rugged, making the wallet perfect for everyday carry. It also has the same Shark Bite closure that I adore for its silent operation.
Heads-up:
However, removing the card is a little challenging if you put two cards in each slot. I recommend putting just one card in every slot to avoid any cramp issues.
Pros:
More compact than its predecessor but still offers plenty of card slots
Zippered full-length compartment can hide cash very securely
Can store spare coins, keys, and other items in the small pocket
Doesn't feel too bulky or thick; two carry methods
Made of durable nylon fabric that can endure a beating
Shark Bite closure won't make any noise
Cons:
Feels a bit cramped up when putting two cards in every slot
Bottom Line:
All in all, the Spec.-Ops. Brand T.H.E J.R. Wallet is a little more compact than its predecessor. I recommend this military style wallet for people that use wallets for more than just keeping credit cards and money.
6. VooDoo Tactical Men's Universal Wallet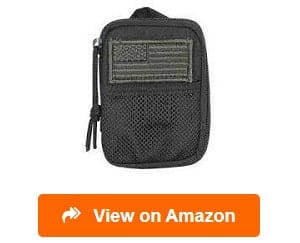 This VooDoo Tactical Universal Wallet is perfect for carrying EDC gear as it makes room for pencils, flashlights, medical supplies, and more. This mens tactical wallet comes in a good size that can fit inside a cargo pocket just right.
The wallet seems to be well-made with tough zippers and plenty of straps. I found the straps useful in attaching the wallet to a MOLLE-compatible backpack or belt. With the brass snaps at the back, the wallet attaches even on a wide belt securely.
Among its many wallet features, I love the internal lanyard as it can hold small items, like keys. Even when I put a lot of stuff in, my key won't get lost inside the pouch. Surprisingly, the wallet doesn't look too bulky even when packed with many things.
There's a US flag patch at the front of the wallet, so it's a perfect item to carry when feeling patriotic. I enjoy the external mesh pocket as it makes things easily accessible. Also, the wallet is fully enclosed with zippers to keep things inside while traveling.
Heads-up:
However, I'm too afraid to overstuff this pouch because I found a few bad stitches.
Pros:
Has plenty of room for essentials, like pens and flashlights
Has a good size that's fit for cargo pockets
Built with durable zippers, brass snaps, and straps for easy attachment
Internal lanyard can tie small items, like keys
Fully zippered and doesn't look bulky
Designed with a US flag patch and accessible exterior mesh pocket
Cons:
Bottom Line:
Overall, the Voodoo Tactical Wallet seems perfect for organizing essentials, like medicines, pens, and flashlights. There's plenty of room inside, plus universal straps to attach to MOLLE bags or belts easily.
7. FIRECLUB Portable Tactical Wallet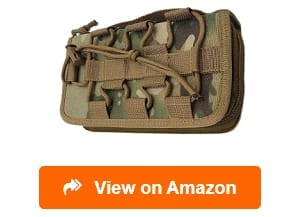 This FIRECLUB item is a slim wallet that packs a lot of storage space. I can store a 6-inch mobile phone, pen, multiple cards, and many more in this tactical wallet's various compartments.
I find this product the size perfect to carry around just about anywhere. I like to bring it on camping or mountaineering trips as it can fit a few medical supplies, and it keeps my small items organized. Thanks to the camouflage color design, this wallet looks tactical and not like any ordinary purse.
The nylon fabric feels sturdy, so I think this wallet can withstand the harsh elements outside. I tested the waterproof coating, and I'm surprised that it doesn't get soaked in the rain easily. The zippers also work smoothly without any issues.
For the price, this wallet is a great steal. There are many compartments inside where I can put other essential items beside cards. I found a pen holder inside and also a cash compartment that can serve as phone storage.
Heads-up:
However, this wallet is too large to fit in the back pocket. You can only carry it either on your waist or inside a bag.
Pros:
Has a slim design for portability
Can store many items, like a pen, medical supplies, and a 6-inch phone
Camouflage color looks cool and tactical
Nylon material feels durable to endure harsh elements
Waterproof coating keeps the wallet safe from rain and moisture
Comes with smooth zippers and a reasonable price
Cons:
Won't fit in your back pocket
Bottom Line:
All in all, the FIRECLUB Tactical Wallet is perfect for outdoor adventures as it offers plenty of compartments to store essential items other than our cards. It's slim and looks cool with the camouflage color.
8. QUIQLITE TAQ Wallet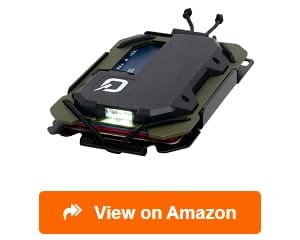 The TAQ wallet is a tactical money clip wallet that can hold up to eight credit cards and a few cash bills. It's also an exceptional RFID blocking wallet as it adopts an RFID blocking technology to protect our cards' personal details.
The best feature of this metal tactical wallet is its integrated tools that come in handy on any occasion. My favorite is the integrated bottle opener because it's useful in opening my beverages in remote areas. I also found a screwdriver and a glass-breaking tip that can save my life when I'm trapped inside a crashed car.
This wallet also comes with an LED flashlight, which I enjoy during camping or hiking. I think 70-150 lumens are bright enough to see in the dark. Fortunately, the flashlight is rechargeable, so I don't have to worry about using bulky batteries.
The construction feels very solid. The housing is made of nylon, stainless steel, and aluminum. I believe that this tactical metal wallet can withstand any type of punishment for decades.
Heads-up:
The only thing I dislike is the price because it's more expensive than most tactical wallets.
Pros:
Integrated bottle opener comes in handy in opening beverages
Glass breaking tip can help us get out of the car when trapped
Built with a screwdriver & a rechargeable LED light to see in the dark
Nylon, aluminum, & stainless steel frame feels durable and solid
Offers RFID protection to prevent identity theft
Has a metal clip to hold cash securely & space for 8 credit cards
Cons:
Bottom Line:
Overall, the QUIQLITE TAQ is one of the most favorite minimalist wallets for survival. This compact wallet comes with integrated tools that can save life, plus a stainless steel frame that can endure any beating.
9. OneTigris Front Pocket Wallet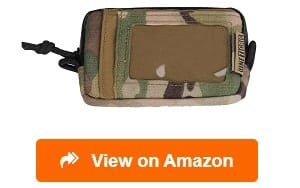 OneTigris is one of the most durable minimalist wallets out there. This wallet is made of 500D Cordura Nylon fabric and waterproof zippers for added security.
There are four interior card slots to accommodate any item, plus one external slot for cards. I feel that this wallet can fit a lot of stuff without stressing the zipper and the stitches. Surprisingly, I can put a flashlight, a micro pen, and a few clippers inside without it looking too bulky.
I love the craftsmanship of this front pocket wallet. I noticed no loose threads, and the waterproof zippers flip inside out to make a very clean opening. Interestingly, this wallet isn't made with a single layer of nylon material because there's a thin layer of padding at the sides.
The size is so compact that it can fit at the back of my cargo pants. Users can also hang this wallet on their belt or bag using the small loops outside. More importantly, this wallet won't attract any unnecessary attention because it has a low-profile design that blends into our tactical pants and gear.
Heads-up:
However, the zippers become difficult to manage when they get wet. I recommend not exposing the zippers in the rain or water.
Pros:
Waterproof zippers with a clean opening
500D Cordura Nylon fabric feels sturdy for heavy-duty use
Has plenty of compartments to store other things besides credit cards
Stitched tightly without any loose ends
Has padding at the sides
Compact, low-profile design can be carried around easily
Cons:
Zippers can get unmanageable when wet in the rain or water
Bottom Line:
All in all, the OneTigris Wallet seems adequate to keep all our essentials when doing outdoor activities. It looks durable, compact, and easy to carry around.
10. Infinite Minimalist Wallet
Infinite offers one of the most minimalist wallets with a stylish design and durable construction. This wallet features an RFID blocking technology to protect our personal card details from fraudulent people.
The wallet is made of stainless steel and aluminum alloy, making it extremely durable. I think it's built to last as the manufacturer promises to provide a 100% Customer Satisfaction Warranty. Also, the entire wallet is fastened with six hardened steel screws, so it's pretty indestructible.
Surprisingly, the slim design can carry up to 15 cards. The elastic band stretches without losing its shape. Best of all, the cards are easy to access, saving me time and effort in removing the cards whenever I need to.
The size is quite compact, and it fits into my front pocket without any bulk. Additionally, the money clip feels so secure because it can hold a thick amount of cash in place. I appreciate the overall design because there are no sharp corners to cause any injury.
Heads-up:
However, this Infinite Minimalist Wallet feels a little heavy to carry around, especially in the front or back pocket.
Pros:
Has a stylish design made with stainless steel and aluminum; fit in front pockets
Carries up to 15 cards & allows easy access to them, thanks to strong elastic band
Metal clip can hold a thick bundle of cash securely
Designed with RFID blocking technology to protect credit cards
Offers 100% Customer Satisfaction Warranty
Fastened with steel screws; without any sharp corners
Cons:
Feels a bit heavy to carry around
Bottom Line:
All in all, the Infinite Minimalist Wallet impresses with its durability and slim design. This wallet can secure our cash and up to 15 cards from potential RFID skimming threats.
11. Huntvp Tactical Wallet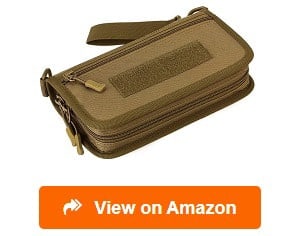 This tactical wallet from Huntvp keeps all items very organized, from 100 bills to credit cards and more. It has a large capacity and durable construction that can withstand any abuse in outdoor activities.
I'm impressed with the 900D Oxford fabric material because it's very durable and waterproof. The wallet even comes complete with molle straps to load carabiners to hook small gears. I like to use the straps to attach the wallet to my tactical backpack.
Since I like to customize my personal items, I use the velcro spot to try on different velcro patches. This wallet is also easy to open because the metal zippers are designed with a double-pull head.
I found a lot of compartments in the wallet. There are 12 card slots, plus a zipper pocket to store coins or keys and an interlayer pocket to fit banknotes, passports, and receipts. I love how things are organized inside the wallet because they look neat and clean.
Heads-up:
However, the removable strap is a bit of a hassle to carry around since the wallet is pretty huge. I hoped it was a longer strap, so I could carry the wallet as a cross-body.
Pros:
Has a large capacity to carry plenty of items
Seems to be well-made with the waterproof 900D Oxford fabric
Double head zippers make it easy to grasp and open the wallet
Comes with molle straps to attach with carabiners and backpacks
Has neat compartments to organize items more efficiently
Has a velcro spot to apply different velcro patches
Cons:
Strap is a bit short of using as a cross-body for better convenience
Bottom Line:
Overall, the Huntvp Tactical Wallet can be used for women because the design is pretty neutral. This one offers the neatest compartments I've seen in the tactical wallet market.
12. Rugged Material Tactical Wallet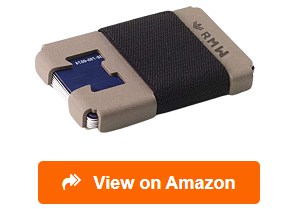 The Ranger minimalist wallet is very compact, making it very easy to carry around in our front pocket. The most striking feature is the heavy-duty band closure that can fit up to eight cards and a multi-tool function.
I like that this minimalist tactical wallet is made in the USA because I can guarantee its quality. The wallet is crafted from steel and coated with Teflon powder to fight corrosion. I feel confident with its durability because the manufacturer provides a Lifetime Guarantee.
I really feel at ease using this wallet to hold my credit cards because there's an RFID blocking feature to hide personal details even from the most powerful RFID readers.
The wallet also doesn't feel that heavy in the front pocket, so it's comfortable to wear on long walks. More importantly, the bottom part forms a 90-degree angle to keep the cards from falling out.
The multi-tool is a large bonus for me because it can be quite handy in tight situations. There's a bottle opener that can even be used with the cards still in the wallet. Also, I found a few wrenches that can be useful for hardware issues.
Heads-up:
However, the heavy-duty band isn't very convenient when it comes to putting cash in. I recommend adding an extra money clip.
Pros:
Lightweight and compact to carry in the front pocket
Multi-tool includes wrenches and a bottle opener for added functionality
Heavy-duty band closure can fit up to eight cards
Offers a Lifetime Guarantee to ensure durability
RFID blocking feature keeps cards safe
Corrosion-resistant and keep cards still in the wallet
Cons:
Elastic band isn't convenient for holding cash
Bottom Line:
Altogether, the Rugged Material Ranger Minimalist Wallet is functional with the multi-tool. This tactical front pocket wallet also provides security with its RFID blocking feature and Lifetime Guarantee.
13. Magpul DAKA Bifold Wallet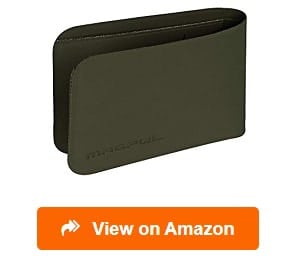 The Magpul DAKA Bifold Wallet looks like any regular wallet with its bi-fold design. What makes it better is its slim style and tough polymer-infused material that can endure hard usage.
This Bifold Wallet is as slim as the DAKA Essential Wallet, but it features an RF-welded construction to give an impenetrable seal. It's the same reason why this wallet is super thin even when I stock multiple cards inside. Approximately, this wallet can hold up to six cards and ten cash bills without looking bulky.
I love the polymer-infused material because it's resistant to almost everything, from chemicals to moisture and abrasions. I have sweaty hands, and I'm happy that this wallet doesn't absorb sweat at all. The texture is grippy, so the wallet won't slip on our fingers or get damaged when dropped on the ground.
I think the price of this wallet is reasonable, considering the durability and function it brings. I'm also surprised by its high level of comfort. Whenever I sit down for a long time, I don't feel the lump and weight of the wallet too much.
Heads-up:
However, it's a bit strenuous to insert and pull the cards out. I suggest putting or removing cards one at a time until the material loosens up fully.
Pros:
Slim design won't create bulk even when filled with cards & bills
Polymer-infused material resists chemicals, abrasions, and water
RF welded construction seals the wallet perfectly; doesn't absorb sweat
Has a nice, grippy texture that won't slip in our hands
Comes at a reasonable price
Lightweight and comfortable to carry around
Cons:
A bit challenging to fit in and pull out the cards
Bottom Line:
All in all, this MAGPUL Bifold Wallet impresses both in durability and functionality. The polymer-infused material can withstand hard abuse, even from chemicals.
14. Extremus Tactical Wallet
This Extremus Tactical Wallet is another slim wallet that I can carry around in my travels. It has the capacity to hold 15 cards and protect them from RFID skimming with its integrated RFID blocking feature.
I like the construction of this wallet because it feels so tough. The material is 100% carbon fiber, framed in stainless steel. I'm surprised that this wallet looks very strong yet lightweight to carry around in the front pocket.
I think the stainless steel money clip is sturdy enough to hold a few folded bills securely. I like the fact that the clip also works as a convenient area to hold ID cards for work. Whenever I'm in a hurry to work, I don't have to rummage through my wallet just to get my ID to enter the premises.
Moreover, the elastic side easily stretches to add more cards and seems to hold its shape very well. The wallet feels very tight, so I don't have to worry about my cards or cash falling out. Also, the design looks very sleek with its gunsmoke color and ultra-slim design.
Heads-up:
The only thing I dislike is getting the cards inside and outside the wallet. It's a bit difficult to load the credit cards, much more when you take one out in the middle. I suggest a little patience doing the task.
Pros:
Elastic side strongly expands to accommodate 15 cards; secures items well
Offers RFID blocking function to protect confidential information
Durable yet lightweight, thanks to the carbon fiber body & stainless steel
Metal clip can hold cash and even IDs for easy access
Looks sleek and elegant with its gunsmoke color
Cons:
A bit tedious to get the cards in and outside the wallet
Bottom Line:
Altogether, the Extremus Tactical Wallet stands out in the tactical wallet market with its carbon fiber body. This material delivers high tensile strength without weighing us down.
15. MURADIN Slim Dapper Bifold Tactical Credit Card Wallet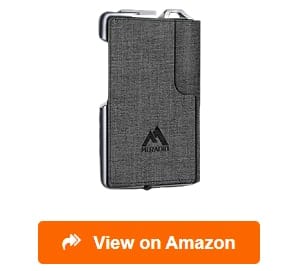 MURADIN offers a slim tactical wallet with plenty of credit card slots. This tactical card wallet stashes our bills inside the wallet, which I like for added security.
This wallet is made of ballistic nylon that's strong enough to protect against any external threats. I find the material incredibly durable, so I don't have to worry whenever I drop it. Meanwhile, the frame is made of aluminum fixed with 11 pieces of mil-spec bolts for added durability.
I'm surprised by the large capacity of this tactical credit card holder, considering its slim design. I can put up to 12 cards in without having the difficulty of taking each one out. I can also put a few bills into the silicone band without any sticking out.
Thankfully, there's an ID window inside, so I can just put my company ID for easy entry. My mind is also at ease that there's an RFID blocking feature built into the wallet for protection from fraudsters. Just above the wallet, users can find a carabiner tether to help connect it to their keyring.
Heads-up:
However, the silicone band can get too overstretched after some time. I recommend not putting a lot of cash in the wallet to maintain the band's shape.
Pros:
Can hold up to 12 cards, plus a few bills without the bulk
Has an ID window and silicone band to hold cash securely
Ballistic nylon fabric material feels sturdy
Aluminum frame; fastened with 11 pieces of mil-spec bolts to ensure durability
Has an RFID blocking function to shield against RFID scanners
Carabiner tether available
Cons:
Silicone band easily loses its shape when overstocked with cash
Bottom Line:
All in all, the MURADIN Tactical Wallet demonstrates excellent durability with its ballistic nylon fabric and aluminum frame. I like its minimalist design that offers a surprisingly large capacity.
What to Look for When Buying Tactical Wallets
A tactical wallet should be ready to withstand anything life throws at you. There are many different tactical wallets around, so it's better to arm yourself with enough information. Here are some things to consider when buying your next tactical wallet.
Tactical wallets can be made in different materials, like leather, nylon, and metal. You'll want to make sure that the material is tough because these wallets are subjected to tons of damage.
Leather looks beautiful and elegant, but not all types have the same quality. Full-grain leather is the best type of leather for durability because it's built to last. Top-grain is the next best thing to full-grain because it can last a decent amount of time, and last is genuine leather.
Nylon provides water resistance and durability, but not as much as leather. To ensure durability, look for a higher denier count. Ballistic nylon is a stronger option than nylon canvas because it features a coarser weave texture.
Some of the tactical wallets are made of metal frames and bodies, most specifically stainless steel and aluminum. Stainless steel is stronger than aluminum because it has higher tensile strength, but it's heavier. If you opt for aluminum, look for an aerospace-grade one.
Generally, a well-made wallet is durable. Look at the stitches and make sure that they're straight and remain perfectly parallel to the edges. When a brand mentions polyester threading, that's actually a good sign because it's the same thread used for parachutes.
Most of the time, cut edge wallets are more durable than turned edge ones. The stitching tends to be more aggressive and sturdy. Also, the quality of turned edge wallets can be compromised because they're often made with very thin leather.
Pay attention to the corners and make sure that there are no cuts. The little details, like the slots, pockets, and hardware, should also be checked. Look for stainless steel or brass hardware to ensure durability.
Tactical wallets made in USA are usually durable because they pass high standards of quality.
Every wallet has a different style. Some are minimalist, while others are built with a money clip or even a multi-tool to bring more functionality.
A bi-fold wallet can come either with a money clip or a coin pocket to keep spare coins or keys. This style folds down in the middle, so it's pretty slim to fit in your front or back pocket. A slim bi-fold wallet can hold up to 8-10 cards.
A tri-fold wallet can carry more items and room for cards. If you want to bring cards only when you travel, look for credit card wallets, especially with RFID blocking functions to protect the data of your cards. For the slimmest profile, look for an elastic wallet or a metal EDC wallet.
A zippered wallet usually comes big to carry more essentials, like flashlights and key holders. Women particularly love this style because it looks stylish.
Tactical wallets can bring more function than you think. For better survival, look for a multi-tool that often includes a bottle opener, knife, or smartphone stand. Others even include a built-in LED light to see in the dark and a glass-breaking tip to get yourself out in case you're trapped inside the car during an accident.
For the protection of your credit cards, look for RFID blocking technologies that deter hackers from stealing the details of your credit and ID cards. A wrench also seems handy when you want to repair something with bolts or nuts.
Don't go overboard with the features because the price can also go higher. Think about what features you need and search for a wallet that provides those.
Nothing can beat a good warranty when talking about any purchase. The most durable wallets offer a lifetime warranty to cover any refunds or replacements of defective products. Others give limited years, so pay attention to the warranty details before purchasing a tactical wallet.
Who Makes the Top-rated Tactical Wallet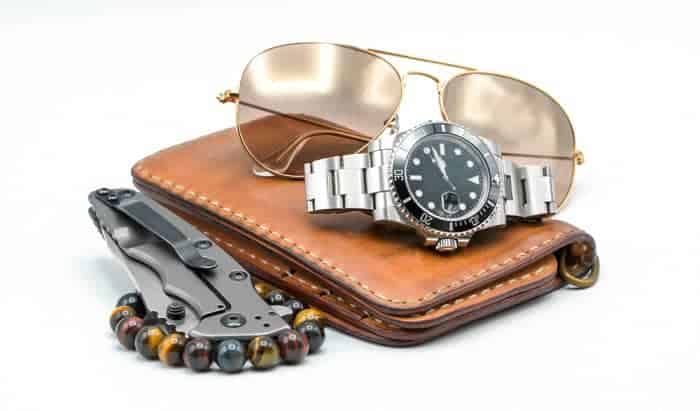 Dango makes the best tactical wallets because they have a high-quality feel. Their tactical wallets are also TSA approved, meaning that you can still pass through flight security, even when they're built with a multi-tool.
Are Tactical Wallets Just for Men
Today, men's tactical wallets aren't just for men but also for women. These wallets, especially the zippered ones, can be an excellent organizer of items like cash, cards, and keys. Moreover, tactical wallets for men & women have plenty of storage, making them a good alternative to bringing a shoulder purse.
Do RFID Tactical Wallets Really Work
Yes, RFID tactical wallets work, but some work better than others. This type of wallet can effectively fend off the scanning function on a passport or credit card.
How to Make a Tactical Wallet
You need to be really skillful to make a DIY tactical wallet. First, choose the material that you like—I prefer nylon fabric because it's easier to work with. Next, trace the pattern and attach an aluminum foil inside to serve as an RFID blocking capability. Finally, sew the trims at the sides, leaving one side open for the zippers.
Conclusion
The tactical wallets I reviewed above are truly effective to bring just about anywhere. If I have to pick the best tactical wallet, my choice will be the Dango T01 because it provides everything I need in a compact construction. This one protects cash and credit cards while offering a built-in multi-tool that offers several functions, such as a bottle opener and smartphone stand.
For carrying plenty of cards and cash, I recommend the RAPDOM and Specs.-Ops. Brand tactical wallets. VooDoo provides more room for extra supplies, like flashlights, while GOVO is one of the most minimalist wallets out there.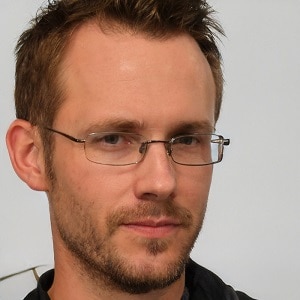 I am Everett Bledsoe, taking on the responsibility of content producer for The Soldiers Project. My purpose in this project is to give honest reviews on the gear utilized and tested over time. Of course, you cannot go wrong when checking out our package of information and guide, too, as they come from reliable sources and years of experience.