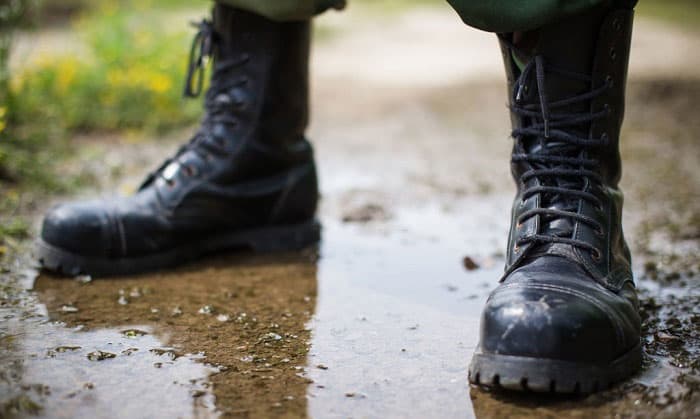 One of the problems of working or hiking outdoors is to keep your feet dry at all times, from small puddles of water to morning dew grass. Now, it can be possible with the best waterproof tactical boots. These boots are built with a waterproof membrane or liner to wick away the moisture and keep your feet dry.
With the functionality of these boots, hikers and hunters use them besides the law enforcement personnel. These shoes are comfortable and suited for rugged use. As pointers, here are a few things to consider when looking for a good pair of waterproof tactical boots.
Waterproof Protection: Of course, you need the boots to be entirely waterproof or water-resistant, at least. Look for a waterproof membrane designed onto the exterior and a moisture-wicking liner. The construction should be watertight to keep the water out.
Comfortable: Like other types of shoes, you can't compromise functionality to comfort. Look for adequate cushioning and support on the ankles, arches, and toes. Absorb-shocking midsoles and footbeds make any boots comfortable to wear for long hours.
Durability: You want the tactical boots to be also durable for long-lasting use. Look for full-grain leather and ripstop/Cordura nylon fabric as they provide incredible strength. The rubber sole should also be wear-resistant, so it can withstand any harsh conditions.
Buying the right pair indeed takes time, which is why we have come up with a more elaborate buying guide below. But before that, check our top 6 recommendations that are worth every penny.

---
Bates Men's Tactical Boot
Made of durable leather
Lightweight yet durable
Provides full ankle coverage
---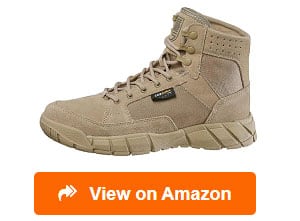 FREE SOLDIER Men's Tactical Boots
Durable suede leather
Provide great comfort
Impressive urban fashion style
---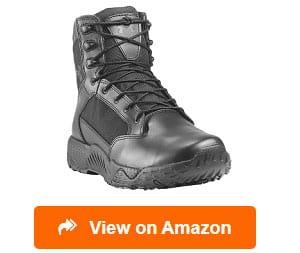 Under Armour Men's Tactical Boot
Designed with tough leather
Quick-drying and waterproof
Lightweight 900D nylon upper
---
Top 6 Reviews on Waterproof Tactical Boots
1. Bates Men's 8" Ultralite Tactical Sport Military Boot
Bates Ultralite is true to its name: it's very lightweight, which makes it perfect for walking for long miles. On top of that, it's durable enough to withstand any rigorous work on the field.
These boots are mostly leather with high-performance nylon on the upper portion providing a great balance of durability and comfort. On the sides are YKK zippers, which allow quickly putting on/off the boots.
Surprisingly, I didn't notice my feet getting sweaty since the breathable lining wicks away the moisture pretty well. Also, everything is well-padded, from the EVA midsole to the removable insert, so I don't worry about foot fatigue even when standing for long hours.
For me, the greatest advantage is the rubber sole, as it features some wide spaces between the tracks to grip on any surface. I tried putting my foot down in the gravel ground, and interestingly, the boots made great contact without slipping. Aesthetically, these boots look sharp and pretty with their Coyote color.
I'm not afraid of any dangerous tasks with these boots on because I'm satisfied with their full ankle coverage. The toe protection that it provides seems to be sufficient to prevent any potential injuries.
Heads-up:
However, these boots take a while to break in and enjoy maximum comfort.
Pros:
Lightweight yet durable to hold up against any tedious tasks
Made of durable leather and comfortable nylon upper
YKK side zippers bring convenience to putting the boots on/off
Breathable lining keeps sweat at bay
Provides full ankle coverage and sufficient toe protection
Well-cushioned with EVA midsole and removable inserts to prevent fatigue
Cons:
May take a while to break-in
Bottom Line:
Altogether, Bates Ultralite serves me well in terms of aesthetics and support.
These boots are lightweight
and seem to be constructed well with the best materials.
2. FREE SOLDIER Men's Tactical Boots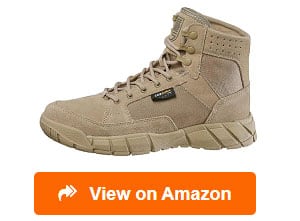 These FREE SOLDIER tactical waterproof boots impress me with their urban casual fashion style, making them look suitable for daily use. I've bought these shoes for short hikes, and they were able to hold up pretty well.
The suede leather and 1000D Cordura fabric combination make these boots very durable. The fabric feels so thick that they don't get easily scratched from sharp rocks. Also, the ankles are so nicely padded that I haven't felt any discomfort even when walking with them on for hours.
The soles are fantastic on this one. The EVA midsole provides an excellent cushion for long hikes, while the geometrical patterns of the outsole keep me steady on any surface. I especially love the strengthened toe cap and heel as they give me peace of mind when I seek outstanding protection during combat.
As I've noticed, both the exterior surface and inner lining have a waterproof coating. I don't get sweaty feet during a hot day, and my feet stay dry when walking on a small puddle of water. I can say that these boots are breathable because my feet feel cool during the summer.
Heads-up:
However, the size tends to run a little small on this model. I suggest customers get a larger size to get a more comfortable fit.
Pros:
Has an impressive urban fashion style; breathable to keep feet cool
Designed with durable suede leather and 1000D Cordura fabric construction
Nicely padded ankles and EVA midsole provide great comfort for long hikes
Geometrical patterns on the outsole keep feet from slipping
Strengthened toe cap offers good protection
Waterproof coated on both interior and exterior to keep feet dry
Cons:
Bottom Line:
Overall, the FREE SOLDIER Tactical Boots make
a nice pair for hiking outdoors
during the summer. These men's waterproof tactical boots are breathable and durable.
3. Under Armour Men's Stellar Tac Military And Tactical Boot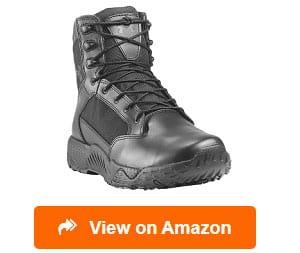 These Under Armour tactical boots offers everything I like, from waterproof liners to a high-traction rubber outsole and reinforced TPU shanks. I walked a couple of miles on these shoes, and having them on is crucial to my endurance.
I feel exceptional support coming from the molded EVA midsole and reinforced TPU shank. Somehow, my feet remain stable even when walking on uneven terrains. Also, the rubber sole provides a firm grip on the surface, even when I step onto a snowy road.
Thanks to the cushion, I don't feel pain on the bottom of my feet like with rough shoes after wearing them for long hours. The leather feels remarkably tough, while the 900D nylon fabric upper feels lightweight. Moreover, the polishable toe feels rigid enough to protect my feet from rocks and any blunt object on the road.
My favorite is the waterproof boot liner because it works as extra protection from the elements. I walked through the grass after a rainy night, and my socks weren't soaked, fortunately. Also, the boot seems to dry pretty quickly with its minimalist design.
Heads-up:
However, the boots feel a bit stiff initially. They need a couple of weeks to break in and feel more comfortable to wear.
Pros:
EVA midsole and reinforced TPU shanks offer sufficient stability and support
Rubber sole grips securely on any ground surface, even on snowy roads
Lots of cushions to prevent foot pain from long hours of use
Designed with tough leather and lightweight 900D nylon upper
Polishable toe provides enough protection from collisions
Quick-drying and waterproof enough to keep feet dry from moisture
Cons:
Requires a break-in period to soften up
Bottom Line:
Overall, Under Armour Men's Stellar seems to be a perfect fit for long hikes and long hours of work standing up. The boots have a bunch of cushions to make the feet comfortable.
4. Bates Men's 8" DuraShock Lace-to-Toe Work Boot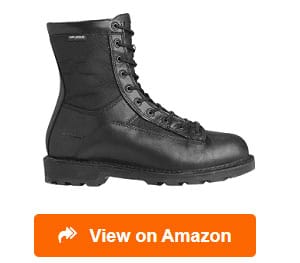 Bates DuraShock is another beautiful pair of lightweight waterproof tactical boots that leaves a delightful impression on me. These tactical work boots are pretty durable to use both for work and play.
The thing that stands out about DuraShock is the welt construction. The additional stitching makes these black tactical boots more water-resistant as they prevent water intrusion more effectively. Besides, the wearer can replace the sole to extend the life of the boots, which means more savings in the long run.
The leather material appeals to many users because it looks high-quality and not some knock-off type. When polished, the shoes look fine with their long-lasting shine. Thankfully, the upper is made of a different material (nylon) to make the weight more bearable for long walks.
The slip-resistant outsole is truly remarkable. It dissipates impact to make every step more comfortable, which seems perfect for long work hours on the field. Also, when the boots arrived, I'm surprised that they required zero break-ins, as they were already soft to wear.
Heads-up:
However, these boots are steel-toed. It can be a little annoying when we pass security because it can trigger the metal detector.
Pros:
Lightweight and durable with the leather/nylon materials
Built with a welt construction to add more water resistance
Allows multiple sole replacements for long-term use
Leather is polishable and can hold a shine for long
Slip-resistant outsole absorbs shock for extra comfort
Zero break-ins needed- already soft to wear direct from the package
Cons:
Steel toe may trigger metal detectors
Bottom Line:
Altogether, Bates DuraShock offers durability and protection that no other waterproof tactical boots can offer. These waterproof boots stand out with their welt construction to last for many years.
5. VIKTOS Men's Johnny Combat Tactical Boots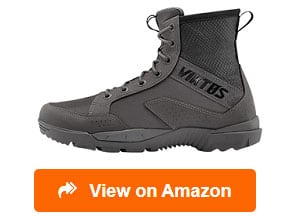 This next design is a nice-looking pair of grey boots. These VIKTOS waterproof combat boots aren't only good aesthetically but also built for rugged use.
The selling point of Johnny combat boots is the Strife warfighter bottom unit which uses a shock-absorbing foam to lessen the impact in every step. The rubber outsole also grips nicely on slippery and snowy grounds. Best of all, these boots are lightweight, almost as light as my old sneakers.
I tested the waterproof lining, and it's somewhat functional as my feet were dry when I walked through the grass after the rain. I have run with these boots on, and they didn't cause any mobility problems. Also, the wide toe box feels very comfortable for my wide feet.
By the looks of it, the nylon upper and synthetic leather seems durable. These boots can withstand any elements as I could tread on mud and snow without any issues. They can surely take a beating, making these boots one of the toughest out there.
Heads-up:
However, the size may run a little smaller, ½ size small to be exact. I recommend users get a ½ size larger than what they normally would.
Pros:
Available in a nice grey color with rugged construction
Strife warfighter bottom integrates a shock-absorbing foam to reduce the impact
Rubber outsole provides an exceptional grip on slippery and snowy grounds
Lightweight and won't cause any mobility restrictions
Waterproof lining keeps feet dry with a wide toe box for comfort
Synthetic leather and nylon upper can take a beating
Cons:
Size may come a ½ smaller than normal
Bottom Line:
All in all, the VIKTOS Johnny Combat Boots provide both functionality and aesthetics. This pair is one of the top-rated tactical boots for plantar fasciitis because they include shock-absorbing foam to reduce the impact on each step.
6. Rockrooster M.G.D.B Waterproof Military And Tactical Boots
When the weather is cold, I enjoy wearing the Rockrooster M.G.D.B because of its good insulation. These waterproof military boots provide one of the most favorite ankle support as I didn't feel any discomfort when trekking for long miles.
I can feel the stability of my arch with the nylon shank. Thankfully, the soling materials don't reach up to the back of my heel, so I don't feel any foot pain even from standing for too long. Truly, these boots are built for comfort, especially with the shock-absorbing cushions and foot massaging Poron footbeds.
The Goodyear rubber outsole makes me walk on any surface safely without the fear of slipping. My wide feet love the toe cap because it's wide enough to move around freely. I also feel reassured of the quality because Rockrooster provides a 30-day money-back guarantee.
The HYDROGUARD Lining makes these boots waterproof around the fabric and outsole. I think it's effective because my sock stayed dry when I walked on the wet grass after a rainstorm. Also, my feet don't get sweaty when wearing these boots.
Heads-up:
Surprisingly, I haven't found any negative reviews about these boots. I guess they're truly great for what they're worth.
Pros:
Has good insulation and ankle support
Nylon shank provides excellent arch support with a wide toe box
Soling materials don't reach up behind the heel for foot comfort
Built for comfort with the shock-absorbing cushion and Poron footbed
Goodyear rubber outsole demonstrates a superior grip
Hydroguard Lining keep feet dry and cool; offers a 30-day money-back guarantee
Cons:
Bottom Line:
Overall, Rockrooster M.G.D.B offers high performance in terms of comfort, durability, and support. They also provide an outstanding warranty for quality assurance.
Thorogood Men's Gen-Flex2 Series 8" Tactical Boot (Outdated)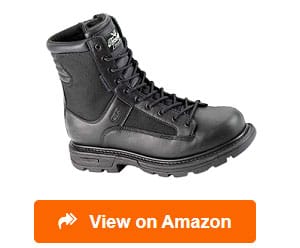 Thorogood Men's Gen-Flex2 Series is almost similar to Bates DuraShock with its full-grain leather material and welt construction. I like that there are side zippers to make them even more convenient to wear during rush hours.
Because these boots have a welt construction, I can re-sole them when needed. Additionally, these boots hold a shine for a long time, perfect for a professional setup. The good news is that scuffing the toe is also quite easy, so I can put my black shoe polish to good use.
What makes these boots waterproof is the BBP X-Stream membrane which helps protect the boots from dangerous fluids. The waterproof membrane seems to be good as my feet stayed dry even when stepping on wet pavements. I would even spray the boots to get the dirt off, and my socks still remained dry.
As for the construction, the stitches seem to be well-made. The rubber outsole left no marks on the floor and, more importantly, was slip-resistant to keep me safe even on greasy floors. Also, I got adequate foot support, thanks to the composite shank and removable footbed.
Heads-up:
Just like Bates Durashock, Thorogood Gen-Flex2 Series is a little pricey compared to similar waterproof boots.
Pros:
Can hold a shine and is easy to polish
Welt construction allows the boots to be re-soled
Side zippers make it quick to wear on/off the boots
BBP X-Stream waterproof membrane protects the boots from dangerous fluids
Made with well-made stitches and slip-resistant rubber sole that leave no marks
Composite shank and removable footbed provide foot support
Cons:
Bottom Line:
Overall, the Thorogood Gen-Flex2 Series Waterproof Tactical Boots is one of the best contenders for durability. The welt construction and BBP X-Stream membrane make the boots endure any weather conditions.
Smith & Wesson Footwear Breach Tactical Side-Zip Boots (Outdated)
Breach 2.0 is a pair of good waterproof side zip tactical boots to use for any occasion. I can hike for miles in this boot because the EVA midsole feels lightweight and cradles my arch nicely.
These waterproof tactical shoes have a steel shank, providing more support when riding my motorcycle. It's also a feat to have some unique pattern on the rubber outsole because my foot stays stable on snowy roads, slippery floors, and ladders.
The best part of these boots is the HydroGuard technology which acts as a waterproof membrane to keep my feet dry in any wet conditions. True enough, my feet stayed dry from the grasses' morning dew when I walked onto them. The gusset is also there to help in waterproofing besides keeping the debris out.
Whenever I'm in a hurry, I appreciate the side-zip feature even more as it makes the boot easy to put on and take off. Overall, the weight of these boots is low, so I have no worries about foot fatigue. The boots come true to size as it fits on my wide feet perfectly.
Heads-up:
However, these leather/nylon boots may fit largely for those with narrow feet. I recommend users with narrow feet get a size below what they usually would.
Pros:
Built with a lightweight EVA midsole that cradles the feet comfortably
Steel shank offers more support; easy to put on/off with the side zipper
Rubber outsole feels durable and has unique patterns to grip safely
Hydroguard technology provides a waterproof membrane
Gusset prevents debris from entering and helps with waterproofing
Lightweight and comes true to size for wide feet
Cons:
Size may be too large for narrow feet
Bottom Line:
All in all, Breach 2.0 provides sufficient water protection to withstand all weather conditions. This model is perhaps the most comfortable waterproof duty boots I've used with its lightweight construction.
5.11 Tactical EVO 8-Inch Waterproof Boots (Outdated)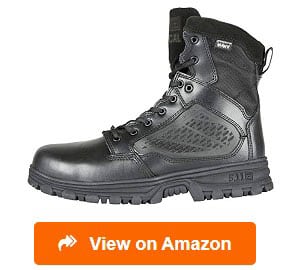 5.11 Tactical EVO is another durable pair of waterproof tactical boots with zipper for daily use. These shoes feel very comfortable for work and hiking.
The materials are cut above the rest. Its full-grain leather is genuine and shows incredible strength from the constant wear of wearing boots outdoors. Besides, the grain is super tight, resisting moisture more effectively, while the 1200D nylon upper feels super smooth. Such a nice and thoughtful design!
The best part about these boots is the pocket knife, which is handy for combat or camping purposes. What's even better is the Bloodborne Pathogen-resistant layer that provides me great protection against infectious materials. I also appreciate that I can wear these boots without a hitch using the durable YKK zippers.
Another thing I like is the waterproof outsole, as it grips well on any surface. With the climbing lugs, I can step on ladders and fences more safely. Also, it feels comfortable wearing the boots for long hours because the Ortholite insole and EVA midsole provide the support and stability that I need.
Heads-up:
The only thing I dislike is the price that seems higher than most other waterproof tactical boots on this list.
Pros:
Made of genuine full-grain leather with excellent water resistance
Has a very smooth 1200D nylon upper and a hidden pocket knife
Designed with a Bloodborne Pathogen-resistant layer for extra protection
YKK side zippers make boots easy to put on
Waterproof outsole shows excellent grip with climbing lugs
Ortholite insole and EVA midsole support and keep feet stable
Cons:
A bit more expensive than similar products
Bottom Line:
All in all, 5.11 Tactical EVO shows high functionality with its secret pocket knife and an extra layer of protection from infectious materials. This pair also won me over its durability and support.
Merrell Work Men's Moab 2 Mid Tactical Response Boots (Outdated)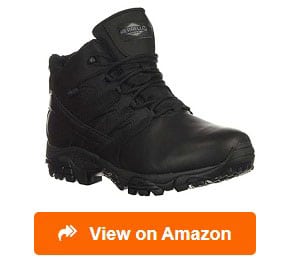 Merrell Moab 2 Tactical Response Boots are my favorite during the colder months because they feel warm and breathable. I've used them during the rain, and I'm surprised that they're also water right.
The M-Select DRY membrane makes these boots waterproof. More specifically, it wicks away the moisture to keep my feet dry and cool. The leather used is also waterproof, adding more protection from the rain and snow.
What makes me love these Merrell boots is the Strobel construction that I only see in athletic shoes. The said construction creates a sock with the upper material sewn to the bottom, providing more rigid support. Also, the Vibram sole seems water-resistant to keep my socks dry when walking on a small puddle of water.
I love the rubber lugs designed on the Vibram sole as they grip hard on both hard and soft grounds. Additionally, these boots feel comfortable because they have breathable mesh linings and a lightweight ripstop textile upper. Looking closely, I found no metal hardware, so they seem easy to pass on metal detectors.
Heads-up:
However, these boots are pretty wide for me. They seem to leave a lot of room inside, so I need to tighten the laces constantly.
Pros:
Feels warm and breathable to use during the cold
M-Select DRY membrane wicks away moisture
Made of waterproof leather and lightweight ripstop fabric upper
Strobel construction creates a sock to keep the boots watertight
Built with water-resistant Vibram sole with lugs to grip well
Comfortable to use with the mesh linings and safe to pass on all metal detectors
Cons:
Looks a bit wide, leaving more room inside
Bottom Line:
Altogether, the Merrell Moab 2 Mid Tactical Boots have enough toughness to withstand the cold and rain. Every aspect is made to keep the feet dry and cool, like the Strobel construction and M-Select waterproof membrane.
What to Look for When Buying Waterproof Tactical Boots
Buying the right waterproof tactical boots for your needs makes a huge difference in your performance and comfort. If you want to shop around for more options, here are essential factors to consider.
Comfort And Support
If you intend to walk or run uphill, look for lots of ankle support to prevent injuries. Also, a rigid shank between the outsole and midsole helps reduce the load of your feet. The top-tier military boots for ankle support have removable footbeds and shock-absorbing midsoles.
As possible, look for a cushion on the midsoles to prevent blisters, but not too much that you feel uncomfortable when walking. Many hikers prefer boots that are evenly cushioned. For great ease of use, look for side-zippers so you can slip your feet without lacing the boots.
Weather-Proof
Waterproof tactical boots have weather-minded features in mind. If you plan to use the boots in wet environments, look for a waterproof exterior to keep your socks dry. You don't want to sweat inside the boots, so look for a breathable mesh upper to promote proper ventilation or a waterproof liner to wick away the moisture.
Boots with light insulation and full waterproof protection are the best when going to the forest. You need more insulation and complete waterproofing protection when using the boots on the snow.
Size
Ensure that your waterproof tactical boots provide adequate space for your toes to move around. On some occasions, your feet might swell, so take that in mind.
To get the best size, put on the boot without lacing and zipping, then slip two fingers between your heel and the back of the boot. If you can fit those two fingers, then the boot is probably a nice fit. Your feet shouldn't be slipping when you try to jump or walk on the tied boots.
When buying online, you can refer to the product's sizing chart. The difference between US shoe size and UK size is only around two sizes for women and 0.5 sizes for men.
Construction And Materials
You want the tactical boots to be made of durable and lightweight materials. The material can vary from genuine or synthetic leather. Full-grain leather appears to be stronger than its synthetic counterparts, while high denier count nylon fabric shows high wear resistance.
If you want the boots to be more watertight, try to look for a welt construction that adds extra stitching. A Strobel construction also prevents water intrusion with its sock-like seal. For outsoles, look for something made of rubber to prevent slips and falls.
The lugs may depend on the trails that you're planning to take. To ensure that the boots can walk on any surface, look for all-terrain outsoles with shallow lugs and different tread patterns. Hiking on loose surfaces, like mud and gravel, requires boots with deeper lugs, while slippery terrains need a more angular tread.
Midsoles are commonly made of EVA and polyurethane. The latter is slightly more durable, but it's heavier with less cushion. If you want to run more comfortably, EVA is a better option.
Can Tactical Boots Get Wet
Unless tactical boots don't have a waterproof membrane, they can get wet, especially when soaked in the rain.
To waterproof tactical boots, consider applying a waterproof gel or wax onto full-grain leather. You can also look for tactical boots that are marketed as waterproof.
Which Tactical Boots Are Most Waterproof
The best waterproof tactical boots are designed with a waterproof membrane and watertight construction. In this article, some of the most waterproof tactical boots include Smith & Wesson Footwear Breach 2.0. FREE SOLDIER, and Bates DuraShock.
Does the Military Use Waterproof Tactical Boots
Yes, they do because these boots can effectively keep the feet dry from a wet environment. The Bates Waterproof USMC combat boot is the military-approved model for waterproof boots.
Conclusion
If you like to keep your feet warm and dry at work or in any outdoor activity, a good pair of waterproof tactical boots should be on your shopping list.
My top choice as the best waterproof tactical boots is the Smith & Wesson Footwear Breach 2.0 because they're truly reliable on any given occasion. Their HydroGuard waterproof membrane also guarantees your feet to be dry.
For something more urban-style, the FREE SOLDIER Men's Tactical Boots might be a more suitable pair. Both the interior and exterior are waterproof coated, so they can serve well under rainy conditions.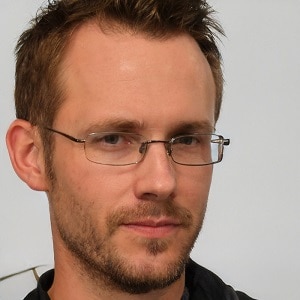 I am Everett Bledsoe, taking on the responsibility of content producer for The Soldiers Project. My purpose in this project is to give honest reviews on the gear utilized and tested over time. Of course, you cannot go wrong when checking out our package of information and guide, too, as they come from reliable sources and years of experience.