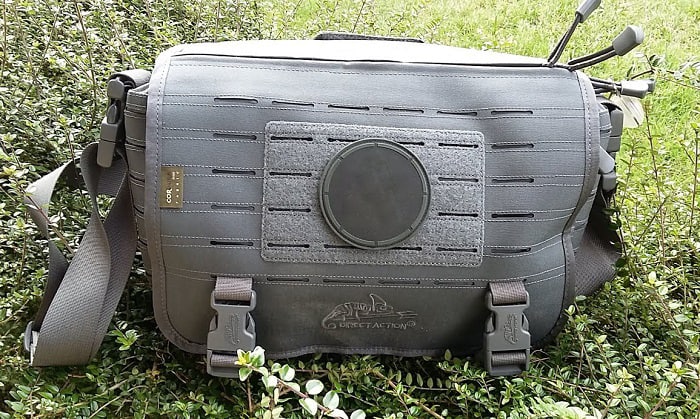 Gone are the days when messenger bags were only good for carrying mail. Today, these bags can carry a laptop, pistol, and other gear. The best tactical messenger bag features multiple pockets and a functional Molle webbing to carry plenty of stuff.
One of the benefits of owning messenger bags is quick access to stuff. They're easy to carry around since they're virtually lightweight and designed with a thick, adjustable shoulder strap. Best of all, these bags are pretty durable with their rugged construction.
When purchasing a tactical messenger bag, here are a few things to consider:
Material: Check the fabric, zippers, and stitching of the bag. Make sure that the fabric feels rugged and heavy-duty, and as possible, water-resistant fabric to endure any weather outside. The zippers should be strong, and the stitching perfectly made to keep the entire bag intact.
Pockets And Compartments: Most tactical messenger bags have plenty of pockets and compartments. More pockets don't essentially mean better because what matters most is their served purpose. Think of how much gear you're planning to carry, so you can choose a bag that can fit all that stuff efficiently.
Molle Webbing: For extra storage, a Molle webbing shines. This system allows the attachment of additional pouches and gear outside of your bag.
All of these things are important, but there's still more to learn about these practical bags. Get more informed with our buying guide below. Also, get insights into the top-rated tactical messenger bags available on the market today.

---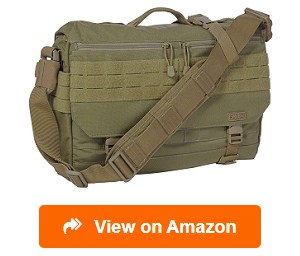 5.11 Tactical Messenger Bag
Comfortable to wear
Has a luggage handle
Water-resistant nylon fabric
---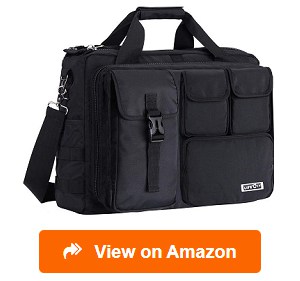 Lifewit Military Messenger Bag
Plenty of front pockets
Comes with a pen sleeve
Adjustable shoulder strap
---
GES Tactical Messenger Bag
Handles feel heavy-duty
Can endure any weather
Shoulder strap can be hidden
---
Top 11 Tactical Messenger Bag Reviews
1. 5.11 Tactical Rush Delivery Messenger Bag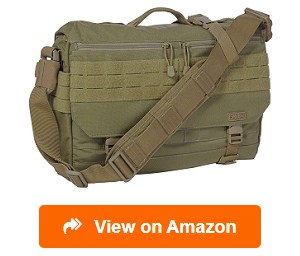 5.11 Tactical Rush is one of the best tactical messenger bags for men with its multiple compartments and super resilient construction. This one is made of water-resistant 1050D nylon, making it a good waterproof messenger bag for any environment.
This delivery messenger bag features a padded laptop sleeve to store sensitive electronics and a front admin panel to make small EDC gear within reach, like flashlights and keys. It comes with an integrated quick draw compartment, which I love to store my pistol for easy access. Additionally, the main compartment has sufficient space to fit my documents and other tactical gear to last for the day.
One of the bag's key features is a wrap-around web platform that allows the upgrade of more gear storage. It's also very comfortable to wear, thanks to its ambidextrous cross-body stabilizing strap for users to switch between right or left shoulders. I like that the detachable shoulder strap is wide and well-padded to reduce shoulder pressure when I'm carrying heavier weight.
I was surprised to find a luggage handle attachment because it makes this bag even easier to handle. There's a concealed back pocket for valuables, plus expandable side pockets to carry water bottles. Since I like to personalize my bag, I appreciate the Velcro patch slot on the front.
Heads-up:
The only thing I dislike is the Velcro strip on the back pocket because it's a bit loud when you rip it open.
Pros:
Comfortable to wear with the removable padded shoulder strap
Crossbody stabilizing strap balances the weight for easier carrying
Offers ample space to carry all gear and concealed weapon
Entire bag feels solid with the water-resistant nylon fabric
Quick-draw compartment and front admin panel offer quick access to stuff
Has a luggage handle, water bottle pocket, and Velcro patch slot
Cons:
Velcro closure may create noise when we rip it open
Bottom Line:
Overall, the 5.11 Rush is a well-constructed bag with its water-resistant material and comfortable shoulder strap. This top rated tactical messenger bag also has the best design of quick-access pockets.
2. Lifewit Military Laptop Messenger Bag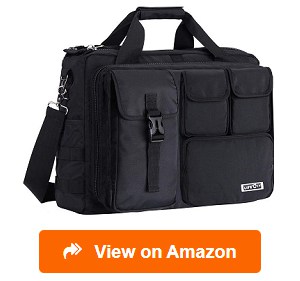 Lifewit is a small tactical messenger bag with a 17-inch laptop compartment. I like that the laptop pouch inside the main compartment has an anti-collision isolation pad to protect the device from shocks and impacts.
The material is crafted from water-resistant nylon fabric with SBS zippers that slide up and down smoothly. I like that the zippers open and close together at the top opening for easy access to items. The seams look reinforced, so I don't have to worry about accidental rips and tears.
This tactical laptop messenger bag looks roomier than it appears. It has many deep pockets, like four at the front, two at the sides, and four at the interior to hold valuable items. I love the pen sleeve design as it makes the pens easy to access, plus the built-in key holder and dedicated file section can hold my papers securely.
I'm most delighted with the large side pockets because they can hold any water bottle size, including a 12-16oz thermos size coffee mug. The loops also come in handy in attaching my sunglasses. Best of all, this bag comes with an adjustable strap with a breathable pad to reduce pressure for easy carrying.
Heads-up:
However, the shoulder strap isn't the best with this laptop bag. The strap tends to slip occasionally, so we need to readjust it constantly.
Pros:
Plenty of front pockets for quick access to items
A a laptop sleeve to keep laptops and other electronic devices secure
Made of water-resistant and tough nylon fabric with smooth zippers
Has a built-in key holder and water bottle holder on each side
Adjustable shoulder strap comes with a breathable pad for extra comfort
Comes with a pen sleeve to keep the pens from going to the bottom
Cons:
Shoulder strap may slip occasionally
Bottom Line:
All in all, Lifewit is an excellent carry bag to hold laptops and other items for everyday use. It also offers plenty of compartments and pockets to fit all our gear for the day.
3. GES Tactical Briefcase Messenger Bag
GES is the most favorite tactical briefcase with its padded laptop compartment and multiple utility pockets. This tactical military messenger bag is well constructed and looks rugged with its army green color.
There is plenty of space and little pockets all around. I believe that the padded sleeve can fit a 15.6-inch laptop and be secured well with an internal anti-collision isolation pad. I found four utility compartments at the front, which are good for storing my cell phone and other small items.
The construction feels sturdy because I've used the bag in all seasons, and it's still pretty intact. I think the 600D nylon fabric is integrated with a water-repellent line to protect the items inside from moisture. Both sides of the bag have a Molle webbing, so it's easy to hang other gear and pouches.
This minimalist messenger bag is simple to grab and go-we can use this briefcase either as a carry bag or a shoulder bag. I feel that the handles will last under heavy use because they're sewn tightly. Fortunately, concealed pockets on the rear and sides can hide the shoulder straps when not in use.
Heads-up:
My only dislike is that the bag tends to tip over if I put too many items in the front. To avoid this problem, move our things on the rear and don't overstuff the front pockets.
Pros:
Can endure any weather, thanks to its water-resistant nylon construction
Molle webbing at the sides can fit extra gear and pouches
Offers multiple pockets and compartments to fit items
Can help secure a 15.7-inch laptop with a special isolation pad
Easy to carry either by hand or shoulder
Handles feel heavy-duty, and shoulder strap can be hidden
Cons:
Might tip over when overstuffed at the front
Bottom Line:
Altogether, the GES Tactical Messenger Bag seems to be a heavy-duty bag with its high-quality materials and construction. It offers plenty of pockets and compartments to keep your things organized, including a 15.7-inch laptop.
4. SOG Responder Bag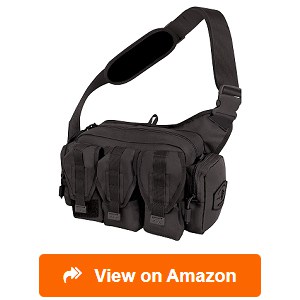 This SOG Responder Bag is a lightweight bag with dedicated magazine pouches that hold up to six AR magazines. It can also store other items in the main compartment and two side pockets.
It's easy to access the ammo pockets because they're located outside at the front. Inside, I found some Molle channels to add extra accessories and organize all my tactical gear. There's plenty of space to store my eyewear protection and ear muffs for target shooting.
This tactical sling bag seems to hold up well against the extra weight and constant abuse. I find no fraying, no tears, or loose threads, so I think this one makes a solid tactical messenger bag in the long run. Thanks to its adjustable shoulder strap with quick-release buckles it's also comfortable to wear on either side of the body.
This bag won't hurt even when it's near my body because the back part is made with padded mesh. There's even a Velcro patch panel to hold my favorite morale patch outside the bag. Considering the quality, I can't believe that it comes at an affordable price.
Heads-up:
However, this bag has a limited capacity, which can be a bit inconvenient if we bring more items to the range or field.
Pros:
Built with accessible magazine pouches for ammo storage
Has Molle channels inside to carry more gear
Seems to be made with a heavy-duty construction
Padded, adjustable shoulder strap makes it easy to carry
Back part has a padded mesh for extra comfort
Comes with a reasonable price and a Velcro panel for customization
Cons:
Capacity is not very spacious due to its compact design
Bottom Line:
Overall, the SOG Responder Bag makes excellent storage for our magazines and ammo. This bag is compact and carries easily with its padded shoulder strap.
5. ArcEnCiel Tactical Messenger Bag
ArcEnCiel can organize all our items in its four outside pockets and a main pocket with a separate section for a 14-inch laptop or any electronic device. This molle messenger bag also comes with a reliable Molle system for securing extra gear and pouches to last for a three-day outdoor activity.
The front vertical zipped pocket comes in handy in storing my wallet because it looks concealed. The side zip pocket is spacious enough for my pack of cigarettes, while the plug buckle pocket can hold my notebook and smartphone securely. For credit cards, I found the front zipped small pocket to be the best place to hide.
I love the 1000D nylon fabric, especially the stitching that won't seem to fray easily. It seems sturdy because it didn't get any scratches when it hit a pointed object. Also, the material seems water-resistant as it didn't soak the items inside when I was caught in the rain.
The shoulder strap is covered with a soft material, so it's comfortable to carry around for long hours. It's also good that it's adjustable to help me customize the fit. Also, the bag comes with a USA flag patch to use for customization.
Heads-up:
If there's something to nitpick, it would be the lack of interior pockets. I wish there were more to hold more items for travel.
Pros:
Has a separate compartment for a 14-inch laptop
Offers multiple exterior pockets for easy access of items
Built with a Molle system to carry extra stuff to work or play
1000D nylon fabric is water-resistant and seems scratch-resistant
Adjustable shoulder strap feels comfortable to wear, thanks to the extra pad
Includes a USA flag patch for design
Cons:
Lacks more interior pockets
Bottom Line:
Altogether, the ArcEnCiel Tactical Messenger Bag can provide nice storage for our 14-inch laptop and other essentials in any outdoor activity. Since the material is tough, it can endure any environment and weather conditions.
6. SHANGRI-LA Tactical Messenger Bag
This multi-functional tactical messenger bag offers enough space for almost everything in our mission. I like to use it as a concealed carry messenger bag because it can securely carry a firearm on the rear part with the added hook and loop.
I'm a fan of the drawstring-closed main compartment because it stretches to fit a lot of gear. There's also a top lid which I find helpful in storing stuff that I want to access quickly, like a pen or flashlight. At the side is a water bottle pocket that can fit my hydro flask perfectly.
The material is made of 1000D nylon, which is tough against abrasions and tears. The fabric is coated with a water-resistant finish because it doesn't soak the water inside the bag. Also, the manufacturer offers a 2-year warranty, so I'm hopeful for its quality.
The sling strap feels comfortable to wear even when I hauled a moderate weight load. I'm impressed by how large and well-padded it is around the shoulder area. The bag is easy to put on and wear because it sits comfortably across my body, which is why it's one of my favorite sling bags out there.
Heads-up:
This model would have been perfect if it had a carry handle to relieve the shoulders when the weight gets too heavy to bear. For maximum comfort, I recommend loading this bag with a light load.
Pros:
Hook and loop rear area can hold a firearm
Expandable main compartment can fit plenty of items
Has a side pocket to hold large water bottles and a quick access top lid
1000D nylon fabric feels rugged for outdoor use
Provides a 2-year Manufacturer Warranty to reassure quality
Designed with a well-padded shoulder strap for comfort
Cons:
No carry handle to add more versatility
Bottom Line:
Overall, this SHANGRI-LA Tactical Messenger Bag makes a good compact bag to survive a day in the shooting range or hunting. This bag features a rear hook and loop compartment that can hold the rifle, plus other pockets that are easy to access.
7. Savior Equipment Tactical Double Pistol Bag
Savior Equipment provides a dedicated pistol bag to fit all our gear at the range. This is a great CCW messenger bag because it features a concealed carry holster and mag slots inside that won't catch any unnecessary attention.
I like the extra cushioning of the interior because it makes the pistol fit snugly and shield against bumps. Users can store two pistols and six magazines inside. As for the front pocket, I was surprised that I could fit plenty of stuff, like eyewear and ear protection gear.
The best part is that you can lock this bag to transport your firearms without any worries. The construction also appears to be tough with the 600D PVC shell and robust zippers. The stitching seems to be well-made, which must be why the manufacturer is confident enough to provide a lifetime warranty.
I like that this bag looks stylish and compact, so no one can tell that we're carrying a concealed weapon. The handles also feel comfortable to hold even when I take long walks. Best of all, the dark flat dark earth (FDE) color looks attractive to me.
Heads-up:
However, this one doesn't come with extra straps, unlike other bags. I just hoped that this pistol bag came with a shoulder strap for more versatility.
Pros:
Made of durable canvas and zippers
Can hold a concealed weapon, more specifically two pistols and several mags
Front pocket offers more room than expected
Can be locked down through the zippers
Looks stylish with its dark FDE color and compact size
Supports a lifetime warranty
Cons:
Bottom Line:
All in all, this Savior Equipment Pistol Bag is perfect for bringing at a shooting range as it can carry a concealed weapon, like two pistols, magazines, and a few essentials. More so, we can lock the bag to give us peace of mind while traveling.
8. Denlix EDC Single Shoulder Messenger Backpack
This tactical shoulder bag from Denlix is a helpful small bag that can store all items for everyday care. It's one of the most versatile bags with four-way carrying style- shoulder, chest, backside, and hand carry.
One of the key features of this tactical backpack is its reversible shoulder strap direction. Thanks to the two clips, I can switch between the right or left-hand side. Best of all, it's adjustable, making this bag very flexible to carry in any way I like.
I love the compact design of this bag. It's slim, yet it can carry multiple items in its main compartment and front pocket. I was able to fit my 9-inch tablet inside the bag, including a few keys and EDC tactical gear. At the side is a flexible pocket that can fit a water bottle.
The tactical bag seems to be well-put-together. There's a Molle system built at the front and side, so the storage capacity can extend anytime. More importantly, the Oxford fabric feels heavy-duty, and the zippers all work well.
Heads-up:
However, the shoulder strap still remains a bit long at its smallest length when used by my 12-year old nephew. I hope the strap could go shorter as it is.
Pros:
Compact and slim yet can carry a lot of gear
Versatile to wear- can be worn on the chest, backside, etc.
Reversible shoulder strap allows the bag to be worn either left or right
Adjustable strap can be customized for a more comfortable fit
Built with a Molle system to increase storage capacity
Feels durable with the upgraded Oxford fabric, and all zippers work great
Cons:
Shoulder strap is quite long even at its shortest length
Bottom Line:
Altogether, the Denlix Shoulder Bag is an excellent daypack for any occasion. This compact bag can carry essentials, like a water bottle and a few EDC gear; plus, it's versatile to wear in any way we like.
9. DYJ Tactical Briefcase Military Messenger Bag
This DYJ Tactical Briefcase features a special laptop compartment to keep our electronics safe and secure. There are seven additional compartments to make room for other important items, like a passport, iPhone, and clothes.
This tactical briefcase and laptop bag seems to be super well built. I enjoy the rugged 1000D nylon fabric construction because it's lightweight yet durable to last for heavy-duty use. I think it makes a good EDC messenger bag because the Molle webbing can fit extra attachments, and multi-functional compartments can keep essential items organized.
I feel secure putting my electronic devices on this bag, thanks to the shockproof padding all around. The front elastic straps are good for holding pens and pencils. Another plus is the elastic side strap that looks perfect for securing a water bottle.
We have two ways to carry this bag- carry handle or shoulder. Fortunately, the shoulder strap is adjustable and removable, so it won't get in the way when I use the carry handle. The strap is also thick and padded enough to relieve the pressure on my shoulders when carrying a heavyweight.
Heads-up:
However, I feel that the handles are a little small for my large hands. I had to use the shoulder strap when going for a long walk outdoors.
Pros:
Can fit a laptop and keep other items organized
Keep electronic devices safe with its shockproof padding built all around
1000D nylon fabric feels lightweight yet sturdy for constant abuse
Molle webbing allows the attachment of other gear
Elastic straps can fit pens, pencils, and water bottles
Designed with a carry handle and a thickly-cushioned shoulder strap
Cons:
Small handles seem a little small for large hands
Bottom Line:
Overall, the DYJ Tactical Briefcase makes safe storage for laptops and other electronic devices. The shockproof padding protects the devices from bumps and falls.
10. Huntvp Tactical Messenger Bag
For lightweight gear, this Huntvp crossbody bag might be a perfect choice. This bag wraps around our body comfortably while offering enough room for essential items for travel.
The front pockets are useful in keeping small items, like credit cards and wallets. Also, its side pocket can hold a cigarette box, while the back pocket fits my 10-inch tablet securely. I appreciate that the main compartment is roomy as it can fit my 14-inch laptop and other devices in the zipped divider.
That's not all because you can still put other stuff into the exterior using the Molle and PALS system. I was able to attach a water bottle bag and some ropes when I went hiking. The best news is that you can barely feel the weight because the shoulder pad is wide and thick.
The 900D nylon material feels strong as it doesn't get affected by abrasions. I have to praise the waterproof silky cotton inside because it effectively keeps my electronic devices free from moisture. With the addition of durable metal hardware, I think this bag can last for many uses.
Heads-up:
My only minor complaint is the shape of the bag. It seems like the bag has horns on the top where the straps are built.
Pros:
Has a good amount of pockets to hold items, like credit cards and cigarette box
Can fit a 14-inch laptop and other electronic devices
Molle and PALS pouch compatible to fit other things, like a water bottle pouch
Thick and wide shoulder strap feels comfortable to wear
Has a sturdy construction, thanks to its 900D nylon fabric and metal hardware
Interior waterproof cotton material keeps devices safe
Cons:
Appears to have horns on the top where the straps are attached
Bottom Line:
All in all, this Huntvp Sling Bag makes nice storage of essentials in a one-day trip. There are plenty of pockets to store essentials, like laptops and wallets. The Molle system seems strong enough to hold other pouches as well.
11. Voodoo Tactical 15-0150 Messenger Bag
This Voodoo tactical messenger bag is another subtle storage for a holster and a few mags. It features many pockets and compartments to keep other essentials at the range or other outdoor activities.
There's a rear pocket with an extra open document compartment to keep my files organized. I also find the side mesh pocket pretty convenient in keeping my water bottle readily accessible for use. Surprisingly, there's a tiny pocket and elastic loops attached to the adjustable shoulder strap for an extra storage option.
Inside the front panel, we can find many divisions for magazines and extra pockets for other stuff. The main compartment makes the largest room for our pistol and other gear. I like the fact that we can remove the inner pockets to make extra space for our belongings.
The shoulder strap is thickly padded in the middle, so it rests in our body comfortably. I'm most impressed by the carry handle because it's reinforced with a thick material to add durability. As for the material, I think that it's thick enough to last for constant beating outside.
Heads-up:
If there's something to be improved, it would be the design. I wish there were more flexibility to quickly access the item inside.
Pros:
Has a holster and double mag pouch for convenience
Features a rear compartment for keeping documents safe
Side pocket can fit a standard-sized water bottle
Adjustable shoulder strap feels comfortable and even built with an extra pocket
Inner pockets can be removed or used all to fit your gear
Top handles and fabric material feel sturdy to use in any environment
Cons:
Not very direct to access inner content
Bottom Line:
Altogether, the Voodoo Tactical 15-0150 is a sufficient bag to hide a pistol and a few mags. It's easy to carry around the shoulders and by hand with its durable straps.
What to Look for When Buying Tactical Messenger Bags
Looking at the plenty of choices on the market today, I think it will be a bit overwhelming to choose the perfect tactical messenger bag without proper knowledge. To aid your shopping needs, let me enumerate the important factors that you should look out for.
Fabric Material
The material is crucial for the durability of the bag. Tactical messenger bags are made from more than just your basic fabrics like cotton. The best materials for a tactical messenger bag are nylon, Oxford, or polyester because they can endure the elements.
Nylon bags are lightweight and wear-resistant, which is why they're popular materials for backpacks. If you want something more tear-resistant, look for Cordura or rip-stop nylon. Cordura is more heavy-duty but heavier than nylon.
Oxford fabrics are known for their great elasticity and high strength. They can keep their shape longer; hence they offer better protection from elements. However, they're not as breathable as their nylon counterparts.
Meanwhile, polyester is as lightweight as nylon but has less strength. This fabric is abrasion-resistant, though, and faster to dry. Also, polyester bags look better since they're resistant to color fading.
Besides the fabric type, check the denier count and choose something with a higher number. The most durable bag should at least have a 500D count.
Waterproof/ Water-Resistant
A bag holds all your valuable possessions, so you want it to be as safe as possible. Since you'll often be outdoors, look for a bag that's waterproof or water-resistant, at least to keep your belongings dry even when it rains.
Nylon bags are typically an excellent choice because they're often treated with a waterproof finish.
The best bags also feature a waterproof lining on the interior to protect laptops and other electronic devices from moisture. Others are also built with drainage holes to keep the water out of the bag.
Pockets And Compartments
Choosing the number and size of pockets depends on how much gear you're planning to carry. If you're planning to bring a laptop, look for a bag with a laptop compartment. Make sure that the size fits your laptop so it can hold your device more securely.
Other bags offer a water bottle holder, which I find useful in keeping you hydrated for the whole trip. When shooting at a range, look for a pistol holder and mag pouches. The pistol bags even allow you to lock them for more security.
More than functionality, consider the layout of these pockets. Make sure that they're quickly accessible, so you don't have to rummage through the bag when taking out something.
Style
The straps are the easiest way to differentiate a bag from another. A shoulder bag has a single strap, while a tote-style bag usually has two. To choose the best style, consider how you like to access the items or how you want to carry the bag.
A tote-style bag is easy to grab on the go. It also opens wider, meaning better access to items. However, the interior organization might be a little limited. There are, however, some good handbags with inside pockets to keep smaller stuff organized.
A shoulder bag, especially the crossbody type, helps disperse the weight across the body for easy carrying of heavy items. Since it'll be a hassle to open this bag widely, look for front or top pockets for quick access. Also, make sure that the shoulder strap is thick and well-padded to ease the burden.
Extra Features
One of the key features of a tactical bag is a Molle webbing that allows you to hook additional gear and pouches. This feature allows you to customize your gear to fit your mission. You can attach plenty of stuff, like a medical kit, mag pouches, and utility pouches.
For more personalization options, consider a Velcro patch panel to fit morale patches. Some tactical bags provide a free patch, typically in American flag design.
Price And Warranty
The price can be a big consideration if you're on a budget. As much as you want to save money, ensure that the bag's quality isn't compromised. Check the materials and features that you really need.
The warranty period can be an indicator of quality. Most manufacturers offer a longer warranty if it's confident that the product will last. For your peace of mind, choose a bag that offers a lifetime warranty.
Are Tactical Messenger Bags Out of Style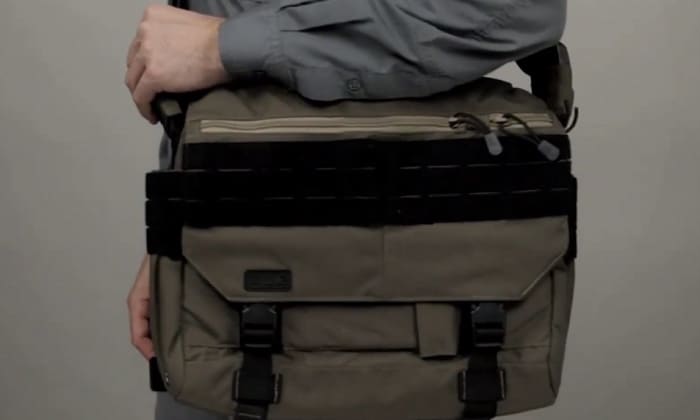 Not at all. These bags are still in style because they're practical to bring your everyday stuff. In fact, many laptop bags are crafted in the messenger bag style. The flap pocket offers additional protection for the device and another storage pocket at the same time.
These bags never go out of style because they provide easy access to items like wallets and phones. Students can also use messenger bags to carry books and papers, while parents can also use them to store diapers when going outside.
With the right materials and design, the messenger bag can be stylish. Canvas offers a smarter look in casual environments, while the camo colors look tough in military missions.
What Should I Carry in My Tactical Messenger Bag
There are so many things you can carry in your tactical messenger bag. The main compartment can hold larger items, like a laptop or documents. Some bags come with a pistol holder to hold firearms and mag pouches for ammo.
The front pockets are where you can place the items that you need to access quickly. This can include your phones, tablets, or wallets. Some bags also offer special compartments for pens and keys, while others feature a water bottle pouch to keep you hydrated.
Which is Better Tactical Messenger Bag or Backpack
A messenger bag is better for more covert missions. These bags can hide your pistol, ammo, and EDC gear in a briefcase-style appearance. Besides, they look professional, hence ideal if you travel to urban areas more frequently.
Backpacks are slightly better than your spinal health because the load is evenly distributed. They're more comfortable, thanks to the two shoulder straps that relieve the burden from your shoulders and joints. These bags also provide more security as thieves need to cut multiple straps to dislodge the bag from your body.
How Do I Stop My Messenger Bag From Sliding
One way to keep the messenger bag from slipping is to create a memory on its webbing. Cinch the webbing up snugly and roll the web ends up using Velcro tape or buckle. You can also attach a sternum strap to the shoulder strap and chest area.
Another way is to shorten up the strap. If your bag rests higher on your back, it'll be less likely to slip down.
Conclusion
For users who want to keep things light and handy, the best tactical messenger bag is ideal for their travel needs. My top pick is the 5.11 Tactical Rush because it's made of the strongest fabric material and multiple straps to keep the weight steady. All pockets and compartments are also carefully designed to be accessible.
To carry a laptop, we try the Lifewit or GES messenger bags. A SOG responder bag makes a nice EDC bag with its compact construction. Also, I recommend the tactical messenger bags from Savior Equipment and Voodoo to carry a pistol and a few mags.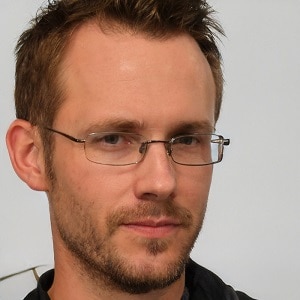 I am Everett Bledsoe, taking on the responsibility of content producer for The Soldiers Project. My purpose in this project is to give honest reviews on the gear utilized and tested over time. Of course, you cannot go wrong when checking out our package of information and guide, too, as they come from reliable sources and years of experience.