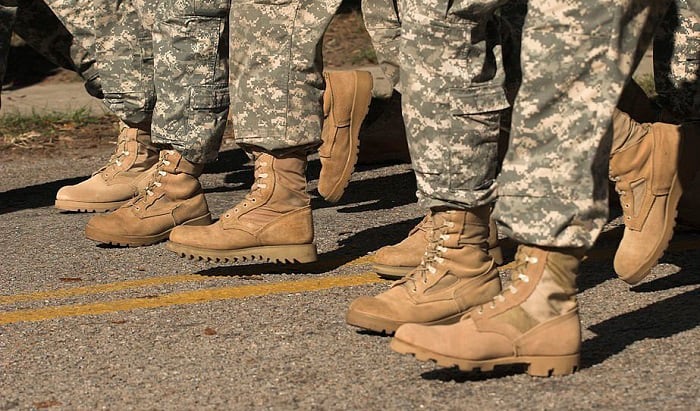 One essential tactical gear you should consider when hiking is a good pair of tactical boots. The best tactical hiking boots provide unparalleled ankle coverage to prevent injuries and provide protection from outdoor elements. They should be comfortable and durable to withstand the roughest terrain and conditions.
Tactical hiking boots are known for their rubber soles that offer excellent traction on any surface. We've seen plenty of these boots available today, so picking just one is a little overwhelming. To give you some insight, here are the features to look for in a good pair of tactical hiking boots.
Size: Tactical hiking boots are comfortable if they fit correctly. They should provide ample room for your toes and feel snug. Also, consider the upper's length to choose between a full-size 8-inch ankle coverage or a more agile 6-inch size.
Support: You'd want the best ankle support to prevent injuries and fatigue. Make sure that the boots are breathable enough to keep your feet sweat-free. The footbed should also absorb the shock in every step you take.
Material: Tactical hiking boots are either made of leather, synthetics, or both. Leather is more durable but heavier than synthetics. To get the best of both worlds, look for a leather and Cordura nylon upper combination.
The list doesn't end here. There are still plenty of things to consider when choosing the best pair of tactical hiking boots. Check our buying guide below, but first, let's review some of the top brands in the market today.

---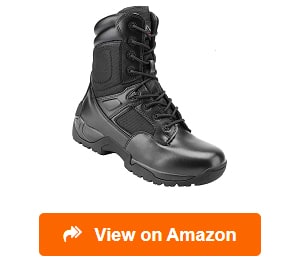 NORTIV 8 Men's Tactical Hiking Boots
Sharp-looking and not bulky
Water-resistant and well-insulated
EVA midsole and shock-absorbing
---
FREE SOLDIER Hiking Work Boots
Comfortable run or walk
Looks fantastic for casual wear
Waterproof coating & lycra liner
---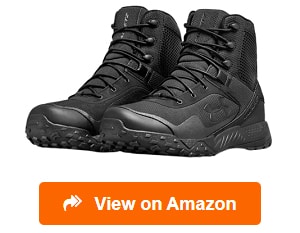 Under Armour Men's Tactical Boots
Protects feet from injuries
Medial zip for quick wear
Provides incredible ankle support
---
Top 8 Tactical Hiking Boots Reviews
1. NORTIV 8 Men's Military Tactical Hiking Boots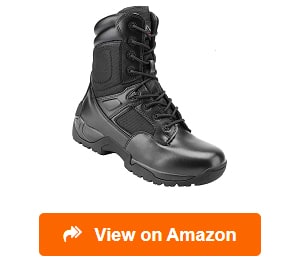 NORTIV 8 seems to be the perfect pair of tactical boots for winter. With great insulation, these combat hiking boots keep my whole feet dry, cozy, and warm.
Surprisingly, these mens tactical hiking boots don't need any break-in period to feel comfortable. They already feel nice with the mesh fabric and genuine leather construction. Also, I like that the fabric goes really high up my ankles and is well- cushioned with the added thick padded collar.
The toe area has a protective cap, so I'm not worried about hitting a hard object along the way. I also like the rugged rubber outsoles as they seem to be well-made for a good grip in all terrains. And I believe the boots are water-resistant, at least in puddles, so I'm confident in hiking after the rain.
My favorite feature is the side zippers because I can easily get these boots off after a long day. Thanks to the EVA midsole and shock-absorbent insole, my feet don't get tired at all. Best of all, the boots look sharp and not too bulky for a long mountain hike.
Heads-up:
However, the size goes larger than what I usually wear.
Pros:
Water-resistant and well-insulated to keep feet cozy in the cold
Provides excellent ankle support and collar cushion
With slip-resistant rubber outsole and protective toe cap
No need to break them in to feel comfortable with mesh and leather fabric
EVA midsole and shock-absorbing insole to reduce fatigue
Sharp-looking, not bulky, and easy to wear with the side zippers
Cons:
Size may run a little large
Bottom Line:
All in all, these military boots are fit for hiking with adequate ankle support and light construction. The best part is that I can use them straight out of the box as they don't need any break-in time. I just need to wear thick socks to eliminate the size difference.
2. FREE SOLDIER Waterproof Hiking Work Boots
FREE SOLDIER hiking boots are more than just a pair of combat boots, as they offer high protection and stability. These military hiking boots are tough and have a reinforced toe to protect my feet from injuries.
The best part about these boots is that they're waterproof. The outer surface has a waterproof coating to repel light splashes of water, while the inner lycra cloth wicks away the sweat. Because the gusseted tongue sits up high, nothing got inside the boots when I went hiking in the sand.
These waterproof tactical boots have a suede leather upper, which feels soft on the feet. The usage of 1000D Cordura nylon fabric on the sides makes these boots durable to wear in any terrain. I think I won't easily slip with these boots on because the geometrical patterns and the molded EVA midsole offer great traction.
These combat boots aren't behind when it comes to aesthetics, either. The cool design makes these tactical boots fitting for casual wear after a long hike. With a shaft height of six inches, it feels natural walking or running with them.
Heads-up:
However, these boots may feel a bit hard on the ankle area for the first few uses.
Pros:
Keep feet dry with waterproof coating and lycra liner
Has gusseted tongue and reinforced toe for protection
Incredibly durable with the 1000D Cordura and soft with the suede leather upper
Looks fantastic for casual wear and provides great foot traction
Feels comfortable to run or walk in with the 6-inch shaft
Cons:
May need a break-in period to soften up
Bottom Line:
Overall, these waterproof boots make a good pair for hiking during the summer. The materials are lightweight, breathable, and wick away sweat to keep feet comfortable.
3. Under Armour Men's Valsetz RTS 1.5 Tactical Boots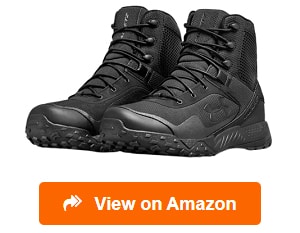 Under Armour offers extreme comfort, which is almost impossible to find in combat boots. These tactical hiking shoes look rugged and feel tactical, yet they're easy on my toes, thanks to their lightweight synthetic construction and soft padded midsole.
I love the combination of synthetic leather and textile upper because it's extremely comfortable on the feet. A welded PU film around the boot creates a shield against any pointy objects. I've walked in puddles and was surprised to find my wool socks still dry.
This pair of tactical boots have a medial zip, which is helpful in quickly putting the boots on/off in a hurry. I like how the UA ClutchFit ankle support system hugs my ankle, providing the best support when walking for long miles. The TPU toe cap feels soft on my feet yet protective enough to prevent injuries from sudden blows and impacts.
These tactical boots are perfect for long hikes because they fit great and feel really lightweight. The design also looks nice and perfect for casual wear, unlike other tactical boots I've owned. As for the size, it's pretty spot on.
Heads-up:
However, these boots make squeaky sounds as we walk. I don't mind the noise, but it's something to keep in mind before buying them.
Pros:
Feels lightweight with the synthetic leather and fabric construction
Medial zip for quick wear and removal
Provides incredible ankle support with its UA ClutchFit system
Water-resistant and abrasion-resistant, thanks to the PU film
Protects feet from injuries with its PU toe cap
Has a casual design and accurate sizing
Cons:
Bottom Line:
Overall, this pair is a great tactical boot option with its rugged appearance and lightweight construction. It can provide wonderful relief from long hikes with great ankle support and a comfortable design. Also, the pair looks good for casual wear.
4. Danner Men's Tachyon GTX Duty Boot
The Tachyon GTX is a lightweight boot that can endure the rigors of hiking activities.
Its construction comprises 100% leather and a 500 Denier nylon upper to offer both toughness and comfort on every trail.
The rubber outsole is durable enough to take on any terrain. It comes with pentagonal lugs that grip both soft and hard surfaces. Walking on puddles isn't a problem because the full-grain leather is waterproof, and the GORE-TEX liner helps keep my feet dry.
These boots feel like a pair of running shoes because of their lightness and flexibility. I love its wide-toe box as it gives me room to move my toes and prevent chafing after taking long hikes. And even though the toe box is wide, I'm surprised that my feet remain stable while walking on steep terrain.
I'm pleased that this pair of boots feel comfortable right out of the box. There's no need to go through a long break-in. Also, the toe area can take a shine, so I can wear these boots for hiking and patrol work looking like a boss.
Heads-up:
However, these Danner tactical boots might squeak for the first few uses.
Pros:
Made of tough 500D nylon and full-grain leather upper
Features pentagonal lugs on the rubber sole for exceptional traction
Keep the foot dry with waterproof leather and GORE-TEX liner
Lightweight and flexible with a wide toe box
Toe box takes shoe shine well
No need to break in as it feels comfortable out of the box
Cons:
May produce a squeaky sound
Bottom Line:
All in all, these boots are versatile as they're not only good for hiking but also work. This pair offers flexibility and lightness to endure the pressure of walking or running. Also, it can take a shine for a more professional look.
5. 5.11 Men's ATAC 2.0 Military Boot, Style 12393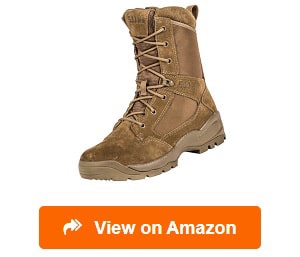 These 5.11 hiking boots are more casual with their lighter shade of dark coyote and full-grain suede toe. I like how these boots are comfortable and tough at the same time in the field.
Compared to the previous 1.0 versions, the 2.0 is more comfortable and lighter. The new Ortholite bed features an Achilles cuff and heel flex zone to cushion the feet for everyday wear. Despite all the new features, this pair still maintains the same level of durability with its shock mitigation system.
These military style hiking boots seem easy to put on, thanks to the YKK zippers at the side. Additionally, the outsole offers great traction on any surface, so it's safe to take on any hiking trail. Since it comes with a SlipSteam waterproof membrane, I'm confident about walking in muddy puddles and getting drenched in the rain.
What makes this pair distinct is the knife pocket that seems handy for survival. I can always keep a blade hidden to protect myself against any danger. Most importantly, the dark coyote color stands out in the field and matches well with any hiking attire.
Heads-up:
However, one should up half a size when ordering these boots.
Pros:
Looks casual with stylish dark coyote color and suede toe
Built with incredible ankle support and footbed cushion
Has a shock mitigation system
The outsole grips the ground well
Designed with YKK side zippers and a waterproof membrane
Has a knife pocket hidden for survival
Cons:
Bottom Line:
Overall, these desert boots offer a casual comfort to hiking adventures. The dark coyote pair has a light upper construction and superior support for long miles of walking. It even keeps a hidden knife pocket within reach.
6. Salomon Forces Quest 4D GTX 2 EN Tactical Boots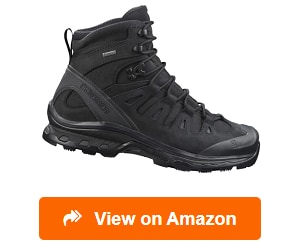 The Salomon Quest 4D GTX 2 EN offers great coverage on all fronts, with water-resistant materials and plenty of ankle support for long hikes. These waterproof boots seem to last long with their leather upper and puncture-resistant sole.
What I love most about these Salomon tactical boots is the sole design. The aggressive tread on the outsole makes me feel confident walking on any surface, whether rocky or wet. Every step is also easy, thanks to the EVA foam that absorbs the shock.
Compared to the Quest 4D Forces 2, the GTX features a breathable Gore-Tex lining, which helps keep my feet dry even when I walk in drenching rain. The tongue protects my feet from elements about five inches above the ground. I especially love the toe cap as it makes me feel safe that my feet stay secure from any sudden impact.
This pair of tactical boots fit like sneakers, so they're pretty comfortable to run in. Most importantly, the boots feel nice out of the box, so I don't need to go through any long break-in time. The speed lace system makes it easy to secure these boots in the wild.
Heads-up:
My only dislike is the price because it's in the higher-end range.
Pros:
Offers excellent ankle and footbed support, thanks to EVA foam
Built with a durable leather upper with waterproof Gore-tex lining
The outsole treads on any surface and is puncture-resistant
Feels secure with laces and needs little to no break-in time
Keeps feet safe, thanks to the tongue and toe cap
Cons:
More expensive than other boots
Bottom Line:
Overall, these combat boots can handle everything thrown at them. They're designed to endure the most rugged terrain and offer excellent support, all while maintaining a high level of flexibility to hike in harsh conditions.
7. Rocky Men's S2v Predator Military Boots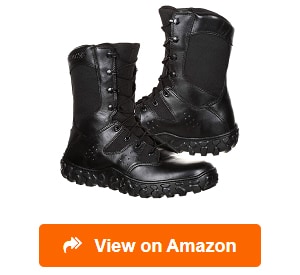 S2V Predator is the lighter version of the S2V RKC050, making it suitable for long-hours hiking. These military boots weigh under a pound but still pack excellent features that befit tactical operations.
These boots seem perfect to wear in the most challenging terrain with their full-grain leather and 1000D Cordura nylon upper construction. I highly doubt that these boots will fall apart because everything is triple-stitched tightly. Most importantly, I feel safe because the Roll-Stop Ankle Stability cushions my leg well.
Surprisingly, my feet stay dry even when I step into a puddle, thanks to the drainage vents that push the water out using the advanced S2V Sieve technology. The Dri-Lex lining also works well in keeping my feet sweat-free. With the fiberglass shank, I get the right arch support and flexibility to move quickly.
The grip of the rubber sole seems outstanding as I have no problem walking on ice. Moreover, the sole is constructed as one piece, so I'm confident it won't separate after rough hikes. This pair feels warm yet not suffocating on the feet with the vents and perforated footbed.
Heads-up:
My only dislike is the shape of the toe box. It's a little narrow, which may create restrictions for wide feet.
Pros:
Under a pound in weight
Dryness and comfort with moisture-wicking lining, perforated footbed, and vents
Superior construction of full-grain leather and 1000D Cordura nylon
Won't fall apart easily with triple stitching and one-piece sole
Gives great foot support with a fiberglass shank and ankle cushion
Rubber sole grips well on any surface, including ice
Cons:
Bottom Line:
Altogether, the S2V Predator is one of the most rigid hiking boots with solid construction. This pair of boots also offers incredible foot support for rough hikes and quickly dries feet from moisture.
8. Adidas Men's GSG-9.2 Training Shoes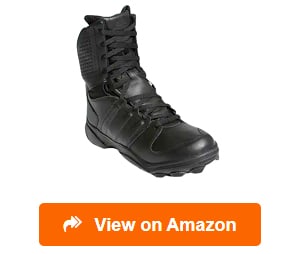 The GSG-9.2 is tactical footwear built with hiking operations in mind. The rubber outsole intensely grips every surface, while the abrasion-resistant leather upper improves athletic performance.
These lightweight tactical boots come with a water-resistant treatment, so I'm not afraid to walk onto puddles. The seam-sealed membrane effectively keeps the water out, while the breathable Climaproof material dries my feet quickly. In cold weather, I like that the boots are well-insulated to keep my feet feeling warm.
The lugged TRAXION outsole offers the grip that I wanted for muddy trails. The rugged lugs securely grip the ground to keep my footing steady. Exclusive to this brand is the adiPRENE elastic material under the heel, which offers cushion and absorbs impact in every step.
The best part about these boots is they feel as light as tennis shoes, making them perfect for long hikes. Slipping them on is also as easy as putting on my sneakers. I can wear them for extended periods without feeling fatigued, and they look fabulous with the long tongue design.
Heads-up:
However, the sizing may run small, especially if one has wide feet.
Pros:
Abrasion-resistant leather upper
Water-resistant and well-insulated for the cold weather
Keeps feet dry with the sealed membrane and Climaproof
TRAXION outsole comes with deep lugs to offer an excellent grip
adiPRENE cushion provides outstanding support under the heel
Lightweight and easy to wear with a long tongue; doesn't cause fatigue
Cons:
Size comes a little small
Bottom Line:
All in all, the GSG-9.2 seems to be a solid pair of boots for the cold weather. These hiking boots are well-insulated and provide the best support for long hikes. They're boots yet as lightweight as sneakers.
What to Look for When Buying Tactical Hiking Boots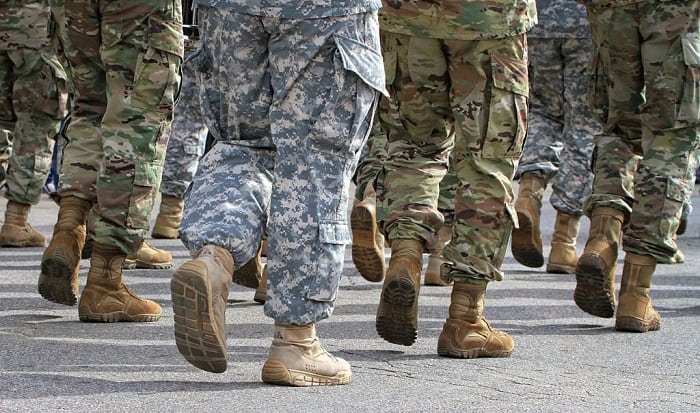 It's crucial that you find the right pair for hiking because the success of your mission depends on them. You won't be able to reach your destination if your hiking boots drag you down.
Here are some things to consider to ensure success when looking for the best pair of tactical hiking boots.
Tactical hiking boots typically have a design that's different from other kinds of shoes. For this reason, you need to know the size of the boots you wear. Measure your foot's width, length, and arch length. The boots should fit correctly to prevent coming home with blisters after a long hike.
How far the boots go up your calf is another important factor to consider regarding their comfort and support. Boots' calf lengths are either six or full-size eight inches.
Eight-inch boots: This full-size length is perfect for additional protection and support. It's perfect if you want to go hiking with your legs exposed.
Six-inch boots: These boots are shorter but feel lighter and more natural than their eight-inch counterparts. They still offer decent ankle support and stability for hiking through rough terrain.
Military boots for hiking use different materials for uppers. The most popular choices are leather and synthetic materials, both offering incredible abrasion resistance.
Synthetic boots are generally lighter than their leather counterparts. They also need a shorter break-in time but are less durable in extreme environments. The most popular synthetic material is Cordura, which offers a sturdy wear performance.
Leather boots are remarkably durable. However, they need a longer break-in time to soften up. Without a waterproof coating, this material may absorb moisture and become heavy.
Here are some different types of leather.
Full-grain leather may cost higher than other materials, but it provides the best protection against snow. This type also feels comfortable in hot weather conditions, especially when infused with nylon.
Nubuck leather is a more flexible variant of full-grain leather. This type of leather feels as comfortable as suede and offers high levels of water resistance.
Suede is known for its soft, smooth surface. It's thin, so it's not as durable as other forms of leather.
The best hiking boots use leather and Cordura nylon for the upper. This combination makes the boots lighter to wear for long periods.
If you want a pair of durable boots, look at the construction closely. Look for reinforcements on the weak points.
The soles should be thick enough to endure the most demanding terrains. Plus, it should be slip-resistant with lugs to avoid slipping on wet or slippery trails.
The midsole is either made of ethylene-vinyl acetate (EVA) or polyurethane (PU). PU is a more durable material, while EVA offers more support. An EVA midsole becomes more durable when it's injection molded.
If the boots have nylon, it should come with a higher denier count to handle long-term abuse. If you choose leather, make sure it's genuine to ensure extreme durability.
Foot Support And Protection
High-quality tactical boots feature excellent ankle support to keep your feet stable while walking downhill. With the proper ankle support, you reduce the risk of injuries when you accidentally roll your ankles. Consider getting high-ankle boots if you plan to hike on rough terrains.
A reinforced shoe tip is helpful to protect your feet from any blows or impacts. This feature is especially important if you hike on rocky trails or move downhill.
The most comfortable tactical boots are lightweight. They should be as light as your sneakers so you can walk and move downhill easily.
The best boots also don't need a break-in time. They feel soft right out of the box. Except for jungle boots, most tactical boots feel comfortable after breaking them in.
Moreover, look for great insulation to keep your feet warm when hiking in cold weather. Don't forget proper ventilation and breathability to promote better airflow. Some of the best boots offer vents and moisture-wicking liners to keep your feet dry.
Finally, for great ease of use, look for side zippers and speed-up laces. Synthetics are better materials for laces as they don't absorb moisture like cotton.
Can I Use Tactical Boots for Hiking
Yes, you can definitely use tactical boots for hiking because they work under tough situations while keeping you mobile and comfortable. You can take on any rough terrain, and these tactical boots will protect your feet from injuries. These products are known for their great ankle support and non-slip sole.
Are 5.11 Good Hiking Boots
Yes, 5.11 are absolutely good hiking boots because they're rugged yet lightweight enough to prevent foot fatigue. Many of their features help you make your hiking convenient, such as a waterproof membrane and shock-absorbing foam. This brand also uses a breathable material to keep feet dry.
What Hiking Boots Do Special Forces Use
Special forces use high-performance boots like Asolo and Salomon that offer flexibility and protection. Special forces hiking boots are typically durable to withstand the toughest conditions. Often, these boots are waterproof and abrasion-resistant.
Conclusion
Choosing the best tactical hiking boots is tedious as many brands are available today. All the boots we reviewed above are a cut above the rest, but our top recommendation is the FREE SOLDIER Hiking Boots. This pair is incredibly durable, comfortable, and waterproof.
The NORTIV 8 might be a good alternative if one likes full ankle protection. These boots are well-insulated, so they're perfect for hiking in the cold. Regardless of your choice, make sure that it properly fits and provides the support you need.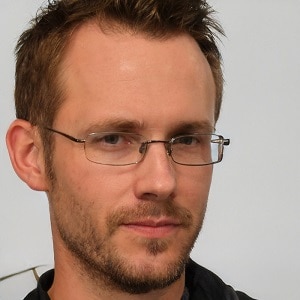 I am Everett Bledsoe, taking on the responsibility of content producer for The Soldiers Project. My purpose in this project is to give honest reviews on the gear utilized and tested over time. Of course, you cannot go wrong when checking out our package of information and guide, too, as they come from reliable sources and years of experience.