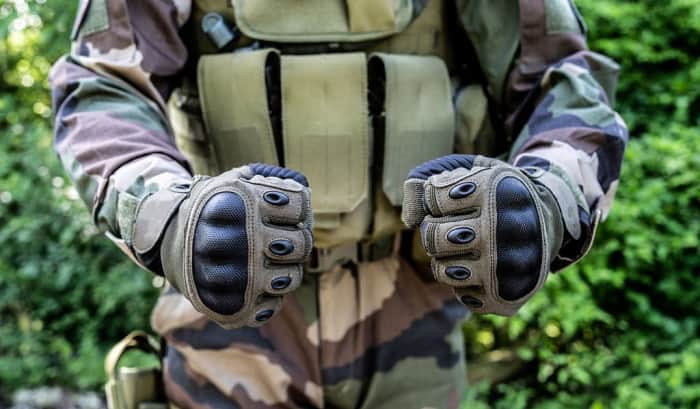 Tactical gloves aren't your ordinary gloves because they're designed to protect your hands from the cold, cuts, and abrasions.
The best tactical gloves shield your hands from potential harm without compromising dexterity and tactile feel. Anyone can use tactical gloves, from military personnel to ordinary folks who camp or hike.
Today, tactical gloves have evolved to provide the right balance of durability and comfort. There are so many options available, so here's a brief overview of the important things to consider when buying the best pair of tactical gloves.
Fit: You want the gloves to fit snugly but not too tight that they can cause blood constriction nor loose that they impair your dexterity. Take the time to check the glove sizing chart and get actual measurements. You also need to consider whether the size runs small or big.
Material: Look for durable materials to withstand the rough situations outdoors. These materials should be breathable to keep your hands sweat-free and stay cool in the summer. Most tactical gloves are nylon, neoprene, and microfiber leather with Velcro straps and sometimes hard knuckles.
Dexterity: As much as you want a durable pair, make sure that they don't compromise your dexterity. Look for a material that feels close to the skin with slits on the knuckles. With such a pair, your fingers can bend fully.
I know it's difficult to distinguish a genuine military-tested tactical glove from a sea of fake brands, so we've come up with a complete buying guide below. But first, let's review 12 of the top brands of tactical gloves that deliver what we're looking for.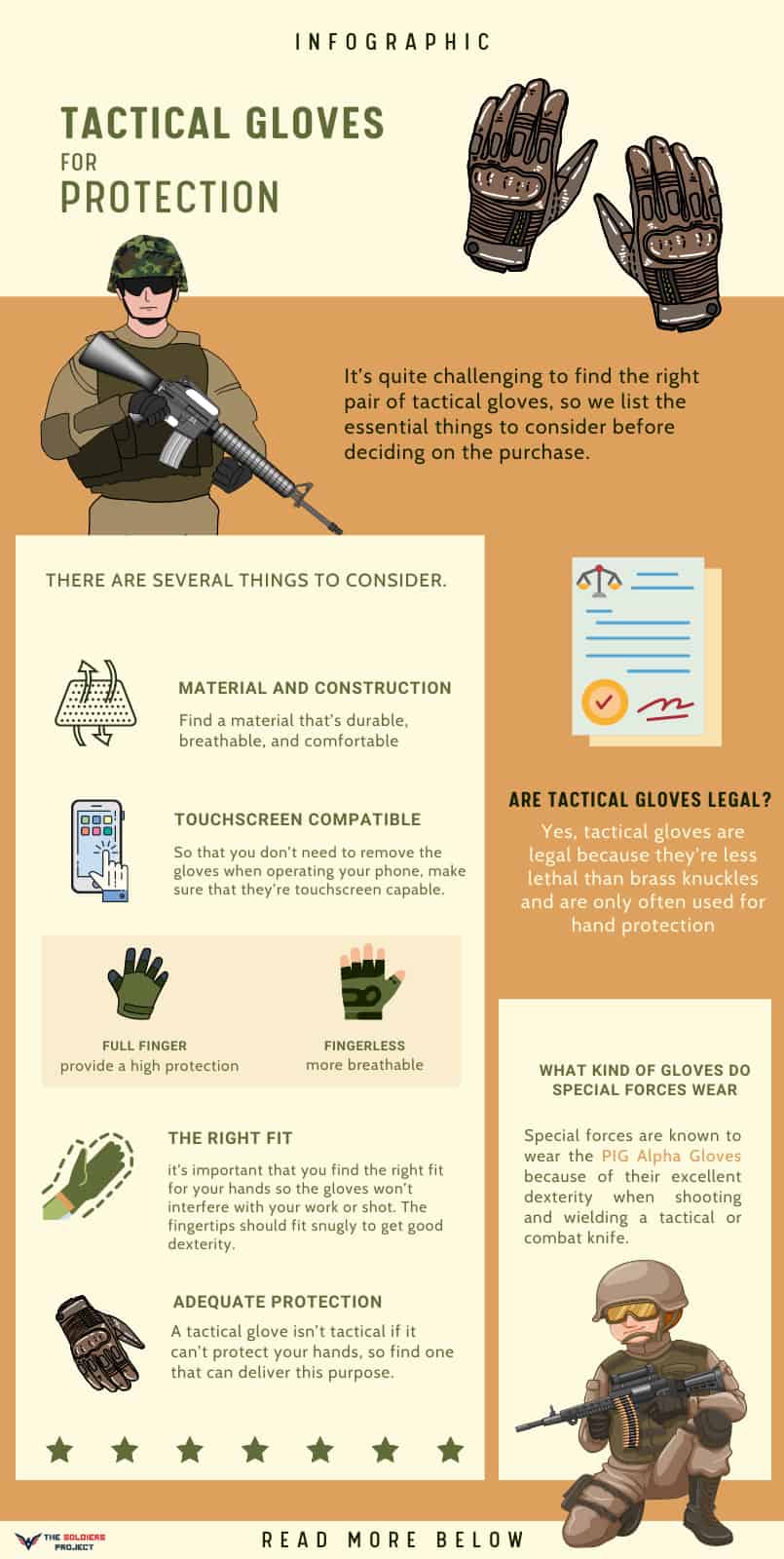 ---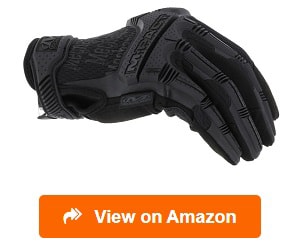 Mechanix Tactical Gloves
Lightweight, rugged construction
Have notches to hold the trigger well
D30 palm padding offers excellent grip
---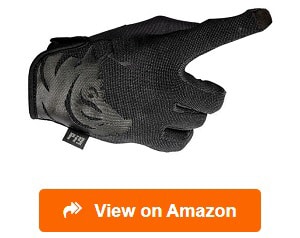 PIG Dexterity Tactical Gloves
Thin, single-layer material
Breathable and lightweight
The wrap-over fingertip design
---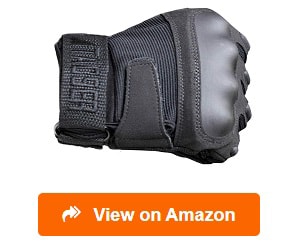 TAC9ER Tactical Gloves
Feels warm and comfortable
Has good abrasion resistance
30-day money-back guarantee
---
Top 12 Tactical Gloves Reviews
1. Mechanix Wear M-Pact Covert Tactical Gloves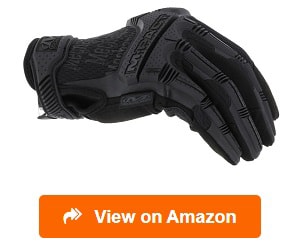 M-Pact from Mechanix Wear feels more rugged than most tactical gloves, making them my favorite tactical work gloves. They're also pretty lightweight, considering how tough they are when dealing with hazards.
The thermoplastic rubber finger and knuckle guards seem to provide adequate protection from impact. They're segmented, providing me enough flexibility to move my fingers with ease. After working these tactical duty gloves in the rain, I'm pleased to discover that the fingertips haven't hardened at all.
The D30 palm padding offers a firm grip on working objects. I can touch my garage tools and change the magazines without restriction. Furthermore, these black tactical gloves have padding-less trigger fingers with notches carved into the tips. Therefore I can still fire a rifle at the shooting range well.
During the cold weather, these awesome tactical gloves can offer some basic warmth and stop the biting wind. The top part is made of a thick mesh, which offers great breathability in the summer. I noticed a reinforced layer on the thumb and index finger, adding extra durability and protection from common blisters.
Heads-up:
However, these top tactical gloves may emit a slight rubber smell straight out from the package. I recommend washing and airing them out for a few days.
Pros:
Has a lightweight, rugged construction with a reinforced layer
Thermoplastic knuckle and finger guards offer impact protection
Flexible and won't harden after getting wet
D30 palm padding offers excellent grip
Padding-less trigger fingers have notches to hold the trigger well
Provides basic warmth in the cold weather and breathability in the summer
Cons:
Bottom Line:
Overall, Mechanix Wear M-Pact makes a good pair of work gloves with flexibility and adequate protection. These tactical duty gloves win the looks department as they provide hand protection without the bulk of hard knuckles.
2. PIG Full Dexterity Tactical Delta Utility Gloves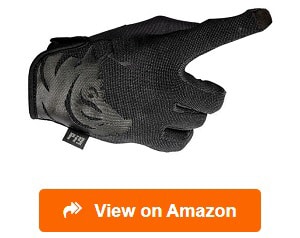 The PIG Delta Gloves are my favorite combat gloves as they offer the most dexterity. They're super thin next to skin feeling, which lets me handle rifles and handguns with much precision.
These thin tactical gloves only have a single layer of material with the thinnest part at the trigger finger for accurate shooting. I can even reach my pockets with much ease as the knuckle padding is also thin.
There's also no problem touching my phone screen because the thumb and forefinger are sensitive. The conductive fingertip allows maneuvering our phones without compromising tactical dexterity.
Thanks to the roll-over fingertip design, I feel comfortable wearing the gloves all day long. I experienced no sweating of hands, probably because the inner fourchettes are well ventilated. These gloves feel so lightweight that I forget that they're even there.
These full-finger tactical gloves offer a snug fit but not constricting at all. I appreciate the paracord pull loop and the elastic wrist the most, making it easy to pull the gloves on. Best of all, the sizing is spot-on.
Heads-up:
However, the lack of a wrist strap may not secure the glove on the hands properly.
Pros:
Offer full dexterity to shoot accurately; breathable and lightweight
Made of a thin, single layer of material to feel the trigger
Thin knuckle padding makes it easy to reach the pockets
Thumb and forefinger are sensitive to operate touchscreen devices
Comfortable to wear with the wrap-over fingertip design
Easy to wear with the paracord pull loop and elastic wrist; comes true to size
Cons:
Bottom Line:
Altogether, these PIG Full Dexterity Tactical Gloves protect the hands without losing dexterity, making them perfect at the shooting range. They feel lightweight and breathable, so they're comfortable to wear even on a hot day.
3. TAC9ER Kevlar Tactical Gloves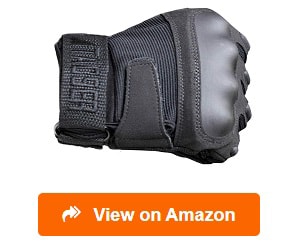 These TAC9ER tactical kevlar gloves remind me so much of my old Top Tactical Gear Gloves with their hard knuckles. I like that the hard plastic knuckles have some flex to provide dexterity.
What makes these tactical combat gloves special is the reinforced palm grips that offer excellent protection from injuries. The Kevlar lining seems effective enough to protect my hands from cuts of sharp objects when I go hiking in the wilderness.
Also, I tried using these warm tactical gloves in winter, and they protected my hands from the cold well.
The neoprene material seems breathable and non-slippery, thus helping me maintain my balance when I scrambled up on the mountains. They also feel comfortable as my hands didn't feel constricted when maneuvering things or sweat. I'm also pleased that the capacitive touch works well on my smartphone.
These hard knuckle tactical gloves feel solid, from the material to the stitching. I'm confident of the quality of these hard knuckle gloves because they offer a 30-day money-back guarantee and a 5-year warranty.
Heads-up:
The only warning for new buyers considering this product is the sizing because it seems to run a little small. I recommend users get a size larger.
Pros:
Reinforced palm grips and Kevlar lining has good abrasion resistance
Neoprene material breathes well in the summer and anti-slippery
Feels warm and comfortable with excellent capacitive touch
Durable with the double stitching and durable materials
Supports a 30-day money-back guarantee and 5-year warranty
Cons:
Runs a little smaller than standard
Bottom Line:
All in all, TAC9ER is a great pair of tactical fighting gloves because the hard knuckles and Kevlar lining can protect hands from altercations. These hard knuckle tactical gloves also work well in providing warmth and comfort in any outdoor adventure.
4. Mechanix Wear The Original Covert Tactical Gloves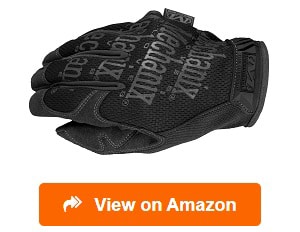 The Original from Mechanix Wear offers another exceptional dexterity for work and shooting guns. For how thin these military gloves are, I'm surprised that they're warm enough to keep me comfortable in cold temperatures.
These tactical gloves feature a form-fitting Trek Dry material to avoid sweat build-up during prolonged tasks. These gloves breathe well and keep my hands from sweating in warm weather. With this pair on, I have a good grip on most objects because its palm material seems to provide an incredible grip.
Wearing this pair of tactical gloves feels secure, thanks to the thermal plastic rubber hook and loop closure. I like the fact that the rubber is very flexible and won't get in the way of my work.
Besides, thanks to the sensible design of the nylon carrier loops, I can hang the gloves securely on the backpack when not in use.
This particular tactical gloves Mechanix Wear model feels tough to me. The microfiber material is reinforced with synthetic leather to increase durability and touchscreen capability. Best of all, cleaning these military tactical gloves is a breeze because they're machine washable.
Heads-up:
However, the sizing chart seems inaccurate because the gloves tend to come smaller as expected.
Pros:
Feels warm and cool, thanks to the Trek-Dry material
Breathes well to prevent sweaty hands and has a good grip on most things
Secures well with the thermal plastic rubber closure
Nylon carrier loops hang well on the backpack for storage
Machine washable with excellent touchscreen capability
Cons:
Sizing runs smaller than usual
Bottom Line:
All in all, Mechanix Wear The Original tactical gloves provide great dexterity for operating guns, touchscreen devices, and other things. This pair breathes well and keeps hands cool/warm in mild weather conditions.
5. KEMIMOTO Tactical Gloves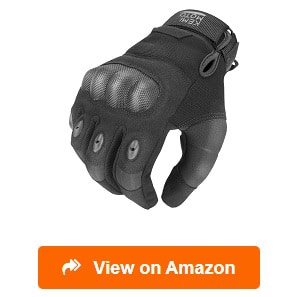 KEMIMOTO are hard knuckle tactical gloves that I also like to wear for rock climbing and camping. The hard knuckles are strong enough for me to punch a metal piece without feeling a thing.
I think these hard knuckle gloves will last long because the seams are double-stitched to hold up well for any abuse.
Additionally, the padded mesh and rubber exhaust ports keep my hands dry even when I'm wearing these gloves in the summer. And with the wrist strap, the gloves stay secure on my hands for the most challenging tasks.
What makes me love these gloves is the reinforced leather palms which offer a tight grip on any surface, just like my old Sig Sauer Tactical Gloves. I can hold on to rocks and other slippery objects without any difficulty.
Furthermore, these gloves are pretty comfortable to wear all day long. The best part is that I don't need to remove the gloves when operating my smartphones and tablets because the touchscreen capability is better than most leather tactical gloves.
With the 360-day warranty, I feel assured of the quality of these military gloves. They're perfect for what I needed them for, considering the price.
Heads-up:
However, the XL size is a bit smaller than the L size of Mechanix gloves. Although I love a snug fit, they come a little too tight.
Pros:
Built with impact-absorbing knuckle guard; touchscreen compatible
Has a padded mesh and exhaust ports for ventilation and comfort
Double-stitched to the seams for durability
Designed with a good strap to help gloves stay secure
Made of a reinforced synthetic leather palm for superior grip
Has a fair price and a generous 360-day warranty
Cons:
XL size feels a little tighter than normal
Bottom Line:
Overall, KEMIMOTO is another excellent pair of gloves with knuckle protection. This sturdy pair protects hands while staying comfortable in the peak of summer.
6. FREETOO Touch Screen Tactical Gloves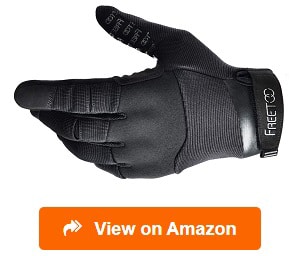 FREETOO is another pair of tactical gloves that provide excellent knuckle protection without looking bulky. The neoprene knuckles feel soft yet offer incredible abrasion resistance from unwanted cuts.
These FREETOO tactical gloves are one of the best tactical shooting gloves I owned because they offer full dexterity, especially on the trigger finger. The palm area is only made of a single layer of microfiber cloth, increasing the sensitivity while shooting.
Additionally, my fingers can move more freely with the SMILE-cut design and grip more securely, even for the smallest things with the integrated silicon parts.
These tactical shooting gloves are one of my favorite tactical gloves with touch screen capability. I can easily work my smartphone using the trigger finger and the thumb.
And the most appealing part is that these shooting gloves are easy to put on and off with the reinforced pull tab. I also feel comfortable wearing these tactical shooting gloves because they come at a snug fit that I like. They're breathable and can release moisture in the inner holes.
Heads-up:
As expected, these gloves offer a 30-day warranty, which makes them even more worthy for the price. However, these shooting gloves won't be refunded when purchased in the wrong size. I recommend users get the right size from the get-go.
Pros:
Neoprene knuckles provide adequate knuckle protection
Single-layer palm material increases sensitivity
SMILE-cut design improves flexibility with a snug fit for comfort
Integrated with silicon parts on the palm for superior grip
Touchscreen compatible and easy to get on/off with the pull tab
Inner holes provide ventilation; support a 30-day warranty
Cons:
Doesn't provide refunds for wrong sizes
Bottom Line:
Altogether, FREETOO proves to be one of the best tactical shooting gloves with its dexterity and sensitivity. This pair of tactical gloves are also touchscreen compatible and comfortable to wear for any purpose.
7. WTACTFUL Touch Screen Motorcycle Full Finger Gloves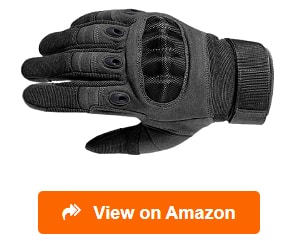 WTACTFUL is another good pair of tactical gloves for punching with its rugged knuckle plating. The knuckle guard also offers excellent knuckle protection as it bounces off any impact.
These WTACTFUL tactical gloves improve my safety at any outdoor activities because the reinforced palm is made with a durable microfiber artificial leather material. I no longer fear cutting my hands when climbing rocks. With the double stitching on the seams, I'm confident that these gloves are going to hold up for a very long time.
Best of all, the microfiber material feels lightweight and comfortable to wear for long hours of work or play. Also, the flexible neoprene joints are just a nice feature to have for increasing the flexibility of the gloves.
Surprisingly, my hands didn't break a sweat even when I worked in high humidity. The padded fabric at the back seems to be breathable.
I like the fact that these combat gloves are touchscreen compatible and actually work on my smartphone. The strap around the wrist is adjustable, making it secure to wear the gloves even more.
Heads-up:
However, the sizing is a bit smaller than expected. I recommend customers get a larger size than what's listed on the chart.
Pros:
Reinforced palms protect hands from accidental cuts
Microfiber material feels lightweight and durable
Breathable padded back keeps hand sweat-free
Excellent capacitive touch capability; neoprene joints increase mobility
Designed with adjustable straps and double-stitched seams for durability
Cons:
The sizing is smaller than expected
Bottom Line:
Altogether, these WTACTFUL tactical gloves provide excellent hand protection with thick knuckle guards and cut-resistant palms. They make good law enforcement gloves because they're built for the toughest conditions.
8. YOSUNPING Full Dexterity Gloves
YOSUNPING is another light pair that I like to use for paintball and work. These are good tactical gloves for shooting because the index finger is thin enough for users to feel firearms triggers.
The fit of these full dexterity tactical gloves feels so close to the skin that I can do light technical work without any obstruction. Also, users can bend their fingers to hold a steering wheel or hold small objects, thanks to the slit openings on the knuckles.
The combination of microfiber, nylon, and spandex is just simply impressive as they make the gloves pretty durable and comfortable to work. The padding is thick enough for protection, and the stitching is pretty tough as it holds the gloves together.
It's also such a relief to use touchscreen devices without removing the gloves. With these gloves on, I can send text messages on my phone using the forefinger swiftly.
The best part of the gloves is the smart location of the microfiber patch, perfect for wiping my goggles and face.
I noticed some holes in the palm, which allows proper airflow to keep my hands dry. The seams don't even jam under my fingernails anymore because the fingertips are constructed with a roll-over design.
Heads-up:
If there's something to nitpick, it would be the fact that the color of the gloves bled when washed. I recommend customers separate the white laundry from these gloves.
Pros:
Lightweight and feel close to the skin for full dexterity
Slits on the knuckles allow the easy bending of fingers
Made of durable microfiber, nylon, and spandex with vent holes
Touchscreen compatible to operate devices easily
Has the right amount of padding with good stitching quality
Designed with a microfiber patch to wipe goggles and face
Cons:
Color tends to bleed when washed
Bottom Line:
All in all, YOSUNPING is a perfect pair for shooting and technical work. The full dexterity won't limit the hand movements, plus it has a microfiber patch to wipe the face from sweat.
9. Ironclad Tactical Operator Pro Glove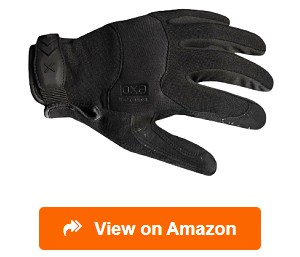 The Tactical Operator Pro makes a nice pair of mechanics gloves to protect hands from dirt and other irritation when handling car parts and construction. Thanks to the neoprene knuckles, my hands also get protected from any abrasion and impact from rough tools.
The construction seems to be top-notch with these gloves. The EXO embossed palm looks unique while offering a strong grip for dealing with mags. I also love the location of the Terry cloth behind the thumb because it allows me to conveniently wipe the sweat on my brows.
Thanks to the breathable material when the job gets pretty hectic, I'm pleased to find out that my hands don't get sweaty.
These gloves stay in place no matter how hard I'm using them. The hook and loop adjust nicely to secure the fit of the gloves, while the suede cuff puller lets me adjust the position properly more quickly.
What impresses me the most is that the gloves never shrink when I throw them in the washer. Also, the exclusive 16-point measurement system provides a nice fit without the bulky feeling, so I work with them more efficiently.
Heads-up:
However, I discovered that these gloves aren't touchscreen device capable. I have to remove them when I need to operate my smartphone, which can be quite a hassle.
Pros:
Neoprene knuckles protect hands from impact with Terry cloth to wipe the sweat
Unique EXO embossed palm offers excellent grip
Adjustable hook and loop closure helps gloves stay secure
Suede cuff puller helps reposition the gloves quickly
Breathable and won't shrink after washing
Exclusive 16-point measurement system ensures a comfortable fit
Cons:
Bottom Line:
Altogether, the Ironclad Operator Pro makes a reliable pair for technical work and handling guns at the range. These tactical gloves offer a comfortable fit with light protection from abrasions and impact.
10. Hatch SGK100 Street Guard Tactical Police Duty Glove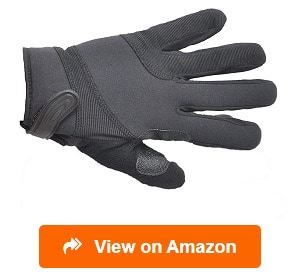 Hatch SGK100 are good police gloves as they provide improved cut resistance with their Kevlar lining at the inner palm. I tested and found that these gloves are puncture-proof, as my palm was without scathe when I took a razor-sharp knife.
These cut resistant tactical gloves offer great dexterity for handling my pistol at the range. I can actually feel the objects, so I never lost touch when wearing them at work. The palm area is made of some sort of durable faux leather, while the back is a combination of nylon and spandex.
Fortunately, I don't sweat with these gloves, so I don't get that icky feeling in the summer. They also feel surprisingly warm in a mild cold temperature, even down to 15 degrees. These gloves work for all types of weather because neoprene tends to feed off body temperature.
Thankfully, these gloves come true to size, so they fit perfectly right out of the box. Through the thumb, I can still use my smartphone with ease. Also, these gloves can stay within regulations because the Hatch logo is subdued nicely.
Heads-up:
However, these gloves are a little more expensive compared to other similar brands.
Pros:
Kevlar lining protects hands from cuts
Offers full dexterity to prevent constraints in movements
Built with durable synthetic leather palm and nylon/spandex back
Neoprene feeds on body temperature to protect hands from cold and heat
Come true to size and won't make hands sweaty
Subtle Hatch logo stays within regulations; thumb can work touchscreen devices
Cons:
Bottom Line:
Overall, Hatch SGK100 Street Guard provides the protection needed from cuts and abrasions while working. They make excellent police tactical gloves because they protect without losing tactile dexterity.
11. OZERO Work Gloves
OZERO is another great pair for work and shooting. I like to use them as tactical winter gloves because they're warm enough to keep me comfortable in the cold Northwest Montana winter.
The construction seems durable with these work gloves. The synthetic leather palm comes with silicone particles to increase the grip on the smallest things.
Furthermore, there are paddings on the gloves' back to resist impact from falling objects, keeping all fingers intact. Due to the breathable paddings, my hands and fingers from scrapes as I work with rough tools without suffering any sweat.
I love the fit of these gloves as they hug the contours of my hands to increase the dexterity of pulling the trigger and picking up small tools. The thermoplastic rubber closure comes with a hook and loop, making the fit more secure. Also, I can adjust the tightness of the Velcro strap around my wrist.
Fortunately, the gloves' touchscreen compatibility works well on my phone and tablet. I can send a text without removing the gloves from my hands. They can also be washed without worrying about shrinking problems.
Heads-up:
However, the sizing is a little inaccurate. The small size is similar to the medium gloves I had.
Pros:
Provides sufficient warmth for mild winter weather
Has a durable construction of synthetic leather palm with silicone grip
Built with a breathable padded back to prevent impact
Form-fitting design offers high dexterity
Fits securely with the adjustable velcro hook and loop closure
Touchscreen capable and won't shrink when washed
Cons:
Bottom Line:
The OZERO Work Gloves make a comfortable company at work and range. The flexible construction provides excellent dexterity to hold items with ease. Also, these gloves can provide adequate warmth in mild winter weather.
12. Viperade Mens Tactical Gloves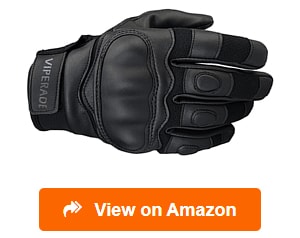 I was looking for waterproof tactical gloves that provide knuckle shields on Reddit, and someone recommended Viperade. These mens tactical gloves offer enough water resistance as they still provide a good grip on the handlebar when it rained.
These are great combat gloves because the hard knuckles can knock someone down or bang the door without feeling any pain. The knuckle armour also protects hands from scratches and abrasions when dealing with sharp tools.
Besides that, I get enough dexterity to handle the steering wheel. The grip is excellent on these gloves, thanks to the microfiber leather that lets me hold on rocks when climbing.
The gloves also feel comfortable with the right amount of padding. Thanks to the breathable paddings and odor-free material, I do not sweat as much when putting this pair on. The inner holes are capable of venting the hot air out.
More importantly, I can take a call or send text messages with the gloves on, thanks to the touch screen capability. Also, even when I'm doing the most challenging tasks, these gloves stay secure with the Velcro strap around the wrist.
Heads-up:
However, these gloves run small. I recommend sizing up to get a better fit.
Pros:
Water-resistant with enough dexterity and touchscreen capability
Hard knuckles can protect hands from abrasions and take someone down
Microfiber leather offers excellent grip
Has the adequate amount of padding for comfort
Inner holes help prevent the hands from getting sweaty
Velcro strap helps secure the gloves around the wrists
Cons:
Bottom Line:
Overall, Viperade provides tough protection from dangerous elements while maintaining enough dexterity and touchscreen capability. The hard knuckle armor can also take someone down for self-defense and protect the hands from abrasions.
What to Look for When Buying Tactical Gloves
Your hands need to be protected in any tactical situation as you use them to work on tools, weapons, and other things. It's quite challenging to find the right pair of tactical gloves, so we list the essential things to consider before deciding on the purchase.
Material And Construction
The material plays a significant part in determining the quality of the tactical gloves. If it's possible, find a material that's durable, breathable, and comfortable.
Leather gloves are sturdy, alright, but they're not breathable enough to keep the sweat at bay. To balance them out, some gloves integrate a breathable material, like microfiber, at the back.
Nylon has excellent wear- and abrasion-resistance, so it's a common fabric among tactical gloves. If you want your hands to be resistant to cuts, look for a glove with a Kevlar lining and reinforced palms made of faux leather.
If you don't want to lose that dexterity at the shooting range, look for a material that offers a little stretch, like spandex. For combat, look for a neoprene or hard plastic knuckle guard with inner holes to promote better airflow.
Regardless of the material, make sure that the gloves are enclosed with a Velcro strap around the wrist to secure them well. The seams should be double-stitched to extend the life of the gloves.
Touchscreen Compatible
Communication plays a huge role in any tactical situation, from smartphones to tablets. Even when hiking outdoors, it's always nice to take a shot of the scene on your phone. So that you don't need to remove the gloves when operating your phone, make sure that they're touchscreen capable.
Typically, tactical gloves integrate a thin metal fiber, like copper or aluminum, into the fingertips to make them able to operate touchscreen devices. Since the metal is woven into the fabric securely, it won't scratch the devices.
Full Finger Vs Fingerless
There are two common types of tactical gloves- full finger and fingerless. Obviously, a full-finger glove provides a higher protection level than their fingerless counterparts because they cover the entire hand. This type of gloves typically consists of more than one material, e.g., leather, microfiber, and polyester.
The best benefit of full-finger models is the grip. The fingers are designed with a thinner material and extra flexibility to maintain a tactile feel.
On the other hand, fingerless tactical gloves are the best when it comes to dexterity. The material settles just above the knuckles, leaving the fingers open above. With this open design, the gloves breathe more to keep hands dry at hot temperatures.
The Right Fit
It's important that you find the right fit for your hands so the gloves won't interfere with your work or shot. You want the gloves to fit just right- snug but not too tight. The fingertips should fit snugly to get good dexterity.
Before you refer to the product's sizing chart, measure the length of your finger from the bottom part of the palm to the tip of the middle finger. For small hands, go down one size if your forefinger is ¼-inch to 5/16 inch shorter than your index finger. Bigger hands can down a size if your forefinger is ½-inch shorter than your middle finger.
It's recommended to get a size larger than what's stated in the chart when you have heavy muscular hands.
Adequate Protection
A tactical glove isn't tactical if it can't protect your hands, so find one that can deliver this purpose. If you plan to use the gloves in a cold climate, look for enough insulation to protect the hands from frostbites. Sometimes, the gun can feel really cold, so you want your hands to feel a little warm to get a perfect shot at the range.
Some tactical gloves offer extra materials to reinforce the palm area and fingers from abrasions, cuts, and scrapes. Others even have those hard knuckle armor for enhanced protection or self-defense. A good amount of padding can also cushion the hands from potential harm.
Are Tactical Gloves Legal
Yes, tactical gloves are legal because they're less lethal than brass knuckles and are only often used for hand protection. For the weighted knuckle versions, they're legal in most areas. They can knock someone down, but only for self-defense.
What Is the Point of Tactical Gloves
Generally, tactical gloves are meant to protect the hands from any potential harm without losing dexterity. This type of gloves is perfect for shooting, technical work, and other activities requiring precision, agility, and defense against abrasions.
How Tight Should Tactical Gloves Be
The tactical gloves should fit like a second skin but not too tight that it's hampering your movements. Your hands should feel relaxed in a natural state and not uncomfortable. The gloves should cover the tip of your fingertips without leaving any extra room.
What Kind of Gloves Do Special Forces Wear
Special forces are known to wear the PIG Alpha Gloves because of their excellent dexterity when shooting and wielding a tactical or combat knife. These gloves provide you with the closest feeling of shooting guns barehanded.
Are Tactical Gloves Good for Fighting
Tactical gloves with prominent knuckle armors are a piece of protective shield. The hard knuckles can knock someone down but not to the extent of causing severe injuries. They can be used for fighting but are not as lethal as brass knuckles.
Conclusion
A tactical glove plays a vital part in protecting your hands in your job. The best tactical gloves can protect hands from abrasions and cuts while maintaining dexterity to perform the best at work. My top recommendation is the M-Pact Tactical Gloves Mechanix Wear model. The thermoplastic knuckles and fingers can protect hands from accidental cuts while offering enough warmth in a cold temperature.
PIG Delta Gloves provide the best dexterity and touchscreen capability with their thin material. The best tactical combat gloves are the TAC9ER which offers a cut-resistant Kevlar lining and hard knuckles.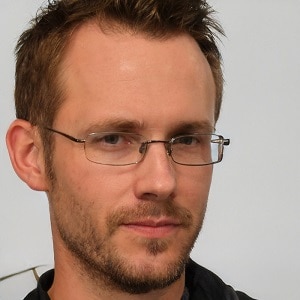 I am Everett Bledsoe, taking on the responsibility of content producer for The Soldiers Project. My purpose in this project is to give honest reviews on the gear utilized and tested over time. Of course, you cannot go wrong when checking out our package of information and guide, too, as they come from reliable sources and years of experience.