When you're hunting or surveying distant objects, it would be ideal to have a good pair of tactical binoculars. The best tactical binoculars can give you full details of the image even in the dark from several yards away. They're helpful for many reasons, including combat, hunting, and training.
There are actually plenty of tactical binoculars available on the market today. These binoculars almost look identical to each other, but they differ in features and functions. Here are some things to consider when buying a good pair of tactical binoculars:
Size: Size is crucial in determining the right tactical binoculars for your mission. If you want something for backpacking or more concealable for covert missions, look for compact models. Mid- and full-size models are ideal for birding, hunting, and most activities.
Model Number: The model number usually pertains to the magnification and objective lens diameter of a tactical binocular. For instance, a 10×42 model means 10x magnification power and 42mm of objective lens diameter. A 10x magnification power typically gives a more detailed look, while a larger objective lens allows more light transmission.
Extra Features: Other important features you may want to consider are eye relief, whether the binoculars can accommodate eyeglasses, and prism type. Roof prisms tend to be more compact than Porro, but they offer a broader field of view. Other than that, try to look for essential accessories, compass for navigation, and night vision to see even in complete darkness.
For your convenience, I've listed 15 of your best options and reviewed each of their performances. Let us explore the pros and cons of these popular tactical binocular brands and learn how to choose the best product in our buying guide below.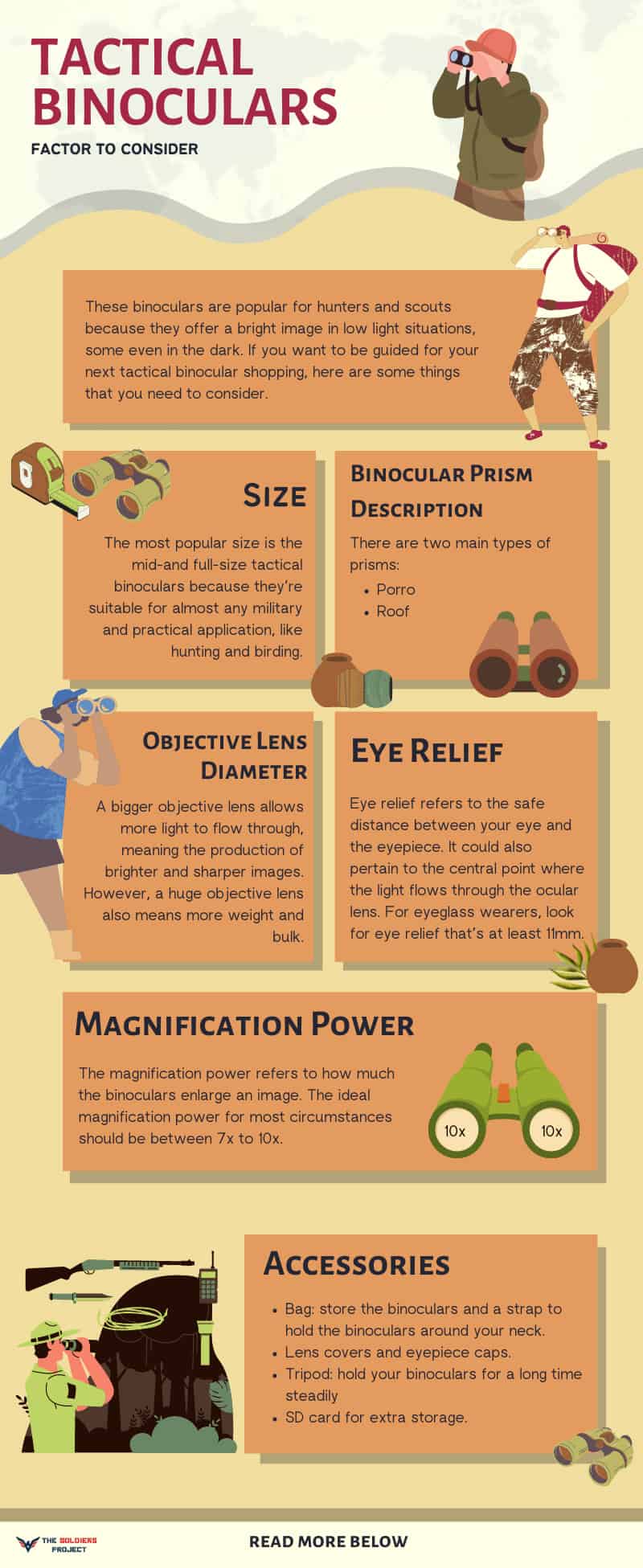 ---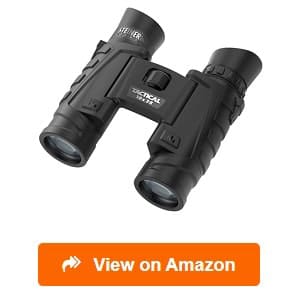 Steiner Tactical Binoculars
Easy and comfortable use
Lightweight roof prism design
Can take an occasional beating
---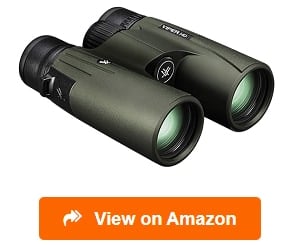 Vortex Viper HD Binoculars
Offers good eye relief
Waterproof and durable
High magnification power
---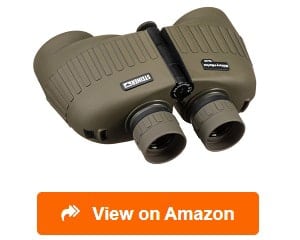 Steiner Military-Marine Binoculars
Can zoom in eight times
Waterproof and durable
Convenient carry case for travel
---
Best Tactical Binocular Reviews
1. Steiner 10×28 Tactical Binoculars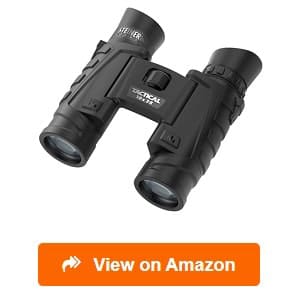 These 10×28 Steiner binoculars are created with ergonomics and an excellent field of view that's superior anywhere. They feature lightweight optics for your active lifestyle and sturdy construction for rugged use.
As I've said, these compact tactical binoculars are extremely lightweight, thanks to the roof prism design. The lightweight design makes these Steiner binoculars easy to pack and carry in your travel bag. In addition, the ClicLoc system allows the attachment and release of the neck strap immediately with a simple push of a button.
My favorite is the central focusing wheel because it shows crisp images from close up to infinity. More importantly, the wheel needs minimal rotation to take a quick close-focus. Best of all, these lightweight binoculars are comfortable to use because they rest nicely in the palms, plus the scopes have large knobs for accessible settings.
One thing that's known about Steiner binoculars is that their optics are incredibly tough. They can endure the occasional beating. I had dropped these best tactical binoculars a couple of times, but they're still intact.
Heads-up:
However, the pictures aren't too bright when used in low light conditions because the lenses are a little small. More specifically, the images seem to be less clear in the late evening or early mornings.
Pros:
Allows the highest light transmission for clear images
Easy to pack with its lightweight roof prism design
Seems sturdy as it can take an occasional beating
Central focus knob shows great sharpness of distant objects
Ergonomically designed for easy and comfortable use
ClicLoc system allows the easy release of the neck strap
Cons:
Poor image quality in low light conditions
Bottom Line:
Overall, the Steiner 10×28 Tactical Binoculars are perfect if you want a lightweight or portable set of binoculars with crisp images. These lightweight binoculars got amazing optics, plus an ergonomic design.
2. Vortex Viper HD Binoculars, 10×42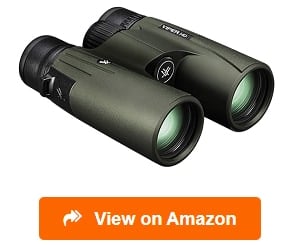 The 10×42 Vortex Viper HD Binoculars boast higher magnification and a high-density optical system. They seem to be full-size yet compact enough to suit any hunting trip.
The Viper HD binoculars feel like they're premium quality because they have robust construction. The ocular lenses are resilient because they're waterproof and can take a beating. Additionally, these HD binoculars come with a padded neck strap and a bag for travel convenience.
The image quality is excellent, with a very slight chromatic variation. I can only see a bit of cyan and magenta color trims around high-contrast edges. I bought these waterproof binoculars for bird watching, and I can see the details more clearly, thanks to the smooth center focus wheel.
These roof prism HD binoculars have 17mm eye relief, which means that it's comfortable to look through for non-eyeglass wearers. The twist-up eyecups rest nicely against my face, so they still feel comfortable even with prolonged use.
I believe the construction seems to have superior ergonomics because the rubber armored chassis is easy to grip, plus the thumb indents are placed perfectly for comfort.
Heads-up:
However, the big ocular lenses seem to be a little reflective because I see some glare in the image. It's not very evident in very bright sequences, but only if you're looking at a dim area and you have something bright behind or beside you. Also, the price is a little higher compared to other HD binoculars on the market today.
Pros:
High magnification power and superb HD optics
Full-size, yet compact enough to bring in hunting trips
Comes with essential accessories for travel, like a bag and neck strap
Waterproof and durable, thanks to the rubber armored coating
Offers good eye relief for prolonged use
Ergonomically designed for great ease of use
Cons:
Has a little glare in images behind a bright light
More expensive than most binoculars
Bottom Line:
All in all, the Vortex 10×42 Viper HD is reliable and a nice compromise between small form factors and resolution. These Viper HD binoculars are a solid choice for casual use.
3. Steiner Military-Marine Series 8×30 Binoculars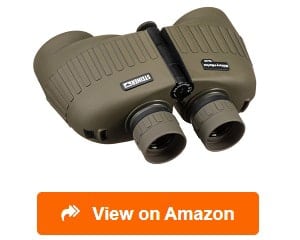 These Steiner Military-Marine Binoculars feature lightweight tactical precision optics to use for any situation. The 8×30 model can zoom in eight times into any scenery and provides sharp images in a portable design.
These military grade binoculars are built to last with its Makrolon housing, which is made of rugged polycarbonate with NBR Long Life rubber armoring. These military-marine binoculars can endure 11 G's of impact and offer a non-slip grip.
True enough, these mil spec binoculars are waterproof and fog-proof because they still remain functional even in the cold.
My favorite is the Sports-Auto-Focus feature because it allows me to see everything clearly without constantly adjusting the center-focus wheel. I'm impressed how these army binoculars can focus on fast-moving objects from 20 yards. The optics are clear and bright over the whole field of view.
I like that the military-marine binoculars offer plenty of eye relief, and the cups reverse to fit the eyeglasses. These waterproof binoculars include a beautiful carry case, making it convenient to bring anywhere. They're pretty lightweight, so I can easily tuck them inside my coat while working in the field.
Heads-up:
However, I find it difficult to put the strap on these military-marine binoculars. These Steiner binoculars aren't that great at night because the images tend to glare from light sources.
Pros:
High-quality optics can zoom in eight times
Fog-proof, waterproof, and durable to use in all weather conditions
Excellent field of view show brighter images and fast-moving objects
Sports-Auto-Focus lets you see everything clearly
Plenty of eye relief for eyeglass-wearers
Comes with a convenient carry case for travel
Cons:
A bit challenging to put on the strap
Images tend to have a starlight effect from light sources
Bottom Line:
Overall, the Steiner Military-Marine Series 8×30 Binoculars are suitable for those who wear eyeglasses because there's plenty of eye relief. These rugged binoculars are also ideal if you want to watch everything that moves within your area.
4. FREE SOLDIER 10×50 Hunting Binoculars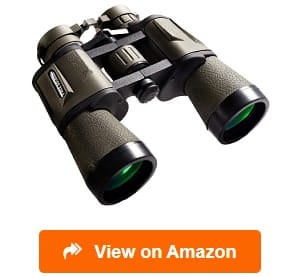 The 10×50 hunting binoculars allow the recording and sharing of photos with its smartphone adapter. These tactical binoculars feature 10x magnification power and 50mm objective size, which is large enough to capture a brighter image.
The 10×50 binoculars use BAK4 Porro Prism design to eradicate stray light and enhance color generation. I love the green FMC anti-reflective coating because it minimizes the reflected light in the objective lens and enhances light transmission. The images come out bright and sharp.
I'm quite impressed with the performance of these Porro Prism binoculars because they have excellent low-light performance. The anti-reflective lens is larger than typical binoculars to provide plenty of light-gathering power. Even when it's dusk, these binoculars still provide clear vision.
Best of all, these binoculars come at an excellent price, considering the many accessories included in the package. These Porro prism binoculars come with a bag, carrying strap, and lens covers. I like the non-slip rubber-armored coating because it makes the binoculars easy to grip, plus they're lightweight and waterproof.
Heads-up:
However, the lens caps are a little soft, so they don't stay on tight. Also, both eyes can't seem to bring into focus when the diopter is used.
Pros:
Strong magnification power allows a clearer and wider view
Larger lenses provide excellent low light performance
Anti-reflective lenses enhance image brightness and sharpness
Comes with a smartphone adapter to take and share videos/images
Cheap binoculars include essential accessories and won't hurt the bank
Porro prism system helps reduce the stray light and enhance colors
Cons:
Loses focus when the diopter is used
Lens caps won't stay on tight because they're slightly soft
Bottom Line:
Altogether, the 10×50 Hunting Binoculars are a great purchase because they have nice multi-coated optics and Porro prisms.
5. RONHAN 20×50 High Power Military Binoculars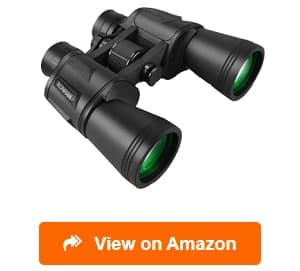 The RONHAN 20X50 is a pair of binoculars that feature low-light night vision and a wide field view. I like using these binoculars because the vision is clear and broad at a reasonable price.
The construction seems to be solid because the body is designed with a rubber-coated finish for shock resistance. These cheap binoculars are supposed to be waterproof, which I like because I feel reassured when using them when it rains. I also love the grip because it feels comfortable yet firm for extra durability.
The image quality is quite excellent, which is quite surprising given its price. I appreciate that the eyepieces adjust accordingly to the user. I tried to wear my glasses, and I still can view the images comfortably. Best of all, these binoculars are easy to adjust, especially the center-focus knob.
More impressively, the magnification is 20 times, which is very useful when bird watching because I can see more birds closely from afar. Multi-layer coated spherical lenses seem to offer excellent light transmission with less distortion. The image is very clear, thanks to the FMC green film objective lens and huge BAK4 prism.
Heads-up:
However, this particular military binocular model seems to be on the heavier side. I also have a hard time getting the pupil distance correct, making me see double when looking at distant objects.
Pros:
Adequate low light performance
Multi-coated optics allow superb light transmission
Comfortable to use with its soft grip and center-focus knob
High magnification power and larger objective lens
Adjustable eyepieces allow the wear of eyeglasses
Comes at a reasonable price and rugged construction
Cons:
Feels a bit heavy
A bit hard to get the right pupil distance
Bottom Line:
All in all, the RONHAN 20X50 Military Binoculars are the best choice for bird watching because of their higher magnification power at 20x. These binoculars are also ideal for low light conditions.
6. Bush Tech Digital Night Vision Binoculars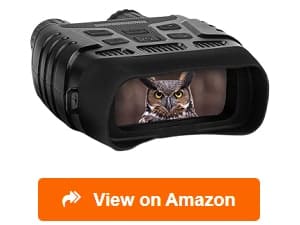 Bush Tech offers a remarkable pair of military grade binoculars with night vision and a massive viewing screen. I like that I can see things even in total darkness.
The fully multi-coated lenses come with an infrared LED illuminator plus four times digital zoom to see distant objects clearly, even in the dark. My favorite is the seven levels of IR illumination because I can change them quickly. The image is very clear that I think it was daylight.
Besides capturing HD photos, these tactical binoculars can be used to record videos for up to eight hours at 960P HD quality. Fortunately, the package comes with a 32-GB memory card for storage, plus a protective carry case for travel. It also includes a neck strap for extra portability and a USB cable for recharge.
These binoculars are designed with non-slip armor to give protection from wear and tear. They're quite easy to hold, thanks to the ergonomic design. Best of all, it's easy to view that target because the binoculars come with a large 2.31-inch LCD screen.
Heads-up:
Though the focus functions well, I can't wear bifocal glasses comfortably with the night vision because I need to lift my head to constantly try to focus. I also have a little dilemma trying to find the buttons in the dark.
Pros:
Fully multi-coated lenses can see farther and clearer
Designed with a large LCD screen for easy viewing
Night vision allows seeing things even in complete darkness
IR illumination can be adjusted quickly
Can take photos and videos, plus comes with essential accessories
Sturdy and ergonomic construction for comfortable use
Cons:
Uncomfortable to wear bifocal glasses
A bit confusing to find buttons in the dark
Bottom Line:
All in all, these Bush Tech Binoculars make a good choice for hunting at night because they come with magnificent night vision functionality. These military issue binoculars are perfect in taking HD photos and videos.
7. USCAMEL 10×50 Marine Binoculars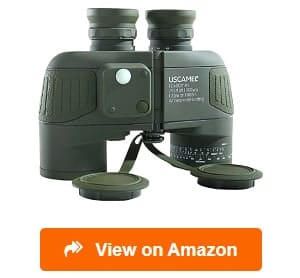 The USCAMEL 10X50 is a good pair of military binoculars with rangefinder, perfect for watching wildlife, hunting, and boating. These US army binoculars also feature a high-quality BAK4 prism and waterproof construction.
The 10×50 model almost has the same specs as M22 binoculars, which are used in the military. The only difference is that the 10×50 offers more adjustability, which is incredible because I wear trifocal glasses sometimes. I like that these binoculars don't fog up even when in use in Gulf Coast heat and humidity.
The distances seem to be precise, and I can see my rifle shots clearly. Additionally, the focus is very simple as it only takes a dial in the binoculars for each eye or both. Approximately, the magnification can zoom in ten times more, and the good news is that there's less reflected light in the objective lens, thanks to the green FMC coating.
The compass is a nice feature to have because I'm poor with directions. With the rangefinder, I can determine the distance and size of the object perfectly. This model is a perfect pair of night vision binoculars because they offer the images maximum brightness even in low light conditions.
Heads-up:
However, the rubber end caps get loose easily, but that's only a problem if you're bringing the binoculars outside the case when hiking. These binoculars are also a bit too large and heavy for elk hunting.
Pros:
Compass and rangefinder reduces guesswork from hunting
Perfect night vision offers superb low light performance
Waterproof and fog-proof for extra durability
Can be used with eyeglasses, even at night
Great optics show less reflected light and 10x magnification
Shows accurate distances and easy to focus
Cons:
Rubber lens covers get loose easily
Slightly too large and heavy for elk hunting
Bottom Line:
Altogether, the USCAMEL 10X50 is perfect for waterfowl watching or anything related to wetland bird watching because it can see farther and waterproof. Best of all, these tactical binoculars come with a rangefinder and compass for perfect hunting.
8. CREATIVE XP Digital Night Vision Binoculars
CREATIVE XP offers another tactical binoculars night vision model, which comes in handy in hunting, security, and spy purposes. I love their high-quality optics because they allow me to see everything at night.
These electronic binoculars military model provides the convenience of a digital camera and a tactical binocular in a single product. Besides zooming in seven times, these binoculars can also take photos and videos. I love that I can take videos with sound, making it easy to record my hunts anytime.
My favorite is the 4-inch display screen because it's big enough to view images perfectly. Also, the night vision makes things look so clear and crisp even from a hundred yards away in low light conditions. I was able to play with the binoculars for about six hours, and the battery life was still solid.
The focus is incredibly smooth, making it easy to take clear videos and images. I appreciate the infrared illuminator because it eliminates the need to use an external light when hunting at night. Also, it's a bonus to have many useful accessories, such as the 32-GB SD card, SD card reader, and protective case.
Heads-up:
However, buttons aren't smooth to operate. I have to make a few clicks to make them work. I also dislike the size because these binoculars are quite large and bulky to hold in my forehead.
Pros:
Works well in low light conditions, even in complete darkness
Great optics allow the view of images clearly
Can capture photos and videos with sound
Includes a large screen and other useful accessories
Can focus and zoom in smoothly
Comes with an infrared illuminator to eliminate the need for external light
Cons:
Some buttons won't respond in a single click
A bit bulky to use
Bottom Line:
Overall, the CREATIVE XP is an excellent night vision device if you don't want to shell out a few thousand dollars for a gen 3 night vision binoculars. I highly recommend this product to those who want to see in the dark for any reason.
9. FREE SOLDIER 8×40 Military Binoculars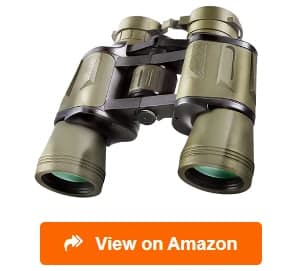 The FREE SOLDIER 8X40 comes with a smartphone adapter, meaning that you can record and share photos with your loved ones. This compact binocular can work in low light conditions, like early dawn and dusk.
The 8×40 model adopts a Porro Prism design to reduce stray light. This tactical binocular is very good optics because it magnifies eight times. With its large field of view, this model can also capture fast-moving objects like birds.
I love the 28mm eyepieces because they're large and allow me to see full images clearly with great eye relief. Even when it rains, I can still hold the binoculars firmly, thanks to rubber grip pads. I find this pair of binoculars very lightweight because it didn't strain my hand a bit for long hours of use, and the central focus wheel is easy to rotate.
There are so many accessories included in the package, which I like because they always come in handy outdoors. Among them is a durable carry bag that comes with a strap for easy travel and a neck strap to free my hands. On top of that, the price is a big saver.
Heads-up:
However, these tactical binoculars can't be used with eyeglasses because the eyepiece rubber won't fold down. Also, I find the magnification of objects a bit hazy on my phone. Although I can set the phone on the binoculars, it will only show a normal view and not close up.
Pros:
Comes with a smartphone adapter to share files and other accessories
Can do well in low light situations and magnifies eight times
Excellent in capturing fast objects with its large field of view
Porro prism design improves color generation
Rubber pads help provide a secure grip
Comes at a very affordable price
Cons:
Can't be used with eyeglasses
Weak magnification on the phone
Bottom Line:
Altogether, these FREE SOLDIER 8×40 is the best tactical binocular for the price. This compact binocular is lightweight, so it can be used for both adults and kids.
10. Steiner Predator Binoculars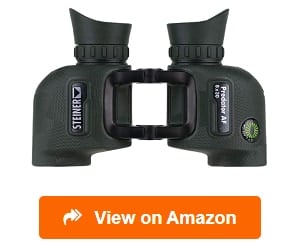 These Steiner Predator Binoculars are a versatile model which keeps all things in focus no matter the distance. I love these binoculars because they have enough interpupillary distance (IPD) to get an accurate view.
These Steiner binoculars adopt the old Porro prism design, which features a wide field of view for clearer images. I think the German glass is the clearest I've used under $1,000. I have used these binoculars at the range and had no problem sighting the 0.270 holes on a target 100 yards away.
The eyecups seem to fit nicely to me, thanks to the adjustments around the hinge. In addition, I can hold the binoculars with one or two hands comfortably for quite some time. I believe that this model is fog-proof and waterproof because it was able to endure all weather conditions.
For me, what stood out is the CAT game sensing lens coatings because it made me see my hunt very easily, even behind foliage and shade. Surprisingly, they're lightweight compared to other optics within this price range. More importantly, Steiner offers an attractive Heritage Warranty to cover any repair or replacement for defective products.
Heads-up:
However, these Steiner binoculars are physically large, making them bulky to use. These binoculars aren't ideal for night observation because the objective lenses are a little small for night vision.
Pros:
Always stay focused with adjustable eyecups
Fog-proof and waterproof to work on all weather conditions
CAT coating technology allows seeing the game hiding in the shade
Sufficient IPD for good eye relief
Lightweight and comfortable to use
Comes at a Heritage warranty for free refunds and replacements
Cons:
Physically larger than roof prism models
No night vision capability
Bottom Line:
Altogether, the Steiner Predator Binoculars work for people with wider IPD. These Steiner military binoculars are perfect for hunting because of the CAT coating and always focused capability.
11. Hooway 7×50 Military Marine Binoculars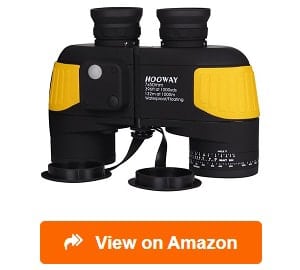 The Hooway 70×50 Binoculars are ideal for marine use as they're fog-proof, waterproof, and float in water. These tactical binoculars include a compass for direction and a rangefinder to estimate the distance of objects.
I love the Porro Prism system because it offers a wide field of view and a fully multi-coated optics to generate brighter images. The clarity is better than I expected. There are less reflected light and distortions, thanks to the BAK-4 prism and 50mm objective lens.
The yellow color seems useful because it's easy to spot the binoculars at a distance when they get lost. The armor is made of non-slip rubber, making it easy to grip even with sweaty hands. I presume that the binoculars can be used in all weather conditions because it remains functional even when it's cold or humid.
I tried to use the binoculars in low-light situations, and they're good enough to make everything brighter. It's nice that the eyecups can be folded down because I can use my eyeglasses comfortably. Also, plenty of accessories are included, such as a carrying bag, strap, and lens cap.
Heads-up:
However, I find the rangefinder a bit confusing because it uses a focus ring and mild dots to estimate the size or range of an object. I hoped it would use a laser to make it easy to learn. Although these binoculars can work in low-light situations, they're futile in complete darkness.
Pros:
Durable and secure to grip in all weather conditions
Includes a rangefinder and compass for navigation
Bright and clear images, thanks to BAK-4 prism
Foldable eyecups allow the use of eyeglasses
Sufficient performance in low light situations
Includes many useful accessories
Cons:
A bit confusing to use the rangefinder
Can't be used in complete darkness
Bottom Line:
All in all, the Hooway 70×50 is one of the best tactical binocular for boating, fishing, and other marine purposes. These tactical binoculars incredibly float on water, so they make you feel at ease when using them in the lake or sea.
12. Adorrgon 12×42 Powerful Binoculars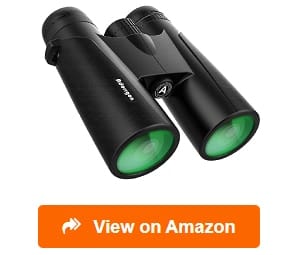 The Adorrgon 12×42 are powerful binoculars yet lightweight enough to carry anywhere. Images remain clear even from 650 feet away, making them ideal for hunting, bird viewing, and travel.
I really appreciate that these binoculars are super lightweight because I feel relieved when I take a long walk. The focus also stands out because it only takes a few minutes, which is essential for hunting. With 12x magnification power, I can get a closer view and more details on the birds and deers I'm watching.
For the size, the 12×42 model delivers clear optics with a decent field of view. The eyepieces are large, so they maximize the 12 magnification in delivering a bigger image and clearer details. These binoculars are so compact that I can fit them in my camera bag's front pocket.
It's quite surprising that the binoculars are fully multi-coated and feature a big BAK4 prism, given the price. The construction is even rugged to endure outdoor use. Again, I always appreciate good adjustable eyecups because they allow me to adjust the eye relief to fit my glasses.
Heads-up:
However, these tactical binoculars won't work in complete darkness, only in low-light situations. Also, they get foggy in the cold weather and ambient humidity.
Pros:
Super lightweight and compact to fit in your bag
Can show clear images as far as 650 feet away
High magnification power and easy focus
Large BAK-4 prism and already multi-coated for a low price
Adjustable eyecups allow the use of eyeglasses
Has a rugged construction for extra durability
Cons:
Can't see in complete darkness
Tends to get foggy in cold weather
Bottom Line:
Altogether, the Adorggon 12×42 Binoculars stand out with their lightweight construction. They're compact yet pack astonishing optics.
13. Occer 12×25 Compact Binoculars
These compact military binoculars come with a clear low light vision and a large eyepiece to fit sunglasses/eyeglasses. The 12×25 model offers 12x magnification and a wide field of view that can see up to 1,000 yards away.
Surprisingly, this pair of binos feel weighted, so they don't feel like children's toys at all. Given the construction and design limitations, I'm impressed with its sharp images and color acuity. The FMC multilayer broadband green film seems to do its job well in offering a clear image and incredible visual experience.
The 12x magnification power is astonishing because it allows me to count the grass blades at 200 yards. I'm completely astonished by the fact that I can get a pair of binoculars with nice optics. Since these tactical binoculars are compact, I can hold them in one hand comfortably.
Thankfully, there's no tint on the glass, so I can see clearly even in low-light situations. Both the sights on both lenses are adjustable, so it's easy to get a clearer visual. Best of all, I like the feel of the rubber armor because it feels comfortable to the touch.
Heads-up:
If there's something to dislike, it would be the durability because the binos seem to fall apart easily. There's also no night vision to make it useful in complete darkness.
Pros:
Large eyepieces make room for sunglasses and eyeglasses
FMC multilayer film delivers sharp images and superb color acuity
12x magnification lets you see things up close up to 1,000 yards
Easy to hold in one hand
Can see in low light situations with its tint-free lens
Rubber armor feels comfortable to touch
Cons:
No night vision to see in total darkness
Not durable as expected
Bottom Line:
Altogether, the Occer 12×25 makes a good pair of binoculars for kids because they're small and easy to use.
14. STELLARH 12×50 Military Binoculars
The STELLARH 12×50 tactical binocular comes with a tripod for stability and a universal smartphone adapter to hook my phone to the binocular. My favorite is the Bluetooth remote shutter because it allows me to stand far away from the phone while capturing an image or video.
The optics are quite decent because I was able to take photos and videos with clear details. I was able to take a picture of a bird clearly from several yards away. The 12x magnification truly delivers high light transmission with no dark edges and double images.
The 12×50 is a nice tactical binocular because the left and right eye focus can be adjusted to give better eye relief. There's a cushion on both eye caps, so they're comfortable to use even in prolonged use. Also, these binoculars thrive in low-light settings as I was able to take a clear image in the early morning.
The tripod itself is a bonus because it's useful for long durations of viewing. This accessory came in handy when I was bird watching the entire day. I also believe that the exterior handles are shock-absorbent because I dropped these binos once, and they still remain intact.
Heads-up:
However, it's a bit awkward to bring the binoculars with the camera kit because they're heavy. The package came without instructions, so it was a little difficult to attach the binocular to the tripod and smartphone the first time.
Pros:
Comes with a tripod for stability and prolonged use
Includes a smartphone adapter to connect to your phone
Can be operated far away, thanks to the Bluetooth remote shutter
Decent optics can magnify 12x without dark edges
Adjustable eye focus and low light night vision
Shock-absorbent exterior handles increase durability
Cons:
Awkward and heavy to carry during travel
Comes with no proper instructions
Bottom Line:
Overall, the STELLARH 12×50 binoculars are the best choice for convenience as it includes a tripod for stability, perfect for long duration of viewing experience. This pair also includes a smartphone adapter and a Bluetooth remote shutter for hands-free operation.
15. QUNSE 10×50 Binoculars
The QUNSE 10X50 binoculars include a compass and rangefinder for better navigation. I like that the ruler and compass get illumination during low light situations to get a brighter image.
The package comes with a bag, which I like because it's quite sturdy and convenient with the buckles at the front. My favorite is the double shoulder straps because they're effective in easing the weight pressure out on my neck. Other useful accessories include two lens caps, an eyepiece cap, and a cleaning cloth.
The images came out clear and crisp, perhaps due to the high refractive index BAK4 Porro Prism and the anti-reflective coating. The 10x magnification is astonishing, while the objective lens is large enough to capture a wider view. Additionally, the eyecups can be folded to accommodate eyeglasses.
As for the construction, the 10×50 seems durable with its waterproof and fog-proof design. The O-ring is effective in sealing the binoculars from water. More importantly, the rubber armor is shock-proof to endure an occasional beating.
Heads-up:
However, these binoculars aren't made for total darkness, only for low light settings, like early dawn and late afternoon. Also, the AG9/LR936 batteries are hard to find, especially in remote areas.
Pros:
Includes a rangefinder and lighted compass for directions
Comes with a sturdy bag and other useful accessories
Double shoulder straps ease out the burden from your neck
Astounding 10x magnification and anti-reflective coating
Adjustable eyecups can fit eyeglasses
Waterproof, shock-proof, and fog-proof
Cons:
Not made with night vision capability
Uses hard-to-find AG9/LR936 batteries
Bottom Line:
All in all, the QUNSE 10X50 binoculars impress with their lighted compass and clear optics. This pair is also perfect for boating and marine activities as they come with waterproof construction.
What to Look for When Buying Tactical Binoculars
Tactical binoculars feature some of the very best specifications, making them ideal for almost any activity. These binoculars are popular for hunters and scouts because they offer a bright image in low light situations, some even in the dark. If you want to be guided for your next tactical binocular shopping, here are some things that you need to consider.
Size
Size does matter in choosing the top tactical binoculars because they can tell you what you can do with them. For example, compact binoculars are perfect for covert missions because they won't gather and send as much light as a full- or mid-size model.
The best thing about these compact models is that they're easy to store in your pocket without feeling the extra weight while on the move.
The most popular size is the mid-and full-size tactical binoculars because they're suitable for almost any military and practical application, like hunting and birding. The large ones are suitable for long-distance and even stargazing, but you'll want a tripod to hold them for you.
Binocular Prism Description
Prisms are used to make the orientation accurate, and the scene looks more natural. There are two main types of prisms: Porro and roof.
Porro Prisms are the older style of binoculars, but they generate clearer images than their roof prism counterparts. Binoculars with a Porro prism design often have a wider field view, so you can see fast-moving objects more easily.
Roof Prism binoculars are newer models with aligned objective lenses and eyepieces, making them more compact and lightweight. While roof prism binoculars look simple, they have a more complicated light path and need much greater optical accuracy in manufacturing.
Objective Lens Diameter
The objective lens impacts the total size and weight of the binoculars because it's often the biggest part of the optic. Generally, a bigger objective lens allows more light to flow through, meaning the production of brighter and sharper images. However, a huge objective lens also means more weight and bulk.
Eye Relief
Eye relief refers to the safe distance between your eye and the eyepiece. It could also pertain to the central point where the light flows through the ocular lens. The best binoculars have adjustable eyepieces that you can set to the maximum eye relief value.
This spec is important if you're wearing eyeglasses. For eyeglass wearers, look for eye relief that's at least 11mm.
Magnification Power
The magnification power refers to how much the binoculars enlarge an image. For example, if the binoculars have a 10x magnification power, they can view the image ten times closer. The ideal magnification power for most circumstances should be between 7x to 10x.
Theatergoers can do with a range of 3x to 5x, while sports enthusiasts will be glad with about 7x magnification power. Hunters should look for at least 10x magnification power for long-range surveillance.
Accessories
The best models of tactical binoculars offer plenty of useful accessories to give more value to the product. The basic accessories include a bag to store the binoculars and a strap to hold the binoculars around your neck. For protective purposes, look for lens covers and eyepiece caps.
It would also be nice to have a tripod so it can hold your binoculars for a long time steadily. If you want to use your smartphone as a display screen, look for a smartphone adapter. Other models even provide an SD card for extra storage.
Extra Features
If you're poor with directions, look for a built-in compass. Oftentimes, the compass comes with an illuminator to see in the dark. A rangefinder also comes in handy when you want to get the accurate distance between you and the target. A display screen is also useful when you want to view the images clearly.
A night vision capability is very important if you want to see things in complete darkness. If you plan to do activities near the water, make sure that the binoculars are waterproof. To make the binoculars useful for all weather conditions, look for a model that's fog-proof and rubber armored.
Navy SEALS rely on the outstanding image quality of Steiners binoculars. Steiner models usually deliver magnificent low-light performance and a cool daytime viewing. Other features that Steiner's more reliable for the Navy include a tough construction that's waterproof and shock-resistant.
How Far Can Tactical Binoculars See?
The average human eye with perfect vision can see as far as 30 miles without any obstacles. When you use 10×50 binoculars, your normal vision can increase 10 times. Based on that fact, tactical binoculars can see up to 300 miles hypothetically.
What Do Binocular Numbers Mean?
The model number fundamentally refers to the magnification power and objective lens diameter. For example, in 10×42 binoculars, the 10 means the magnification power, while 42 pertains to the objective lenses' diameter.
The 10x magnification power means that the binoculars will magnify the object ten times. When you divide the objective lens by magnification, you'll get the exit pupil, which is 4.2mm in this example. The exit pupil can tell the brightness of the image in sight.
Conclusion
After reading the reviews above, you probably have your own favorites as best tactical binoculars. My top pick is the Steiner 10×28 Tactical Binoculars because they got top-notch optics and image quality within their price range. I'm also most impressed with the ClicLoc system for easy release of neck straps. You also can retrofit some other tactical tools such as tactical folding knife or tactical vest to protect yourself.
For HD viewing experience, I prefer the Vortex 10×42 Viper HD because it features an anti-reflective lens coating, plus 10x magnification power.
If you want to see in complete darkness, I recommend Bush-Tech, USCAMEL 10X50, and CREATIVE XP. For directions, I recommend Hooway 70×50 and QUNSE 10X50.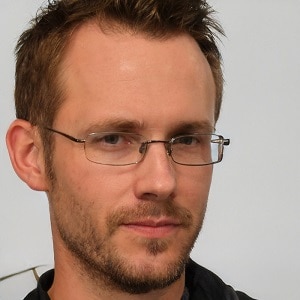 I am Everett Bledsoe, taking on the responsibility of content producer for The Soldiers Project. My purpose in this project is to give honest reviews on the gear utilized and tested over time. Of course, you cannot go wrong when checking out our package of information and guide, too, as they come from reliable sources and years of experience.