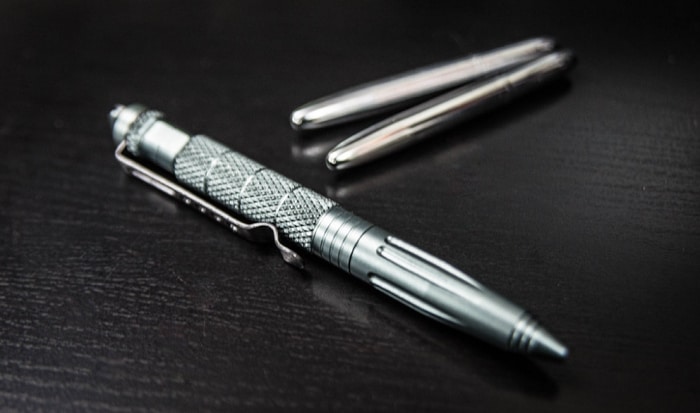 A tactical pen isn't just a pen but a low-key self-defense tool. The best tactical pen can shatter car windows for escape, smash someone's face or skull for self-defense, and even open bottles.
It's advantageous to carry a tactical pen nowadays because you'll never know when an accident strikes. A tactical pen can be a good makeshift Kubotan-style weapon in a pinch when you want to fend yourself from attackers. If you're planning to get one, here are some helpful features to look for.
Material: You want the tactical pen to be as tough as ever to endure impact and inclement weather. Materials like aluminum and titanium offer a great balance of strength and lightness. For the glass breaking point, look for something sharp and hard to smash faces and windows effectively.
Design: A tactical pen design should be discreet so that you have the element of surprise when you have to fend yourself against intruders. The grip should be a little textured to prevent the pen from slipping in your hand. Also, choose whether you want a twist or screw-cap mechanism in your own preference.
Extra Features: Most tactical pens have a glass breaking point for self-defense and an ink cartridge for writing. If you want more versatility, look for extra features like a screwdriver for quick repairs, a bottle opener, and an LED light.
There's still a lot to learn about tactical pens, so let's elaborate more in the buying guide below. But first, check our 11 reviews of the top tactical pens, each with some spectacular features that make them a notable addition to your everyday carry.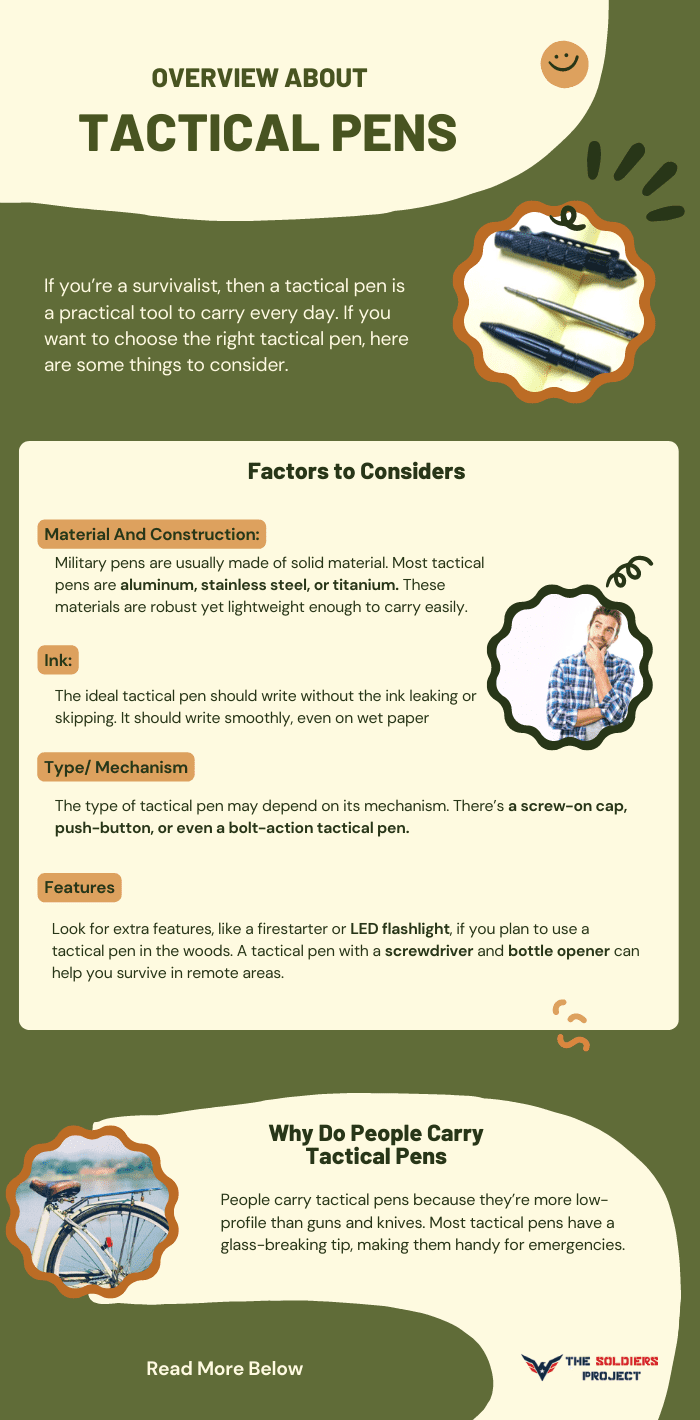 ---

TF Takeflight Tactical Pen
Comes with multi-tools
Has a bright LED flashlight
Aircraft-grade aluminum body
---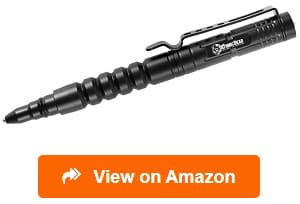 The Atomic Bear SWAT Tactical Pen
Has a solid construction
Fits well in a reverse grip
Includes 300D nylon pouch
---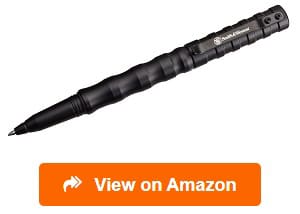 Smith & Wesson Tactical Pen
Built with a self-defense end
Writes smoothly & grips well
Has a perfect size and weight
---
Top 11 Tactical Pen Reviews
1. TF Takeflight Tactical Pen

This Takeflight design is a tactical pen with flashlight, bottle opener, and screwdriver, perfect for survival and EDC needs. As a device geek, I love the versatility that this pen brings.
For one, this EDC tactical pen has a flashlight that's bright enough to blind an attacker for a few minutes. During power interruptions at night, the LED flashlight seems to come in handy to find my way in the dark. It's a relief that the package comes with a spare battery to replenish the power once the original battery runs out.
The best part of this tactical pen is the glass breaker tip because it's not just a single machined tip but something sturdy. On top of that, the aircraft-grade aluminum feels pretty solid yet lightweight. When I use the flashlight, I like that the glass breaker tip is on the other end, ready to strike for self-defense.
At first glance, the multi-tool parts look impressive, especially the screwdriver that helps me make some quick fixes in my electronic devices. The bottle opener has helped me a lot at dinner parties. Takeflight writes smoothly as a pen itself, plus it's a bonus to have two extra ink refills ready, making it a reliable pen for the job.
Heads-up:
However, I need to unscrew the tool in half just to use the pen for writing. This can be a hassle when I'm in a hurry.
Pros:
Built with many features for versatile use
Has a bright LED flashlight with a spare battery
Designed with a sturdy glass breaker tip which can also work for self-defense
Aircraft-grade aluminum body feels durable and lightweight
Comes with multi-tools, like a bottle opener and screwdriver
Writes beautifully with additional two ink refills
Cons:
A bit of a hassle to expose the pen tip
Bottom Line:
All in all, Takeflight is a nice tactical pen for versatility. This pen does more with plenty of features, such as a glass breaker tip, screwdriver, and LED flashlight.
2. The Atomic Bear SWAT Tactical Pen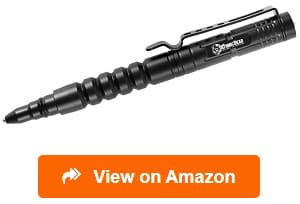 The SWAT tactical pen is a writing pen and glass breaker all fused in one. It writes well for the most part and feels pretty solid with the aircraft-grade aluminum body and the tungsten glass breaker tip.
This particular Atomic Bear model is a good window breaker pen because it can break a car window in a single strike. Therefore, this tactical pen is of good use in unexpected situations.
Also, it works as a great self-defense tool since the tungsten tip seems sharp enough to inflict injuries to sudden attackers. When switching between glass breaker and pen, it seems pretty easy using the cap clip mechanism.
I have small hands, and I like how my hand nestles on the body to provide a solid grip when writing or smashing glasses. The pen seems to fit well in my hand in a reverse-grip position. Also, the cap has a particular protruded area that allows my thumb to keep contact.
What I love best is the 300D nylon pouch that came with the pen, as it's rare to find in this type of product. I like to wear the pouch around my belt for easy access. Both the pouch and pen are of great quality, plus it comes with extra refill ink and a lifetime warranty.
Heads-up:
However, the ink refill seems to run out fast with this Atomic Bear Tactical Pen.
Pros:
Has a solid construction of aircraft-quality aluminum and tungsten
Tungsten steel tip smashes glasses in one strike and may inflict injuries
Easy to use with its cap clip mechanism
Offers an excellent grip and contact; fits well in a reverse grip
Includes a 300D nylon pouch, extra ink refill, and lifetime warranty
Cons:
Bottom Line:
Overall, the SWAT Pen fulfills its two main purposes- self-defense and a writing tool. This tactical pen seems built to last with its durable construction and lifetime warranty.
3. Smith & Wesson SWPENMP2BK Tactical Pen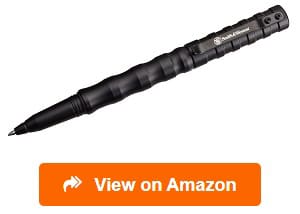 This particular Smith and Wesson tactical pen model has all I want from a pen for self-defense. It's durable, feels good on the hands, and is cool-looking.
Everything about this pen is solid, from the T6061 Aircraft Aluminum material down to the pocket clip. It's the perfect size and weight to get good leverage for attacking. The end is pretty sharp to crack a skull if necessary, but not too sharp that it will make holes in my pocket.
The pocket clip is so strong that it stays in my pocket no matter how active I become. Furthermore, the pocket clip sits the pen low in my pocket, making it better than the Smith and Wesson tactical stylus pen model for concealment. Thanks to the screw-off top, the pen is virtually waterproof, and I'm sure that the cap won't get loose.
This survival tactical pen writes smoothly on paper as a writing tool itself. The ink flows like butter, making my handwriting look even better. I appreciate the Kubotan-style finger grooves on the shaft because they provide a nice grip when writing.
Heads-up:
However, it's a bit of a hassle to unscrew the pen each time I want to use it.
Pros:
Has a solid construction of T6061 Aircraft Aluminum
Has a perfect size and weight for easy striking
Built with a self-defense end that will damage skulls and not garments
Strong pocket clip sits the pen low in the pocket and won't fall off
Screw-off top makes the pen waterproof and ensures the cap won't lose
Writes smoothly and grips well with the Kubotan-like grooves
Cons:
Needs to be unscrewed just to use it
Bottom Line:
Altogether, this Smith & Wesson pen makes a beautiful self-defense weapon that can write beautifully. This one is a great pen for everyday carry and any outdoor activities.
4. Gerber Gear 31-00188ON Impromptu Tactical Pen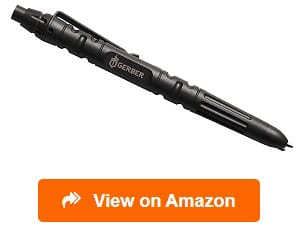 This particular Gerber Gear model is another sturdy tactical pen with glass breaker that I trust to use. The integrated glass breaker tip not only shatters car windows but also faces when necessary.
The glass breaker tip is made of tempered steel, which is sure to break anything easily. I tested breaking a bottle, and it did work. Meanwhile, the entire body is crafted from American steel with Cerakote coating, making the entire construction pretty bomb-proof.
This steel barrel pen incorporates a chain of cuts to enhance grip. It's a bit thicker than my Pilot G2, so it fits nicely in my hand. This one uses a traditional Rite in the Rain ink cartridge that works in any weather, even in the rain.
I like that this one is a click tactical pen instead of a capped or twist model. The push-button mechanism sounds so satisfying that it makes my friends crazy as I press the button repeatedly. Additionally, this tactical pen is easy to slip into my pocket using the durable stainless steel pocket clip.
Heads-up:
The only drawback is that this Gerber Impromptu tactical pen is a little expensive.
Pros:
Built with an effective glass breaker tip with tempered steel
Constructed from bomb-proof American steel with Cerakote coating
Fits and grips well with a series of cuts and a slightly thicker body
Takes Rite in the Rain ink cartridge which works in the rain and any weather
The push-button mechanism feels satisfying and easy to use
Heavy-duty pocket clip easily slips for storage
Cons:
Bottom Line:
Altogether, the Impromptu Pen delivers a solid construction for rugged use, whether writing in the rain or breaking a car window. This tactical pen can also be a discreet self-defense tool when dangerous situations arise.
5. The Atomic Bear Rebel Tactical Pen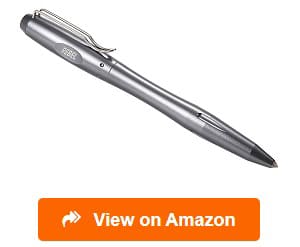 Rebel is a nice tactical self defense pen because it can go unnoticed with its harmless appearance. The brand's logo isn't on the clip, so no one will really know it's a self-defense weapon unless you use it to strike.
I love the solid build of this pen. The military-grade aluminum won't rust, while the pocket clip offers very deep-carry to keep the pen well hidden. On one end, I found a nice tungsten insert, which does a great job in smashing tempered glass.
Compared to the SWAT pen, Rebel is a little shorter at 5.7 inches and more lightweight at 1.2 ounces making it more portable. This glass breaking pen has an elegant, glossy texture, making it stand out from many other tactical pens. The actual pen looks like any regular writing pen, which goes unnoticed in airports and other detection technology.
This pen comes with two ink refills, so I was able to use it immediately. Once the ink ran out, it was easy to find a replacement as it can take a wide range of ink refills, from Parker to Rite in the Rain. I trust the quality of this pen because it offers a generous lifetime warranty.
Heads-up:
However, there are no grooves to get a secure grip on the pen while writing or striking.
Pros:
Unnoticeable with its plain appearance and lack of a logo on the clip
Made of rust-resistant aluminum body and solid pocket clip for deep carry
Built with a strong tungsten tip for breaking glass
Lightweight and portable; has a nice glossy texture
Comes with two ink refills and a lifetime warranty
Can take a wide array of ink refill brands; can pass airport security
Cons:
A bit slippery without the grooves
Bottom Line:
Overall, Rebel makes a wonderful, low-key self-defense weapon. It looks like any regular pen, so it can pass strict airport security or go unnoticed by perpetrators.
6. CRKT Williams Tactical Pen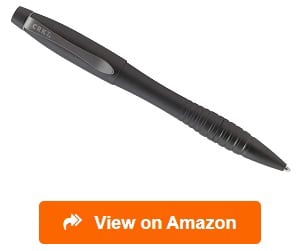 CRKT was developed by a former army officer, making it truly reliable when tactical needs arise. This pen is an outstanding writing instrument and self-defense tool in one package.
The overall construction is quite sturdy. The 6061 aluminum seems highly corrosion-resistant and robust enough to endure my frequent clumsy moments. More importantly, the glass breaking point is strong enough to break glass or puncture someone when used in full force.
This weapon pen is discreet, especially with the bead blast finish that doesn't reflect light. I love the non-slip textured finish on the anodized aluminum, as it offers a truly solid grip even when my hands get sweaty. Also, the sleek design makes the pen look unintimidating, making it easy to pass on airport security.
The big bonus is to have the zippered ballistic nylon hard case come with the package. With such a case, I can store the pen securely while traveling. I'm also pleased to find out that the pen is already fitted with a Fisher Space pen refill that writes smoothly on my memo.
Heads-up:
My only complaint is the pocket clip because the clip is a little pointed, so it easily snags on my garment.
Pros:
Made of sturdy, corrosion-resistant 6061 aluminum
Glass breaking point can puncture with great force and smash glasses
Has a non-reflective bead blast and non-slip textured finish
Can pass through security with its discreet and sleek appearance
Comes with a hard nylon case for safe storage
Already outfitted with Fisher Space ink cartridge
Cons:
The pointed pocket clip can snag on clothes
Bottom Line:
All in all, the CRKT Williams Pen shows great promise as a discreet tactical pen. It looks closer than a regular pen but has the power to puncture someone when necessary.
7. KEPEAK Military Tactical Pen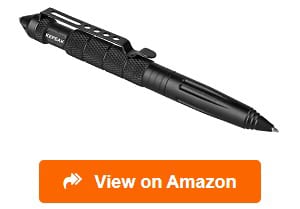 When it comes to true value, nothing can beat KEPEAK with its tactical pen and six refills. Opposite ends provide a good writing instrument and a reliable glass breaking point for self-defense.
At first glance, the pen looks perfect to me. The diamond pattern adds that extra grip on the aerospace-grade aluminum body. The hollow clip looks heavy-duty and tight enough to keep the pen secure in my pocket.
The glass-breaking tip seems tough enough to break the glass if the car or house goes ablaze. Next to the glass breaking tip is a round hole that I believe can collect DNA if the police want to collect evidence. I'm very surprised that I can get this kind of benefit at a very good price.
Furthermore, this military tactical pen features a retractable pen tip. It only takes a simple twist deal to lock the writing tip into place, while the tungsten steel part is always available. I love the ease of driving the tungsten point straight to an attacker without fixing any screws.
Heads-up:
However, this retractable tactical pen might not get a pass on any security checkpoint because the tungsten point is exposed.
Pros:
Includes six ink refills at a good price
Built with aerospace-grade aluminum and diamond patterns for extra grip
Heavy-duty hollow clip helps the pen stay put in the pocket
Tungsteel steel glass-breaking tip can smash windows and collect DNA
Glass breaking tip is always available and ready to attack
Cons:
Might not pass strict security checkpoints
Bottom Line:
Altogether, the KEPEAK Tactical Pen offers an always-ready glass breaking tip to smash faces and windows. At a low price, the package offers six more refills and a cool-looking tactical pen.
8. Smith & Wesson SWPENBK Tactical Screw Cap Pen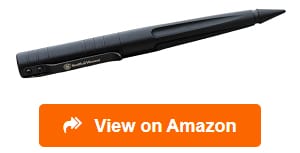 The SWPENBK model is another reliable option from Smith & Wesson. This one just looks like a tactical fountain pen but at a fancier look.
The pen is constructed from T6061 Aircraft Aluminum, offering the perfect balance of strength and lightness. Measuring about 5.7 inches, this particular model fits just right in my pants pocket. I love the placement of the clip because it allows the pen to stay lower in my pocket for great concealment.
As a defense tool, the point curvature comes in handy in breaking glass or striking the pressure points of possible attackers. The glass-breaking tip is so sharp that I know it has the best defense use. Plus, the construction is pretty solid, so it would likely create some severe damage when necessary.
Surprisingly, I was able to write immediately when the pen arrived. I like how the taper and grooves feel on my hands because I can tightly grip the pen when writing or striking. Thanks to the seven threads on the cap screw, I'm certain that the cap won't fly when in action.
Heads-up:
The only thing I dislike is that I need to unscrew the cap just to use the pen. This can be a little time-consuming when I need to sign something in a rush.
Pros:
T6061 Aircraft Aluminum strikes the right balance of strength and lightness
Fits just right in the pocket with its 5.7 inches length
Clip helps the pen conceal deep in the pocket
Has a very sharp point curvature to break glass and strike pressure points
Comes with an ink cartridge; easy to grip with the taper and grooves
Cap stays on and won't fly off with the screws
Cons:
A little inconvenient to unscrew the cap
Bottom Line:
Overall, this Smith & Wesson tactical pen is quite reliable to be a self-defense tool. The pointed tip can break through glass and even cause injuries when needed.
9. Hoffman Richter Stinger Tactical Pen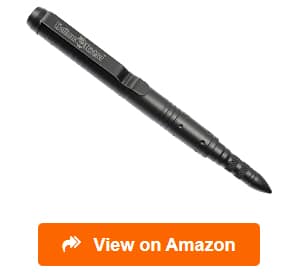 Don't be fooled with the cool appearance of the Hoffman Richter Stinger because it can be handy in getting out of tight situations.
This piece is a reliable self defense pen because the beveled glass breaker tip can smash faces and break glass windows when needed.
The Stinger is made of high-quality aluminum and coated with titanium, making it resistant to abrasions and rust. I like the little heft on the pen as it offers more impact when I want to do more serious damage to my attacker's head. With the screw-on thumb pad, I get good leverage for striking.
I also appreciate the delicate grooves on its body as it helps me get a good grasp on the pen when writing or using it as a self-defense tool. Additionally, the steel pocket clip seems to latch onto my pocket securely yet not too tight to pull the pen easily.
This discreet tactical pen is a tactical tool that also works as a reliable writing instrument. It writes beautifully without any leaks, even better than my professional pens. Thankfully, it comes with a black pen cartridge to use right away and can be replaced with my favorite Schmidt refill.
Heads-up:
However, the threading has no tight tolerance and seems to pull or bend easily.
Pros:
Has a beveled glass breaking tip for self-defense
Well made from high-quality aluminum and titanium coating
Has a good amount of heft for more impact
Screw-on thumb pad offers nice leverage for striking
Easy to grip with the grooves and carry with the pocket clip
Writes beautifully; includes a free ink cartridge
Cons:
Threads on the pen can be bent easily
Bottom Line:
Overall, the Stinger makes a cool tactical pen for everyday carry. It writes well and can be a good self-defense weapon when necessary.
10. Schrade SCPENBK Screw-Off Tactical Pen
The SCPENBK is my favorite model of Schrade tactical pens because it can be a discreet self-defense weapon without looking too tactical. I like the dimensions, about 5.7 inches long, as it's much easier to hold in my hand.
I get a solid feeling of the pen, thanks to the CNC machined 6061 T6 Aluminum construction. Likewise, the pocket clip works as expected- it doesn't slip out of my pants pocket easily. More importantly, the screw-on cap makes me feel secure that I won't lose the cap while writing.
The point of the pen seems sharp enough to smash a window and jab someone without causing any bloody puncture wounds. For someone that doesn't like bloody encounters, this feature is perfect. My favorite part of the pen is the smooth, flat top, as it lets my thumb get a nice placement for exerting any kind of pressure.
As a pen, SCPENBK writes wonderfully, especially when I fit a Fisher Space Pen refill inside. Surprisingly, the ink refill doesn't move around either, making it even feel more solid. The weight is around 1.4 inches, making this small tactical pen lightweight and comfortable to write.
Heads-up:
However, the grip feels a bit sharp, but not enough to make a hotspot as I write.
Pros:
Looks discreet and easy to hold with its perfect length of 5.7 inches
Feels solid with its CNC machined 6061 T6 Aluminum construction
Pocket clip stays on the pocket; screw-on cap makes it unlikely to lose the cap
Has a non-lethal glass breaking tip to jab someone or smash windows
Designed with a flat top for easy thumb placement when striking
Lightweight; writes wonderfully; ink refill won't move around
Cons:
Feels a little sharp on the grip portion
Bottom Line:
All in all, the Schrade SCPENBK is a perfect self-defense pen that doesn't look lethal at all. The glass breaking point is enough to break car windows or jab someone but not that lethal to cause a bloody scene.
11. SKY-TOUCH Tactical Pen Set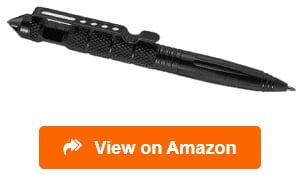 The SKY-TOUCH set offers not only one but two tactical two heavy duty pens with six ink refills for writing. The best part is that the price is very economical.
The pens are made of solid aircraft aluminum alloy with a diamond thread design to get a nice hand grip. The glass-breaking tip is some sort of tungsten carbide that can break skulls and windows. I rammed the tungsten tip into hardwood a couple of times, and the tip remains unscathed.
I love a pen that writes hassle-free, and these pens are as simple as they get. All it takes is a simple twist to the right to expose the ink tip. I'm pleased that the pen writes well on my memo notebook without any leaks.
Surprisingly, the ink refills don't run out fast. The ink tip seems to be protected to keep it from drying out. Also, The pocket clip holds the pen in my pants pocket pretty securely, so the pen is ideal for everyday carry.
Heads-up:
However, the window breaker is sharp and always exposed, so it can get caught on the garments.
Pros:
Consists of two tactical pens and six ink refills
Quite heavy-duty with the aircraft aluminum body and tungsten carbide tip
Diamond thread design increases grip
Glass breaking tip can break glass and skulls
Easy to expose the ink tip with a simple twist; writes well
Ink tip doesn't dry out fast; easy to carry with the secure pocket clip
Cons:
Exposed window breaking tip might create holes on garments
Bottom Line:
Altogether, the SKY-TOUCH Set offers the best value with its two pens and six extra refills. The pens themselves are nicely made with a non-slip grip, durable aluminum body, and sharp window breaker.
What to Look for When Buying Tactical Pens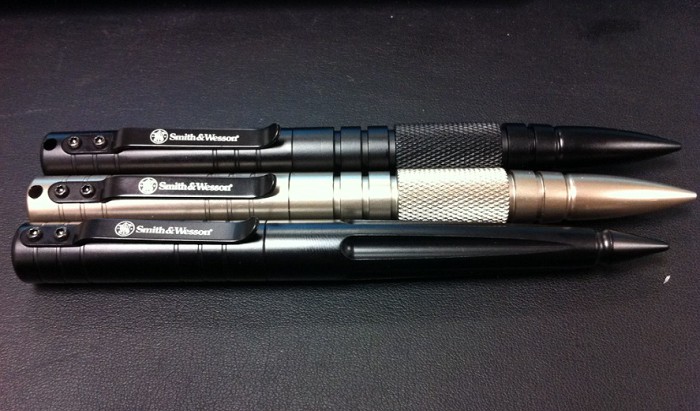 If you're a survivalist, then a tactical pen is a practical tool to carry every day. This type of pen is low-profile, works as a glass breaker, and is adequate to be a self-defense tool. If you want to choose the right tactical pen, here are some things to consider.
Material And Construction
Military pens are usually made of solid material. Most tactical pens are aluminum, stainless steel, or titanium. These materials are robust yet lightweight enough to carry easily. Therefore, it is quite easy to find a lightweight tactical pen that lasts long.
The grip should be non-slippery to get a hold of the pen comfortably, even when you start to sweat. Some of the tactical pens have textured surfaces, diamond patterns, or grooves to enhance the grip. They even have that flat surface at the top to provide excellent leverage when striking.
The glass-breaking tip should be hard and strong enough to shatter glasses in one blow. The best material for this job is tungsten carbide and steel. As for the clip, you want something that won't bend or, worse, snap off.
Ink
Most tactical pens have an actual pen tip for writing purposes. They're equipped with pressurized ink cartridges to write overhead and in any unusual situation.
The ideal tactical pen should write without the ink leaking or skipping. It should write smoothly, even on wet paper. More importantly, the ink should be replaceable with many brands, like Parker, Fisher Space, and Rite in the Rain.
Type/ Mechanism
The type of tactical pen may depend on its mechanism. There's a screw-on cap, push-button, or even a bolt action tactical pen.
A push-button mechanism is desirable for safety as it can cover the tip. Since there are no screws involved, this type of pen is easy to use and satisfying to keep clicking.
Screw-on-caps are the most secure as they keep the cap from falling off or getting lost when you use the pen. The only drawback is that you need to unscrew the cap to use the writing tip constantly, which can be a little hassle when you're in a public area.
Bolt action pens are incredibly dependable and satisfying to click into place.
Style And Features
Tactical pens are available in various styles; hence you should choose one that fits your lifestyle. Choose a standard tactical pen that offers a self-defense weapon and writing instrument if you're a city person. The top-rated tactical pen for self defense has a glass breaker tip to smash skulls and glass goods.
Look for extra features, like a firestarter or LED flashlight, if you plan to use a tactical pen in the woods. A tactical pen with a screwdriver and bottle opener can help you survive in remote areas.
Regardless of the features, make sure that you consider the discreteness of the pen. It should be low-profile to pass through security checkpoints and catch your perpetrators unprepared. As much as you want to boast, avoid those with brand logos printed on the pocket clip visibly to prevent tipping someone off that they're not a regular pen.
What Are the Most Trusted Tactical Pen Brands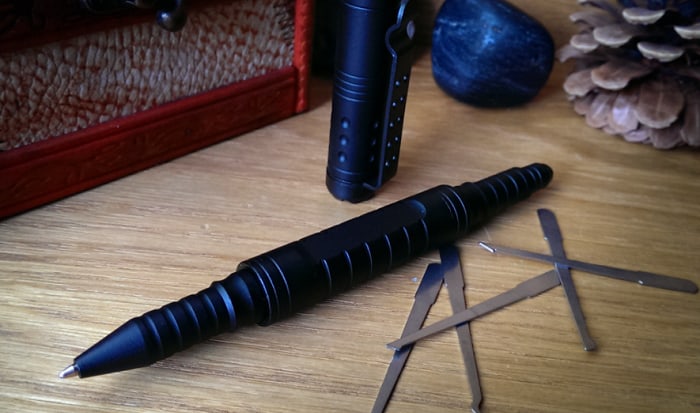 The Atomic Bear is one of the most trusted brands of tactical pens out there. This brand heralds the SWAT and REBEL pens made from the highest grade of aluminum and tungsten materials. Some great contenders are Smith and Wesson, Gerber Gear, and Takeflight.
Why Do People Carry Tactical Pens
People carry tactical pens because they're more low-profile than guns and knives. Since they can go unnoticed, they can be a great surprise element for self-defense. Most tactical pens have a glass-breaking tip, making them handy for emergencies.
Are Tactical Pens Allowed in School
It depends on the school regulations, but any discreet blunt object can be used for self-defense. Get a tactical pen that doesn't look lethal at all to get away with the rules.
Is a Tactical Pen Legal
It's fully legal to carry a tactical pen in all US states. This pen type looks very low-key, so it doesn't intimidate people. Also, the damage it can do is only minimal.
Conclusion
The best tactical pen not only works as a writing instrument but is also handy for self-defense purposes. Our top recommendation is the Atomic Bear SWAT Pen. It writes well and is formidable enough to break windows and skulls. The best part is that it includes a sturdy nylon pouch for secure storage.
The Gerber Gear Impromptu Pen might be the best option when it comes down to the toughest pen. This pen is virtually bomb-proof and takes Rite in the Rain ink cartridge, making it usable in any inclement weather.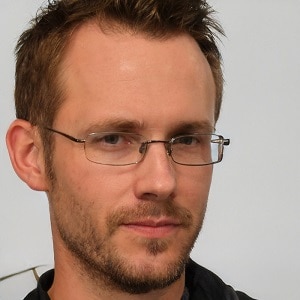 I am Everett Bledsoe, taking on the responsibility of content producer for The Soldiers Project. My purpose in this project is to give honest reviews on the gear utilized and tested over time. Of course, you cannot go wrong when checking out our package of information and guide, too, as they come from reliable sources and years of experience.