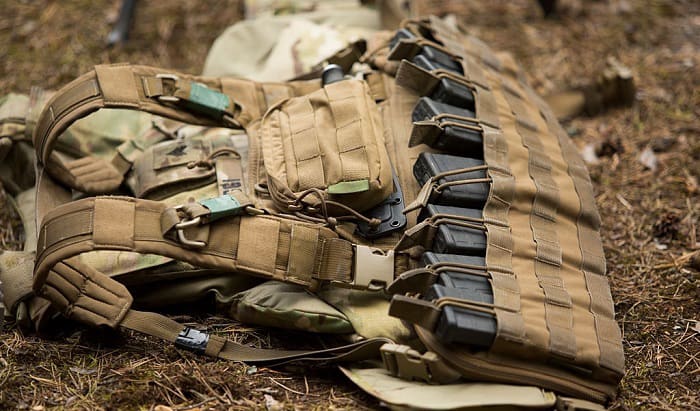 A chest rig is the quickest way to reload your rifle or pistol. This type of bag keeps your ammo around your chest, so they're readily accessible for hunting or any shooting activity. The best tactical chest rig even provides room for more than mags because they can also store other tactical equipment, like flashlights and light sticks.
The dilemma sinks in when you have to choose the right rig for your needs. There are so many brands available today, so it's challenging to sort through various features. In general, you need to look at these factors.
Mag Pouches: Look for pouches that fit the size of your existing magazines. Make sure that they have bungee cord straps or velcro straps to keep the mags secure. You can also look for mag retention inserts for more security.
Molle Webbing: This type of platform extends the capacity of your chest rig. Choose a rig with lots of Molle webbing to increase your storage options. Also, ensure that they're sturdy, so the gear stays in place while traveling.
Adjustability: This feature is crucial for the comfortable fit of the chest rig. Look for adjustable shoulder straps and waist. Check the design and make sure that it can fit your current size.
The above features aren't everything. There's still a lot more to learn on how to choose the right tactical chest rig in the buying guide below. Keep reading to find out our reviews for the best brands of chest rigs on the market today.
---
Condor Recon Chest Rig
Keeps everything secure
The thick shoulder padding
Have a large capacity to hold
---
NcSTar VISM AK Chest Rig
Lightweight and adjustable
Can store up to 30 rounds of mags
Allows the attachment of other gear
---
Condor Modular Chest Set
Has six mag pouches
Well-built with good stitches
Carry extra pouches and gear
---
Top 12 Tactical Chest Rig Reviews
1. Condor Recon Chest Rig
Recon is one of my favorite M4 chest rigs as it can hold six M4 mags and six pistol mags, thanks to its large kangaroo-style mag pouches. What's even better is that I can fill the mag pouches with a flashlight, multi-tool, or any same-sized gear.
I love the shoulder straps with all the thick padding, webbing, and D-ring. I can put on an extra Molle pouch to extend the gear capacity without feeling too much burden on my shoulders. Best of all, the swivel push release buckles feel great and secure.
This lightweight chest rig was easy to adjust to my body type. I like that there's a little more adjustment available should I need to wear a jacket underneath the rig. More specifically, the waist size is adjustable between 30-60 inches, so I think it fits most body types.
The best part of this chest mag carrier is the mesh pocket on the interior. I love to keep my valuables, like keys and wallets, in there. Everything stays in place even when running or jumping since the front pouches come with closure flaps and elastic bands.
Heads-up:
However, the elastic retainer bands can be a little annoying when I try to reinstall a magazine or replace an expended magazine with a new one. Users need to use two hands to get past the bands.
Pros:
Kangaroo-style mag pouches have a large capacity to hold mags and other gear
Shoulder straps have Molle webbing and D-ring to fit extra pouches
Feels comfortable with the thick shoulder padding
Keeps everything secure with the buckles, flaps, and elastic bands
Adjustable sizing from 30 to 60 inches waist size
Interior mesh pocket allows the storage of valuables
Cons:
Elastic bands can get in the way when replacing mags
Bottom Line:
Overall, the Condor Recon provides a large capacity for mags and extra gear. This isn't a Haley Strategic chest rig, but it does an excellent job at keeping tactical equipment secure.
2. NcSTar VISM AK Chest Rig
VISM is one of the good chest rigs for AK magazines and some extra gear. This AK chest rig setup includes one large belly pouch, three double AK mag pouches, and two utility pouches at the sides.
I feel that VISM offers plenty of space for 30 rounds of AK47 or AR15 mags, which is good to provide extra space for my extra gear. My favorite is the two utility pouches that keep my tools and snacks around on the field. They're even large enough to hold a water bottle.
The belly pouch, which is in between the chest and the mag, seems to be perfect for storing maps. It's thin, so it doesn't stick out much. Also, all the closures seem to be secure, especially the bungee retention straps and Velcro fasteners which can be adjusted to whatever mag I have.
The fit is fully adjustable, so this AK47 chest rig fits right on my torso. I appreciate the Molle webbing on the shoulders as it can work to mount a flashlight or knife if necessary. As for the material, it seems lightweight to carry around comfortably.
Heads-up:
However, this AK 47 chest rig is only single-stitched. To add durability, consider laying another layer of stitch.
Pros:
Can store up to 30 rounds of mags
Utility pouches are good for storing tools, snacks, and even water bottle
Thin belly pouch can hold a map without bulging out
All pouches are enclosed with secure Velcro fasteners and bungee straps
Lightweight and adjustable to fit on any torso size
Molle webbing allows the attachment of other gear, like a knife and flashlight
Cons:
Has a single-stitch construction only
Bottom Line:
All in all, VISM makes a good AK or AR15 chest rig with its generous amount of pouches. This rig can carry 30 rounds of mags, extra gear, and maps.
3. Condor Modular Chest Set
When it comes to storage, this Condor chest set is one of the top chest rigs for combat. The style reminds me of my old Lazutchik chest rig with all the Molle webbing platforms.
This Condor model looks well-built with the sturdy Molle webbing, padded shoulder straps, and good stitching. It also got a pouch in the rear for a water bladder. For someone who wants to keep hydrated, this is a big bonus.
The shoulder padding feels comfortable even when I load plenty of mags and extra gear on the Condor set. Besides the six mag pouches, there are two extra mesh pockets on the interior to keep more items. I like to keep my valuables in the interior mesh pockets because they conceal them very well.
I fully enjoyed the removable chest platform because it allows me to add more modular pouches onto the rig. Also, the hook and pile retainers at the adjustment areas are pretty convenient to keep a neat overall appearance. Anyone can fit into the rig because it's adjustable from large to extra large.
Heads-up:
However, this chest rig might be too big for someone medium-sized.
Pros:
Designed with plenty of Molle webbing to carry extra pouches and gear
Seems to be well-built with good stitches
Has six mag pouches, two interior pockets, and a pouch for the water bladder
Padded shoulder straps feel comfortable, while hook and pile retainers look clean
Removable chest platform adds storage space for Molle pouches
Adjustable size fits large to extra-large torsos
Cons:
Looks a bit too large for medium-sized people
Bottom Line:
Altogether, the Condor Modular Chest Set is perfect for carrying more stuff on the field. This is one of the few military chest rigs with plenty of Molle webbing platforms.
4. Helikon-Tex Training Mini Rig, Shadow Grey
This mini chest rig is from the Range Line of Helikon-Tex. I like the shadow grey color because it goes well with any color of my shirt.
I used this product as a sub gun chest rig, and it was excellent. The magazines stay in place in the four fixed pouches even when I'm running. My favorite is the flaps because they can be adjusted to secure whatever mag I'm using, from AR to AK types.
The magazine draw is simple, and so is replacing it. I'm pleased that I can carry more gear with the extra pouches. The two large zippered pockets seem to be good for storing a flashlight, cellphones, and other additional tools.
For someone who likes to customize, having three Velcro panels is a big bonus. I had a blast attaching my favorite morale patches on the two main pockets. Moreover, wearing this rig is comfortable on the arms and back, thanks to the H-strap harness.
Heads-up:
If there's something to nitpick, it would be the lack of padding on the shoulder straps. I wish there were more padding, but they still feel nice when worn.
Pros:
Shadow grey color complements any color
Fixed mag pouches come with adjustable flaps to secure mags
Easy to draw and replace the magazines
Includes two large pockets to fit more tools and accessories
Designed with three Velcro panels to allow customization of morale patches
H-strap harness eases the burden on the arms and back
Cons:
Lacks padding around the shoulders
Bottom Line:
Overall, the Helikon-Tex Mini Rig keeps mags secure and allows the storage of other accessories for a convenient tactical mission. This model stands out with its H-strap harness and three Velcro panels for customization.
5. VISMIX Tactical Chest Rig
I was looking for a good Airsoft chest rig, and someone on Reddit recommended this VISMIX tactical chest rig. With this rig setup, all the gear and accessories are accessible during the Airsoft play.
The capacity is quite immense, with eight mag pouches that can fit AK/AR mags, pistol mags, flashlight, and other small tools. There's a main pouch, a detachable bottom pouch, and Molle straps for carrying more tactical gears. I like the fact that the bottom pouch is detachable because I can just remove it to make the rig more lightweight.
The best part of the rig is the main pouch. Inside, I found many compartments, including space for my wrench, an elastic band for my flashlight, and a mesh pocket for other essentials. What's even better is that there's a designated place under the pouch for fixing a tourniquet.
The material is made of 500D nylon, which seems to be tough for outdoor use. More importantly, it fits on my torso comfortably, thanks to the adjustable shoulder and waist straps.
Heads-up:
However, one customer reported receiving the wrong product. It's an isolated incident rather than a trend, so it's not a huge problem.
Pros:
Eight mag pouches can store AK/AR mags and other tools
Main pouch has compartments, a mesh pocket, and a band to organize items
Has an area for fixing tourniquet and Molle straps for extra gear
Bottom pouch can be detached to reduce weight
Durable with the 500D nylon material
Shoulder and waist straps are adjustable to fit comfortably
Cons:
An incident of wrong delivery
Bottom Line:
All in all, the VISMIX Tactical Chest Rig is a solid choice for an AR/5.56 rig setup. There's plenty of room for extra accessories, plus everything can be organized in the main pouch.
6. Condor MCR6-498 Tactical & Duty Equipment
The MCR6-498 reminds me so much of my father's chest rig with the cross-back shoulder strap. I believe that this low profile chest rig can carry up to six mags and some extra accessories on the interior mesh pocket.
I love the open-top mag pouch design. It makes reloading quite easy, especially with the bungee release system. I also found a lot of Molle webbing along the rig to fit several modular attachments, like medical kits.
I could never get lost with this MCR6-498 because it can keep a map securely. Additionally, the elastic loops at the sides can hold a tourniquet or a light stick securely. I also think that this rig will last for years with its heavy stitching and thick nylon material.
Wearing this Condor chest rig is pretty comfortable. The cross-back shoulder strap is sufficiently padded to prevent it from digging into my skin. Best of all, the cross-back design distributes the weight and prevents the strap from slipping.
Heads-up:
However, the waist is way too large. I recommend users tape the additional length on the waist clip to get a better fit.
Pros:
Can hold up to six mags and a few essentials on the mesh pocket
Open-top mag design makes it accessible and easy to reload
Has plenty of Molle webbing to attach extra gear, like medical kits
Can hide a map, tourniquet, and lightstick
Seems sturdy with the heavy-duty nylon material and stitching
Cross-back shoulder strap distributes weight and is well-padded for comfort
Cons:
Waist lacks adjustability
Bottom Line:
Altogether, the setup of the Condor MCR6-498 is quite excellent. There are accessible mag pouches with a map pocket and a comfortable cross-back shoulder strap for a more comfortable carry.
7. OneTigris Tactical Chest Rig
The OneTigris chest rig is perfect for bringing to the range or the field with its secure mag pouches and internal pockets. This 5.56/7.62 chest rig is built with four open-top pockets, a front pouch, and two enclosed pistol mag pockets.
I love that I can wear this rig in many ways. I can use it as a chest rig or detach the back panel and fix it to a load-out vest. The shoulder straps are nicely padded, so the rig is easy to carry around, even with some extra gear.
I found three Velcro strips on the front, perfect for the customization of my favorite morale patches. Also, there's a lot of Molle webbing on the front of the main pouch and around the shoulder straps. Since I like to carry a medical kit, the Molle is perfect and seems sturdy enough to attach a lot of gear.
When I unzip the main pouch, I like that it doesn't flop open due to the two retaining fabric pieces. This makes it great for accessing the tools without them falling out immediately. Compared to my brother's RTAC chest rig, this OneTigris model is slightly more lightweight.
Heads-up:
However, the center pouch is a little small to fit all my trauma gear. The small size only fits
my wallet
, phone, and a small kit.
Pros:
Versatile to use, can be worn as a chest rig or attach to a load-out vest
Well-padded shoulder straps make the rig easy to carry
Three velcro panels allow customization of morale patches
Molle webbing seems sturdy and allows the attachment of additional gear
Main pouch has two retaining fabric pieces for easy access to items
Seems lightweight to carry around; with numerous secure pockets
Cons:
Has a slightly small center pouch
Bottom Line:
Overall, this OneTigris model is a true minimalist chest rig with its simple pouch design and lightweight construction. It can be worn in several ways, adding versatility to the product.
8. RAPDOM Tactical Molle Chest Rig
The RAPDOM Tactical Chest Rig is another heavy-duty rig to store mags and other items in the field. It features plenty of pockets and Molle webbing to hang more tactical gear for a long haul of hiking, somewhat similar to my old Voodoo Tactical Chest Rig.
When this Molle chest rig from RAPDOM arrived, I was instantly enamored with its nice craftsmanship. The nylon material looks high-grade and durable for rugged use. Also, the straps are well-padded and wide enough to ease the burden of a heavy load.
The rig has a large capacity. It features six pistol mag pouches and three carbine magazine pouches that can hold two mags each. On top of that are concealed compartments, which I like to keep my valuables.
I love the fact that the pistol mag holders have removable covers for easy access. Sometimes, I don't fill all the slots for pistol mags, so I convert some of them into a multi-tool holder. Best of all, the rig adjusts quickly to fit any size of the torso.
Heads-up:
However, users cannot rearrange the pouches according to their preference.
Pros:
Provides Molle webbing to carry other tactical gear
Has nice craftsmanship of durable nylon and wide, comfortable straps
Multiple mag pouches can carry plenty of spare mags or other tools
Concealed compartments are ideal for keeping valuables
Removable pistol mag covers provide easy access to items
Easily adjusts to fit any torso size
Cons:
The pouches cannot be rearranged
Bottom Line:
All in all, the RAPDOM Tactical Chest Rig is a comfortable chest rig to carry around for the storage of spare mags. It can even carry other gear in its hidden pockets and sturdy Molle webbing.
9. Helikon-Tex Training Mini Rig, Multicam
This Multicam Helikon-Tex mini rig is a good option to bring for hunting or any shooting activity. It can fit a lot of things, from the basic load of mags to additional tools.
The 500D Cordura fabric feels pretty strong for the harsh outdoor environment. Also, the YKK zippers can endure a hard beating. One time, I accidentally pulled the zippers too hard, and I was surprised that they didn't break.
The construction seems solid with the heavy stitching. I found no loose threads or any bad stitches. Also, the straps are long enough to use this rig over a plate carrier, and the style makes it so that I can wear this without any help.
As expected from Helikon-Tex, the manufacturer is smart in designing a minimalist harness rear to accommodate a hydration carrier for convenience. More impressively, the low-profile design can carry four pistol mags and four carbine mags. I can even bring some other sort of items in the two large zippered pockets.
Heads-up:
However, the shoulder straps feel a bit thin. I hoped there was more padding to increase comfort.
Pros:
500D Cordura fabric and YKK zippers all feel tough and strong for constant use
Has a solid construction of heavy stitching
Straps are long enough to accommodate a plate carrier
Has a style that allows donning the rig without any help
The rear can carry a water bladder for hydration
Low-profile design can carry a bunch of mags; two large zipped pockets
Cons:
Needs more padding around the shoulder straps
Bottom Line:
Altogether, this Multicam training mini rig from Helikon-Tex is a good choice for tactical missions. I think it's a good chest rig for plate carrier because the straps are long enough.
10. Elite Tribe MK3 Modular Lightweight Chest Rig
The Elite Tribe MK3 is a budget chest rig that can keep all the kits in the right place. It has lots of room to add extra mag pouches and a few essentials like flashlights and phones and other kits.
This rig looks and functions great, especially when I paired it with my tactical flat pack. There's plenty of pouches for mags and other tools. I especially like the big main pouch as it can store all my other belongings, such as pens, radio, and even my snacks.
I like the fact that every part of the rig could be adjusted and reinstated with similar types of accessories. Also, the fit seems to suit all body sizes, thanks to the excellent adjustable system. Surprisingly, the rig feels lightweight to wear around the torso for long hours, even when fully loaded.
The material seems to be made of sturdy 500D Cordura nylon. Both the inserts and the velcro are pretty good, as well as the clips to keep everything secure. With the product's price, I think this is a good steal.
Heads-up:
However, some users might find the presence of Velcro to be excessive.
Pros:
Has tons of room for mags, accessories, and kits; goes well with flat packs
Large main pouch can store essential items, like radio and snacks
Can be adjusted and restored with similar types of accessories
Adjustable system is fit for all sizes
Feels sturdy with the 500D Cordura nylon, inserts, velcro, and clips
Lightweight, comes at a good price
Cons:
Some users may think there's too much Velcro
Bottom Line:
Overall, the Elite Tribe MK3 seems to be a good starter chest rig with the right amount of pouches. This rig is as good as the expensive ones with its adjustability and lightweight construction.
11. OAREA Micro Chest Rig
OAREA is a micro chest rig loadout with a simple design. The rig comes with one recycle pouch, three 5.56 mag pouches, three 9mm mag pouches, and two mag pouch support frames.
I found out that the triple mag pouch can be used as a storage bag when removed. That's quite convenient when I want to make room for more supplies. Also, it's fortunate to have an elastic band inside the main pouch, so my items are all kept secure while I'm on the move.
The tactical chest harness feels comfortable with the padding. I like that the cross-back shoulder strap is adjustable to fit any size. I'm somewhere between 40-50cm, so this rig sits right on my chest and back just right.
I love the mag retention inserts that came with the rig. The inserts are perfect for holding the mag in place even when I'm sprinting. Also, the stitching looks neat and straight, so it appears that the rig is high-quality.
Heads-up:
However, the zippers are a little flimsy. I'm afraid that they may rip off with constant abuse. So, I recommend users get gentle on the zippers.
Pros:
Triple mag pouch can be turned into a storage bag for extra supplies
Elastic band keeps the items in place inside the main pouch
Harness is well-padded for comfort
Cross-back shoulder strap adjusts to any size
Mag retention inserts keep magazines securely in place
Has neat-looking stitching, 6 mag pouches, 2 support frames, & a recycle pouch
Cons:
Zippers feel a bit too flimsy to withstand constant abuse
Bottom Line:
All in all, this OAREA rig provides an outstanding design with an adjustable harness and mag retention inserts. It's one of the top-rated micro chest rigs when it comes to versatile pouches.
12. Huenco Tactical Assault Chest Rig With Day Pack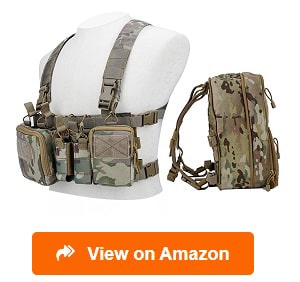 This Huenco is a combination of an AK tactical vest and a military day pack. Together, they provide an immense amount of capacity to carry a lot of stuff for the success of any tactical mission.
The quality of the materials is quite impressive. The vest is made of 500D nylon, while the backpack is made of a stronger 1000D polyester fabric. Thankfully, the vest's cross-back shoulder strap is adjustable, so it fits comfortably on me.
There's a ton of space for tools, hydration bladders, food, and more. About six of the pouches are for magazines, while two zippered pouches are for smaller items. When nothing is stored in the pouches, I like that they flatten well to not look bulky.
I found out that there's a velcro flap to attach my favorite drop-down pouch. I appreciate that because I like to use an extra pouch to carry some extra gear. Also, the mag slots have a tight fit to prevent the ammo from falling out.
Heads-up:
However, the chest rig has a different camo pattern from the daypack. The chest rig has a gloomier pattern than the pack.
Pros:
Includes a daypack to provide more storage options
Seems tough with 500D Cordura and 1000D polyester fabric materials
Adjustable cross-back shoulder strap provides a comfortable fit
Multiple pouches can fit a lot of stuff and flatten well when empty
Velcro flap allows the attachment of a drop-down pouch
Mag slots provide a tight fit for security
Cons:
The rig and daypack have different camo patterns
Bottom Line:
Altogether, the Huenco Tactical Chest Rig and Day Pack offers a complete storage setup for any tactical activity. The rig can store mags, while the day pack can carry more extra gear.
What to Look for When Buying Tactical Chest Rigs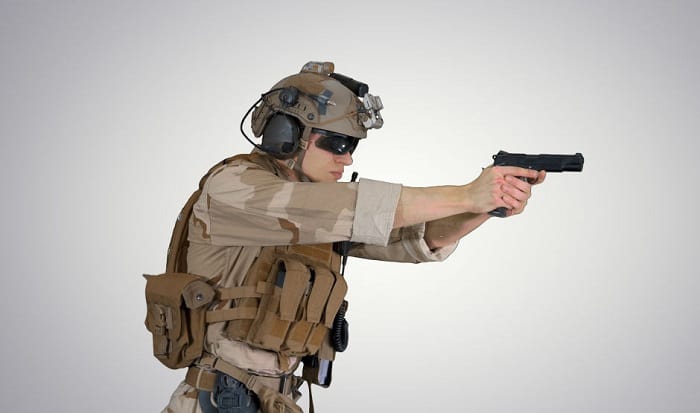 Chest rigs are nice to keep your hands free while still being able to carry a lot of ammo and other tactical gear. If you're looking for a new rig, here are the important factors to consider when shopping for your first or new tactical chest rig. You can also check out resources like chest rig Pew Pew Tactical recommendations.
Color
The color matters most when you want to conceal your presence on a mission. Camouflage patterns are your best options as they blend well with the trees and plants in your surroundings. This type of color also suits best for military efforts.
Olive drab (OD) and coyote brown are my favorite low-profile colors. These colors technically suit most situations, whether you're in for an Airsoft game or executing a tactical mission.
If you plan to go to the shooting range or forest, I don't recommend black because it tends to stick out in the surroundings. Also, desert camo and other cool designs, like flames, might not be suitable for Alpine environments.
Regardless of your choice, make sure that it fits the environment that you plan to use the rig in.
Storage Capacity
Some rigs come only with Molle webbings, while others combine them with pouches/pockets. Ideally, you want to have both for more functionality. You want the pouches to store mags and Molle webbing to attach more extra gear.
The chest rigs I reviewed above usually have three mag pouches in the front and plenty of Molle webbing all around. Some even provide interior pockets to hide valuables and a large main pouch with compartments to organize other tactical gear.
Keep in mind that you become more prepared for emergencies when you can carry more gear and are more likely to survive in any environment. However, you don't want to have so many pockets that you can't find items in an emergency. Choose one with enough pouches to hold your essentials and allow you to easily load and remove items.
Mag Pouch Specifics
Chest rigs are available with weapon-particular pouches. Most will accommodate 5.56 and pistol mags. However, you might need a specific AK chest rig if you own an AK magazine because 5.56 mag pouches might be too small.
Also, look for mag retention inserts to keep the ammo in place. Adjustable velcro closures and bungee retention straps are also good in keeping the ammo secured during travel.
Shoulder Straps
The size of the shoulder straps is crucial for the achievement of your goal. Something too big and the rig might not work in a low visibility situation. Likewise, straps that are too thin may not work if you carry a heavy load.
Chest rigs come with two kinds of harnesses, H and X. Anyone can wear both of these harness types, but a specific type may fit your needs better.
X harnesses are your basic straps with a cross in the back. They're ideal for light and low-profile rigs that get the bulky stuff out of the way. This type provides better back and chest support for women and tends to be less invasive for smaller body frames.
Unless you get a modified X strap, the straps may bother your neck when worn with armor.
H harnesses distribute the weight more evenly, making them more suitable for people with larger builds. These harnesses tend to be easier to wear than their X harness counterparts. They also work best with armor and don't tend to ride up the neck, but they can rub the armpits and back of your arms.
No matter what type of harness you choose, make sure that it's reinforced with stitching to keep it together. Also, look at the shoulder straps and choose one that's nicely padded to reduce muscle fatigue.
Material
Most chest rigs are made of nylon fabric, more specifically ballistic or Cordura. Ballistic is usually the heavier of the two materials and has more tensile strength. The denier count of ballistic nylon ranges from 840-1050, and it appears to have a smooth finish.
Cordura is known for its great abrasion resistance, ranging from 500D to 1000D. It has a canvas-like appearance and feels, making it more casual to use.
Both of these fabrics are heavy-duty, so any of the two are durable for tactical chest rigs. Just choose a higher denier count to ensure more strength.
Aside from the fabric, look at the zippers. Make sure that they're heavy-duty for constant abuse.
Size
I observed that most of the chest rigs have one size that fits all. They have a lot of adjustability to sit on your chest comfortably. The adjustability typically comes from the shoulder straps and waist.
The shoulder straps need to be adjustable so they won't slip while using the rig. For the waist, the range goes between 30-60 inches. To get the best fit, refer to the manufacturer's sizing chart or try the rig yourself.
What Do You Keep in a Tactical Chest Rig
You can keep plenty of tactical gear in a tactical chest rig. Most of the time, the rig offers pouches for magazines and a Molle webbing to attach extra gear like medical kits and water bladder. Some rigs come with a larger pouch to store other items, like flashlights, wrenches, and maps. Others even offer a space for tourniquets.
How Many Mags Are on a Tactical Chest Rig
Typically, rigs can store four large mags or even more, depending on the number of mag pouches available. Others can even keep separate mags for AK and pistols, totaling about 6-8 slots.
What Material Are Chest Rigs Made of
Chest rigs are typically constructed from heavy-duty nylon fabric, more specifically 500D nylon. Others are made of an elastic material to retain their shape after enduring a heavy load.
Chest Rig vs Plate Carrier: Which One to Wear
Chest rig is preferable if you only want to keep tactical gear, like mags and tools. If you want to protect your torso from rifle fire, use a plate carrier as it can hold a piece of armor.
Conclusion
A chest rig allows you to bring plenty of tactical equipment while keeping your hands free. My top choice for the best tactical chest rig is the Condor Recon because it looks pretty secure to hold any mag style. Also, the waist is easy to adjust to fit any size.
NCStar VISM chest rig offers plenty of pouches to carry more tactical equipment outdoors. It has a utility pouch for tools and a thin belly pouch for maps.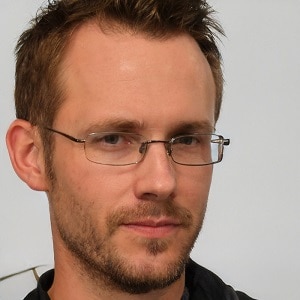 I am Everett Bledsoe, taking on the responsibility of content producer for The Soldiers Project. My purpose in this project is to give honest reviews on the gear utilized and tested over time. Of course, you cannot go wrong when checking out our package of information and guide, too, as they come from reliable sources and years of experience.