One of the ways to get a perfect shot is to see the target clearly no matter how disturbing the sun or weather can be. The best tactical sunglasses can help us do just that, plus protect our eyes from any flying debris, harmful UV, and impact. These military sunglasses also make users look instantly cool in any mission.
Anyone can use tactical sunglasses, whether they're law enforcement officers, hunters, or shooters at the range. If you're planning to buy a new pair of tactical sunglasses, here are some important things to consider.
Durability: Tactical sunglasses should take a beating because you'll have to encounter many incidents outside. The most durable models are made of strong materials, like a TR90 frame. They also passed the ANSI Z87.1 and MIL-PRF 32432 standards to stay resilient against impact.
UV Shield: A common problem of shooting or working outdoors is the blinding effect of the sun. To ensure full eye protection, look for UVA/UVB/UVC protection. Some brands even go further and provide blue light protection from devices like smartphones and televisions.
Accessories: What makes the sunglasses even more worth buying is to have plenty of accessories. Top brands may offer free replaceable lenses, hard case storage, and a cleaning cloth. The number of accessories isn't the only thing that matters but also the quality.
Buying tactical sunglasses can be a bit overwhelming, so we provide a full buying guide below. But before we go to that, let's review the top 12 tactical sunglasses that can help improve our performance.
---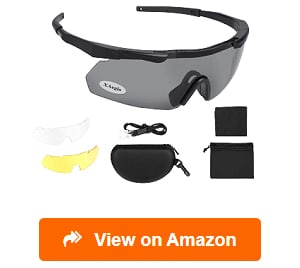 XAegis Tactical Eyewear
ANSI z87+ compliant
Includes three replacement lenses
Anti-fog & built with a rubber frame
---
Venture Gear Tactical Sunglasses
Built with a soft nose piece
Looks sharp at a reasonable price
Protects eyes from harmful UV rays
---
KastKing Polarized Sunglasses
Built with polarized lenses
Tall frame blocks the light
Smoke lens helps reduce glare
---
Top 12 Tactical Sunglasses Reviews
1. XAegis Tactical Eyewear 3 Outdoor Shooting Glasses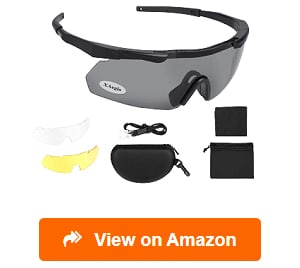 XAegis Tactical Eyewear is a kit full of extraordinary deals, like the three polycarbonate lenses, a rubber frame, and a hard shell storage case.
I believe that these tactical sunglasses offer the highest level of sun protection, boasting UV400 protection. Wearing them for extended periods isn't a burden because the rubber frame feels soft and comfortable on my nose bridge. Best of all, I can just attach the case to my bike using its hook for easy travel.
I'm pleasantly surprised that I can change from smoke to yellow and clear lens quickly. Thanks to the interchangeable lenses, I can work in all environmental conditions. I don't even have to worry about losing any of them because the hardshell case is a nice place for storage.
After putting on these special forces sunglasses, I didn't notice the lenses getting fogged up. Plus, I appreciate the included neoprene strap because it allows me to hang the safety glasses on my neck so they won't get lost. Even better is the ANSI z87+ compliance, making me feel safe wearing them for rugged use.
Heads-up:
The only thing I dislike is the size of the nose piece. It seems to only fit those with narrow noses.
Pros:
Includes three replacement lenses that can be switched quickly
Comes with a nice storage case with a hook to attach securely to a bike
ANSI z87+ compliant to provide excellent impact resistance
Neoprene strap allows wearing the glasses around the neck
Anti-fog and built with a rubber frame for comfort
Cons:
Only sits nicely on narrow noses
Bottom Line:
All in all, XAegis offers above the bare minimum with three interchangeable lenses and a durable storage case. These military sunglasses also provide excellent protection against the sun with their UV400 rating.
2. Venture Gear Overwatch Tactical Sunglasses
Venture Gear Overwatch is one of the top-rated tactical sunglasses under $50 as this pair delivers more than it's worth. I like how this tactical eyewear looks sharp for everyday wear and in the shooting range.
These ballistic sunglasses meet all the safety specifications I was looking for. Polycarbonate lenses are paired with an anti-fog coating to repel mist and water to help me see clearly in a thick fog. Not only that, the anti-fog lenses shield my eyes from impact and debris during shooting because they passed the ANSI Z87.1 and MIL-PRF 32432 standards.
The Overwatch glasses are quite dark with a green tint, making them perfect for a bright sunny day. I can walk under the sun without squinting because the scratch-resistant lenses offer enough UV light protection. It's unbelievable how this ballistic eyewear remains in shape even after spending many hot days on the field.
I love how these military grade sunglasses offer excellent optical clarity and sit on my nose comfortably. They don't fall off even when I'm doing some arduous tasks on the field. It's also great that the nose piece is soft, and the rubber frame won't cause any negative reactions on my skin.
Heads-up:
However, the metal hinge is the weakest point of these tactical sunglasses. I recommend users be gentle on this part.
Pros:
Protects eyes from harmful UV rays and won't deform in shape
Looks sharp at a reasonable price
Scratch-resistant Polycarbonate lenses offer anti-fog protection
Passed the ANSI Z87.1 and MIL-PRF 32432 standards for impact resistance
Provides exceptional optical clarity, especially under the sun
Built with a soft nose piece and skin-friendly rubber frame; stays put when used
Cons:
Bottom Line:
Overall, Venture Gear is one of the top military sunglasses brands that provide extraordinary eye protection. These tactical sunglasses protect the eyes from impact, fog, and harmful UV rays.
3. KastKing Iditarod Polarized Sport Sunglasses
The Kastking Iditarod is my favorite pair when fishing because it blocks out all light from entering around the frames. The frame that goes over the ears is high enough to enable this.
Compared to other sunglasses, the KastKing sits comfortably on the fairly prominent bridge of my nose. These wraparound sunglasses also feel so lightweight that I tend to forget that I'm wearing them. I've been through sand, mud, and saltwater with these sunglasses, and I'm pleasantly surprised that the polarized lenses stay clear.
I got the smoke lens, which tends to work best in reducing the glare during sunny conditions. The polarized lenses are so clear that they help me see fish underwater. It's also incredible to have the Grilamid frame, which seems to give great force resistance and UV protection.
I found the hardshell case very helpful in keeping my wraparound sunglasses safe. On the other hand, the microfiber pouch serves its purpose well in cleaning the lens. Looking at the style of these sunglasses, I think they're on par with high-end brands.
Heads-up:
However, the smoke lenses of tactical polarized sunglasses are not dark enough to hide my eyes.
Pros:
Tall frame blocks the light from coming inside the glasses
Sits nicely on a pronounced nose bridge and is pretty lightweight
Resistant to saltwater, mud, and even sand
Smoke lens helps reduce glare from a bright, sunny day
Built with polarized lenses; includes a cleaning cloth and hard case
Grilamid frame shows great force resistance and UV protection
Cons:
Not dark enough to hide the eyes
Bottom Line:
Altogether, KastKing makes a good choice for fishing with its polarized lenses that are saltwater-resistant. These sunglasses also provide adequate UV protection and impact resistance.
4. ESS Eyewear Cross Series Crossbow 3LS Kit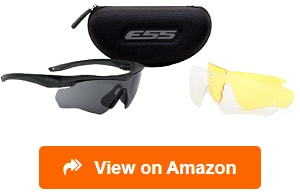 The ESS Crossbow 3LS Kit offers everything I need for training and traveling outdoors. The kit includes three interchangeable lenses, a glass frame, storage case, microfiber pouch, snap-on elastic strap, and more, offering more value than other tactical sunglasses brands out there.
Nothing can beat the versatility of the Crossbow as it offers three replaceable lenses in three shades – clear, yellow, and smoke grey – to suit any environmental conditions.
I like to wear the smoke grey lenses when driving because they maintain the color distinction of traffic lights. The clear lenses provide me with better visual acuity in low light conditions, while the yellow lenses seem to help me see the target on the shooting range clearly.
The polycarbonate lenses won't fog up, thanks to the ClearZone FlowCoat technology that also helps keep scratches from forming outside. What's even better is that the Tri-Tech Fit Frame fits comfortably on my face. I feel no pinch points behind my ears or on my nose bridge when using these military tactical sunglasses for long periods.
Now, having these military style sunglasses helps me keep my vision safe as they deliver unparalleled tactical eye protection. The changeable lenses seem to give sufficient UVA/ UVB protection and impact protection with their compliance to ANSI z87.1 and MIL-PRF-31013.
Heads-up:
However, these ESS Crossbow Sunglasses may take plenty of space in the bag with their additional accessories.
Pros:
Includes three lens colors – smoke grey, clear, and yellow, and other accessories
Smoke grey suits driving, yellow lenses for shooting, and clear lenses for low light
ClearZone FlowCoat technology prevents sunglasses from fogging up
Tri-Tech Fit Frame fits on the nose and behind ears comfortably
Offers excellent protection against the sun & scratches
Passes the standards of ANSI z87.1 and MIL-PRF-31013 for safety
Cons:
Bottom Line:
Altogether, the ESS Crossbow Sunglasses Kit offers the best value of money with its three changeable lenses and extra accessories. It also offers one of the best protection against fog and impact.
5. Venture Gear VGST1422T Semtex 2.0 Glasses
The Semtex 2.0 is a super cool pair of tactical sunglasses which offers a good peripheral vision on the field. I like to wear them in the shooting range because they're pretty comfortable and tinted for clarity.
I love the matte texture of the tan frame as it makes the safety glasses look more expensive than they actually are. The forest gray lenses seem effective in blocking the harmful UV rays as my eyes did not hurt under the sun. They're tinted to offer a nice color contrast without fully dulling all colors as gray lenses would.
True enough, the lenses have an anti-fog coating because they don't fog up even when I'm wearing a mask. The fact that these glasses are military-style makes them suitable sunglasses for law enforcement and other tactical situations. When these military glasses get a little blurry, they're easy to clean with the microfiber cleaning bag.
The sunglasses have passed the ANSI Z87.1 and MIL-PRF 32432 standards, making me feel safe against debris and impact while shooting. They stay in place pretty well, even on small faces, thanks to the custom-fit rubber nose piece. It feels very light on my face, so it doesn't bother me when I join a nerf battle game.
Heads-up:
However, they could have been perfect if the safety glasses included a storage case for safekeeping them while not in use.
Pros:
Anti-fog coating keeps the lenses from fogging up
Military-style and comfortable to wear with the custom-fit nose piece
Tan frame has an extravagant-looking tan matte texture
Forest gray lenses are tinted but provide great clarity
Provides ample UV protection and impact resistance with peripheral vision
Lightweight and simple to clean with the microfiber cleaning bag
Cons:
Doesn't include a storage case
Bottom Line:
Overall, the Semtex 2.0 makes a comfortable pair of sunglasses for shooting, work, and other tactical situations. This pair looks cool with its forest gray lens and tan frame.
6. Wiley X Saber Advanced Shooting Glasses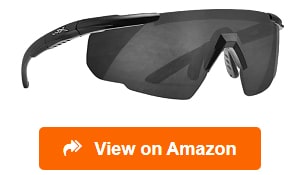 Wiley X Saber is another pair of shooting glasses that provide ballistic protection. These ballistic glasses have met the MIL-PRF-32432 safety standards, making them ideal sunglasses for cops and other shooter enthusiasts.
This Wiley X model also meets the safety standards of ANSI z87.1 for visual clarity and impact endurance. I'm pleased that the T-Shell lens coating proves to be scratch-resistant as it remained unscathed even when I accidentally dropped the glasses on the ground.
What makes me love these Wiley X glasses is their accommodation of the PTX Prescription Insert, which allows me to use my prescription lenses. Even better is the closed fit of the ballistic glasses, which offers maximum eye protection from random things flying into my eyes. Not only do they offer protection, but these military sunglasses also look stylish.
I have found these tactical sunglasses comfortable to wear all day long. On the occasions that I use them for shooting games, these glasses stay at their place no matter how frequently I move. They fit my ear protection very well, making these glasses a must-have for shooting at the range.
Heads-up:
The only thing I dislike about the Wiley X Saber is the fact that it only offered tinted lenses. It would have been better to have a clear lens pair to take advantage of the interchangeable lenses feature.
Pros:
Works with a prescription lens insert to accommodate prescription lenses
Provides ballistic protection and visual clarity
Scratch-resistant T-Shell lens with ANSI and MIL-PRF-32432 standards
Closed fit protects eyes from any flying debris
Stylish and comfortable to wear
Stays in place during whatever action and fits ear protection
Cons:
Only includes tinted lenses
Bottom Line:
Altogether, this Wiley pair is one of the top-tier ballistic sunglasses that provide a nice fit on the face. This pair is proven to protect eyes from any flying debris with its closed fit design.
7. Oakley Men's Oo9424 Mercenary Sunglasses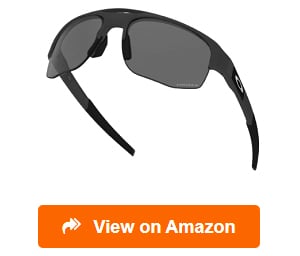 I had the Oakley Oo9424 Mercenary, and I was beyond satisfied. These rectangular sunglasses not only look great but also feel comfortable to wear all day long in the field where the sun is at its peak.
The best feature of these sunglasses is the Prizm polarized lenses, which make the surroundings sharper. The black-colored lenses are helpful on bright, sunny days as they help reduce the glare and enrich the detail.
In addition, the Oakley Plutonite Lenses provide full UV protection to shield my eyes from all harmful UVA/UVB/UVC and even the blue light coming from my devices.
Perhaps, due to the high-definition optics, everything appears to be clear no matter what angle I look. The O Matter frame is better than many competitors with its lightweight construction and durability. And through the three-point fit, the frame only touches my temples and nose bridge for extreme comfort.
These Oakley military sunglasses never slip from my nose because the Unobtanium nose pads give a nice grip even when I start to sweat. When it's time to keep them away, the soft vault sunglass case does the job perfectly. I think the micro bag also works as a functional storage bag besides cleaning the lenses, which is quite versatile.
Heads-up:
However, the Oakley Oo9424 is slightly more expensive than other sunglasses.
Pros:
Stylish; includes a storage case and a micro bag
High-definition optics make surroundings appear clearer
O Matter frame feels lightweight and durable with a three-point fit
Nose pads stay secure on the bridge even when sweaty
Prizm, black polarized lenses reduce glare
Oakley Plutonite Lenses offer full protection against the sun and blue light
Cons:
Bottom Line:
All in all, Oakley's Oo9424 Mercenary tops many military sunglasses with its excellent features. The polarized lenses make everything look sharp and even provide enough sun protection.
8. SPOSUNE Tactical Shooting Glasses
I bought this pair from SPOSUNE to get me an affordable pair of safety glasses for shooting at outdoor and indoor ranges. They come with three interchangeable lenses, making them suitable for any light and extreme conditions.
The polycarbonate lens has an anti-fog coating to keep it clear even when I wear a mask. I tried using them for airsoft, and it's nice to know that they don't truly fog up. More importantly, the lenses are shatterproof and UV400 sunproof for total eye protection.
I had no trouble keeping the glasses on my nose because the rubber nose pads do all the work, even when I'm sweating. Additionally, the case that comes with the glasses keeps each lens away from the rest of the items, making them more secure. There's even a small space perfect for storing my additional earplugs.
The glasses also come with a soft bag, which I use to keep a cleaning cloth for removing the dirt from the lens. My favorite is the strap because it comes in handy when wearing the glasses around my neck. And for the price, these accessories and features are unexpectedly good.
Heads-up:
However, the frame is a little fragile, so users should be gentle on this part.
Pros:
Includes three colored lenses to interchange and a soft bag for keeping items
Designed with a polycarbonate lens that doesn't fog ug
Shatterproof and provides UV400 protection
Rubber nose pads keep the glasses on the bridge
Comes with a case that sets the lenses apart from other items and fits earplugs
Includes a strap to hang around the neck; economical price
Cons:
Frame feels a little fragile
Bottom Line:
Overall, this product from SPOSUNE makes a good pair of shooting glasses with its secure nose pads and anti-fog polycarbonate lens. It's a bonus to have three lenses included in the package to suit different environments.
9. GALAXYLENSE ANSI Z87.1 Tactical Glasses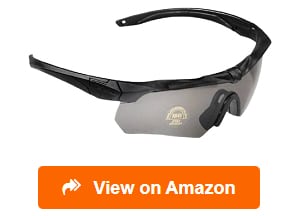 When it comes to the best ballistic performance, GALAXYLENSE is the real deal. These ballistic sunglasses have passed ANSI Z87.1 and MIL-PRF 32432 criteria to resist velocity impact from bullets.
These combat glasses offer three polycarbonate replaceable lenses (yellow, clear, and black) to suit any environment. The yellow lens is perfect for nighttime, while the black one is my go-to lens for daytime. Thankfully, there's an adapter to fit my prescription lenses.
This ballistic eyewear also protects the eyes from the harmful UVA and UVB rays during a bright day in the range. With the polarizing film, I don't see the glare from the highway when driving. Additionally, it's a relief to avoid dealing with annoying reflections from objects, thanks to the anti-reflective coating, which helps me see things clearer under the sun.
The TR90 frame is incredibly comfortable and durable. Even when I bend the frame, it doesn't break and lose shape. Other accessories that I love include the head strap and EVA box to keep the glasses and accessories together.
Heads-up:
However, I noticed that the black or tinted lenses seem to be thinner than the other two lenses.
Pros:
Passed safety standards: ANSI Z87.1 and MIL-PRF 32432
Includes three polycarbonate lens colors- black, yellow, and clear
Provides excellent ballistic protection and UVA/UVB protection
Comes with an adapter to fit prescription lenses, head strap, and EVA box
Polarizing film minimizes glare; anti-reflective coating reduces reflections
Built with a comfortable and durable TR90 frame
Cons:
Has somewhat thinner black lenses
Bottom Line:
Altogether, this option from GALAXYLENSE is built for the toughest conditions because it offers protection when I need it the most. This ballistic eyewear shows great resistance from impact, fog, and flying debris.
10. HULISLEM Blade Sport Sunglasses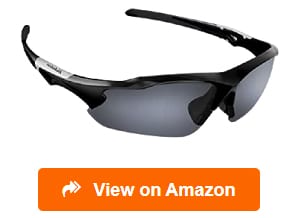 HULISLEM's Blade Sport is one of the most lightweight polarized tactical sunglasses I've worn. I love the fact that they're wrap-around to prevent any bright light from getting inside the frame.
The key feature of these sunglasses is the lightweight F1 frame that can withstand the toughest conditions. I'm pleased that these sunglasses stay on my face really well while doing tedious activities. Fortunately, there's a nice hard case to protect the glasses when I'm not wearing them.
Besides the case, I also found a micro cleaning cloth and an additional nose bridge to hold the lens at a comfortable distance from my face. For someone with a large face like me, this pair fits perfectly. The polarization of the glasses also works well in reducing any glare.
The high-definition lenses are quite impressive as they let me see the environment in full contrast and colors with full sun protection. With the blade lens coloring system, I can still see all things in their natural shades without distortion. The best part is that these sunglasses aren't overly expensive for their value.
Heads-up:
However, the smoke lenses aren't fog-resistant.
Pros:
Wraparound style prevents the light from entering inside the glasses
F1 frame feels light and durable enough to endure hard activities
Stays on the face and includes a spare nose bridge
Comes with a hard case for storage and cleaning microfiber cloth
Polarized lens reduces glare and provide HD vision
Blade lens coloring system keeps the natural colors; not priced too high
Cons:
Smoke lens isn't fog-resistant
Bottom Line:
All in all, the HULISLEM Blade Sport makes an economical pair of eye protection for active sports and outdoor activities. These sunglasses are lightweight to wear, so they won't get in the way of activities.
11. SPOSUNE Jy-035-Black Tactical Shooting Glasses
The Jy-035 Black sunglasses of SPOSUNE are lightweight to wear while driving and are pretty good for shooting at the range. The part which I like best is that I can wear these sunglasses all day without any sort of discomfort.
The black frame just simply looks good in any outdoor activity. The TR90 material is quite flexible to follow the contours of my face. That flexibility also makes the frame more resilient to damage; it didn't break even when I dropped the glasses accidentally.
Like other models of SPOSUNE, the Jy-035-Black includes a hard case with enough room to keep the lenses from touching other components. There's even extra space to fit other accessories, like a hearing protection aid. Best of all, I got three lenses that I can interchange for sun protection.
When wearing my mask, I observed that the glasses could deliver an adequate amount of fog resistance. They do stay on my nose, thanks to the rubber nose pads. Besides the hard case, I also like the soft bag for safekeeping the lenses and the strap that holds the glasses around my neck.
Heads-up:
If there's something to nitpick, it would be the fact that the glasses aren't ANSI-rated. I think some people might be hesitant to wear them at work.
Pros:
Lightweight and comfortable to wear all day
Black TR90 frame looks good, is flexible and resilient to damage
Comes with a hard case that separates components and provides extra space
Includes three lenses to interchange for protection against harmful sun rays
Provides sufficient fog resistance
Stays put; includes a soft bag and neck strap
Cons:
Bottom Line:
Altogether, SPOSUNE Jy-035- Black sunglasses look good in any setting with their black frame and interchangeable lens. These glasses offer sun protection without causing any discomfort all day long.
12. GALAXYLENSE ICE Tactical Combat Glasses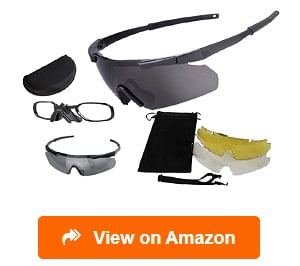 GALAXYLENSE ICE is one of the sunglasses that offer more value than what it's worth. These glasses include three polycarbonate replacement lenses, a hard case, a prescription glasses holder, and more.
The polycarbonate lens is polarized and coated to diminish glare, making the sunglasses safe for driving and fishing. Among the three lenses, my favorite is the amber one, as it gives me a more clear-cut view downrange. At nighttime, I like to use clear lenses to let me see my environment clearly in the dark.
The lens also seems to offer great eye protection against any flying debris and impact because it has passed many safety standards, namely ANSI Z87.1 and MIL-PRF 32432. Not only that, it also helps filter out the harmful rays of the sun. On occasions that I wear these sunglasses, my eyes never squint.
I'm most impressed with the quality of the TR90 frame because it's incredibly strong and comfortable around the temples. With the custom-fit rubber nose, the sunglasses fit my face without any issues. In addition, I have no worries about the quality because the product comes with a 60-day money-back guarantee.
Heads-up:
However, the glasses didn't come with instructions on changing lenses. I had to go on Youtube for directions.
Pros:
Includes a lot of accessories, such as three lenses and a hard case
Polarized to eradicate the glare that might distort vision
Amber lens performs well in the range while clear lens works for nighttime
Meets the ANSI Z87.1 and MIL-PRF 32432 safety standards for impact
Protects eyes from the harmful rays of the sun; offers 60-day refunds
Built with a strong, comfortable TR90 frame and custom-fit rubber nose
Cons:
No instructions for changing lenses
Bottom Line:
All in all, the GALAXYLENSE ICE is worth every penny with its tough frame, UV-protected lens, and extra accessories. The sunglasses also provide the necessary impact resistance in the shooting range.
What to Look for When Buying Tactical Sunglasses
Choosing tactical sunglasses is serious business because you don't want to end up with a pair that will only impede your performance. Right below are some of the factors that you should consider when looking for the proper tactical sunglasses.
Durability
Military issue sunglasses or anything that says military are typically durable and can withstand the toughest conditions. They're made of composite materials and scratch-resistant lenses.
TR90 frames are popular among tactical sunglasses because they're flexible and keep their shape even when you bend them.
A surefire way to determine the durability of the sunglasses is to look for a long warranty. Most of the time, good quality sunglasses provide a certain period of money-back guarantee to provide refunds when you're not satisfied with the product.
UV And Impact Protection
Sunglasses for military should provide the best protection from impact and the sun. Look for UV400 protection to get nearly 100% shield from UVA and UVB rays. If you want to shield yourself from blue light, UV420 is the protection you need.
Bullet shrapnels and rebounds may cause injury, so find a pair that provides the best impact resistance. These sunglasses have passed the certifications for MIL-PRF 31013, MIL-PRF 32432, and ANSI Z87.1.
ANSI-certified sunglasses can protect your eyes from the impact on the side, and they can take all airsoft impacts pretty well. A sunglass certified MIL-PRF 32432 means that it can provide adequate ballistic protection. To be rated as MIL -PRF 31013 means that the sunglasses offer a higher magnitude of ballistic impact and an acceptable level of chemical resistance.
Comfort
Remember that you might need to use the sunglasses for long hours, so the comfort level is crucial for better performance. Different types of sunglasses have different levels of comfort. You'll have to check what comfort feature suits your needs.
The best way to ensure comfort is to get the correct fit of sunglasses on the face. The rims should be wide and the frame should be U-shaped to offer full coverage around the eyes. All-around coverage doesn't only protect eyes from UV light but also from any flying debris.
Quality Of Lens
The clarity of the sunglasses depends on the quality of the lenses used. Now, you have two options here — polarized and polycarbonate.
Polycarbonate lenses are lighter and strong, so they're perfect for high-contact activities. On the other hand, polarized lenses allow you to see more clearly as they block out the sun's glare, making them ideal for fishing and driving.
No matter what type of lens you get, try to look for an anti-fog coating as it helps prevent the lens from fogging up when you wear a mask or step outdoors. If you like to fit your prescription lens in the frame, look for a prescription lens insert.
Accessories
The accessories add value to the product. As much as we might want to have a lot of accessories, make sure that they're actually needed and made to last.
One of the important accessories to look for is the replacement lens to suit every environment. The best brands offer three lenses–for example, clear, smoke grey, and yellow. Clear and smoke grey work best during the day and night, respectively. Yellow lenses tend to make a nice contrast of colors.
A hard case is also important to keep the sunglasses and accessories safe while not in use. A microfiber cloth comes in handy when cleaning the lens. Straps can also be put to good use when you want to keep the sunglasses around your neck or head.
What Sunglasses Do the Military Use
Gatorz tactical sunglasses are very popular with the US elite military forces and Navy Seals. This brand makes the best military and Navy Seal sunglasses because they're durable, lightweight, and offer superior optics.
Military pilots use military sunglasses aviator style to protect their eyes from external elements and reduce headaches. This type of eyewear also helps them see clearly despite the blinding glare and avoid headaches.
Can I Get Tactical Sunglasses With a Prescription
Yes, you can get a tactical glasses prescription. It's available for virtually all corrective prescriptions with multiple options like progressive lenses and bifocals. You can also look for an RX insert to switch lenses.
Where I Can Buy a Pair of Tactical Sunglasses
You can purchase tactical sunglasses online, like at Amazon. Top brands of tactical sunglasses also sell their products on their own website. For offline stores, you can check out some military shops and other retailers for this type of eyewear.
Are Tactical Sunglasses on TV Effective
Some tactical sunglasses as seen on TV are effective. For example, the Bell + Howell Tac Sunglasses have some good reviews about their good clarity and anti-glare vision. The polarized lenses aren't too dark compared to regular sunglasses.
How Do I Choose the Right Sunglasses for My Face
Find sunglasses that have a shape that's opposite to your face. For square faces, look for rounded or aviator frames. Round or triangular faces look good with rectangular frames. It's not necessary to hide the eyebrows because they're a nice way to express yourself.
Conclusion
Tactical sunglasses are not just for fashion but also for eye protection. This type of eyewear is a cut above the rest because of its great impact resistance, comfort, and UV shield. My top choice for the best tactical sunglasses is the Venture Gear Overwatch because it has passed all safety standards with enough UV shield and fog resistance. Besides sunglasses, you also can refer to use tactical hats and jackets to protect yourself from the sunlight.
The ESS Crossbow 3LS Kit is a good alternative when I want extra accessories, like an extra lens and storage case. The sunglasses themselves are good enough to protect the eyes from the sun and impact. For users of polarized glasses, the Kastking Iditarod is one of the best options.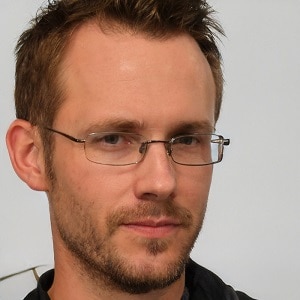 I am Everett Bledsoe, taking on the responsibility of content producer for The Soldiers Project. My purpose in this project is to give honest reviews on the gear utilized and tested over time. Of course, you cannot go wrong when checking out our package of information and guide, too, as they come from reliable sources and years of experience.