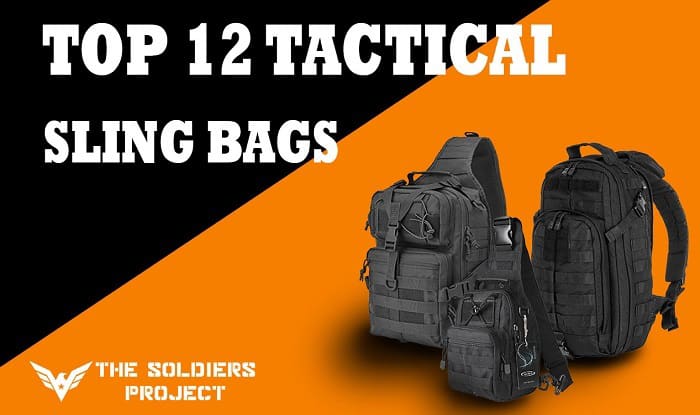 Whether you're a military man or just someone who enjoys the practicality and utility of tactical gears, you should know the importance of doing your research when looking for the best tactical sling bag.
Most people purchase tactical sling bags because of their versatility — they can use them outdoors while on an adventure or just as an EDC bag. But with numerous options in the market, how can you tell which ones are worth it and most suitable for you?
Sling bags, just like any other tactical products, come in different colours, shapes, sizes, materials, etc. Knowing where and how you want to use them can make the task of buying one easier. However, there are three main factors you also have to consider:
Budget: Like anything in the market, tactical sling bags also hugely differ in price points. You can find expensive ones from high-end survival gear brands, but there are also cheaper options that are just as excellent. Consider setting a budget beforehand and ensure to find the right EDC tactical sling bag within that to avoid overspending.
Quality: Most enthusiasts of military sling bags purchase them for more strenuous activities like hiking, hunting, and EDC. It is crucial to keep in mind that whatever the pack is for, always prioritise quality to ensure that you're making the most of what you pay for — no matter how expensive or cheap it is. Check the materials and stitching used.
Size: Expect that most one strap military backpacks are compact, but they still vary in size. Some are smaller, suitable to wear around the waist, while others are much roomier for more essentials and trips that last multiple days.
We provided below in-depth reviews on 12 tactical sling bags that passed our standards. This should give buyers multiple options, as we made sure to include different styles at varying price points. We also added a buying guide at the end for more helpful tips and information.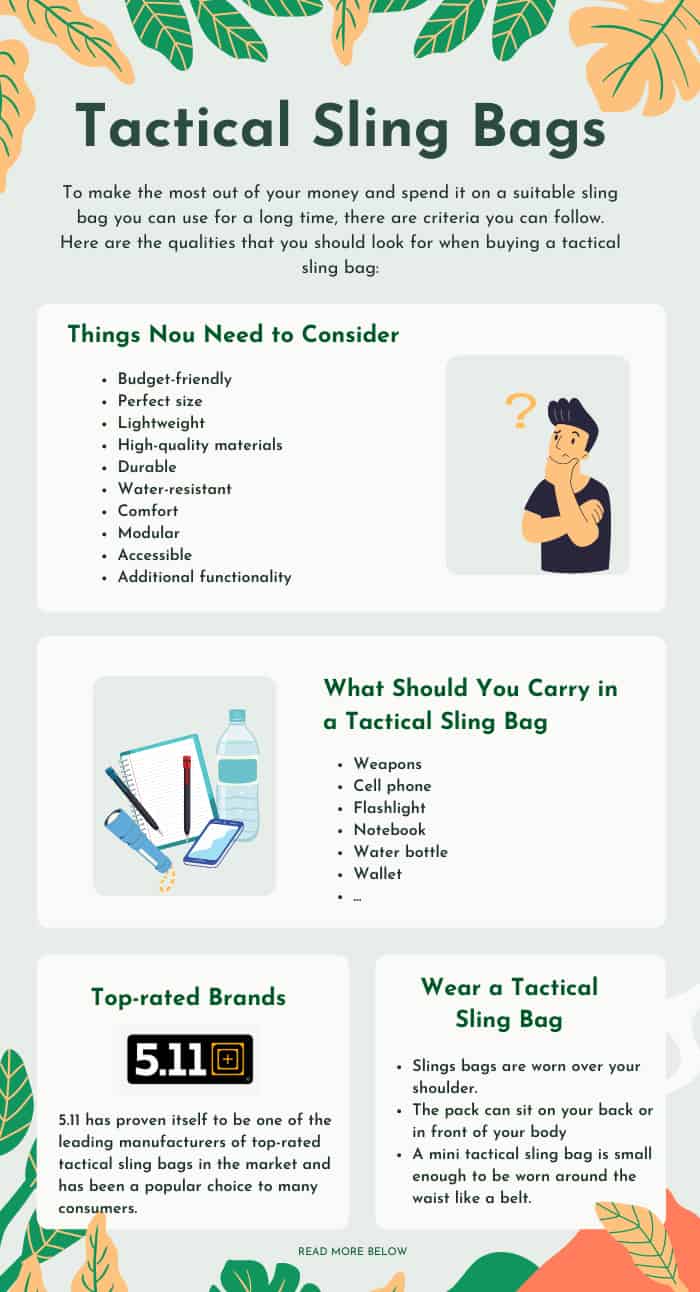 ---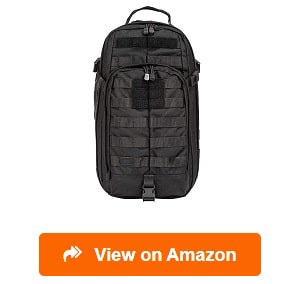 5.11 Tactical MOAB 10 Sling Bag
YKK self-healing zippers
Lightweight, only weighing 2.6lbs
Sturdy and water-resistant fabric
---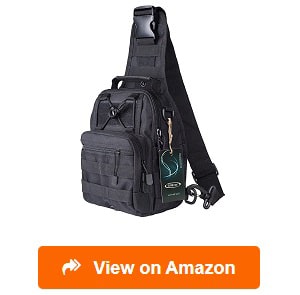 G4Free EDC Tactical Sling Bag
Very affordable
Lightweight at 0.88lbs
Good value for money
---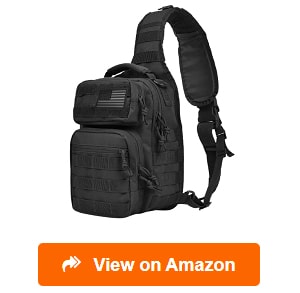 REEBOW GEAR Tactical Sling Bag
Affordable & MOLLE-ready
2 spacious external compartments
600D polyester & intact stitching
---
Top 12 Tactical Sling Bag Reviews
1. 5.11 Tactical MOAB 10 Sling Bag 18L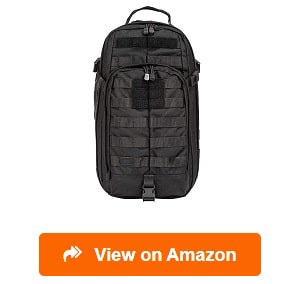 5.11 Tactical is a top brand for survival gear, so there's no surprise that their sling bags are popular to EDC enthusiasts, including this MOAB 10 18L, which I was able to try out. And right off the bat, I like how it's a part of the 5.11 Tier System, giving me an option to customise it with the other bags and pouches in the Rush series.
With the 18L capacity, its main section measures 18.25" H x 9" L x 5.25" D, which can fit a 15" laptop, while the front compartment is at 12.5" x 8" x 2". Each of these compartments has interior pouches, which I found convenient for better organisation.
The bag has a smaller compartment that fits a phone on its adjustable shoulder straps, a sunglass pocket, and a 1.5-litre hydration bladder. It also has the Covert Tactec for the rear pocket, perfect for concealed weapon.
Moreover, the entire bag is made of 1050D nylon and utilises YKK self-healing zippers. Altogether, it weighs 2.6lbs, impressively lightweight considering all of its features.
It has adjustable ambidextrous shoulder straps, which I love as it's very comfortable and doesn't strain my shoulder at all. Overall, I believe it's a great EDC sling bag. I was able to fit all of my everyday essentials and organise them efficiently inside.
Heads-up:
The obvious downside is that it's very pricey. Its larger capacity also allows the tendency to overpack and eventually become too heavy to carry comfortably on the back.
Pros:
Can be integrated with bags in the Rush series
Lightweight, only weighing 2.6lbs while being spacious
Made out of sturdy and water-resistant 1050D nylon fabric
Compartment on the adjustable shoulder straps, hydration pocket, and more
Has comfortable ambidextrous shoulder straps
1050D nylon with YKK self-healing zippers
Cons:
Not very affordable
Users may overpack due to the bag's larger capacity
Bottom Line:
It is no doubt that this is one of the best tactical sling backpack. However, its price point can be a huge disadvantage. If budget is a problem, consider more affordable options.
2. G4Free EDC Tactical Sling Bag 7L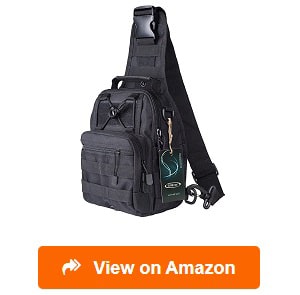 G4Free is a more budget-friendly outdoor brand for those who have a spending limit but still want high-quality tactical gear. One of their more popular products is this 7L tactical sling bag, which was advertised as EDC.
Although it is good for everyday use, I was able to try it out and bring it during a day hike. I was actually satisfied and highly recommend it as a multi-purpose daypack for short hikes or even a trip out of town.
The reason why I love it as a tactical sling pack for day hikes is that it has several internal and external compartments, and even though it's pretty small with 7.87" x 5.51" x 9.87" dimensions, the space is enough for all the essentials.
I fit a litre of water, a phone, wallet, keys, a change of shirt, and a couple of smaller items. The main space is very roomy, and it has three compartments outside: a main external pocket, a smaller one that zips on the front, and a back pocket. Altogether, this bag is very compact and lightweight at 0.88 lbs.
At first look and touch, I can say that the construction of this sling bag is decent. On the tag, it says it's made out of 600D polyester. It also has a double zipper, which I like since it gives users easy access. It also has the MOLLE system, which is handy if I ever need to use it. Price-wise, it is very affordable, and I believe this one gives good value for money.
Heads-up:
The only con for me is that there are more durable sling bags out there, better suited for more strenuous activities.
Pros:
Very affordable; decent construction with double zippers & a MOLLE system
Lightweight at 0.88lbs
Perfect for short hikes & everyday use
Very compact with 7.87" x 5.51" x 9.87" dimensions
Ample main space and three smaller external pockets
Good value for money
Cons:
Bottom Line:
This tactical sling bag is my top pick for a budget-friendly bag for day hikes and short walks.
3. REEBOW GEAR Tactical Sling Bag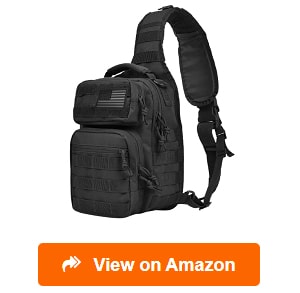 Another budget-friendly option is this sling bag from REEBOW GEAR. They're already an established brand and are popular with consumers who prefer a lower price point. However, even with an affordable price tag, I believe this tactical sling bag is still a solid basic option, especially for those who need a durable EDC but can't afford a 511 sling bag.
Its overall size is 12" x 9.5" x 6", with a main compartment that basically has the same height and width, except it's only 3" deep. It has two external compartments at the front: a large one at the bottom at and a smaller one at the top.
It approximately weighs 1.5lbs and has a capacity of about 10 litres, enough for my everyday carry. I was able to fit a bottle of water, my first aid kit, wallet, phone, chargers, notebooks, and a pouch for my toiletries. My tablet also fits, so I think a smaller-sized laptop won't be a problem.
Furthermore, carrying this sling bag is comfortable because of the adjustable shoulder strap, and like other tactical sling packs, it's also MOLLE-ready, making it great for customisation. I love its sturdy 600D polyester construction and intact stitching. The overall craftsmanship is just excellent, especially considering that it's affordable.
Heads-up:
However, although it's decently durable for EDC, I won't risk overstuffing it. It's just enough for daily essentials. I also notice that the zippers jam at times.
Pros:
A good option for EDC, has an adjustable strap
Compact with 12" x 9.5" x 6" dimensions and lightweight at 1.5lbs
Has two spacious external compartments and one main compartment
Affordable & MOLLE-ready
Impressive construction with 600D polyester & intact stitching
Cons:
Not advisable to overstuff
Zippers jam sometimes
Bottom Line:
Again, this sling pack is an affordable option for EDC. However, I don't advise overstuffing or using it for strenuous activities.
4. Gowara Gear Tactical Sling Bag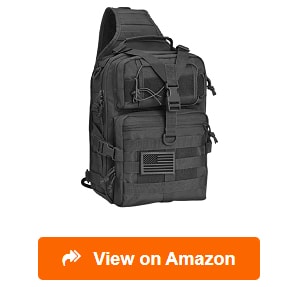 A military tactical sling bag is also popular as a range bag, and I believe this one from Gowara Gear best suits this purpose. It has a larger size with 14" x 11.5" x 6.5" dimensions. It is made up of one main compartment and three external pockets. The two front compartments are decent in size, great for smaller items.
There is a secret back compartment for a concealed weapon, necessary for a range bag. I tried filling it with range essentials, and I could easily fit two pistols, hearing protection, sunglasses, and a box of ammo. A pistol box can fit inside as well.
Durability-wise, I was quite impressed, especially considering it is only made out of 600D polyester. It is double-stitched, and the zippers feel heavy-duty, which I really like. To make it more compact, it also has the added Y-system compression straps, plus utility-style cord pulls. Its shoulder strap and back are also padded, making the sling bag comfortable to wear.
Again, this is an affordable sling pack option. Among the other budget-friendly ones on this list, I think this is probably one of the most durable with an excellent value for money. It even comes with a free USA flag patch. Of course, it is also attached with MOLLE straps for easy customisation.
Heads-up:
If I have to name a disadvantage for this bag, it has to be the color of the tan option. It looks army green instead of tan.
Pros:
Double stitching and heavy-duty zippers
Very durable for its price
Decent size of 14" x 11.5" x 6.5" with space for small items
Comfortable padded strap and back with compression system and pull cords
MOLLE straps and USA flag patch
Perfect as a range bag
Cons:
Bottom Line:
This tactical pack is a great contender as a value-for-money option that won't break the bank.
5. Red Rock Outdoor Gear Rover Sling Pack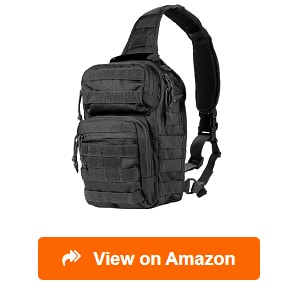 Red Rock Outdoor Gear's tactical sling pack is more on the middle price point, adding to the usual budget-friendly price tag options. With a nine-litre capacity and 100% polyester construction, I believe it fits best as a day bag or one I can bring for work.
This sling bag measures 8" x 12" x 6" and is impressively lightweight, weighing 1.44 lbs. It also has the usual compartments of a tactical bag: the main storage space, three exterior pockets in front, and one concealed carry pocket in the back. I love how it fits exactly the essentials I usually bring for work.
It even has dividers and admin pockets inside, which is probably my favourite as they help keep the interior organised. I tried putting a laptop inside the padded tablet sleeve for size references, but it didn't fit. However, I actually didn't mind since I don't carry one for work. A tablet, on the other hand, fits perfectly as it should.
Although there's really nothing special with this pack, I still think it's excellent value for money because of the storage space, which can be pretty limited with compact versions. Of course, it is one of those MOLLE sling bags that allows customisation. Lastly, it has one shoulder strap that's ambidextrous, making it suitable for anyone.
Heads-up:
One downside of this day pack is that it seems to be less durable compared to
other tactical bags
in the market for its price. However, I think if it's not used for strenuous activities, it has a better chance to last long.
Pros:
Suitable as a day bag or work bag
Mid-range price point
Lightweight, wider capacity at 9 litres
Built with external pockets, internal pockets and dividers
Great storage space
With MOLLE system & an ambidextrous shoulder strap
Cons:
Doesn't fit laptops
Less durable compared to other options in the market
Bottom Line:
For a bit more money, this sling bag offers additional storage capacity along with the basic features a day pack usually has.
6. 5.11 Rush MOAB 6 Tactical Sling Pack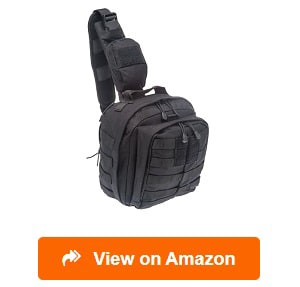 To really see if a 5.11 tactical sling bag lives up to its hype, I purchased another version from the MOAB line, but this time it's a bit more compact with an 11-litre volume. It measures 12.99" x 9.84" x 3.94", providing enough space for survival essentials.
I have always been on the hunt for a reliable bag, one that is highly durable to use as an emergency bag, and this pack fits the criteria. One thing that impresses me the most about the tactical sling bags from this brand is the solid and durable construction, and this particular one is made from 100% 1050D nylon.
The main compartment and the external front pocket have double zippers, which are always convenient and provide easy access to items in our sling bag. It also has the signature Covert Tactec as a secret weapon pocket, space for a 1.5L hydration bladder, plus a smaller pocket on the padded shoulder straps for a radio and a fleece lined sunglass pocket on top.
As expected, it also has the MOLLE 5.11 platform that can accommodate any other pouches and bags from the same line. This is most useful for when I plan to customise it and add extra pockets. And just like many other choices in this list, it has an adjustable ambidextrous strap. Its fabric is also reliably water-resistant.
Heads-up:
Of course, since it's from 5.11, its obvious con is that it's very costly. I also had to adjust it a bit for my back to feel comfortable with all the contents inside.
Pros:
Water-resistant tactical bag with double zippers & ambidextrous strap
Large capacity at 11 litres
Multiple compartments, such as Cover Tactec & hydration bladder pockets
High-performance durability with 1050D 100% nylon
Best used as a survival bag
Has MOLLE system, compatible with 5.11 pouches
Cons:
Needs adjustment to achieve back comfort
Very expensive
Bottom Line:
As always, 5.11 tactical bags are a good option for people with an unlimited budget. I believe its high price point is justifiable with its reliable durability and convenient design.
7. HAOMUK Tactical Sling Bag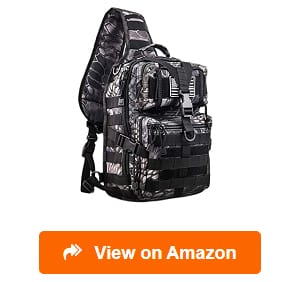 I know that most tactical sling bag users want one product for all their stuff. So do I. This one from HAOMUK fits this purpose as a large tactical sling backpack I can bring for my day trips with its 20L volume capacity.
It has measurements of 14" x 10.5" x 7.5", providing so much space for a lot of essentials. It has many pockets both on the interior and exterior, including two front pockets. The internal dividers help keep everything in place and sorted out. Overall, this pack fits everything I need for a one-day trip, including a 14" laptop.
Moreover, price-wise, this pack is affordable, which is fantastic considering its size. Overall, its design is also stylish and unique, especially the print. It also has MOLLE-compatible webbing, a front load compression y-strap, and a padded ambidextrous shoulder strap that makes carrying this sling bag comfortable.
What's unique about this option is the vent-like design on the bottom of the pack, which actually has the purpose of dissipating the heat of the items.
Heads-up:
One thing I noticed about this pack is that its zippers are made of plastic. I wish the manufacturer used a more durable material, as I'm slightly concerned they won't last long. That said, so far they haven't caused me any problem.
Pros:
Large tactical sling bag with 20L capacity
Suitable as a day trip bag, can hold a lot of essentials
Affordable & stylish
With external and internal pockets & dividers for organising
Comfortable shoulder padding, compression y-strap, and MOLLE webbing
A vent design for heat dissipation
Cons:
Bottom Line:
For anyone who likes high-capacity tactical sling backpacks, this will be a good budget-friendly option.
8. Fitdom Tactical Sling Bag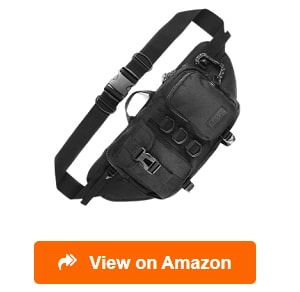 This tactical sling bag from Fitdom stands out on this list, in my opinion. It's very compact and has two front pockets. The interior also has multiple pockets and organisers. Its size offers versatility, allowing me to wear it comfortably on my shoulder or use it as a fanny pack.
Although it can be easily considered an excellent everyday utility pack, I love it more as a travel camera bag. I recently went on a two-day hiking trip and brought some camera equipment with me, and this bag fits exactly everything. It fits my compact SLR, two types of prime lenses, plus the cables and chargers.
But my favourite thing about this tactical pack is the design. It can pass off as a casual sling bag since it doesn't look military at all. It looks simple and stylish but still has that tactical appearance to it. I am impressed with how solid its build is with the 600D luggage polyester, plus the high-quality zippers. Additionally, it's wholly water-resistant.
I noticed it wicks my sweat while wearing it, preventing my body from getting damp. On top of everything, it is very comfortable to wear even with the load. I also love how the waist strap has a wide size range, measuring from 20' to 56', easily fitting everyone even with different body sizes.
Heads-up:
My only negative comment is that even though it has the MOLLE system, it is actually placed in an unideal position, making the MOLLE loops not usable.
Pros:
Best used as a camera sling bag
Impressive water resistance, 600D polyester, and zippers
Versatile fanny pack for any body size
Affordable, compact, with multiple pockets
Stylish as it's not militaristic
Extremely comfortable to wear with sweat wicking feature
Cons:
Unusable MOLLE webbing due to inconvenient placements
Bottom Line:
This is the most suitable sling bag to use for all my tech or gadgets when I'm on a trip. However, I also highly recommend this as a compact EDC sling bag.
9. QCute Tactical Backpack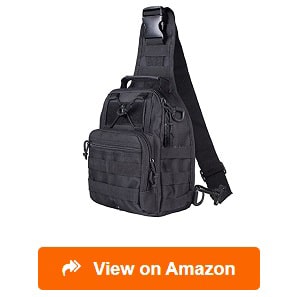 Now onto the most affordable tactical sling pack on this list. This single sling tactical backpack is one that surely fits anyone's budget, especially those who just want a basic one. Along with its small size measuring 9.8″ x 7.8″ x 4.8″, it is also lightweight at 0.7lbs, which are important features of a compact pack.
When it comes to quality, I think the bag's design is great for its price. The entire bag is made of nylon fabric with excellent manufacturing and a good structure. Overall, it has great durability. Aside from the main space, it has one large exterior pocket and a smaller one for additional items. Both the main storage and large pocket have a double zipper design, which I like as it becomes more convenient to access.
I believe this is a good option for a tactical cycling bag. Although compact, it can fit so many essentials like smaller tools and spare parts, a water pouch, wallet, keys, phone, etc. Like the others, it has the MOLLE system and a strap. Lastly, it has reliable water resistance, which is a big deal for me when I cycle in the rain.
Heads-up:
The only downside with this is the lack of heat dissipation. In the summer, the bag tends to make me sweat.
Pros:
Small tactical sling bag with dimensions of 9.8″ x 7.8″ x 4.8″
Extremely lightweight, only weighing 0.7lbs
Budget-friendly, great value for money
Suitable as a cycling sling bag, with MOLLE system and a strap
Double zippers for the main compartment and auxiliary pocket
Water-resistant and has a solid construction
Cons:
Doesn't dissipate heat well
Bottom Line:
This is undoubtedly an excellent value-for-money tactical sling bag for those who want something light and water-resistant.
10. Monoki Tactical Sling Backpack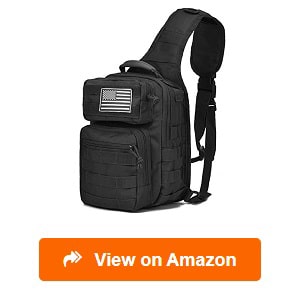 Right off the bat, I can say that this sling pack from Monoki has one of my favourite designs. It is very clean and minimalistic and reflects that cool basic tactical look. This is one of those affordable packs that I can recommend to those trying out sling bags for the first time. It has the perfect size for any purpose I have in mind, even as a hunting sling bag, measuring 12" x 9.5" x 6".
Its main compartment is impressively spacious. It also has two zippered pockets in the front and a padded back pocket for concealed carry, plus a water bottle pocket.
I like the MOLLE webbing system that allows me to add more pouches in case I need more space. This bag is made of 800D Oxford and Nylon fabric, plus a mesh padding on the back makes it more breathable and comfortable to wear on my back.
The best thing about this pack is that with an affordable price tag, not only do I get a full-size sling bag, it also comes with several accessories: one flag patch, a 500ml water bottle pouch, a paracord lanyard keychain, and four multipurpose D-rings Grimlock locking.
Heads-up:
However, there is no padding on the tablet sleeve of this sling bag.
Pros:
Affordable pack with stylish minimalist design
Perfect size for multiple purposes (12″ x 9.5″ x 6″ dimensions)
Has spacious compartments
Comes with a flag patch, 500ml water bottle pouch, keychain, & D-rings
MOLLE compatible, made with 800D Oxford and Nylon fabric
Back mesh padding for breathability
Cons:
No padding on the tablet sleeve
Bottom Line:
Overall, buyers get what they pay for with this bag. It is an excellent classic for any purpose and is a perfect beginner bag.
11. DIGBUG Tactical Sling Bag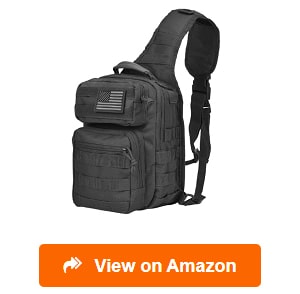 Another basic and affordable tactical sling bag is this one from DIGBUG. I find it very suitable as a range bag because of its size with 12" x 9.5" x 6" measurements. When I tried putting things inside, it could accommodate two pistols, four magazines, and a couple of boxes of 300-round ammunition.
There's even enough space for a cleaning kit, eyewear, ear protection, and other smaller accessories. I even tried to see if it could fit a Glock box, and it actually did.
When it comes to quality, it's made with 600D polyester, which is durable enough. What I love about this is the abundance of interior pockets. Aside from the main compartment and the exterior pockets, this sling bag features several dividers inside, which is especially important for a sling bag for shooting since users will have to bring many small things other than the guns.
Overall, this is a great military sling pack, and I think it serves its purpose as a range bag. It is also comfortable to wear with the shoulder strap, even with the weight from the contents. It is also lightweight, weighing only 1lb, which is a significant advantage, especially for bigger-sized packs.
Heads-up:
The only downside of this sling bag is its weak water resistance, making it less suitable for multiple-day outdoor activities such as hiking.
Pros:
Lightweight, weighing only 1lb
Budget-friendly tactical pack with one main compartment & exterior pockets
Comes with several interior pockets with dividers
Great as a range bag
Provides enough space for essentials
Comfortable to wear
Cons:
Not completely water-resistant
Bottom Line:
Since it is affordable, this is a good pack for those looking for budget-friendly and basic military style tactical sling packs.
12. NOVEMKADA Tactical Shoulder Bag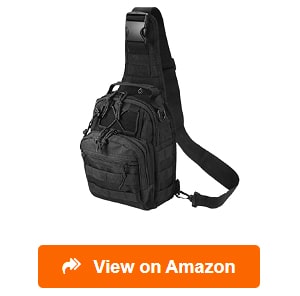 Last on my list of tactical sling bags is this one from NOVEMKADA. What I love about this the most is its versatility since it is designed to be carried in three ways. First is the usual hands-free shoulder carry; second is using it as a chest bag; and third is making this item a handbag since it has a handle on top. It gave me so many options for carrying, which can also depend on my purpose.
After having this for a few weeks, I realised it is a perfect gym bag. It measures 7.1" x 3.5" x 9.4", which allows me to fit workout essentials such as a set of clothes, resistance bands, a water bottle, a small towel, my wallet, keys, and my cellphone. It even has a front zipper pocket for other smaller items, plus a secret back pocket for CCW.
It is also durable with the 1000D nylon fabric, and all compartments have double zippers. It also has built-in MOLLE webbing for additional pouches. Lastly, the shoulder has an adjustable strap and can fit anyone comfortably. All in all, this is an excellent tactical gym bag for light carry, especially for its price.
Heads-up:
My critique for this pack is that it's smaller than I expected and is just enough for the essentials. It may not be an adequate size for some who tend to overpack their sling bags.
Pros:
Versatile as it can be carried three ways
Every compartment has double zippers
Very durable, made of 1000D Nylon
Great as a gym bag, with front and back pockets
Built-in MOLLE webbing
Affordable option with adjustable shoulder strap
Cons:
May be too small for some
Bottom Line:
Overall, this tactical bag's versatility and durability are already enough reasons to purchase it, not to mention it's really affordable.
What to Look for When Buying a Tactical Sling Bag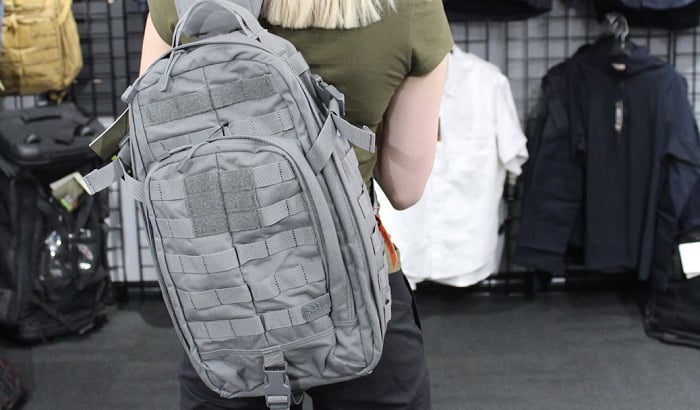 We keep saying that the top-tier tactical shoulder bag depends on the buyer's purpose. However, it doesn't mean that you can just purchase the first one that appealed to you. To make the most out of your money and spend it on a suitable sling bag you can use for a long time, there are criteria you can follow. Here are the qualities that you should look for when buying a tactical sling bag:
I always feel like the budget is one of the important, if not the most important, factor to consider when shopping. Make sure to purchase a tactical sling bag you can afford. Nowadays, you don't even have to spend a lot to acquire a decent-quality shoulder bag.
Besides, one advantage of having a budget is that it narrows your options and makes shopping much more manageable. A Reebow tactical sling bag is one great example of a budget-friendly backpack.
Ideally, a tactical sling bag should be compact but still has enough room and compartments for the things you want to carry. Again, it will now depend on what it is for and the items you want to put inside. Before browsing online, think about these factors already. You have to settle on a size to avoid purchasing something either too small or unnecessarily big.
A sling bag for tactical use is likely to be made of military-grade materials. These materials on top of another can be pretty heavy, which is why you also have to be mindful of the product's weight when browsing. If you expect to use the bag while walking around all day, get the lightest you can find.
You can't call a sling bag tactical if it's not made out of high-grade materials. The most common materials used for bags for military use are ballistic nylon and polyester, which are durable enough to resist any type of weather and last for years without tearing. Every tactical sling bag made in USA is famous for its high-quality materials and construction.
Of course, durability is one of the main factors when choosing a military sling bag, or any bag for that matter, especially if you're going to use it all the time and usually in intense activities such as hiking and hunting. Pay attention to the stitching used to assemble the bag, as it also plays a massive role in a durable sling bag.
Any gear with "tactical" on its name has to be water-resistant. But the level of resistance depends on the material and waterproofing technology used to make the bag. The tactical pack are water resistant bags.
Generally, a small tactical sling bag is already more comfortable than any other type of bag because it's often lightweight. However, you still have to consider the materials and how comfortable the product sits on your shoulder and against your back. Cheaply made ones still tend to be bothersome to wear.
Modularity in bags refers to the idea of having multiple separate smaller pouches or "modules" that can be added to the body of the bag — either external or internal. The attachment system of these pouches depends on the design. Velcro panels, buckles, webbing, and carabiners are among the most commonly used methods.
But for tactical sling bags and backpacks, MOLLE or "modular lightweight load-carrying equipment" system is often added. It allows you to customise your sling bag by weaving your modules through the specialised heavy-duty fabric attached all over, which is called PALS or "pouch attachment ladder system." Most packs nowadays are a molle sling backpack.
Your bag's accessibility depends on its design — how the compartments, zippers, pouches, and pockets are placed. You should be able to open your bag or reach for your things without inconvenience. The tactical sling bag should allow convenience and easy access.
Survival bag designers constantly think of new ideas to add to a standard military sling bag. Aside from the usual external water bottle holders, there are now shoulder bags that have built-in hydration packs as well as gun holsters.
You can also find ambidextrous sling bags suitable for both left and right-handed people. A Voodoo tactical sling bag is known for its innovative design and functionality when manufacturing most favorite tactical backpacks.
Who Makes the Top-rated Tactical Sling Bag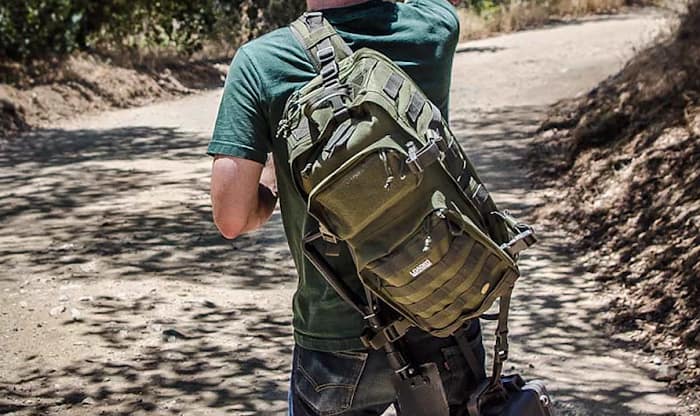 There are several mainstream gear brands as well as small companies that carry excellent tactical sling bags. However, 5.11 has proven itself to be one of the leading manufacturers of top-rated tactical sling bags in the market and has been a popular choice to many consumers.
Since 1992, they have been producing durable and high-quality survival bags and other tactical gear. Most of their packs are suitable as a tactical sling bag for EDC.
How Do You Wear a Tactical Sling Bag
Slings bags are worn over your shoulder. The pack can sit on your back or in front of your body, depending on your preference. On the other hand, a mini tactical sling bag is small enough to be worn around the waist like a belt.
What Should You Carry in a Tactical Sling Bag
Again, it all depends on your purpose. Some gun owners choose to purchase military sling bags big enough to carry their weapons. For EDC bags, they should be able to hold your cell phone, flashlight, notebook, water bottle, wallet, keys, extra clothing, and other gadgets.
Are Sling Bags Better for Your Back
Generally, a military sling pack is comfortable and good for your back. As long as you don't overstuff it with things and make it too heavy to carry, then it should be okay for your neck and shoulder. You should also organise how you put things inside the bag to keep it flat against your back.
Conclusion
With so many shoulder packs in the market right now, looking for the best tactical sling bag is difficult. However, as long as you keep in mind all the factors mentioned above, plus our tips, you'll find yourself purchasing the most suitable one in no time. Remember to always prioritise quality and comfort to ensure that you're making the most of what you're spending.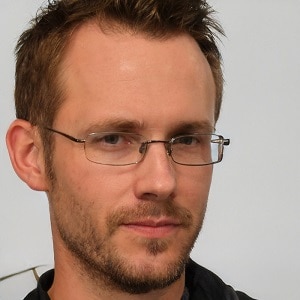 I am Everett Bledsoe, taking on the responsibility of content producer for The Soldiers Project. My purpose in this project is to give honest reviews on the gear utilized and tested over time. Of course, you cannot go wrong when checking out our package of information and guide, too, as they come from reliable sources and years of experience.