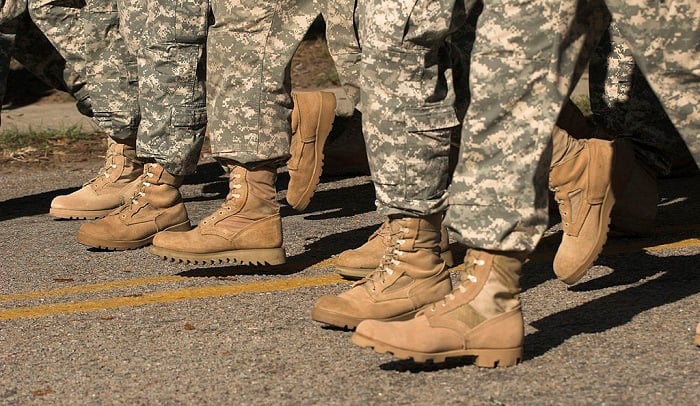 Rucking means walking for long miles with a heavy backpack, so you want the right footwear to take on any obstacles on the road. The best boots for rucking can take away the strain and pressure of walking for hours. They can even provide maximum protection and comfort to keep feet safe, dry, and cool.
Anyone can use rucking boots, from military personnel to hikers. Today, many tactical boots can be used for rucking with their excellent features. Here are a few things to consider when buying boots for rucking.
Uniform Compliant: If you're an officer, you need to purchase rucking boots that conform to the rules. The color should be either tan or coyote, and the toe cap should be plain and not steel. The shaft height must be around 8-10 inches with a rubber outsole and leather upper.
Breathable: Walking for too long under the heat of the sun can be pretty uncomfortable. To keep feet sweat-free and cool, look for breathable boots. This type of boots has vents and a breathable upper to let the air in.
Lightweight: Since you'll be carrying a heavy rucksack, you don't want to drag your feet with some heavy boots. To ease the strain of walking for hours, look for lightweight boots. These kinds of boots typically have an EVA midsole with a thin yet rugged fabric.
We'll discuss more things to look for when purchasing a rucking boot in the buying guide below. But before that, let's review the top rucking boots in the market today.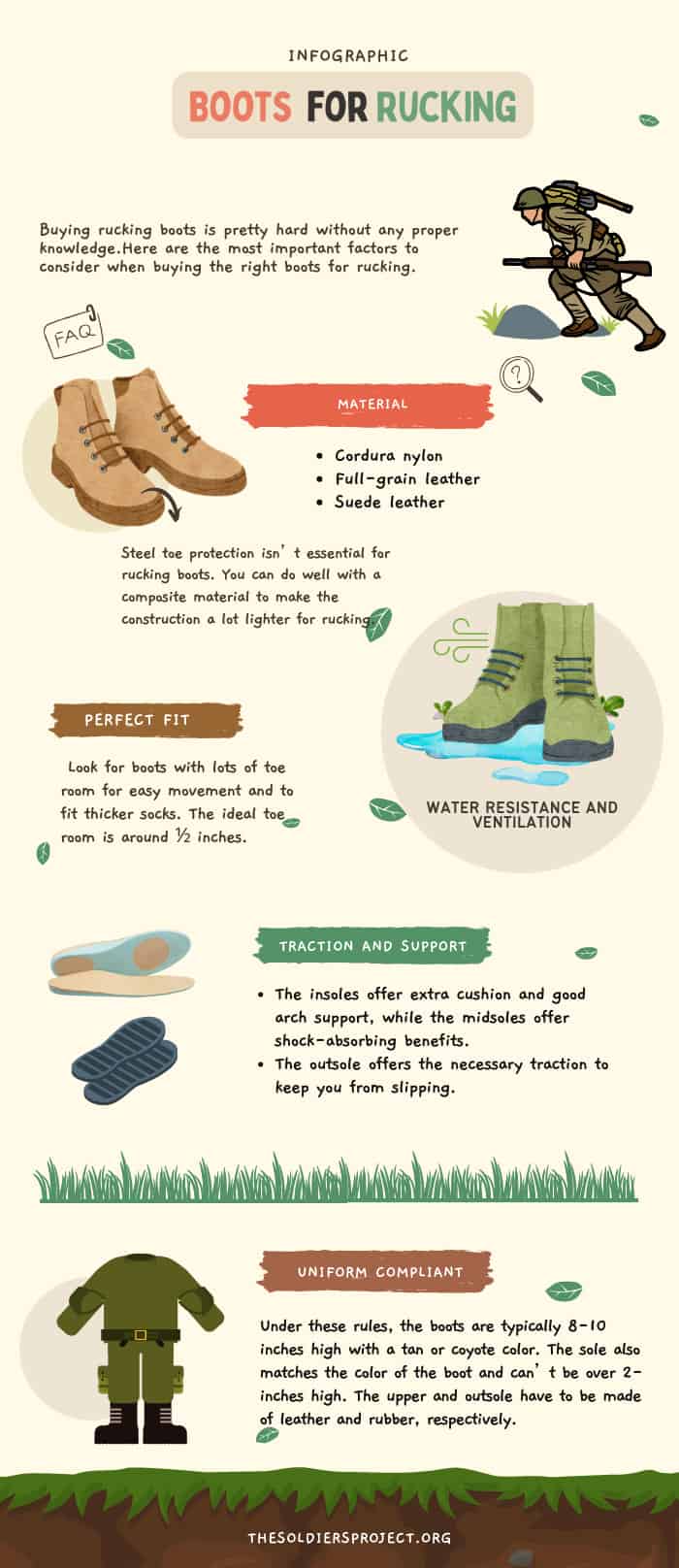 ---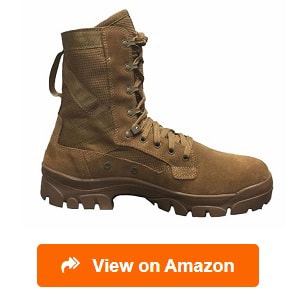 Garmont Men's T8 Tactical Boot
Durable metal eyelets
Offers nice calf support
Breathable suede leather
---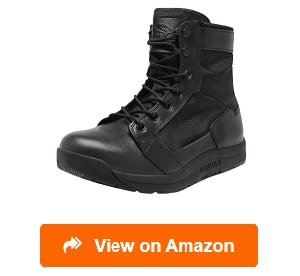 Danner Men's Tactical Boot
Lightweight
Removable insole
Breathable construction
---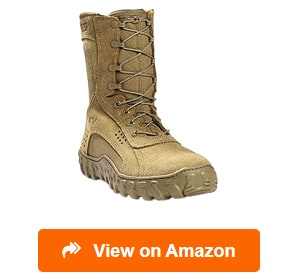 Rocky Men's RKC050
Can keep feet warm
Quiet and comes true to size
Protect feet from light flames
---
Top 12 Boots for Rucking Reviews
1. Garmont Men's T8 Bifida Tactical Military Boot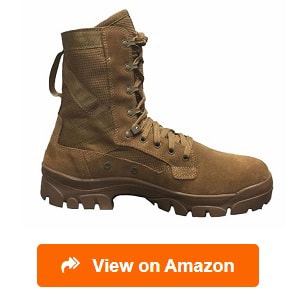 The Garmont T8 Bifida is a lightweight rucking boot perfect for missions that require speed. Even when I'm carrying a heavy load, I'm surprised that I still feel comfortable with these breathable boots.
I love the combination of the suede and 600D nylon on the upper portion because it provides good ventilation. My feet tend to sweat a lot, but they remain dry in these army boots in the hot weather. Additionally, the polyurethane (PU) footbed seems shock-absorbent, and the EVA midsole feels so lightweight that it makes me feel like I'm wearing running shoes.
This rugged boot features a Vibram outsole, which offers plenty of grip to make me walk through ice, snow, and rough terrain without slipping. I also noticed that there's zero optical refraction hardware at the instep. This is a good thing because the laces move more fluidly, and the boots perform nicely in any environment, whether I'm on the ground or in flight.
I think this pair is great boots for ruck marching because they support my calves when I try walking down steep hills. The metallic eyelets and nylon webbing also seem to hold up well in harsh conditions. Best of all, I'm not afraid to put these boots onto the mud because they're easily cleaned with water.
Heads-up:
However, the size runs a bit small. Get a size larger than normal to enjoy a perfect fit.
Pros:
Made of lightweight EVA midsole and offers nice calf support
PU footbed offers excellent shock absorption
Breathable suede leather + 600D nylon upper keeps feet cool
Vibram outsole seems slip-resistant on ice and rough terrain
Zero optical refraction hardware make laces move more smoothly
Made with durable metal eyelets and nylon webbing; mud cleans off easily
Cons:
Size comes a little smaller than normal
Bottom Line:
Overall, the Garmont T8 Bifida seems to be good rucking boots for any mission that needs speed. These lightweight military boots offer maximum traction, breathability, and support.
2. NORTIV 8 Men's Military Tactical Boots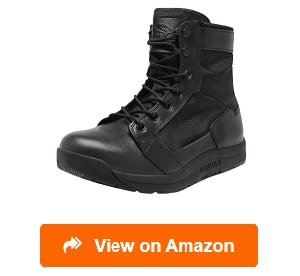 This NORTIV 8 design is one of my favorite pairs of military boots for rucking on a hot day. These jungle boots keep my feet well-ventilated, thanks to the breathable upper fabric that lets the air in.
Among all the features, the dynamic three-sole system stands out the most to me. My feet stay comfortable and sweat-free with the linen insole, while the EVA midsole provides the stability I need when rucking in the desert. Best of all, the rubber outsole seems pretty rugged to use on any terrain, including gravel and sand, all while ensuring no slipping.
I'm not afraid to walk in shallow puddles and mud because the leather covers the bottom part well to keep my feet dry. I even sprayed some water on these boots, and my wool socks were surprisingly dry. Additionally, my wide feet love the extra room on the toe box to make me agile when marching for long miles.
The best part is that I got this pair at a very low price. The boots even came with a warranty, which might be helpful for covering any defects. Most importantly, they don't create any annoying noise at every step.
Heads-up:
However, these Nortiv 8 boots may need some time to break in, around one week.
Pros:
Breathable upper fabric offers excellent ventilation
Built with an effective three-sole system and a wide toe box
Linen insole absorbs sweat while EVA midsole offers great stability
Rubber outsole can tread in any terrain and won't make any noise
Leather offers enough protection from mud and puddles
Comes with a warranty and a fair price
Cons:
May require a break-in period
Bottom Line:
All in all, the Nortiv 8 Tactical Boots offer great quality on a budget. They can even provide great protection from mud and puddles with enough breathability in the summer.
3. Rocky Men's RKC050 Military And Tactical Boot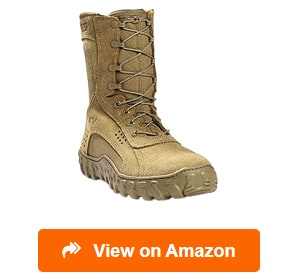 The Rocky RKC050 is one of my favorite tactical boots with good arch support. On the occasions that I wore this rucking boot, I never had blisters, even when used in the desert.
I love the traction of the rubber sole on loose gravel, mud, and sand. The sole feels sturdy, and I'm satisfied with the ankle support. By far, this tactical boot is the quietest I've worn on the field. More importantly, the fit comes true to my size, so I was able to use the boots straight out of the box.
This tactical boot wears more like a sneaker than a heavy boot. The inner lining wicks away the moisture to keep my feet water-free during a long hike. I've marched through inclement weather, and I was pleased to find that these boots helped keep my feet warm.
I can't believe how durable the leather used on this model is. It was able to resist quick flames and water puddles. Also, I feel confident with its great quality as it seems to be Berry Compliant and Uniform Compliant for the US Army.
Heads-up:
However, the sole is only single-stitched onto the boot, so I'm afraid that it might fall apart.
Pros:
Offers remarkable support on the ankle and arch
Rubber sole grips well on sand, gravel, and mud
Quiet and comes true to size; Berry and Uniform Compliant
Can keep feet warm from inclement weather
Light as sneakers with a moisture-wicking lining
Leather material can protect feet from light flames and water
Cons:
Sole is attached to the boot in a single stitch
Bottom Line:
Overall, the Rock RkC050 offers great support on the arches and ankles for a more comfortable ruck. This model also provides outstanding protection from water, flames, and the cold.
4. Danner Men's Tachyon Military And Tactical Boot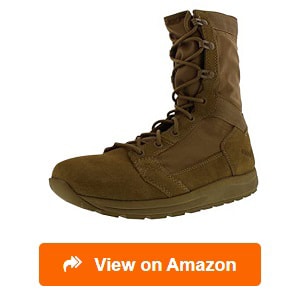 Another lightweight boot that I love to wear for rucking is the Danner Tachyon model. When I wear this boot together with my Merino wool socks, I can't feel any pain when going on ruck marches.
This 8-inch rucking boot feels as comfortable as my favorite running shoe, so I'm not afraid of blisters when walking for long miles with a heavy backpack. My feet also stay dry with these rucking boots even when wearing them in the hot weather. I can feel the air circulating inside the shoes, so I think that the leather/nylon construction is super breathable.
The Tachyon fits accurately the first time I put it on. There's no break-in period needed because this rucking boot feels soft right out of the box. I especially love the Coyote color, as the sand and dirt blend with it beautifully and even provide a better look.
These boots feature a nylon shank, which is why they never lose shape and provide flexibility. I appreciate the cushion of the insole, and I like the fact that it's removable so that I can swap it with my Dr. Scholls insert easily. The rubber outsole also seems to have great tread because I never lost traction on occasions when I walked on slippery roads.
Heads-up:
However, the material is so thin that the eyelets might dig into the ankles. To resolve this issue, I recommend customers use proper socks.
Pros:
As comfortable as a running shoe and won't cause any blisters
Breathable construction of leather and nylon keeps feet dry in the hot weather
Lightweight, fits true to size and requires no break-in period
Coyote color blends well with sand and dirt; comes with slip-resistant rubber sole
Nylon shank keeps the boot's shape and provides flexibility
Removable insole offers cushion and is removable for easy replacement
Cons:
Eyelets might dig into the skin due to the super-thin material
Bottom Line:
Altogether, the Tachyon makes a decent pair of lightweight ruck marching boots. This is a comfortable boot to wear in hot weather because it's incredibly lightweight and breathable.
5. IODSON Men's Ultralight Combat Boots
IODSEN offers another budget-friendly pair of combat boots that I like to use for rucking. Despite the price, the quality is still quite impressive.
Everything feels lightweight, except for the toe cap, which was fortified for the most strength. The reinforced toe cap was strong enough to protect my foot from the falling debris in the woods. I like the fact that there's plenty of room to move around and fit thicker socks.
I found some good vent holes in the collar to disperse the heat when the temperature gets too high. The linen upper is also breathable to prevent my feet from perspiring too much. Best of all, the material is lightweight and comfortable, so it took me only a short time to break the boots in.
The suede leather feels quite soft, so it doesn't rub on my heels. I also like that there's an adequate cushion on the memory foam insole to support my heel from long hiking. As I walk through the sand, I think the non-slip feature of the outsole is decent enough to keep me steady.
Heads-up:
However, the size is a little larger than usual. I recommend customers size down to get the best fit.
Pros:
Budget-friendly but built with great quality
Lightweight with a reinforced toe cap to prevent injuries
Has plenty of room on the toe box to fit socks and move around
Built with vent holes and breathable linen upper to keep cool
Only takes a short while to break in; the outsole offers decent slip resistance
Soft suede leather won't rub the heels; the cushioned insole offers heel support
Cons:
Size comes a little larger than usual
Bottom Line:
Altogether, the Ultralight Combat Boots from IODSON offer decent ankle support and slip resistance for rucking in any terrain. It's also very breathable, so it feels comfortable to march in on a hot day.
6. Foxelli Women's Hiking Boots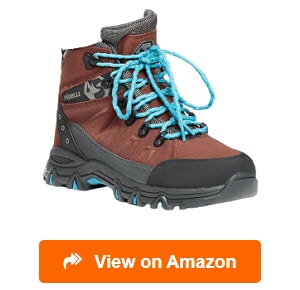 Who says that rucking boots need to look boring? Foxelli offers a stunning pair of hiking boots for rucking that look pretty with the brown and blue color combination. There are also other options like teal and grey to suit our preferences.
Besides looking beautiful, these hiking boots are pretty comfortable to use all day long, even right out of the box. I get enough arch support from the removable insoles, so I think there's no need to purchase another. The rubber sole also grips well on the steep hills that I climb.
I experienced no rubbing or blisters with these boots because everything is well-cushioned in the collar and tongue. My feet also don't seem to sweat much because the breathable mesh allows the air to get inside the boots. Even in the harshest conditions, the suede leather appears to hold up quite well.
The best part of these boots is that they're built with KingTex waterproof membrane to keep the moisture at bay. They're undoubtedly waterproof because my socks still remained dry when both my feet got submerged in a wet muddy area. During the times that I got the tips slightly wet, I was pleased to know that they dry quite fast.
Heads-up:
However, these boots aren't true to size. I recommend users go a size larger than their normal size.
Pros:
Looks stunning with different color combinations
Removable insoles provide adequate arch support
Rubber sole offers great traction; comfortable right out of the box
Collar and tongue are well-padded to prevent blisters
Breathable mesh promotes good air circulation for sweat-free feet
Suede leather holds up well in any weather; waterproof and quick-drying
Cons:
Size comes smaller than normal
Bottom Line:
Altogether, the Foxelli Hiking Boots offer aesthetics with the right balance of comfort and support. They're also waterproof to make rucking easier in wet weather conditions.
7. Timberland Men's White Ledge Waterproof Boot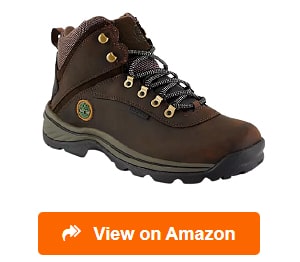 The Timberland White Ledge is my favorite pair when rucking in winter. Together with my favorite moisture-wicking wool socks, it feels warm to use in the cold weather.
I love the durability of the full-grain leather construction as it endures well against the cold. These leather boots claim to be waterproof, and I think they're right because my feet stayed dry when I soaked them in a puddle. I found out that the seams are all sealed for waterproof protection.
I'm most fascinated with the ReBOTL fabric lining as it's crafted from recycled plastic bottles. The rubber lug sole is also recycled, making these boots quite environment-friendly. When put to the test, the sole was able to keep me safe from slippery terrains and pointy rocks.
It's great that these waterproof boots have a big toe box to give room for my thick wool socks. The fit is comfortable, and I needed no break-in time at all. With the help of the EVA foam midsole, marching for several hours won't cause any foot fatigue.
Heads-up:
However, the footbed is a little thin. I recommend users wear a thicker pair of socks to add cushion.
Pros:
Feels warm to use in winter with thick moisture-wicking socks
Made of durable full-grain leather and strain-reducing EVA midsole
Waterproof enough to keep feet and socks dry
Built with all seams sealed to keep boots watertight; with a wide toe box
Uses recycled ReBOTL fabric lining and non-slip rubber lug sole
Needs no break-in time to use comfortably
Cons:
Bottom Line:
All in all, Timberland shows a nice effort in using recycled products to make the White Ledge boots. These boots are also waterproof and slip-resistant, making it safe to walk on puddles and slippery terrains.
8. Rocky Men's S2v 101 Work Boot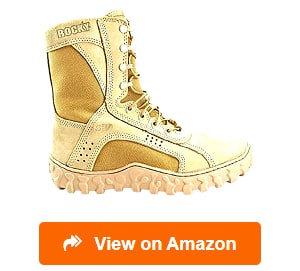 The S2V 101 is another good pair of army boots for rucking on rough terrains. In my experience, I didn't get any blisters when I took a 12-mile ruck with these boots on.
My feet get enough protection from any terrain because I believe that these duty boots are AR 670-1 boots for rucking. I always kept my balance when walking on a steep hill as the tactical boots offer wonderful roll-stop ankle stability and a grippy Vibram sole. Also, I felt plenty of cushion from the PU molded footbed, making me walk more comfortably in long miles.
Thanks to the advanced S2V sieve technology, my feet stay dry and cool in any weather conditions. More so, the wicking Dri-lex lining never let my feet sweat even on the hottest days. And unlike other boots, I have an easier time taking these Rocky boots off after a busy day.
The construction appears to be pretty durable as everything is triple-stitched. Even quick flashes of flames on a camp site can't destroy these boots because the leather upper is PTFE coated. For someone as clumsy as me, I don't have problems with rope burns anymore because the Superfabric instep panels protect my feet well.
Heads-up:
However, these rucking boots may need a break-in period to soften them up a little.
Pros:
Has a grippy Vibram sole and roll-stop ankle stability
S2V sieve technology keeps feet protected from water and ventilates well
PTFE coated leather resists flame; Superfabric instep panels prevent rope burns
Easier to take off compared to other boots; triple stitched for durability
Wicking Dri-lex lining keeps sweat at bay; PU footbed feels comfortable
Cons:
Might take a while to break in
Bottom Line:
All in all, Rocky Men's S2V 101 seems to be the top-tier rucking boots for ankle support. This pair is also pretty durable and comfortable for even the harshest conditions.
9. Garmont Men's Tactical Boot
These Garmont Tactical Boots offer the extreme comfort that I want for rucking. The weight is almost as light as my tennis shoes, so these boots won't drag me down when running.
Though lightweight, these boots impress me with sufficient ankle support to reduce the risk of injuries. Most importantly, the suede construction seems strong enough to last for any mission. For someone with wide feet, I'm pleased that these tactical boots fit me right.
I have a terrible problem with my sweaty feet, and fortunately, my feet remained dry all day with my Merino wool socks and this Garmont pair. The suede leather and 600D nylon upper seem breathable enough to let the air in and dissipate the heat. Even when these boots get soaked in the rain, they dry pretty quickly.
I'm also very impressed with the outsole technology as it keeps me stable on any ground, whether on loose gravel or wet roads. The locks on the laces are just perfect because they hold the laces securely at whatever tightness I prefer. Someone told me that it only takes a few hours to break these rucking boots in, and they're right.
Heads-up:
However, this pair of rucking boots army model may run at least ½ a size small.
Pros:
Lightweight yet offers adequate ankle support
Fits for wide feet and has a strong suede construction
Designed with a breathable upper to keep feet dry
Dries quickly; outsole technology keeps feet stable on any ground
Built with locks to hold laces fittingly
Only needs a short break-in period
Cons:
A bit inaccurate in sizing, around ½ size smaller than normal
Bottom Line:
Overall, this Garmont tactical boot shows a spectacular outsole design for excellent grip and stability. This is also
a good pair of hiking boots
as it feels very lightweight and breathable.
10. Oakley Men's Light Assault 2 Boots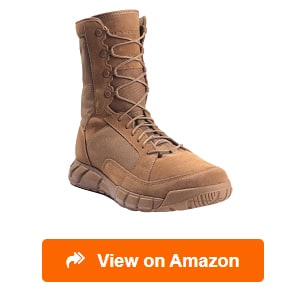 I'm also delighted with the Oakley Light Assault 2 Boots because they're as good as my old Go Ruck Boots. My favorite is the Coyote color because it looks even more beautiful in the desert.
These Light Assault boots feel comfortable with the EVA midsole and outsole that absorb the shock in my every step. They're so lightweight that it feels like running with any top athletic shoe brand. I feel enough ankle support because I can walk on these boots all day long without feeling any foot pain.
I can even wear these tactical boots in wet weather because the Cordura material dries fast. These boots also breathe well, thanks to the soft cloth upper, making rucking easier to do on hot days. Best of all, the size is truly spot on.
To be specific, these rucking boots feel snug on my feet. I think they use speed laces to make the lacing secure and quick. Instead of threading every lace through every eyelet, I simply have to wrap the laces around every metal hook.
Heads-up:
However, the soles tend to squeak when they get wet in the rain.
Pros:
Very lightweight and available in a pretty Coyote color
EVA midsole and outsole offer excellent shock absorption qualities
Offers adequate ankle support and a snug fit
Made of breathable, soft cloth upper and quick-drying Cordura
Comes true to size; seems to be made with speed laces for convenience
Cons:
Soles might cause a squeaking sound when wet
Bottom Line:
All in all, the Light Assault 2 are some of Oakley's most lightweight boots. These are great boots for rucking army missions because they breathe well to keep feet comfortable during hot days.
11. TACTICAL RESEARCH Mini-Mil TR105 Combat Boots
When I asked "Are Nike boots good for rucking?" on Reddit, someone recommended the Mini-Mil TR105. True enough, these tactical boots captured my admiration with their tough yet lightweight construction.
The unlined cattle hide leather feels soft and supple to the touch, while the 1000 denier Cordura nylon seems to provide enough breathability in the summer. My feet never get sweaty, and I get enough protection from the stiff toe area. There's also a good flex to help me walk without any restrictions.
The best part of the boots is the shock-dispersing midsole, which makes rucking a lot easier for long hours. I like that there's enough padding to ensure I can walk comfortably without losing any ground feel.
It's hard to find a uniform compliant boot, so coming across the Mini-Mil TR105 is such a treat for my law enforcement friends who are in the US Army, Air Force, and Space Force.
The Vibram Tarsus rubber sole offers a pretty good grip on the ground, and best of all, it doesn't leave any marks. The break-in takes fairly quick, about a few miles only. And I think the laces will likely last for a long time as they feel strong with their paracord style material.
Heads-up:
However, these are expensive boots to shell out for the first time.
Pros:
Vibram outsole is slip-resistant and non-marking; stiff toe area is protective
Lightweight and comfortable to wear with the right amount of flex
Made of soft cattle hide leather and strong paracord-style laces
Shock-dispersing midsole offers adequate cushion for comfort
1000D denier Cordura nylon keeps feet sweat-free
Uniform compliant to the Air Force, Army, And Space Force; breaks in quite fast
Cons:
Bottom Line:
Altogether, the Mini-Mil TR105 is built with extreme protection, as shown with its uniform compliance with many military services. This pair makes great
combat boots for rucking
because they're comfortable to walk for long hours without compromising durability.
12. FREE SOLDIER Men's Tactical Boots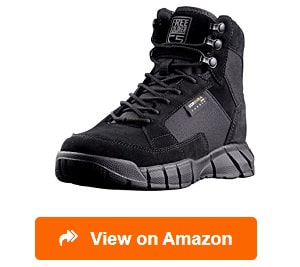 Not just for rucking, these FREE SOLDIER Tactical Boots also rock for casual wear with its hip urban style. It's quite easy to put my feet into these boots because the shaft is only six inches high.
These tactical boots only weigh about 1.54 lbs, making them comfortable to ruck for long distances. The gusseted tongue is stitched securely, so nothing gets into the boots when I'm rucking in the sand. Additionally, the outsole grips well into the gravel and pavement to keep me steady all throughout the hike.
Gone are the days of sweaty feet because the thin Cordura fabric and vented holes dissipate the heat properly. The fabric is so breathable that it makes my feet stay cool at a 95-degree temperature. It's also quite flexible, so I had no problems with marching on uneven terrain.
The construction seems built to last with good quality stitching and strong leather material. The boots also lace up quickly and securely on the metal eyelets, just like any real combat boot. I like that there's extra room to fit my favorite cushion cotton socks.
Heads-up:
However, these shoes are not waterproof. If I go somewhere rainy, I will not wear these.
Pros:
Can be worn for casual settings with hip urban style
Easy to put on; laces up quickly on the metal eyelets
Lightweight, about 1.54 lbs, with a gusseted tongue to keep debris out
Outsole offers good grip; has extra room for cushion socks
Thin Cordura fabric and vented holes; is flexible for unrestricted movement
Built with good stitching and durable leather
Cons:
Bottom Line:
Overall, the FREE SOLDIER Tactical Boots show great functionality and aesthetics in work and outdoor activities. The thin fabric makes these boots lightweight and breathable to use for rucking.
What to Look for When Buying Boots for Rucking
Buying rucking boots is pretty hard without any proper knowledge. You can end up with a bad pair that will compromise your mission if you don't look closely. Here are the most important factors to consider when buying the right boots for rucking.
Material
The material used can tell the durability and lightness of the boots. For this type of boots, materials may vary from Cordura nylon to full-grain leather and suede leather.
Durable boots use a tear-resistant material to protect the feet when rucking on sharp sticks and thorns. Full-grain leather boots are extremely durable with enough water resistance. If you want soft boots that don't need a break-in period, look for boots made of suede leather.
Steel toe protection isn't essential for rucking boots. You can do well with a composite material to make the construction a lot lighter for rucking.
Water Resistance And Ventilation
A good rucking boot should keep your feet away from moisture. Look for a waterproof membrane or material to make boots usable in wet weather. You can't avoid walking through puddles, so it's also practical to look for draining holes to keep the water out.
Breathability is the key when you want to keep your feet sweat-free. Look for mesh or vents to dissipate the heat. A waterproof lining is also effective in wicking away sweat or moisture.
Traction And Support
The soles (insole, midsole, and outsole) usually determine the support and traction of the boots. The insoles offer extra cushion and good arch support, while the midsoles offer shock-absorbing benefits. On the other hand, the outsole offers the necessary traction to keep you from slipping.
The outsole should be thick enough to protect feet from pointy rocks. Look for rubber outsoles because they offer better slip resistance. To ensure the best quality, look for Vibram outsoles.
If you plan to ruck on rocky terrain, look for flexible ankle support. Muddy or slippery areas need a boot with thicker, deeper lugs to grip well and minimize the chances of slipping. Go for widely spaced lugs to have less dirt build-up and better grip.
Perfect Fit
You can only enjoy the comfort of the boots when they fit well. Look for boots with lots of toe room for easy movement and to fit thicker socks. The ideal toe room is around ½ inches.
Make sure that the boots won't cause blisters and rub the skin. One finger should fit between your ankle and boot.
If you can't visit a physical store, check the sizing of the manufacturer. Some boots may run big or small, so make sure to know that and make slight adjustments.
Uniform Compliant
If you serve under the US Army or Air Force, make sure that boots follow the uniform guidelines. Look for AR 670-1 compliance if you're serving under the US Army and AFI 36-2903 under the US Air Force.
Under these rules, the boots are typically 8-10 inches high with a tan or coyote color. The sole also matches the color of the boot and can't be over 2-inches high. The upper and outsole have to be made of leather and rubber, respectively.
Do I Need Boots for Rucking
Yes, you need boots for rucking, especially if you're planning to use them for military training purposes. Boots of this type are lightweight and provide the essential support to make long hours of walking more bearable.
Which Boots Are Good for Rucking
Good rucking boots are made of thin material, like Cordura, and abrasion-resistant full-grain leather or soft suede leather. They're normally made of rubber outsoles with lightweight EVA midsoles and adequately cushioned insoles. These boots are also breathable to keep feet sweat-free and cool.
How Do You Lace Boots for Rucking
One way to lace the boots for rucking is to use the surgeon's knot, starting at the closest part when the top of your foot starts to flex forward. Next, wrap the laces around each other two times, then pull tightly. Do the same thing at the next set of lace hooks and finish lacing the typical way.
Conclusion
Rucking becomes a lot easier when you wear the right kind of boots. For me, the best boots for rucking is the Garmont T8 Bifida because it's lightweight with Vibram soles that grip well on any surface. This model is also very breathable to keep the sweat at bay in a hot climate.
Another good alternative is the Danner Tachyon Tactical Boots. I especially love the Coyote color as it performs well in the desert. This pair also feels comfortable right out of the box with great breathability in the summer.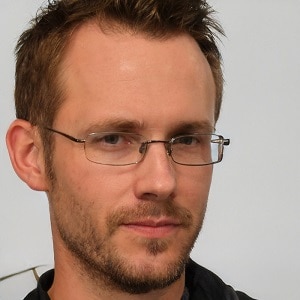 I am Everett Bledsoe, taking on the responsibility of content producer for The Soldiers Project. My purpose in this project is to give honest reviews on the gear utilized and tested over time. Of course, you cannot go wrong when checking out our package of information and guide, too, as they come from reliable sources and years of experience.