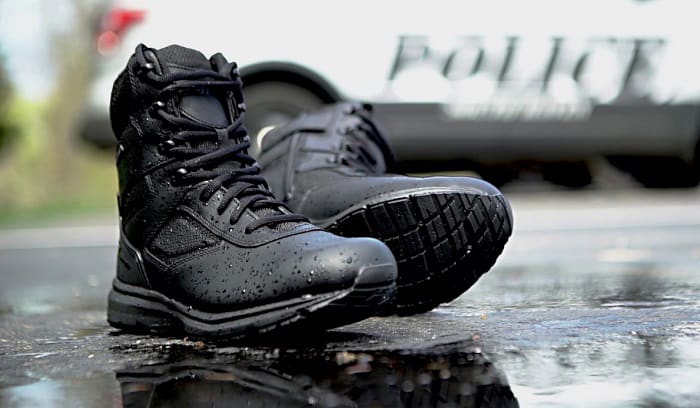 Tactical boots are generally bulky and huge, so manufacturers have started to create designs that suit women. The best women's tactical boots shouldn't only offer protection but also extreme comfort and attractive style. These boots should be lightweight, so women in law enforcement and outdoor activities can perform tasks efficiently.
There are plenty of women's tactical boots available today, so it would be a little overwhelming to choose the best one at a glance. Here are some essential factors to consider when shopping for a new pair.
Protection: You'll want a pair of tactical boots that offer maximum protection in the most vulnerable areas like achilles' heels. Since you'll be exposed to rain and other elements, ensure that the boots are waterproof and wick away moisture. Also, look for removable inserts to protect feet from serious injuries when jumping, running, or doing other intense activities.
Comfort: The fitting can be a good determinant for the comfort level of boots. Make sure that the boots fit your foot perfectly. Look for a mesh material to keep your feet cool and cushion them in the right places. The weight also matters, so choose something that's lightweight to run on.
Traction: The top-rated tactical boots can tread on any surface, whether it's slippery or dry. The traction power lies on the outsole design. Look for deep lugs and as possible make sure that it's slip-resistant.
The buying guide doesn't end there. There's still more to consider when you want to shop for the right tactical boots in your mission. Keep reading to check the top products out there.
---
Bates Women's Side-Zip Boot
Excellent waterproof protection
Seems to withstand any environment
Keep feet cool & dry from perspiration
---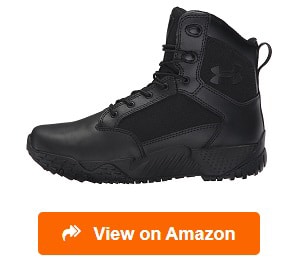 Under Armour Women's Tactical Boot
Feels lightweight to wear
Provides excellent ankle support
Keeps the water out from the feet
---
5.11 Women's Tactical Boot
Lightweight and cool to wear
Provides ample ankle support
Keep feet stable at any surface
---
Top 12 Women's Tactical Boots Reviews
1. Bates Women's Ultra-Lites Tactical Sport Side-Zip Boot
These Ultra-Lites are a good pair of women's lightweight tactical boots that can keep us comfortable for long periods. These boots also feel durable with the leather/nylon construction and rubber soles.
I love the design of the Ultra-Lites women's tactical boots. Bates uses a proprietary DRYGuard membrane to provide waterproof protection while keeping our feet cool with the mesh material around the ankle area. I had these shoes in the standing water, and my feet remained dry.
The side zippers also add comfort and convenience to the shoes. They make the shoes easy to wear and take off. More importantly, the zippers are durable, plus they can offer temporary ventilation when our feet get too hot, simply unzipping to release the heat.
The traction is also great on this one. The rubber outsoles have deep lugs to hold our feet well on the ground, even in the toughest conditions. They're pretty slip-resistant and tread well on ice.
Heads-up:
The only thing I dislike is the length of the laces. I think they're a bit short, but we can tie them in a single knot and rely heavily on the side zippers.
Pros:
DRYGuard membrane offers excellent waterproof protection
Infused with a mesh material to keep feet cool and dry from perspiration
Side zippers make the boots easy to put on and off
Has a durable construction that seems to withstand any environment
Outsole's deep lugs offer superb traction and even tread well on ice
Cons:
Bottom Line:
Overall, Ultra-Lites are the most comfortable women's combat boots with lightweight outsoles and mesh material to keep our feet cool. This pair also boasts incredible durability that can hold up well against any condition.
2. Under Armour Women's Stellar Tactical Boot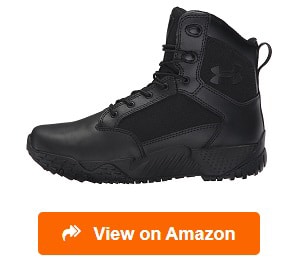 Under Armour Stellar are minimalist-style black boots with a polishable toe. These female tactical boots run true to size and are perfect to wear for long hours of standing.
The Stellar Boots are made of 100% leather and 900D nylon textile to provide a durable construction. They're coated with UA Storm technology to keep your feet dry in wet weather situations. When I walk in rain and snow, my feet remain dry.
These military style women's boots feel comfortable to wear outdoors and at work. They're lightweight, almost feel like tennis shoes, and keep my feet warm during cold weather. After weeks of use, I haven't noticed any damage.
I love the ankle support on this pair of Under Armour women's military style boots because it has saved me in a lot of twisted-ankle situations. The molded EVA midsole also provides extra support and stability with its strong TPU shank. More significantly, you won't slip on these shoes as the sole comes with subtle rubber lugs.
Heads-up:
However, the Stellar black boots need time to break in before you can feel the extreme comfort. In my case, I waited a week for the shoes to soften up.
Pros:
Runs true to size for a perfect fit
100% leather and 900D nylon construction feels sturdy
UA Storm technology keeps the water out from the feet
Feels lightweight to wear for work and outdoors
Provides excellent ankle support and traction
Offers great stability with the TPU shanks
Cons:
Might need a break-in period to soften up
Bottom Line:
All in all, the Under Armour Stellar Boots are sturdy and surprisingly comfortable. These women's black tactical boots offer sufficient protection and support from elements, perfect for outdoors or work.
3. 5.11 Women's ATAC Tactical Military Combat Boot, 12403
The ATAC 2.0 12403 are 8-inch side-zip tactical boots for women from 5.11. These women's military combat boots are perfect for hiking or patrol, thanks to their rugged construction.
The toe is made from a suede material, so it feels soft and gentle. I like the 840D nylon upper as it keeps my feet breathing to prevent perspiration buildup. Likewise, the YKK side zippers surprise me with their smooth mechanism, allowing me to wear the boots easily.
These women's tactical shoes feel really lightweight, like walking on clouds. They feel comfortable as the interior is made of a new breathable tongue and dual durometer Ortholite footbed for better airflow. I also feel super protected with the shock mitigation system and flexible Achilles heel zone.
Having a knife pocket is a big bonus, especially in camping situations where I need to prepare food. It's placed just below the boot top on the exterior, so it's quite accessible. An added SlipStream on the slip-resistant outsoles also makes these boots more stable in any environment, even on oily surfaces.
Heads-up:
However, the boots fit slightly wide for my narrow feet. I recommend getting a half size down for whose feet are narrow.
Pros:
Suede toe feels comfortable, while 840D nylon upper keeps perspiration at bay
YKK side zippers work smoothly and make the boots easy to wear
Lightweight and cool to wear, thanks to the airflow tongue and Ortholite footbed
Achilles heel zone provides ample ankle support
Built with a pocket knife for extra functionality
SlipStream outsoles keep feet stable at any surface
Cons:
May feel a little wide for small feet
Bottom Line:
Altogether, the 5.11 ATAC 2.0 12403 is a durable pair of combat boots for women. These women's army boots impress most with their comfortable design, plus allowing them to keep a knife is a big bonus.
4. Under Armour Women's Micro G Limitless 2 Tactical Boot
The Under Armour Micro G Limitless 2 is a nice pair of women's security boots that can last for any environment. These boots look incredible in uniform and lightweight enough to run in.
I love the resilience of these women's duty boots. The rubber sole treads well on any surface, while the leather and 900D nylon upper feel soft and lightweight. These boots have gone through heavy rain, mud, and long walks on asphalt without any problems.
I'm pleased that the boots come true to size because they fit on my feet perfectly as I expected. Also, the toe is made of composite material, so I can pass on metal detectors without any hitch. Best of all, the composite material doesn't conduct electricity, making it perfect when dealing with electronics.
I also got the best foot support with these shoes. My feet don't feel cramped up inside the shoes, thanks to the TPU shanks on the midsole that stretch on my every move. Additionally, the boots seem water-resistant because the UA Storm technology wards off water effectively.
Heads-up:
However, I found no cushion on the insoles. I recommend using inserts to make our feet more comfortable.
Pros:
Resilient to walk on any surface, including mud and asphalt
Keep feet dry, thanks to the UA Storm technology that repels water
Leather and 900D upper makes the shoes soft and lightweight
Come true to size to provide a comfortable fit
Composite toe can pass through metal detectors and resist electricity
TPU shanks make the shoes flexible and stable
Cons:
Lacks cushion on the insoles
Bottom Line:
Overall, I'm satisfied with the quality of the Under Armour Micro G Limitless 2 Military Boot. I think this pair makes reliable women's police shoes because of their professional appearance and rugged construction.
5. Reebok Women's Sublite Cushion Tactical Boot, Rb806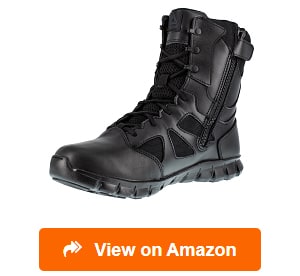 When my Nike tactical boots womens got ruined, my friend gave me these Reebok Sublite boots. These shoes are incredibly flexible and comfortable to wear even when running.
I'm a fan of the high-arch design because it makes it easy to navigate rough terrains and climb ladders. The boots got removable insoles to help stabilize our feet and prevent blisters. I believe that they're water-resistant because the nylon mesh wicks the moisture away.
I appreciate the targeted rubber on the outsole because it makes the traction extremely good. I also like the Sublite foam midsole that helps minimize weight and allows greater flexibility. Thanks to the full-foot flex grooves, I feel even more mobile when wearing these boots to work.
I love to wear these boots in winter because the interior has plenty of padding, especially around the top. The MemoryTech Massage footbed conforms to the contours of my feet, offering instant comfort when I wear these boots. The entire fit feels comfortable that walking or standing for long hours is no longer a pain.
Heads-up:
My only complaint is the flap fabric inside the zipper. The fabric tends to fold inside the shoes, so make sure to position them securely before strapping down.
Pros:
High-arch design improves movement in rough terrains
Removable insoles protect feet from blisters
Has sufficient water resistance to keep feet dry
Targeted rubber on outsole improves traction
Flexible to wear with the Sublite foam midsole and full-foot flex grooves
MemoryTach Massage footbed offers immediate comfort
Cons:
Flap fabric inside the zipper may fold awkwardly
Bottom Line:
All in all, I enjoy the comfort of the Reebok RB806. These tactical boots provide a greater range of movement, hence improving flexibility to work in different missions.
6. Under Armour Women's Valsetz Rts 1.5 Tactical Boot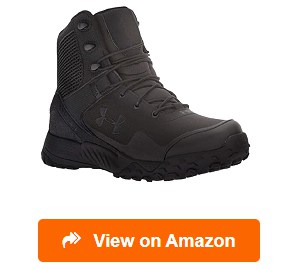 The Valsetz Rts 1.5 is a 6-inch tactical boot from Under Armour. I like the fit of these boots because they're comfortable to wear together with regular-width socks and thick winter socks.
These boots are flexible and lightweight to use for work and leisure. I wear them for 10 hours daily and even tried running them on a treadmill without any issues. They feel similar to high-top tennis shoes, especially the high level of ankle support.
The toe area isn't metal but soft material that feels comfortable to wear for an extended time with trenous duties. That being said, these boots should pass through the metal detector without any trouble. Notably, the flat part is made of mesh, making it comfortable to wear on hot days.
I believe that these boots are non-slip and water-resistant. I was walking under heavy rain and snow, and my feet were pretty dry. Additionally, the traction is extraordinary as the soles hold a secure grip on the floor, especially when I was pulling large pallets of merchandise.
Heads-up:
However, the ankle part may take time to break in, but after, that it's comfortable all the way.
Pros:
Flexible and lightweight to use even when running
Offers magnificent ankle coverage for the prevention of injuries
Soft toe construction feels comfortable and can pass through metal detectors
Mesh flat part makes the boots breathable during hot weather
Adequate water resistance protects feet from rain or any moisture
Delivers excellent traction to work smoothly on any surface
Cons:
May take a while to soften the ankle area
Bottom Line:
Overall, the Under Armour Valsetz Rts makes a good pair of work or adventure boots as they provide excellent comfort and traction. More importantly, they give extraordinary ankle coverage without limiting our movement.
7. Bates Women's Gx-8 Gore-tex Waterproof Boot
Bates Women's Gx-8 is a nice pair of women's waterproof tactical boots that adopts a side-zip design. I like that these boots look stylish despite being run through mud and grit in the most rugged situations.
The material combines 70% full-grain leather and 30% nylon, making the boots incredibly durable and robust. The YKK zippers boast a sporty ook, and they are durable. In addition, the rubber outsole seems slip-resistant as I've never had any slipping incidences so far.
These shoes stay dry, thanks to the waterproof GORE-TEX membrane lined with a moisture-wicking fabric. I love the removable insert because it's adequately cushioned for comfort and helps support the arches from injuries. The EVA midsole is also cushioned, adding extra comfort to the feet.
Unlike other military boots, the Gx-8 didn't rub my tendons raw. Breaking in the boots also took less than two hours, which is quite fast. I got a lot of compliments because this pair look professional and can be shined to look sharp.
Heads-up:
However, the boots seem to be a little tricky to put on and off even when the side zipper is down. What I did was untie the laces to help my feet get in and out of the boots more easily.
Pros:
Looks stylish and durable with full-grain leather and YKK zippers
Rubber outsole protects our feet from slipping
Waterproof membrane keeps feet dry from rain and flood
Removable insert may help prevent ankle injuries
Comfortable to wear with the cushioned midsole
Quick to break in and won't rub on skin raw
Cons:
A little challenging to put on and off the boots
Bottom Line:
All in all, Bates Women's Gx-8 is a perfect pair for a wilderness adventure. I am happy that these boots protect my feet from mud and grit while boasting a cool look.
8. Danner Women's Prowess Military And Tactical Boot
Prowess is a side-zip tactical boot made of leather and nylon upper to provide extreme comfort. It's super lightweight, so the pair is perfect to use for hiking and long hours of standing at work.
I love the ankle support that I get with these shoes. My feet don't get hurt even when walking or standing for hours. Likewise, the pentagonal lug pattern on the outsoles amazes me with its great stability in the snow and rough terrains.
The side zipper makes these boots quick to wear and remove, providing a big help when I'm truly exhausted. My biggest concern was keeping my feet dry, and this pair didn't disappoint. No water entered into the boots when I stepped on a puddle of water accidentally, and best of all, my feet don't get sweaty anymore.
I love the soft-toe design that can be polished to look neat for work. It feels comfortable and easy to pass on all metal detectors. There's also plenty of room to let my toes move freely.
Heads-up:
However, the size runs a bit small. I suggest getting a size half-size larger than normal to get a perfect fit.
Pros:
Comfortable to wear even worn for long hours
Provides excellent ankle support
Pentagonal lug pattern on the sole grips hard on any surface
Easy to wear and remove, thanks to the side-zippers
Has adequate water resistance to keep the feet dry
Polishable toe feels soft, roomy, and safe from metal detectors
Cons:
Bottom Line:
Altogether, the Prowess Tactical Boot can be an exceptional work boot as it feels lightweight and comfortable to wear for long hours. This pair also provides enough protection to use for any outdoor activity like hiking.
9. DailyShoes Women's Ankle Bootie High Lace Up Boots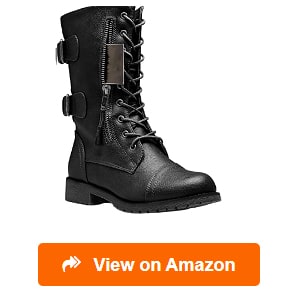 DailyShoes lets wearers go out without their purses with well-made lace-up boots that feature hidden pockets. I like to put my small essentials, like a USB cable, credit cards, and a few bills.
What I like most is that the boots rock in various colors, including pink, blue, and red. My favorite is the zebra prints because I rarely see that on tactical boots. The buckle straps also add a cool appearance to the boots aside from making an easy fit adjustment.
The boots are made of high-quality vegan leather that seems to resist tear and wear effectively. The traction of the rubber sole is excellent as it keeps my feet stable on any surface, even on slippery grounds and snow. Thankfully, there's a cushion on the insoles, so it feels more comfortable to wear the boots for a long day.
I like that I can wear any type of socks inside the boots, whether it's thin or heavy, and still feel comfortable. It's easy to wear them since these shoes are designed with side zippers. More impressively, we'll get all these benefits at a low price.
Heads-up:
However, these boots slightly squeak. But don't worry because that funny sound will disappear after some time.
Pros:
Features hidden pockets to store small essentials
Available in many colors to suit fashion style at a good price
Has cool-looking buckles to adjust the fit and side zippers for easy wearing
Made of vegan leather that seems to be tear-resistant
Rubber sole provides superb traction on any ground
Cushioned insoles offer extra comfort and allow the use of any socks
Cons:
Might create a squeaky sound initially
Bottom Line:
Overall, these DailyShoes Combat Boots give foot protection in style. The boots provide a variety of brilliant colors, plus hidden pockets to store our small essentials.
10. Reebok Duty Women's Rapid Response Tactical Boot
Rapid Response is an 8-inch boot from Reebok which fashions a unique coyote color. It's one of the most comfortable boots I tried with its roomy toe box area and breathable nylon mesh lining.
These boots are lightweight, almost as light as tennis shoes or sneakers. So far, I haven't experienced any pain or blisters when using this pair. I especially love the composite toe as it helps reduce leg fatigue with less weight.
I feel that the cattle hide leather can last for very long. The material feels durable and tough to endure in any environment. Together with the ballistic nylon, these boots provide incredible strength against external threats. Therefore, it is among the nice choices for tactical shoes that handle construction work.
The boots come with a removable F2A PU cushion Insert, which I love for extra comfort and pressure relief. The rubber soles also provide excellent traction to work on any surface, whether snowy roads or wet pavements. Thankfully, the soles don't stick way out in the sides and back to make my feet bigger.
Heads-up:
The only thing I dislike is the price. Not everyone can afford these boots since they're slightly expensive.
Pros:
Comfortable with the roomy toe box area and mesh lining
Composite toe reduces weight to reduce leg fatigue
Has a durable construction of cattle hide leather and ballistic nylon
Removable insert helps prevent foot injuries
Rubber soles work on any surface and don't stick out
Looks beautiful with the unique coyote color
Cons:
Costs more than standard women tactical shoes
Bottom Line:
Altogether, these Reebok boots offer a high-end option for work and any outdoor activity. These boots are extremely durable and comfortable to wear on any surface for long hours.
11. Harley-Davidson Women's Howell Motorcycle Boots
Harley-Davidson Howell boots are built for the rough road with their rugged leather construction. These lace riding boots look classic and chic, thanks to the embossed logo and buckles.
Unlike other boots, Howell stays put on the backpedals. These boots have comfortable padding to protect the feet from the hot pipes. I especially love the thick rubber heel and sole as they grip on any surface and prove durable with the cement construction.
The material is made of full-grain leather that seems to be extremely durable and breathable to wear during hot days. The boots also feature a Hydro-Guard waterproof membrane lining to keep our feet dry. True enough, my feet stayed dry even when walking over puddles of mud and water.
I'm pleased that the boots come true to size. Even when the shoes feel a little tight or loose, we can adjust the fit using laces and buckles. Also, the price is quite reasonable given the quality of the boots.
Heads-up:
However, the 5-inch heel takes a little time to get used to. I have to be extra careful not to trip my way when walking.
Pros:
Looks chic and classic with the embossed logo and comes at a reasonable price
Stays put on motorcycle's backpedals and protect from hot pipes
Rubber heel and sole are cemented for extra durability and grip
Full-grain leather seems waterproof and breathable for extra comfort
Hydro-Guard waterproof lining keeps feet dry from rain and mud puddles
True to size and adjustable for a more comfortable fit
Cons:
5-inches heels feel a little awkward at first
Bottom Line:
All in all, these Harley-Davidson Boots provide that classic appearance that looks good on motorcycles. Not only that, these boots can also be used for any outdoor activity as they provide excellent grip and waterproof function.
12. 5.11 Women's ATAC Tactical Military Combat Boot
The 12404 is a six-inch tactical side-zip military combat boot that provides a lot of support and flexibility. These boots tread well on uneven terrains because they normally bend easily.
What I love the most about these combat boots is that they don't appear larger than their actual size. They're lightweight and comfortable to wear for a long-hour shift. My favorite is the Achilles heel flex zone, as it allows more range of motion for my duties.
Another notable feature of the 12404 is the side-zipper that makes the boots easy to wear and take off. I like that these shoes are true to size, so the fit was very comfortable. Moreover, they provide perfect ankle coverage to prevent my feet from getting twisted whenever I jump or run.
I'm impressed with the traction of this pair. The rubber sole gives an excellent grip on any surface, even in oily areas and snow grounds. Additionally, the construction seems to last long because of the rugged suede toe, sturdy YKK zippers, and 840D nylon upper that can endure any weather.
Heads-up:
However, these boots feel a bit snug initially. Just be patient because they do loosen up after a while.
Pros:
Naturally bends when walking over uneven terrains
Doesn't look bulky on feet despite the size
Achilles heel flex zone allows more feet movement for flexibility
Side zippers make the boots easy to put on and off
Offers excellent traction on any surface, including oily surfaces
Provides superb traction and durable construction of materials
Cons:
Might fit slightly snug for the first few days
Bottom Line:
Altogether, the 12404 makes a good choice for flexibility and support. These women's boots typically bend when we tread over uneven terrains and provide adequate ankle coverage.
What to Look for When Buying Women's Tactical Boots
Tactical boots help protect your foot from elements and even offer extra stability in your steps. These shoes come in handy on any occasion, so it's important that you choose the most reliable one for the mission. Here are some things to consider when looking for women's tactical boots.
Boots need to be as perfectly fit as possible because they can reduce comfort and cause blisters. The best way to get the right fit is to try the boots yourself in the store. Wear socks and do it later in the day when your feet are not swollen.
Try walking the boots around a little. You shouldn't feel any pressure against the sides and Achilles tendon. There should be enough room for your toes, and your heel shouldn't slip in the back.
Now, if you can't go to the store, know your boot size. Measure the length and width of your foot. You can then refer to the sizing chart provided by the brand.
Height: 6 Inches Vs 8 Inches
Part of what makes tactical boots comfortable is how far the outsole goes up your calf. Typically, tactical boots come in six or eight inches high.
Six-inch boots are more flexible than their eight inches counterparts, making them ideal for construction work and police foot patrols. Many EMTs and first responders select these boots for their right mix of support and flexibility in walking the stairs. They're also easier to run, but the weight and tightness of the lace also matter.
Some law enforcement positions require the use of 8-inches boots because they provide extra protection and support in any environment. Since these boots are higher, they provide more coverage for police/military operations and outdoor activities. So, if you're planning to go to the wilderness with your legs exposed, choose an 8-inch boot.
Tactical boots are often made of leather and nylon upper with rubber soles. Leather and nylon uppers make the boots lightweight and breathable to wear for extreme comfort. More specifically, you'll need to have breathable mesh or vent holes near the feet arches if you choose an 8-inch boot since they can be pretty restrictive.
For the interior, look for open-cell foam cushioning or moisture-wicking liners to absorb water and keep your feet dry. As for the zippers, YKK is the most durable out there. Opt for side zippers if you want to put them on and off the shoes quickly.
Midsoles can either be made of polyurethane or EVA foam. The latter is softer and lighter, but it can stop rebounding over time. On the other hand, polyurethane foam provides a denser feel, making it retain its shape longer.
As for the toes, a composite material is preferable over steel ones. Composite toes are as durable as steel but are more lightweight and allow you to pass on all metal detectors. The outsole should have lug patterns to provide excellent traction on any surface.
Nothing is more fulfilling than having your feet dry, even when you walk into puddles of mud and soaked in the rain. That's the reason why you want a pair of waterproof boots. These boots feature a waterproof membrane or technology to keep the water out from your feet.
For support, look for molded midsoles as they can help disperse weight and offer stability. Outsoles should be oil-resistant and slip-resistant at least to stay grounded. Also, good arch support provides great comfort when walking or standing for hours.
What are the Most Trusted Women's Tactical Boots Brands
Bates is one of the most trusted brands for women's tactical boots. This brand has been in the footwear industry since 1885, so it knows how to create a good tactical boot. One of its flagship products is the Ultra-Lites which offers a waterproof membrane and ankle support.
When talking about tactical products, 5.11 Tactical should never be left out. This brand has an ATAC 2.0 product line that offers durable combat boots. The traction is excellent, and the 12403 model even offers a handy knife pocket.
How Can I Make My Women's Tactical Boots More Comfortable
The first thing you can do is wear cushioned socks that also wick away moisture. Although some tactical boots provide cushioned soles, you can use inserts to conform to the contours of your feet better. Gel insoles or inserts are the best in relieving the pressure on your feet.
When your boots are made of leather, they tend to get stiff over time. Try investing in a good cream or lotion to condition the leather and give them plenty of give. You can also use a boot stretcher to make adjustments so that you prevent the leather from shrinkage.
How Do You Break in New Tactical Boots Fast
Breaking in boots takes time, especially if what you did is only wear them constantly. A quicker way is to wet them.
First, place the boots in a washtub or bathtub. Fill with water until the boots are fully soaked. After several minutes, remove the boots from the water and put them on with your socks. Consider using two pairs of socks because the leather shrinks as it dries, and you want a little wiggle room for daily wear.
Wear the wet boots for a full day. After that, take out the insoles and let them dry. You can dry the boots outside or put them in front of a fan to completely dry.
Drying time may take a couple of days. If the boots remain stiff, repeat this process until they soften.
Conclusion
Getting the best women's tactical boots matters in the field. You get protection and comfort while still looking fashionable. My top choice is the Bates Ultra-Lites because it's breathable to wear on hot days and waterproof enough to keep the feet dry.
If you want something as lightweight as tennis shoes, Under Armour Stellar Military Boots are a nice alternative. The 5.11 ATAC 12403 comes in handy when you want to store a pocket knife for more functionality. DailyShoes even provides a hidden pocket to store small items, like credit cards and bills.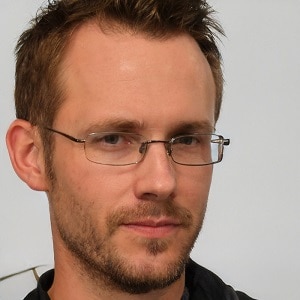 I am Everett Bledsoe, taking on the responsibility of content producer for The Soldiers Project. My purpose in this project is to give honest reviews on the gear utilized and tested over time. Of course, you cannot go wrong when checking out our package of information and guide, too, as they come from reliable sources and years of experience.