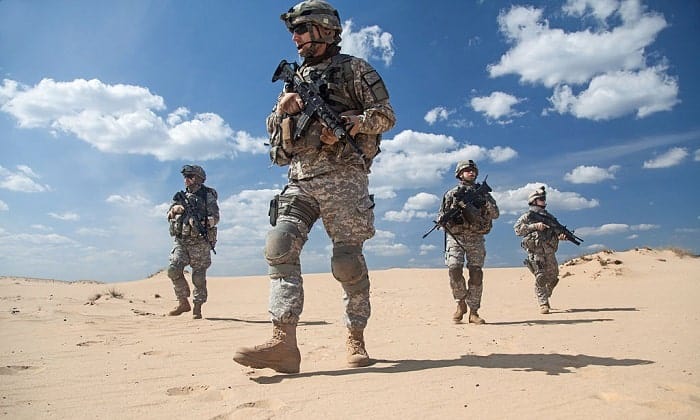 Tactical pants should be practical for missions and comfortable if you want to wear them in a hot climate. The best tactical pants for hot weather should be breathable, lightweight, and functional. These tactical pants should be able to cover your body on the job without compromising your comfort.
With the growing popularity of tactical pants comes the rise of many brands which promise to provide the best performance. It's actually a bit overwhelming to pick your first or next pair if you don't have adequate knowledge. Here are some things you might want to consider when purchasing a pair of tactical pants for hot weather.
Materials: The fabric should be lightweight and breathable if you want to stay cooler in a hot climate. Cotton is your best option as it's breathable, soft, and lightweight. If you want more durability, look for a polyester blend. Fabrics with a blend of spandex are a good choice if you want a slight stretch for more movement.
Pockets: Tactical pants are known for their multiple pockets, so choose pairs with the most practical pocket design. If you carry knives, look for knife pockets. Large cargo pockets are excellent in keeping large items, while hidden pockets are ideal for keeping your valuable possessions.
Fitting: Finding the right fit is also crucial for the comfort of your tactical pants. Make sure that the waistline isn't too tight or loose. The length of the inseam should be right for your height.
For shoppers who want suggestions, I have already compiled 11 tactical pants that I think are the best for hot weather. Keep reading to check my reviews and buying guide below.

---
5.11 Tactical Men's Pants
Comfortable length
Provides a good fit
Has plenty of pockets
---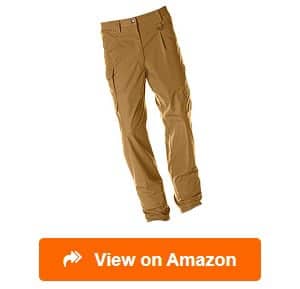 Propper Men's Tactical Pants
Smart pocket design
Fit runs true to size
Lightweight and breathable
---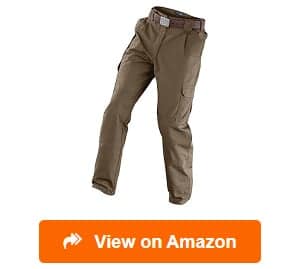 5.11 Tactical Active Work Pants
Includes a D-ring
Breathable and sturdy
Sizing is quite spot on
Best Tactical Pants for Hot Weather Reviews
1. 5.11 Tactical Men's Taclite Pro Pants
The 5.11 Taclite Pro makes excellent hot weather tactical pants with its lightweight yet rugged construction. I like that this pair of 5.11 Tactical pants has all the pockets I need, including seat pockets.
I'm most impressed with the fabric construction because it's a fusion of polyester and poly cotton ripstop. Polyester makes these pants wrinkle-resistant, while the cotton makes the pants more breathable to wear. There's even a Teflon coating, which I believe gives more protection from stains, moisture, and dirt.
I did fall on rocks while wearing these pants, and I'm happy that this pair protected my legs from rashes. I like the gusseted inseam because it makes the pants flexible and rip-resistant. I think there's plenty of pockets to store necessary items, such as keys and spare magazines.
The 5.11's fit is exactly what I expected — it's comfortable and flexible. The length comfortably sits just above my shoes. I love the belt loops because they're thick enough to fit my 2-inch belt and spaced adequately to secure an OWB holster.
Heads-up:
However, it's a bit uncomfortable to put a wallet in the back pockets because they're very deep. Also, the zipper fly tends to get torn off easily.
Pros:
Lightweight poly cotton ripstop and polyester; comfortable length
Fully gusseted construction adds flexibility and durability
Has plenty of pockets to store essential items
Easy to clean, thanks to Teflon protective finish
Provides a good fit for a 2-inch belt and OWB holster
Cons:
A bit uncomfortable to place wallets in the rear pockets
Zipper fly isn't as durable as the fabric
Bottom Line:
Overall, the 5.11 Tactical Men's Taclite Pro boasts a durable construction of breathable tactical fabric. These pants are Teflon-coated to resist dirt, stains, and moisture.
2. Propper Men's Lightweight Tactical Pants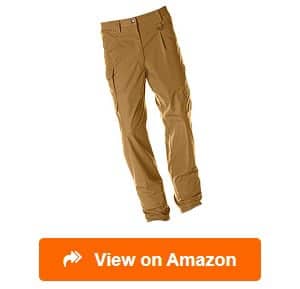 Just like the 5.11 Taclite Pro pants, the Propper tactical pants are made of 65% polyester and 35% cotton with Teflon coating. These breathable tactical pants are lightweight, so they feel comfortable even when you wear them in hot weather.
I love the numerous pockets designed on these pants because it means more storage to keep my essentials. My favorites are the special pockets designed for cell phones, spare rifle magazines, and wallets. The back pockets aren't as low as the 5.11, so they're more comfortable to use.
The quality of materials and finish is quite superb. I see no crooked seams or any loose threads that might degrade the durability of the pants over time. The cotton rip-stop is lightweight yet marvelously strong. Also, other parts, like the knees and hand pockets, are reinforced to provide extra durability.
I think the sizing is quite accurate because I got a size similar to what I normally get for jeans. The design is less baggy but not too tight to constrict my movement. I do appreciate the empty space on the sides of the waistband because it lets me carry items without obstructing the front pockets.
Heads-up:
However, I find the elastic waistband a little rough on my skin, perhaps due to the synthetic material. There's also a lack of gusset stitches around the crotch area, so I'm worried about possible rips and tears.
Pros:
Fit runs true to size and less baggy
Smart pocket design can fit more items securely
Teflon coating and reinforced parts add durability
Lightweight and breathable to wear during the hot days
Well-made without loose threads or crooked seams
Empty space on the sides of the waistband gives room for extra gear
Cons:
Elastic waistband feels rough on the skin
No gusset stitches to prevent rips and tears around the crotch area
Bottom Line:
All in all, these Propper lightweight tactical pants are good for the summer because they're lightweight and breathable. These pants boast a smart pocket design with reinforced pockets for sharp tools and other essential items.
3. 5.11 Tactical Men's Active Work Pants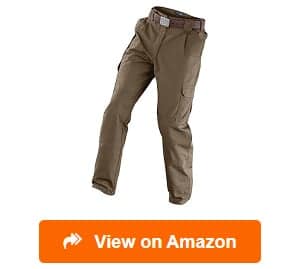 This pair of 5.11 is another excellent breathable work pants for hot weather with its 100% cotton construction. These cotton pants are good for hot summer days because they can quickly absorb sweat and draw heat away from the skin.
There are around seven pockets to give ample room for essential tools in the right places. I especially like the front pocket because it fits my full-size 1911 pistol. Also, the tiny utility pouch on the front leg comes in handy in keeping a multi-tool safe.
Surprisingly, the cotton fabric is sturdy to use for different purposes, from military to casual wear. I like the fact that the knees and seat areas are reinforced to make these pants resilient outdoors. For the size I ordered, the length is pretty accurate.
My other favorite is the hip-mounted D-ring because it's useful in hanging keys. Since these pants are made of pure cotton, they're very breathable. The sewing seems nicely made because there were no loose threads after having been washed for many times.
Heads-up:
However, there's a lack of flexibility around the waist area. I also notice that the cotton canvas is a little heavy because the fabric is on the thicker side.
Pros:
Cotton canvas is very breathable and sturdy
Sizing is quite spot on
Has a generous number of pockets
Reinforced knees and seat pockets add durability
Includes a D-ring
Durably sewn to last for many washes
Cons:
A bit too tight around the waist area
A little heavy to wear due to the thicker fabric material
Bottom Line:
Altogether, the 5.11 Tactical Men's Active Work Pants boast a very breathable material, thanks to their 100% cotton construction. With plenty of pockets and reinforced knees, these pants are versatile to wear on all occasions.
4. LA Police Gear Tactical Pants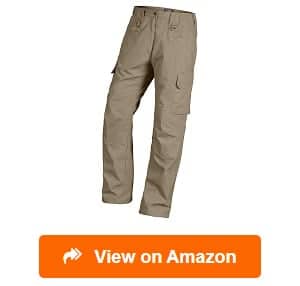 LA Police Gear (LAPG) is another outstanding brand for summer tactical pants with their lightweight polyester blend fabric and high-strength YKK zipper. These LAPG tactical pants are rugged yet breathable to be worn on a hot summer day.
These pants got an elastic waistband, so they still fit even when I got a little pot belly. The pockets are strategically made to fit items securely. I specifically love the side cargo pockets because they're big enough to fit my huge hands and iPad Mini.
The YKK zippers stand out the most for me because they're smooth and sturdy. The more I used the zippers, the more they felt smoother. Best of all, the zippers don't corrode for long-term use.
I think the stitching is quite solid because I see no strays after many washes. The knees and rear areas are reinforced, so these pants can endure a rugged use outdoors. More importantly, there's a drawstring tie at each pant leg's end to keep insects or any crawling animals away.
Heads-up:
However, the velcro in the back pocket feels a little uncomfortable. The fitting is also a little too tight, especially on the crotch area.
Pros:
Polyester blend fabric feels lightweight and breathable
YKK zipper feels sturdy and gets smoother after each use
Design with an elastic band for extra comfort and reinforced knees and rear areas
Cargo pockets can fit large hands and items
Solid stitching makes the pants look neat
Comes with drawstring ties to protect the foot from crawlies
Cons:
Velcro at the rear pocket is uncomfortable
Crotch is a little tight
Bottom Line:
Overall, the LA Police Gear Tactical Pants stand out with their drawstring ties that keep away insects and durable YKK zippers. They can also work as women's lightweight pants for hot weather.
5. Propper Men's Summerweight Tactical Pants
These Propper tactical pants give a lot of stretch with their nylon and spandex blend materials. I think they feel more comfortable around the crotch area due to the button closure.
These pants feel so soft and lightweight because of the 94% nylon composition. They're stretchable to give more freedom in movement. I like that the waistband isn't elastic because it feels snug on my waist and eliminates the need to use a belt.
The rear pockets have no flap, which I like because they don't get folded when I sit. The front pockets have both the flap and a zipper, though, to keep my weapons and items concealed properly. I like the fact that the mesh front pockets are reinforced to prevent tears from any pointed object.
The fit is a little baggy and loose to give more room for movement, which I love. These pants feel stretchy and breathable to wear on humid days as they absorb sweat well and dry quickly.
Heads-up:
However, there's this little swooshing sound when I walk. I've become used to it, so it's not a serious problem for me.
Pros:
Stretches to give more room for movement
Lightweight nylon and spandex materials feel soft and breathable to wear
Button feels comfortable around the crotch area
Non-elastic waistband fits right without a belt
Flap-free rear pockets look neat, while zippered front pockets conceal items well
Reinforced pockets prevent tears from sharp objects
Cons:
Makes a slight sound while walking
Bottom Line:
Altogether, the Propper Summerweight Tactical Pants stand out with their stretchability and softness. These pants use a button fly instead of a zipper, making them more comfortable to wear.
6. LABEYZON Men's Outdoor Military Tactical Pants
The LABEYZON tactical pants fuse two of the most comfortable fabrics — cotton and spandex. The cotton will give breathability, while spandex provides the stretch for more freedom of movement.
I love the lower pocket because it fits my cell phone, and it's easy to access while sitting. Thankfully, there are zippered pockets to conceal and secure my possessions, like wallets and keys. Also, I'm pleased that there are no flaps to iron after each wash, so the pants look neater for me.
The construction seems well made. The crotch and knee areas are designed ergonomically to prevent rips and tears. The waistband is elastic enough to make room when my stomach gets full, and the belt loops are wide enough to fit many sizes of belts. Also, I appreciate the ring because it adds extra storage for clipping tactical accessories.
These pants seem like they'll be very comfortable during the summer because 97% is made of cotton. They absorb sweat very quickly. With the spandex material, I can do high kicks easily without fearing any accidental rips.
Heads-up:
However, it's weird that the front closure zipper jams frequently while the side pockets zip smoothly.
Pros:
97% cotton for optimum breathability and spandex for stretchiness
No flaps to iron
Lower pocket fits any cell phone for easy access
Zippered pockets secure items, and the ring holds clipped items
Ergonomically designed knee and crotch areas prevent accidental rips
Elastic waistband with belt loops can fit many belt sizes
Cons:
Front zipper closure tends to jam constantly
Bottom Line:
Overall, the LABEYZON Military Tactical Pants provide the best breathability with their composition of 97% cotton. With the fusion of spandex, these pants offer more liberty to move around freely.
7. ReFire Gear Men's Tactical Pants
ReFire is a pair of military pants made of thin and quick-absorbing materials, perfect for summer and spring. The multi-pocket design is ideal for carrying tools and equipment for rugged outdoor activities.
95% of these pants are nylon, which is lightweight and quick-drying. The rest is made of spandex to add flexibility to the pants. I like the elastic waistband because it stretches a little to make me breathe better.
These pants have pockets to fit all my EDC gear, yet they don't look bulky. My favorite is the zippered side pockets because they're effective in concealing tiny items, like keys. One of the back pockets even has a small internal pocket, which is good for keeping my wallet.
The best thing about these pants is that they look crisp enough to wear for work in a casual setting. This one also fits very slim, perfect for small people like my younger brother. He's around 5'5'', and the pants fit him like they're tailored for his height.
Heads-up:
However, the delivery could be faster. If you need a pair of tactical pants right away, this option might not be the best choice.
Pros:
Mostly made of nylon to absorb sweat quickly and dry fast
Integrated with a spandex material to give more stretch
Elastic waistband feels more comfortable with less constriction
Has enough pockets to store important tools and equipment
Look neat enough to use for casual work; not bulky
Fits small people nicely
Cons:
Bottom Line:
Altogether, the ReFire Tactical Pants are ideal for small people because they're less baggy. These pants are ideal for hot weather because they're quick-drying and lightweight.
8. FREE SOLDIER Men's Outdoor Cargo Hiking Pants
FREE SOLDIER uses more spandex on these outdoor cargo hiking pants. This means more elasticity to move around freely without worrying about wrinkles and deformation.
The main part is made of nylon, which has superior strength to stand up to any outdoor activity. Thanks to the DuPont Teflon Coating, the fabric is resistant enough against water and stains to keep clean. I especially love the UPF50+ sun protection because it helps shield my skin from UV damage.
Surprisingly, these pants provide comfort in any weather. The pants keep me cool during the summer and stay warm when I climb the freezing mountains. True enough, these pants are waterproof because I got drenched in the rain, but not my pants.
I appreciate the free nylon belt because it fits nicely on my waistline. Also, the spandex material feels soft to wear, so it feels like wearing a pair of comfortable pajama pants outdoors. In addition, the YKK zippered pockets are helpful in keeping my wallets and keys secured.
Heads-up:
However, I hear the fabric swish a little when I walk. I also have a problem with its sizing because it tends to run larger than stated. I have to remind myself to get a size smaller than I normally purchase for pants.
Pros:
Made of more spandex material for flexibility and comfort
Nylon material makes the pants durable
Waterproof enough to keep you dry; with UV protection
Stays cool during summer and warm during winter
Resistant to stains and wear, thanks to the teflon coating
Comes with a belt and YKK zippered pockets for security
Cons:
Creates a swishing sound when walking
Size runs a little too large
Bottom Line:
All in all, the FREE SOLDIER Outdoor Cargo Hiking Pants stand out with their fantastic water resistance and flexibility. A large part of the pants is made of spandex, which flexes nicely to any movement.
9. ZAPT Tactical Pants
ZAPT offers a pair of heavy-duty tactical pants with 12 pockets for more tool storage. These tactical pants should last for many years because they're made of heavy-weight ripstop fabric.
The material feels very durable, which makes me think that the pants can take a beating. Surprisingly, they feel comfortable as they stay cool during a hot day. I like the simple velcro strap system around the waist because it allows for easy size adjustments.
The knees have extra canvas support, which I like because I'm a little clumsy. I admire the drawstrings at the bottom of the cuffs because they protect my feet from any crawlies. Also, I'm a fan of the molle webbing on the sides because it's useful in carrying tools and carabiners.
I have no problem with the pocket placements because they're all quite accessible. My favorite is the two roomy front thigh and back pockets, as they can even fit four wine bottles. Additionally, I like how these pants fit because they stay true with the size.
Heads-up:
However, these pants are a little pricey. Also, they feel a little stiff, which can be a little constricting for movement.
Pros:
Very durable, thanks to the heavy-duty ripstop material
Stays cool and breathable during hot summer days
Velcro straps make the waistline easy to adjust
Extra canvas support on the knees provides protection
Drawstrings at the bottom protect toes from insects
Has roomy accessible pockets and molle webbing; accurate sizing
Cons:
A little bit expensive
Feels a bit constricting due to the stiff fabric
Bottom Line:
Overall, the ZAPT Tactical Pants are the best options for heavy-duty use. The fabric is thicker than usual, making the pants perfect for rugged outdoor activities.
10. TRU-SPEC Men's 24-7 Series Original Tactical Pants
This pair of TRU-SPEC tactical pants is a blend of polyester and cotton fabrics for breathability. With their engineered dimensional fit, these pants are ideal for both military and casual work purposes.
I find it very convenient that these pants remain in good condition after multiple washes. There's no ironing needed, and I hardly notice any wrinkle or fading at all. Surprisingly, the fit doesn't loosen up after a long day.
The waistline has a bit of elastic, which I like because my weight fluctuates sometimes. In addition, the belt loops are sufficiently wide to suit nearly any belt size and rugged to resist tears. The fabric also repels water, making the design more efficient.
I love the fact that there are plenty of pockets with spill-mitigating flaps. The hand pockets are deep enough to keep things secure while doing rigorous activity. I especially admire the expandable back pockets because they're roomy to store many items.
Heads-up:
However, these pants have no opening for knee pads, which is contrary to the product description. I did not buy these pants for this feature, though, so it's not a huge bother.
Pros:
Cotton fabric and polyester add breathability to the pants
Engineered dimensional fit makes the pants versatile
Stays in good shape after many washes and uses
Elastic waistband stays fit even after weight fluctuations
Water-repellant with wide, rugged belt loops
Has many pockets to store a lot of essential tools
Cons:
No opening to accommodate knee pads
Bottom Line:
All in all, the TRU-SPEC 24-7 Series Original Tactical Pants impress with their ability to stay in shape after multiple washes. These pants work for hot weather because they're breathable.
11. CQR Tactical Pants
Another outstanding pair of breathable work pants for hot weather is from CQR. These tactical pants are made to perform well in the military, law enforcement, and other outdoor operations.
The pockets can carry so much. There's enough storage for my cell phone, headphone case, and some little tools. I especially love the Velcro flap rear pocket because it's easy to access even when I'm wearing gloves.
This pair of hot weather BDU pants always looks clean because it's easy to brush off the dirt from the Duratex Fabric. Liquids and other contaminants also don't stick to the fabric, keeping the pants look neat longer. Even after wearing these pants for several days, I'm surprised that there's no bad smell on them.
I'm pleased with the flexibility and durability of these pants. The knees are reinforced, and the crotch area is gusseted to prevent rips when crouching down. More importantly, the fabric material is infused with a cotton rip-stop material, adding breathability into the product.
Heads-up:
However, the fitting is a little skinny, so there's less room to move around. Though Velcro pocket closures are easy to access, they sound a little too loud, which is bad for hunting.
Pros:
Pockets can hold many essential tools and equipment
Velcro closures are easy to access
Brushes dirt off easily and repels liquids to keep clean
Won't smell bad easily
Flexible and breathable to wear, thanks to cotton rip-stop
Reinforced knees; gusseted construction prevents tear and rips
Cons:
Less roomy due to its skinny fit
Velcro closures are too loud for hunting
Bottom Line:
All in all, the CQR Tactical Pants are easy to clean, thanks to their Duratex Fabric material. These pants also make an excellent pair of women's breathable work pants for hot weather because of its skinny fit.
What to Look for When Buying Tactical Pants for Hot Weather
Your tactical pants should be very comfortable if you plan to wear them in hot weather. Also, don't forget about functionality as you want to keep all the necessary gear for your mission. Here are some things you want to consider when choosing the best tactical pants for a hot day.
Fabric Is The Key
Tactical pants are available in different materials, and some will help you remain cooler than others. You'll want lightweight and breathable fabrics to keep you comfortable during the summer.
Cotton is one of the most desirable fabrics for hot weather. This fabric isn't only cheap, but it's also soft, lightweight, and wicks away sweat to let the heat escape from your body. Since this material gets wrinkled easily, try to look for a polyester blend to add durability to the pants.
Besides durability, polyester is known to repel water and stains for easy cleaning. This material is also quick-drying, making it useful when you go in rivers and lakes.
Nylon is a stronger and softer material than polyester, but it doesn't dry as fast. Spandex, on the other hand, is also popular because it's flexible and lightweight.
The More Pockets, The Better
One of the defining features of tactical pants is the pockets. Having more pockets means more gear you can carry. Some of the most useful pocket designs include cargo pockets, knife pockets, and media pockets to store cell phones and other media devices.
If you want to hide away some sensitive items, look for hidden pockets that are commonly designed in the side seams or behind other pockets. Magazine pockets are specially made for carrying your spare ammo outside.
The Right Fit
Finding the right fit depends on your preferences. If you want something roomy and casual, look for a relaxed fit. A slim fit is perfect if you want the cut near your leg for a polished look.
Regardless of the style, make sure to find the right size. Get the correct measurement of your waist and inseam. Remember that the waistline sits a little higher than your normal trousers to give room for belts and other gear.
Colors Matter
Yes, colors can also play a part in keeping you cool. Contrary to popular belief, black is the best color to keep you cooler in the heat as this color absorbs energy from your body instead of reflecting it back. Khaki is also perfect for reflecting heat while giving a more casual look.
Functional Features
When choosing the best pair of tactical pants, look for a knee pad-ready construction to allow the insertion of knee pads for rigorous combat situations. For quick mobility, look for a gusset construction. A drawstring at the bottom of each cuff allows you to tighten your pants for protection against insects and dust.
What are Tactical Pants for Hot Weather Made of
Typically, the best tactical pants for hot weather are made from lightweight ripstop fabric, like cotton or a polyester blend to add extra durability. Some tactical pants use spandex and nylon to give more flexibility and softness to the product.
Can I Wear Tactical Pants for Hot Weather Everyday
Considering the comfort and functionality of tactical pants, I don't see any problem in wearing them every day. These pants are breathable and lightweight, so they won't bother your daily routine.
Are 5.11 Tactical Pants Good for Hot Weather
Yes, 5.11 tactical pants are excellent for hot weather, especially the ones made from lightweight TACLITE ripstop fabric or 100% polyester Fast-Tac material.
Conclusion
Now that you know what's in the best tactical pants for hot weather, you can go hiking and do any outdoor activity in the summer without second thoughts. My favorite is the 5.11 Taclite Pro because it's made from cotton ripstop fabric, which is breathable and lightweight. The eight pockets, plus the fully-gusseted construction make these pants even more desirable. For hot weather, you also can refer to tactical hats.
The Propper Lightweight tactical pants are a good alternative. Unlike Taclite Pro, these Propper pants have back pockets that aren't too low. Propper's Summerweight Tactical Pants also bring more flexibility with their infusion of spandex material.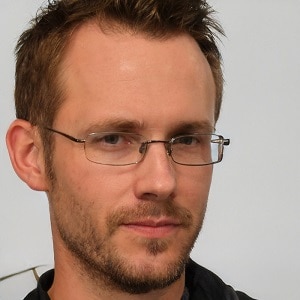 I am Everett Bledsoe, taking on the responsibility of content producer for The Soldiers Project. My purpose in this project is to give honest reviews on the gear utilized and tested over time. Of course, you cannot go wrong when checking out our package of information and guide, too, as they come from reliable sources and years of experience.