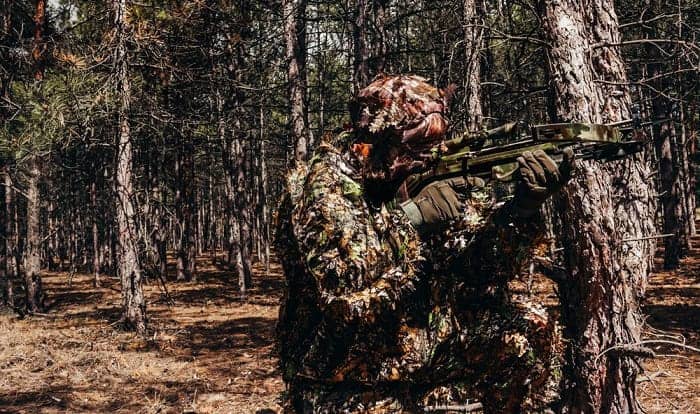 Whether you plan to go hunting or practice shooting, a crossbow comes in handy. Tactical crossbows aren't just for hunting and warfare now, but also for other tactical missions, like creating a zip-line in difficult terrains. Regardless of your purpose, it would create a big difference if you choose the best tactical crossbow.
Today, crossbows come in a wide array of shapes, sizes, and pulling mechanisms. Most of them come with accessories to help you get started immediately. In general, you want a crossbow that's accurate, easy to use, and shoots fast.
Here are some things that you might want to consider when buying a tactical crossbow:
Accuracy: The accuracy of a crossbow might depend on several factors, like the sight and pulling mechanism. The most accurate crossbows have adjustable sights that never go astray from the red dot. The pulling mechanism should be as minimal as possible to prevent the bolt from going off the mark.
Speed: The speed can be determined by the power stroke and FPS rating. A longer power stroke usually means a faster shooting capability as it provides a longer acceleration. A higher FPS rating also translates to a faster arrow speed, which can be an advantage for combat situations.
Draw Weight: This factor determines the shooting power of a crossbow, and it's apt for you to choose a figure that suits best on how you plan to use the crossbow. For target shooting and small game hunting, a draw weight of 50-80 lbs is sufficient. Big game hunting needs at least 125 lbs of draw weight.
While knowing these features is essential, there's still more to learn. There are so many brands available today, so you need to make sure that you pick the right one for your needs. To help with your shopping, continue reading my comprehensive reviews and buying guide below.
---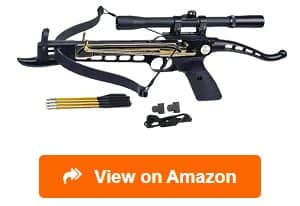 Ace Martial Arts Supply Crossbow
Lightweight
Long scope
Includes 15 arrows
---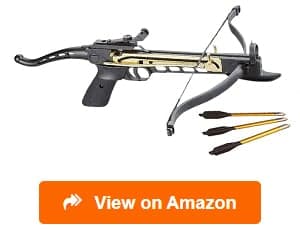 Snake Eye Tactical Crossbow
Long power stroke
Draw weight 80 lbs
3 metal-tipped arrows
---
Shelter Tactical Crossbow Gun
Works more quietly
Flexible and durable
Comes with five darts
---
Best Tactical Crossbow Reviews
1. Ace Martial Arts Supply Cobra System Crossbow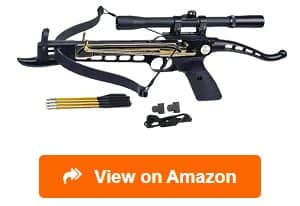 This self cocking crossbow is ideal for target practice and small game hunting with its firing speed of 165 fps. The 80 lbs of draw weight is on the low side, making this crossbow lightweight to use.
I actually like the new self cocking mechanism of this pistol crossbow. We simply have to pull down the pivot arm level to cock the crossbow's cable easily, and the safety is engaged automatically. The quick setup significantly reduces the reload time, providing more quick shots.
Thankfully, this self cocking pistol crossbow includes 39 aluminum arrows for target shooting practice. The quality of the arrows is quite fine because they seem to penetrate more in my temporary target board on the tree stand. I especially like the scope because it's long enough to magnify better for more accurate long-range shots.
I like the fiberglass construction; the crossbow feels light yet extremely pliable and tough. This easy cocking crossbow is exceptionally accurate at around 15 yards, thanks to the adjustable red dot sight. I'm pleased that I came along with this thing when I shopped for new recurve crossbows.
Heads-up:
However, the string can show problems when they're not lubed often. Also, I need to look for a strong friend to help me with the stringing assembly.
Pros:
Includes 15 arrows in excellent quality
Self cocking system reduces reload time and quick arrow speed
Adjustable rear sight allows more accurate shots
Draw weight 80 lbs feel lightweight and easy to use
Fiberglass construction adds durability and strength
Long scope shows a superb magnification of the target
Cons:
String needs to be oiled regularly
Needs an extra hand for assembly
Bottom Line:
Overall, this Ace Martial Arts Supply Crossbow boasts an accurate shooting performance with its adjustable sight and easy cocking mechanism. It's small yet durable for rugged use.
2. Snake Eye Tactical Cobra System Tactical Crossbow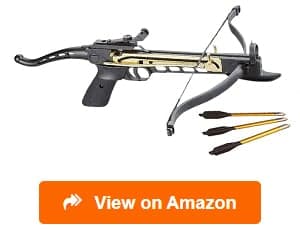 This tactical crossbow pistol is also one of the small crossbows that I love to use during small game hunting. The 80 lbs of draw weight is easy to carry around, plus the self-cocking mechanism makes it way easier to use than the conventional way.
For the price, I thought that this hunting weapon would be a little scrappy, but I was wrong. This crossbow packs a long power stroke to generate a speed of 160 FPS. Additionally, the bolts hollow two inches deep into my thick targets, which can be quite deadly.
This compact crossbow comes with three arrows, which seem to be well-made. These arrows have durable metal tips that don't break easily. Moreover, the entire style of the crossbow looks elegant with its golden accent.
As far as accuracy is concerned, this self cocking crossbow rifle can shoot as far as 10 yards. The reload time is quite fast, so it can also help intimidate possible intruders at home. I find that this crossbow works best in hunting small animals at close range, though.
Heads-up:
However, stringing is a bit difficult because I had to ask another two people to help me. Also, I find the handle plastics too large for my hand, so they slightly dig into my palm during target practice.
Pros:
Long power stroke generates amazing speed
Draw weight 80 lbs feel light yet packs a hefty power
Self cocking mechanism is very easy to use
Comes with three metal-tipped arrows
Adequately accurate up to 10 yards
Burrows deep and reloads fast
Cons:
Takes a few people to string the crossbow
Handle plastics feel a little uncomfortable
Bottom Line:
All in all, the Snake Eye Tactical Cobra Crossbow suits best for small hunting games with its lightweight construction. Also, this one makes an excellent crossbow for home defense as it reloads quite fast to intimidate possible home intruders.
3. Shelter Tactical Crusader Handheld Pistol Crossbow Gun
This Shelter Tactical Crusader Crossbow finds itself in the lowest range of draw weights at 50 lbs. Besides the pistol crossbow gun, the package also includes five darts and a string.
The crossbow is very compact, yet it feels solid with its cast aluminum construction. My father had this crossbow for about three years, and the string is still intact. In fact, I observed that the bow bends and doesn't snap, which is even better.
At 50 lbs draw weight, the Crusader works perfectly for target shooting. It can also create some severe damage to anything within the range of 20 to 30 feet. When it comes to shooting distance, we can expect the bolt to go as far as 30 yards with zero deflection.
I was shooting this crossbow when I went to my father's house. This one isn't as loud as the larger models. I find it easy to cock, maybe because I do weightlifting, so 50lbs isn't that heavy for me. For the price, this is a good beginner crossbow to practice shooting.
Heads-up:
However, I find the colorful darts a bit childish. I think the arrows would have been better if they were black. Also, the sights aren't very stable, so I need to resight often.
Pros:
Comes with five darts and a string at a fair price
Flexible and durable with its metal construction
Shoots quite far, around 30 yards, with zero deflection
Can cause serious damage to anything up to 30 feet
Works more quietly than larger crossbow models
Not that heavy to cock and pull the trigger
Cons:
Colorful darts appear to be a little childish
Sights need improvement
Bottom Line:
Altogether, the Shelter Tactical Crusader packs a punch with its 50-lb draw weight and compact metal construction. It works best for target shooting and close-range crossbow games.
4. Centerpoint AXCS185K Sniper 370 Crossbow
The Centerpoint AXCS185K Sniper 370 is on the upper end when it comes to draw weight. This compound crossbow has a draw weight of 185 lbs and an estimated speed of 370 FPS.
I think the best feature of the Centerpoint Sniper 370 is the anti-dry fire trigger because it helps prevent the crossbow from dry firing and possible damage. The trigger feels very nice due to its very minor takeup and sharp window-glass break.
I was able to get nice groupings at 30 yards when I was shooting, so I'm convinced that the trigger design contributes to the crossbow's excellent accuracy.
My favorite is the integrated string suppressors because they make the crossbow shot quietly. Thankfully, the arrow clip construction is ball bearing, which I like better than tension clip, as it tends to be more reliable in the long run. Since I value safety, I appreciate the automatic safety feature that engages as soon as I cock the bow.
The package includes a cocking rope, which I find very helpful in cocking the crossbow more easily. For more accuracy, there's a 4×32 mm scope with the illumination of the rings. Fortunately, I had no issues adjusting the scope for elevation, and it holds zero nicely.
Heads-up:
However, the package doesn't include arrows, so I have to find some suitable arrows for the Centerpoint Sniper 370 model. With all the complex parts, it was hard putting them together.
Pros:
Anti-dry fire mechanism prevents potential damage
Well-made trigger adds accuracy to shooting performance
Integrated string suppressors keep shots quiet
Ball-bearing arrow clip adds reliability in the long run
Cocking rope and automatic safety feature makes it easy to use
Includes a well-illuminated scope that holds zero conveniently
Cons:
Doesn't include arrows
A bit challenging to put together
Bottom Line:
Overall, the Centerpoint AXCS185BK is a quality-built high tech crossbow that provides a lot of power and precision. With this great amount of draw weight, this crossbow is perfect for big game hunting.
5. EK Archery RX Adder Automatic Crossbow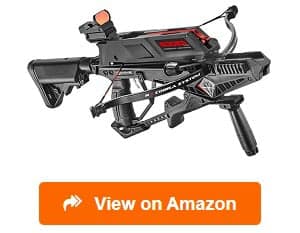 The Adder automatic crossbow is on the medium-side with its 130-lb draw weight, making it a good tactical assault crossbow. It pretty much includes everything that we need, such as 15 bolts, red dot sight, and a stringer.
The Adder offers something new with a magazine that loads multiple bolts for fast and convenient follow-up shots. This military grade crossbow is easy to put on the shoulder, thanks to its adjustable AR-style stock. After dialing in the sight, this crossbow is quite easy to shoot.
For a small bow, this self loading crossbow packs quite a punch. I shot into a target at 60 feet, and the bolts burrowed about four inches deep without any signs of damage. I especially like the multiple load feature as it significantly lessens the reloading time.
I have no problem with assembly because detailed instructions were included. Also, the arrows that come with the package aren't the cheap ones that I thought they were. Compared to German arrows available on Target, the EK Archery bolts are of higher quality.
Heads-up:
However, these proprietary bolts can be expensive, and they're rare to find in local stores. Another downside is the string because it tends to wear fast even when I wax it regularly.
Pros:
High-quality crossbow bolt design adds accuracy
Provides everything needed for use
Top-loading magazine makes follow-up shots quick
Adjustable AR-style stock makes it easy to shoulder
Easy to assemble and use with the red dot sight
Burrows deep into targets and can load multiple bolts
Cons:
Proprietary bolts can be pricey and hard to find in local stores
String wears out easily
Bottom Line:
All in all, the Adder Automatic Crossbow can be an excellent military tactical crossbow with its good range and draw weight. This stands out with its multiple loading feature.
6. BOLT Crossbows The Seeker Crossbow
When browsing through the top-tier tactical crossbow for sale, I came across Bolt Crossbows The Seeker. This 80-lb crossbow comes with a foregrip, three metal bolts, and a 1-year manufacturer's warranty.
This model is a self cocking crossbow with a cocking lever located on top of the pistol grip. I love the automatic safety mechanism as it keeps the crossbow from dry firing, hence any potential damage. Surprisingly, I didn't notice any rattling with the cocking lever, so I'm impressed with the craftsmanship of this military crossbow.
I tried shooting a squirrel at 15 feet, and the aluminum bolt penetrated deep. Fortunately, the foregrip kept my aim steady. Just a few adjustments on the sight, and I was able to shoot my target with great accuracy.
I believe that the pistol grip and the stock make this combat crossbow easier to aim and hit distant targets. I can shoot the arrows up to 30 yards, and they'll hit the target just right at incredible arrow speed. For the price, this is such a great steal.
Heads-up:
However, the instructions that came with the package seem useless because they're difficult to understand. Also, the lock of the cocking lever is only made of plastic, so it can break with rugged use.
Pros:
Comes with a foregrip for a steady aim and shot
Easy to use with the self cocking capability
Automatic safety mechanism prevents dry firing
Shots with accuracy and no rattling sound
Aluminum bolts burrow deep at an incredible arrow speed
Comes with a 1-year manufacturer warranty and a reasonable price
Cons:
The plastic lock of the cocking lever seems a bit flimsy
Comes with poor instructions
Bottom Line:
Altogether, the Seeker is virtually a pistol crossbow with a stock. This model is ideal for small game crossbow hunting and target practice.
7. BearX Intense Ready To Shoot Crossbow Package
The BearX Intense Crossbow offers powerful performance with its 185-lb draw weight. The package has everything we need, including an illuminated scope, cocking rope, and a 4-arrow quiver.
This crossbow is fairly easy to put together, despite looking like a very complex weapon. The instruction manual provides the fundamental GUI lines for assembly making it easy to follow. Pulling the rope thing back was hard until I discovered that I could adjust the rope's length- now it's a lot simpler.
I'm impressed that this bow is rated above 400 FPS at such a reasonable price. This makes BearX Intense belong to the upper power range of crossbows. With this power, we can take down a big game in one shot within 80-90 yards.
Among the safety features, I like the anti-dry fire trigger the most as it allows easy de-cocking. I also love the quiver; it's lightweight and can load up to four arrows for quick follow-up shots. Additionally, the scope is easy to dial within five shots.
Heads-up:
However, this accurate crossbow is pretty huge and heavy. This hunting crossbow is also a bit loud when I pull the trigger.
Pros:
Has an easy rope cocking mechanism
Packs great power with a 400 FPS rating
Includes essential items, like quiver and scope
Doesn't dry fire for easy de-cocking
Quiver can load up to four arrows for rapid follow-up shots
Easy to assemble and dial the scope
Cons:
Slightly bulky and heavy
Creates a loud sound when pulling the trigger
Bottom Line:
Overall, the BearX Intense is a premium crossbow package that consists of an illuminated scope and a lightweight quiver. This hunting crossbow is ideal for taking down big game and other military tactical missions.
8. Steambow Sen-X AR-6 Tactical Crossbow
The Steambow Sen-X AR-6 looks like the M4 Tactical Crossbow, but only smaller. This is a compact crossbow, but it packs excellent tactical features.
The AR-6 makes a good crossbow for self defense because the magazine can load up to six 6-inch bolts for rapid repeated shots. I love the feel of the full metal construction, especially the ambidextrous grip that works on either hand. Thanks to the manual safety feature, I don't have to worry about firing the bow accidentally.
This multiple shot crossbow is rated to shoot with a velocity up to 220 FPS, which is adequate for short-range shooting. It's designed with a 3A integrated laser to aim better even in the dark. Since I like to mount flashlights and red dot sights on my crossbow, I find the Picatinny rail useful.
This particular crossbow uses a single-stage trigger, which I think works best for fast action pull. I think there are two sights designed for this thing- one at the front and another fixed at the rear. Together, they give a perfect aim when aligned properly.
Heads-up:
However, this 80-lb crossbow is difficult to sight. Though it has a safety feature, I hoped it was automatic, so I don't have to set it myself after every shot.
Pros:
Compact yet durable with its full-metal construction
Magazine can load up to six bolts for quick repeated shots
Manual Safety keeps firing the crossbow accidentally
3A integrated laser and front/rear sights add aiming accuracy
Picatinny rail can help mount flashlights and red dot sights
Single-stage trigger performs best at fast action pull situations
Cons:
A bit challenging to sight properly
Manual safety can be failed to set if we're forgettable
Bottom Line:
All in all, the Steambow Sen-X AR-6 is one of the most compact auto crossbows perfect for target practice. With its six-shot magazine, the AR-6 can be the best tactical crossbow pistol to carry around.
9. Cold Steel Cheap Shot 130 Tactical Crossbow Package
The Cheap Shot 130 is one of the easiest tactical crossbows to reload. There's no rope or crack cocker required: simply pull the lever, and we're good to go.
What really made the Cheap Shot 130 amazing is its great accuracy at 30 yards. I was able to shoot a 3-inch group in virtually a few seconds. The speed is also quite fast as it shoots at up to 226 FPS, which is excellent for a 130-lb draw weight.
The package comes with everything I need to use for deer hunting, such as a single position red dot scope, shoulder sling, and six 15-inch crossbow bolts. The bolts fly true as promised, and they're quite durable due to their carbon construction.
Also, the best feature is the Picatinny rail because it allows me to hang other accessories, like a quiver and flashlight.
Another feature that stands out is the olive drab green color scheme which looks cool for hunting and other shooting missions. Despite the low price, I'm surprised by this bow's sturdy construction. The cocking action is truly smooth, and I haven't had any issues with it so far.
Heads-up:
However, the red dot scope that came with the package seems to be inaccurate. I need to adjust the sight constantly and won't even hold a setting after use. Also, buying some extra bolts is expensive because they're proprietary.
Pros:
Propels crossbow arrows with great speed
Easy to reload without the need for special accessories
Comes packed with other essential accessories at a fair price
Bolts are durable and fly fast, as promised
Has a cool olive drab green color that's perfect for missions
Delivers a smooth cocking action and can mount other accessories
Cons:
Red dot scope is a bit inaccurate and takes efforts to adjust
Bolts are expensive to purchase
Bottom Line:
Altogether, the Cold Steel Cheap Shot 130 beats the competition when it comes to easy reloading. It also boasts remarkable accuracy and speed in hunting and target practice.
10. Snake Eye Regular Crossbow
The Snake Eye Regular Crossbow uses an efficient self cocking system to take the strain from cocking our bolts repeatedly, hence providing a tactical advantage. It comes with 15 arrows to give plenty of ammo for practice.
For its size, the power stroke is quite long to accelerate the arrow's speed. I think the average arrow of this 80-lb crossbow is around 160 FPS, ideal for target shooting. I'm forgetful, so I appreciate the auto safety cocking mechanism to keep the crossbow from firing accidentally after use.
The construction is quite strong, considering the low price. The aluminum stock and fiberglass limb hold themselves well against constant use. The rest of the parts, like the trigger and shooting sights, are made of hard ABS plastic that can endure well to external impacts.
Surprisingly, the sight is easy to adjust and quite accurate. I was able to get a decent grouping from 50 feet in my backyard. This crossbow really penetrates the bolts into a target at a fair distance.
Heads-up:
However, the bolts that came with the package aren't that durable as expected. They are prone to break after several fires, though they still shoot without the back stabilizer. I also had a slight difficulty during assembly because stringing takes a lot of strength.
Pros:
Self cocking mechanism offers a tactical advantage
Comes with plenty of ammo for target shooting
Has a long power stroke for great speed
Auto Safety keeps us from misfiring accidentally
Strong construction can hold up well from constant use
Scope is fairly accurate and easy to adjust
Cons:
Comes with bolts that break easily
Requires strength to string alone
Bottom Line:
All in all, the Snake Eye Regular Crossbow would be perfect for small game and any crossbow enthusiast. It provides a long power stroke and an accurate scope for speed and accuracy.
11. Barnett Jackal Crossbow Package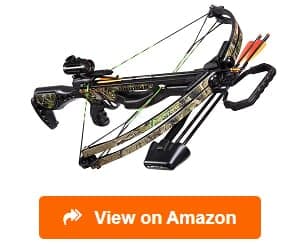 The Barnett Jackal Crossbow Package includes everything you'll need, from quick-detach quiver to bolts. This 150-lb crossbow can shoot arrows at 315 FPS, which is enough kinetic energy to hunt elk.
The assembly was quite simple, considering the many parts that need to be attached. I tried sighting in the red dot scope, and I had zeroed in a justifiable grouping after five shots at 20 yards. The red dot never lost center, so it brings accuracy to the shots.
The Jackal isn't very loud, which I like because I can use this in my backyard instead of visiting a gun range. I believe that this crossbow can take down just about anything because I've seen the bolts burrowing deep into the target. Compared to most compound crossbows, this thing shoots way faster.
Attaching and removing the quiver is not a problem with this crossbow. The quiver seems to be well-made because it locks in place securely. Best of all, the camouflage design brings an authentic look to the crossbow, perfect for hunting.
Heads-up:
However, this crossbow is a bit troublesome to cock by hand, so I got a rope cocking device. I also hoped that the package includes more bolts because it's a hassle to buy some spare ones.
Pros:
Includes everything to get started
Shoots fast, about 315 FPS, and not that loud
Easy to assemble and sight with the red dot scope
Can take down almost anything from rabbits to elk
Quiver is easy to install and remove
Comes in a cool camouflage color for authenticity
Cons:
A bit strenuous to cock by hand
Only includes three bolts, I wish there were more
Bottom Line:
Altogether, the Jackal Crossbow is one of the most powerful pistol crossbows that one can get. This crossbow packs hefty kinetic energy to kill any game.
12. WILLIAM TELL ARCHERY WT4 II Tactical Crossbow
The WILLIAM TELL ARCHERY WT4 is upgraded with three layers of recurve bow limbs for more speed. At a draw weight of 120 lbs, this WT4 tactical crossbow shoots arrows at 250 FPS, enough to kill a deer with the right bolt.
The construction feels pretty sturdy with the aluminum body and nylon stock. Even when I leave it under the rain, this bow doesn't corrode at all. I also appreciate the lightweight construction, especially during travel, as it eases the burden from my hands.
What sets the WT4 apart is the magazine that loads steel balls by itself. I believe that the force is almost similar to a police cartridge, making this product more lethal. Not just steel balls, this crossbow shoots featherless arrows that work best in a ranged weapon system.
When it comes to accuracy, I rely on the 4×32 scope and the military-style cannon tip. The red dot scope is helpful in keeping my aim steady. Thankfully, there's a SWAT light attachment to illuminate the target even at night.
Heads-up:
However, there's only two featherless arrows included, so the package came limited. I also had a difficult time looking for parts of this product.
Pros:
Aluminum body gives durability and a lightweight crossbow weight
Enough power to kill almost any game
Reinforced limbs offer more speed
Shoots steel balls, not just arrows
Pretty accurate with the scope and military-style cannon tip
Can be used at night with the attached lights
Cons:
Comes with limited arrows
Parts are rare
Bottom Line:
Overall, the WILLIAM TELL ARCHERY WT4 not only shoots arrows but steel balls for extra arsenal power. Crossbow hunters can virtually kill any game with this crossbow, from rats to deers.
What to Look for When Buying Tactical Crossbows
Today, many brands of tactical crossbows have emerged on the market, providing more advanced features. Don't fall quickly to the aesthetics. Learn the features and determine whether they'll suit our purpose.
To help you find the best crossbow, here are some important factors to consider.
Types Of Crossbows
Crossbows differ in shape and size because they come in various types. The most common types of crossbows are recurve, compound, pistol, and automatic/repeating.
Recurve crossbows often have a single string, making them perfect for beginners. They have small curves which function as lock and strain directing away to prevent hurting the shooter. Most of them are lightweight, and they can reach a fair distance.
Compound crossbows are more complex as they have some additional parts, like multiple cables. The bow usually contains a rigid central-mount to secure the limbs. Compared to recurve crossbows, the compound version is stiffer and packs more power.
Repeating or automatic crossbows deliver a higher rate of fire as they reload faster with their special cocking mechanism. These auto reloading crossbows have magazines that can load multiple arrows, but the draw is a little weaker and the distance shorter. To make up for the distance, these crossbows discharge bolts with quick speed.
The pistol crossbow is a lightweight version of a repeating crossbow. This type has less power, but it can serve as a good weapon for self-defense when hiking.
Draw Weight
The draw weight pertains to how much force is needed to pull out the bowstring. For example, in an 80-lb bow, drawing the bowstring is almost as hard as lifting an 80-lb weight off the ground. It's vital to know the draw weight so you can know how much power the crossbow is going to deliver when it shoots.
Crossbows that pull 50-80 lbs are on the lighter side, while the medium side range from 125 lbs to 150 lbs. The upper-end models have draw weights of at least 175 lbs. An average person can pull a 150-lb crossbow easily.
If you plan to use the crossbow for recreational purposes, you can use whatever draw weight you're comfortable with. For hunters, make sure that the draw weight conforms to your state's requirements. Typically, the minimum requirement is around 75-125 lbs, but you can opt for a higher draw weight for more power and speed.
Power Stroke
Measured in inches, this term refers to the distance the bowstring propels the arrow down the flight track. This spec is a good indicator of the crossbow's velocity. In general, the longer the power stroke, the longer the acceleration hence faster arrow speeds.
Arrow speed is important for archery, especially if you shoot at unknown distances or to give wider gaps of error in wide-open areas. It's also helpful when targeting potential string jumpers.
Keep in mind that other factors, like the draw weight and limb design, can also impact the speed.
FPS Rating
FPS or feet-per-second measures the crossbow speed.
For example, a crossbow that's said to shoot at 240 FPS means that the arrow travels 240 feet in one second. Now, this doesn't mean that the crossbow can always shoot any arrow of any weight at 240 FPS. It actually means that the crossbow will shoot that rate using the lightest recommended arrow possible.
For hunting, you might need to use a heavier arrow to provide more penetration power. To get a better idea of how the crossbow potentially shoots per second, ask the manufacturer how fast it can shoot a heavier arrow. Most crossbow hunters sacrifice speed to get more penetration power that will take down the prey.
Safety Features
A crossbow is a dangerous weapon, so you should ensure the safety of its use. Dry firing or shooting without an arrow can cause possible damage to the crossbow. To prevent this from happening, look for an anti-fire dry system to prevent the crossbow from dry firing.
An automatic or manual safety feature keeps the crossbow from firing accidentally. If you're forgetful like me, opt for the automatic to engage the safety when the bow is cocked. Manual safety needs human interaction, which is no different from firearms.
Is a Crossbow Good for Self Defense
Yes, a crossbow is good for self-defense because it can cause serious damage and even kill its target when you aim at sensitive areas, like the skull. However, you need to make sure that the weapon is legal and that you're using it to save your life.
How Far Can You Shoot with a Crossbow
A powerful crossbow can shoot up to 500 yards. For skilled hunters, they can go as far as 80 yards, but they need to follow the maximum distance of 60 yards. Beginners can shoot within 30-35 yards utmost.
How Long Will the Crossbow String Last
A well-maintained string can last as much as 4-5 years. However, the general rule is to replace a crossbow string every two years.
Will a 175 lb Crossbow Kill a Deer
About any 175-lb crossbow can kill a deer. To kill a deer effectively, you need at least 40 lbs of draw weight.
Conclusion
Modern crossbows have evolved from hunting and warfare purposes into more amicable uses, like target shooting and other military purposes. In a hunting, you also can retrofit tactical sunglasses to protect your eyes from the sun and tactical folding knife to protect yourself from animals.
My top pick as the best tactical crossbow is the Ace Martial Arts Supply Crossbow because it's durable, accurate, and fast. The most compact tactical crossbow is the 50-lb Shelter Tactical Crusade, while the fastest is the BearX Intense Crossbow that shoots up to 400 FPS.
What are your thoughts about my review? Let us know in the comment section below. If you like this article, please share it with your friends.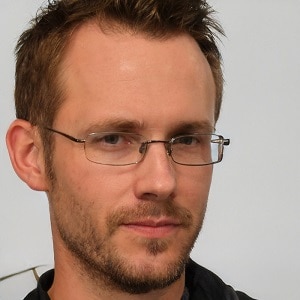 I am Everett Bledsoe, taking on the responsibility of content producer for The Soldiers Project. My purpose in this project is to give honest reviews on the gear utilized and tested over time. Of course, you cannot go wrong when checking out our package of information and guide, too, as they come from reliable sources and years of experience.