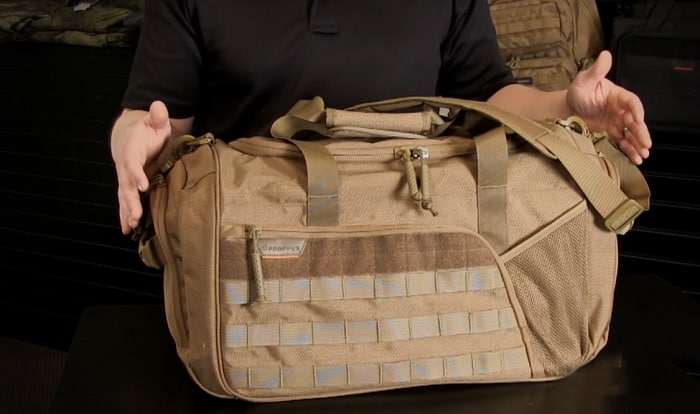 Sometimes I need a bag just as lightweight and flexible as a duffle bag to carry my gear for outdoor adventures.
The best tactical duffle bag offers functionality with organization and modularity in mind. This bag is easier to pack because it comes with compartments and extra pockets.
Anyone can use this bag, from gym rats to law enforcement personnel and any outdoor enthusiast. You can stuff it with clothes, toiletries, and other gear. It's convenient to carry around because you can squeeze it inside the car and fit it into any locker.
Choosing the right tactical duffle bag for your adventure may be difficult with the many brands available today. Here's a quick guide to look out for.
Material: Nylon and polyester are popular materials for duffle bags. Nylon is more durable but heavier than polyester. Some classic duffle models use canvas as a fabric material because of its flexibility in holding more stuff.
Storage: Look for multiple compartments to organize items neatly. Segregated compartments for boots are much desired. For modularity, look for a sturdy Molle system.
Zippers: Heavy-duty zippers are essential for tactical duffle bags. YKK is the most reliable among all zipper brands because of its extreme durability. For extra security, look for zippers that allow you to put a lock.
There's so much more to know about tactical duffle bags, so we offer a comprehensive buying guide below. But first, let's review the top five tactical duffle bags we all love.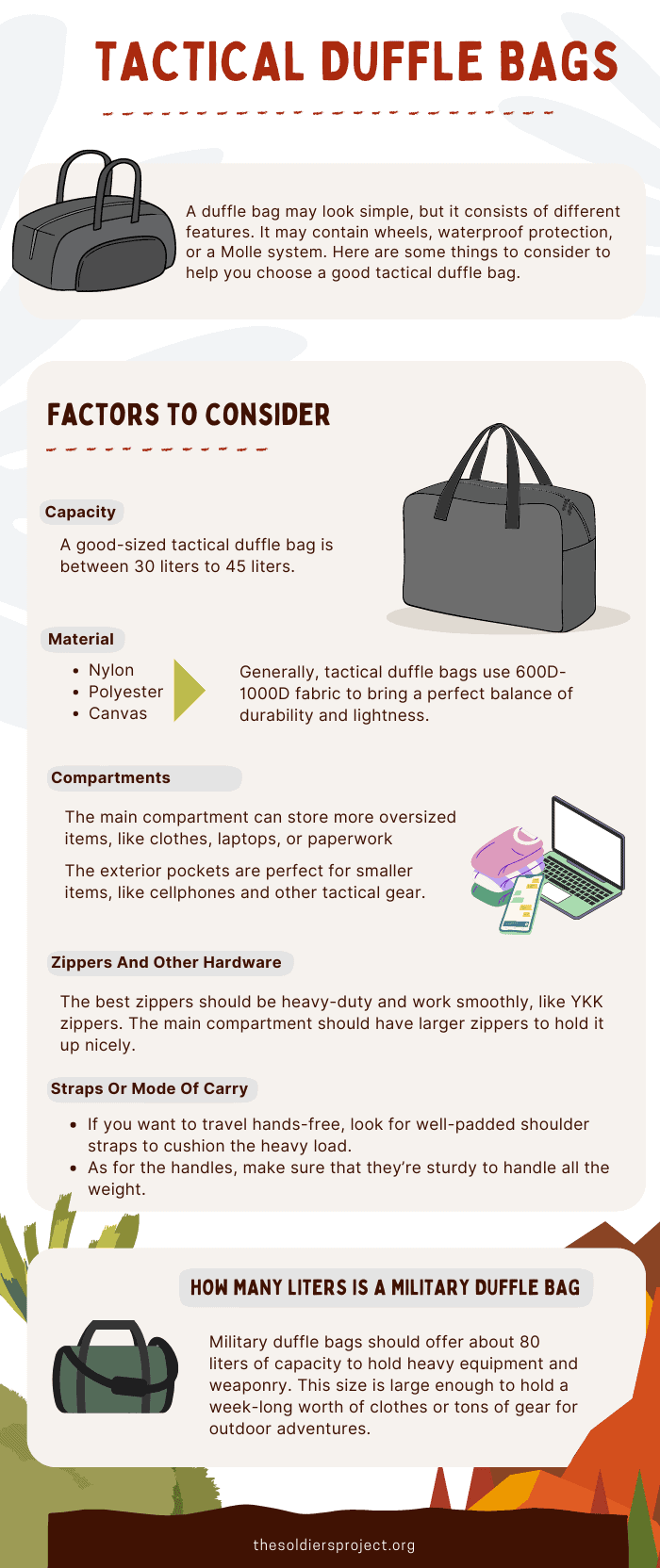 ---
Nexpak USA TF122
Lightweight
Waterproof
Has a good size
---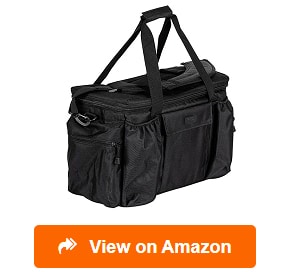 5.11 Tactical Bag
Sturdy carrying handles
Built with side pockets
Has pockets on the inner lid
---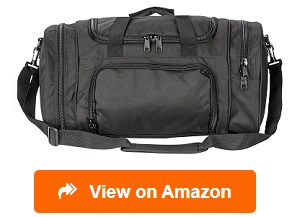 XWL SPORTS Tactical Bag
Heavy-duty zippers
Large compartment
An economical price
---
Top 5 Tactical Duffle Bag Reviews
1. Nexpak USA TF122 Tactical Molle Range Duffle Bag
The Nexpak USA TF122 is a functional mid-sized bag, making it versatile for multiple applications. I find its dimensions of 22 x 12 x 10 inches perfect for a day at the range, trips to the gym, and overnight stay.
This molle duffle bag is made of lightweight 600D high-density polyester with a PVC lining to make it waterproof for outdoor use. Putting it in the washer should be alright because the fabric feels pretty tough. I love the feet on the bottom because it makes the bag steady when I try to rest it on the ground.
There's no problem packing a lot for hiking because I found so many pockets around the bag. My ammo sits nicely in the four front pockets, and my water bottles on the side pockets. The main compartment is also large enough to fit a few changes of clothes and shoes.
Even better, I can attach a holster and tactical gear on the Molle straps and D-rings for additional storage. The bag is also pretty comfortable because the shoulder strap comes with a pad. The handle has a strap wrapped around it, so it's sturdy when I try to grab it for travel.
Heads-up:
However, the zippers look a little flimsy. I expect to replace them after a while with more durable ones. For now, they still work just fine.
Pros:
Has a good size (22 x 12 x 10 inches) for various applications
Lightweight 600D polyester comes with waterproof PVC lining
Easy to clean in the washer
Built with four feet studs to keep steady on the ground
Has lots of pockets with Molle straps and D-rings for storage
Comfortable to use with the padded shoulder strap and handle
Cons:
Zippers may feel a bit flimsy
Bottom Line:
Overall, the TF122 makes a lightweight duffle bag for light duty. This bag has many pouches, Molle straps and D-rings to carry everything for travel.
2. 5.11 Tactical Patrol Ready 40-Liter Bag, Style 5902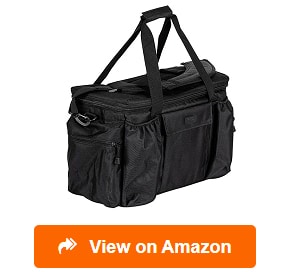 This 5.11 duffle bag is perfect for patrol with multiple sections to store anything from notebooks to gloves and other gear for duty. There's plenty of room for everything I have, including two water bottle pouches for hydration.
My favorite section is the lid pockets because they have special slots for pens and other valuable items. The exterior flap seems perfect to fit my Glock, and the velcro maintains its grip even when I use it frequently.
I love the convenience of the two zippered side pockets as I can store cuffs and other smaller items within reach.
What I like best is the customizable main compartment. I can take out the internal dividers and use the space to store bulky items, like a DSLR camera or a pair of boots. Whenever I like to bring some paperwork, I can return the internal partition for better organization.
The quality of the bag is also superior with its solid stitching. The 600D polyester feels tough, while the YKK zippers can withstand abuse.
I like to use the nylon carrying handles more than the shoulder strap because it feels more secure carrying the bag. It's good that the shoulder strap is removable so that it won't get in the way.
Heads-up:
However, this large tactical duffle bag will cost more than ones made in small or medium sizes.
Pros:
Has pockets on the inner lid for pens and other items
Built with side pockets for military items and water bottle pouches
Exterior flap can hold a gun securely with velcro
Removable internal dividers allow customization for the main compartment
Built to last with solid stitches, YKK zippers, and 600D polyester
Easy to use with sturdy carrying handles and removable shoulder strap
Cons:
Costs more than standard bags
Bottom Line:
All in all, this 5.11 tactical bag provides a lot of room to organize items for patrol or any form of travel. It has inner lid pockets and removable inner dividers to customize the bag for storage. Everything feels solid, so I think it can run for long years of use.
3. XWL SPORTS Military Tactical Duffle Bag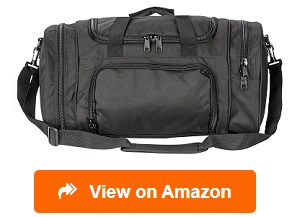 XWL SPORTS is a multifunctional tactical travel bag offering 21 inches of length. The main compartment is large enough to fit up to three laptops.
It's hard at the bottom, so the bag keeps its shape even when I load it with plenty of stuff. I can also place the bag on the ground without it collapsing onto itself.
This small tactical duffle bag uses 600D vinyl polyester, which is water-resistant to keep my items safe from splashes or rain. I found plenty of separate compartments to store my pistols, ammo, and other gear. My favorite is the side compartment that expands to make room for my dirty clothes or shoes.
The best part about this duffle bag is its heavy-duty zippers that lock to secure my items from possible intrusion. The pouches on the front and sides have dual zippers, so it's pretty easy to access my things in a rush. I also love the rubber feet on the bottom because they make the bag stand on its own.
Using the bag is quite versatile. I can carry it on the shoulder with the long sturdy straps or carry it around with the short straps. When not in use, the bag compresses flatly to store conveniently almost anywhere. Best of all, the price is good for its quality.
Heads-up:
My only complaint is the jingle sound the zippers make each time I move the bag.
Pros:
Hard at the bottom with rubber feet
Has a large compartment with a side compartment for shoes
Made of water-resistant 600D polyester vinyl
Built with heavy-duty zippers that lock for security
Versatile to use with the shoulder and hand straps
Comes at an economical price
Cons:
Zippers makes jingle sounds
Bottom Line:
Altogether, this tactical duffle bag provides the best value for money. It offers plenty of storage for clothes and other essential gear with heavy-duty zippers.
4. Condor Colossus Duffle Bag
I have my money's worth with this Condor Colossus. It comes in a good size for a long weekend trip with its massive 10" x 21" x 12" main compartment and expandable side pocket.
I like that one side of the bag expands to fill more items, like flashlights and other tactical gear. At the end is a boot compartment to hold my gym shoes perfectly.
The two internal mesh pockets seem the best place to store my valuables, like keys and a cellphone. The best part about this bag is that it distributes the weight well when fully packed.
Colossus is the most rigid duffle bag with its 1000D nylon construction and reinforced PVC bottom. The stitches feel so tight that they can hold a complete rifle gear without fear of rips and tears. I can zip the bag smoothly, so I trust the quality of the zippers.
This bag comes with backpack straps to carry more comfortably for long hours.
This tactical duffle backpack has a velcro hideaway pocket to conceal the backpack straps when not used. Besides, I found the side drag handles more convenient when the bag feels heavier to carry.
Heads-up:
However, this bag looks bulky for hiking or trekking.
Pros:
Has a large main compartment with boot compartments and mesh pockets
Built with an expandable side compartment to customize storage
Distributes weight when fully loaded
Feels durable with the 1000D nylon, tight stitches, and reinforced bottom
Zippers work smoothly with hideaway backpack straps and drag handles
Cons:
Looks a bit bulky and hefty
Bottom Line:
Overall, Colossus fit the bill for a long weekend in the camp or duty. This duffle bag has an enormous main compartment with an expanding side pocket and boot compartments. The material also feels very tough to withstand any heavy use.
5. K-Cliffs 22-Inch Gun Range Tactical Duffle Bag
K-Cliffs offers a large room for essential gear with dimensions of 22 inches in length and 12 inches wide. The main compartment can fit my uniform and a few clothes, while the smaller pockets fit all my toiletries and accessories pretty well.
This heavy duty duffle bag is made of water-resistant polyester with reinforced stitching to endure rugged use outdoors. Even when it drizzles, I'm confident in wearing this bag because it has an inner PVC lining to keep my items safe from splashes and moisture.
I especially like the wide U-shaped openings of the main compartment because it's easy to put the things in and out of the bag.
Also, the YKK zippers allow me to put a lock to prevent any possible intrusion on my gun and personal items in the main compartment. Whether using the shoulder straps or handles, I feel comfortable carrying this bag.
The Molle straps of this black tactical duffle bag look substantial, so I'm confident about hanging my first aid kit and other gear on them. There's a space for a velcro patch, which I love for customization. Thankfully, the bag includes a US flag patch to use immediately.
Heads-up:
However, the bag would have been better if it included dividers inside the main compartment for better organization.
Pros:
Has a good size to bring all necessary gear and belongings
Made of durable polyester and water-resistant PVC lining
U-shaped opening allows easy access
Easy to carry with the shoulder straps and handles
Built with substantial Molle straps and lockable YKK zippers
Includes a free American flag patch
Cons:
Lacks organization inside the main compartment
Bottom Line:
This 22-inch duffle bag offers plenty of room to hold a gun and other gear on the range. It features more storage options through its Molle system. It's a big bonus that it comes with an American flag patch to show patriotism.
What to Look for When Buying Tactical Duffle Bag
A duffle bag may look simple, but it consists of different features. It may contain wheels, waterproof protection, or a Molle system. Here are some things to consider to help you choose a good tactical duffle bag.
Capacity
Generally, the size of duffle bags may vary between 6 liters to 150 liters. Six liters isn't enough for any outdoor adventure unless you only want to keep a lunchbox.
A 150-liter duffel bag is too large unless you want to haul some massive gear.
A good-sized tactical duffle bag is between 30 liters to 45 liters. This size is enough to hold items without getting restricted on domestic flights. If you want to carry more gear for camping, choose at least 55 liters.
Material
Duffle bags tend to be abused a lot outdoors, so you'll need them to be durable yet lightweight to carry the load comfortably.
Choose a tough fabric that has a higher denier count. Keep in mind that the fabric tends to be heavier when the denier count increases.
Generally, tactical duffle bags use 600D-1000D fabric to bring a perfect balance of durability and lightness. The material may vary, from nylon to polyester and canvas.
Nylon: This synthetic material tends to be lightweight and durable. Ballistic nylon might be more durable than ripstop, but it's not ideal for duffle bags because it's heavy. The better material is ripstop because it's more lightweight with adequate puncture resistance.
Polyester: This fabric is less expensive than nylon. Hence, it's a common material for budget-friendly bags. However, it's less durable, so it's not ideal for the heavy stuff.
Canvas: If you like something classic, canvas might be a good material for duffle bags. However, it's not as durable as nylon and polyester against wear and tear.
Compartments
Duffle bags typically have a large main compartment and smaller pockets outside. The main compartment can store more oversized items, like clothes, laptops, or paperwork.
The exterior pockets are perfect for smaller items, like cellphones and other tactical gear.
The main compartment of duffles may or may not have dividers for organization. You can settle for one big space if you like to throw your clothes and toiletries together.
If you're keen on organizing things, look for interior dividers for easy access.
If you plan to use the duffles as tactical gym bags, look for a special compartment for dirty clothes and shoes. This way, you can separate the dirty clothes from the clean ones. A designated pouch for water bottles also helps in hiking or trekking.
Zippers And Other Hardware
Zippers might be small, but they're essential if you want to keep your items secure at all times.
Imagine getting your towel inside the bag, and the zipper won't close anymore? Although a broken zipper may still allow you to use the duffle, it's still inconvenient.
The best zippers should be heavy-duty and work smoothly, like YKK zippers. The main compartment should have larger zippers to hold it up nicely. Look for a lockable option if you don't want any possible intrusion on your personal belongings.
Likewise, you'll want to pay attention to the buckles and D-rings. Look for branded hardware, like YKK and Duraflex. As for the material, metal is more durable, but plastic is more lightweight.
Straps Or Mode Of Carry
Duffle bags are versatile to carry. Most offer a shoulder strap and two short handles wrapped around a velcro strap. Some of the best duffles even hide a backpack strap for extra comfort.
If you want to travel hands-free, look for well-padded shoulder straps to cushion the heavy load. The strap should be adjustable to keep the bag close to the body. As for the handles, make sure that they're sturdy to handle all the weight.
The straps should be wide to distribute the weight better.
Extra Features
Look for a Molle system if you want to expand the storage capacity. The Molle straps will allow you to attach extra gear, like flashlights and a first aid kit.
Some bags have wheels on the bottom to provide an alternative carry mode. These wheels are ideal if you don't want to carry a heavy load.
If you like to customize your bag, look for a velcro spot to attach your morale patches. Duffle bags made in USA often include an American patch as a bonus.
Why Do I Need a Duffel Bag
It would help if you had a duffle bag to store your clothes and other personal belongings.
Because of their size, you can squeeze them into random areas in your car while driving.
Plus, you can easily organize your items in separate compartments.
Compared to backpacks, duffle bags look a bit more professional. You can use this bag while wearing your professional uniform without looking awkward. Most importantly, these bags are reasonably priced.
How to Pack a Duffel Bag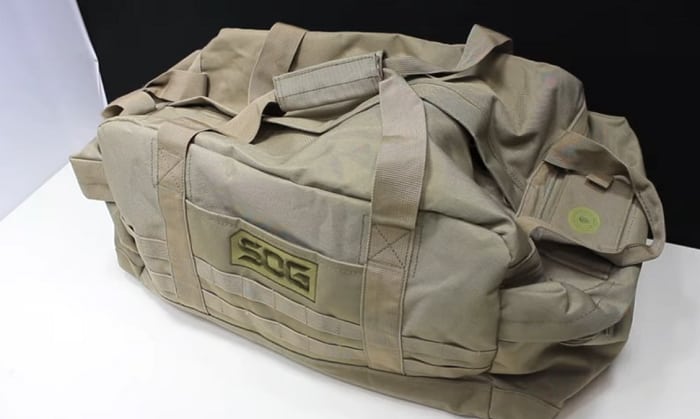 First, create a packing list that includes all items necessary for your trip or adventure, such as toiletries, clothes, and other gear.
Roll clothes at the base of the main compartment. You can use a packing cube to keep the clothes organized and easy to view.
For shoes, separate them in another compartment to prevent soiling other items.
Place toiletries, like soap and toothbrushes, in portable containers and put them in a dedicated bag. Your notebook, petty cash, and other paperwork should be in the outer pocket for easy access.
Some duffles offer pen holders and other organizational features to keep small valuable items.
Laptops and other electronics are fragile, so consider placing them in a dedicated sleeve outside or on top of the clothes in the main pocket.
How Many Liters is a Military Duffle Bag
Military duffle bags should offer about 80 liters of capacity to hold heavy equipment and weaponry. This size is large enough to hold a week-long worth of clothes or tons of gear for outdoor adventures.
Should I Pick the Rolling or the Non-rolling Type of a Duffel Bag
The rolling type or duffle bags with wheels is ideal for carrying gear in different sizes and shapes. The wheels make these duffle bags easy to transport.
Highland tactical duffle bag and Voodoo tactical duffle bag are two of the best rolling types of duffle bags out there.
The non-rolling type is perfect for adventures in remote areas with uneven roads. Without the wheels, this type is more lightweight and flexible. You can stuff this bag into the car's front seat or roof racks without any problem.
Conclusion
The best tactical duffle bag should be lightweight without compromising durability. Our top choice is the Nexpak USA TF122 because it offers many convenient features like well-padded straps. It's pretty light yet packs a lot of storage options with its compartments and Molle straps.
XWL SPORTS outshines with its lockable heavy-duty zippers, while 5.11 patrol bag for its customizable main compartment. If you want something more durable, the Condor Colossus is more suitable with its 1000D nylon construction.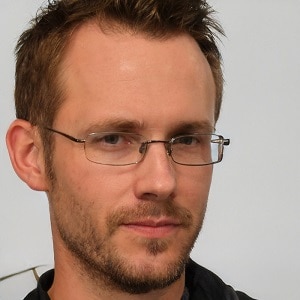 I am Everett Bledsoe, taking on the responsibility of content producer for The Soldiers Project. My purpose in this project is to give honest reviews on the gear utilized and tested over time. Of course, you cannot go wrong when checking out our package of information and guide, too, as they come from reliable sources and years of experience.