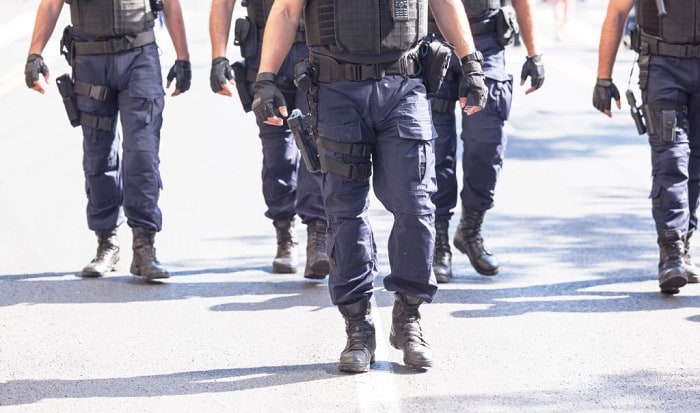 Nothing can beat tactical pants when it comes to toughness and versatility, which is why they're the top choice for law enforcement, technical workers, and outdoor enthusiasts. The best tactical pants don't only protect your lower body from the elements but also provide storage for tools and personal items. They also improve your performance as they provide maximum comfort.
Both men and women can wear tactical pants, especially those that need a lot of tools and ease of movement. These pants can be worn for all seasons as some can be used for winter or summer. One thing that you should keep in mind is to find the right pair.
Here are some of a few things to consider when buying a new pair of tactical pants.
Material: Tactical pants can be made of polyester, cotton, or both. I prefer the polyester-cotton blend as it offers the best of both worlds- durability and breathability. To make the pants almost invincible, look for a Teflon or waterproof coating.
Pockets: One of the reasons why the pants become tactical is the number of pockets available. Commonly, you'll find cargo pockets, front pockets, and rear pockets. Regardless of the number of pouches, make sure that the pockets are reinforced and easy to access.
Fitting: The right fit can determine the comfort level of the pants. Make sure that the pants fit your body type- neither too baggy or tight. Before you pick a size, get your actual measurements.
Lucky for you, we have reviewed the top brands on the market today. We'll also present a buying guide and tactical pants FAQs below.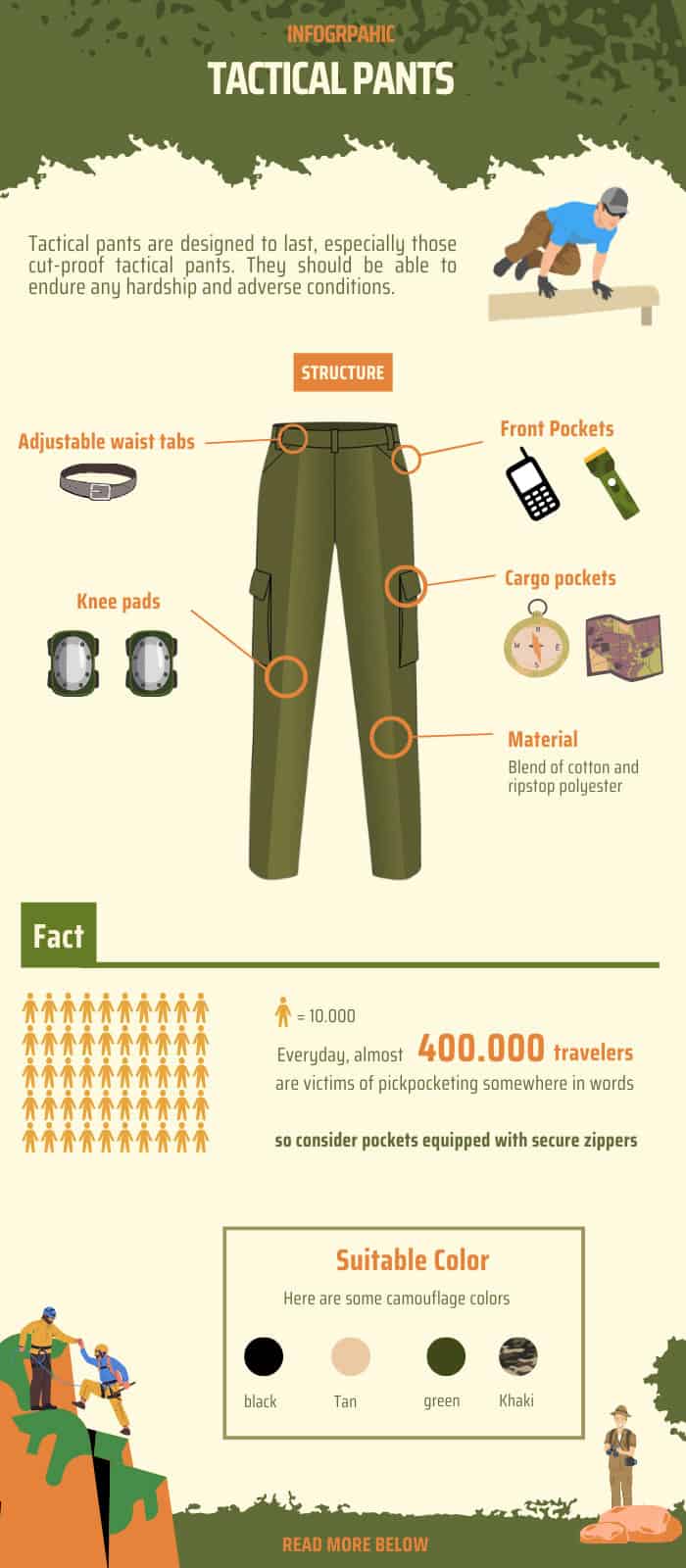 ---
CQR Men's Tactical Pants
Thin fabric
Repels moisture and dirt
Suitable for many professions
---
LAPG Core Cargo Work Pants
Have six pockets
Elastic waistband
Has the right thickness
---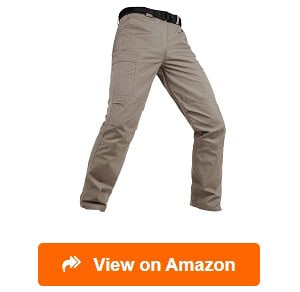 FREE SOLDIER Men's Pants
Lightweight and durable
Plotted with ten pockets
Keep items secure inside
---
Top 12 Tactical Pants Reviews
1. CQR Men's Tactical Pants
Another of my favorites is the CQR tactical pants, which are available in many colors (coyote, brown, orange, etc.). Every component is constructed for high-performance on the field, so these pants are perfect for law enforcement, military, and even outdoor enthusiasts.
These lightweight pants are made of Duratex Ripstop Fabric, which repels water and dirt effectively. I like that I can brush off the dust and dirt easily to keep the pants clean. Fastening the pants is also a breeze, thanks to the alloy button closure and elastic waistband, which sits nicely around my waist.
This pair is ideal tactical shooting pants because the pockets can fit my Glock 19 and magazines securely. There are enough pockets for my cell phone, little tools, and headphones. Thankfully, all these pockets are easy to access.
These EDC pants are really comfortable to move around even when the pockets are stuffed. The fabric is a little thinner, so the pants feel cool in hot weather. Also, the elastic waistband doesn't pinch my tummy, making it more comfortable to sit for long hours.
Heads-up:
My only dislike is the Velcro closures because they can be a little loud when opening the pockets. This can be a hindrance when hunting.
Pros:
Available in plenty of colors and suitable for many professions
Constructed from Duratex Ripstop Fabric that repels moisture and dirt
Easy to fasten with the alloy button closure and elastic waistband
Has many pockets to store stuff, like mags, guns, and cell phones; easy to access
Thin fabric feels comfortable during the summer
Elastic waistband feels comfortable when sitting for long hours
Cons:
Velcro closures can get a little loud
Bottom Line:
All in all, these CQR Tactical Pants make a good option for bringing many tools and personal items on the job and outdoors. They provide plenty of pockets and a lightweight fabric construction, perfect for the summer heat.
2. LAPG Core Cargo Work Pants
LA Police Gear is one of the top tactical clothing brands that I love, so the Core Cargo Pants easily got on my radar. These are excellent tactical pants for the money because they have everything I need for hiking and work.
This pair is cool to wear in the summer because the fabric composition is mostly cotton. A blend of polyester ripstop fabric adds the toughness that I need for my heavy fieldwork. For me, the thickness is just right to move around without limitations.
It's a big plus to have six pockets in the right places. These work pants have deep cargo pockets, perfect for concealing weapons, and front slip pockets for carrying a rifle magazine or smartphone. The pockets use a Velcro closure, so I don't worry about my tools falling out when I get active.
I appreciate the elastic waistband as it stretches at the back to hold the pants on my waist. Unexpectedly, I can wear the pants without a belt. More importantly, the articulated knees are reinforced with double stitching, helping the pants survive work that requires me to kneel a lot.
Heads-up:
However, these tactical work pants from LA Police Gear are way too long.
Pros:
Offers great features at a good price
Made mainly of cotton for breathability with polyester for durability
Has the right thickness and reinforced articulated knees for dynamic movement
Have six pockets, including deep cargo pockets and front pockets
Velcro closure on pockets help secure items
Elastic waistband reduces the need for a belt
Cons:
Bottom Line:
Altogether, these LA Police Gear Work Pants are good enough to carry important stuff. They offer the basic features without breaking the bank.
3. FREE SOLDIER Men's Water Resistant Pants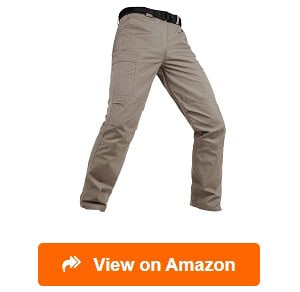 I was looking for men's tactical waterproof pants, and someone on Reddit recommended this FREE SOLDIER pair. This tactical pants waterproof pair reminds me of Gore-Tex Tactical Pants.
These pants are comfortable to wear in hot weather as the TC Ripstop Polyester material feels very light. Additionally, they're very durable as they remain damage-free after I fell on the rocks. Also, the fabric dries fast even when it gets wet while fishing, thanks to the DuPont TEFLON Coating.
There are about ten useful pockets in these pants, including the EDC pockets, which come in handy in keeping my tactical pen. I feel safe carrying my smartphone because the hook and loop pockets feel secure. For easy access, I like to use the slash pockets and the Duraflex D-ring to keep my keys and other tactical accessories.
I love the 12 pleats on the articulating knees as they make the pants flexible to move around and crawl in. There's a partial elastic at the sides of the waist, making me feel even more comfortable after eating a heavy meal. I just love the relaxed fit as it leaves a room without looking too baggy.
Heads-up:
However, these men's waterproof tactical pants feel a little too tight around the crotch area. I recommend users get a larger size than usual.
Pros:
Made of lightweight and durable TC Ripstop Polyester fabric; has a relaxed fit
Designed with water-repellant DuPonT TEFLON and elastic waistband
Plotted with ten pockets, including EDC pockets
Keep items secure inside the hook and loop pockets
Slash pockets and Duraflex D-ring make items easy to access
Flexible tactical pants with 12-pleat articulating knees and elastic waist
Cons:
Feels a little constricted on the crotch area
Bottom Line:
Overall, these FREE SOLDIER Pants are ideal for fishing and other activities that involve water. These pants are water-resistant, so liquid rolls off the fabric, keeping the pants clean and dry.
4. Propper Men's Lightweight Tactical Pants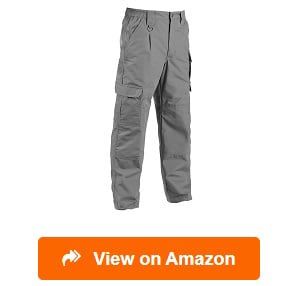 One of my favorite tactical pants brands, Propper, offers high-quality clothing for work and play. These lightweight tactical pants have a relaxed fit that gives me enough room to do any physical activities.
For someone who has an active lifestyle, I love the design of the reinforced knees as it prevents premature wear and accepts knee pads for impact protection.
The ripstop fabric is blended with cotton, making the pants feel durable but comfortable to wear even in the hot weather. More importantly, water and stains are repelled nicely, thanks to the Teflon fabric protector, keeping me looking neat and clean longer.
I found nine pockets, enough to store all my valuables and tactical gear. The left side cargo pocket seems perfect to store my magazine and flashlight. Fortunately, the stitching of the pockets' lower edges is reinforced to prevent premature wear from a sharp knife or flashlight clips.
What I love about these Propper pants is that I can wear them to work because they look formal. These pants also don't make my butt look saggy and flat. Best of all, the belt loops along the elastic waistband don't block access to the front pockets.
Heads-up:
However, there's no crotch gusset, so crouching feels a little difficult.
Pros:
Relaxed fit with reinforced knees that accept knee pads, plus belt loops
Comfortable tactical pants with the relaxed fit and non-impeding belt loops
Ripstop fabric blended with cotton adds strength and breathability
Teflon fabric protector repels water and stains
Built with nine pockets with reinforced stitching for durability
Looks formal and fit nicely on the buttocks
Cons:
No gusseted crotch design for more mobility
Bottom Line:
Altogether, these Propper pants are ideal covert tactical pants because they look dressier than most military tactical pants out there. This pair flatters the buttocks while providing multiple pockets for carrying plenty of tactical gear.
5. 5.11 Tactical Stryke Pants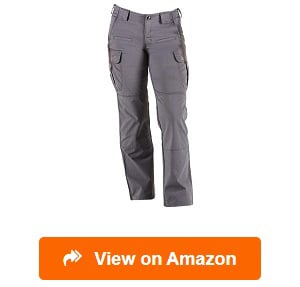 For women, the Stryke Pants are great tactical pants from 5.11. I love the fact that this pair of tactical cargo pants are flattering to the body because it hugs every curve and flattens the tummy.
These stylish tactical pants have a total of 12 pockets, including two front pockets for easy access to keys and other small tactical gear. I think that the radio attaches nicely to the main pockets on the side or front. And my favorite is the thigh pockets because they have slots inside to organize items easily.
The Stryke pants are durable because the Flex-Tac ripstop fabric stays undamaged even after going through hard times on the field. The fabric is Teflon-treated, which means that no dirt or juice can ruin the look of the pants. And thanks to the fully gusseted crotch, there's no need to worry about ripped pants when crouching.
A little bit of stretch makes these pants comfortable to wear the entire day. Also, the articulated knees add more flexibility for movement and protection when paired with knee pads. What I like best is that these pants feel lighter and less bulky, so it's easy to run in.
Heads-up:
However, the sizing runs a little small. I recommend users get a size larger than usual for a better fit.
Pros:
Stylish, hard-wearing tactical pants won't damage easily with the Flex-Tac fabric
Teflon-treated to resist liquid spills and dirt
Gusseted crotch prevents rips and tears when crouching
Has 12 pockets, including front pockets and thigh pockets with internal slots
Lightweight and comfortable with a little stretchability
Articulated knees offer full mobility and can fit knee pads for protection
Cons:
Sizing may come a little small
Bottom Line:
All in all, these Stryke Tactical Pants make women look fashionable while being tactical. These pants offer multiple pockets, a durable fabric construction, and extra stretchability for comfort.
6. Under Armour Tactical Patrol Pants II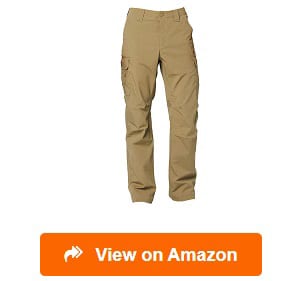 The Tactical Patrol Pants II exemplifies high-quality design from Under Armour. These Under Armour Tactical Pants are a little baggy, which feels very liberating when walking for long hours.
The ripstop fabric feels incredibly durable yet surprisingly lightweight for everyday use. The UA Storm technology is a great help when keeping the pants clean as it repels water and stains. I like to wear these pants on cold days because the fabric feels a little warm.
The pockets are practical on this pair of tactical cargo pants. My favorite is the cargo side pockets because they provide much room for my large Galaxy phone and power bank. Also, I found some elastic straps inside to keep a 20-ounce water bottle in place for long walks.
In terms of comfort, these Under Armour pants are excellent. The stretch-engineered waistband extends for another inch or so, allowing much room for my tummy when I'm full. I also like the texture of the fabric as it feels soft like spandex and not some type of paper board.
Heads-up:
However, these pants aren't blended with cotton, so they aren't breathable enough for the summer heat. During the warm days, my thighs and calves tend to sweat a little.
Pros:
Baggy enough to provide a full range of movement
Made of lightweight, durable ripstop fabric that feels warm in the cold
Infused with UA Storm technology to resist water and stains
Built with practical pockets, including large cargo pockets
Cargo pockets have interior elastic straps to hold a water bottle
Comfortable to wear with the stretch-engineered waistband and soft texture
Cons:
Not breathable enough for the warm days
Bottom Line:
Overall, the Patrol Pants II are more suitable for cold days as the canvas fabric feels warm. These pants are lightweight, durable, and water-repellant.
7. Propper Men's Uniform Tactical Pants
The Propper Uniform Tactical Pants are built for performance and comfort with nine pockets. I love the Olive Green color because it's similar to my previous Army uniform when dressed right.
The best part of these pants is the two double cargo pockets because they come with open-top slash pockets. I love to put my tactical gloves and phone in the slash pockets for convenient access. The left thigh secures my magazine well, while the two front pockets hold my knife safely without ripping the fabric.
These pants are breathable in the summer, thanks to the 60/40 cotton-polyester composition. They're waterproof to a certain level – the rain beads off when I'm out in the rain. Also, I found some reinforcement on the seams in the vital areas, so I think these pants can endure my hectic activities.
Another thing, these BDU pants feature an action-stretch waistband, making it a lot easier to move around. I can even insert some good knee caps on the reinforced knees for extra protection. And it's a big plus that the pants have a relaxed fit because I don't look baggy with them on.
Heads-up:
However, these pants have a short fly, so the crotch area feels a little too tight.
Pros:
Built with nine pockets, including two front pockets and double cargo pockets
Double cargo pockets have slash pockets at the top for easy access
Water-resistant 60/40 cotton-polyester blend in olive green
Reinforced in the seams and other critical areas for durability
Action-stretch waistband improves flexibility; has a relaxed fit
Reinforced knees accept knee pads for protection
Cons:
Bottom Line:
Altogether, these Propper Uniform Tactical Pants make a nice pair for work with their relaxed fit and neutral colors (I specifically love the Olive Green color). These pants are breathable in the summer and water-resistant in the rain.
8. TRGPSG Men's Tactical Pants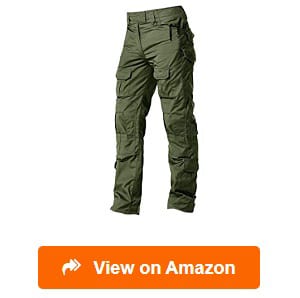 These tactical waterproof pants from TRGPSG are another of my favorites for fishing, camping, and hunting. These pants are water-resistant and designed with ten multifunctional pockets to carry everything I need for my mission.
The ripstop fabric looks very cool and high-quality as it can take a heavy beating outdoors. On the occasions that it rains, water droplets seem to roll off the Duratex fabric. Moreover, it wicks away the sweat from my thighs when the weather gets hot, keeping me dry and comfortable.
Among its many pockets, my favorite is the thigh side pockets as they expand to fit large items, like my giant smartphone. Two front pockets offer quick access to my tactical flashlight and pen, while the rear pocket fits my wallet well. I do appreciate the knee pad pockets because I can use them for my paintball games.
These pants fit my lower body very nicely, thanks to the width adjustment on the ankles and knees. I can make them baggy or fairly snug, depending on my preference. Also, I like the Velcro closure as it allows me to adjust the waistline very easily.
Heads-up:
However, I wish the pants had a button closure on the waist for more security.
Pros:
Made of cool-looking and durable ripstop fabric
Duratex fabric makes the pants water-resistant; wicks away moisture
Has ten pockets, including expandable thigh pockets, rear and front pockets
Insertable with knee pads for extra protection
Adjustable on the knees and ankles for a better fit
Velcro closure allows the adjustment on the waist
Cons:
No button closure on the waist
Bottom Line:
All in all, these TRGPSG Tactical Pants fit any weather as the fabric wicks away the sweat in the summer and removes droplets in the rain. This pair of pants also has plenty of useful pockets, along with adjustability for comfort.
9. Survival Tactical Gear Tactical Pants
Nothing offers more pockets than these Wargame Tactical Pants from Survival Tactical Gear. These cargo pants provide 16 pockets of various sizes to store all essentials needed for my airsoft and other outdoor activities.
The Cordura material seems tough as it doesn't get damaged with hard abuse in the wilderness. Additionally, the pants are reinforced in the critical areas, so getting active won't lead to accidental rips. And despite me washing the pants many times, the color is still the same – no signs of fading.
These are the top-rated tactical pants for hot weather because I can leave the mesh-lined knee-protector pockets and crotch area open to let the air flow inside. This type of air circulation system always gets my buddies amazed. To top it off, the multitude of pockets allows me to bring a lot of things, from my handphone to knives and keys.
I love the fact that these cool tactical pants already come with knee pads, so they're ready to go for any wargame. The knee pads are on the softer side, making them feel comfortable to wear for a long duration. Also, the adjustment function on the leg cuffs and knees seem pretty great when I want to find the most comfortable fit.
Heads-up:
If there's something to nitpick, it would be the price because it's quite expensive.
Pros:
Built with 16 pockets and tough Cordura material
Reinforced in the right areas for durability
Color won't easily fade after many washes
Air circulation system maintains proper airflow on the knees and groin areas
Includes knee pads that are soft and comfortable
Adjustable leg cuffs and knee areas for a better fit
Cons:
Bottom Line:
Overall, these Wargame Tactical Pants impress with their extreme durability and adjustability. This pair also offers the most number of pockets (16) and an innovative air circulation system for the summer.
10. M-TAC Winter Tactical Pants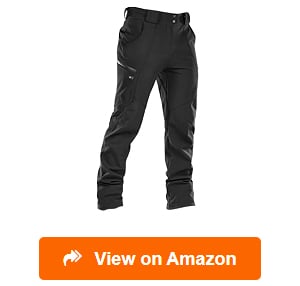 M-TAC is my go-to-pair when hiking or camping in the snow. These are the most comfortable tactical pants in cold weather because they're pretty insulated to keep me warm.
These amazing tactical pants feature an internal fleece layer that feels really comfortable on the legs. I believe they're windproof as I don't feel the cold breeze troubling me when I go fishing in the winter. When it was raining, the pants didn't get soaking wet either.
The outer layer is made of a soft shell polyester material, which seems to be water-resistant and durable. I like that the pants are high-waisted, meaning that the cold won't penetrate inside the pants. Additionally, the belt loops are wide enough to fit my thick uniform belt.
There are about six pockets on these pants, enough to carry my personal tools. Thankfully, the zippers on the leg side pockets are water-resistant, so my cell phone stays safe inside even when it drizzles. As for the fitting, I don't find it too tight or loose, just right for dynamic movement.
Heads-up:
However, the crotch area seems to be a little fragile. I had hoped that it contained more than just a single line of stitching.
Pros:
Insulated with a fleece inner layer to keep warm; windproof
Polyester soft shell material feels durable and water-resistant
High waisted to prevent cold penetration
Wide belt loops
Includes six pockets with water-resistant zippers on the leg side
Fits just right- neither too baggy or tight
Cons:
Crotch area is only single stitched
Bottom Line:
All in all, these M-TAC tactical pants are perfect for winter because the inner fleece layer is soft and the soft shell is water-resistant. The pants seem to be windproof and high-waisted to prevent drafts.
11. OCHENTA Men's Casual Military Cargo Pants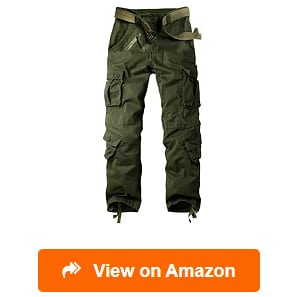 These military tactical pants from OCHENTA might be the most breathable out of this list because they're made of 100% cotton. I love the adjustability of the waist and bottom drawstrings because they help me get a perfect fit.
I found eight pockets carefully placed on these casual tactical pants. My favorite is the four side cargo pockets because they give so much room for my phone, tools, and other personal items. The front pockets are deep, allowing me to put in a lot of things, like my keys and coins, for easy access.
Fortunately, these combat pants don't limit my movements. They feature an action gusset crotch, which gives me the confidence to squat or crouch anytime. I know that these pants won't rip and embarrass me.
The cotton fabric feels very soft and comfortable, even in the summer heat. I think that these tactical casual pants are breathable because I never broke a sweat when wearing them while hiking. Also, the waist drawstring is very convenient as it reduces the need to use a belt.
Heads-up:
However, the left zipper pocket isn't an actual pocket. It's just for aesthetics, which I find a little useless.
Pros:
Made of 100% soft cotton, which is breathable in the summer
Drawstrings on the legs and waist allow adjustability
Offers eight pockets, including deep front pockets and four cargo pockets
Action gusset crotch provides more flexibility and durability
Doesn't require a belt, thanks to the waist drawstring
Cons:
The left zipper pocket is only for aesthetics
Bottom Line:
Altogether, these OCHENTA Casual Military Pants are suitable in the summer heat because they're made of breathable cotton. They're very soft and durable in the crotch area.
12. 5.11 Tactical Men's Taclite Pro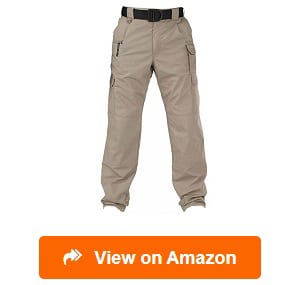 5.11 Tactical offers this superior pair of stretch tactical pants for hunting, hiking, and law enforcement. These cargo pants are extremely functional without looking too tactical or military, so I feel comfortable wearing them outdoors when not working.
This pair of tactical pants are made of Taclite polycotton ripstop fabric with YKK zippers, offering extreme durability for any activity.
It's triple-stitched, making it virtually tear-resistant, and has a fully gusseted crotch to prevent rips and tears while crouching. The biggest benefit is the reinforced knee, which can accommodate knee caps for extra protection when kneeling.
The Taclite Pro is built with multiple pockets, making it a good pair of men's tactical pants for everyday casual wear. To be exact, there are eight pockets, including a magazine pocket and a knife pocket. Two large cargo pockets sit just high above my leg, which is good because I don't have to reach too far for my tools.
My favorite is the Teflon coating, as it makes the solid pair water-resistant, stain-repellent, and easier to wash. I took these pants to the wilderness, and I'm pleased that they protected my legs from rashes.
Heads-up:
However, the placement of the rear pockets seems to be a little awkward for me. I have to remove my wallet when sitting down for a long drive because the wallet tends to dig into my flesh.
Pros:
Doesn't look too tactical, making it suitable for everyday wear
Has Teflon coating to repel water and stains; easy to wash
Made of durable poly-cotton ripstop fabric and YKK zippers
Triple-stitched and fully gusseted crotch for flexibility
Reinforced knees increase longevity and accept knee pads
Has eight pockets, including two cargo pockets; protects legs from road rashes
Cons:
Poor rear pocket placement
Bottom Line:
Overall, the Taclite Pro is built to last with its heavy-duty stitching, durable poly-cotton ripstop fabric, and reinforced knee areas. These durable pants are designed with a Teflon coating, making them water-and stain-resistant
What to Look for When Buying Tactical Pants
Finding the right tactical pants isn't an easy job, especially for beginners. There are many factors to consider, so we'll cover all of them in this section.
Construction And Material
Tactical pants are designed to last, especially those cut-proof tactical pants. They should be able to endure any hardship and adverse conditions.
Top tactical pants have ripstop and bar-tacked seams to keep everything together. They have articulated knees for easy bending and crouching. If you constantly store tools in the pockets, make sure that the belt loops are solid.
And let's not forget the importance of a gusseted crotch for more freedom of movement. Tactical pants for men should have this feature to prevent the pants from pulling tight against the crotch while working and bending.
As for the material, most top-rated tactical pants are a blend of cotton and ripstop polyester, with the latter getting a higher percentage for extra durability. The cotton is there to add breathability because polyester alone can be a little sweaty in the summer heat.
Pockets
The design and number of pockets are distinctive features of tactical pants. These pockets may come in different sizes, shapes, and placement, depending on their intended purpose.
Generally, the common pockets are hidden pockets, cargo pockets, mag pockets, knife pockets, and knee pad pockets. All of these pockets serve different purposes and may be combined on the same pair.
Hidden pockets are perfect for keeping valuable items, while cargo pockets are ideal for large items. As their names imply, knife pockets are meant for carrying knives and mag pockets are for ammunition.
When selecting good tactical pants, look for a pair that allows the insertion of knee pads. Tactical pants with knee pads protect you from tough combat situations.
Fitting
Finding the right fit matters when it comes to comfort. Good fitting tactical pants have waistlines that aren't too loose or tight. The inseam's length should also be perfect for your height.
Most tactical pants come in different sizes, so you should know your own dimensions. Get your waistline, hip, and inseam measurements. Also, get the distance between your waistline to the crotch area that you feel the most comfortable with.
It's also smart to perform a few online searches to determine the actual measurement of the tactical pants. Some pants might run smaller or larger than what you normally get.
Color
Choosing the right color of the pants matter, especially for covert missions where you don't want to attract unnecessary attention. Many tactical pants are available in camouflage colors, making them ideal for hunting and military missions. For most people, neutral colors, like black and tan, are adequate to go unnoticed.
Regardless of the color you choose, make sure that it's acceptable by the organization you belong to. For example, municipal police uniform pants typically go either blue or black, while sheriffs often use brown, green, or khaki.
Waterproof Or Teflon Coating
To increase the longevity of your pants, find a pair that's waterproof or water-resistant, at the very least. Waterproof pants won't stop you from doing your favorite activity in the rain as water will roll off the fabric.
Teflon coating offers some level of waterproof protection. It also protects the fabric from soil and other contaminants, making the pants stay clean longer and easy to wash.
What Are Tactical Pants Used for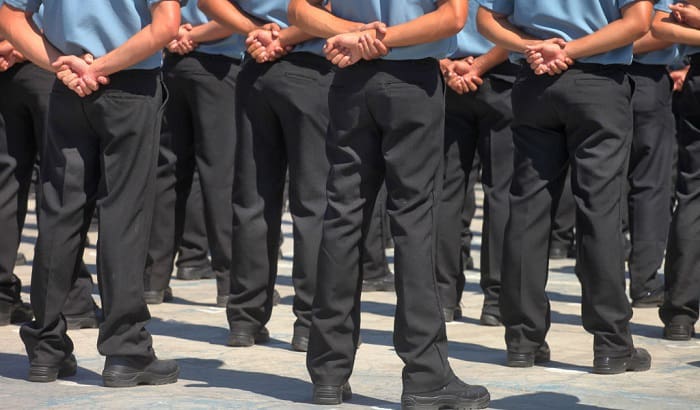 Tactical pants are used for demanding professions and activities. These pants are typically hard-wearing to protect the legs from scratches and injuries when you go to dangerous places. They contain plenty of pockets to carry your everyday items, including a smartphone, tools, and even a concealed weapon.
What Kind of Pants Do Special Forces Wear
Special forces wear top tactical pants brands, like UF PRO and 5.11 Tactical. They use extremely durable pants to meet the demands of military missions. The construction is pretty rugged with large pockets and reliable knee protection.
Do Tactical Pants Make Good Hiking Pants
Yes, tactical pants can be good for hiking, especially the lightweight models. 5.11 Tactical and Propper are two of the top brands that offer light tactical pants for comfort in hiking. These pants are blended with the right amount of cotton for breathability.
Are Tactical Pants Waterproof
It's rare to find fully waterproof tactical pants, but they often come at a high value. At the very least, tactical pants are usually water-resistant. These pants are made to endure all weather conditions.
What's the Difference Between Tactical Pants and Cargo Pants
Tactical pants may be identified as cargo pants, but the latter can't be necessarily tactical. There are some cargo pants that are too weak to be used for demanding situations. For the pants to be tactical, they should be made of a durable ripstop fabric with lots of useful pockets.
Conclusion
By now, you might have an idea of how to choose the best tactical pants after reading this article. They should be comfortable, durable, and functional. Our top recommendation is the 5.11 Taclite Pro because it's one of the few that's fully gusseted on the crotch for easy crouching or squatting.
The Propper Lightweight Tactical Pants are a good alternative as they're Teflon coated and similar to the Taclite Pro with a more comfortable feel. For women, the 5.11 Stryke pants are a good option.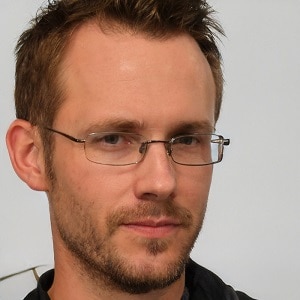 I am Everett Bledsoe, taking on the responsibility of content producer for The Soldiers Project. My purpose in this project is to give honest reviews on the gear utilized and tested over time. Of course, you cannot go wrong when checking out our package of information and guide, too, as they come from reliable sources and years of experience.