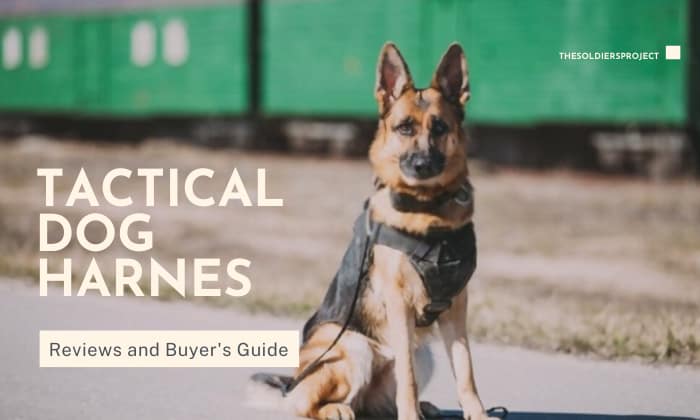 Bringing dogs to your outdoor adventure can be a real bonding moment. However, it becomes a more chaotic story when your dog starts to lurch or jump on anything that interests them. To gain control over your furry companions, use the best tactical dog harness.
These dog harnesses are safe because they're comfortable and secure to wear for long periods. To find the proper tactical harness for your pet pooch, here are a few things to consider:
Durability: Since dogs can be aggressive sometimes, make sure that the harness is tough enough to fight this type of resistance. Look for a higher denier count of nylon fabric, and ensure the buckles and D-rings are strong enough to endure high pressures.
Fit: The key to safety and comfort is to find the right fit. Look for adjustable straps so that you can customize the fit according to your dog's body shape. To get the right fit, measure the neck and chest of your dog.
Molle System: A dog harness becomes tactical when you can carry packs and other items on its Molle straps. Most of the time, the Molle straps also work as velcro patch holders for ID and morale patches. Other brands may even include pouches to let you organize small items, like dog treats and leash.
Since shopping for these types of harnesses can be a little hard, we'll review seven of the best brands on the market today. We'll also provide a buyer's guide to help you find the best tactical dog vest.

---
ICEFANG Tactical Dog Harness
Doesn't rub on dog skin
Adjustable and easy to slip on
Comfortable and cool to wear
---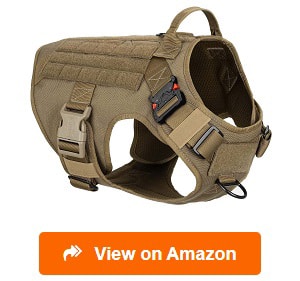 Auroth Tactical Dog Harness
Offers a comfortable fit
Includes a bungee cord
For dogs weighing 50-60 pounds
---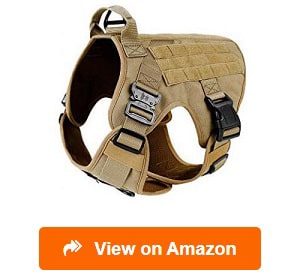 Rabbitgoo Tactical Dog Harness
Durable 1050D nylon
Fits large dog breeds well
Well-padded and ventilated
---
7 Reviews for the Top-Rated Dog Harness
1. Auroth Tactical Dog Harness
Auroth tactical dog harness is comfortable enough for our canine friend. With a neck girth of 16-22 inches and chest girth of 22-33 inches, this medium-sized military style dog harness fits any dog 50-60 lbs in weight.
The construction of this army dog harness seems to be good, from the hook and loop panel to straps and fabric. It's made from 900D nylon with sturdy stitching to improve its durability. I'm confident my dog won't break away with the leash because the handle also feels pretty strong when I grab it.
On top of the harness is a convenient Molle system to carry extra gear and pouches. With the bungee cord, my stuff stays secured while walking my dog. The Molle webbing also works as a velcro patch holder, where I like to attach my favorite patches.
My dog looks comfortable wearing this tactical harness, thanks to its adjustable straps and pads around each pressure load point. The breathable mesh seems effective in keeping my pup cool. I like that the two leash attachment points include a sturdy no-pull control front clip to keep my dog restrained while walking.
Heads-up:
I only dislike the plastic buckles because Auroth could have used a stronger material.
Pros:
For dogs weighing 50 to 60 pounds, with two leash attachment points
Tactical harness made from sturdy stitched 900D nylon
Has a strong handle with a no-pull front clip for dog control
Offers a comfortable fit with adjustable straps, pads, and breathable mesh
Molle webbing working as a velcro patch holder and pouch attachment points
Includes a bungee cord to hold items in place
Cons:
Built with plastic buckles
Bottom Line:
Altogether, this adjustable pet harness provides incredible comfort. It protects the dog's skin and fur with its cool mesh and soft pads. Best of all, it helps carry essential items with its secure hook and loop panel.
2. ICEFANG Tactical Dog Harness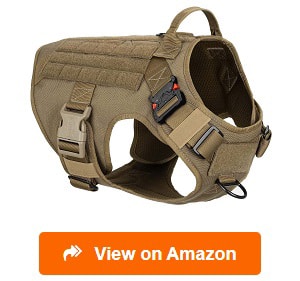 This ICEFANG is a tactical dog harness with handle to aid in dog training. The handle itself is made from durable nylon material with sturdy stitching and is large enough to grab quickly.
What I love best is the adjustable fit. This tactical dog harness adjusts on the dog's chest and shoulders to fit its full body nicely. I think my dog won't easily break the leash because I found two quick-release buckles – one on the belly and another on the dog shoulder position where the most load-bearing point exists.
With two leash attachment points, I have all the control I want over my dog. My favorite is the no-pulling front leash clip because it prevents my dog from removing the vest. In terms of use, it's all simple as I can easily slip this tactical harness over their head (like putting on a shirt) and buckling the sides.
The fabric doesn't rub on the dog's skin, keeping their hair in good condition. And even in summer, I'm confident my dog will keep cool with the underside breathable webbing material.
Interestingly, this tactical dog vest allows me to carry gear with the Molle straps on the sides and attach patches on the hook and loop panels for visibility.
Heads-up:
However, this harness features some heavy metal buckles. This might not affect large-breed service dogs but will surely weigh down the small ones.
Pros:
Durable nylon in a substantial size for easy grabbing
Quick-release buckles and two leash attachment points for security
Doesn't rub on dog skin
Adjustable and easy to slip on
Comfortable and cool to wear with breathable webbing
Built with Molle straps and hooks and loop panel
Cons:
Heavy metal buckles may not suit small dogs
Bottom Line:
Overall, ICEFANG is a good no-pull dog harness with tough metal buckles, giving enough confidence that the dog won't break out when pulling. It's extremely sturdy to fit the largest size of dogs.
3. Rabbitgoo Tactical Dog Harness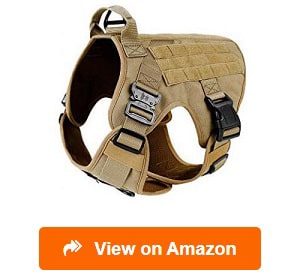 Rabbitgoo is the perfect leash for German Shepherd, Golden Retriever, and other large dog breeds. This large dog Molle vest has a chest girth of 31.5-41.3 inches, which wraps around the body without any restrictions.
What I love best is the generous amount of pads on the chest and belly to keep my dog comfortable. Also, there's a mesh to keep my dog cool in hot weather. With the four quick-release buckles, it's easy to put this harness over my dog. It's also easy to adjust the straps to make the vest fit my canine perfectly.
This dog vest has a reinforced handle at the top to help me lift and control the dog when needed. Both sides have Molle straps, perfect for attaching my water bottle during a long walk. I like the multiple hook and loop panels as they can hold my favorite patches for trails and trekking.
I especially love the two metal buckles because they're strong enough to bear great pulling force without breaking. This option is an excellent heavy-duty vest with its rigid 1050D nylon material and durable stitching. Interestingly, the front leash attachment clip solves the pulling problem of my dog.
Heads-up:
However, there's a slight chemical smell when this tactical harness arrived.
Pros:
Fits large dog breeds well with big chest girth (31.5 to 41.3 inches)
Well padded and ventilated with mesh for comfort
Easy to use with the quick-release metal buckles and adjustable straps
Built with a reinforced top handle and no-pull front clip for control
Has Molle straps and multiple hook and loop panels for accessories
Constructed from durable 1050D nylon with excellent stitching
Cons:
May produce a chemical smell initially
Bottom Line:
All in all, this tactical dog vest is ideal for all large dogs. It's built with heavy-duty materials to keep pups from breaking the leash apart. From military dogs to police dogs and outdoor companions, this harness will provide the control we need.
4. Hanshengday Tactical Service Dog Vest Harness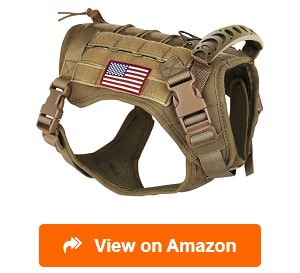 This Hanshengday is another comfortable vest to keep our dog safe for training or outdoor adventures. The large size fits close to my German Shepherd's body without any bulkiness, thanks to the adjustable straps.
The best part of this military dog harness is that it's water-resistant. Water seems to bead up and roll off from the 1000D nylon fabric whenever there's a light rain. With the soft pads and mesh inside the fabric, my canine friend feels comfortable throughout our trail walk.
My favorite is the rubber handle, as it feels soft to grab when I need to lift my dog away from danger. With the addition of the metal D-ring on the front, I'm confident I can lead my dog when I attach the leash. Everything feels heavy-duty, especially the quick-release buckles that make the harness easy to wear.
The Molle strips on the sides are great for holding my water bottles and small packs in place. Also, these strips can take any morale patches for customization. I appreciate that this versatile tactical dog harness includes three patches for me to use immediately.
Heads-up:
However, the size chart is inaccurate. It would be best to consult the seller before ordering.
Pros:
Fits closely to the body without being bulky
Adjustable and comfortable to wear with straps, soft pads, and mesh
Made with water-resistant 1000D nylon and heavy-duty D-ring
Built with a soft rubber handle and quick-release buckles
Fantastic Molle system for packs and patches
Three patches for use
Cons:
Bottom Line:
Overall, this service dog vest provides a well-made construction with its water-resistant nylon fabric and heavy-duty buckles. It also offers extreme comfort and security to keep dogs from going off the tracks. With its slim fit, it suits dogs with a thin chest.
5. VIVOI Tactical Service Dog Molle Vest
This large dog tactical vest from VIVOI offers room for adjustment, so it fits my dog and his massive chest. It includes three pouches and five moral patches to provide more personalization.
I love the three pouches because they're sturdy enough to carry some small items, like dog treats and water. I can even add more things to the Molle system on each side whenever I want. As for the patches, they're surprisingly good and really visible to help identify my dog.
The construction of this tactical service dog harness seems to be pretty solid. The 1050D nylon is held together with straight stitches to make it more secure. The plastic buckles seem to hold up pretty well from the constant yanking of my dog during our trip in the hills.
What stands out to me are the ventilation holes that help my dog keep cool while hiking under the sun. The interior has a mesh lining, adding more breathability to the vest. Thanks to the metal V-ring and top handle, I have no problem controlling my dog.
Heads-up:
However, the vest tends to move to one side when the weight is unevenly distributed.
Pros:
Adjustable and offers great control with the top handle and metal V-ring
Comes with sturdy pouches and visible patches for customization
Can store more items on the Molle straps
Made of 1050D nylon with reinforced stitches and strong buckles
Has ventilation holes and mesh lining for comfort
Cons:
Needs to balance the weight on every side
Bottom Line:
Overall, this tactical dog vest offers maximum comfort in the summer. The harness has plenty of ventilation holes and a breathable mesh lining to keep our furry friends cool. It also offers a great value with its free pouches and patches.
6. EXCELLENT ELITE SPANKER Tactical Dog Harness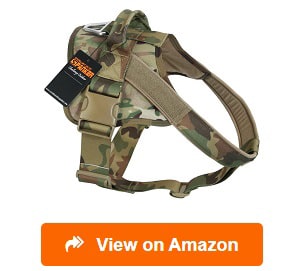 This working dog harness offers impressive security for short and long walks. It's an upgraded version of the traditional dog tactical harnesses because of its many excellent features, like a more robust aluminum V-shaped buckle.
I'm pleased with the top handle because it's heavy-duty yet easy to grab when I need to lift my dog away from danger. The part where I put the leash is solid, so I'm confident my dog won't break this one easily. And even when my dog tries to yank away, my pooch remains comfortable with the soft padded chest strap.
The best part of this multicam dog harness is the belly strap to keep my dog steady when I'm leading him for a walk. The 1000D nylon material itself is lightweight, so my canine won't overheat in the summer. I also like the magic stick ID panel on each side, as it allows me to put a name patch for easy identification.
Putting this harness on and off is pretty straightforward. The vest slips on/off with the quick-release buckle. Users just need to tweak a little on the adjustment straps to get the right fit. Not only is this option durable and comfortable, but it also looks good with its Multicam color.
Heads-up:
However, this tactical harness doesn't have a Molle strap, so I need an extra bag for my dog essentials.
Pros:
Has a durable aluminum alloy buckle and top handle for control
Sturdy leash attachment
Looks lovely and is easy to put on/off with easy adjustments
Comfortable with the soft padded chest strap
Made of lightweight 1000D nylon with an ID panel for patches
Keeps the dog steady with the belly strap
Cons:
No Molle straps for extra storage
Bottom Line:
Altogether, this Excellent Elite Spanker Tactical Harness is an excellent vest for aggressive dogs. The durable construction makes it hard for them to break away. This product can also be the best tactical harness for small dogs with its easy adjustments.
7. OneTigris Tactical Dog Molle Vest Harness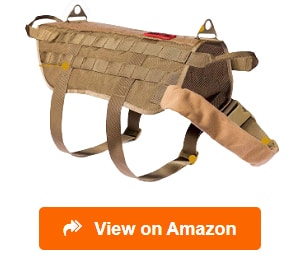 The OneTigris is a large vest that can fit medium-large to extra large dogs. This harness is widely adjustable, so it fits on my dog like a glove.
There's not only one handle but two to grab my dog on the neck or rear whenever he tries to run to catch something.
I'm pleased that the 1000D nylon can hold up well against water because my dog sometimes goes into the lake near our home. Thanks to the breathable mesh lining and padded chest strap, my dog feels comfortable in this vest.
What I love best about this dog harness is it comes with pouches to store some dog items, so I don't have to carry them. The three pouches are zipped, making them easy to secure. They also have snaps to attach to the loops, so they don't fall off while walking.
I found two Molle straps on both sides, perfect for holding water pouches and other packs. On top of it is a loop panel that can accommodate patches, like my dog's name for identification.
Heads-up:
However, this tactical harness is a little pricey.
Pros:
Adjustable, fit medium to extra large dogs
Molle system equipped to carry dog tactical gears
Includes three zippered pouches with loop snaps for light gear
Built with two handles to help grab the dog easily
Comfortable to wear with a padded chest strap and mesh
Made of water-resistant 1000D nylon with one loop panel for patches
Cons:
Bottom Line:
All in all, this tactical vest seems to be the perfect solution for heavy packers. It includes three pouches to store light items while hiking or hunting. It also features two grab handles for better control.
What to Look for When Buying Tactical Dog Harnesses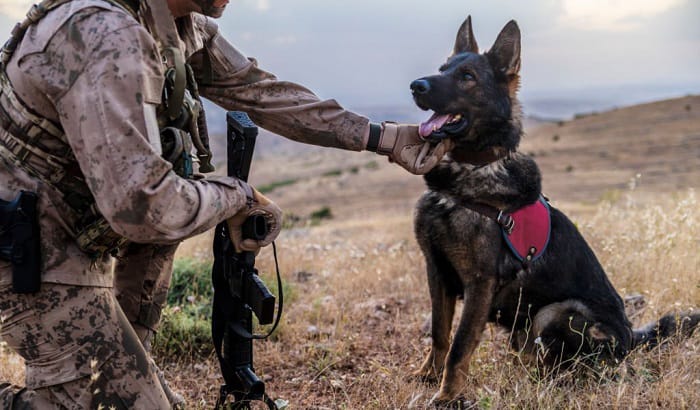 Tactical dog harnesses differ from each other, so you should choose one that best suits your pet pooch's needs. Choose a dog harness that gives you maximum control over your pet and lets you attach patches and packs. Here's a guide to help you shop for the right tactical dog vest.
Size And Fitting
Tactical dog harnesses may come in various sizes. You must find the right size to fit the harness comfortably on your dog. Having it too tight can restrict your dog's movements while something that's too loose can easily allow your pet to get away from the leash.
To get the best fit:
Measure the neck girth, chest, and back length of your pooch.
Wrap the tape measure around your dog's neck, just above her shoulders.
Measure the widest part of the chest to get the right fit.
Remember the 2-finger rule. Your two fingers should fit between the harness and your dog's body.
Aside from measurements, look at the style and how it fits particular body types. Some harness models are designed for wide chests, while others are for an athletic build. To ensure that the harness fits perfectly, look for adjustable straps.
Durability
The best tactical dog vest should be made of durable material for dog training. The most durable tactical harnesses in this list are made from 1050D nylon. This type of material shows extreme longevity against rough use and outdoor elements.
Nylon is known for its water-repellent properties, making it ideal for outdoor adventures. The higher its denier count, the more resistant the nylon is to abrasions.
Besides the fabric, try to look for reinforced stitching to keep the harness from ripping no matter how your dog tries to pull away.
Also, the part where you attach the leash should be strong. Look for D-rings that can bear great pulling force to ensure your dog's safety when training or walking. Metal clips tend to be more reliable than their plastic counterparts.
The place of production can also indicate the durability of the product. The best tactical canine harnesses are made in USA because they passed the rigorous quality standards.
Comfort
You'll want your dog to stay comfortable while wearing the harness for outdoor walks and hikes. For extreme comfort, look for pads in pressure areas. The soft pads will protect the skin and hair of your dog from getting irritated.
Also, you'll want the vest to have a breathable mesh to keep your pup cool in hot weather. Some of the best brands even put ventilation holes to prevent your dog from overheating in summer.
Control
The purpose of tactical harnesses is to take maximum control of your dogs. For this, you have to look at the design more meticulously.
The best tactical harness has a sturdy carrying handle to keep your dog calm. The handle is typically located at the top of the tactical vests to grab it quickly.
Other brands also put a second handle at the bottom to provide a quick, firm grip in case you missed holding the top handle.
The attachment points also matter because they are where you'll connect your leash for dog training. Make sure to find a no-pull front clip so that you can always keep your dog beside you.
Having a second attachment point at the back is also convenient when your dog is already trained to walk normally in the crowd.
Multifunction Molle System
If you're one of those pet owners who carry a lot of stuff, look for Molle straps. These straps help you carry gear, like water bottles and first aid kits. Some brands provide free Molle-compatible pouches to store some dog stuff while traveling.
In some brands, the Molle system also serves as a velcro patch holder. You can attach your favorite patches to help identify your dog from the rest.
Are Tactical Harnesses Good for Dogs
Yes, tactical harnesses are good for your pet pooch because they're safe and comfortable to use. They give dog owners control over their pets to make sure that they don't get loose while hiking on dangerous trails. These products prevent your dog from pulling or lunging at other animals or objects in its path.
What Is the Strongest Harness for Dogs
The strongest tactical dog vests have heavy-duty attachment points made of metal clips. Even when your dog tries to pull away, you'll be confident that your dog won't break out from the leash. The fabric is made of at least 1000D nylon to resist abrasions and improve longevity.
The ICEFANG Tactical Dog Harness is the strongest out there with its metal buckles that won't break apart easily with force.
How Do You Use a Tactical Dog Harness
Let your dog sit in front of you. Unbuckle the sides and try to put the harness over your dog's neck. Put your dog's paw through the hole, then snap the chest buckle and belly clip.
Tighten the straps to fit the vest close to your dog's body. You don't want the straps hanging loose because your dog might trip over them. Make sure your dog looks comfortable sitting, standing, and lying down.
Make use of the hook and loop panel for velcro patches. Attach visible morale patches or your dog's name for identification. If you want to carry a few items, attach these things to the Molle straps or simply clip things on the holes.
Conclusion
At this point, I hope you know how to choose the best tactical dog harness. Our top recommendation is the ICEFANG Tactical Harness because it's extremely durable with its metal clips. This harness also features strong attachment points and a breathable interior for comfort.
No matter your choice, make sure that it fits perfectly. You want your dog to feel comfortable for the entire time it's with you. Make adjustments as necessary, so your dog comfortably walks, lies down, and stands while wearing the vest.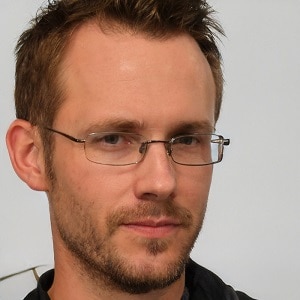 I am Everett Bledsoe, taking on the responsibility of content producer for The Soldiers Project. My purpose in this project is to give honest reviews on the gear utilized and tested over time. Of course, you cannot go wrong when checking out our package of information and guide, too, as they come from reliable sources and years of experience.