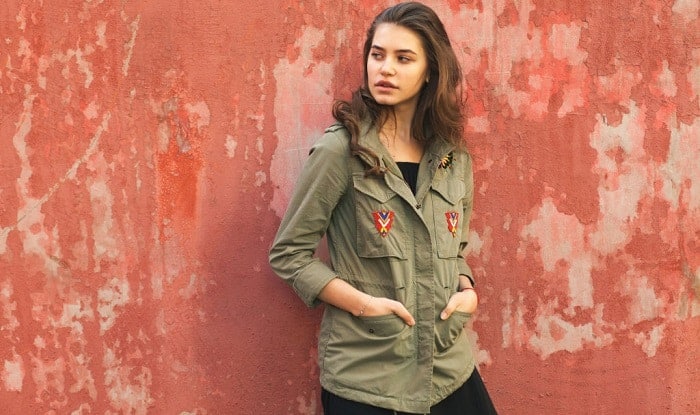 Military jackets are the standard for service members. But, they are also popular among civilian fashionistas wanting to make a statement. So, you can be of either audience to find this article on how to wear a military jacket useful.
Continue reading to find military jacket outfit ideas for both men and women. We have included many tips on styling for your reference as well. Happy reading!
Wearing a Military Jacket
Before jumping into the different ways to style a military jacket, join us in exploring the general topic of military jacket fashion.
Military-style attire is a comeback trend in 2020 and 2021. It delivers impressive signature looks that suit a variety of settings and occasions. No matter the situation, you cannot go wrong with a military jacket. It is easy to pair with other colors and satisfy seasonal needs.
With military jackets, you can dress to impress, regardless of your age and gender. For example, a quick Google search of military jackets for men's fashion or military shirt jackets for men can take you endless hours of browsing.
So, now that you have a good idea of just how in-style military jackets are, continue reading to join in on the sensation.
The Purchasing Process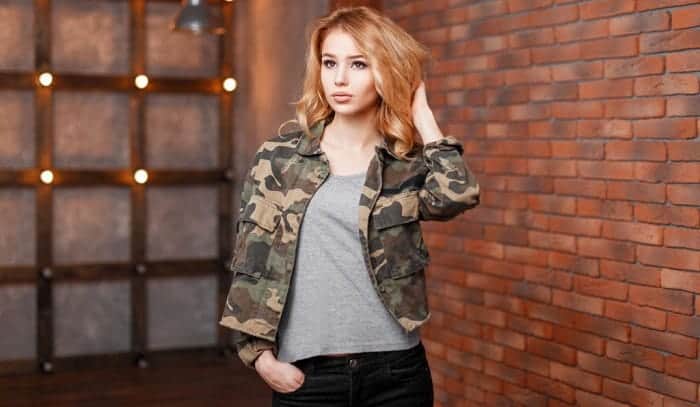 With so many options available in the market, it is overwhelming to settle on just one military jacket. To save you the trouble, we have curated some of the most important factors to consider when shopping:
Material
This is arguably one of the most important aspects that you must weigh upon. The material of your jacket can be an indicator of its quality and durability. It can also influence your comfort when worn and the overall functionality.
There are many different military jackets for different situations and arms of the military. So, there are just as many materials used. However, the most common material used for standard day-to-day military jackets is a blend of cotton and nylon. Other materials that you may hear in discussions of military jackets are knitted polyester, khakis, cotton twill, and wool. In the past, felt cloth was also very common.
Color
As with other types of attire, there are plenty of colors to choose from for military jackets. However, to closely mimic authentic military jackets, most sport neutral and plain tones, such as tan, brown, and moss green.
These are collectively referred to as camo hues and palettes. For instance, you will see many green army jacket outfits in the market. Nevertheless, you can still find military jackets with more vibrant colors, like red and blue.
Features
Authentic military jacks often include special features that make them the standard issued garment for personnel. For example, they will be fire-resistant, water-resistance, and wrinkle-free, for optimal functionality and convenience.
However, these features are less likely to appear on military-style jackets that civilians can get in a mall or local store. Since these are inspired by military uniforms and mirror them in looks only.
Other equally significant aspects to think about are size, brand, and wash and care instructions. The best military jacket is one that excellently converges all these considerations.
To set the mood for the upcoming section, check out these military jacket outfits for inspiration.
Moving onto the specifics ways to style a military jacket, here are seven ways that you can style with!
How to Wear a Military Jacket
1. Wear it in layers
This is a good go-to style for casual occasions. It is relatively easy to nail and not too costly to maintain. Simply throw it over a plaid flannel button-down, without actually buttoning either layer.
The plaid top should be on top of a plain tee shirt. With this style, avoid military jackets that have patterns and opt for solid-colored ones instead. Small variations can be tucking in your flannel or rolling up the sleeves for a typical streetwear style. It looks nice with any bottoms, including distressed jeans, shorts, or smooth and slick slacks.
2. Wear it as an oversized top
This is a neat option for both men and women. All you need is a baggy military jacket. In particular, it should be one or two sizes larger than your normal everyday top. Throw it on and button all the way! You can pair it with a pair of jeans or shorts for a simple but chic style.
Choose this style when you want to look nice and be comfortable at the same time. You can freely move your upper body and arms with this way of styling military jackets. It is ideal with both sneakers and boots. If you want, you can also go for slippers!
3. Wear it around your hip
This fits both summer and fall fashion. It is so easy to style that you may be able to do it in your sleep! Just pick out a light, thin military jacket and wrap it around your hip or waist with a knot. You can wear it with anything—shorts, jeans, graphic tees, tank tops…while still giving off impressive vibes.
It is also ideal for ladies who want to spruce up a plain body-tight dress! We recommend black dresses to create an impressive contrast. This works with simple sneakers, boots, or heels.
4. Wear it with business pants
You can go for a smart casual or formal business style with this look. Wear your military jacket as a button-down top and tuck it into your pants. To inspire you, check out this way to wear military jackets for men by American actor Aaron Eckhart!
You can consider completing the style with belts or waistbands. For women, it is best to pair with high-waisted pants to give off an elite fashion look. You can complete it with high heels!
5. Wear it with skirts
There are many skirts that you can choose for this style. However, our favorite is the military jacket and tulle skirt combo. It showcases the best of both worlds! Who would have thought you could display both masculinity and femininity with just one style, right?
It is fitting for anyone who likes wearing skirts and sprucing up a simple outfit. Since military jackets are available in many colors, you should not have a problem finding the right one to pair.
6. Wear it cropped
This will involve a bit of tailoring and adjustments, but you will not be disappointed with the look you get in the end. Crop your military jacket so pair it with a dress, bodysuit, or simple combination of tee and jeans. The possibilities are almost endless! Personally, we like wearing it with black leggings to show off curves, but it is up to your discretion. This is a good style with high boots and uggs as well.
7. Wear it with accessories
Many accessories go well with military jackets. Depending on the look that you are going for, you can add a beanie, fedora, or baseball cap. It pairs nicely with most, if not all jewellery, such as earrings, necklaces, and bangles. Tote bags, handbags, or satchels will also look great with a military jacket.
To turn your military jacket up a notch, consider adding pins, badges, and embroidered designs. If you like to work on DIY projects, you will surely have a fun time customizing your jacket.
To conclude, check out this video:
Conclusion
With that, you have reached the end of this article. We have given you six ways of styling that work for any occasion. To recap, these methods are wearing it:
In layers
As an oversized top
Around the hip or waist
With business pants
With skirts
Cropped
With accessories
Hopefully, this has been helpful. If you have any questions or thoughts, let us know in the comments. We look forward to hearing from you! Also, share this article with others!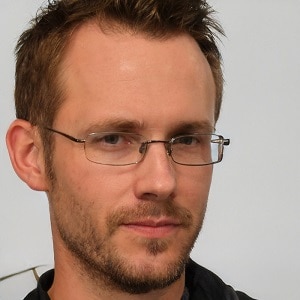 I am Everett Bledsoe, taking on the responsibility of content producer for The Soldiers Project. My purpose in this project is to give honest reviews on the gear utilized and tested over time. Of course, you cannot go wrong when checking out our package of information and guide, too, as they come from reliable sources and years of experience.