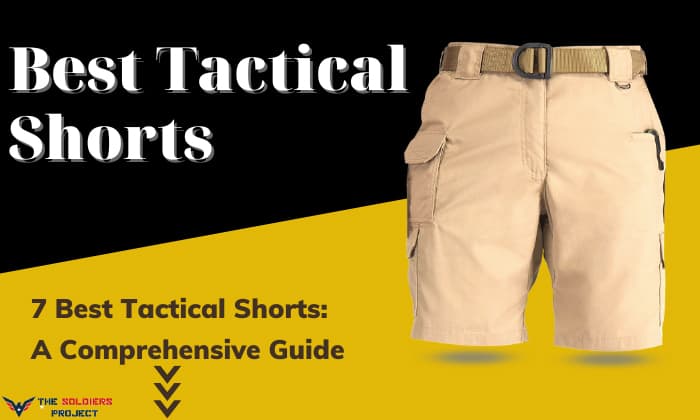 If you're an outdoor enthusiast, you should have the best gear to withstand the rugged environment. One of the most important things you should have is a good pair of tactical shorts. The best tactical shorts will protect your legs while providing more storage options for your belongings like smartphone and wallet.
Today, there are many tactical shorts. They may look the same but differ in features if you look closely. Here are some attributes you should consider when buying a good pair for your outdoor adventure.
Durability: You want the most durable pair if you want to perform your outdoor activity without any hitch. Look for tough fabrics, like ripstop, nylon, and polyester. There should be reinforcements in the crotch and seat to prevent revealing your skin with a tear or rip.
Multiple Pockets: What makes shorts tactical are pockets. Look for numerous pockets that can endure some extra weight. They should be deep and secure to assure you that your things won't fall out while sitting or moving.
Water And Sun Protection: Being outside exposes you to the harmful rays of the sun and maybe water splashes. To protect your legs, look for sun protection that's UPF 50+ if possible. A water-repellent coating may keep your shorts dry and resistant to liquid spills.
Fortunately, we have provided a buying guide below to help you choose the best pair of tactical shorts. Let us share our top recommendations for the best brands of tactical shorts on the market today.
---
Helikon-Tex Tactical Shorts
Wide belt loops
Breathable fabric
Comes true to size
---
Tru-Spec Men's Tactical Shorts
Durable and breathable
Easy to clean and maintain
Teflon coating repels stains
---
FREE SOLDIER Men's Shorts
Has a D-ring
Made of durable nylon
Stains come off easily
---
Top 7 Tactical Short Reviews
1. Helikon-Tex Urban/Outdoor Tactical Shorts
The Helikon-Tex Outdoor are mens military shorts with a slim fit and good pocket arrangement. I like that there are belt loops around the waistline, so it's easy to loosen or tighten the pair. The loops are also pretty wide to accommodate my EDC belt.
The variety of pockets are all pretty helpful, and they're plotted discretely for a neat look. My favorite is the two front flapped pockets, as they fit my AR mags securely. I like that the front and back pockets have reinforced edges to keep my clips in place. Also, the cargo pockets have YKK zippers to keep my valuable items like wallets secure.
The fabric feels rugged yet lightweight for heavy work. It seems breathable as I feel cool while wearing the shorts in a hot climate.
Everything feels durable, especially the double-stitched seams and gusseted crotch that keep me moving without worrying about accidental rips.
I appreciate the hook and loop closure of these military tactical shorts because it makes the design quick to wear. Best of all, the elastic part at the back allows adjustment to fit any waist size. As for the sizing, it's true to the guide.
Heads-up:
However, the fitting might be too tight for thick thighs.
Pros:
Built with wide belt loops and hook and loop closure for easy wear
Has a discrete pocket layout with special pockets for AR mags and wallets
Made of a lightweight and breathable fabric with an elastic waistband
Feels durable with the double-stitched seams and crotch gusset
With reinforced pocket edges and YKK zippers
Comes true to size
Cons:
Bottom Line:
All in all, these Helikon-Tex Tactical Shorts are a good fit for skinny thighs. The strongest point about these shorts is the pocket arrangement, as it looks discrete and comes in an excellent size to accommodate essential gear.
2. Tru-Spec Men's 24-7 Series Tactical Shorts
These tactical shorts for mens from Tru-Spec offer an outstanding balance of durability and comfort, thanks to their polyester/cotton blend. On top of the moisture-wicking abilities of polyester, the Teflon coat makes these shorts incredibly waterproof. I can see oil-based liquids and light moisture simply roll off the fabric.
Surprisingly, stains won't ruin the fabric. They quickly disappear after washing, and best of all, the shorts come out wrinkle-free. They always look clean, so I can wear them many times before putting them in the washer.
The waist is one of the best I've tried. It feels comfortable, even when wearing my gun holster on the 2-inch belt loops. This is thanks to the adjustment panel hidden in the waist. Moreover, the light cotton integration makes these shorts breathable in the summer heat.
I love the pockets, especially the front pocket, which are extra deep to fit my keys and phone. The rear pockets seem perfect to fit a wallet and keep it secure with the hook and loop closure. I like that there are dedicated pockets for mags and knives for safety. The mag pockets do hold 17-round and 19-round mags without any problem.
Heads-up:
My only dislike is the inseam. When I measured it, it went around 10 inches, an inch longer than described.
Pros:
Teflon coating repels stains, oil-based liquids, and moisture
Easy to clean and maintain
Durable and breathable with its polyester/cotton blend
Built with a hidden adjustment panel for a comfortable fit
Has deep front pockets and secure back pockets for keys, phones, and wallets
Designed with dedicated pockets for a knife and AR mags
Cons:
Inseam runs longer than advertised
Bottom Line:
Altogether, these Tru-Spec tactical shorts provide extreme comfort without compromising durability. With their long inseam, these shorts seem perfect for people taller than 5'8".
3. FREE SOLDIER Men's Cargo Shorts
These FREE CARGO cargo shoes use 89% nylon, making them feel naturally lightweight and durable to take any beating. With the integration of 11% spandex, I'm confident in doing any rigorous activities with much flexibility and comfort. The shorts stretch even on the crotch area, so no more worries about rips.
These long tactical shorts seem good for all weather because the DuPont Teflon fabric offers water and UPF 50+ sun protection. I tried using them for fishing, and I was surprised that splashes of saltwater didn't wet the shorts easily. Also, stains seem to wash right out of them pretty quickly.
The best part is that these shorts include a nylon belt with an adjustable buckle to fit any waist size. Plus, the waistband has an elastic part to fit well without the belt. I particularly like the D-ring under the belt loop as it offers a convenient place to hang my keys and flashlight.
Fortunately, the pockets are roomy to let me bring plenty of items throughout the day. I can load my wallet, phone, and other large items into the zippered cargo pockets. Best of all, the pouches feel comfortable even when overstuffed as they use COOLMAX mesh fabric.
Heads-up:
My only dislike is the belt loops because they won't allow me to carry a holster. The loops are too close to the waistband, so I need to use a gun belt.
Pros:
Made of durable nylon and flexible spandex
Stretchable with incredible water resistance and UPF 50+ sun protection
Stains come off easily
Includes an adjustable nylon belt and elastic waist
Has a D-ring to hang extra gear and accessories
Built with roomy pockets and breathable COOLMAX mesh lining
Cons:
Impossible to keep a holster
Bottom Line:
All in all, these cargo shorts work for all climates with their great sun protection and water resistance. They offer a great combo of flexibility and durability with the nylon/spandex fabric. This pair also offers a free buckle belt to provide more value.
4. 5.11 Tactical Men's Taclite Pro 9.5-Inch Shorts, Style 73287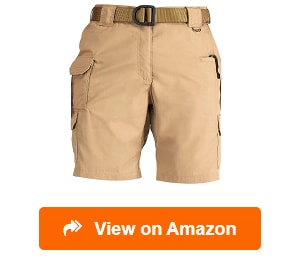 The Taclite Pro seems perfect for daily use with its high-quality construction. These 5.11 tactical shorts boast the construction of polyester/cotton Taclite ripstop fabric, which offers both durability and comfort. Surprisingly, this material feels smooth and lightweight, about 6.14 oz in weight.
I love the elasticity of the action waistband because it doesn't pinch my tummy and offers a secure fit without a belt. Moreso, the 9.5-inch inseam sits just above my knee, making these shorts cool to wear. And when it comes to washing, they dry pretty quickly and remain wrinkle-free.
I found plenty of pockets to fit my extra gear, like those extra deep front pockets for my smartphone and wallet. The strap-and-slash compartments seem handy for keeping my mags accessible, while the thigh-mounted pouch is useful for concealing a pocket knife. Plus, the D-ring lets me carry a flashlight with ease.
Everything about these shorts truly feels secure, thanks to the strong YKK zippers and Prym snaps that keep this pair intact in any activity.
I observed that stains and water only rolled off the fabric, perhaps due to the Teflon finish. Additionally, the double-reinforced seat and gusseted crotch give me confidence that these shorts won't easily rip in full-range movements.
Heads-up:
However, the sizing is a little inaccurate.
Pros:
Made of durable ripstop fabric, YKK zippers, and Prym snaps
Double reinforced seat and gusseted crotch prevent rips
Lightweight and has a good inseam length for comfort
Dries quickly and stays wrinkle-free after washing
Has plenty of useful pockets for knifes, wallet, etc, with elastic action waistband
Repels moisture and stains, thanks to the Teflon finish
Cons:
Bottom Line:
Overall, the Taclite Pro is a perfect pair of tactical shorts for durability. The ripstop fabric, YKK zippers, and double-reinforced seat help these shorts last in rugged terrains and environments. Also, this pair offers plenty of useful pockets for additional gear.
5. CQR Men's On-The-Go Cargo Shorts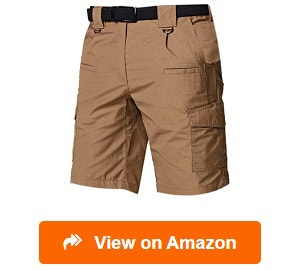 The On-The-Go Cargo Shorts use ripstop fabric, a mix of polyester and cotton. The ripstop fabric seems perfect for hot weather conditions because it feels cool and lightweight. At the same time, it is durable to use for heavy work at the yard or hiking in the roughest terrain.
The best part about these tactical shorts is the relaxed fit. I have more room in the thigh area to enjoy comfort in the field all day long. Thankfully, the snap closure is quite secure as it doesn't pop open in the middle of any rigorous activities.
These are great tactical work shorts because they have multiple pockets and a metal D-ring where I like to hang my keychain. I find it convenient to store my small flashlight in the slash pocket and my phone in the front pocket. The front pockets are so deep that they won't let my phone slip out while I'm sitting.
For the price, this pair is better than I expected. The stitching is neat, and the elastic waistband makes the shorts adjustable. I appreciate the belt loops, as they're wide enough to fit my 2-inch tactical belts for the range.
Heads-up:
However, the size runs a little small, so size up for a better fit.
Pros:
Made of durable yet lightweight, breathable ripstop fabric and neat stitching
Has a relaxed fit for extreme comfort
Made with secure snap closure and wide belt loops
Plenty of functional pockets, like deep front pockets and slash pockets
Come with D-rings to hang small tactical items
Inexpensive and comfortable to wear with the elastic waistband
Cons:
Sizing may run a little small
Bottom Line:
Overall, these CQR cargo shorts provide more value than what they're worth. This pair has everything I expect in tactical clothes, such as multiple pockets, wide belt loops, and durable ripstop fabric.
6. YAXHWIV Mens Tactical Shorts
These black tactical shorts from YAXHWIV uses a combination of polyester and nylon, making this pair extremely durable. They're made in USA, so I think these shorts will last long. With the addition of the PTFE membrane, water dries quickly, and stains wash off easily.
Besides durability, the fabric feels lightweight and cool in the summer. Also, all the pockets seem pretty large and secure with zippers and velcro. I appreciate that the front pockets are deep because I don't have to worry about my smartphone and car keys falling out.
The best part about these shorts is its UPF 50+ rating to protect my thighs from the sun's harmful rays when hiking. These shorts have enough stretch to make them comfortable when climbing up mountains. I can even squat without worries because the strengthened crotch prevents accidental rips.
Everything seems to be well-made, including the stitches and metal buttons. I love the comfort of the stretchable waistband because that tiny elastic part in the back allows me to move around without feeling all tight on the tummy. Plus, the belt loops are extra wide to accommodate all types of tactical belts.
Heads-up:
However, the sizing seems to be way smaller than what was on the description. Buyers should go up two sizes.
Pros:
Made of polyester and nylon for extreme durability
Quick-drying and stain-resistant with its PFE coating
Lightweight and cool with plenty of large pockets (zippers and velcro included)
UPF 50+ offers protection against ultraviolet radiation
Elastic waistband and gusseted crotch offer flexibility
Has wide belt loops, high-quality stitching, and heavy-duty metal buttons
Cons:
Bottom Line:
Altogether, these cargo shorts seem perfect for hiking, fishing, and other activities that involve sun and moisture. This pair is waterproof and UV-resistant. Best of all, it offers flexibility and ample pockets.
7. Goodthreads Men's Slim-Fit Tactical Short
These tactical cargo shorts from Goodthreads seem perfect for hot climates with their 97% breathable cotton composition. The brand uses a durable type of cotton canvas that can withstand frequent washes. About 3% is made of elastane, providing the flexibility and comfort I need for outdoor adventures.
I like the overall fit of these shorts. The 7-inch inseam is neither too short nor too long for me, so running with this design feels comfortable. It's a slim fit, making this pair more stylish than other baggy shorts.
The deep, large pockets are more than I need to carry items for hiking or daily casual wear. I appreciate the zippers on the front pockets because they give me peace of mind that my phone and wallet won't slip out when sitting or running. The back pockets use snap buttons, making them comfortable to sit on.
Some tiny details make these shorts convenient and secure to wear. The fabric is wrinkle-free, so I can wear this design without looking shabby. Plus, the belt loops and pockets are reinforced for life on the trail.
Heads-up:
However, these shorts tend to shrink a small amount after the first wash. Make sure to order a size larger to keep a good fit.
Pros:
Wrinkle-free, made of cotton that feels both durable and breathable
A little amount of elastane adds flexibility and comfort
Easy to run with the 7-inch inseam and looks stylish with its slim fit
Has deep, huge reinforced pockets for gear and reinforced belt loops
Front pockets are secure with the zippers
Back pockets have snaps that ensure comfort while sitting
Cons:
Bottom Line:
Altogether, these slim-fit tactical shorts are ideal for the summer since they're mostly made of cotton. The pocket design stands out the most with its large size and zippers.
What to Look for When Buying Tactical Shorts
Like tactical pants, pockets are the defining feature of tactical shorts. The pockets should be plenty to carry more gear and durable to withstand pressure. Here are some specific pockets that you should look for on a good pair of tactical shorts.
Cargo Pockets: Most tactical shorts feature a cargo pocket on each side. These pockets typically are the largest to store a notepad, sunscreen, and other useful items.
Tactical Knife Pocket: The best brands of tactical shorts feature a designated pocket for your knife. This setup will keep the knife concealed and secured in your shorts. This type of pocket can hold up well if it has a reinforced bottom with double stitches.
Magazine Pocket: If you like to use tactical shorts for hunting or at the shooting range, look for a designated pocket for your magazines. These pockets will keep your ammo secure and easy to access.
Front Pockets: These pockets should be deep to hold valuable items, like keys and smartphones. The opening should be large enough to fit your hand for easy access.
Slash Pockets: These pockets make your things readily accessible. They're typically located at the side with large openings that form a slant.
Besides the pockets themselves, try to consider how they're closed. Pocket closures could either be zippers or velcro.
Zippers offer a high level of security, while hook-and-loop velcros are easy to repair when they get worn out. Buttons offer another pocket closure option, but they're a bit outdated because of their lack of comfort and security.
The fabric can tell you how comfortable or durable the tactical shorts are. Here are some popular fabrics you should look out for.
Spandex Or Elastane: This fabric is known for its stretch abilities. It's often blended into other fabrics, like nylon and cotton, to add flexibility.
Cotton: This fabric is known for its breathability. Tactical shorts with a significant amount of cotton keep your legs feeling cool in the summer heat. They're comfortable, but they can shrink after washing.
Polyester: This strong synthetic fiber wicks away moisture to keep you dry. However, it's not breathable like cotton.
Nylon: Another synthetic fiber worth noting is nylon. It's water-resistant and a strong and flexible material for tactical shorts.
Ripstop: Most reliable tactical shorts use ripstop fabric to provide the best performance. It's mostly a blend of polyester or nylon with a smaller amount of cotton for comfort and durability.
Polyester blends tend to be quick-drying, while nylon blends may show greater strength.
Tactical shorts become more durable when they're reinforced on the most critical areas, like the crotch, seat, and belt.
The most reliable tactical short brands reinforce the seating area to prevent ripping your shorts from behind.
Additional stitching on the crotch area also adds durability to the pair. A gusset or some extra fabric on the crotch adds flexibility to allow a full range of motion without worrying about rips.
Belt loops should be wide and heavy-duty to carry tactical belts and holsters. Look for specialized stitches to keep the belt loops sturdy under extra weight.
The best pair of tactical shorts should offer a high level of protection from moisture, dirt, and harmful UV rays.
Waterproof tactical shorts are often treated with a Teflon coating or PTFE membrane. They won't be affected by light splashes. Also, stains wash off quite easily, leaving a long-lasting pair of shorts.
If you often work or play in the sun, look for a pair with great sun protection. A UPF 50+ is the highest sun protection level you can have, while 30-49 UPF protection is already good.
Polyester and unbleached cotton are two fabrics that offer great sun protection.
Getting the correct fit is the key to comfort. Measure your waistline to get the waist size, and remember to consider the inseam. You'll need a tape measure for this sizing task.
Wrap the tape measure around your waist, just below your belly button. Make sure that it's not too tight. For tactical shorts, the waistline would sit a little higher than your normal shorts to fit tactical belts. An elastic waistband is nice to have if you want the shorts to fit in any waist size.
To measure the inseam, use your most comfortable shorts. Get the length of the stitching line from the inner leg to the hem's bottom. A good inseam length is between 7-9 inches.
As for the fit, tactical shorts can either have a slim fit or a relaxed fit. A slim fit is more stylish, while a relaxed fit is more comfortable.
Who Can Wear Tactical Shorts
Anyone who wants a pair of tough tactical shorts can wear them. Some brands are durable enough to pass the military standards, so law enforcement personnel can use them. The comfort and functionality of these shorts make them ideal for hikers, campers, and other outdoor enthusiasts.
Why Do You Use Tactical Shorts
People use tactical shorts because they're functional. The multiple pockets offer storage options, while the toughness of the fabric helps you move without worrying about rips or tears. The gusset crotch provides extreme flexibility to ensure a wide range of movement.
Best of all, the waterproof coating makes these shorts ideal for fishing and other activities that involve water exposure. Some of these shorts also offer great sun protection.
What Raises the Durability of Tactical Shorts
The materials and reinforcements increase the durability of tactical shorts. Polyester and nylon are strong materials. When blended with cotton, they provide additional comfort.
Tactical shorts won't easily rip when they have reinforced seating and crotch. A solid type of stitching also can improve the durability of the shorts.
What Are the Main Strong Points of Shorts
Shorts are comfortable to wear in the summer heat. They feel breezy around the legs. Since they only cover your thighs, you can move with much ease.
Tactical shorts' strongest point is their sturdy pockets. You can carry a lot of stuff without worrying about rips and tears. With some reinforcements, this type of shorts can last long.
Conclusion
The best tactical shorts aren't only durable but also comfortable and convenient to wear for any activity. Our top choice is the 5.11 Taclite Pro because it uses ripstop, an ideal material for tactical use because of its toughness. Besides that, the fabric is surprisingly comfortable and lightweight.
Another good contender is the Helikon-Tex Outdoor Tactical Shorts. This pair also demonstrates a high level of durability and comfort. For wearers who like dedicated pockets for their AR mags and knives, the Tru-Spec 24-7 Series might be a good alternative.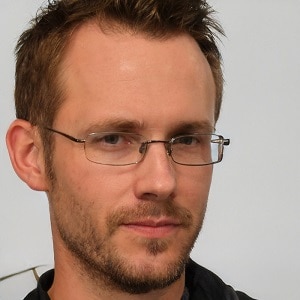 I am Everett Bledsoe, taking on the responsibility of content producer for The Soldiers Project. My purpose in this project is to give honest reviews on the gear utilized and tested over time. Of course, you cannot go wrong when checking out our package of information and guide, too, as they come from reliable sources and years of experience.