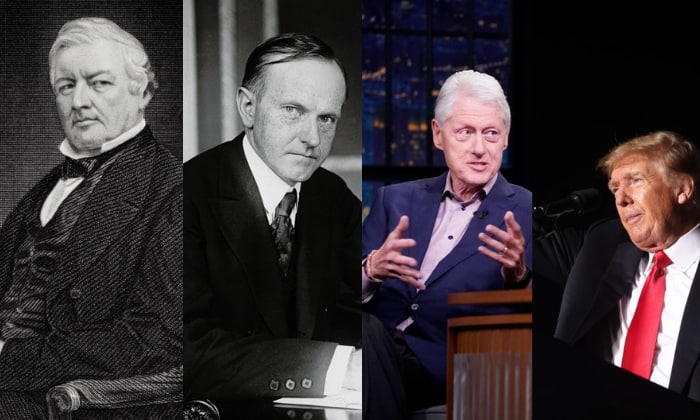 In grade school, you were probably taught and tested on the names of the U.S Presidents. But did your lessons ever cover which Presidents did not serve in the military? There are 16 Presidents that did not serve in the military. Can you guess who they are?
This is a common piece of knowledge that you should know, especially if you are a U.S citizen. If you are not entirely sure but have a few names in mind, this article should help you recall your understanding.
We will outline the Presidents who did not serve in the military and provide information about each President. Make sure you go through this whole list of Presidents without military service!
16 Presidents Who Did Not Serve in the Military
As we have said earlier, 15 Presidents have been in office without prior service in the military. This is because prior military service is not a Constitutional requirement or prerequisite for Presidential candidates.
The 16 Presidents' names are Franklin D. Roosevelt, Herbert Hoover, Calvin Coolide, Warren G. Harding, Woodrow Wilson, William Howard Taft, Grover Cleveland, Millard Fillmore, Martin Van Buren, John Quincy Adams, Thomas Jefferson, John Adams, Bill Clinton, Barack Obama, Donald Trump, and Joe Biden.
Now, let's learn a bit about each of them!
1. President Franklin D. Roosevelt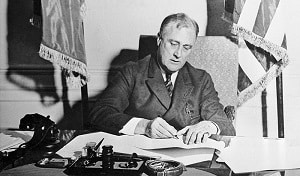 The first on our list is former President Franklin D. Roosevelt. His term was from 1933 to 1945. Interestingly, Roosevelt is the only President to have been elected four times. He was the 32nd President of the United States, preceding President Herbert Hoover.
Roosevelt was the predominant figure that navigated the nation through the Great Depression as well as the big U.S economic crisis. He is mostly known for the implementation of the New Deal Coalition and domestic agenda. Roosevelt's third and fourth term was during the Second World War.
Before becoming the President, Roosevelt was the 44th Governor of New York (1929 – 1932) and the Assistant Secretary of the Navy (1913 to 1920). However, he was never active in service, unlike his cousin Rough Rider Teddy Roosevelt.
Nevertheless, it is recorded that Roosevelt had a lifelong "commitment" to the Navy. Among the 10,000 naval books he owned, Roosevelt claimed to have read all but one. He also contributed to the establishment of the U.S Navy Reserve and the Council of National Defense. He had wanted to become a naval officer but was told by the Wilson administration to serve as the Assistant Secretary.
2. President Herbert Hoover

Second on our list is President Herbert Hoover, who was in office from 1929 to 1933. He was the United States' 21st President and a member of the Republic Party. Hoover was a leader of the Commission for Relief (Belgium), a Food Administration director, and a U.S Secretary of Commerce before serving as President.
3. President Calvin Coolidge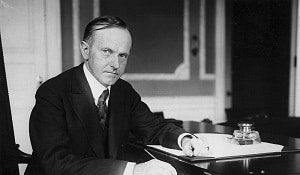 President Calvin Coolidge is the third on our list. His term was from 1923 to 1929, following President Warren G. Harding. Before he was President, Coolidge was a lawyer, then governor of Massachusetts. Coolidge was known for a lot of things, but serving in the military was not one of them.
4. President Warren G. Harding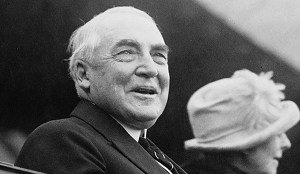 President Warren G. Harding served from 1921 until 1923, which was when he died. He was a member of the Republican Party but not a member of the military. His presidency, until now, is marred by multiple scandals, such as his extramarital affair and the Teapot Dome bribery case.
Prior to political service, Harding was a newspaper publisher and then a lieutenant governor.
5. President Woodrow Wilson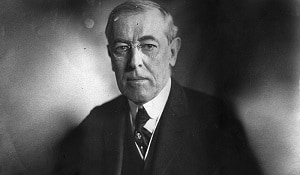 President Woodrow Wilson, whose term was from 1856 to 1924, led the United States through the First World War but he was never in military service. Wilson was elected governor of New Jersey in 1920 and became the U.S 28th President in 1921. Wilson is best known for his foreign policy called Wilsonianism and as the League of Nations' leading architect.
6. President William Howard Taft
President William Howard Taft's term was from 1909 to 1913. He was the Secretary of War, but ironically, he never went to war or served in the military. Prior to his presidency, Taft was an Ohio Superior Court and U.S 6th Circuit Court of Appeals judge. Then, after his presidency, Taft was the U.S Supreme Court Chief of Justice.
7. President Grover Cleveland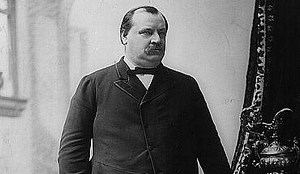 President Grover Cleveland served from 1885 to 1889 and 1893 to 1897. He was drafted during the Civil War but did not go into service because of his law practice. It is said that he paid $150 for a substitute to go for him, which was perfectly legal (the Conscription Act of 1863).
8. President Millard Fillmore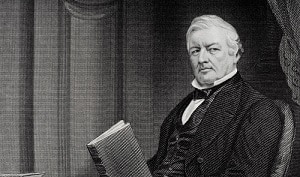 President Millard Fillmore was the U.S 13th President, serving from 1850 to 1853. Like the other Presidents on this list, Fillmore did a lot of things—except serving in the military. He was the man behind the Treaty of Kanagawa. Before that, he was the University of Buffalo's first chancellor and a New York "comptroller".
9. President Martin Van Buren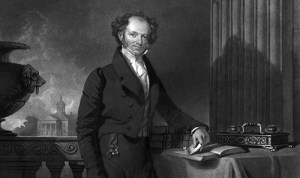 President Martin Van Buren was in office from 1837 to 1841. He was not a military member but his Democratic Party largely consisted of Republicans who were huge "fans" of the military and in particular, the military "man" Andrew Jackson.
10. President John Quincy Adams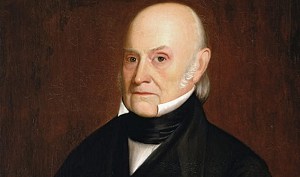 President John Quincy Adams' term was from 1825 to 1829. He was in the Massachusetts State Senate as well as the U.S Senate but was not in the military. He only served one term and joined the House of Representatives after his presidency.
11. President Thomas Jefferson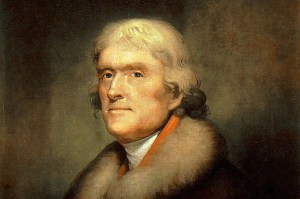 President Thomas Jefferson technically did not serve in the military. However, he was involved in the American Revolutionary War. Jefferson is mostly known for his role with the Declaration of Independence. He served for eight years, from 1801 to 1809.
12. President John Adams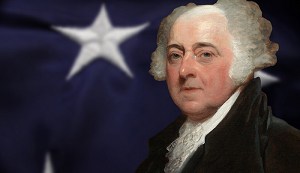 Another President on our list is President John Adams, who is also known as the leader of the American Revolution. His term followed President Thomas Jefferson, from 1797 to 1801. Before he was a President, Adams was a lawyer and diplomat.
13. President Bill Clinton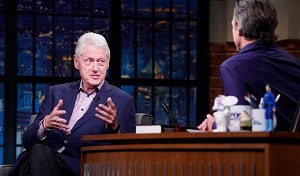 President Bill Clinton's term spanned from 1993 to 2001. He was governor of Arkansas twice but never a military member. It is said that he even avoided the Vietnam-era draft.
14. President Barack Obama
President Barack Obama was the first U.S African-American President and he served two terms, from 2009 to 2017. He was the President of Harvard Law Review but did not partake in the military.
15. President Donald Trump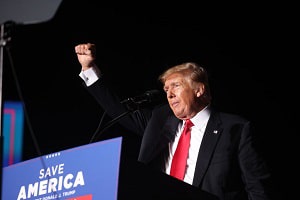 President Donald Trump, prior to serving as the President from 2017 to 2021, was a reality TV star on "The Apprentice" and "The Celebrity Apprentice". But he was not a military member. In fact, it is said that he is the first U.S President without any prior government and/or military service/experience.
16. President Joe Biden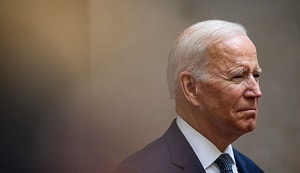 The current U.S President Joe Biden was also not in the military. He had medical exceptions and student draft deferments while he was at the University of Delaware and Syracuse University.
More specifically, he was classified as an "I-Y". This means that he could only be drafted if there was a national emergency. He does, however, have military experience from when he was the Vice President under former President Barack Obama.
Conclusion
Now that you have gone through our entire list, you should have no problem answering the question, "What Presidents have not served in the military?"
If you found this article on presidents who did not serve in the military informative, please share it for others to read. Do not forget to reach out to us if you have any questions to ask or thoughts to share as well!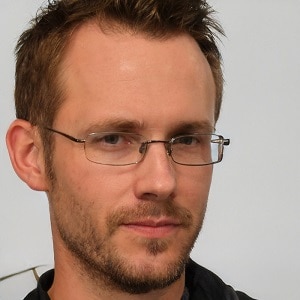 I am Everett Bledsoe, taking on the responsibility of content producer for The Soldiers Project. My purpose in this project is to give honest reviews on the gear utilized and tested over time. Of course, you cannot go wrong when checking out our package of information and guide, too, as they come from reliable sources and years of experience.