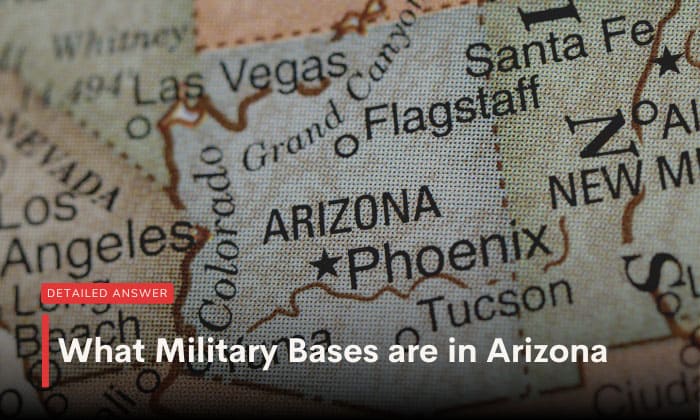 If you are curious about what military bases are in Arizona, you are in the right place! Our blog post will name all of them and explore their essentials, such as where they are located, how big they are, and what their purpose is.
There are a total of eight Arizona military bases. Among these are US Army bases, namely Camp Navajo, Yuma Proving Ground, and Fort Huachuca. Four others belong to the air force: Barry M. Goldwater Range, Davis Mothan, Luke, and Sky Harbor. Only one base—MCAS Yuma—is owned by the Marine Forces.
The 8 Military Bases in Arizona
US Army Bases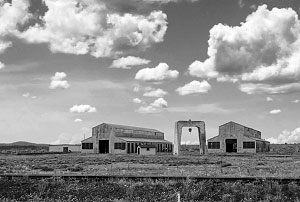 In Use: 1942 – Now
This base is located in Flagstaff, close to Belmont. The Army National Guard uses it as a storage depot and training facility. Since its founding in 1942, the base has grown to cover more than 44 square miles.
Currently, Camp Navajo stores ammunition and is utilized not only by the military but also by Department of Defense agencies and civilian organizations. At first, however, it was established for storing ammunition used in the Pacific Theater in WWII.
In addition, the bases accommodate large-scale training, often with entire battalions. There are various ranges, including those for maneuvers, land navigation, and armored training.
2. Yuma Proving Ground Army Base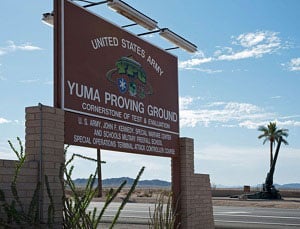 In Use: 1950 – Now
Spanning almost 1310 square miles, this is one of the larger Army bases in Arizona. It actually extends over both the Yuma and La Paz county—located in the state's southwest region. The base currently functions as a testing range for weapons, ground combat tests, and airspace tests.
Originally, Yuman Proving Ground was a fort for local security. In 1943, it was transformed into a place for weapons testing, and in 1973, the DoD took it over as Yuman Proving Ground.
Today, over 3,000 civilians work here while military troops come and go.
3. Fort Huachuca Army Base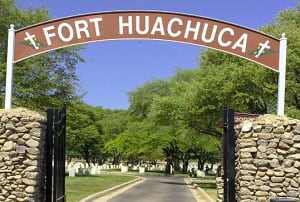 In Use: 1877 – Now
Housing the Army Intelligence Center and Network Enterprise Technology Command, this base is one of the few military installations in Arizona considered a "hub." It gathers technology, communications, and training all in one place.
The base, originally named Camp Huachuca, was built in 1877. In 1882, it was renamed to what it is now. In 1976, it became a National Landmark, and 8 years later, it welcomed the Army Systems Command. Now, Fort Huachuca is one of the most active military bases in AZ, with about 6,500 soldiers and 5,000 civilian employees.
4. Barry M. Goldwater Range Air Force Base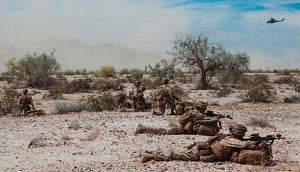 In Use: 1941 – Now
This Air Force military base Phoenix is by the Mexican border and actively used for live fire testing. The Air Force and Marine Corps also use it as a range. As such, its main mission is to serve as an open weapons ground. In line with this, its size goes up to a few million acres.
To control and keep the base safe, the U.S. Air Force splits management with the Marine Corps, a bureau, and a department.
5. Davis Monthan Air Force Base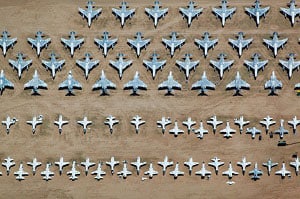 In Use: 1927 – Now
Davis Monethan is another incredibly active military base, especially when compared to other air bases in Arizona. It is located in Tucson and currently operates as a pilot training facility. The base is named after Samuel H. Davis and Oscar Monthan, who were World War I pilots.
Today, Davis Monthan hosts the 355th Contracting Squadron and 11 other divisions and subdivisions. Anyone who resides here has access to housing, health care, entertainment, and education.
6. Luke Air Force Base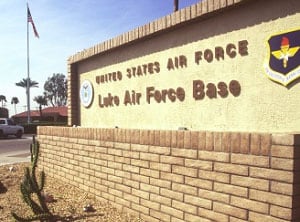 In Use: 1941 – 1946, 1950 -Now
Named in honor of Lieutenant Frank Luke Jr, this Arizona base is one of the world's largest bases. It is reserved for training F-16 Falcon pilots and can house over 200 units. Moreover, it is home to the 56th Fighter Wing.
Luke AFB played an important role in World War II. Nowadays, it goes down in U.S. history as a base with some of the highest graduating ranks worldwide.
7. Sky Harbor Air National Guard Base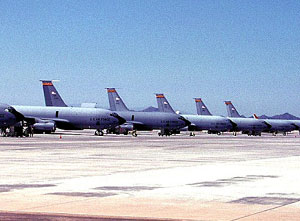 In Use: 1949 – Now
This is an air base in Phoenix, Arizona, that traverses roughly 0.008 square miles (236,000 square feet). It is located at the end of the Sky Harbor International Airport.
The base was initially established to support combat pilots and aircraft maintenance. Today, it maintains war-ready personnel and assists in national emergencies like natural disasters.
Sky Harbor ANG's population is small: 287 full-time personnel and 879 personnel who are there just once a month for unit training. Since it does not serve many people, the base does not come with lodging.
S. Marine Corps Bases
There is only one Marine base in Arizona: MCAS Yuma Aiona.
8. MCAS Yuma Marine Corps Base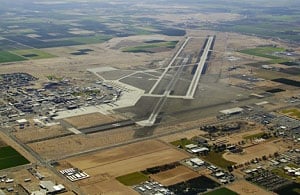 In Use: 1928 – Now
This is a 4.6875-square-mile base just 3 kilometers from Yuma. A huge chunk of it is just plain desert, yet it is one of the most important bases in the branch.
MCAs Yuman was built in 1928 and originally referred to as Fly Field. Starting from World War II, it was upgraded and renamed to Yuma Army Airfield. A school and training center was added.
After the war, its importance waned, and the base was passed onto the Department of the Interior. It was not until 1959 did the Marine Corps take over the base. Nowadays, MCAS Yuma operates as a home for planes and the units that control them.
The base's population includes over 5,600 personnel, 3,700 dependents, and 2,200 civilians.
Frequently Asked Questions (FAQs)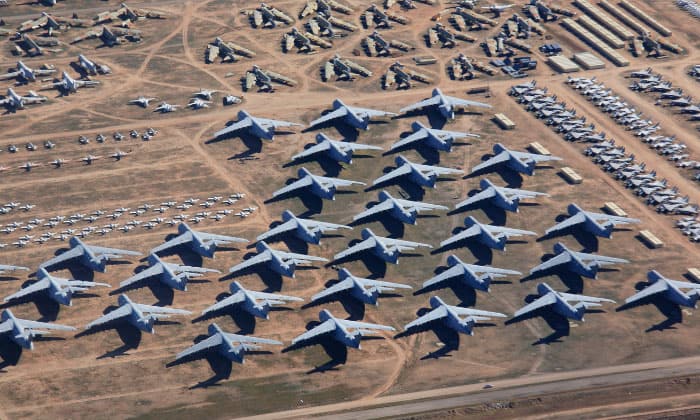 How many military bases are there in AZ?
As you have read above, there are eight bases in Arizona. There are Army bases, Air Force bases, Marine Corps bases, and an Air National Guard, but no Navy bases or Coast Guard bases.
What is the largest military base in Arizona in terms of troop count?
Davis-Monthan Air Force base in Tuscon, Arizona, is the biggest when it comes to the number of troops. It is believed to host nearly 13,000 troops.
What is Fort Huachuca known for?
Aside from its rich frontier history, the Army base is known for being the largest state contributor and the largest employer in Cochise county.
Are there abandoned military bases in Arizona?
Yes. One abandoned base is Dateland Air Force Auxiliary Field. It was built in 1943 and played a large role in World War II and the Cold War. But in 1960, it was auctioned off to a private party.
Conclusion
By now, you should have a solid idea of what military bases are in Arizona. There are bases operated by the Army, Air Force, Air National Guard, and Marine Corps. But because the state is landlocked, there are no Navy bases or Coast Guard bases.
Hopefully, you are satisfied with what you have learned from this blog post. If you have any thoughts you want to share or questions relating to this topic, feel free to leave them in the comments. We are always happy to hear from our readers!
Read more: What military bases are in other states such as Tennessee, Missouri and etc.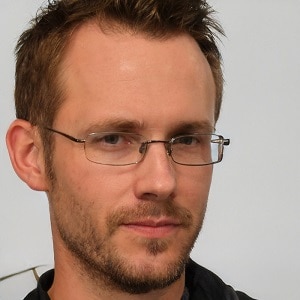 I am Everett Bledsoe, taking on the responsibility of content producer for The Soldiers Project. My purpose in this project is to give honest reviews on the gear utilized and tested over time. Of course, you cannot go wrong when checking out our package of information and guide, too, as they come from reliable sources and years of experience.