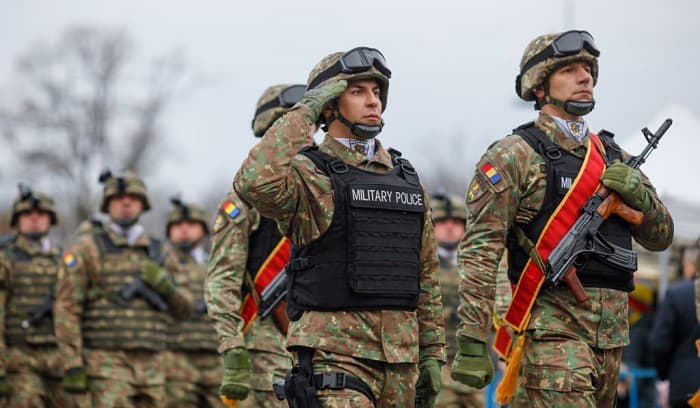 You are probably already familiar with the police. After all, it is a well-known occupation. However, did you know that there are also police who are specific to the military?
They are referred to as, you guessed it, military police.
So what are military police, exactly?
Of course, there is more to know. We have all the essential details in this article. So, continue to read and make sure you do not stop until the very end.
Military Police
In the U.S Army and U.S Marine Corps, the top (most senior) military law enforcement officer is referred to as the Provost Marshal General (Army) or Provost Marshal (USMC).
According to Indeed, the military police average base salary is $42,412. But military police vs. police – the latter earns an average base of $55,059.
Nevertheless, this does not mean the answer to, "Are military police real cops" is no. They may not be the same as the cops you often see and interact with, but their duties are similar in many ways.
Types of Military Police
This section will enlist the military police forces. It will also give you insights into, "What do the military police do?" and "What are they called?"
1. U.S Army Police Corps
This is a U.S Army law enforcement branch (one of the easiest branches to get into). It has been active since 26 September 1941 with engagements in the First World War, Second World War, Korean War, Vietnam War, Persian Gulf War, Kosovo War, etc.
The Military Police Corps operates under the Provost Marshal Office or U.S Army Criminal Investigation Division (USACID). So sometimes, the members are referred to as U.S Army military police.
In the Army, the Military Police Corps is a part of the Maneuver, Fires, and Effects division, contributing to enhanced security and mobility by providing expertise in a range of operations, such as detainment, stability, intelligence, etc. This law enforcement branch is active during both peacetime and wartime.
Their functions can be tasked to support Army units. In this case, they will be organized according to the size of the unit they are supporting.
There are also MP brigades in charge of training and supplying subordinating military police units.
Another function is The Military Police Investigations. This is an office that investigates misdemeanors that occur at military installations.
There are 6 career paths, which are 31A, 311A, 31B, 31D, 31E, and 31K. These positions are Military Police Officer, Criminal Investigations Warrant Office, Military Police, Criminal Investigations Special Agent, Internment/Resettlement Specialist, and Military Police Working Dog Handler, respectively.
That being said, military police like other service members use specialized search dogs, patrol explosive detection dogs, etc.
Most are equipped with the following weapons:
9mm Beretta M9
56 M4 Carbine
40mm M320 Grenade Launcher Module
M2 .50cal Machine Gun
M249 or M240B Squad Automatic Weapon or
Mossberg 500 Shotgun
M26 Modular Accessory Shotgun System
Those who are in the Military Police Corps can be recognized by a patch with a brown abbreviation "MP" (for military police) Velcro attached to the uniform on the left.
This is what the Military Police Corps' regimental insignia looks like: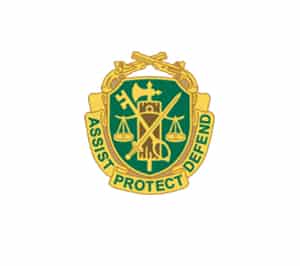 As you can see, the military police motto is "Assist, Protect, Defend."
2. U.S Marine Corps Police Force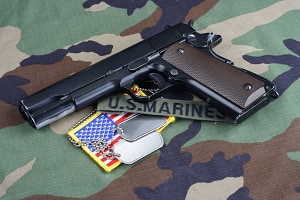 The Marine Corps Police Force is made up of the Marine Military Police Officers and Marine Corps Law Enforcement Program Officers.
To join this force, service members need to pass basic requirements: physical agility test, physical health exam, drug test, background investigation, and MMPI-Minnesota Multiphasic Personality Inventory. Then, completion of the Marine Corps Police Academy Basic Police Officers Course is required.
The mission of the Marine Corps Police Force is to enforce the laws on Marines installations and protect the laws of the Marines Community. Specific tasks include (but are not limited to):
Guarding entrances
Patrolling (In vehicles and on foot)
Monitoring security footages
3. U.S Air Force Security Forces (Previously Military Police, Air Police & Security Police)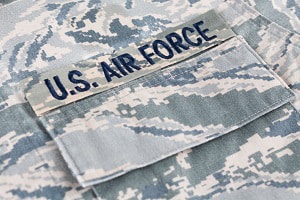 Members of the security forces protect, defend, and fight to support the U.S Air Force. In addition, they have been in charge of enforcing the law and providing discipline, since 1948. The U.S Air Force Security Forces also serve as a ground defense for the branch.
The force began as the 'Aviation Military Police and Air Base Defense Battalions' at the start of the Second World War.
In 1948, the force reformed into the 'Air Police' and established the Air Provost Marshal.
In 1966, the 'Air Police' took on more infantry-type roles, and so, became the 'Security Police'
In 1997, the 'Security Police' evolved into the 'Security Forces' with merged specialists
Throughout this timeline, the forces engaged in many wars: the Second World War, Korean War, Vietnam War, Iraq War, etc.
You can recognize the U.S Air Force Security Forces by their blue berets. The emblem is a falcon over an airfield, and the motto is "Defensor Fortis," which means "Defenders of the Force."
Here is a photo of a blue beret worn by a member of the U.S Air Force Security Forces
The force members carry these standard weapons:
M9 Semi Automatic Pistol
M4 Carbine Assault Rifle
M240B Machine Gun
M67 Fragmentation Hand Grenade
Master-At-Arms is a Navy rating that is equivalent to the military police or security forces of other service branches. It is in charge of force protection and law enforcement and has been active since 1797.
Specific duties are different based on command, but the key duties are:
Physical Security (PS)
Anti-Terrorism (AT)
Law Enforcement (LE)
Other more specific MA tasks include:
Conducting customs, corrections, detainees, and protective services operations
Organizing and providing training for personnel
Developing plans to enhance physical security and force protection
Support terrorist threat analyses and development of defensive measures
In terms of investigations, Master-At-Arms may:
Conduct interrogations or interviews
Collect evidence and secure a crime scene
Go on patrol using patrol vehicles
Stand watch at a gate, post, pier, flight line, etc
When approved by a community manager, Master-At-Arms may also serve outside of the rating. In this case, they may serve as a recruiter, trainer, and/or evaluator.
Before the 1980s. Master-At-Arms wore a brassard with the letters "MAA" on their arm. Between then and 2010, the badge changed into metal or cloth on the left breast pocket. For men, it was in the middle while for women, it was a bit above the Navy tape.
The badge remains the same until today, but it is on the right side and above the name tape for both Navy men and women.
To become a Master-At-Arms, members must finish specialized training at the Master-At-Arms "A" school at Lackland Base, San Antonio, Texas, and a "C" school.
The latter qualifies a member with a Navy Enlisted Classification Code.
Typical weapons used by Master-At-Arms include:
Beretta M9 Pistol
Sig Sauer P228 M11 Pistol
Mossberg 500 Shotgun
M16 Rifle
M4 Carbine
M240 Machine Gun
M249 Light Machine Gun
Aside from Master-At-Arms, part of the Navy Security Forces are LDO field & CWO-field commissioned officers, Department of Defense (DoD) police officers, contracted guards, and sailors with security force training.
5. U.S Coast Guard Police
The Coast Guard itself is a law enforcement branch. It has enlisted ranks that serve as officers patrolling, investigating crimes, and enforcing the laws at the Coast Guard facilities.
Examples of specific duties include:
Picking up service calls
Examining minor crimes
Controlling traffic
Its jurisdictional structure is as follows:
Federal Agency & Operations Jurisdiction: The United States
Overall Nature: Federal Law Enforcement & Military Provost
U.S Coast Guard police officers are distinguishable by their operational dress uniforms with:
A "CGPD" collar device
A "CGPD" shoulder patch (on both shoulders)
A "CGPD" badge on the left breast
A "CGPD" patched baseball cap
A "CGPD" or "CGPD POLICE" vest
The police officers carry the same standard weapons as Coast Guard units:
Sig Sauer P229 DAK Pistol
M-16 Rifle
You can find their departments at the locations below:
S Coast Guard Academy
Cape May Training Center
Petaluma Training Center
S Coast Guard Kodiak Base in Alaska
S Coast Guard Sector in New York
S Coast Guard Yard in Baltimore
Conclusion
Hopefully, you have learned a lot from our article on "What are military police?" Leave your questions and thoughts in the comments below and help us share this with other readers!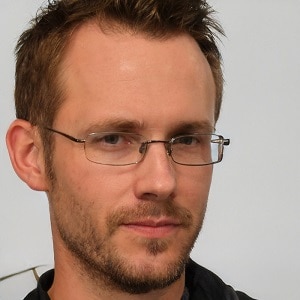 I am Everett Bledsoe, taking on the responsibility of content producer for The Soldiers Project. My purpose in this project is to give honest reviews on the gear utilized and tested over time. Of course, you cannot go wrong when checking out our package of information and guide, too, as they come from reliable sources and years of experience.